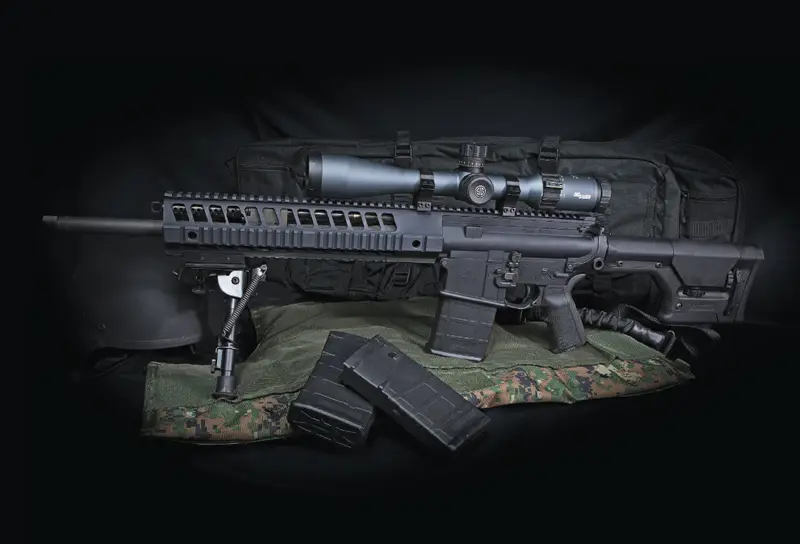 Labels are important in setting our expectations for a firearm. In U.S. military parlance, DMR stands for Designated Marksman Rifle. We will confine our discussion of DMR concepts and patterns to the U.S. experience.
The default chambering of the DMR is .308 Winchester/7.62x51mm NATO. The DMR originated to fill the effectiveness gap between infantry assault rifles and sniper/precision rifles. This middle ground is roughly between 270 to 550 yards. The DMR is closer to a precision rifle in terms of terminal ballistics, adjustable buttstock, match trigger, match barrel, accuracy standard, magnified optics, and accessories to facilitate long-range shot placement.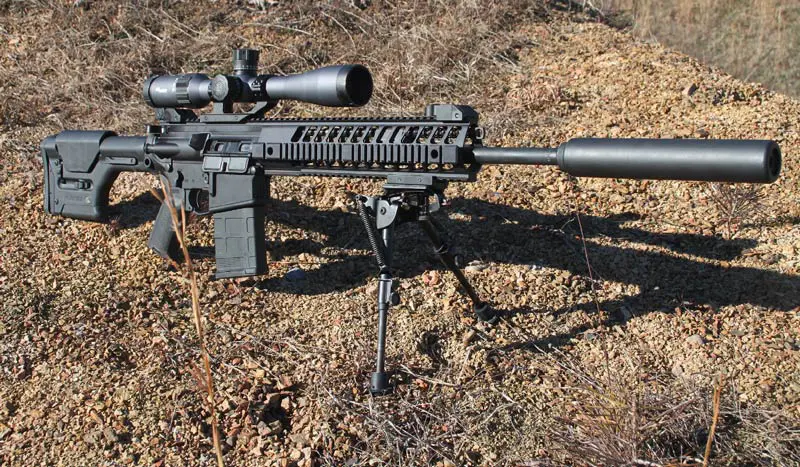 Compared to the traditional bolt-action sniper rifle, the DMR is typically semiautomatic with detachable magazine capacity of 20 rounds or more. The M14 was the initial military DMR due to it already being in the logistic system and thus easy to adapt.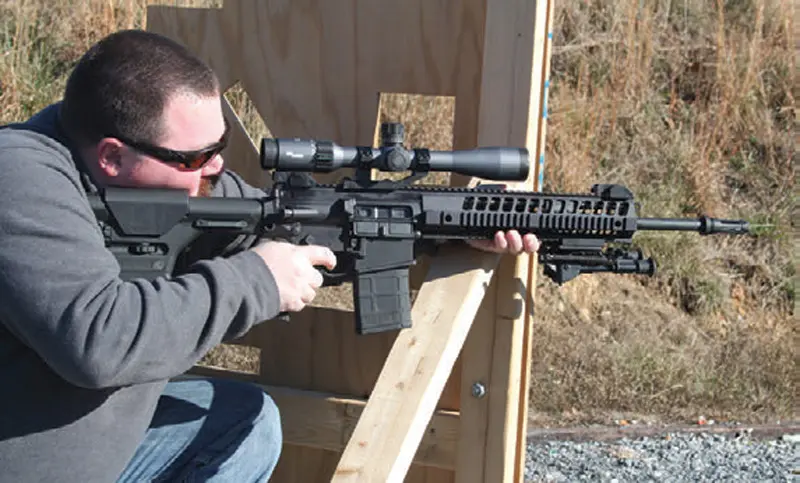 Most would concede that an AR-10-type platform is a better candidate in the DMR role thanks to inherent accuracy potential and other factors. This is borne out by the appearance of the M110 in the U.S. military arsenal.
Frankly, accuracy potential of a quality AR-10-type weapon is often on par with a bolt action, meaning each is limited only by the capability of the cartridge, not by the platform used. The fact that accuracy is not sacrificed means decision-making is even simpler when choosing a precision .308 AR.
The DMR has come into its own within the military and expanded rapidly into law enforcement use, due to a variety of reasons such as DMR accuracy, situations more suited to higher capacity magazines, and need for better penetration than typical 5.56mm rifles.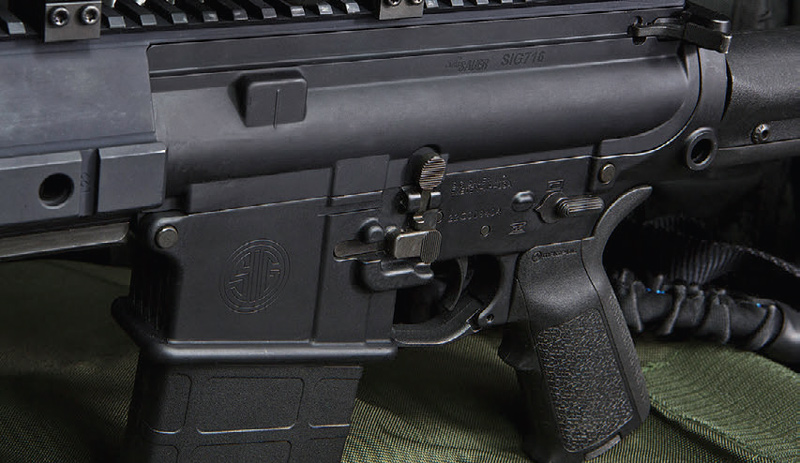 Not to be discounted is the ability to have the power of the .308 in a high-capacity AR platform if unsuspectingly engaged in a close melee with a need for multiple rounds sent downrange quickly. In terms of ballistics and terminal effect, the potency of the .308 makes it a favorite among our troops, law enforcement personnel, and securityconscious private citizens.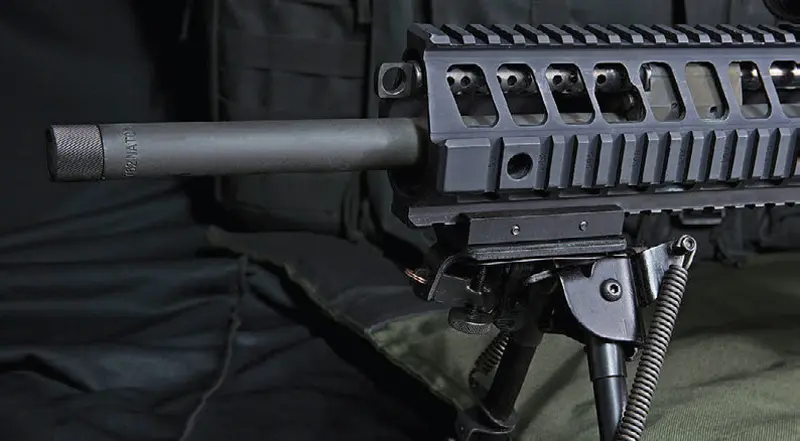 The case can be made that DMR rifles have expanded beyond their originally envisioned supporting role and become a prime weapon of choice in their own right. The SIG Sauer (SIG) 716 DMR is a case in point of how far DMR rifles have evolved.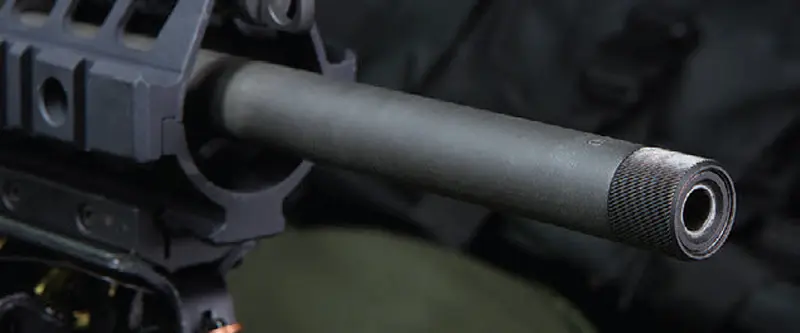 SIG 716 DMR
The SIG 716 DMR spawned out of the earlier introduced SIG 716 Patrol and includes several changes from the 716 Patrol, as would be expected in a rifle designed more with accuracy in mind.
For example, no muzzle device is included. Instead, the muzzle has 5/8×24 threads and is supplied with a protective screw-on knurled collar. The idea behind this is to make the gun ready for whatever muzzle device the owner wants to install. The 18-inch 1:10 twist, free-floated cold-hammer-forged match-grade heavy barrel is made of chrome-moly vanadium steel. All these are proven recipe ingredients for an accurate barrel.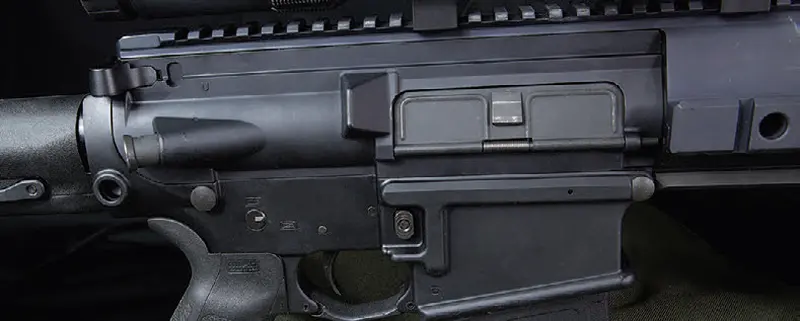 The SIG 716 DMR has a top Picatinny rail running from the front of the handguard to the rear of the upper receiver. Front and rear flip-up sights are included. The handguard has rails at the three, six and nine o'clock positions along with quick-detach (QD) sling swivel sockets on the left and right sides of the rail. QD sling swivel sockets are also at the rear of the lower receiver.
The SIG 716 DMR weighs in at 12 pounds before adding optics and ammunition. Overall length is just under 39 inches.
Its upper and lower receivers are made of 7075-T6 aluminum that has been hard-coat anodized black. To keep the interface between the upper and lower receivers nice and snug in order to enhance accuracy, SIG uses a spring-loaded plunger at the rear of the lower receiver. This plunger imparts pressure on the upper when the gun is assembled.
The upper receiver has a forward assist. The charging handle is enlarged to facilitate easier manual cycling, which is stout with the .308 AR rifles.
The rifle features an ambidextrous magazine release, and the magazine well is beveled to aid in smooth magazine insertions. Two Magpul PMAG 20 LR/SR magazines arrive with the SIG 716 DMR. The Magpul PMAG 20 has become the industry standard for AR- 10 type rifles.
Other Magpul support is found on the 716 DMR in the form of a MIAD pistol grip. It features three interchangeable back straps and two different front straps that let the shooter customize it to suit their hand size and preference for finger grooves. A Magpul PRS buttstock provides adjustable shooter interface with the SIG 716 DMR, allowing length of pull and cheek height to be customized.
SIG Sauer fully understands the importance of an excellent trigger for accuracy results. A Geissele SSA match trigger is installed in the 716 DMR. This is a two-stage style trigger breaking at six pounds.
(UNFOUNDED) ACCURACY CONCERNS
The 716 DMR is a short-stroke pistondriven AR platform, an important distinction separating it from many other precision AR-10-type rifles that are direct impingement.
Being piston driven, the SIG 716 DMR may raise the eyebrows of readers who mistakenly subscribe to the mantra that direct impingement AR rifles are more accurate than piston designs. The potential loss of accuracy associated with piston-driven ARs versus direct impingement would be a concern for any rifle intended for long-range precision work.
But on the plus side, piston-driven rifles are thought by some to be more reliable, especially with suppressor use. Rest assured that SIG solved the accuracy riddle with the 716 DMR after over three years of development.
Understandably, SIG Sauer is not eager to share full details of its proprietary hard work figuring out the details enabling such a high degree of accuracy with the 716 DMR. A factory test target arrived with the SIG 716 DMR showing a .6-inch five-round group at 100 meters. Test targets showing similar or even better accuracy have been reported involving other SIG 716 DMR rifles.
OPERATING SYSTEM
The short-stroke push-rod operating system with adjustable gas valve is the heart of the SIG 716 DMR. The SIG 716's fourposition gas setting ensures a user can adjust to changing environmental conditions, not to mention better employing a suppressor. Settings are:
normal: gas valve straight vertically
adverse: right of vertical viewing the rifle from the front
suppressor use: left of vertical
gas off: horizontal by turning farther to the left
The #4 setting totally cuts off gas from the action and maximizes suppressor efficiency by not allowing the action to cycle.
The SIG 716 DMR has an extension running under the rail out to the front to enable access to the gas valve. I am sure placement of the gas port was a key part of the accuracy equation that SIG worked on during development of the 716 DMR, with SIG not wanting to sacrifice usable rail length to accommodate valve placement.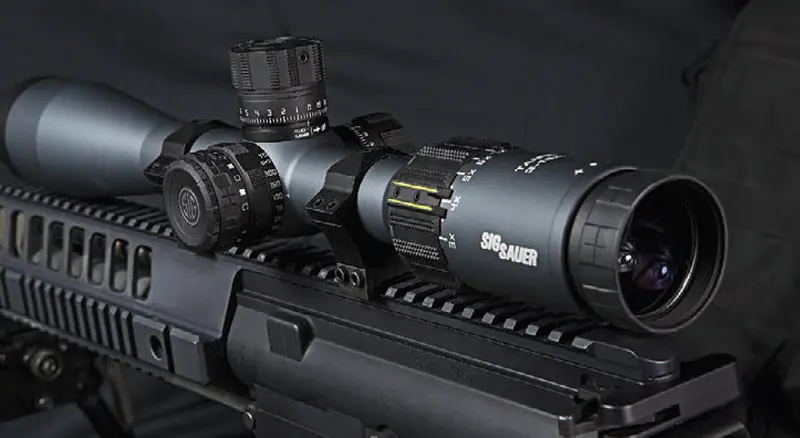 OPTICS
In an effort to fully evaluate the SIG 716 DMR, the recently introduced SIG TANGO6 3-18x44mm optic was mounted. The TANGO6 offers a 3X power setting for quick target acquisition at closer range, and 18X for shots at long range.
The SIG Sauer TANGO6 is loaded with high-end features such as adjustable illuminated MOA reticle, extra-low dispersion glass combined with high transmittance glass for outstanding light transmission and clarity, along with resettable lockable and zero stop turrets. SIG Sauer offers various power ranges and options in the TANGO6 model lineup, such as different reticle styles, MRAD or MOA turret adjustments, first or second focal plane, and more.
While certainly not svelte handling at 14-plus pounds with optic mounted and loaded 20-round magazine, the SIG 716 DMR was more than manageable in terms of handling.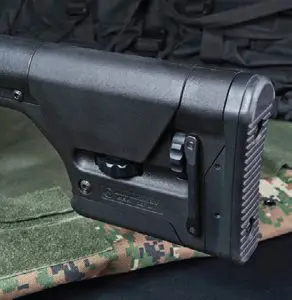 RANGE EVALUATION
The evaluation at Echo Valley Training Center (EVTC) commenced with sighting in, then moving to 100-yard accuracy tests with Winchester 168-grain Match, Hornady 168-grain TAP, Federal 168-grain Match, Black Hills Ammunition 168- and 175-grain Match, and Black Hills 180-grain Nosler Accubond.
No ammunition tested produced greater than one-inch groups at 100 yards—an impressive feat in its own right. But Federal Match produced 5/8-inch accuracy and Hornady TAP surpassed that with a couple sub ½-inch groups! Many custom precision bolt-action rifles do not have this type of accuracy, let alone a factory-produced semiautomatic AR.
After the strong 100-yard accuracy performance, the 300- and 550-yard tests were eagerly anticipated. In conjunction with individual training bays, EVTC features a multi-stepped target berm strewn with reactive steel targets and fluid-drained cars at ranges from 150 out to 350 yards. EVTC is further enhanced by the existence of prepared firing positions. This allows for realistic prone and "dug-in" trench-style firing points.
Firing the SIG 716 DMR from the prone position produced consistent hits at 300 yards on TacStrike ¼-scale steel targets. Firing at paper targets produced 2.25- to 3.5-inch groups at 300 yards depending on the load used.
EVTC Range #5 permits up to 550-yard target engagements. The sub-MOA accuracy exhibited at 100 yards proved invaluable at extended ranges. As long as I did my job reading wind conditions, the SIG 716 DMR produced solid strikes on the steel targets. At times I'm sure I was the weak link in the rifle, ammunition, optic, shooter performance equation.
The SIG 716 DMR supported by the Harris bipod that comes as part of the package proved more than capable of engaging small steel poppers located inside the EVTC range vehicles located on the 220-yard berm. Some scenarios involved firing through the front windshield.
An interesting side note is that Black Hills Ammunition 180-grain Nosler Accubond load is a top consideration for this type of engagement. Thanks to its bonded construction, it is a more reliable performer for barrier penetration compared to Match bullet types.
The SIG 716 DMR proved reliable throughout this evaluation, with over 450 assorted rounds sent downrange. The SIG 716 DMR's 18-inch barrel combined with 168-grain bullets produced velocity in the mid 2,500 feet-per-second (fps) range when tested over an RCBS chronograph.
The 18-inch barrel sacrifices approximately 100 to 120 fps compared to 24-inch tubes. In my opinion, the handiness gained from the shorter barrel outweighs the velocity lost.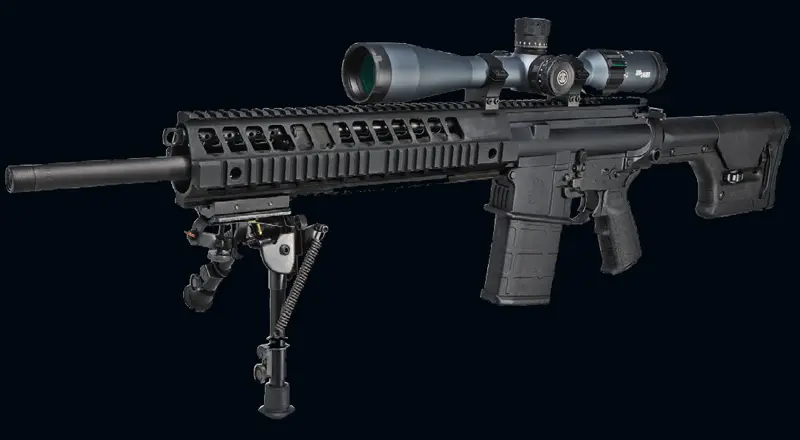 TACTICAL PRECISION RIFLE
With the 716 DMR, SIG Sauer has created a precision rifle that is eminently adaptable to modern tactical situations. It's a simple matter to install an ATN PS22 night-vision device on the forend rail in front of the SIG TANGO6 optic. The entire PS22 concept is based on wanting to give the user the convenience of using their day optic at night without having to switch out aiming devices or dedicating a weapon solely for use at night.
As mentioned earlier, the SIG716 DMR is tailor-made for suppressor use. A Yankee Hill Machine Phantom suppressor is right at home on the Phantom flash hider. The combination of night vision with suppressor is extremely effective on such an accurate rifle as the SIG 716 DMR.
Use of EBR or Corbon subsonic ammunition, as appropriate to the situation, would only heighten its capability of nearly silent engagements within 100 yards.
The SIG Sauer 716 DMR is hard to argue against in terms of utility for law enforcement, military personnel, or security-conscious citizens needing a precision rifle while still offering firepower potential due to detachable high-capacity magazines stuffed with .308 Winchester.