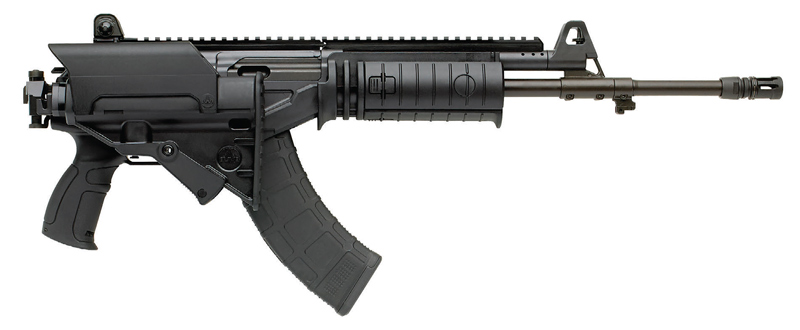 Following its 2015 introduction, the IWI US Galil ACE rifle is now steadily arriving on dealer shelves, joining other notable IWI US offerings such as the Tavor SAR/Israeli X95 and Uzi Pro in making waves in the U.S. market.
The original Israeli Galil was choked out of the U.S. market in 1989 through an Executive Order signed by President George H.W. Bush.
IWI US is making available the highly respected Israeli Galil via the enhanced Galil ACE. This is achieved by assembling the rifles from a combination of Israeli and U.S. manufactured components at IWI's Harrisburg, Pennsylvania facility. The Galil ACE is not merely a copy of the 1960s design. IWI USIWI took full advantage of the passage of time to improve and update the original Yisrael Galil and Yaacov Lior design.
The current Galil ACE can be traced back to the Galil, which in turn was inspired by the Finnish Valmet Rk 62, itself an improved AK derivative. The Finns are a country of serious riflemen, with a large, aggressive neighbor it has eyed warily for centuries—Russia.
The Russian AK's rugged reliability and adaptability to harsh operational environments earned grudging respect from the Finns. The Valmet Rk 62 sought to maintain AK reliability while improving accuracy. This was accomplished with the use of a quality barrel, extended iron sight radius, higher quality manufacturing techniques, tweaks to the gas tube, and long stroke gas piston operation.
Israel's Galil followed the Valmet Rk 62's path after the Israel Defense Forces (IDF) found the FAL wanting in terms of size, recoil and, most importantly, reliability. The Galil in 5.56mm was officially adopted by the IDF in 1972 but immediately faced competition within the IDF from the large number of M16s acquired from the U.S. It made more fiscal sense to make the most use of the relatively inexpensive U.S. rifle versus exclusive reliance on the Galil.
IWI US GALIL ACE
The current IWI US Galil ACE rifle seeks to improve the original Galil in a number of ways. Galil reliability and performance have never been doubted, but its near ten-pound weight drew criticism from troops, especially when compared to the six-pound M16.
The Galil ACE makes use of a polymer lower for the magazine well, trigger guard, and pistol grip. The railed forend on the Galil ACE is also derived from high-strength polymer. The upper receiver containing the action and hinged folding stock trunnion is milled from ordnance steel. This translates to a rifle weighing less than eight pounds.
The IWI US Galil ACE evaluated in this article is chambered in 7.62x39mm and fed via AK magazines. The rifle features a 16-inch 1:9.45 right-hand twist, chrome-lined, hammer-forged barrel with removable A2-style flash hider. Overall length is 38 inches with stock extended, 34.5 inches with stock collapsed, and 27.5 inches with it folded to the right. Weight is 7.5 pounds.
Besides shaving weight, the Galil ACE has its reciprocating charging handle moved to the left side of the steel receiver for easier manipulation. A spring-loaded gate on the left side minimizes the chance of dirt and grime entering via the charging handle pathway.
The original Galil had a distinctive vertically upturned handle on the right side. The absence of the right-side charging handle on the Galil ACE facilitated creating a metal recess in the bolt-carrier body's right side. This acts to further enhance reliability in harsh environments, preventing dirt, mud, snow, or ice clogging the bolt group while functioning.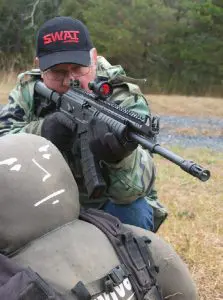 OTHER ENHANCEMENTS
Other enhancements to the Galil ACE consist of a full-length two-piece metal Picatinny top rail along the upper receiver and a gas tube for mounting optics. IWI US has accentuated the previous Galil design by securing the upper top cover tightly via an oversized release button at the end of the recoil spring protruding out of the top cover. A rubber grommet/gasket is also included. This ensures the rear-aperture iron sight stays zeroed as well as other optics that may be mounted. The top cover exhibits no wiggle. In fact, removing and reinstalling takes some effort, but is worth it considering the advantage gained.
Following this theme, the Galil's gas tube is dovetailed into the receiver's front block. This limits any movement of the gas block that can influence barrel vibration and thus degrade rifle accuracy. A recoil buffer is also present on the recoil spring. This serves multiple roles: it cushions impact of recoiling parts, eases wear on the rear trunnion, and tames vibration, which assists accuracy potential.
A further nod to current firearm trends is the Picatinny polymer tri-rail forearm. Slide on/off rail covers are standard and allow for pressure-switch access for lights or lasers.
The Galil ACE comes with a right-side folding adjustable telescoping buttstock with two-position removable comb if elevated optics are used.
Interestingly, IWI US decided not to go with an AR-type buffer tube. A proprietary buttstock arrangement was instead decided on.
Attention to detail is found with the ability to easily remove the rear aperture sight if an eye-relief-dependent optic is utilized, avoiding the necessity to mount the optic uncomfortably high to clear. Another nice touch is that tritium vials are installed in the front post and rear aperture sights for night use. Orientation of the front sight needs to be paid attention to when sighting in. A further half turn may be needed to keep the tritium vial focused rearward.
The Galil ACE comes equipped with the trigger type used in the Galil sniper rifle. This is a good upgrade, offering a five-pound pull after initial take-up.
MAGAZINES, OPTICS AND AMMO
The Galil ACE utilizes the proven AK-47 magazine. A Magpul AK magazine arrives with the rifle. IWI US literature makes mention that a U.S.-made magazine was used for 922r compliance purposes.
I put forth that the IWI US Galil ACE is worthy of serious consideration for anyone needing to focus effort on one rifle fulfilling a general-purpose role. The Galil ACE emerges from the box remediating known AK shortcomings in terms of mounting optics over the receiver. This is combined with a rifle already inherently more accurate than an AK.
It was decided to take full advantage of the Galil ACE's flattop upper by mounting multiple optics during testing, such as a Trijicon MRO red dot and variable-power 1-6X VCOG. Both sights offer the capability to engage multiple targets in rapid sequence compared to open sights, while at the same time providing adequate accuracy out to 200 yards.
The 7.62x39mm round's trajectory is conducive to making hits out to 300 yards without having to resort to excessive hold over: three inches high at 100 yards produces a 200-yard zero with a 15-inch drop at 300 yards.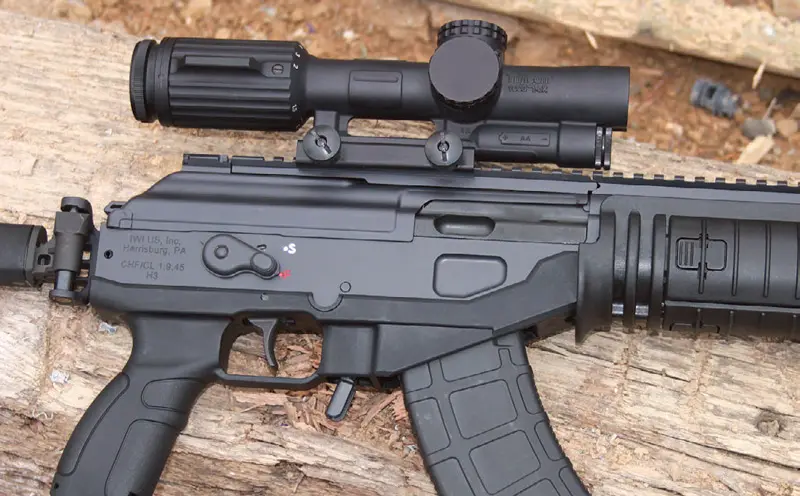 Loads from Hornady, Wolf, and Red Army Standard were tested. Steel-cased FMJ loads from Wolf and Red Army hovered in the three- to 3.5-inch range at 100 yards. Hornady 123-grain SST loads delivered 1.5-inch groups at the same distance. The IWI US Galil ACE mated with quality optics and ammunition is what many AK connoisseurs have been waiting for.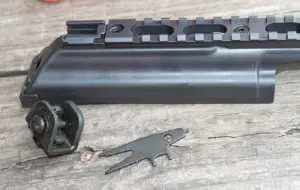 RANGE EVALUATION
Range tests consisted of moving around barricades and simulated cover while engaging an assortment of paper and steel targets, including automobiles, at Echo Valley Training Center.
One immediately noticeable positive feature was the Galil ACE's ambidextrous safety/fire lever. The right-side safety lever has been reduced in size, as it is no longer required to act as a dust cover. It is accessed via the right index finger or removing your hand from the pistol grip and using multiple fingers.
On the left side just above the pistol grip is another safety/fire selector, meant to be operated by the shooter's thumb. This was the favored method of use in terms of ergonomics.
One aspect of the original AK design is how the front of the magazine is hooked into place and kept steady behind a wide feed ramp, allowing the bullet nose and case a clear path to the chamber. This is one factor that contributes to the AK's "hell and back" reliability. The Galil ACE maintains this method. AK magazines are not made to a tight "standard" pattern, dimensionally speaking.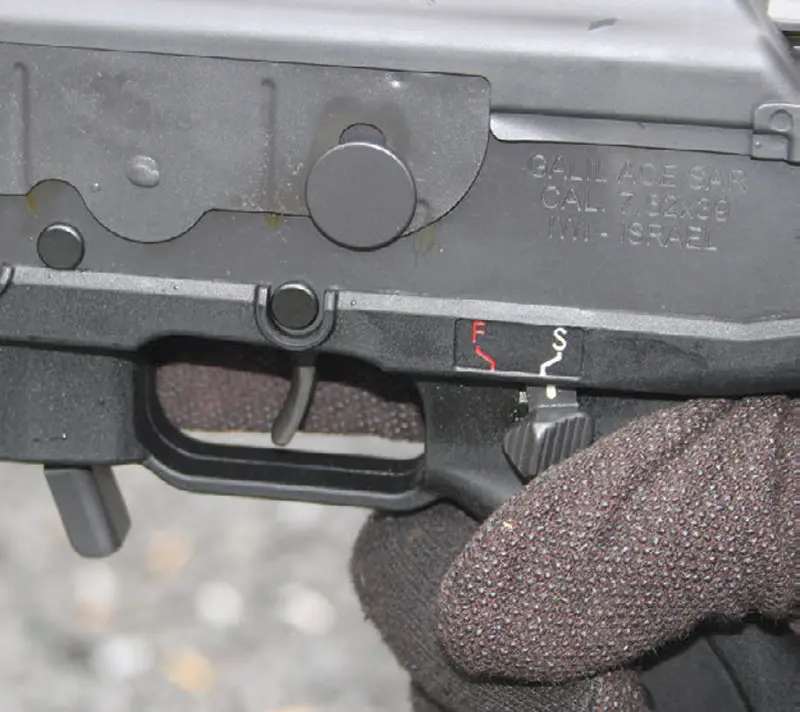 Based on this, a plethora of AK magazines were evaluated with the IWI US Galil ACE. This consisted of US PALM, Magpul, Tapco, Bulgarian (smooth and waffle), and IO Inc, as well as multiple surplus steel magazines. Even drum magazines were tested. US PALM, Bulgarian waffle, and drum magazines were "no-gos" in the Galil ACE.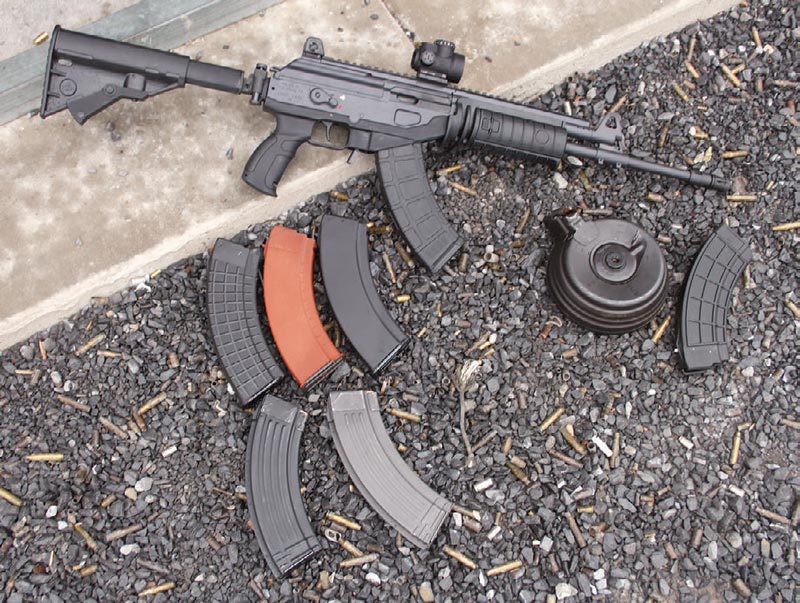 A centrally located magazine release reinforces ambidextrous functionality. Magazines do not drop free and there is no last-round hold-open provision or bolt holdopen device on the Galil ACE.
Several hundred rounds were fired through the Galil ACE during this evaluation. After initial inspection and light lubrication, no cleaning of the rifle was performed. No reliability issues were encountered.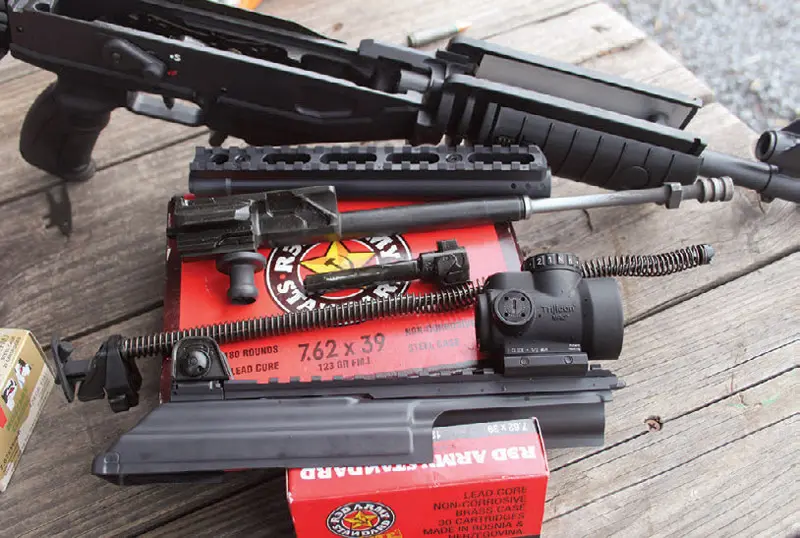 Special focus was paid to maintaining iron sight and optic zero by removing and reinstalling the top cover numerous times between evaluation scenarios. Initial concern was raised about heat transfer to the railed polymer forend.
This proved a non-issue thanks to the effective heat shields and spacing between barrel/gas block and forend. In fact, even after multiple rapid-fire magazine dumps, the forend could be gripped with a non-gloved hand.
TEAM TACTICS DRILLS
Range testing took place at Echo Valley Training Center's Jungle Walk range. Several ISPC-style man targets and steel silhouettes were engaged from different firing positions. This was expanded into team tactics exercises. Moving to and from a designated target area using cover while either changing magazines or engaging targets when a partner is reloading makes for excellent weapon evaluation drills.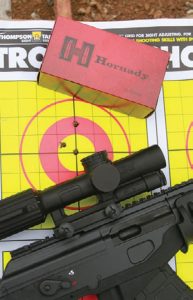 One gets a good sense of the way a weapon handles, along with its reliability, from the sum of ammunition expended in the short time frames characteristic of these team tactics drills. The full gamut of rifle manipulation is encompassed in team tactics training evolutions— handling around cover, accuracy to effectively strike at distance and CQB ranges, magazine changes, and reliability once a weapon heats up.
I find testing any rifle in this format helps highlight strengths or weaknesses in handling or weapon manipulation. The Galil ACE handled as well as any rifle I have tested.
T&E GEAR
Two products I have found helpful in testing the myriad rifles I am fortunate to handle are the High Speed Gear (HSG) Sure Grip patrol belt and TACO magazine pouches. Many shooters train and operate with multiple calibers either by choice or necessity. Others are tasked with training different weapon systems as part of their job description.
The logistics of maintaining different belt systems or switching magazine pouches on one belt repeatedly is daunting. Imagine having to accommodate AR magazines one day, AK-47 magazines the next, AR-10/SR-25 magazines another training evolution, and so forth. You get the point.

Just as important in any transition between gear systems is making sure nothing affects magazine drawstroke muscle memory, pistol presentation, or obtaining medical equipment. Accessing gear must remain seamless, with no hitches caused due to different feel or location of pouches. High Speed Gear's TACO magazine pouches and patrol belt were developed with this set of circumstances in mind.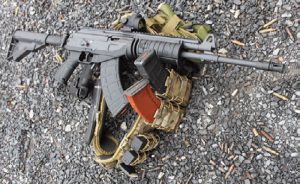 READY FOR ACTION
Israel's appreciation of the base AK as a fighting rifle carried over into the Galil and now the Galil ACE, which further accentuates these characteristics. The full-length upper rail and forend are nods to the advantages offered by red dot optics or possibly mounting a tactical light/laser without succumbing to the urge to hang items that are not necessary, thereby ruining handling.
The higher quality barrel, trigger, and manufacturing found in the Galil ACE further enhance performance. All this is accomplished without compromising rugged reliability in real-world environments.
Anyone looking for a hard-hitting carbine will certainly appreciate the Galil ACE. The functionality of a .30-caliber rifle utilizing 30-round AK-47 magazines and incorporating a proven gas-piston operating system is hard to deny.
No matter the situation, whether a rural setting with longer distances encountered or an urban setting requiring CQB tactics, the IWI US Galil ACE can fulfill the mission.