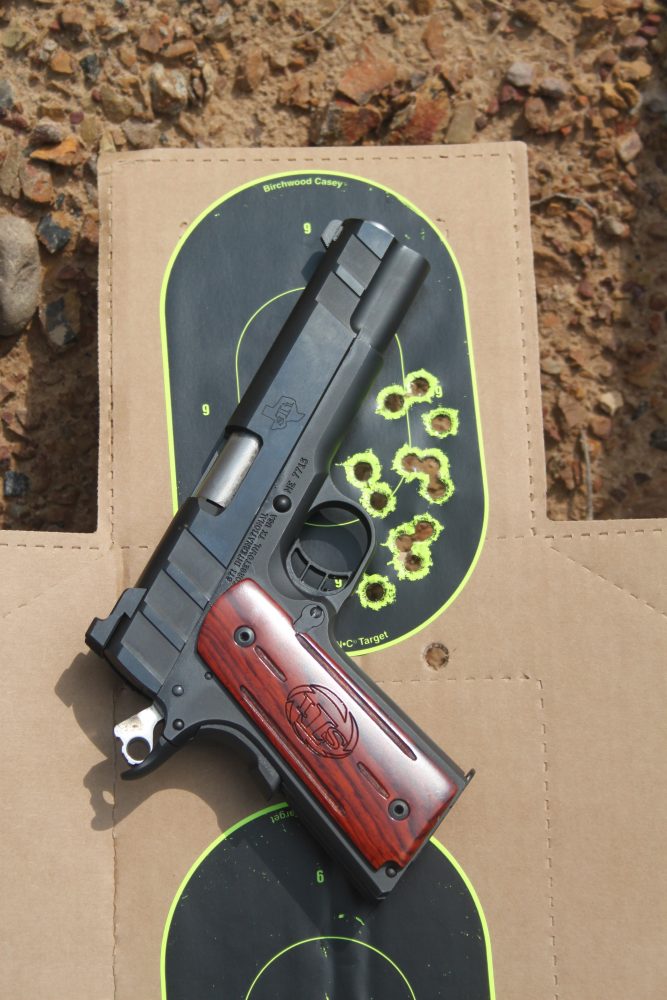 What comes to mind if someone mentions a handgun specialized for defense, law enforcement, or military applications? Many would first consider a 1911 chambered in .45 ACP. An ergonomic, instinctive-pointing, hard-hitting handgun is a premium when having to react decisively to a threat. These were John Browning's guiding principles in creating the 1911.
The 1911's inherent qualities have caused many manufacturers to join the 1911 scene over the years. A lot of attention seems to be on "improving" the 1911 platform by modifying its components via full-length guide rods, Match barrels, Match triggers, bull barrels, capacity, etc. There is certainly nothing wrong with this approach, though many will advocate keeping custom items to a minimum, with precautions taken not to make the weapon too much of a "gaming" gun as opposed to a fighting implement.
STI
STI International (STI) has been in the forefront of this 1911 renaissance, modernizing and adapting the 1911 platform into forms not previously contemplated. STI grew from their initial 1980s business model as a supplier of high-end 1911 components to now offering complete 1911 pistols to meet the needs of a wide range of users in both competition and tactical arenas. STI has made a habit of approaching the 1911 platform from different angles rather than just modifying components.
Neither has STI neglected the classic single-stack 1911, with numerous offerings. For example, STI's patented 2011 frame offers a unique twist in being a high-capacity 1911 design featuring a modular two-piece bottom end consisting of a steel sub frame and detachable polymer grip. A good example of this is the pistol reviewed herein—the Nitro 10 1911.
10MM AUTO
The Nitro 10 offers another twist on the 1911 by being chambered in 10mm Auto. Many forget that Browning is not only the creator of what many feel is the ideal handgun in the form of the 1911, but also the designer of the .45 ACP cartridge. In ballistic circles, the .45 ACP has just as loyal a following as the 1911. It is considered by many the ideal combination of terminal ballistics and controllability. But by the early 1970s, even leading 1911 proponents were considering alternative caliber choices beyond 9mm and .38 Super for the 1911.
Lieutenant Colonel Jeff Cooper is often associated with the early development of the 10mm Auto cartridge. As with most calibers, numerous .40-caliber pistol wildcats were created before the 10mm Auto design we know was solidified for use in the ill-fated Bren Ten handgun.
The 10mm Auto was designed to be a pistol cartridge intended for semiautomatic handguns that offered better ballistics—flatter trajectory and higher velocity—than the .45 ACP, and thus capable of greater terminal performance. Cooper's original concept was boosted to higher velocities by Norma and introduced in 1983 for use in the Bren Ten.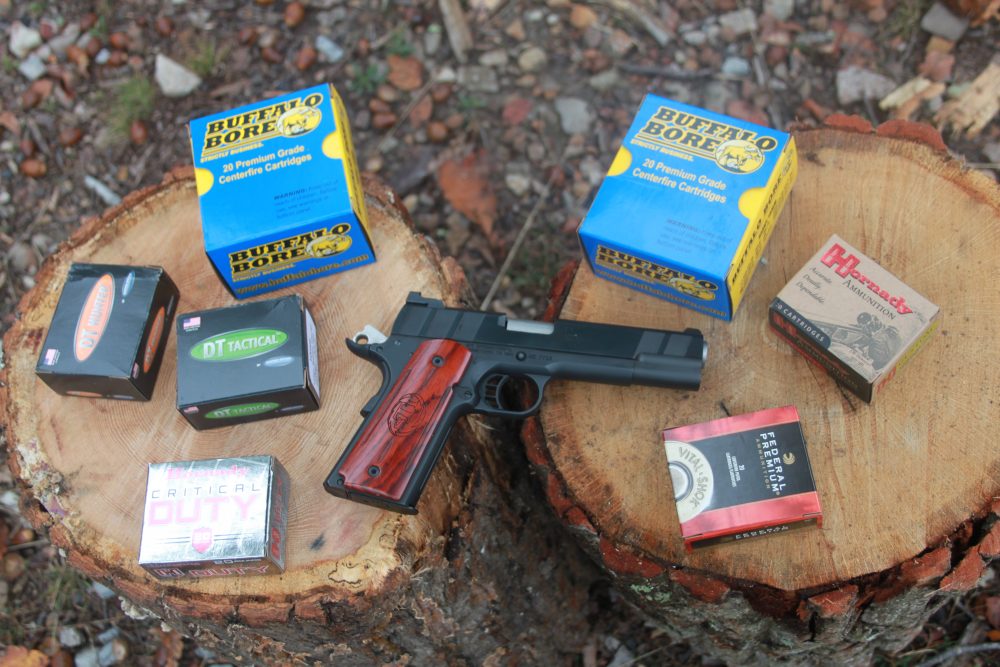 Evaluation tested ammunition from Federal, Buffalo Bore, DoubleTap, and Hornady.
---
The 10mm Auto offered Magnum revolver power associated with .357 Magnum and .41 Magnum in a rimless semi-automatic cartridge. While the Bren Ten's demise is well documented, fortunately Colt introduced their Delta Elite in 10mm Auto in 1987, with the FBI lending ancillary support to the 10mm Auto by standardizing it for agent use in 1989, saving the 10mm Auto a fate similar to the Bren Ten.
While our focus is on the 10mm Auto as featured in the STI Nitro 10, the 10mm Auto story must be finished by stating that the .40 S&W eventually emerged from and succeeded the 10mm Auto, becoming a pre-eminent personal defense and law enforcement cartridge.
In short, no pun intended, the .40 S&W is a reduced length and powered 10mm Auto. The .40 S&W case is 3mm shorter than the 10mm Auto's 25mm case length. This all came about as a result of the recoil of the full-powered 10mm Auto causing consternation among certain law enforcement personnel and trainers.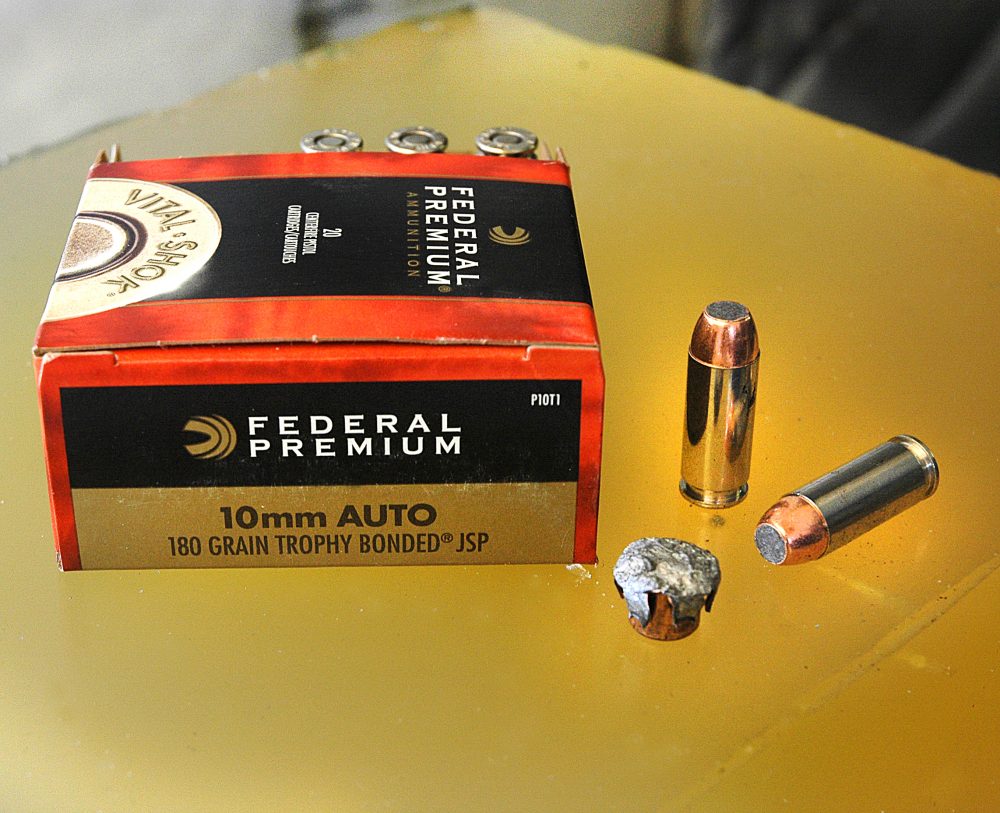 Federal Premium Vital-Shok 180-grain Trophy Bonded 10mm Auto load is a great representation of the power inherent in the 10mm Auto. With a velocity of nearly 1,300 fps, this load can do things other loads cannot.
---
NITRO 10…BY POPULAR DEMAND
STI introduced the Nitro 10 at the behest of customers requesting a single-stack five-inch Government Model 1911 chambered in 10mm Auto. The Nitro 10 is built on an STI 1911 forged frame with three lined "Nitro" front strap indentations with matching "Nitro" design mainspring housing, front and rear slide serrations, and Cocobolo grips, all of which give the STI Nitro 10 unique aesthetics.
The Nitro's undercut trigger guard allows for a higher grip for enhanced accuracy and recoil management. The controls are STI's single-sided thumb safety and knuckle relief high-rise beavertail grip safety. The slide is manufactured with an oversized ejection port. The five-inch bull barrel is an integral ramp type, facilitating both enhanced feeding and support of the 10mm Auto cartridge case.
The Nitro 10 features STI's new "Nitro" hammer, patented STI trigger system, S-7 sear, titanium strut, and one-piece steel guide rod for smooth and reliable function. The Nitro 10 has a matte blued finish, and it weighs 38.9 ounces. Sights consist of STI Competition front and fixed "ledge" style rear. Capacity is eight plus one.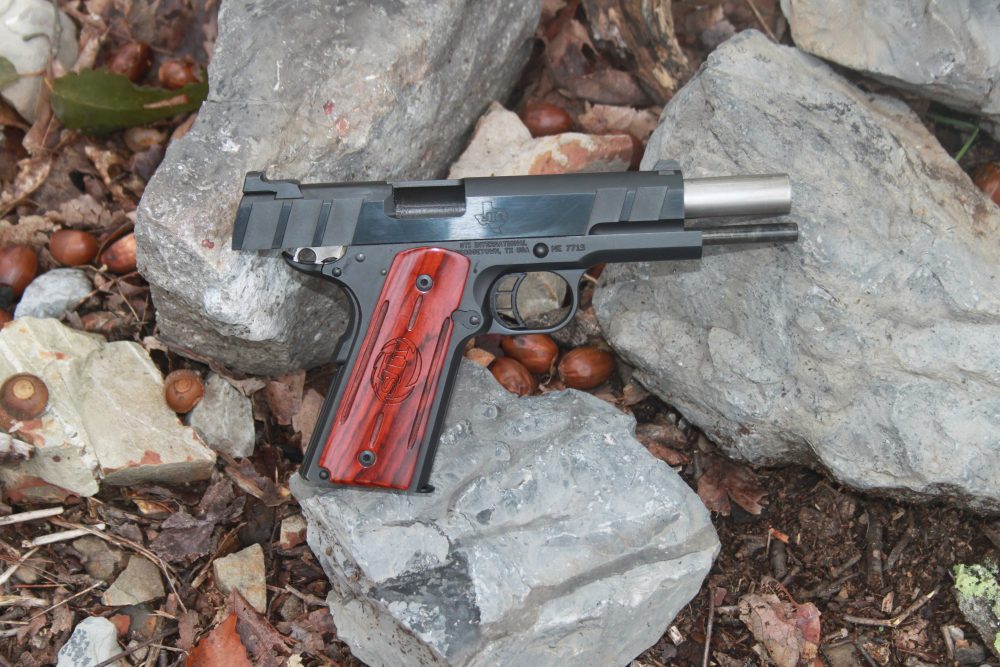 STI chose to use a bull barrel with the Nitro, so the typical 1911 barrel bushing is not needed.
---
AMMUNITION EVALUATION
Many 10mm Auto loads are watered down to resemble .40 S&W velocities. Not the case with the loads tested for this article: 10mm Auto ammunition from Federal Premium, DoubleTap, Buffalo Bore, and Hornady was acquired for use in the STI Nitro 10. Buffalo Bore is a prime source of 10mm Auto ammunition, offering several bullet types ranging from hard cast to JHC to FMJ-FN.
The recently introduced Federal Premium Vital-Shok Trophy Bonded 10mm Auto shows the cartridge's potential. The bullet used with the Federal load is based on the proven Trophy Bonded Bear Claw rifle bullet and features a jacket with formed inner profile that controls expansion to ensure deep penetration. The load features a 180-grain bullet that leaves the muzzle at 1,275 feet per second (fps) compared to the usual 1,030 fps of many manufacturers' offerings. For comparison purposes, the Federal load delivers 650 foot-pounds of energy, putting it roughly between the .357 Magnum and .41 Magnum. This kind of power offers great flexibility in terms of use for personal defense or hunting medium-sized game.
Premium 10mm Auto loads from Hornady were used, consisting of 155- and 180-grain XTP loads as well as 175-grain FlexLock Critical Duty. These Hornady loads were designed with personal defense in mind, with XTP and Critical Defense bullets loaded to between 1,150 and 1,250 fps.
A total of nearly 300 10mm Auto rounds were fired in the STI Nitro 10.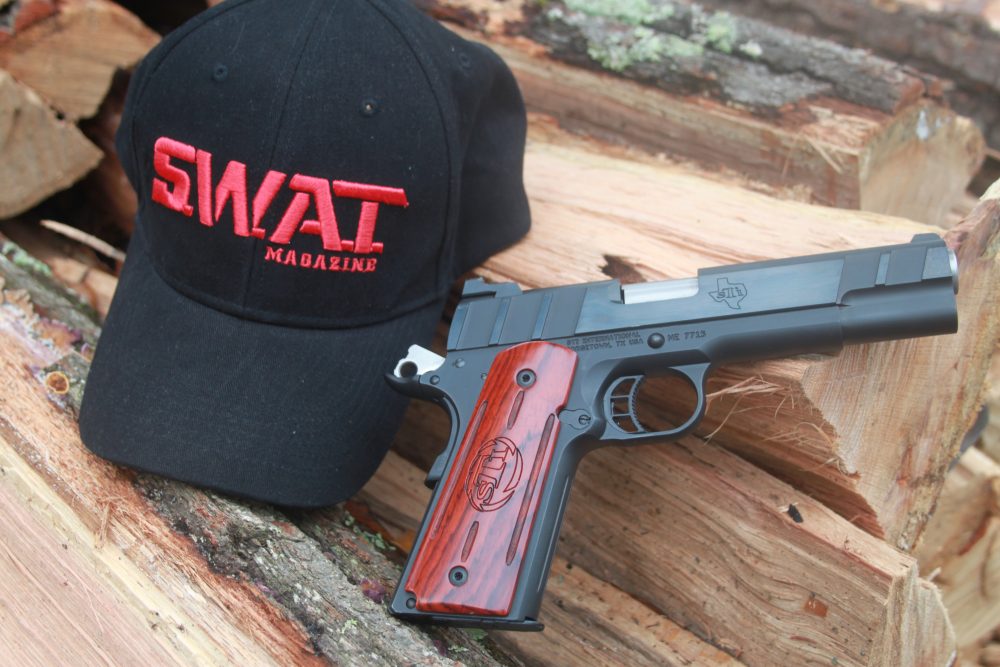 If you get past preconceived notions of what a 1911 should be, it's easy to accept the advantages offered by a 1911 chambered in 10mm Auto.
---
RANGE TESTING
The STI Nitro was tested at the range first by verifying sight zero and then firing several magazines rapidly at various steel man targets found in Echo Valley Training Center's (EVTC) training bays. This quickly shows if any reliability issues exist. If a defensive pistol is not at the very least reliable, what good is it?
Further testing consisted of strings of fire against steel plate racks and popper targets at seven, 15, and 25 yards. Sights were zeroed out of the box for 25 yards using the classic six o'clock hold. The STI Nitro 10 did not disappoint, regularly producing three-inch groups at 25 yards when fired from standing unsupported positions. STI's quality manufacturing and assembly produce an accurate handgun.
Bench testing could not be resisted after witnessing the unsupported accuracy results. Sub-two-inch groups at 25 yards were not unusual. The advantages of the single-action trigger were quickly evident during the bench testing, where accuracy was the goal with its compact pull with minimal creep.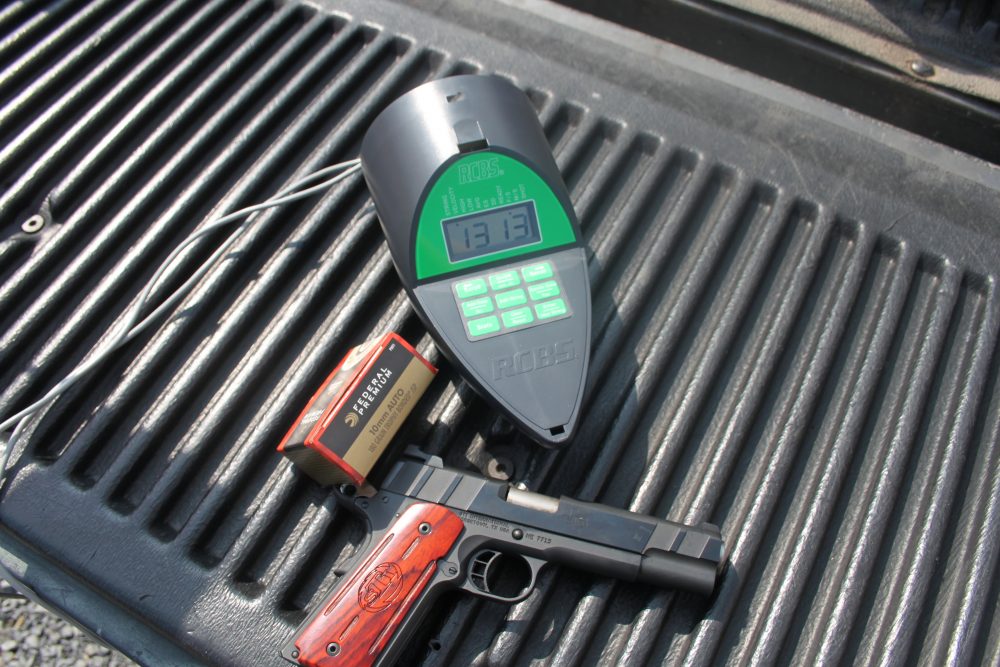 Many 10mm Auto loads are watered down to replicate .40 S&W velocities. Not the case with the loads tested for this article.
---
As expected, recoil impulse was stout, but by no means unmanageable or the cataclysmic event many will lead you to believe from the 10mm Auto. The recoil spring used by STI is definitely stiffer than ones experienced on 1911s chambered in other calibers. This was evident as soon as the Nitro 10 was removed from the box and the slide opened during initial inspection. This helps dampen recoil and, more importantly, muzzle flip, so the shooter can reacquire the front sight when firing multiple-shot strings. I appreciated the nearly 2.5-pound Nitro 10 for absorbing and mitigating felt recoil.
The TacStrike steel targets were rocked with a definitive smack—obviously more than a typical handgun round when hit with the 10mm Auto. As mentioned previously, recoil was not prohibitive with the STI Nitro 10, with accurate rapid shots possible. Unscientific subjective comparison would place it in the .45 ACP range when fired from an alloy-framed 1911.
All 10mm Auto loads tested had no issue penetrating windshields or car bodies. This is the type of performance and barrier penetration capability STI designed the Nitro 10 for.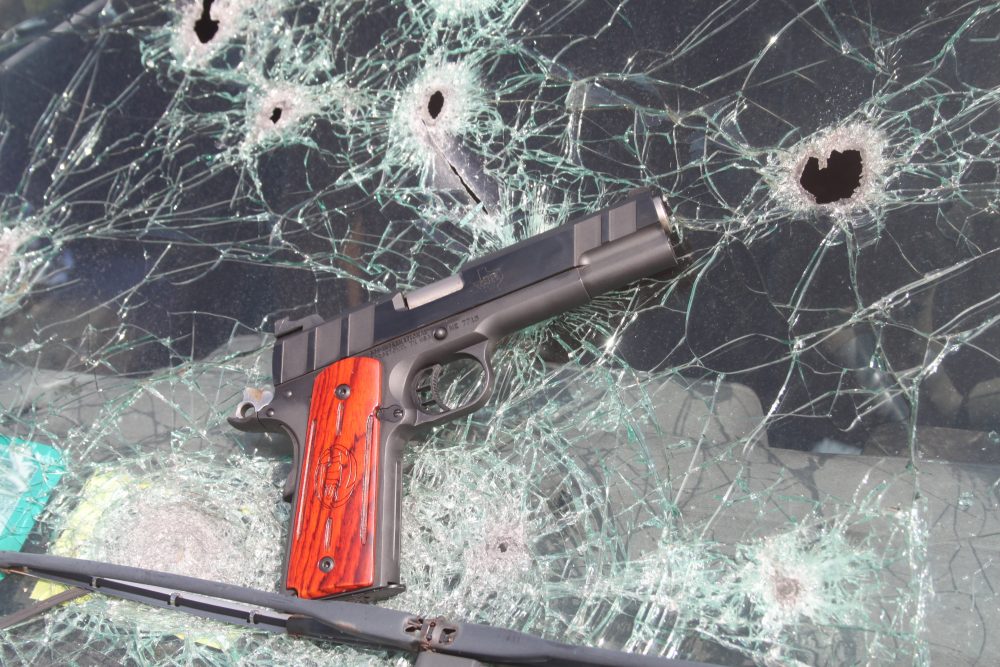 Nitro 10 10mm Auto was evaluated through vehicle media such as windshield, side glass, and sheet metal.
---
DRILLS
I evaluated the Nitro 10 using drills experienced during training at firearms schools such as Storm Mountain and Pat McNamara's TMACS. The natural pointability of the Nitro 10 1911 was confirmed, along with speed getting it into action. Drills included working around breaching facades, door entries, and other CQB activities typified by experiences encountered in shoot-house environments.
A premium is placed on a quick-handling, accurate handgun such as the Nitro 10, with multiple rounds fired in quick succession the norm to put a target down. The beavertail frame settles the weapon naturally into the hand and provides a point of reference when drawing the pistol from a holster. The Nitro 10 proved very capable of firing multiple-shot strings with the utmost accuracy thanks to the short trigger pull and reset. The number of both IWB and belt holsters that accommodate the Nitro 10 is also a plus.
EVTC facilities were taken advantage of when evaluating the STI Nitro 10 by working in, around, and through range vehicles. IPSC cardboard targets were placed within vehicles so the Nitro's 10mm Auto power could be judged through automobile sheet metal, side glass, and windshield. Targets were also arrayed in front of a range vehicle, with the Nitro engaging through the windshield from the front seat.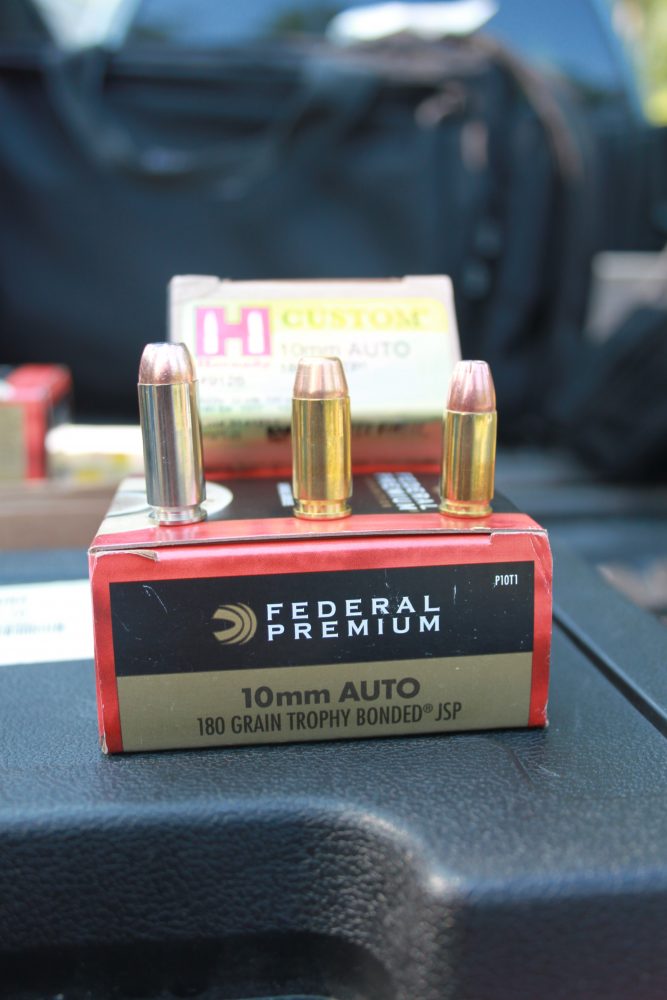 DESIGN EVOLUTION
The 1911 is an aficionado's weapon that continues to attract users with its natural handling and great trigger. Few can argue that there is a more instinctive-handling handgun than the 1911. The trigger and grip size and angle cause it to be the most accurate handgun in most arsenals—one reason hostage rescue units and other special-purpose teams continue to use 1911-pattern handguns. And the Nitro 10 is no different.
It was a pleasant experience dealing with the STI Nitro 10, which performed at a level justifying STI's hard-earned reputation. Successful handgun designs constantly evolve. This is for a variety of reasons stemming mainly from market and technological impulses and pressures magnified by the ever-changing mission requirements of end users. The STI Nitro 10 is the poster child of this design modification creep involving the classic 1911. The inherent familiarity most have with the 1911 platform, not to mention its ergonomics, validates STI's decision to enhance it via caliber expansion. In many tactical situations, the penetration and power of a 10mm Auto fired from a 1911-type weapon could be very advantageous.
The Nitro 10 places real power in an accurate and reliable package. The ability to reliably engage targets out to 100 yards with great terminal effect cannot be underestimated. The basic 1911 design is too well-known to attempt any new exposé, but the STI Nitro 10 serves as a reminder why the 1911 design still holds a prominent place in the world. The 10mm Auto was designed as a fighting cartridge. Its chambering in the STI Nitro 10 is a sound combination of function and power.
SOURCES
STI INTERNATIONAL, INC.
(512) 819-0656
www.stiguns.com
BUFFALO BORE AMMUNITION
(406) 745-2666
www.buffalobore.com
DOUBLE TAP AMMUNITION
(866) 357-10mm
www.doubletapammo.com
ECHO VALLEY TRAINING CENTER
(540) 450-7998
www.echovalleytrainingcenter.com
FEDERAL PREMIUM AMMUNITION
(800) 379-1732
www.federalpremium.com
HORNADY MFG. CO.
(800) 338-3220
www.hornady.com