Numerous companies are involved in producing tactical gear to enable users to more efficiently deploy their weapons. This was not always the case: not that long ago, your primary tactical gear option was a visit to the local Army/Navy store. 
Business competition has not only spurred R&D but also made gear choices available to a wider range of clientele. 
A company helping equip our military, law enforcement, private security contractors, and private citizens is High Threat Concealment (HTC). 
Nothing is as individual as deciding how to carry immediate-action items such as a handgun, magazines (handgun and rifle), medical IFAK, radio, and whatever else is deemed a necessity in high-risk environments. 
Factors such as accessibility, adaptability, fit, weight- to-mobility ratio, retention, and most effective use of limited real estate found on an operator's body all come into play in the decision-making process. 
GOING LOW PROFILE

 
Let's face it: the world is becoming a more dangerous place, not only overseas but also here in the U.S. With this said, lower profile has much going for it. This statement is not confined to private security contractors. Even our military forces and law enforcement see the benefit of not rolling around in full kit as typified by chest rigs and ballistic helmets in certain environments. 
Military, law enforcement, private security contractors, and private citizens each have stimuli dictating which carry method works better for them. Training experience, observation, and communication with personnel from the above-mentioned cross-section indicate that patrol- belt use is gaining ground as a favored base method, with chest rigs or body armor carriers available to supplement as needed. 
High Threat Concealment (HTC) focuses on a way to do this more discretely without sacrificing effectiveness. This leads us to our specific topic: HTC's Low Profile System (LPS) belt rig. The LPS is an adaptation of the patrol belt that can be concealed under a light jacket or shirt. 
HIGH THREAT CONCEALMENT

 
Veterans James Overton and Adam Garrison founded High Threat Concealment, a small business specializing in the development of low- profile tactical gear for close protection and/or low-visibility operations in both permissive and non permissive environments. 
Both have extensive experience in the U.S. military, Department of State Diplomatic Security, and/or as private security contractors. With this background, it's not hard to arrive at the genesis of the LPS concept. HTC's founders expanded on what originally was a solution for their own needs when faced with gear visibility restrictions during their protective security details. 
HTC's modular and minimalist designs allow operators the unique ability to tailor the equipment to specific mission requirements and carry the gear they need while reducing the tactical profile of their appearance. The High Threat Concealment concept, based on their own experience and feedback from others in the field, is to minimize the visibility of their gear without compromising the ability to react and engage threats. 
LOW PROFILE SYSTEM

 
According to HTC literature, the LPS is tailored to those as- signed to dignitary or executive protection details or for any unit or personnel operating in a non/semi-permissive high- threat environment. High Threat Concealment utilizes the latest in compression molding, vacuum forming, and injection molding combined with the highest quality thermoplastics and milspec hardware to make some of the most effective low-profile tactical gear available today. All High Threat Concealment products and accessories are proudly manufactured in the U.S.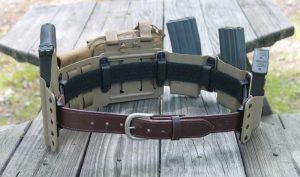 The HTC LPS comes standard with a dual pistol maga- zine holder, two single rifle magazine holders, blowout kit, radio holder, and handgun holster. The rig's individual com- ponents are interconnected via belt attachment loops inte- gral to the various pieces. 
Each piece can be relocated per individual preference within the framework of the LPS. Adjustable retention screws are included. The system is adaptable and modular, with other components available. 
For example, the blowout kit and radio holder can be replaced with the HTC Modular Accessory Panel (MAP), al- lowing for adaptation to other gear items such as a dump pouch, handcuff pouch, or general utility pouch. The blowout kit pouch can be purchased stocked or left empty for the user to outfit as they see fit.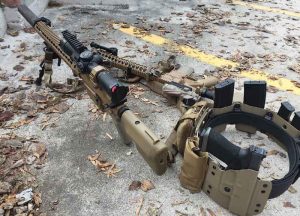 Multiple handgun holster styles (including fitting red dot sights and lights) and magazine types (rifle, handgun, SMG) can be accommodated when ordering the LPS. One key to the LPS's success is how close the components sit next to your body, allowing for discreteness.
LOW PRO BELT

 
The HTC Low Profile System does not come standard with a belt, but this doesn't mean options aren't available. HTC doesn't want to dictate belt use to a customer. This lets the user choose the best belt for their intended operating environment.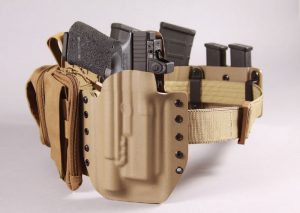 High Threat Concealment has designed a two-piece belt specifically for the LPS. The Low Pro Belt is a hybrid of 1.5-inch leather and 1.75-inch milspec Type 13 webbing, designed to look like an average leather belt when worn beneath a jacket or open button-front shirt. This makes it even easier to blend into your surroundings. 
The HTC Low Pro Belt combines the qualities of a leather gun belt with the comfort of tactical nylon webbing. A removable buckle allows the Low Pro Belt to be threaded through your trouser belt loops, further adding to the discrete appearance of the LPS rig. 
The HTC Low Pro Belt is 1.75 inches wide from hip to hip and lined with Velcro-like hook receptacles, narrowing to 1.5-inch wide leather in front, and paired with a 1.5- inch matching web underbelt surfaced with loop receptors.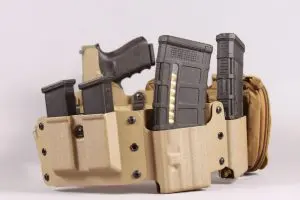 With the underbelt threaded through your pant loops, the Low Pro overbelt holds your equipment and components securely in place without the need for belt keepers, while still allowing for easy removal and reattachment without having to remove the entire ensemble. 
Anecdotally, a 1.75-inch Tactical Cobra Belt also works well when low visibility is not the highest priority with the LPS rig. 
All these positive attributes of the HTC LPS rig would mean little if the LPS did not perform in the field in terms of gear retention and proper placement for access of items. 
FIELD TESTING

 
I headed to Echo Valley Training Center (EVTC) to verify both of these. First up was a run through EVTC's obstacle course to find out if items would stay in place with the HTC LPS rig during physical exertions such as rope ascent/descent, fence climb, pull-ups, and squeezing through tight spaces. 
Next was range work moving around and between obstacles and shooting stations during team tactics drills. This activity was chosen for its combination of movement, magazine changes, and transition drills when the handgun is required. 
Lastly, I rode and walked multiple times through the EVTC Jungle Walk while wearing the LPS. Target arrays of paper and steel were engaged after dismounting from the vehicle or moving to cover after my training partner gave a signal.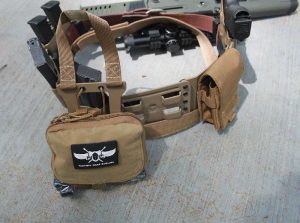 All these activities at EVTC reinforced my initial solid impression of the LPS design. Even if the low-visibility factor associated with the HTC LPS is discounted, the LPS belt rig is a viable candidate for use as an everyday belt rig, no matter what mission is involved. 
One concern related to the med kit/IFAK on the LPS. Most daily activities involve walking or riding, and the location of the medical IFAK at the rear of the belt proved problematic and uncomfortable while riding. However, the middle back location is key for being able to reach your med kit with either hand. 
High Threat Concealment has developed a solution for this, thanks to a handle that connects the med kit to the MAP panel via MOLLE slots. A quick pull of the handle detaches the kit when needed for emergency access, riding, working in close confines, or more discreteness with the cover garment. The ability to quickly remove the LPS belt system from the inner belt and then place it back lets the medical kit be reinstalled quickly. 
The Department of State Diplomatic Security, Customs and Border Patrol, Israeli units, private security contractors working government contracts, and many other entities use the High Threat Concealment Low Profile System. This is a strong endorsement for any person or organization looking for a belt rig that does so many things right. 
HIGH THREAT CONCEALMENT 
(757) 750-0300 www.highthreatconcealment.com 
ECHO VALLEY TRAINING CENTER 
(540) 450-7998 www.echovalleytrainingcenter.com