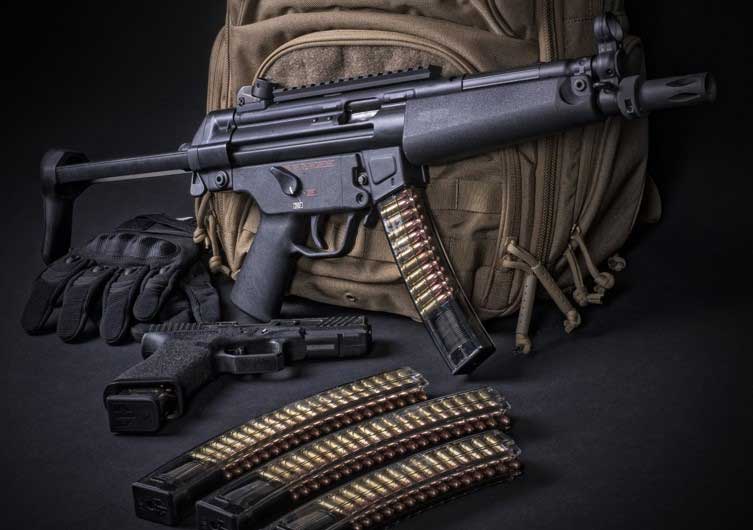 Elite Tactical Systems Group (ETS®) magazines have developed an excellent reputation for delivering reliable performance. The company's AR, MP5, and Glock mags, and new for 2019 SIG Sauer P320, Smith & Wesson M&P, and M&P Shield mags offer a combination of patent-pending features that sets them apart from other magazines on the market.
Some time ago, ETS provided me with samples of its 30-round AR mags for evaluation, as well as a Rapid Recognition System kit. ETS also makes a reduced-capacity version of both for those who don't live in a state that recognizes the Second Amendment rights of its citizenry. (I did not test the reduced-capacity versions.)
The first feature that caught my eye on the ETS AR mags I received was the completely integrated coupling system, which allows operators to quickly snap two or more mags together without the use of tools or external components, much like HK G36 and SIG 550 Series mags. The coupling system on ETS mags is far more robust than those employed on G36 and 550 mags, with no easily broken tabs. ETS also offers mags without the coupling system.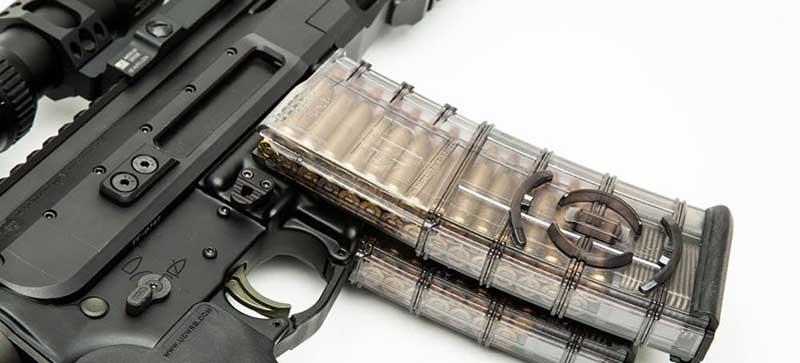 The advantage of coupled mags is it allows mag changes to be completed in a fraction of the time normally required, which translates to less downtime and target distraction in a firefight. The coupled ETS mags are staggered slightly to allow the magazine to clear the ejection port cover on AR-15 rifles. ETS was able to keep the weight of the mags down and the profiles slim. The coupled mag is less than 1/8-inch wider than the standard non-coupled version.
The non-coupled mag should fit in most pouches basically the same as other polymer mags. Although the coupled mags will not fit in some pouches, many newer pouches are a bit larger for polymer mags, and the coupled mags should fit in them. If your pouches are a tight fit for GI mags, there is no way the coupled mags will fit.
Another outstanding feature of all ETS mags is their use of an advanced translucent polymer. Not only is the polymer see-through, allowing you to see your remaining rounds, but it also offers a level of impact resistance unmatched by the traditional glass-reinforced nylon polymers that are used for most polymer magazines.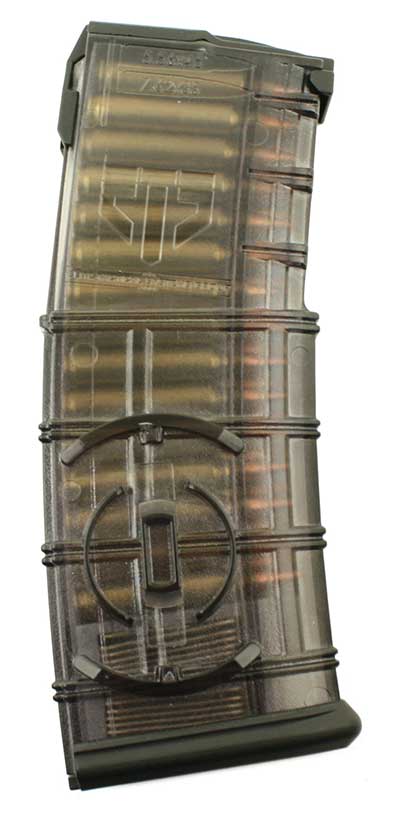 The polymer also boasts superior thermal stability and UV resistance, exceptional performance in extreme cold, resistance to harsh chemicals, and is ultra-low creep. The last means users won't have to worry about the feed lips spreading over time, even when stored fully loaded without storage dust covers.
Cyclical stress is an important factor for mag feed lips. Each time a round is stripped off and the subsequent round pops up, there is a considerable amount of cyclical stress on the feed lips. According to ETS, its material was tested at 1,000 psi, and it took 100,000,000 cycles before the plastic failed.
During testing by the company, its mags were the only all-polymer mags to withstand repeated six-foot drops onto hard concrete on the feed lips while fully loaded without damage. In fact, the mags proved to be as tough as the hybrid mags with steel feed lips but without any of the drawbacks. The steel employed on the hybrid mags is not stainless and is more prone to rusting while lacking the less chemical resistance of the polymer mags.
The feed lips on the ETS mags are more than twice as thick as the steel feed lips on the hybrid mags. According to ETS, this along with its special polymer allows its feed lips to endure more impact (energy) without permanently deforming.
Other key features of the ETS mags include a constant curve body, true no-tilt follower with reliable bolt hold-open on the last round, pop-off clip-on dust cover to keep out dirt and debris during storage, captured corrosion-resistant 416 stainless steel spring, over-insertion tabs, magazine ribs that provide a very positive grip, and stripper clip guide grooves. The baseplate is specially designed for easy disassembly of the mags without tools for maintenance, as well as to provide an excellent grip when extracting them from pouches.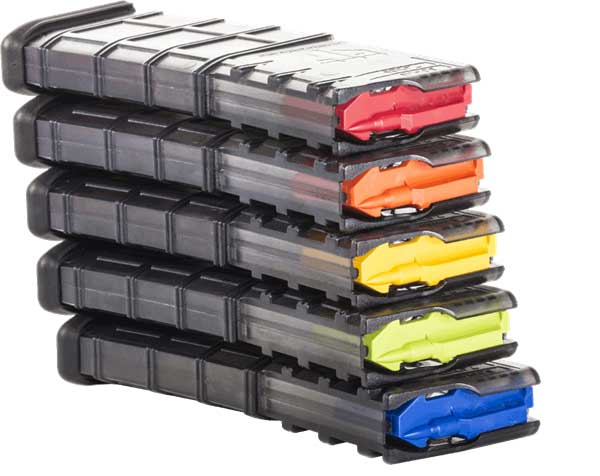 ETS offers an optional Rapid Recognition System (RRS) for its AR mags that lets you easily differentiate your mags to identify the load or caliber to prevent accidentally running the wrong ammo in your AR. The RRS kits include two followers and two base inserts and are available in five colors: red, orange, green, blue, and yellow.
The AR mags are also available with the option of a tritium follower for easy identification in the dark, As with tritium night sights, it requires no light source to glow. The tritium follower can also be purchased separately.
ETS AR mags are listed as compatible with the M4/M16/AR-15, HK 416, M27 (IAR), and FN® SCAR® MK 16/16S and with 5.56mm NATO and 7.62x35mm (.300 BLK) ammunition.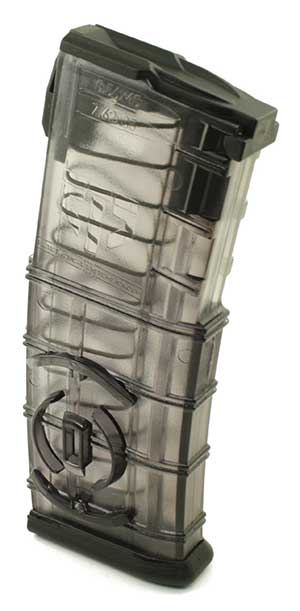 I have employed the mags with numerous STANAG mag comparable firearms and put thousands of rounds downrange with the mags over several years without any issues whatsoever. The mags were loaded to full 30-round capacity and were loaded individually by hand, with stripper clips and with a variety of mag loaders, and no problems.
The followers are exceptionally smooth functioning, which aids in loading and feeding. The dust covers are well-designed and snap on and lock up securely, but are easily removed with just the flick of a finger.
I have found the magazines to be solid performers. They seat easily, even on a closed bolt, and lock securely. The coupled magazines didn't interfere with the dust cover on my ARs or the operation of any controls. The mags functioned flawlessly throughout my testing, including reliable last-round bolt hold-open.
The mags are designed to drop free, and the ones provided to me have withstood multiple drops onto concrete both while loaded and unloaded, with no damage beyond a few minor scratches.

The coupled mags have a circular lock. It's simple, smooth and secure. Just press the mags together at a 90-degree position and rotate them into alignment. To uncouple the mags, press them together at the top to unlock the locating tabs, and rotate the mags another 90 degrees.
Disassembly of the mags for cleaning is just as easy. To remove the baseplate, push down on the recessed cartridge-shaped button on the base insert with your finger and slide the baseplate off. It couldn't be any easier.
The standard 30-round ETS mags with coupler have an MSRP of $19.99. Non-coupled mags have an MSRP of $17.99, and the Rapid Recognition System kit two-pack is $6.99. All ETS Group products are made in the USA and come with a lifetime warranty.
SOURCE
ELITE TACTICAL SYSTEMS GROUP
(855) 887-5452
www.etsgroup.us