What does Dave Spaulding, 2010 Law Officer Trainer of the Year, do when not engaged in training, writing, and other gunfighting services? In his "spare time," his fertile martial mind comes up with new gunfighting gear or "better mousetraps" to improve the self-defense shooter or police officer's edge for winning and surviving.
An example of his professional creativity is his "Combative Application Pistol" (CAP) Holster and magazine pouch. Originally executed by Dan Hillsman of custom Hillsman Holster Company, the rig, which has matured after a number of changes and modifications, is now being produced by Shin Chen, boss of X-Concealment Holsters, and is available exclusively from Templar Custom Arms.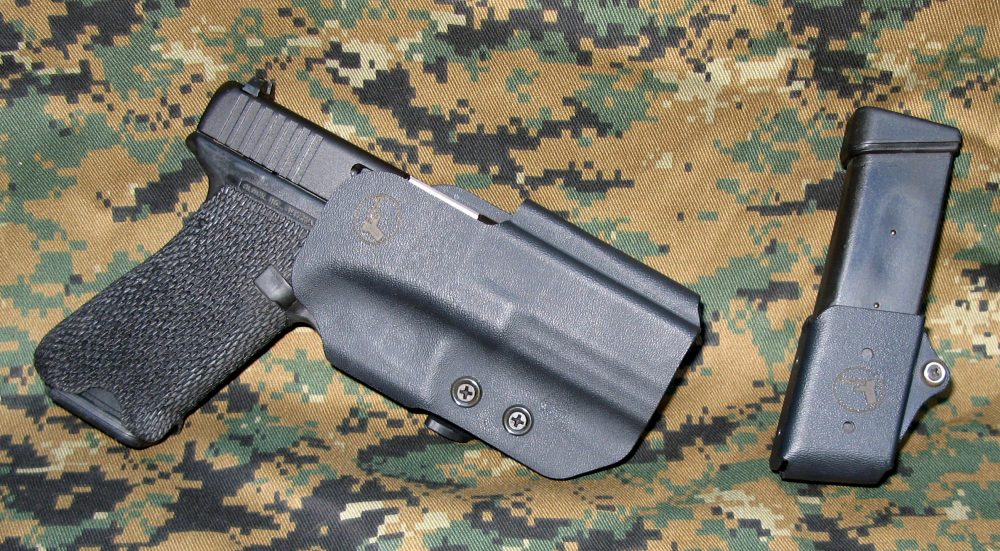 CAP Holster and mag pouch. Pistol is Templar Custom Arms Glock 17. Perfect molding to gun's contours.
---
The 3.5-ounce holster and magazine ensemble's concept was based on Dave's extensive law enforcement experience. In addition to SWAT assignments, he also worked plainclothes gigs and always liked the idea of an easy on/off scabbard but was not satisfied with the paddle designs that he acquired.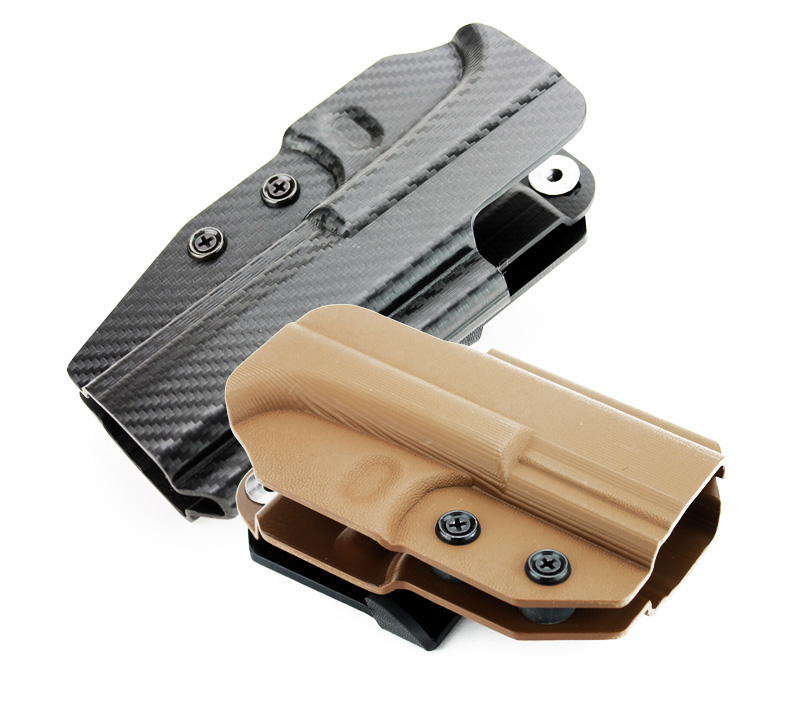 According to Dave, paddles were originally developed for revolvers, whose center of gravity was centered at the cylinder and not the grip. For wheelguns they worked fine, but they did not stabilize grip-heavy pistols on the belt. To correct this perceived fault, Dave sought to develop an easy on/off paddle that would grip the trouser belt like a belt loop, but also incorporate any support provided by the trouser band.
Taking another manufacturer's Kydex offering, he developed a crude version of his "belt claw" by grinding and remolding it. When he arrived at the point where he could put it on and remove it with relative ease, and it stabilized the piece to the point where it did not "walk" during normal movement, Dave presented his idea to the holster company. They unceremoniously dismissed him.
Undeterred, he presented it to custom holster artisan Hillsman and what Dan refers to as the "Scalding Spaulding" because it was so quick became a reality. It has done well and has been acquired by some special mission units as a concealment option. But Hillsman is a small shop and makes a number of models, all by hand. He could not meet the required production tempo.
Another holster manufacturer made excellent prototypes, but quality suffered when he produced them in quantity. After a number of failed courtships and engagements, a long-term relationship was established with Mr. Chen and as they say, the rest is history.
Shin Chen advised that CAP Holsters are currently available for most Glock and Smith & Wesson M&P models. X-Concealment uses .093-inch thick Kydex to build the holster and 0.125 inch to form the belt claw. Unlike most Kydex holsters, which are formed with a vacuum or form presses, CAP Holsters are molded with CNC machined production molds to achieve highly detailed definition.
The Level I security holster is perfectly hand molded to the specific pistol it supports. Two Phillips-head tension screws and friction fit provide sufficient undergarment security as long as commando-style gymnastics are avoided. The mount is a separate piece and attached to the holster via two Torx-head screws. The CAP's interior is nicely polished and will not mar pistol finishes. Dave's CAP logo is stamped into the holster's top end.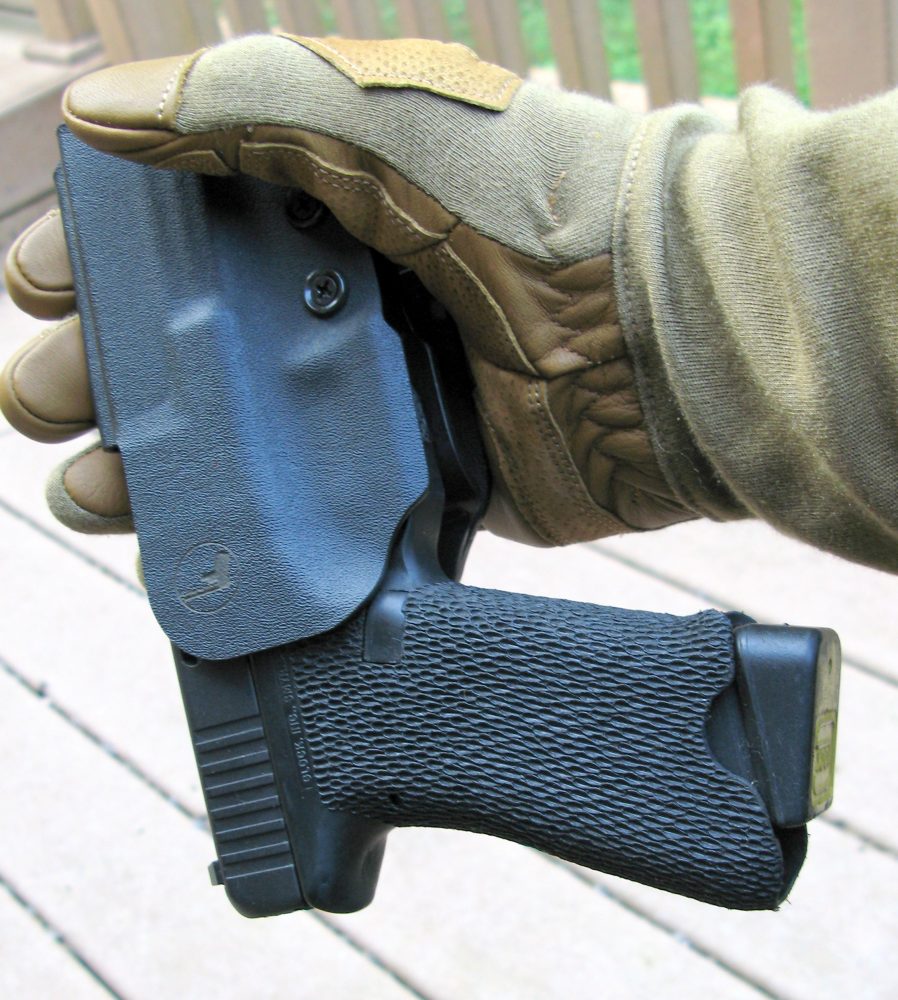 Dave sometimes shoots a red-dot-equipped pistol with large back-up sights. The molded sight track is wide and deep and intended to accommodate that kind of setup as well as standard front sight blades.
The paddle is straight drop and has two proprietary claws that grab the trouser band and stabilize the rig. When I drew my Glock, I could not detect any slippage or unwanted movement.
Although referred to as a paddle rig, I have found that the CAP holster also works well on a belt and the slot will accept up to a 1.5-inch band. As advertised, it goes on and comes off without much of a struggle. In place, it's a straight-drop affair that rides high and tight on the waist.
The single magazine pouch is quite interesting. It exhibits all the features of the holster and is made of the same material, including the hardware and CAP logo. It has a slight rearward cant for a very natural grasp, and its interior is polished. However, the claws are reversed and instead of being at the bottom of the paddle, they are at its top where it can snap over the top of a one-inch-wide belt. Tension is adjustable via a Phillips-head screw. More like a competition pouch, it rapidly surrenders a magazine and is fairly secure when worn concealed.
Unlike me, Dave has not gained any body fat in retirement. The holster and its payload are held so close to the body that I occasionally caught a little of my love handle overhang when reholstering. I would like to have the ability to adjust drop and rake to better accommodate my physique. Although I had to drop my support-side shoulder to access my Glock's grip, the pistol cleared the scabbard quickly and smoothly.
This is a well-thought-out rig of excellent quality that can serve self-defense shooters, detectives, and practical shooting competitors. Dave and X-Concealment have hit a home run here. Current production time is two weeks after payment has cleared. Tariff is $69.99 and the holsters are guaranteed for life.
SOURCES:
Handgun Combatives
www.handguncombatives.com
Templar Custom Arms
(330) 326-2111
www.templarcustomarms.com
X-Concealment Holsters and Gear LLC
www.x-concealment.com