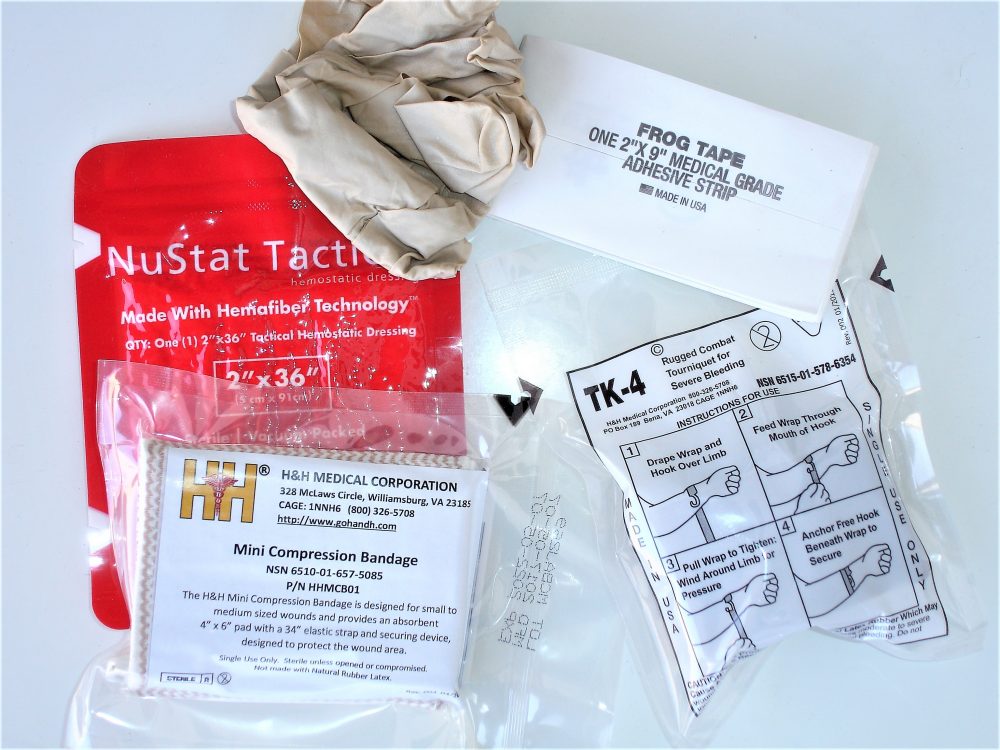 We all know the importance of carrying a trauma kit. When it comes to everyday carry (EDC) size does matter.
The Micro Trauma Kit NOW!™ (Micro TKN!™) from Blue Force Gear® is the smallest version of the company's Trauma Kit NOW!™. It's designed to hold essential lifesaving gear with minimal size in mind.
Blue Force Gear has recently expanded the Micro TKN! product line with a new basic medical supply version. It's designed for EDC by law enforcement professionals, prepared citizens and hunters. It has everything that you need to treat the number one preventative cause of death: extremity hemorrhage.
The Micro TKN! Basic medical supply load-out comes with essential first-aid gear, including a NuStat Tactical™ hemostatic dressing for wound packing; four-inch H&H Mini Compression Bandage emergency trauma dressing; six 2×9-inchstrips of Phokus Research Group Frog Tape™ medical grade adhesive tape; H&H Tourni-Kwik® TK-4 compression tourniquet; and one pair of tan heavy-duty nitrile medical gloves.
Be aware that the Tourni-Kwik® TK-4 compression tourniquet does contain natural latex, which may cause allergic reactions in some people.
Although the Basic load-out doesn't include chest seals to treat penetrating chest injuries, an improvised occlusive dressing can be made with the plastic packaging of the components and secured with a bandage or tape.
Blue Force Gear also offers an Advanced medical supply version. It comes with QuickClot Combat Gauze®; HyFin® Vent Chest Seal (two seals included); Cleer® Medical Trauma Bandage 4-inch Flat Pack; decompression needle; six 2×9-inch strips of Frog Tape; 28F nasopharyngeal airway; and one pair of tan heavy-duty nitrile medical gloves.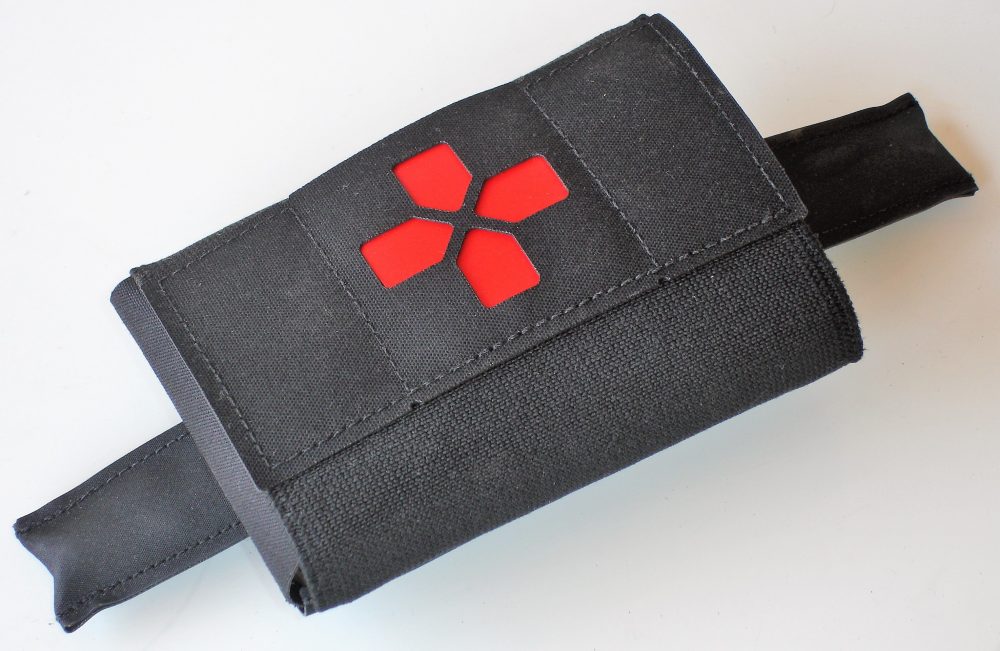 The Micro TKN! Advanced medical supply load-out doesn't include a tourniquet. A tourniquet is absolutely essential and will need to be purchased and carried separately.
The Micro TKN! pouch is available without any contents should you wish to put together your own trauma kit. If you do, be advised that the pouch is very small and difficult to load with off the shelf items.
Blue Force Gear designed the Micro TKN! around a specific medical supply load out that's specifically designed for small form, low bulk applications. The company highly recommends purchasing the "filled" kit to get the "greatest protection and usability."
The Micro TKN! is designed to be worn horizontally with minimal bulk. The Micro TKN! Pouch is available in two attachment methods: Belt and MOLLE. The Belt Pouch features two adjustable hook and loop tabs that fit all belts from dress to duty. The Belt Pouch version can also be mounted to PALS/MOLLE. The MOLLE Pouch features Blue Force Gear's patented Helium Whisper® technology.
The Micro TKN! Pouch is constructed of ULTRAcomp® high-performance laminate and Ten-Speed® military-grade elastic, and sewn with TEX 70 bonded nylon thread. It's stronger and less bulky than a standard medical pouch. It has a minimal footprint, measuring only 6 x 3.5 x 2.5 inches. The pouch is available in black, coyote brown, Multicam®, OD green, and wolf grey.
The Micro TKN! consists of two main components: the outer Belt or MOLLE mounted pouch and a removable inner carrier that keeps the medical supplies organized.
The front of the outer pouch features a laser-cut cross with several signal inserts from which to choose: black, red or highly reflective glow-in-the-dark. You can also leave all of the inserts out for maximum concealability.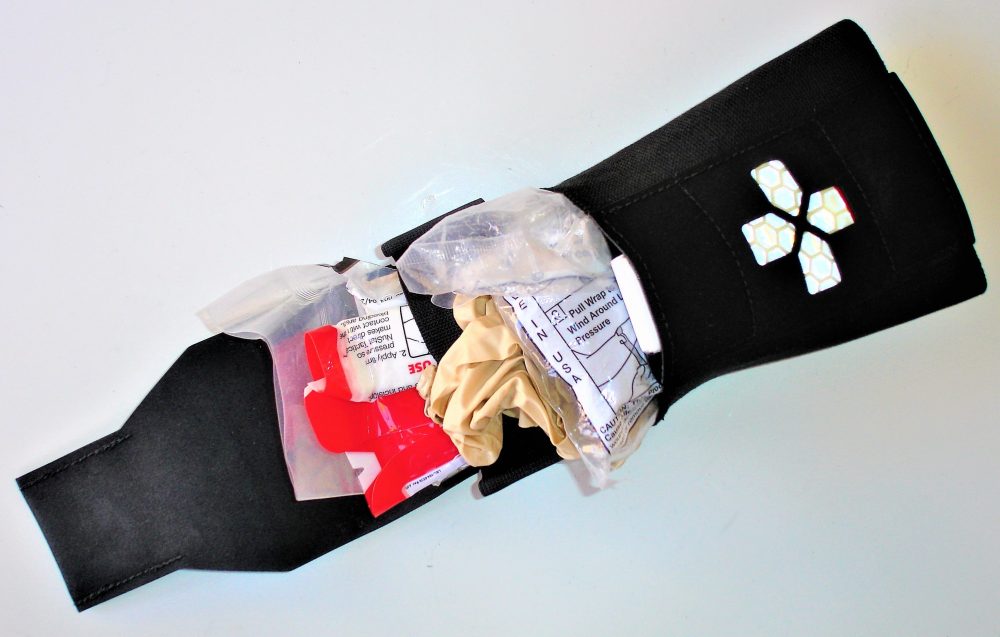 The inner carrier features a "folded wallet" design. It can be deployed with one hand or even a single finger from either the left or right side by pulling the BLIP™ (Ball Loaded Index Point) featured pull tabs, giving you immediate access to all of the medical supplies.
According to Blue Force Gear, BLIP was born in the freezing rain on a Blackwater range, where they realized that "when you can't feel your fingers, it's very difficult to get a grasp on a flat piece of webbing and distinguish a pull tab." Unlike flat webbing, BLIP doesn't rely on friction. Your finger bones positively engage the ball. BLIP's form makes it easy to find, grasp and pull.
The Micro TKN! doesn't come filled with the medical supplies. No instructions are included. Rest assured it does all fit, but including instructions with the Micro TKN! would be helpful and perhaps save some frustration.
That aside, the Micro TKN! is an excellent EDC trauma kit. The new Micro TKN! Basic provides you with a more affordable and easy to use option. It could be a real lifesaver.
As with all Blue Force Gear products, it's made in the USA, is Berry Compliant, and carries a limited lifetime warranty.
Suggested retail price for the Micro TKN! Basic is $129.00.
Eugene Nielsen's background includes protective intelligence investigations and threat management, as well as red teaming security consulting. He has a BA degree from the University of California. He currently owns and operates an investigative and security consulting firm and is licensed in both California and Arizona.
SOURCE
BLUE FORCE GEAR
(877) 430-2583
www.blueforcegear.com