Introduced into active service with selected units of the Soviet Army in 1948 and officially adopted by the Soviet Armed Forces in 1949, the Avtomat Kalashnikova or AK and its variants remain the most widely used assault rifles in the world, due to their comparatively low production costs, ease of manufacturing, reliability under harsh conditions, ease of use, and availability in nearly every geographic region.
The AK and its variants have been manufactured in dozens of countries. More AK type weapons have been produced than all other assault rifles combined.
Rifles based on the Kalashnikov design have always presented some unique challenges for use with a sound suppressor. Thread diameters and pitches vary greatly, as does the thread concentricity with the bore. Kalashnikovs provide a large amount of gas pressure to the piston in the long-stroke gas system.
Although this is generally associated with great reliability in adverse conditions, adding a typical sound suppressor to the mix compounds the over-gassing. The resulting blowback makes for an unpleasant shooting experience.
Many sound suppressor manufacturers choose not to warrant their products on Kalashnikov-pattern rifles because of the thread/bore concentricity issue. Other companies simply do not offer mounting solutions in Kalashnikov thread patterns in order to avoid the concentricity problem.
Mike Pappas, Founder of Dead Air Armament™, has long been a fan of the Kalashnikov. Mike, who cofounded another sound suppressor company in 2008, teamed up with silencer designers Todd Magee and Gary Hughes with the goal of building the best sound suppressors on the market.
Dead Air Armament has recently come out with its much-anticipated Wolverine PBS-1 sound suppressor for Kalashnikov rifles. Featuring classic combloc looks, the Wolverine PBS-1 is a state of-the-art suppressor designed to overcome the issues faced in suppressing the AK.
I recently met up with Josh Locatis, Creative Director of Tap Rack Bang Creative, and gunsmith Kyle Pritchett, Operator/Founder of Down Range Customs LLC, for some range time with the Wolverine and Arsenal SAM7R AK at C2 Tactical in Tempe, Arizona.
WOLVERINE PBS-1
The Wolverine was designed from the ground up for use on Kalashnikovs. Not only does it eliminate the need to buy multiple suppressors to fit different threaded combloc rifles, but it also strikes an ideal balance between suppression and minimal back pressure. It accomplishes this while remaining true to the overall external size and appearance of the original Soviet military PBS-1 sound suppressor for AK-47 and AKM rifles.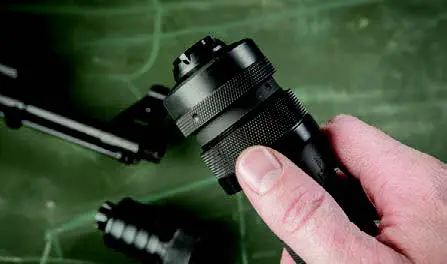 In designing the Wolverine, the varying degrees of non-concentric threads found on Kalashnikovs needed to be accounted for to prevent baffle strikes. This was accomplished via a specifically engineered bore taper that allows the Wolverine to be used on all but the worst examples of non-concentric threads.
In testing conducted on a large number of foreign and American barrels, Dead Air Armament achieved what it believes to be the optimal bore diameter and taper to prevent baffle strikes on the vast majority of rifles without major sacrifices in sound reduction performance.
You can simply screw the Wolverine on and shoot it with confidence that damage to the unit is highly unlikely. In the event that baffle strikes occur, any damage to the suppressor is covered by the company's lifetime warranty.
Kalashnikovs are hugely over-gassed. This turned off many users from suppressing their weapons, since a typical sound suppressor only makes the problem worse. The Wolverine addresses this with a baffle stack that is designed to have minimal back pressure and to be balanced between the muzzle and ejection port.
The Wolverine has been optimized to equalize the two and thus provide effective muzzle suppression without unnecessarily increasing sound pressure levels and blowback. The result is a much more pleasant suppressed shooting experience.
Dead Air Armament didn't cut any corners when it came to strength and durability. The Wolverine is multi-caliber rated up to 7.62x54R. It is full-auto rated with no restrictions on minimum barrel length. Like the Kalashnikov, it has been built for ruggedness.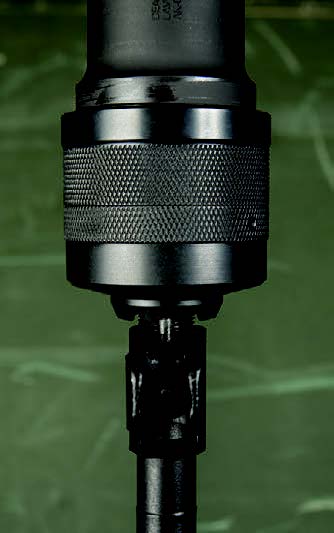 The Wolverine has a tough stainless steel exterior with a Cerakote® High Temperature Firearm Finish coated body and nitrided parts. The baffles are Stellite®, a cobalt-chromium alloy specifically designed for wear and heat resistance. Stellite is exceptionally resistant to heat erosion, making it the ideal material for suppressor baffles. It costs more and is harder to machine than most other baffle materials, but provides maximum baffle life.
The Wolverine maintains the compact form factor of the original Soviet PBS-1 suppressor. It has an overall length of 7.4 inches (with thread adapter) and a 1.93-inch outside diameter with a 1.5-inch
tube. Weight is 19.8 to 24.4 ounces depending on the mount. Installation of the Wolverine is tool-less and takes only seconds.
THREAD DIAMETERS
The Wolverine comes with two external locking collars to accommodate the widely varying thread diameters and pitches associated with Kalashnikovs. The collars work with the rifles' existing front sight block pin to help prevent loosening of the suppressor from recoil under sustained fire.
A 14×1 LH thread insert is included with the Wolverine, making it compatible with most threaded 7.62x39mm AK variants right out of the box. Additional thread inserts to accommodate other common combloc-pattern threads are available (24mm RH AK-74, 26mm LH Yugoslavian M92, et al), as well as common American threads (1/2×28 and 5/8×24) at minimal cost.
SOUND SOURCES
The two main sources of sound that need to be considered when "silencing" the discharge of a firearm are the weapon's report, i.e., muzzle blast, and the "crack" caused by a supersonic bullet passing the sound barrier. The sound from the cycling of the firearm's action is a third consideration for some specialized applications.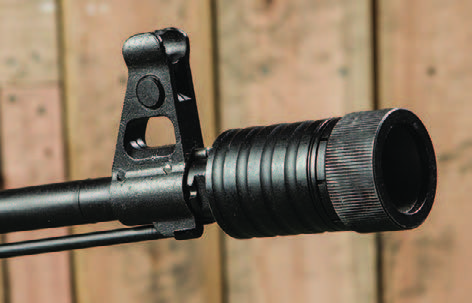 Muzzle blast is the most significant source of sound generated by a firearm. It is the consequence of the shock waves resulting from high pressure gases exiting the barrel. If the pressure is reduced immediately before it exits, the weapon's report will be reduced. Muzzle blast is also reduced by decreasing velocity of the gases and either absorbing the sound waves or canceling them by interference with reflected waves coming from the same source.
No suppressor can eliminate the ballistic "crack" of a supersonic bullet. For maximum sound mitigation, subsonic 7.62x39mm ammunition is available from several manufacturers that allow both semi-auto and full-auto fire with a suppressed Kalashnikov.
OSHA limits impulsive or impact noise at 140db peak sound pressure.  Without hearing protection, exposure to any impulse noise over 140db causes varying degrees of permanent noise-induced hearing loss. It can also lead to tinnitus.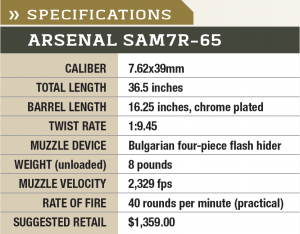 Although a number of variables impact sound suppression, Dead Air Armament states that the sound pressure levels with the Wolverine will range from 136 to 138db at the muzzle and 138 to 142db at the ejection port, across varying hosts with standard military 7.62x39mm ammunition. For comparison purposes, these sound pressure levels are roughly equivalent to that of an unsuppressed .22 Rimfire rifle shooting High-Velocity .22 LR cartridges.
MANUFACTURER'S TESTING
Dead Air Armament tests all its suppressors to MIL-STD-1474D. This is the standard military test to measure potential hearing damage from noise and is the industry-accepted standard for testing firearm sound suppressors.
Testing is conducted with a sound meter placed one meter to the left and level with the muzzle, with the microphone oriented in an upward position, and 1.6 meters off the ground. Tula 122-grain FMJ 7.62x39mm ammunition was utilized by Dead Air Armament during testing of the Wolverine PBS-1.
ARSENAL SAM7R-65 AK
The Wolverine was mounted on an Arsenal 7.62x39mm SAM7R-65 semi-auto AK. The SAM7R-65 is manufactured by Arsenal Company of Bulgaria with 100% new production parts and components and then re manufactured in the U.S. by Arsenal, Inc of Las Vegas. Materials, fit and finish are second to none. The SAM7R-65 is 922(r) compliant with U.S. or foreign magazines.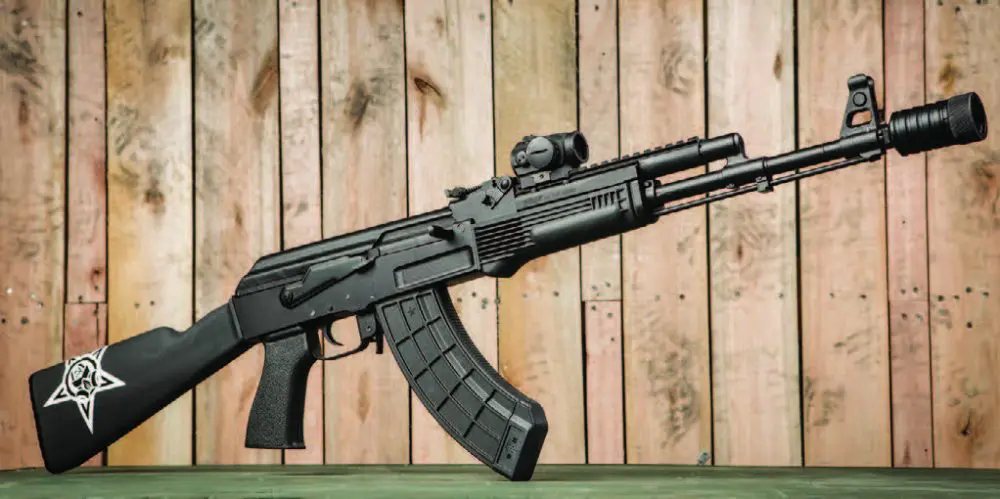 The SAM7R-65 receiver is milled from a hot-die hammer-forged receiver blank. Hot-die hammer forging produces stronger and finer-grained steel than the milled receivers machined from bar stock. The hammer-forging process eliminates internal voids and cooling deformations.
According to Arsenal, each forged receiver blank requires over 5.5 hours of milling before assembly, but delivers a receiver of unequalled strength, precision, and durability for substantially extended service life.
The internal components are a mixture of Bulgarian and U.S.-made parts. The bolt, bolt carrier, and double-hook trigger are hot-die hammer forged by Arsenal. The hammer and disconnector are U.S. made.
The SAM7R-65 has a cold-hammer-forged 16.3-inch barrel with a 1:9.45 twist rate from Arsenal's Bulgarian factory, based on Steyr manufacturing technology. It has a hard-chrome-plated bore and chamber. The barrel is equipped with a removable Bulgarian four-piece flash hider with 14x1mm left hand threads.
The SAM7R has a total length of 36.5 inches and weighs eight pounds without a magazine. The rifle has an intermediate-length butt stock with 13.4-inch length of pull. The rifle is equipped with an AK scope mounting rail attached to the left side of the receiver. It also has a standard AK 800-meter leaf-spring rear sight.
Each SAM7R includes a cleaning rod, bayonet lug, black polymer furniture, one ten-round magazine, sling, oil bottle, and cleaning kit.
The test rifle was equipped with an Ultimak rail, Aimpoint Micro T1 sight, and U.S. PALM Battle Grip. U.S. PALM 30-round AK30 polymer magazines were employed for testing.
AT THE RANGE
The Arsenal SAM7R with Wolverine PBS-1 provided outstanding performance during our testing, especially considering the platform and compact size of the suppressor.
First round pop (FRP) was very minimal. FRP results from the burning off of the oxygen in the suppressor by the first round, and occurs with all suppressors to varying degrees. Other than a very slight flash on the first round, no muzzle flash was observable to the naked eye.
Gas blowback, while definitely noticeable, was less than expected for a suppressed AK. In the opinion of all present, Dead Air Armament definitely has met its intended design parameters for the Wolverine.
Reliability, not accuracy, is the strong suit of the AK. There were no malfunctions—not at all surprising with a well-made AK like the Arsenal SAM7R-65. The addition of the Wolverine did not affect reliability in any way.
Compared to other modern assault rifles such as the M16/M4, the 7.62x39mm AK is not regarded as the most accurate weapon. That being said, the SAM7R-65 is reportedly one of the more accurate Kalashnikovs.
The trigger on the sample SAM7R-65 was excellent, with zero take up, a uniform pull, and a crisp, clean break, with no over-travel and a positive reset.
RED ARMY STANDARD AMMO
Century International Arms provided us with a 180-round Range Pack of Red Army Standard Elite 123-grain FMJ 7.62x39mm ammunition for our testing. Manufactured by the same factories that produced billions of rounds of ammunition for the Red Army of the former Soviet Union and her Iron Curtain regimes, Red Army Standard is available in many popular Warsaw Pact calibers, such as 7.62x39mm, 9mm Makarov, and 5.45x39mm.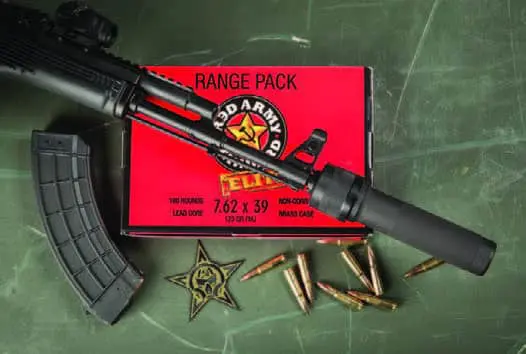 If you're looking for reliable, comparatively inexpensive ammunition for your combloc-caliber weapon, Red Army Standard fits the bill. Although not match grade, it has more than acceptable combat accuracy.
The Red Army Standard Elite is Red Army Standard's premium 7.62x39mm ammunition. It features a lead-core copper full metal jacket bullet and brass case, and is non-corrosive and boxer primed. Muzzle velocity averages 2,287 feet-per-second (fps) out of a 16.25-inch AK barrel, producing 1,428 foot-pounds energy at the muzzle.
FINAL THOUGHTS
The Dead Air Armament Wolverine PBS-1 and Arsenal SAM7R-65 are a great combination for any Kalashnikov aficionado, whether they be shooter or collector. You won't find a better or more versatile suppressor for com-bloc weapons than the Wolverine. It even comes with an instruction manual written in both Cyrillic and English!
The author would like to give special thanks to C2 Tactical for providing us with the use of its range for the evaluation.
Voted Best Indoor Range in Arizona, it has 23 air-conditioned shooting lanes, a new state-of-the-art simulator, firearms rental (including full-auto), retail store, and much more.
Eugene Nielsen's background includes protective intelligence investigations and threat management, as well as red teaming security consulting. He has a BA degree from the University of California. He currently owns and operates an investigative and security consulting firm and is licensed in both Californiaand Arizona.