What, you say, "another training article?" (But isn't that why you read S.W.A.T. in the first place?) This article strives to cover not only the training received, but also the weapons and gear that I put to the test, and my theories on training and equipment.
The setting: Storm Mountain Training Center, Elk Garden, West Virginia
The course: Carbine II, three days
The man: Rod Ryan, Storm Mountain VP Operations and lead instructor
The carbine: Sabre Defence Massad Ayoob Professional Model AR
Rifles were sighted in at 25 yards. Both iron sights and red dot sights were verified for point of aim.
---
The entire gun industry feeds off and in turn caters to the appeal of the "newest" introduction. This is not solely negative, as it drives weapon system development. For example, a good friend, C.R. Newlin, who attended Carbine II with me, brought along a Patriot Ordnance Factory piston-operated AR with a nine-inch barrel that ran flawlessly. I took a Sabre Defence Massad Ayoob Professional Model AR.
The Sabre Defence Massad Ayoob Professional Model AR has a 16-inch barrel with Sabre Tactical Gill muzzle brake, removable carry handle, ambidextrous safety, match trigger, six position collapsible stock, Ergo grip, and Trijicon insert in the forged front sight. Included with the Professional Model AR are a Wilderness Tactical Giles sling, two 20-round and two 30-round magazines, Signature Tactical case with removable rifle and pistol pouches, ground mat, and Otis cleaning kit. The idea is to have everything needed right off the shelf.
Storm Mountain is a great place to refresh or remedy any training deficiencies. Storm Mountain opened in 1996 and has continuously expanded its facilities, courses and instructor staff. Storm Mountain features 11 ranges, two shoot houses, rappel tower, field training area, busses, helicopter hull and automobiles for use during training. Rod Ryan has credentials that lend legitimacy to his training methods. Part of Rod's biography reads, "Rod has spent more than 20 years combined, active and reserve, in the U.S. military, where he served as an operator and then NCOIC of all sniper elements at the brigade level in a light infantry division. While employed as a police officer with the Metropolitan Police Department, Washington, D.C., he served in patrol, training and SWAT assignments. As an instructor with the U.S. State Department ATAP (Anti-Terrorism Assistance Program) and as a civilian consultant, he has trained thousands of law enforcement, military, and private special operations personnel, both in the United States and overseas."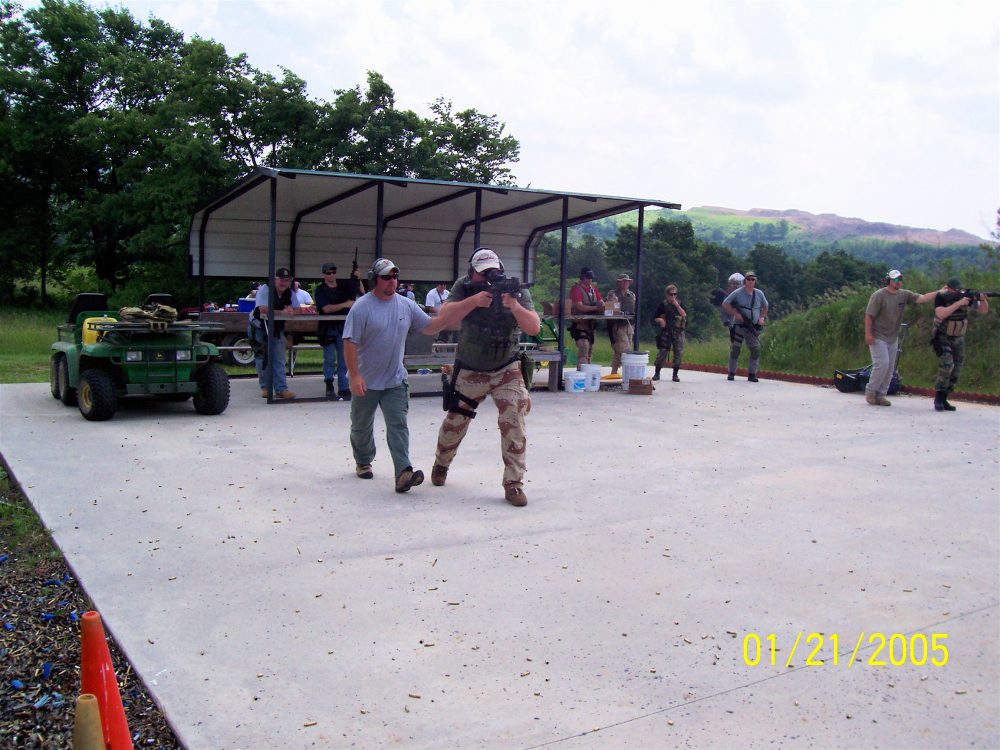 Range activities such as shooting while advancing were practiced repeatedly.
---
Storm Mountain also utilizes other instructors with similarly impressive resumes. One must guard against attending a facility that is operated by someone who has only attended another school's courses—it happens.
Just as important as his credentials and background, Ryan is a dynamic instructor. This is apparent both in the classroom and on the range, in the way he encourages or points out flaws in a student's method, readily mixing anecdotes into his instruction. I personally like to hear examples of why certain things are done the way they are. Ryan is all business and puts up with no nonsense or unsafe gun handling. Storm Mountain philosophy stresses the importance of mindset. Ryan constantly emphasizes that an aggressive mindset, supported by solid training, is the key to surviving hostile encounters. Maxims such as "shoot until the target is down" and "move forward to engage" illustrate this.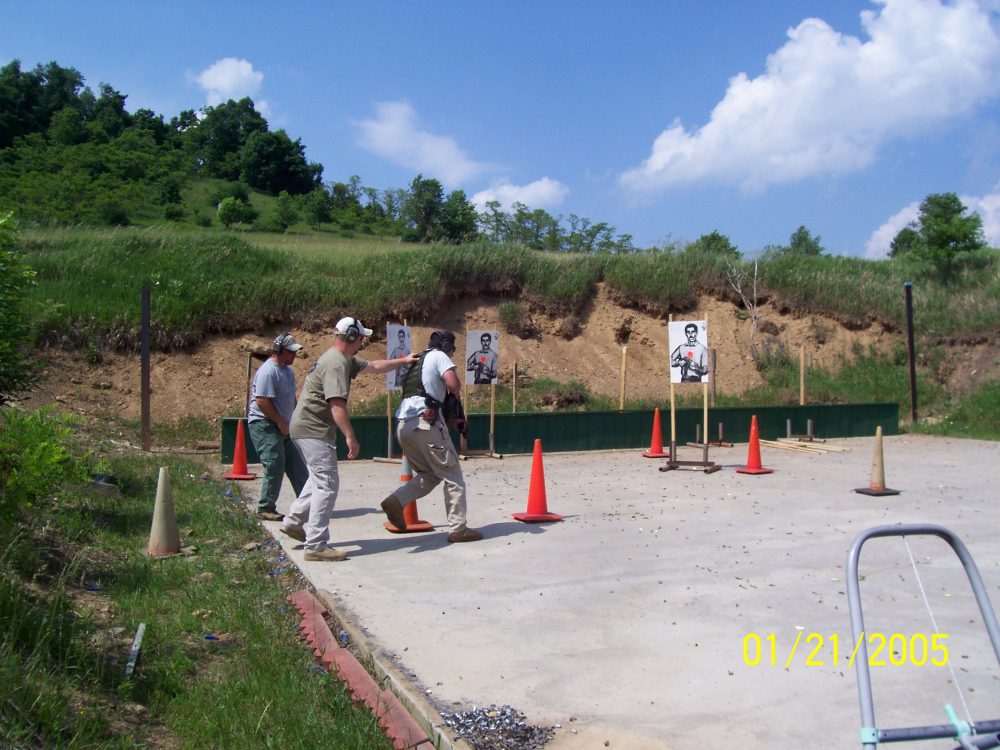 Proper techniques for door entry and room clearing were introduced.
---
Carbine II began with a morning briefing concisely laying out what was to happen over the next three days. The 13-person class was an even mixture of military, law enforcement and private citizens. Carbine II is the preparatory course for CQB at Storm Mountain. The Carbine II curriculum covered instruction on shooting while moving, magazine changes, transition to pistol, night fire, moving targets, proper door entry techniques, and exposure to the shoot house. The proper way to press check a carbine, malfunction clearing techniques, and weapon manipulation methods in confined spaces are examples of the many valuable nuggets of information offered during Carbine II. The course did not return to the classroom after the first morning's brief. Instead the class was instructed on the range, with no shortage of rounds sent downrange.
The AR-15 platform dominated, with most manufacturers represented. Sidearms were required for the transition drills, with Glocks in the majority, and Berettas, Sigs, H&Ks and 1911s filling in the rest. BlackHawk tactical gear in the form of vests, chest rigs, belt and thigh holsters, drop pouches, and magazine pouches predominated. I mounted an ATN Ultra Digital reflex sight on my Sabre Defence Professional Model AR. All rifles had some variant of red dot sight. I came to appreciate the ATN's ruggedness and ease of use. The different reticle patterns and brightness settings allowed me to choose the optimum set up.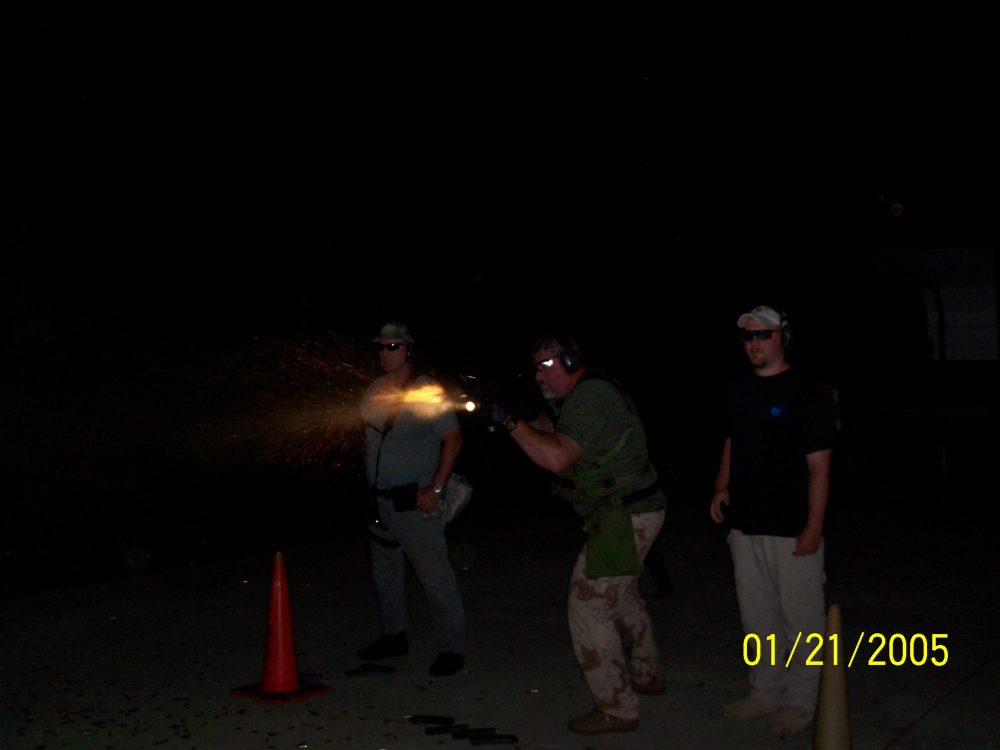 Night fire proved interesting and reinforced the importance of repetition and equipment familiarity. The qualification drills were the basis for the training evolution.
---
When attending training courses, make it a habit to observe the different equipment brought and how it performs. Instructor feedback is always important regarding this as well. Instructors see a vast amount of different gear due to the volume of individuals passing through a facility.
Weapons were sighted in at 25 yards and then the work started. Ryan's high-speed tempo induces an element of stress. Stress as a training aid is wholeheartedly embraced at Storm Mountain. Any stress imposed during training pales in comparison to that experienced in the real world. Three different relays were utilized, with one shooting, one reloading magazines and one reviewing mistakes or suggesting tweaks in methods.
The class was quickly introduced to the qualification drill that would serve as the proficiency measuring stick. Qualification consisted of timed fire first, with two rounds from the carbine at low ready into a silhouette target placed seven yards downrange, then six rounds in target from low ready, followed by two rounds from the carbine, reload, two more rounds and finally two rounds from the carbine and transition to the sidearm with two rounds fired at a steel popper target. The timer helped induce stress, along with providing a means to quantify progress. The qualification drill was practiced repeatedly and served as the base of all instruction. The target's close proximity emphasized speed and smoothness. The Sabre Gill-brake on my AR came into its own during the quick shooting, especially the six-round qualification portion.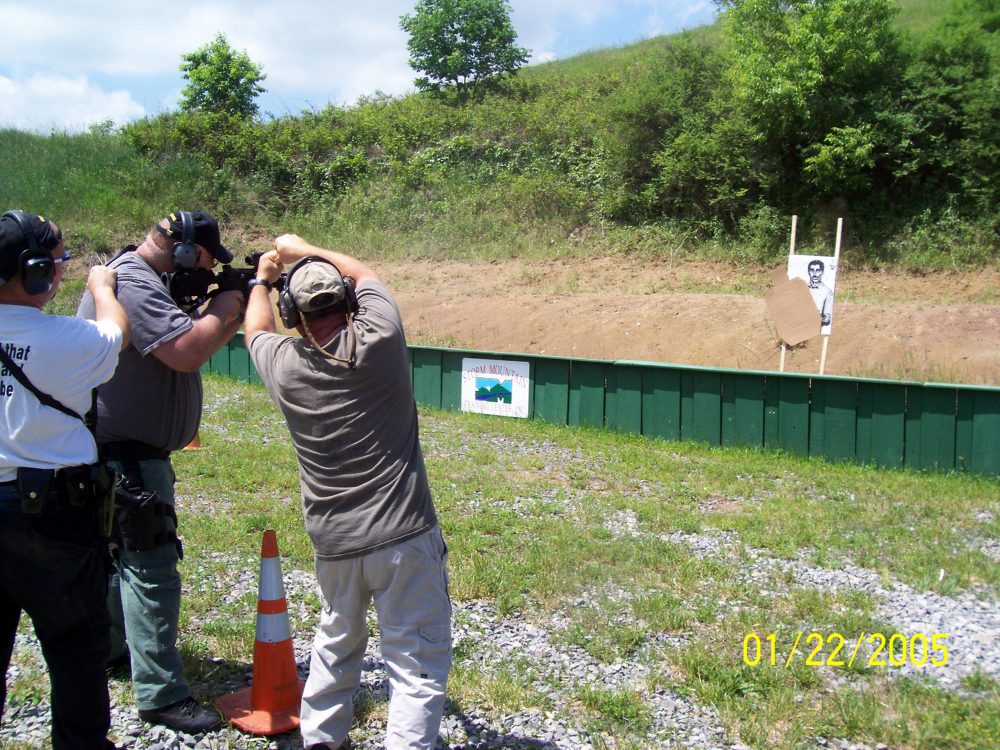 Moving target really turned up the stress level, with intentional malfunctions and "encouragement" spoken in your ear. This was the culmination of three days of instruction.
---
Ryan's instruction technique is flexible, allowing for analysis of a class' strengths and weaknesses. For example, my Carbine II class needed extra work on magazine changes. Did we rigidly stay on the range, ignoring this need? No. Ryan moved the class off the range, verified no ammunition was present and proceeded with an intense hour of drills specifically concentrating on carbine magazine changes.
A word must be given to the shoot house we visited. It is 1,300 square feet with multiple rooms, including furniture. The structure is equipped with closed-circuit TV monitoring equipment, including audio. Students could review themselves via recording. Students awaiting their turn could monitor other students' progress and methods via a bank of monitor screens. This allowed maximum instruction, with everyone benefiting from each other's experience. It was quickly evident that footwork and weapon manipulation are premium skills.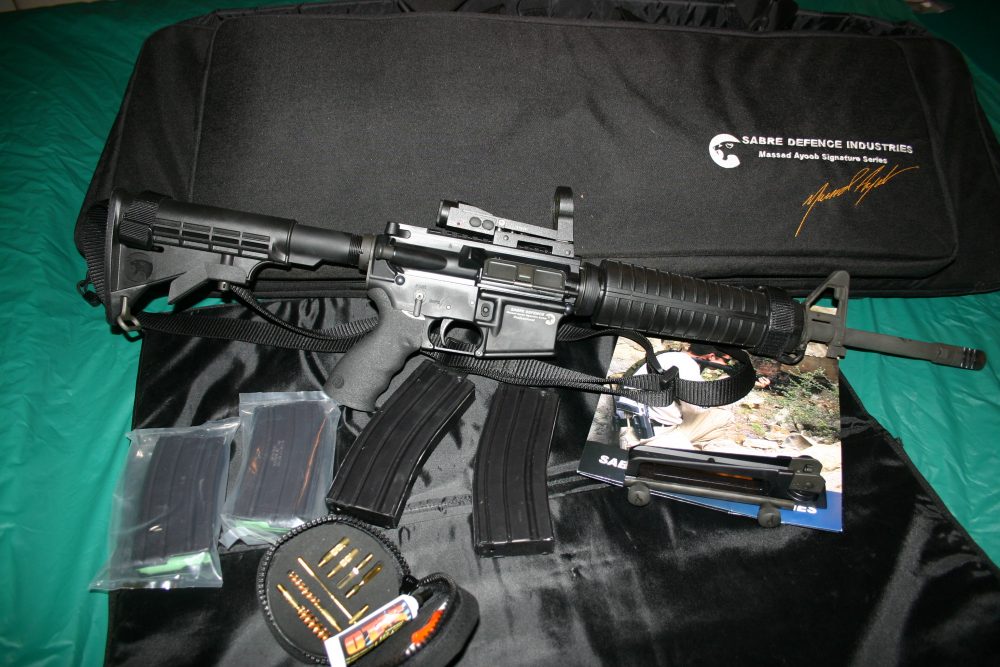 Sabre Defence Massad Ayoob Professional Model AR shown with items included with its purchase. ATN Ultra Digital reflex sight stood up to the challenge.
---
Carbine II is not an adventure vacation destination. Ryan constantly emphasizes aggressiveness and how important mindset is to survive hostile encounters. Ryan is ingenious in how he applies stress as a training aid. For example, during the mover target, he would purposely cause malfunctions with your carbine or jostle you around to increase adrenaline and stress. The degradation of fine motor skills while under stress is quickly evident. The importance of solid, simple techniques of reloading, clearing drills and firing is driven home.
There is no way I can fully impart my experience at Storm Mountain's Carbine II course. I came away with a much clearer understanding of my strengths and, more importantly, my weaknesses. My ideas on firearms, equipment and gear were validated. This is priceless knowledge, and I plan on returning to Storm Mountain for future courses.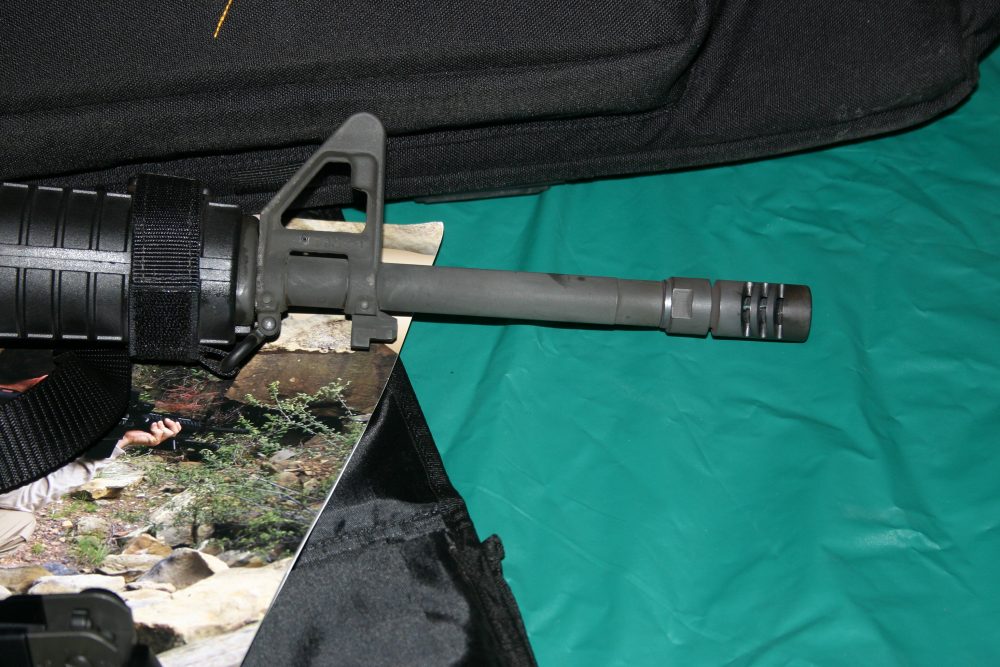 Gill brake kept muzzle under control, allowing for quick, accurate, consistent shot placement center mass of the target.
---
GEAR UNDER FIRE
I came away from Storm Mountain with a better appreciation of my equipment and my own training needs. The BlackHawk items performed as promised and stood up to the constant use and abuse. I put more rounds downrange, changed magazines, and drew from my BlackHawk Serpa thigh rig more in three days than I would normally do in three months. The Brownells' 30-round magazines operated without any issues. Not all of my magazines—admittedly acquired ad hoc over the years—were as worry free. The Black Hills Ammunition I used performed reliably as usual.
The Sabre Defence Massad Ayoob Professional AR-15 worked flawlessly. I put over 1,100 rounds through it over the three-day course without a malfunction and while neglecting to clean it. There are a plethora of AR-15 manufacturers. I challenge any of them to submit their rifle to over 1,100 rounds over three days without cleaning. Based on this hands-on experience, the Sabre Defence AR-15 deserves to be rated in the top tier of AR manufactures. Sabre Defence manufactures its own barrels, uppers, and lowers in house to ensure its tight tolerance controls are met. Another example of the Sabre Defence commitment to quality is the metal used in its AR barrels. The same chrome-moly vanadium alloy used in its .50-caliber barrels supplied to the U.S. government is employed in the AR. This may be overkill for a carbine, but it lasts longer than the barrel material found in other AR barrels. Additionally, all Sabre Defence barrels are heat-treated to relieve stress. This ensures that a barrel stays consistent when it heats up during long strings of fire, translating into a stable point of impact no matter if it is the first round fired or the 100th.
Subjecting your gear to this type of hard use is one of the ways to judge if you can rely on that gear when you need it most. The gear I had at Storm Mountain can go in harm's way with me anytime.
SOURCES:
Storm Mountain, Inc.
Dept. S.W.A.T.
Rt. 1 Box 60
Elk Garden, WV 26717
(304) 446-5526
www.stormmountain.com
American Technologies Network Corporation
Dept. S.W.A.T.
20 S. Linden Ave., Suite 1B
S. San Francisco, CA 94080
(800) 910-2862
www.atncorp.com
BlackHawk Products Group
Dept. S.W.A.T.
6160 Commander Parkway
Norfolk, VA 23502
(757) 436-3101
www.blackhawk.com
Black Hills Ammunition
Dept. S.W.A.T.
P.O. Box 3090
Rapid City, SD 57709-3090
(605) 348-5150
www.black-hills.com
Brownells Inc.
Dept. S.W.A.T.
200 South Front Street
Montezuma, IA 50171
(800) 741-0015
www.brownells.com
Patriot Ordnance Factory
Dept. S.W.A.T.
23623 N. 67th Ave.
Glendale, AZ 85310
(623) 561-9572
www.pof-usa.com
Sabre Defence Industries, LLC
Dept. S.W.A.T.
450 Allied Drive
Nashville, TN 37211
(615) 333-0077
www.sabredefence.com
Stonewall Arms
Dept. S.W.A.T.
2438 Valley Ave.
Winchester, VA 22601
(540) 535-2190
www.stonewallarms.com
Wilderness Tactical Products, L.L.C.
Dept. S.W.A.T.
Wilderness Plaza, 1608 W. Hatcher Rd.
Phoenix, AZ 85021
(800) 775-5650
www.thewilderness.com