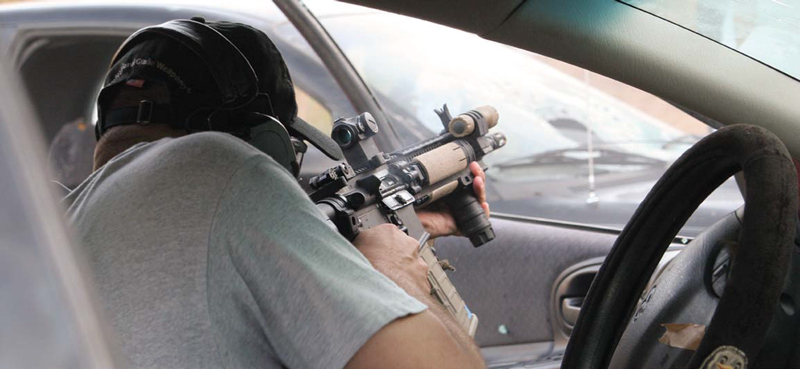 The average AR is skin deep in cosmetic similarity to the military's proven rifle and carbine, with any number of cost-saving material substitutions, missing assembly steps or questionable "improvements."
Bravo Company Manufacturing (BCM) has quietly made a name for itself by servicing customers who want to know that what they are getting is built to the milspec. As a point of reputation, BCM once shut down their bolt manufacturing for several months during a shortage of true milspec gas keys rather than substitute readily available (and less expensive) commercial-grade keys.
My first experience with BCM was several years ago when I needed to upgrade a parts gun to get it up to spec. Their service then was impressive, and in the time since I have seen them gather an increasing market share the old fashioned way: by providing first-rate customer service and solid value, and understanding their market. BCM has grown from offering parts to complete upper receiver groups, and now to offering complete AR carbines, namely their BCM 4.
I had the pleasure of putting problemfree rounds through Pat Rogers' "Filthy 14" Mid Length test gun and came away impressed. At the time, it had 9,000 to 10,000 rounds through it and was unspeakably dirty then. It's currently at 28,000 rounds without any real cleaning and still running strong.
Six months later, I had the chance to shoot another BCM Mid Length prototype and was equally impressed. I knew I needed to get my hands on one and spend some real time with it.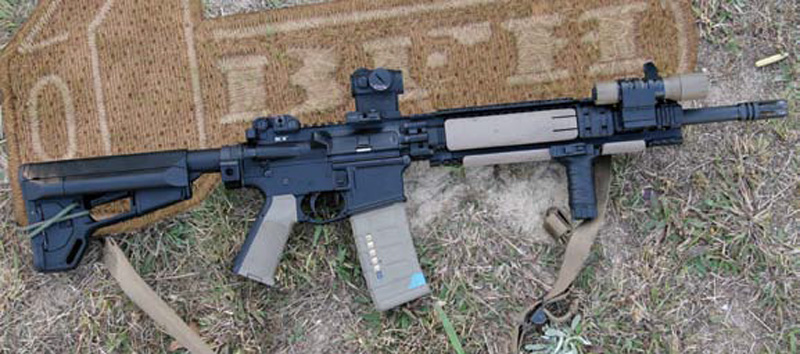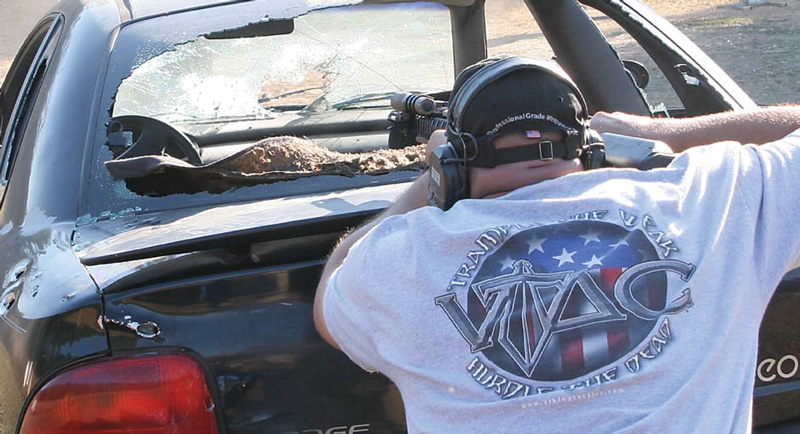 MY VERY OWN … TEST SAMPLE
The rifle that arrived was officially a BCM 4 Mid Length BFH. The BFH is Bravo Company's trademark for Barrel, Forged, Hammer, and these rifles have a discreet laser engraving of a large mallet logo on the upper receiver.
The barrel is made of 11595E certified steel, the gold standard for hard use and tested by BCM using the exact same rejection criteria as the DOD. This is a key point, for some makers are being honest when they say that their barrels are High Pressure or MPI tested, but fail to disclose that they set the rejection criteria wherever they are comfortable as opposed to what the DOD specifies.
The BFH tubes are rifled in the hammer forging, and everyone I know who has shot one has remarked on the accuracy. The strength of the steel and the forging process give the user a barrel that costs slightly more on the front end, but may significantly outlast cheaper commercial steels and assure the shooter of performance despite the harsh firing schedules found in most modern training. Three to five hundred rounds a day at 5.56mm pressures are not exactly easy on the steel, and there is a good reason why all M249 SAW barrels are hammer forged.
Mid-length gas systems have been around for a while but are just now gaining widespread acceptance and appreciation. There is no credible accompanying science but anecdotally, individual carbines outfitted with them "seem" to last longer, with fewer parts breaking over an extended period of hard service.
More important to me is that the midlength gas system has a much softer perceived recoil impulse and allows the shooter to shoot faster and maintain the carbine in sustained strings of fire with less disruption to the stance or position. When the shooter is on the move, winded, or leaning out to engage from an awkward position, this is much more relevant and appreciated. This is subjective but consistent.
Experienced shooters who have fired a BCM 4 with a ho-hum attitude going in have generally been converted after a few shots. I find that all the rifles I choose to shoot these days have the mid-length system, and I suspect that the longer gas tube will continue to gain ground with hard shooters.
INDIVIDUALIZED SPECS
One of the key advantages in going to BCM for a rifle is that it can be spec'd to exactly the customer's needs or preferences. A Colt will come with basic furniture that probably winds up in the owner's overflowing "Ebay" box, while the owner searches out sources to replace the grip, handguards, stock, BUIS, et al. Even most smaller makers that specialize in harduse guns have relationships with certain vendors that may or may not be your preferred mix of aftermarket upgrades.
Bravo Company is a huge stocking dealer for just about every brand on the market, and a complete gun can be set up accordingly. My carbine has something from most of the big names on it somewhere, and it came that way from the factory— try that someplace else!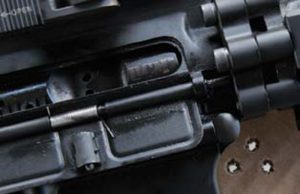 From bow to stern here's what it's got:
Yankee Hill 5C2 flash hider
Troy Industries back-up iron sights
Daniel Defense 12.0 Lite rail and QD front sling swivel
TangoDown SCAR panels, Stubby VFG and PR 4 rear QD sling mount
BCM/Vltor Gunfighter Charging Handle
Geissele SSA trigger
Aimpoint H-1 in LaRue mount
Magpul MIAD grip, trigger guard, and ACS stock
Viking Tactics sling
That's ten different makers and one complete weapon from furniture to upgraded trigger, optic and sling all at the point of purchase. At present, BCM stocks/shelves over 90 different configurations of uppers, with the number steadily increasing.
PHYSICAL INSPECTION
The rifle weighed in at roughly 7.75 pounds minus optic and sling—a nice portable weight—and the balance was superb, with the mid-weight ACS stock countering the extra length of the 12- inch rail and forward-mounted foregrip.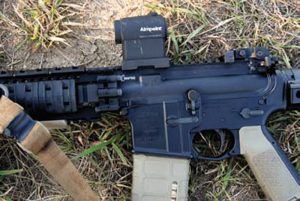 The SSA trigger provided its typical two-stage sweetness, with a little over four pounds straight through, or two and a half pounds of pressure to a deliberate break.
Going through the internals, there's attention to detail evident throughout: HP- and MPI-tested Carpenter 158 steel bolt with heat-treated gas key and thorough staking, M4 feedramps, and machined (as opposed to the more common cost-saving cast) tool steel forward assist pawls. The gas key is chrome lined and all fasteners are best grade steel.
The receiver extension is true GI spec machined of 7075-T6 aluminum as opposed to commercial 6061 aluminum— indistinct cosmetically but critical when one encounters a hard stoppage induced by bad ammo, magazines or the environment. There are some times one may need to "mortar" the buttstock to clear a hard stoppage; a bent extension will immediately put a carbine down hard.
These are things that differentiate a "real" working gun from a real looking recreational device, and what BCM has built its following upon.
SHOW TIME
I pushed this gun hard right out of the gate by taking it directly to a Viking Tactics Night Fighter Class. This is an intense training class that pushes shooters and equipment to perform in demanding day and low-light scenarios.
The BCM 4 "Black and Tan" gun was subjected to some high-round-count moments, along with a wide variety of shooting scenarios that had it nailing targets from every imaginable firing position from each shoulder, on the move and from arm's length to mid-range. This is one smooth cycling AR. Whether shooting multiple threats on the move in between vehicles being used as cover, or rolling the carbine 90 degrees to shoot in the low over-hood SBU position, the smooth cycling carbine made follow-up shots or target transitions a snap.
The service-grade-but-feels-likematch SSA trigger allowed long hits from awkward positions and, combined with the soft recoil, allowed the gun to be shot at warp speed up close. Reliability was as you would expect, and the gun ran a variety of bullet weights from a couple dozen PMAGs and old GI mags with perfect functioning.
After my experience with Filthy 14, I knew that the Black and Tan would require no obsessive cleaning rituals, and it received no cleaning throughout the VTAC course and only intermittent lubrication at about 300-round intervals.
CONFIGURATION
The layout of this particular BCM 4 is decidedly user friendly and versatile. The 12-inch rail accommodates a wide variety of shooting stances without making the shooter conform to the gun. It also gives the shooter the latitude to place his "stuff" wherever it best suits the mission and can work together with other hung items.
In contrast, on a standard seven-inch rail, a laser, white light, vertical foregrip and offset sling swivel can leave the shooter somewhat cramped and forced to place items how they can all "fit" instead of how they best work together.
The weight of the rifle is just light enough to carry well all day and allow it to be quick on to and between targets. The overall length is just about ideal, allowing the masses access without NFA issues while providing enough velocity to reach out to the realistic far end of most requirements, but not getting unwieldy inside of vehicles. The VTAC class had me bailing out of multiple vehicles and door types, and the Black and Tan was not hard to manipulate to shoot from within the car or to exfil.
Balance is a subjective thing, but this layout just plain works and allows the shooter to drive the gun hard and get hits easily from a wide variety of positions. Paul Buffoni at BCM mentioned that this BCM 4 configuration consistently gets enthusiastic comments from shooters about the balance.
The configuration is important, but BCM can put together near-infinite variations from the many options on the market. The real heart of the weapon is the action and barrel.
ACCURACY
After the first 1,000 rounds, I knew that the rifle was more than sufficiently accurate, but one of the reasons shooters buy forged barrels is for the perceived boost in accuracy. I cleaned the BFH barrel and swapped the H-1 for a Leupold 2.5-8X Mid Range Tactical scope. Lying prone with the forend supported, I had no problem shooting MOA groups with just about everything Black Hills makes.
The Black and Tan had a steamy love affair with the Black Hills 77-gr. 5.56mm military-issue open-tip match round, printing a .56-inch three-shot group at 100 yards and then a one-inch 200-meter group. That is .45 MOA and makes this particular specimen more accurate than the contract requirement for most military sniper rifles!
In that vein, I tried some drills used in my unit's advanced sniper course, and the combination of great glass, crisp trigger-break and match ammo had Black and Tan performing up to a level that service rifles are just not expected to. The BFH barrels are tested to such a high criteria that the steel is essentially flawless, and that proved out on this particular gun.
BCM FTW
BCM started their rifle line with the mission to provide serious users outside of the U.S. government supply chain with true milspec quality. They have purposely kept the rifle program small enough to be able to meet a reasonable level of demand while maintaining a near-fanatical attention to detail. A growing number of shooters are recognizing this and keeping Bravo Company busy.
The basic configuration of the Black and Tan gun is one of the most popular in the BCM 4 line, and it's easy to see why. A shooter gets hard-nosed reliability, maximum flexibility and noexcuses accuracy in one soft-shooting package.