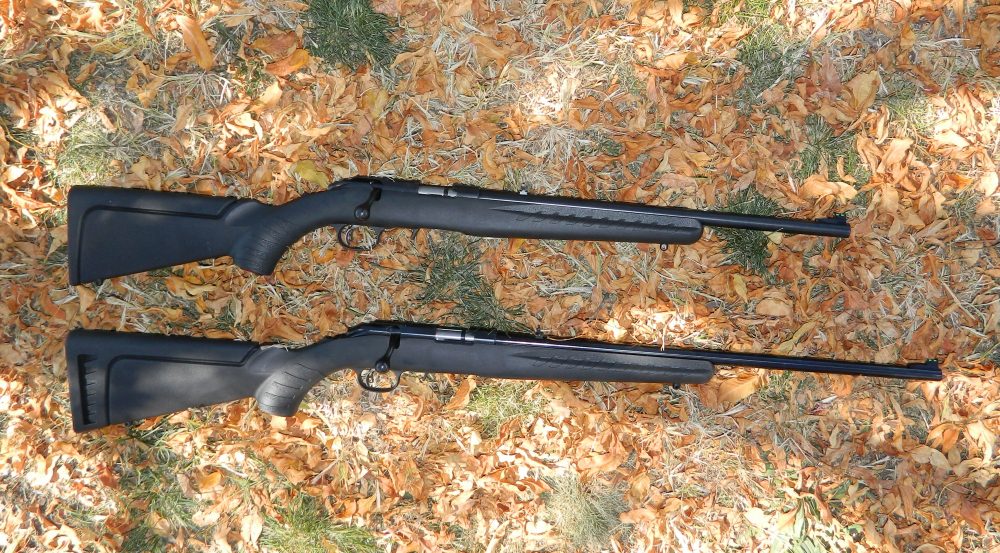 Both Compact and Standard Ruger American Rimfires lived up to expectations.
---
During the Great Depression, my grandpa, Peter Hansen, traded a ton of hay for a single-shot Winchester Model 60 .22 rifle that he gave to my dad, Kenny Hansen, for his first rifle.
It was my first rifle as well when my dad passed it down to me on my tenth birthday. Likewise, I gave it to my son Flint, and someday he will pass it down to his son Austin. That rifle has a lot of history and more to come. Although it's been somewhat eclipsed by lever-actions and semiautomatics, I will always have a soft spot in my heart for the bolt-action double deuce.
Recently Ruger introduced two new bolt-action rimfires to their popular American line of rifles. Chambered for .22 Long Rifle and .22 Winchester Magnum Rimfire (.22 WMRF or simply .22 Magnum), each is available in two versions—standard and compact. For testing, I received the Compact .22 LR and the Standard .22 Magnum.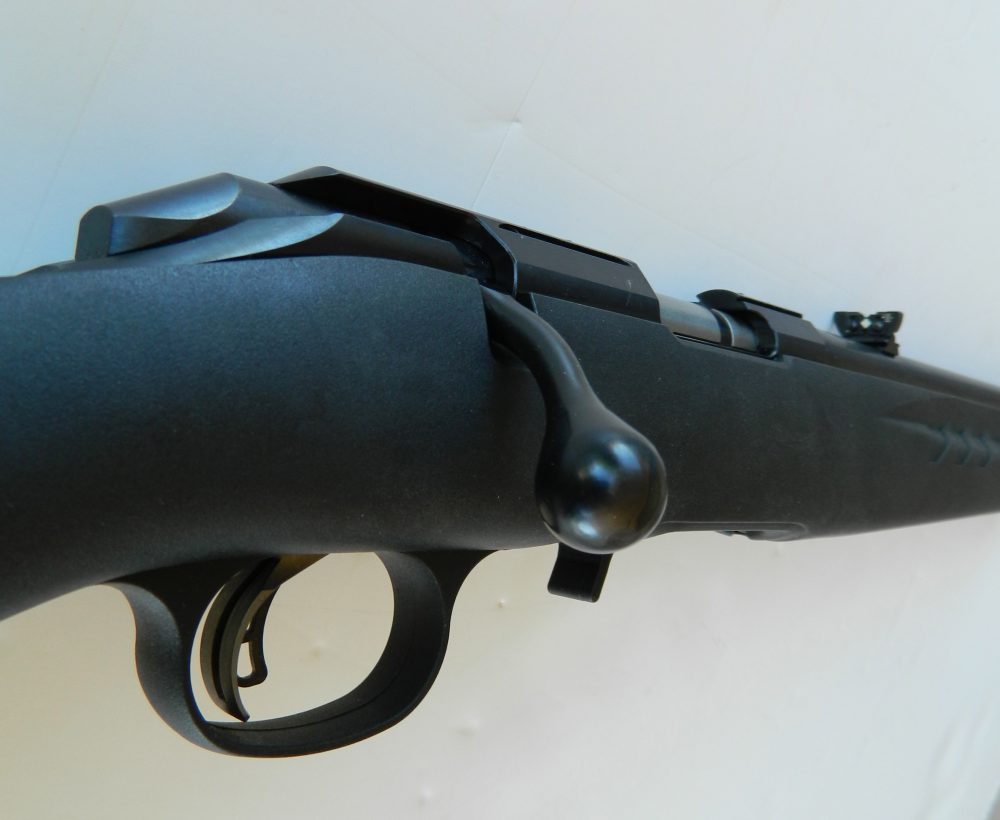 60° bolt allowed ample clearance between scope and bolt.
---
RUGER AMERICAN RIMFIRE
The length of pull on the Standard is 13.75 inches with a 22-inch long barrel and an overall length of 41 inches. The Compact has a length of pull of 12.50 inches, 18-inch barrel and overall length of 36.75 inches. There is only a difference of .62 pounds between the Standard and the Compact.
Models chambered in .22 LR use the time-proven rotary magazine as used in the Ruger 10/22. In fact it will also accommodate all Ruger 10/22 magazines including the higher capacity Ruger BX-25 25-round magazines if desired. Capacity is ten rounds.
The models chambered for .22 Magnum use the JMX-1 nine-round rotary magazine as also used in the 77/22 and the discontinued lever-action 96/22. The American Rimfire is fitted with the Ruger Marksman Adjustable™ trigger. The trigger is user adjustable for pull weights between three and five pounds. The black synthetic stock has texturing at the forend and grip areas. The pistol grip cap features a red Ruger logo. The rifles have two sling swivel studs.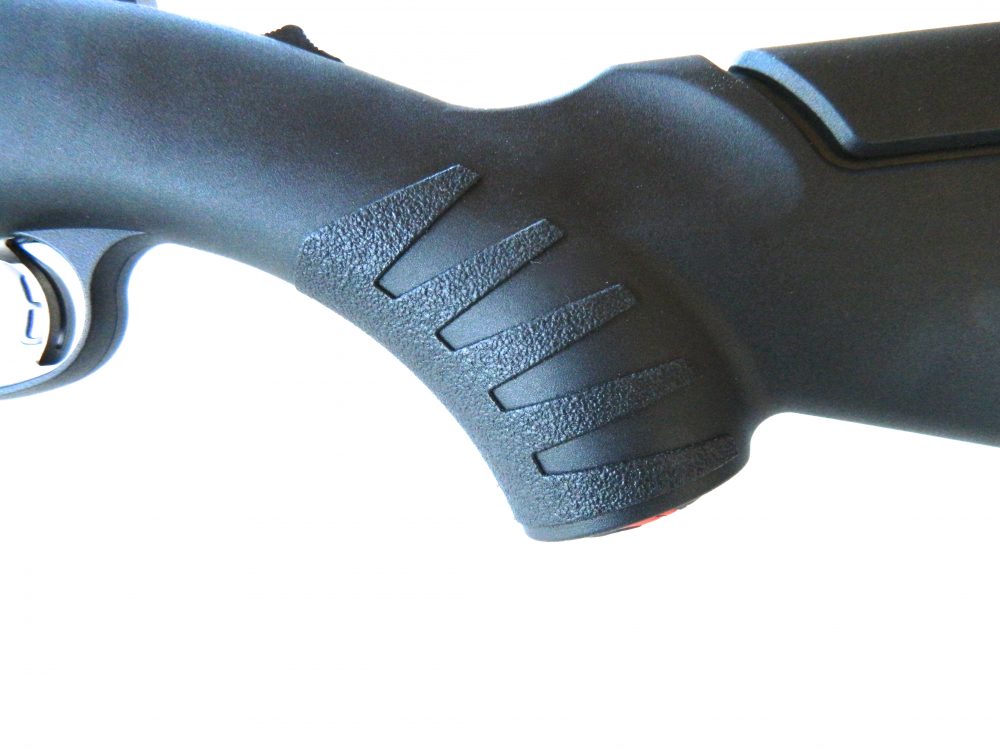 Pistol grip area of stock has unique texturing.
---
Each model comes complete with two stock modules to change comb height to use with iron sights or a scope. The stock modules can be changed easily by unscrewing the rear sling swivel. The satin-blue hammer-forged barrel features a target crown to protect the rifling at the end of the bore. The barrel is free floated, and the action sits in the patent-pending Power Bedding® integral bedding block system.
The two-position safety is tang mounted. Another safety feature, unlike other .22 bolt-action rifles, is that the bolt can be removed without pulling the trigger.
The American Rimfire offers two options for mounting a scope. The first is a 3/8-inch rimfire scope base machined into the receiver for tip-off mounts. The other is that the receiver is drilled and tapped for Weaver® #12 bases (not included). Americans feature a Williams™ green fiber-optic front sight. The rear sight is the familiar V-slot adjustable folding sight as found on the 10/22.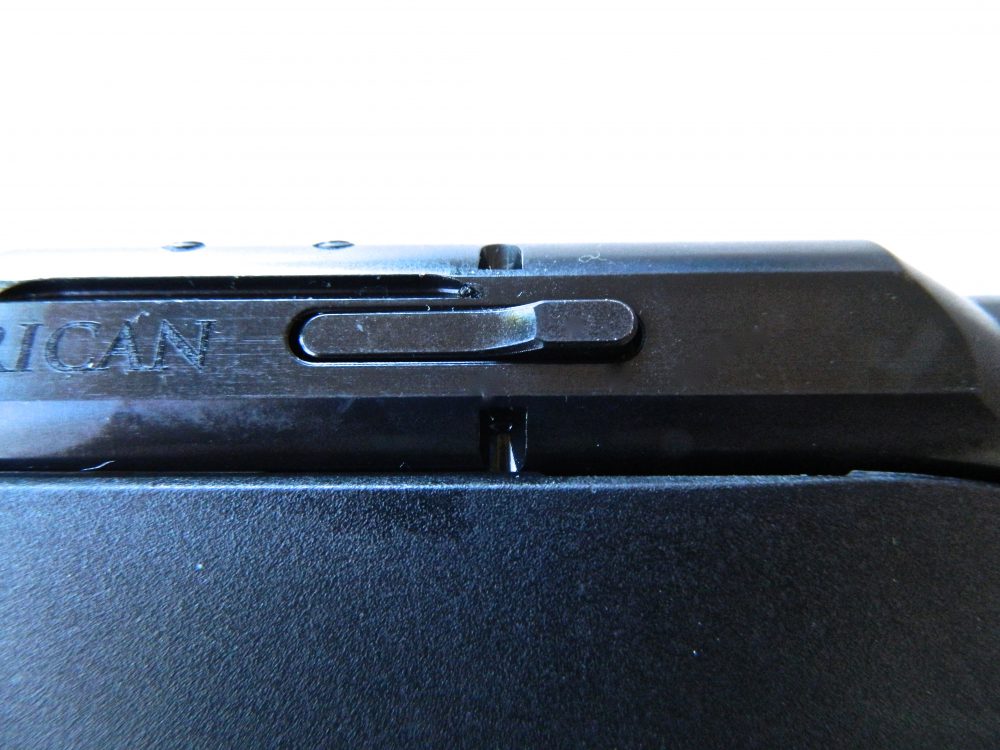 Bolt stop lever has no sharp edges. Bolt can be removed without pulling the trigger.
---
RANGE WORK
It was easy to assemble a variety of .22 Long Rifle to shoot through the Compact American Rimfire—.22 Magnum was quite a bit harder. After checking with every store in a 70-mile radius that stocked .22 Magnum, I was finally able to come up with exactly two boxes. J.J. Reich at ATK was able to help and furnished me with 400 rounds of CCI .22 Magnum in three different loads.
Before getting down to the really fun parts of the test, I used a PACT Professional Model chronograph to establish the velocity of the different loads fired through the Ruger Americans.
I shot both rifles initially with iron sights. While some manufacturers use a red fiber-optic front sight, Ruger was wise to choose green, as that color is the most visible to the human eye. And visible it was! The green fiber optic seemed to jump out at me when placed on top of the white diamond of the rear sight, providing a sharp sight picture.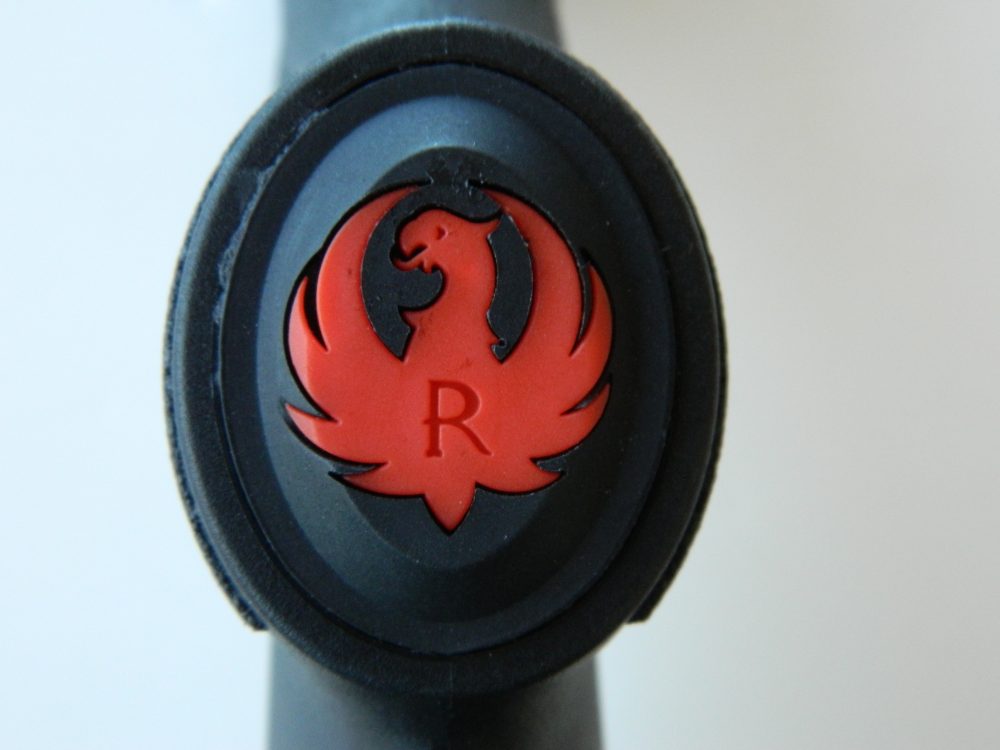 Pistol grip cap features red Ruger logo.
---
Both rifles had a crisp trigger with just a tiny hint of creep. I did not measure the pull weight, but I would estimate both rifles at around 3½ pounds. The actions of both rifles worked very smoothly.
For optics I chose a Simmons .22 Mag scope. The .22 Mag is a fixed four-power scope with 32mm objective lens and uses a Truplex reticle. Choosing to use the machined base, I mounted the .22 Mag in Weaver one-inch Quad Lock tip-off rings. The 60° bolt allowed ample clearance between the scope and the bolt.
I zeroed the rifles at 50 yards. Yes, I know the .22 Magnum can do the job at longer ranges, but I was interested in the accuracy required to make a clean, humane kill on rabbits and squirrels, and that means a head shot. There are exceptions, but for most folks that is 50 yards or closer.
In keeping with a practical field test, I shot from field positions rather than benching either rifle. Groups shown in the accuracy column in the accompanying tables were shot from kneeling.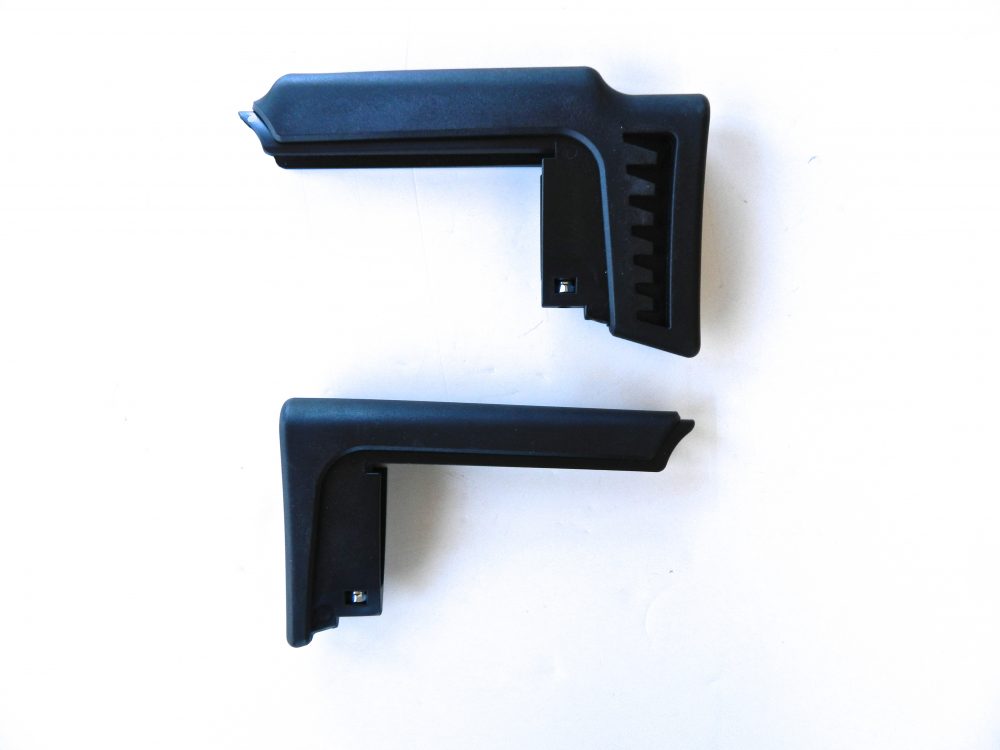 High stock module for use with scope (top) and short module for use with iron sights are both included.
---
No group from either rifle exceeded two inches, meaning they are capable of making precision shots to put down small game or pests. If fired from bench or prone off ruck, accuracy would undoubtedly be better.
I must admit that curiosity got the better of me and, with the scope on the .22 LR American, I fired the best-performing .22 load, Federal 36-grain HP, off a sandbagged rest. The result was a single ragged hole that measured .32 inches.
The evaluation could have ended at this point, but I was enjoying the rifles too much to stop. I started picking out targets of opportunity, hitting everything I shot at with almost—almost—boring regularity. Then I started shooting at things I have not shot at since I was a kid—a small twig attached to a larger branch, empty shot shells set on the berm vertically … and when those became too easy, I laid them down and shot at the bases. A large grasshopper that made its way into my field of view would never hop again.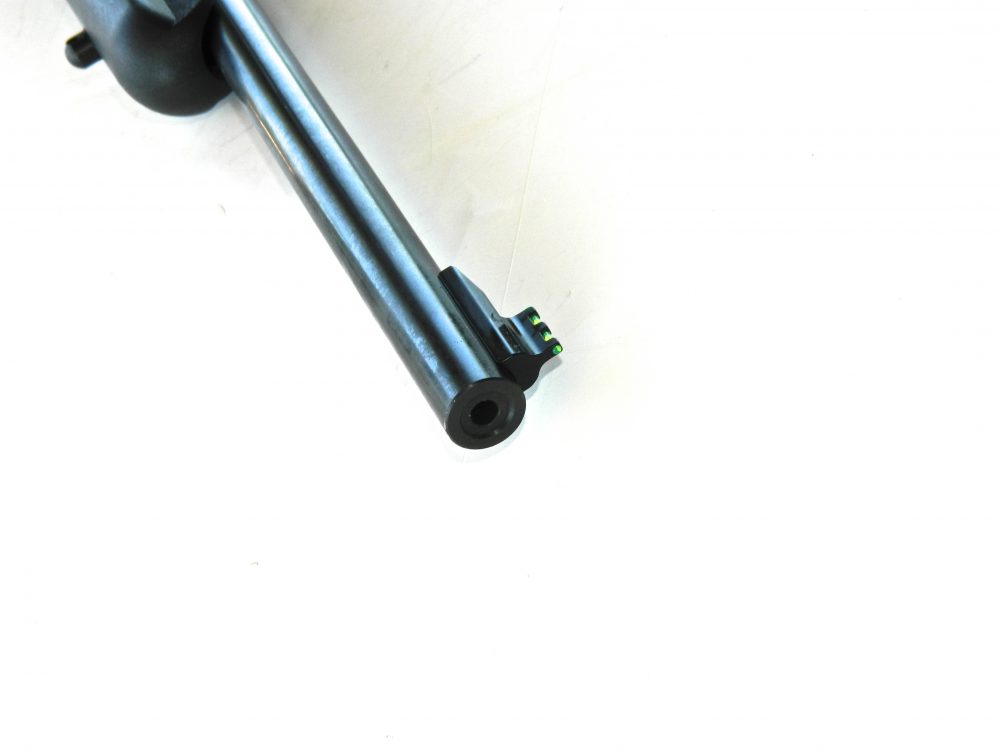 Muzzle has target crown. Front sight is green fiber optic.
---
Nothing scientific, nothing "tactical"—but boy, was I having fun!
After packing up, I left the .22 WMR American up front with me with a loaded magazine "just in case." As luck would have it, on the way out to the main road, I spotted two jackrabbits about 20 yards off the ranch road in front of a hill that would serve as a good backstop.
After making a head shot on Jack One, the second scampered out to around 40 yards and stopped broadside to me, giving me a good look at his head. Bad idea. Jack Two met the same fate as his companion.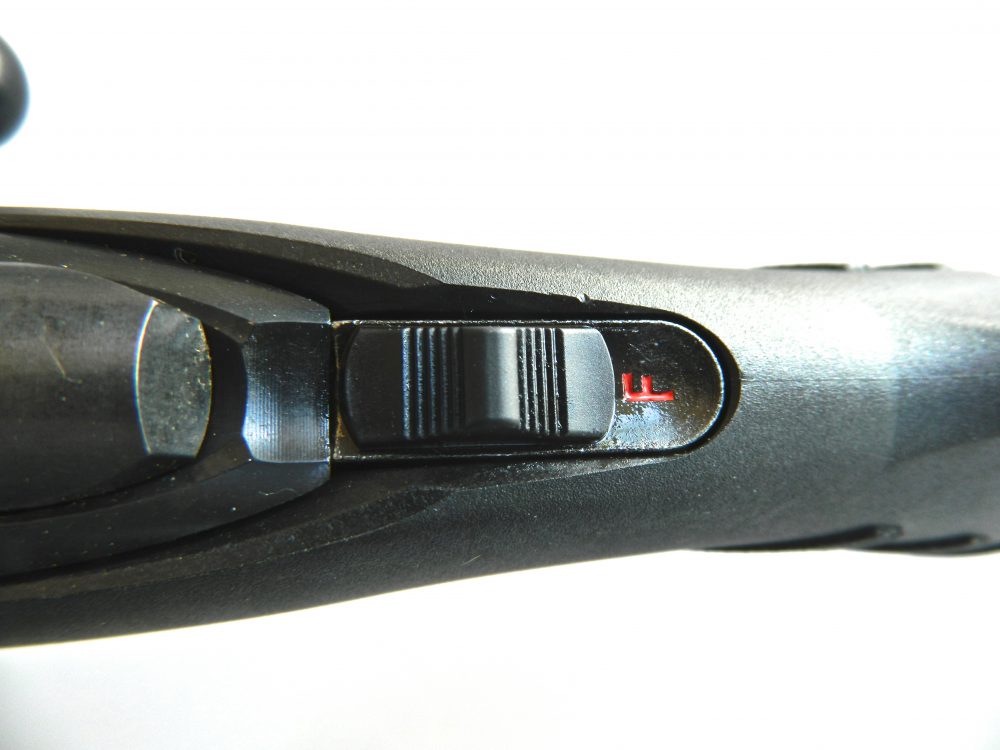 Author liked tang-mounted safety.
---
SUMMARY
In addition to being great rifles in their own right, either of the American Rimfires would make an excellent sub-caliber trainer for larger caliber Ruger American rifles. The price for any version of the American Rimfire—Compact, Standard, .22 LR or .22 Magnum—is the same: $329.00.
I haven't made up my mind yet, but I'll be sending Ruger a check for at least one of these rifles.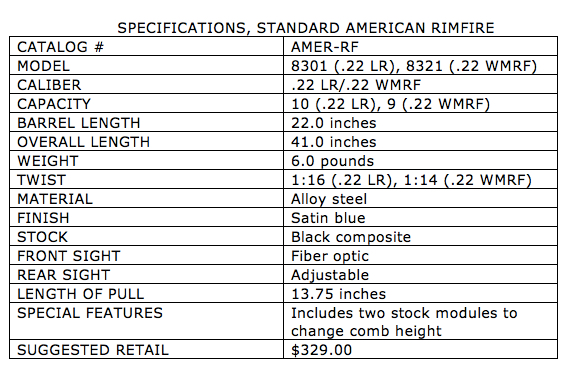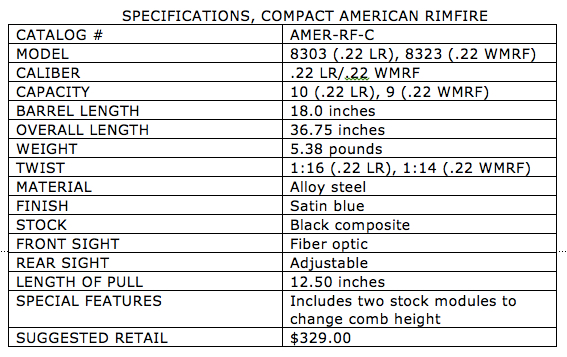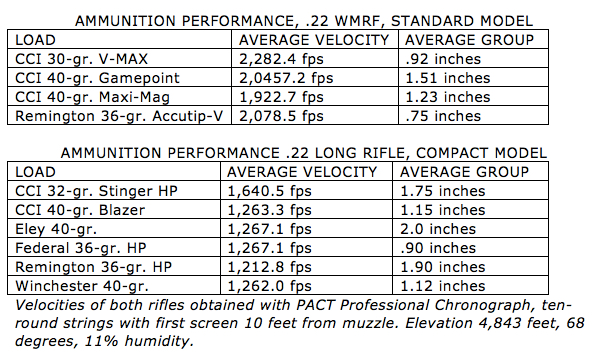 SOURCES:
Sturm, Ruger & Co., Inc.
(203) 259-7843
www.ruger.com
CCI Ammunition
(800) 256-8685
www.cci-ammunition.com
PACT Inc.
(800) 722-8462
www.pact.com
Remington Arms Company, Inc.
(800) 243-9700
www.remington.com
Simmons
(888) 276-5945
www.simmonsoptics.com
Weaver Optics
(866) 788-7386
www.weaveroptics.com