I love building ARs. Probably like many of you, I like working with my hands, putting things together, and making repairs. Even painting a rifle gives me a little added satisfaction over one that is strictly off-the-shelf.
I'm not very artistic, although there is an undeniable form of self-expression associated with building an AR. You understand what I mean if you've ever gone to a competition and taken a gander at the ARs present. No two are alike!
While I've written some articles on budget builds, I'd like to change things up a bit … well, quite a bit. I recently completed what is probably the most expensive AR I will ever put together. I know, I'm living the Obama dream too, and money is tight, but this is something I've been working on for nearly three years. I purchased components when I could afford them and when they were available. The saying "sweeter with time" definitely applies here.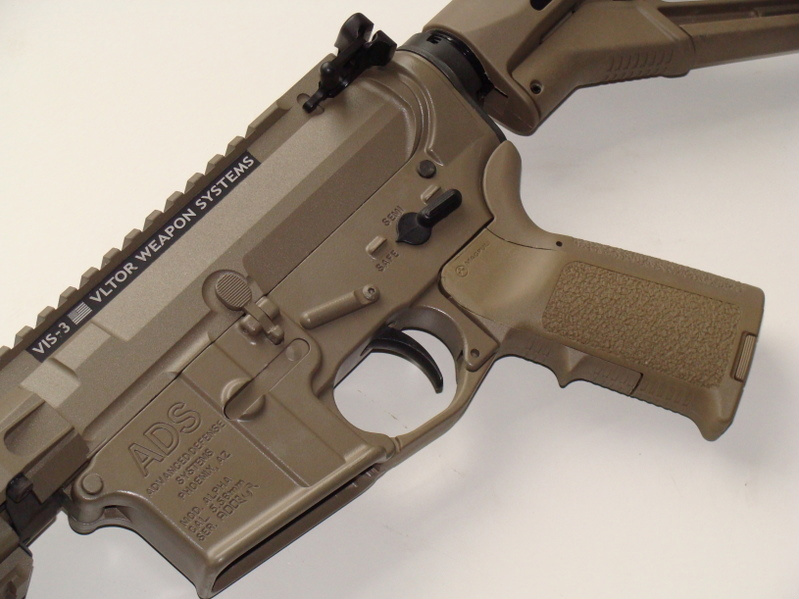 Author's AR build after assembly and paint.
---
PREMISE
While I confess that I'm pleased with the rifle I've put together, what's "best" for each person is purely subjective. The idea for this project came from a range session I shared with a buddy many moons ago. I watched as he posted ½ MOA groups with his own 16-inch barreled AR, and immediately I was "bitten by the bug." My objective was to build a compact AR that was accurate like a bolt gun for precision rifle competitions and small game, but could still be run fast in tight quarters at carbine competitions.
By sharing this experience with you, I hope to inspire some to go out and build their own ideal AR, whatever it may be. I promise you there's nothing especially complicated about this build. Take what you like from these pages and put your own personal spin on it.
Enough talk—let's get down to it.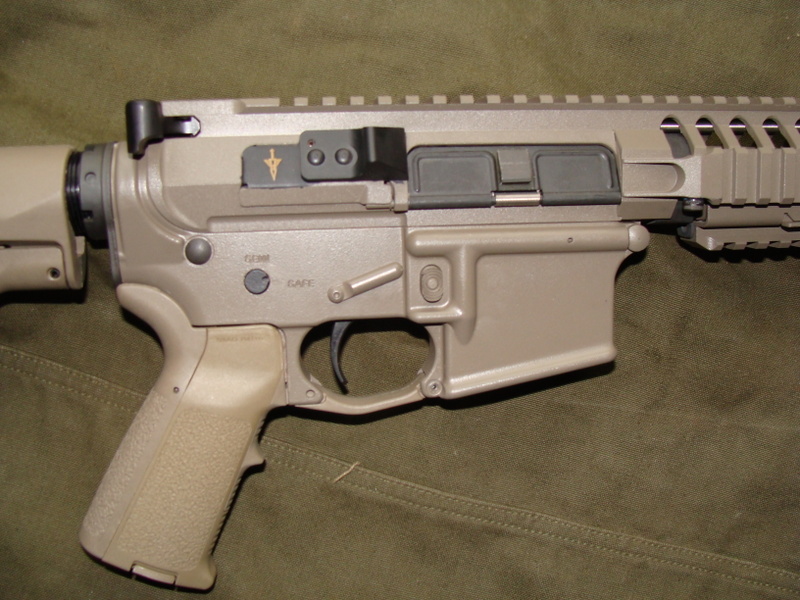 Vltor VIS receivers are available with forward assist and shell deflector or, as seen here, with shell deflector only.
---
UPPER
The upper receiver is made by Vltor Weapon Systems. Dubbed the VIS (Versatile Interface Structure), it is essentially a unitized free-floating receiver that accepts standard AR barrels. VIS uppers are available in several lengths corresponding with the typical handguard lengths seen on today's ARs. I selected a rifle-length receiver because I wanted to create a mid-length AR with a longer sight radius and mid-length gas tube. The downside is added weight.
All VIS upper receivers have the option of a shell deflector and forward assist or shell deflector only. I chose the latter because I do not use the forward assist—a subject for another article.
It is important to note that the VIS has M4-style feed ramp cuts in the receiver. While this is highly desirable in an AR, it can pose a problem if you select a barrel that does not have the proper feed ramps. If you're not sure, simply ask the barrel manufacturer if the product you're about to buy is cut for M4 extended feed ramps. If the barrel is not of the M4 feed ramp style, it will create loading malfunctions when installed in any upper receiver with M4 feed ramps (such as the VIS). If you build an AR with a different receiver, and it does not have M4 feed ramp cuts, then either barrel will work.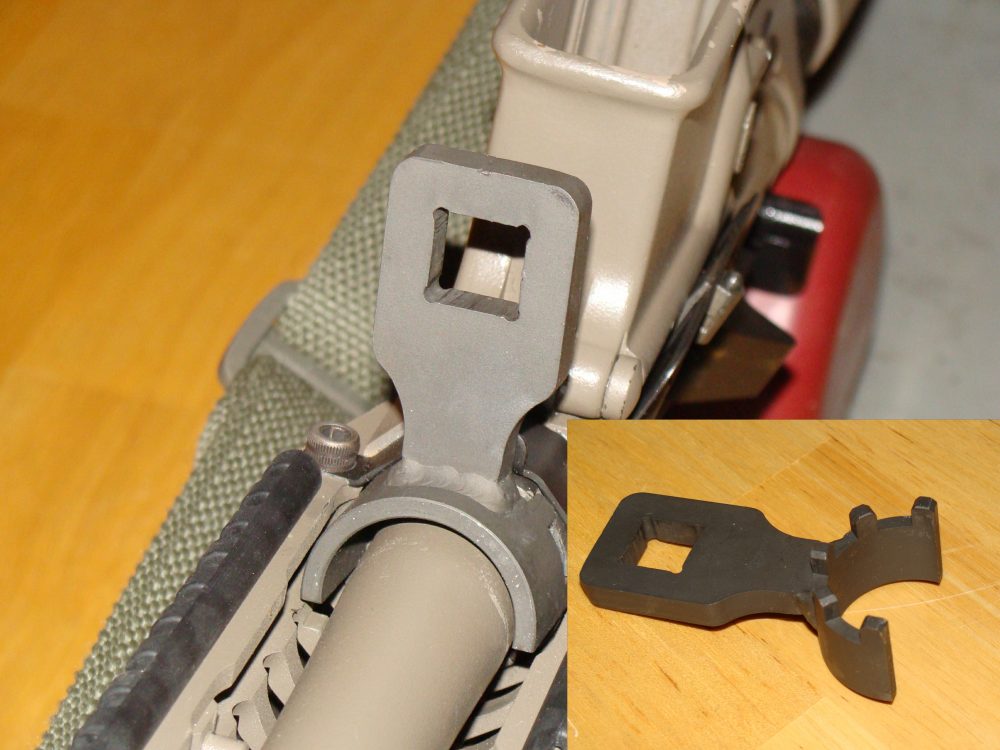 Vltor-supplied one-time-use barrel nut tool is used with torque wrench to tighten barrel nut.
---
BARREL
I chose to go with a 16-inch Noveske Rifleworks barrel because it is of the highest quality and precision. This barrel has M4 feed ramps compatible with the VIS upper, and a 1:7 twist for proper stabilization of 55- to 75-grain bullets. Given the shorter barrel length, I figured 69-grain bullets to be optimal for this build, and started developing a load with Lake City brass and Sierra Match King (SMK) bullets. Keep in mind that if you're handloading, individual results may vary, and do be careful.
ASSEMBLY
Assembly of a VIS upper cannot be covered in enough detail here, but I will describe it briefly to help readers assess if this is something they would like to take on themselves. The manufacturers of any AR components will tell you that only trained gunsmiths should attempt assembly. This is to protect them from lawsuits when people make big mistakes. If you feel the least bit uncomfortable, support your local gunsmiths and have them assemble your AR. There's nothing wrong with knowing your limits.
The barrel sets into the VIS easily: a guide pin on the barrel extension ensures it is properly "clocked" to the receiver. Grey anti-seize grease must be applied on the special VIS barrel nut threads and the mating receiver threads. You'll need a torque wrench and a way to secure the receiver, such as Brownells upper receiver block, while you tighten the barrel nut.
Vltor supplies a one-time-use tool that attaches to the torque wrench and engages the teeth on the barrel nut. Set the torque wrench per the manufacturer's instructions, connect it to the tool, and tighten the barrel nut. The gas tube, gas block, and flash suppressor all install in the usual fashion.
If you want the gas block to fit under the handguard portion of the receiver, make sure it's a low-profile gas block, and that you've purchased the correct length upper receiver.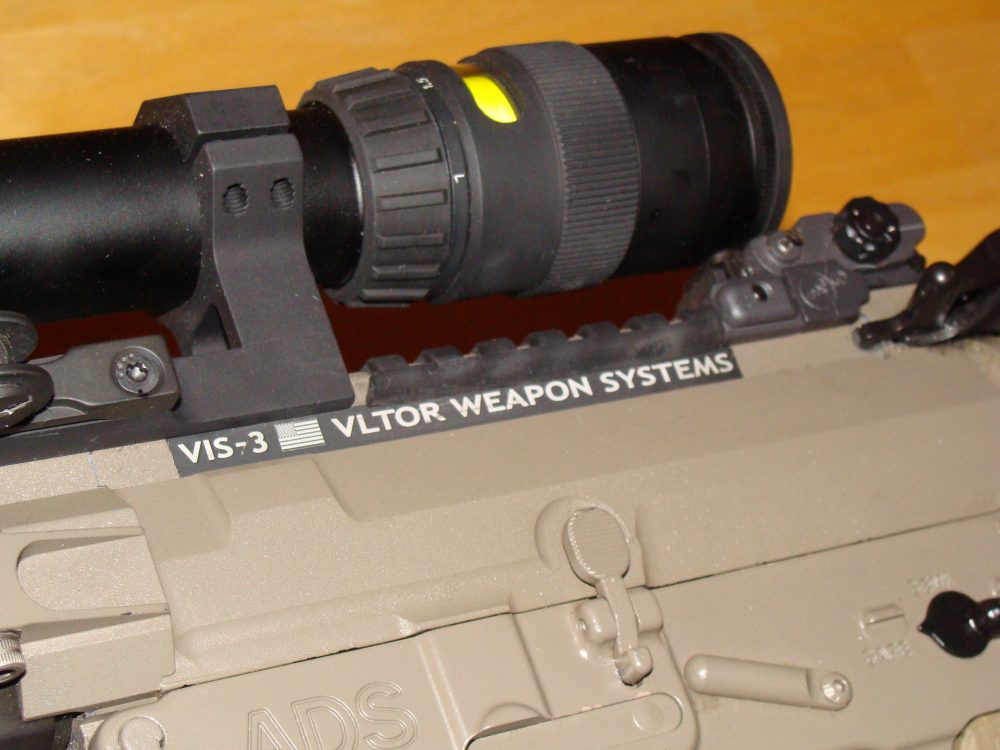 Close-up of completed Vltor upper.
---
FLASH SUPPRESSOR
I selected a three-prong type flash suppressor because it is reputed to be the most effective. This particular one is threaded for a muffler as well, although I won't be able to purchase one until the Michigan Attorney General determines the path to ownership and puts us on equal footing with the 38 states where their ownership is enjoyed without incident. A topic for yet another article.
The problem with this exact flash suppressor is that it sounds like a tuning fork every time you squeeze off a shot. Nobody seems to notice it except me until I point it out. Still, it's a little annoying, and I might change it out sometime in the future. Phantom-style flash suppressors are nearly as effective and don't make that sound.
FURNITURE
The furniture is from Magpul. There are a lot of great choices out there, but Magpul's furniture is comfortable, durable, and well thought out.
Inside the MIAD pistol grip, I keep a spare firing pin and bolt in a chamber especially designed for this purpose. The pistol grip also comes with interchangeable palm swells and front straps to tailor fit the grip to the shooter.
The CTR collapsing buttstock is simple, with several sling mounting options and a lock to reduce the chance of accidentally changing the length of pull.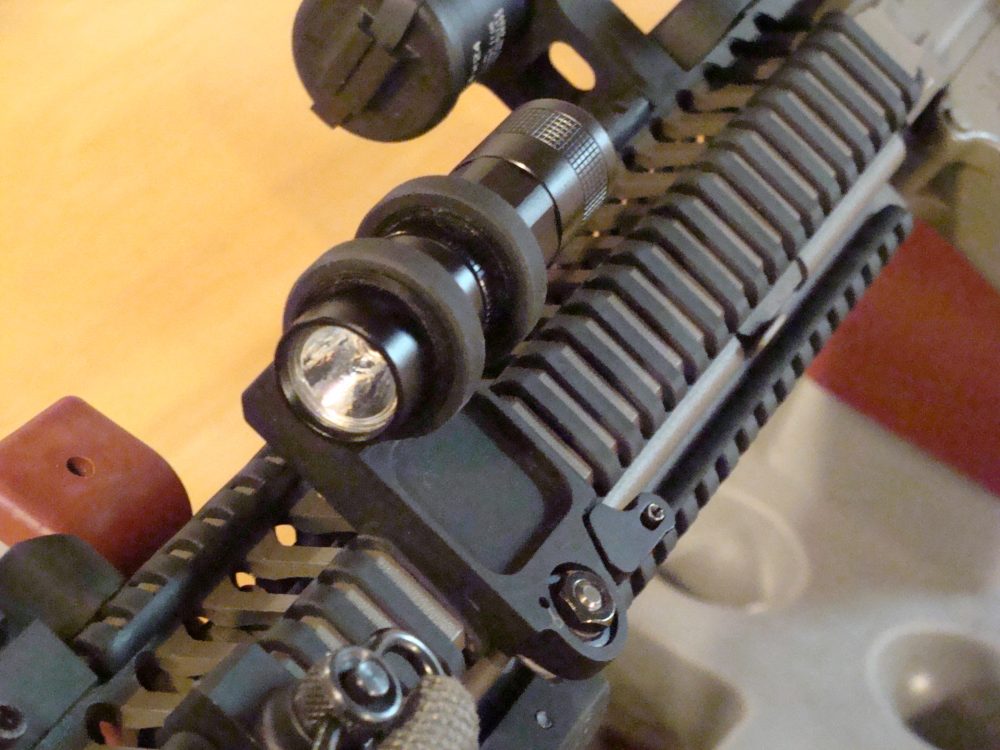 Fenix P2D was selected for its wide range of settings—from 5 to 120 lumens, plus strobe feature. Nonetheless, it is very compact and lightweight.
---
PAINT
I painted the rifle using Brownells Alumahyde-2 in Earth Brown. It's a close match to the Magpul furniture and very durable. Brownells even has a great video on their website that provides some extra tips to ensure the most optimal paint application. I left the trigger, flash suppressor, selector, sights, and brass deflector the way I think they should be—black.
OPTICS
In keeping with the purpose of this rifle, I needed an optic that was quick like a red dot and offered magnification for precision shooting to medium distances. This proved to be the most difficult selection of the entire build.
While there are plenty of scopes that have chased the dream, such as the Leupold CQT and a number of red dot optics that offer supplemental magnifiers, I have not been satisfied with any to date. They tend to be too busy, too expensive or simply ineffective at either precision or close quarters (or both).
I tried no fewer than six different optics, including the famous Trijicon ACOG, but was dissatisfied with them all. I was beginning to think I would have to settle for something less than ideal when Trijicon pleasantly surprised me with a stunning new scope—the TR24.
The TR24 is part of Trijicon's Accupoint line and has a 30mm tube with a 1-4X magnification. The reticle on my scope is simply an amber colored triangle, dual illuminated with Trijicon's signature fiber optics for day or night use without batteries. There is also a German reticle available, and both styles are offered in multiple colors.
At 1X power, the triangle is 16.7 MOA in size, and at 4X power it is 4.2 MOA in size. The true 1X power allows you to use the scope like a red dot for the close stuff, while the 4X power is perfect for precision shots at longer distances. It is fast, virtually parallax free, has a comfortable eye relief and is very accurate. I tried hard to find something I didn't like about this scope, and about the only thing I can come up with is the price—as this is written, they're going for about $775.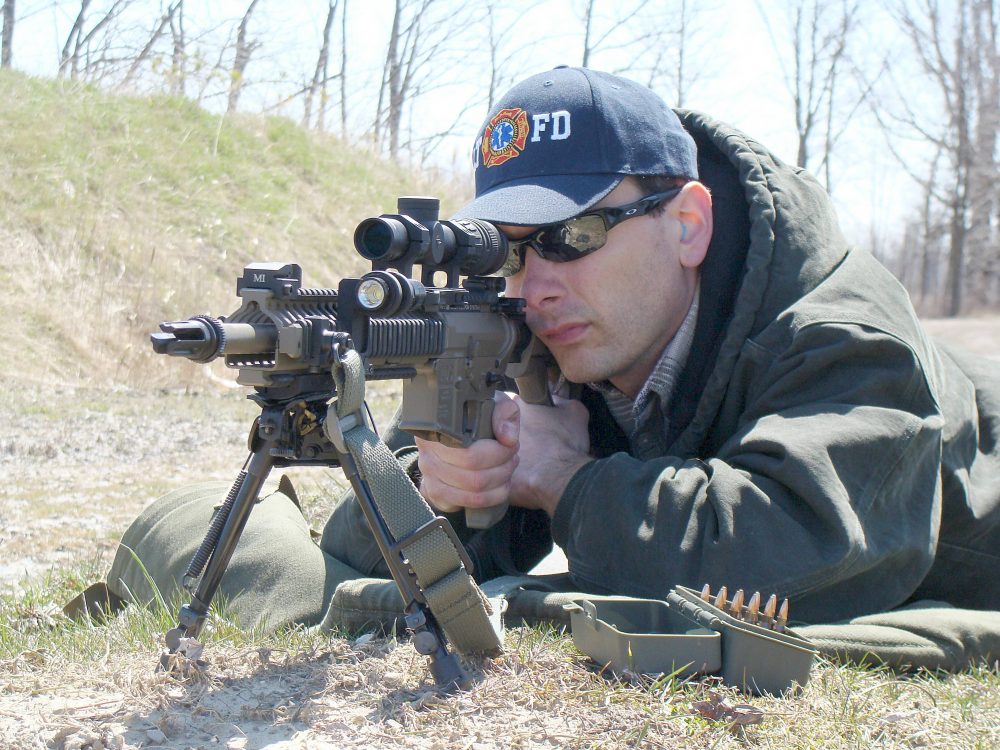 Albaceli takes aim with newly built AR.
---
ACCOUTREMENTS
Some of the finishing touches on this build include a Fenix P2D flashlight with a LaRue QD mount. The P2D is small and has numerous settings, including 5 to 60 lumens, and a turbo mode that illuminates with a 120-lumen beam or seizure-inducing strobe.
The trigger is a three-pound, single-stage Jard that I had lying around. I'm not crazy about the fact that the trigger has screws that might work themselves loose over time, potentially inducing dangerous malfunctions, but if you install it correctly and stay on top of it, the Jard three-pound trigger isn't too bad.
Last but certainly not least is the Blue Force Vickers sling. Like the Accupoint scope, this sling is good for close range work while allowing you the option to instantly increase its length and sling up for a steady precision shot at longer distances.
RESULTS
So how does she shoot? On my first trip to the range, I brought with me some new 69-grain SMK HPBT handloads and loaded them one at a time. At 100 yards, my five-shot groups were consistently holding a .75-inch spread with one particular recipe. Not bad considering this was my first try with that load and that rifle. Handloaders know it takes a few trips to the range, each time tweaking your powder charges, before you find a load that is best.
After the 69-grain SMKs, I switched to a bulk load that I use for plinking and competition. I push 55-grain Hornady FMJs with 25.5 grains of Ram-Shot Xterminator. Loading from a magazine this time, I proceeded to print more five-shot groups with a .75-inch spread. If I can do that with the bulk load, I know I can get better results with the SMKs with some more work.
Moving over to the close-distance range, I dialed the Accupoint down to 1X power. With both eyes open, the TR24 worked exactly like your average red-dot optic, although in this case, it was literally an amber triangle, but you get the point. I prefer my EOTech for pure close-quarters work, but the amber triangle on the Accupoint TR24 is a simple and effective dual-purpose solution that does not disappoint. In fact, if you prefer the simple red-dot reticle on optics such as the Aimpoint, I can't imagine you would skip a beat switching to the Accupoint triangle.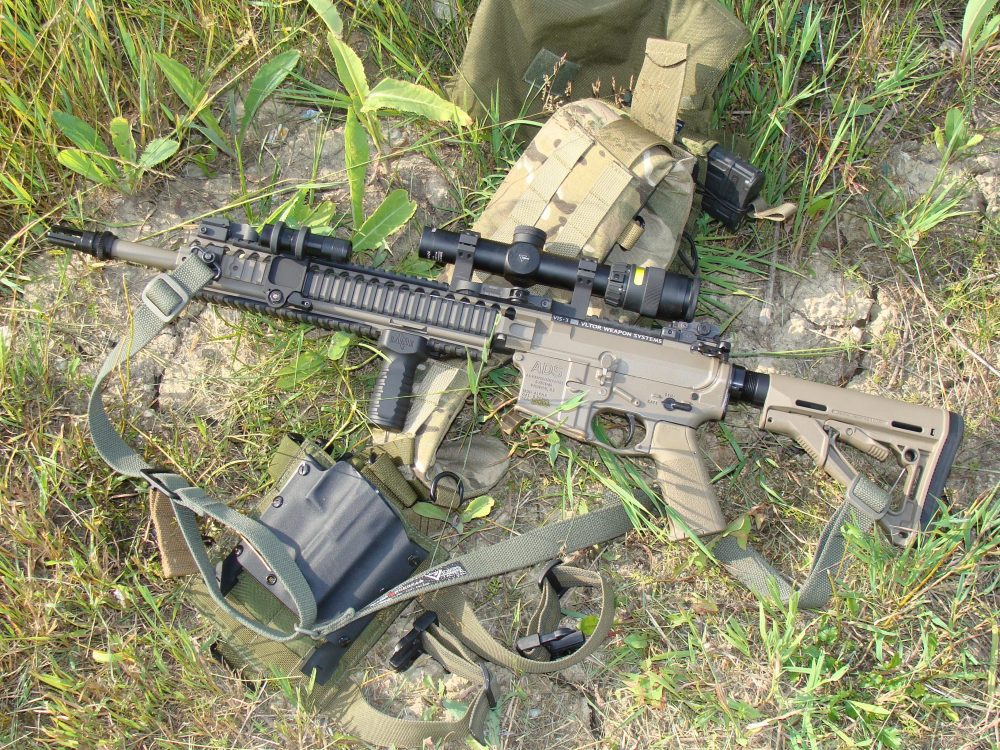 Rifle served author well at ACTS Combat Rifle Championship, helping him win this LaRue vertical foregrip. Trijicon Accupoint was so impressive that author purchased the optic after the evaluation.
---
THE TOTAL PACKAGE
To some, it will look like I spent way too much time and money building another AR. I know, because I think pretty much the same thing when I see my neighbor's Ford Mustang. We're all motivated by different things and work toward different goals. I hope I've given you some insight and inspiration to achieving yours.
This build proves two things.
First, you can build your dream AR if you take it one piece at a time. It may take awhile due to budget restrictions or limited availability of parts, but don't let that discourage you. Second, you can build a 16-inch AR for precision, close quarters, or both.
The AR is a truly magnificent design, easily customizable and adaptable to any situation thanks to the quality and ingenuity of American manufacturers. Now get out there and build your ultimate AR.
SOURCES:
Blue Force Gear, Inc.
Dept. S.W.A.T.
P.O. Box 853
Pooler, GA 31322
(877) 430-2583
www.blueforcegear.com
Fenix Flashlights
Dept. S.W.A.T.
29 William St.
Amityville, NY 11701
(877) FENIXUS
www.fenixlightsus.com
Jard, Inc.
Dept. S.W.A.T.
2737 Nettle Ave.
Sheldon, IA 51201
(712) 324-7409
www.jardinc.com
LaRue Tactical
Dept. S.W.A.T.
850 County Road 177
Leander, TX 78641
(512) 259-1585
www.laruetactical.com
Magpul Industries Corp.
Dept. S.W.A.T.
400 Young Court
Erie, CO 80516-8440
(877) 462-4785
www.magpul.com
Noveske Rifle Works
Dept. S.W.A.T.
P.O. Box 1401
Grants Pass, OR 97528
(541) 479-6117
www.noveskerifleworks.com
Trijicon, Inc.
Dept. S.W.A.T.
49385 Shafer Ave.
Wixom, MI 48393
(800) 338-0563
www.trijicon.com
Vltor Weapon Systems
Dept. S.W.A.T.
3735 N. Romero Rd.
Tucson, AZ 85705
(520) 408-1944
www.vltor.com