Do we really need another M4 Carbine on the market? I believe we do, because competition makes America great.
Sionics Weapon Systems of Tucson, Arizona, currently produces various carbine-length direct impingement (DI) and mid-length DI M4 variants. Sionics decided to produce a line of mid-length DI M4s after they successfully introduced their carbine-length DI M4s to the law enforcement and private markets in Arizona.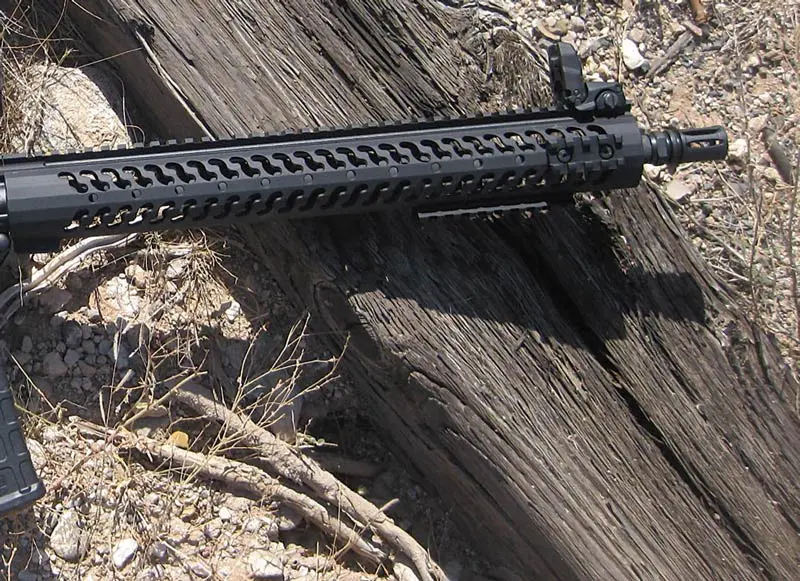 To date, Sionics M4s have been approved for individual officer use by several law enforcement agencies in Arizona, including the Tucson Police Department, Flagstaff Police Department, Cochise County Sheriffs Office, and Glendale Police Department. The Buckeye, Arizona Police Department recently adopted Sionics M4s as an issued rifle. This is quite a compliment when you consider that in Arizona, law enforcement officers—not bean counters—are responsible for testing and approving Sionics M4s for use by fellow sworn personnel. In addition, the U.S. Marshals Service authorizes Sionics M4s for use by individual Deputy U.S. Marshals.
SIONICS PATROL RIFLE III XL
The model featured in this article is the Sionics Patrol Rifle III XL. This rifle features a mid-length DI gas system and the free-float 15-inch Evolution Series handguard/rail with low-profile gas block.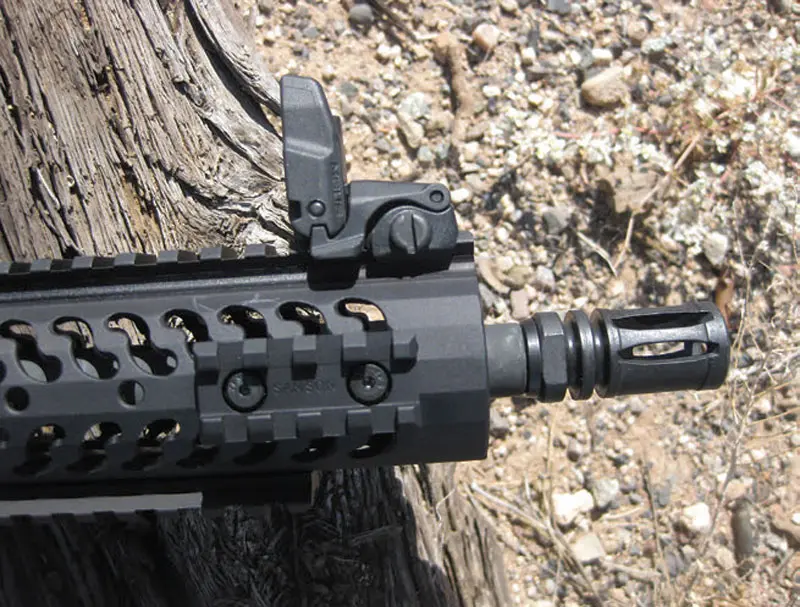 Both the upper and lower receiver are manufactured from 7075-T6 aluminum. The medium-weight 16-inch barrel is chambered for 5.56mm NATO and is chrome lined with a 1:8 twist. The barrel has M4 feed ramps and is Radiograph and MPI inspected. An A2-type flash hider is attached to the muzzle.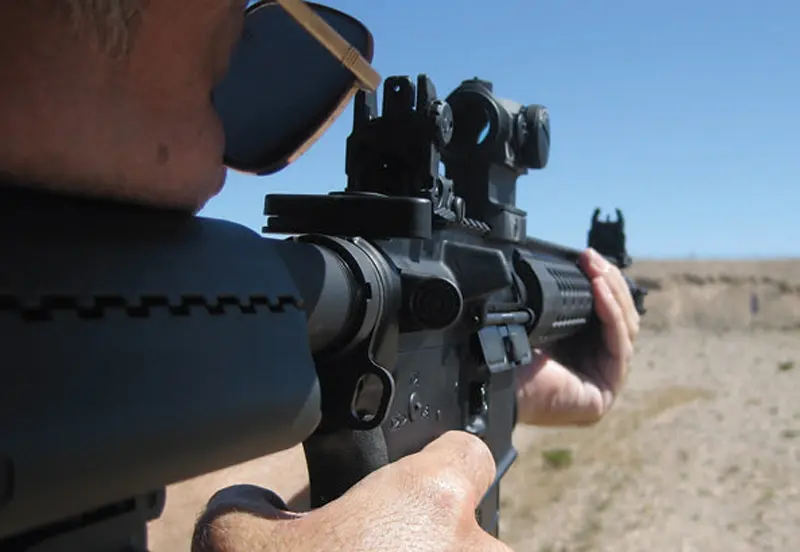 The M16 bolt carrier is nickel/PTFE plated, while the bolt itself is HP/MPI tested and uses a heavy-duty extractor spring, black insert on "O" ring. The receiver extension is a milspec six position that uses a carbine "H" buffer to which a Magpul STR stock is attached (although the carbine tested was equipped with a Vltor stock). The pistol grip is Magpul's MOE grip. Front and rear sights are Magpul MBUS.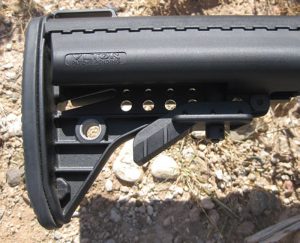 The trigger is a single-stage 4.5-pound "law enforcement" trigger, but all other lower parts are milspec. The carbine comes with a zippered soft case and 30-round Magpul PMAG.
RANGE SESSION 1
While conducting this test and evaluation, I was assisted by two incredibly experienced M4 operators. My good friend Rick Batory is a 14-year veteran of a local sheriff's office who served as a detention division lieutenant before moving on to become a civilian contract firearms and tactics instructor for U.S. Air Force Special Operations personnel.
My buddy Larry Kotz is a Class III SOT Dealer who specializes in selling firearms to law enforcement and military personnel. Larry has also assisted Rick Batory and provided SOT Class III firearms to law enforcement officers and special operations military personnel for training purposes.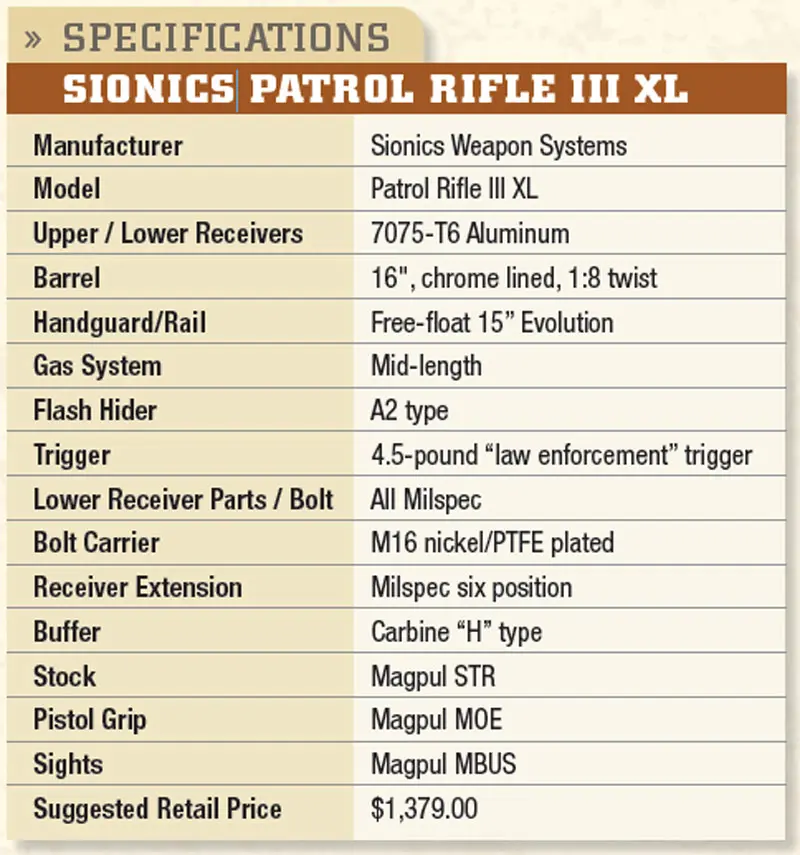 Winchester provided me with 500 rounds of 55-grain (white box) 5.56mm FMJ ammunition for use in testing the Patrol Rifle III XL. While using the flipup MBUS from a seated position, the carbine proved to be dead nuts accurate right out of the box.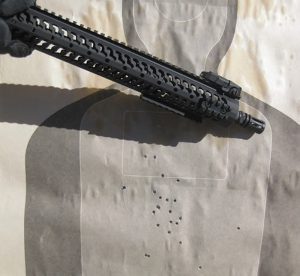 When I sighted in the carbine using an Aimpoint Micro T1, I was able to deliver a sub one-inch group at 50 yards on a day when I was in more pain than usual from my line-of-duty injuries. I mention this to stress that it is imperative to train in good and bad weather, as long as you can safely carry and operate firearms. This is why when you hear the term "good to go," you never hear anyone say, "I'm good to go except when my back hurts, it's freezing/raining outside," etc.
During Range Session 1, everyone involved in this T&E was very impressed with the fit and finish as well as the accuracy, weight and balance, reliability and overall performance of the Sionics Patrol Rifle III XL.
Since the other members of my test team had recently helped me field test other M4-type weapons, we were familiar enough with the capabilities of the mid-length DI system to appreciate the effectiveness of the Sionics carbine.
RANGE SESSION 2
During Range Session 2, Rick Batory and I installed my Trijicon ACOG TAO1NSN magnified optic on the Sionics test rifle. After making a few adjustments, the ACOG-equipped Patrol Rifle III XL continued to deliver sub-one-inch groups from a sitting braced position.
Once my Trijicon ACOG TAO1NSN was dialed in, I decided to engage a TQ19 AZ POST Law Enforcement Firearms Qualification (man size) Target from a distance of approximately 25 yards. Of the 63 rounds fired in this fastfire drill, 63 scored hits on the man-size target, with 59 of them striking the significantly smaller scoring area.
I should also point out that even though this particular Sionics M4 is designed to be used with a vertical foregrip (VFG), the EVO rail system became a little too hot to hold onto with bare hands after I fired approximately 45 rounds of ammunition without wearing my Black- Hawk Aviator Gloves or a VFG. One of my M4s that retails for about $800 more than the Sionics carbine also requires the use of gloves and/or a VFG because it uses a similar lightweight rail system that dissipates a tremendous amount of heat under continuous firing conditions.
RANGE SESSION 3
Before I completed this T&E, I headed up to northern Arizona to spend some time field testing the Patrol Rifle III XL with a city police officer who also serves as a patrol rifle operator and firearms instructor. This particular police officer works for a department that authorizes their sworn personnel to carry a Sionics M4 as a patrol rifle.
During this range session, the Sionics carbine was lubricated with Slip 2000 before it was test fired on a day when 40 mile-per-hour winds were knocking down two well-made wooden target stands. After using my Leupold R-1000 (TBR) range-finder to confirm the distances to two metal plates, the city police officer and I fired 160 rounds at targets located 60 and 100 yards away.
At the end of this range session, my friend gave the Sionics Patrol Rifle III XL high marks for quality of construction, accuracy and reliability. I also continued to be impressed by the overall performance of the carbine.
RANGE SESSION 4
The day I planned to return the test carbine to Sionics, I decided to shoot it one more time. During this final range session, I reverted to using the Micro T1 red dot optic that was provided by the folks at Aimpoint for this and other T&Es. Still adequately lubricated with Slip 2000, the Sionics M4 continued to be flawlessly reliable, soft shooting, and accurate.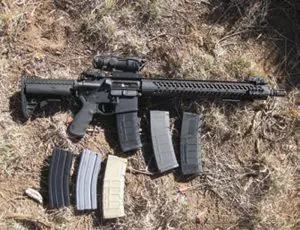 Speaking of Slip 2000, while recently testing several M4 Carbines including the Sionics SAR-15-EVO15-ML, I became a huge fan of this amazingly effective lubricant. In fact, Slip 2000 has provided the longest lasting level of lubrication of any similar product I have tested to date. I should also mention that, even though I make it a habit to clean my firearms after use, during this T&E I lubricated the Sionics M4 on one occasion, but purposely never cleaned it.
CONCLUSION
Based on the results of this multi-stage T&E, I have absolutely no problem recommending the Sionics Patrol Rifle III XL.
Sionics Weapon Systems is a true American success story, a small company from Tucson that is managing to compete in an industry flooded with competitors. Other firearms companies that were once relatively unknown have become well respected in the firearms industry because they build extremely high-quality products that have stood the test of time.
This is the path Sionics is taking, and I believe we will be hearing a lot more about their M4s in the future. Sionics: no longer just for Arizona!