When one hears the words "Rock River," one immediately associates it with some of the finest AR-15 type rifles in the business today. In a relatively short time, Rock River Arms (RRA) has built quite a name for themselves among shooters, law enforcement, and government agencies when it comes to quality parts and rifles. However, Rock River Arms offers a lot more than just rifles and quality parts. RRA produces an extended line-up of custom 1911 style pistols for competition, concealed carry, and law enforcement.
Within this line, RRA offers 12 custom 1911 models along with a host of parts and accessories. I was curious to see what performance their custom pistol line had to offer. Might as well start at the top of the line, so RRA was contacted about testing their Limited Match version. Although these are not stocking pistols, a Limited Match was delivered in a timely manner. I really wanted a .38 Super, but settled for the .45 ACP version instead.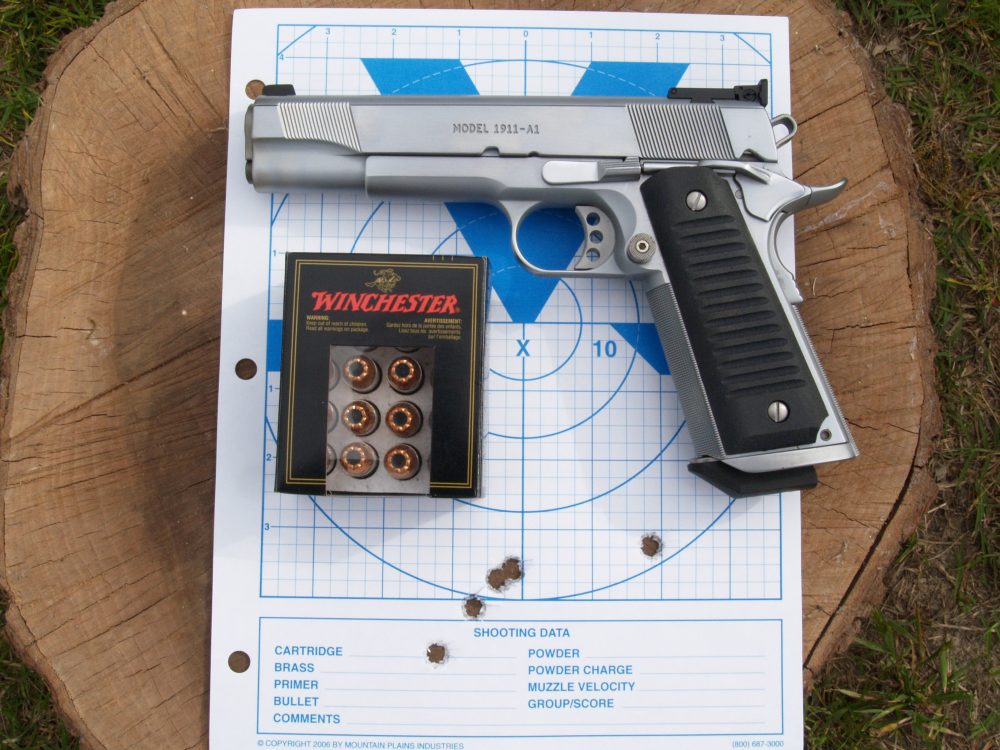 Fifty-yard, five-shot group measured 3.500-inches fired with RRA Limited Match. Shown with Rich Hasty Combat/Tactical custom grips.
---
The basis for all RRA custom 1911s is their National Match slides and frames. Frames are heat-treated forgings of 4140 chrome-moly steel, which are CNC machined for exact tolerances. Pin and sear holes are drilled and finished reamed for precision to insure a quality-bearing surface. The dust cover area is thickened to reduce cracking and a .255-inch radius cut allows extra material in the beavertail area, doing away with a lot of side-to-side gap.
RRA National Match slides are produced in the same process as the frames, using 4140 chrome-moly steel. Slides are CNC machined and hardened to RC40 to prevent rail and lug wear. The barrel channel and lug area are machined with a micro finish with exterior flats surface ground and all radiuses bead blasted. The firing pin hole has been tightened to prevent rotation and horizontal movement. Ejection ports are as low as they can possibly be.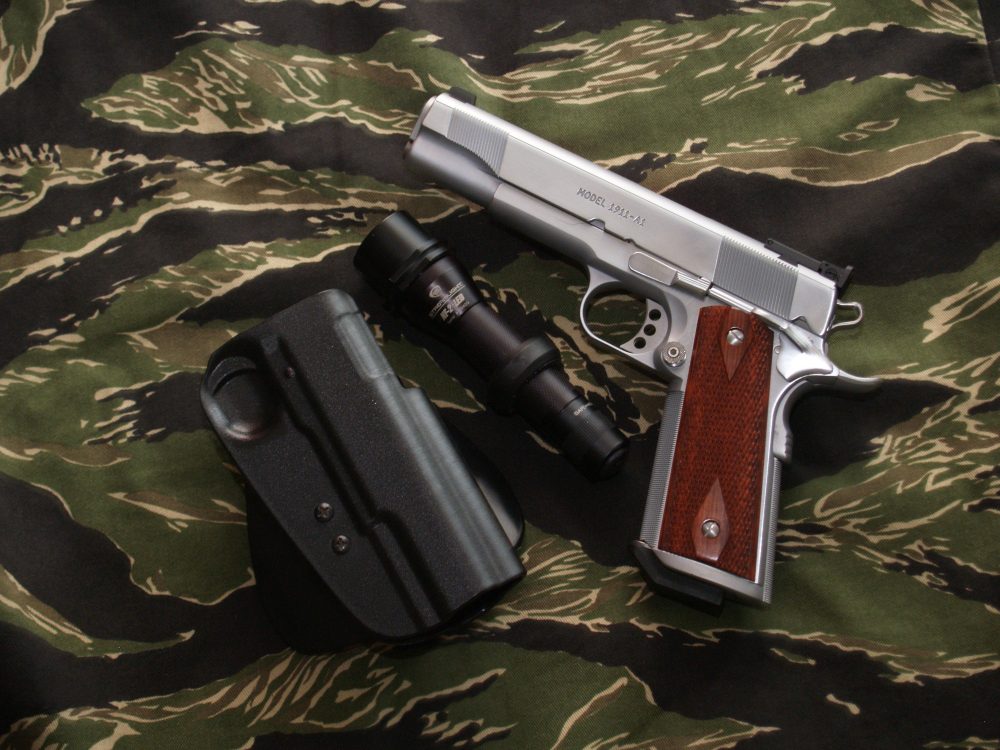 RRA Limited Match 1911 in .45 ACP. Shown with Uncle Mike's Kydex paddle holster and Streamlight's new Night Fighter LED Tactical flashlight.
---
Limited Match pistols start out with a National Match slide featuring front and rear cocking serrations. The frame has a beveled magazine well with a choice of 20, 25, or 30 lines-per-inch (LPI) checkering on the front strap and mainspring housing.
The trigger system uses an aluminum speed trigger configured with a match commander hammer and sear. Trigger pull is supposed to be set at a crisp 3.5-pound pull from the factory. The trigger pull of the test pistol averaged three pounds, 4.8 ounces as measured for five pulls using a Lyman Electronic Trigger Pull Gauge. Sights feature an RRA dovetail front fully profiled to radius with the slide, with a fully adjustable low mounted Bomar rear.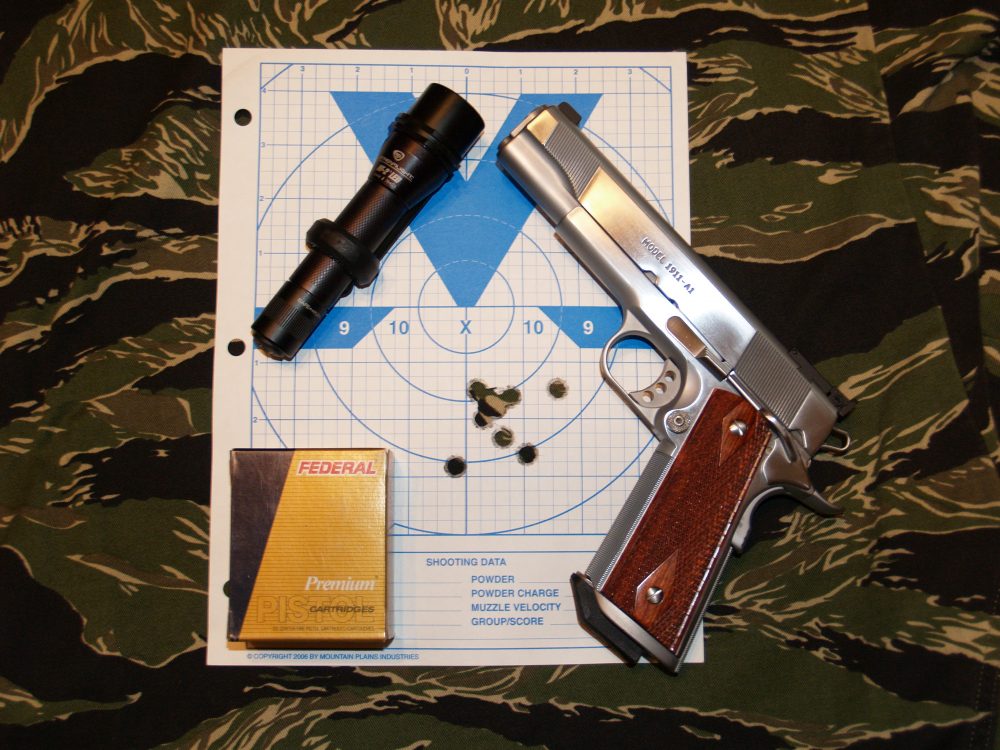 Federal's 230-gr. Hydra-Shok was number one load in this RRA Limited Match at 25 yards. Shown with 2.30-inch, ten-shot group.
---
Additional features include a raised pad beavertail grip safety, extended magazine release and ambidextrous safety. The mainspring housing for this model only comes in a flat configuration with a choice of 20, 25, or 30 LPI (standard) checkering. The mainspring housing on this model also features an oversized mag well for quick, positive magazine changes.
The heart of the firing system on this model is a fitted National Match Kart barrel chambered for .45 ACP. The barrel is fitted to the slide using a National Match bushing system with a tuned and polished feed ramp. The recoil guide is a two-piece version for easy take down, and the ejection post is lowered and flared as much as possible.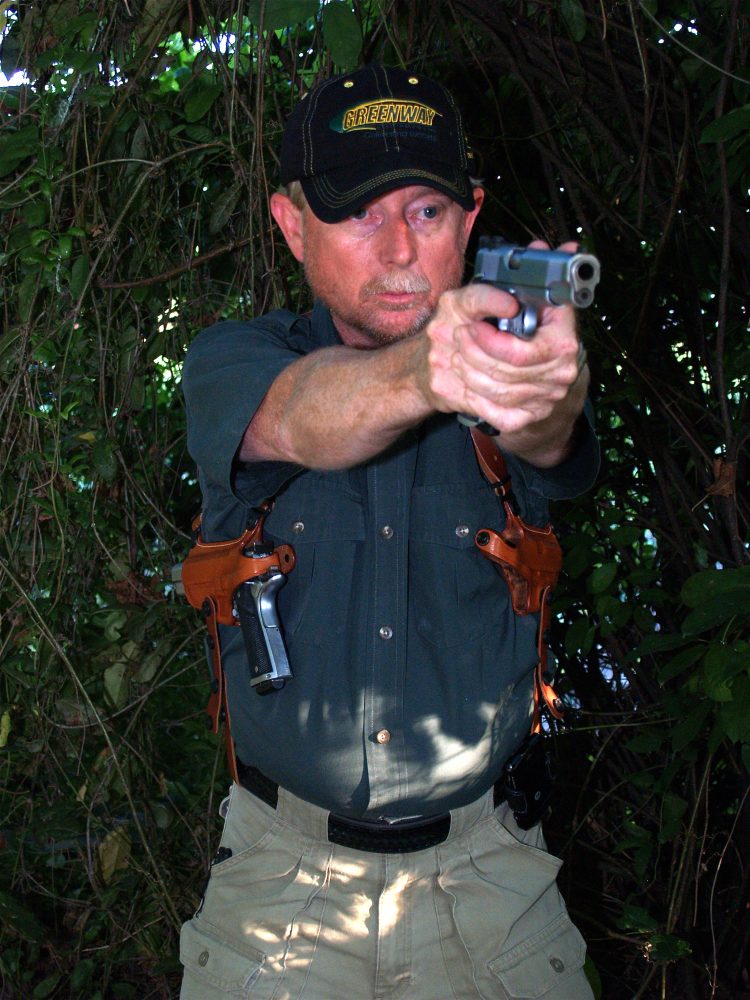 The top of the slide is flattened and serrated 40 LPI much like the Colt Gold Cup. In addition, this pistol features 40 LPI checkering under the trigger guard to front strap. Both front strap and mainspring housing were checkered with 30 LPI. Grips are what RRA calls super rosewood with sharp checkering. The finish on the standard pistol is a high luster blue, but the test pistol featured the optional hard chrome finish—highly recommended for durable corrosion resistance. RRA finishes up with a total reliability package and guarantees the pistol to be capable of 1.5-inch groups at 50 yards using Federal 185-grain Gold Medal Match semi-wadcutters.
Testing for this RRA Limited Match pistol included a 25-yard accuracy stage, performance drills, speed drills, and a 50-yard top accuracy stage. Ammo for testing consisted of 19 different commercial loads from six manufacturers with bullet weights ranging from 165 to 230 grains. The author changed out the super rosewood checkered grips with a set of Rich Hasty "Combat Tactical" grips for testing. These are slightly oversized and have to be fitted in certain areas for custom 1911s (e.g., magazine wells, ambi-safeties). They come in true milspec configuration out of the box. Velocities were checked using an Oehler Model 35P with screens set ten feet from the muzzle. Performance drills were fired using an Uncle Mike's Kydex paddle holster and timed using my vintage Pro-Timer II by Competition Electronics.
The 25-yard accuracy stage consisted of multiple ten-shot groups fired with each load on "Victory" targets produced by Mountain Plains Industries. These are some of the best testing targets this author has ever used. Groups were then measured center-to-center and averaged for overall performance. The number one load from this RRA pistol was Federal's 230-grain Hydra-Shok, which averaged 2.25 inches. These were followed by Winchester's Personal Protection 230-gr. SXT at 2.40, Hornady's 185-gr. HP at 2.53, CorBon's 165-gr. HP at 2.54, and Federal's 230-gr. HP at 2.560 inches. Average ten-shot groups for the top five loads were 2.45 inches. Average overall performance of the 19 loads combined was 3.45 inches.
Top velocity in this stage of testing went to CorBon's 165-gr. HP, running 1,195 feet-per-second (fps). Overall velocity average for the top five loads was 1,107 fps, with a 19-load overall performance of 969 fps.
A 50-yard accuracy stage was thrown in just to know my limitations and to see how close one can get to the guarantee. However, one must take into consideration that firing here was performed hand-held off a rest, while the factory probably uses a Ransom Rest or some sort of stable shooting device. Also, the required ammo (Federal 185-gr. Match) was not available at the time of testing. The top five loads from the 25-yard accuracy stage were re-shot from 50 yards using the same "Victory" targets, with the pistol fired from a sandbag rest. The top load in this stage of fire was Winchester's Personal Protection 230-gr. SXT, yielding a 3.52-inch, five-shot group. I will say the pistol showed real performance with this load, as the last four shots of the five printed into just 1.68 inches. The overall average 50-yard performance for the top five loads was 3.74 inches.
Performance drills consisted of some standard IPSC/USPSA exercises such as "Bill Drills." This drill starts out with an IPSC/USPSA target placed at seven yards. At the beep of a timer, the shooter draws and fires six rounds on the target in two seconds or less, but all shots have to be in the A-Zone of the target to count. This is a great drill because it provides a lot of information from the least amount of ammo fired.
Data concluded here is "Draw to First Shot" time, "Double-Tap" time, "Splits" (difference between shots), and "Sight Performance." Draw to first shot gives the time it takes to put the first (or maybe the only) shot from the draw to target. Double-Taps give the time for two controlled shots from draw to target. Splits are very important because the difference between shots tells the shooter how fast they are running the trigger and most importantly, how consistently (time) they are running the trigger. Split times need to be within .01 to .02 of each other. Sight performance is how well they work with the shooter to provide a fast, consistent and clear sight picture to target. One can only shoot as well as one can see. This RRA pistol performed extremely well as it is set up for performance. Drills could be performed flawlessly within the time frames required with consistent splits and tight groups.
Speed drills were performed on steel targets produced by Mike Gibson Targets out of Caldwell, Idaho. The purpose here is to run the pistol through simulated combat drills engaging multiple targets with reloads. Data here will be reliability and user friendliness under pressure. A great self-defense/combat handgun runs like a sewing machine with a variety of loads. In addition, it works with the operator to enhance and provide the utmost in precision and usability. This RRA pistol received nothing but high marks during this stage of testing. It operated flawlessly with all its features and provided exceptional accuracy, speed and reliability. Reloads were a breeze with the enhanced magazine well.
The only drawbacks encountered here were the loosening of grip screws and the extended magazine release button. Part of this is attributable to the super slick hard chrome finish and lack of adhesive. However, this should be owner applied as needed, and a little clear fingernail polish works wonders.
Overall observations of data provided by this RRA Limited Match sample would be excellent. It performed as it should and was not cleaned or babied during all stages of testing. Nothing broke or had to be sent back to the factory to be fixed. The minor flaws found could be easily taken care of by the operator and could not be considered faults of the manufacturer. Out of the box lock up was tight, as most customs are, but shot in nicely during its 1,000 plus rounds of testing.
Several shooters had the chance to fire this handgun, and all were impressed. RRA's Limited Match as tested was a fine example of 1911 craftsmanship and a pleasure to shoot.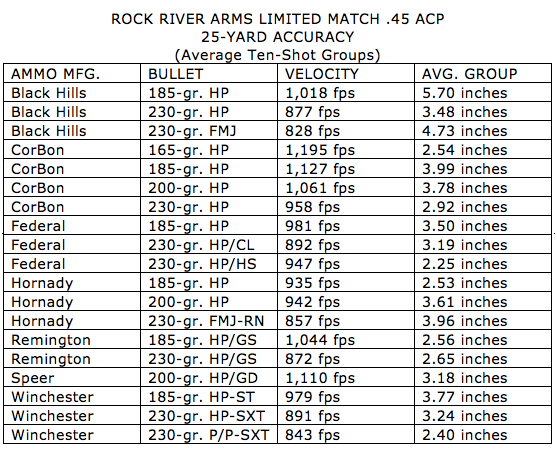 SOURCES:
Rock River Arms
Dept. S.W.A.T.
1041 Cleveland Road
Colona, IL 61241
(866) 980-7625
www.rockriverarms.com
Galco International
Dept. S.W.A.T.
2019 West Quail Avenue
Phoenix, AZ 85027
(800) 874-2526
www.usgalco.com
Handloader Targets
Mountain Plains Inc.
Dept. S.W.A.T.
3720 Otter Place
Lynchburg, VA 24503
(800) 687-3000
www.handloadertargets.com
Mike Gibson Manufacturing
Dept. S.W.A.T.
17891 Karcher Rd.
Caldwell, ID 83607
(888) 767-7371
www.mgmtargets.com
Rich Hasty Custom Grips
Dept. S.W.A.T.
P.O. Box 615
Alpine, AL 35014
[email protected]
Streamlight, Inc.
Dept. S.W.A.T.
30 Eagleville Road
Eagleville, PA 19403
(800) 523-7488
www.streamlight.com
Uncle Mike's
Bushnell Outdoor Products
Dept. S.W.A.T.
9200 Cody
Overland Park, KS 66214
(800) 423-3537
www.uncle-mikes.com