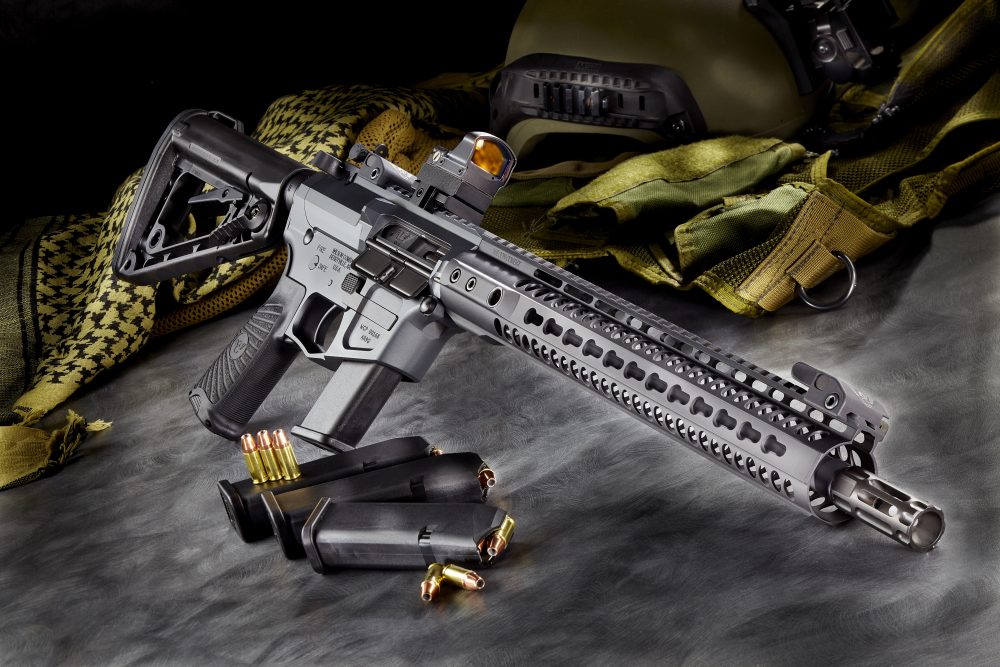 The 5.56mm NATO caliber AR-15 holds sway for police patrol rifles, but 9mm shoulder-fired weapons occupy a place in many armories, typically as submachine guns. Carbines such as the Beretta CX4 are used by several state university police departments, while a few sheriff's departments use the CZ EVO.

Though the 5.56 NATO does not look like it will be supplanted any time soon, 9mms compare favorably in several respects, especially since newer 9mm loads with modern bullet designs perform much better than in the past.
Operationally, the 9mm is ideal in extreme CQB/room-to-room maneuvers where the added range and velocity of the 5.56 are not necessary. The 9mm also generates less muzzle flash and noise, and its ballistics grant greater access to indoor ranges that often lack backstops that can accommodate the 5.56 (Frangible ammo solves the backstop problem, but at much greater ammo cost).
Ammunition is also less costly, and most 9mm sound suppressors can be used on pistols and carbines. But perhaps the best advantage of the 9mm over the 5.56 NATO is the interchangeability of ammunition and sometimes magazines with duty sidearms.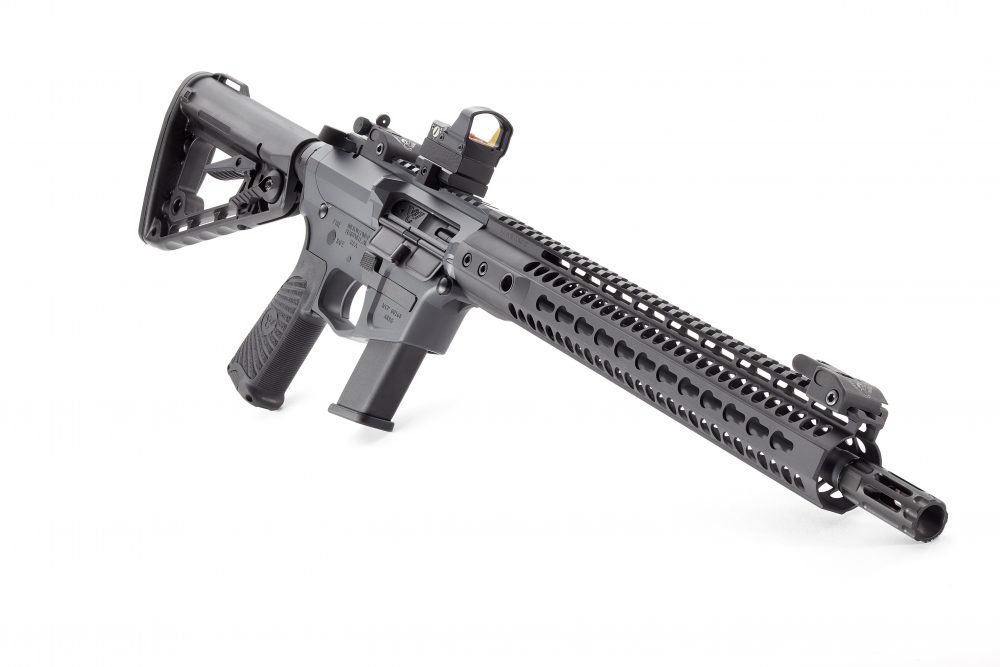 Customers can order Wilson Combat AR9 in various configurations, including SBR shown here with KeyMod-type handguard. Wilson Combat TRIM rail handguard is also an option.
---
WILSON COMBAT AR9
The AR9G was released in early 2016 and is Wilson Combat's first blowback operated AR-15 style rifle. The "G" in the model name designates the use of Glock magazines. Two other versions that use Beretta 92 and Smith & Wesson M&P magazines are also offered.

Short Barreled Rifle versions with 8- and 11.3-inch barrels are also made, for those who desire a briefcase-length rifle of 25.5 or 28.5 inches, but 9mm is the only intended caliber, and a select-fire version will not be made. Now that the FBI has a newfound fondness for the round after testing the newest loads, the perceived need for agencies to upsize to the .40 S&W may abate.
The AR-15 is a somewhat modular design, so selecting suitable components for its intended use matters considerably in how this gun performs in the field. Bill Wilson designed the AR9 for home defense and competition, so he carefully selected features and incorporated premium components with those uses in mind. The result is a highly accurate, reliable and very easy to shoot carbine.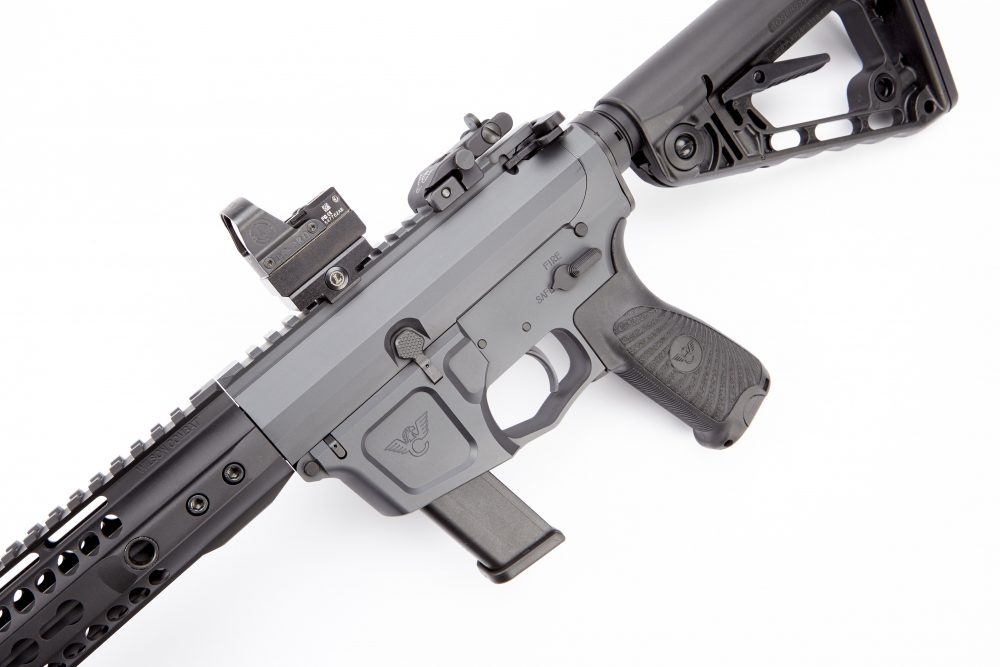 Location of controls duplicates AR-15, but bolt catch is much wider and easier to reach. Large, integral winter trigger guard aids in operation with thick gloves. BCM GUNFIGHTER grip is more comfortable than milspec grip.
---
The AR9G uses receivers made from 7075 grade aluminum billet that fit very tightly together because of a tension buffer installed in the rear of the lower, and close manufacturing tolerances.
Add to that a match-grade free-floating Shaw barrel, Wilson's own aluminum handguard, Q-COMP Flash Hider, drop-in trigger group, and optional flip-up iron sights. A Rogers Super-Stoc, BCM GUNFIGHTER grip, and 22-round translucent magazine from Elite Tactical Systems complete the carbine.
The AR9 uses Wilson's Armor Tuff Cerakote finish, which is applied over a base finish of hard coat anodizing for aluminum parts like the receivers, and over Parkerizing for carbon steel parts (e.g., the barrel). Thus, the metal is protected even if the outer Cerakote wears off.
The AR9 uses a lower receiver dedicated to a particular magazine—Glock, Beretta, or M&P—rather than starting with a standard AR-15 receiver and then adapting the mag well with spacers and inserts. The dedicated system works much better because it is simpler and has no parts to come loose or break. It also simplifies cleaning.
Except for lacking a forward assist, which Wilson sees as unnecessary, the AR9 has the same operational controls as the standard AR-15. Interchangeable parts between a standard AR-15 and the AR9 include the trigger group, grip, and buttstock.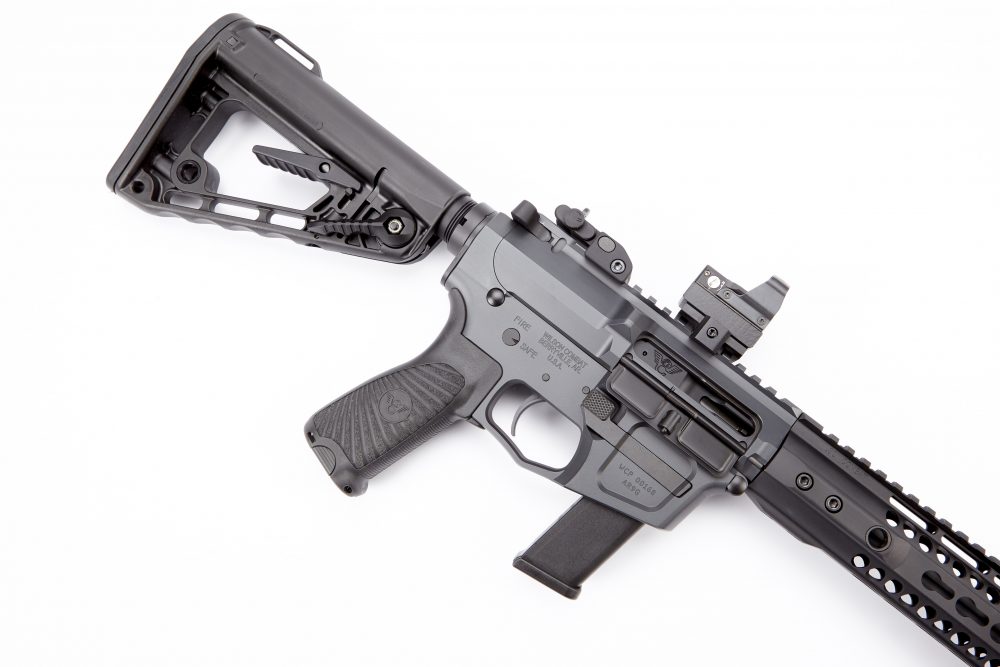 AR9G has forward assist but shares the dust cover, charging handle and shell deflector of the "standard" AR-15. Large knurled magazine release and secondary locking lever secures buttstock in position without any wobble.
---
DESIGN CHALLENGES
According to Bill Wilson, designing an AR-15 for the 9mm presents two essential challenges: reliable feeding and reliably holding the bolt open after the last round is fired.
Wilson's testing showed that double-feed magazines as used on the UZI, Rock River and Colt 9mms are prone to creating stoppages because the round feeds at an angle when stripped from the magazine. Single-feed magazines move cartridges into the chamber without sideways movement and allow more of the bullet to be guided by the chamber walls as it is stripped from the magazine. Eliminating this possibility mandated the use of a single position feed as used on most pistols.
The other challenge is a bolt catch that will reliably lock the action open after the last round is fired and not before, even when the magazine is pressed upward while firing. This issue is more noticeable with AR-style carbines that use Glock factory and after-market magazines, because the dimensions of the magazine vary considerably and are made by multiple companies, according to Wilson.
Wilson solved this problem by modifying the lower receiver of first production AR9G rifles and by shipping them with magazines made by Elite Tactical rather than Glock OEM as was originally done.
Unlike other 9mm AR-15 carbines, the Wilson AR9 uses a plunger-type ejector like the standard AR-15 instead of the more common receiver-mounted versions. This decision was made because the steel connector between the magazine follower and the bolt catch rides on the left side of the lower receiver, where an ejector would typically be mounted.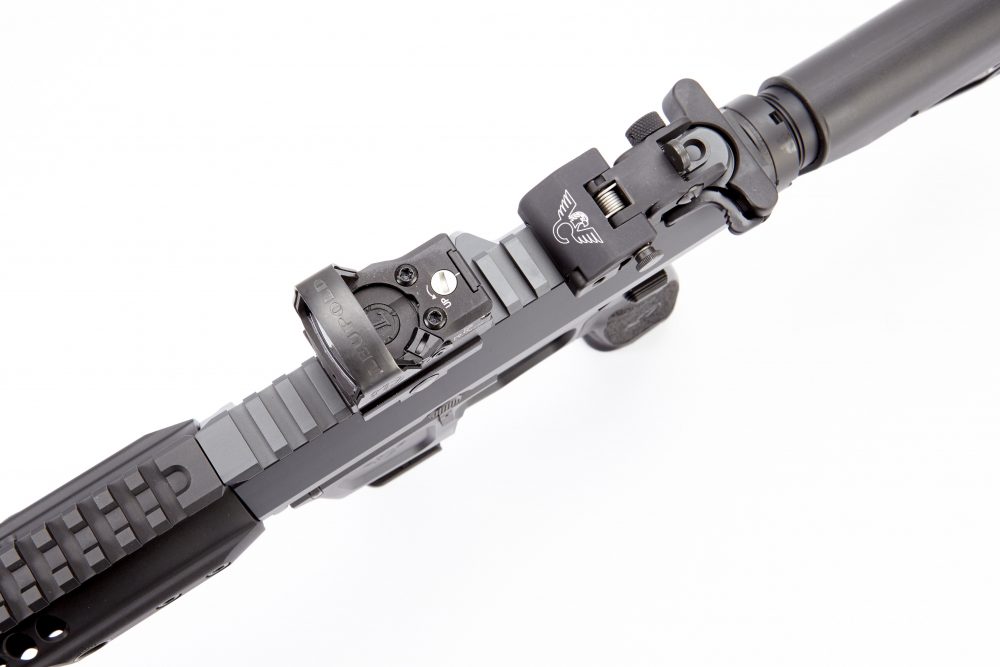 Full-length M1913-style rail allows accessory mounting, including spring-loaded flip-up aperture sights from Wilson Combat. These sights sit very close to the receiver when stowed.
---
ACCURACY
Accuracy is a measure of a firearm's mechanical consistency—it launches a bullet the same way with every shot—but it also is a function of how well the firearm can be shot once it's placed in human hands.
Wilson tested several custom match barrels and chose the Shaw because he felt it was the most accurate. Wilson cuts the chamber using the same dimensions as the Beretta 92 pistol and contours the barrel at his shop.
With telescoping AR-15 buttstocks, wobble is a typical cause of inaccuracy, but the AR9 avoids this with the Rogers Super-Stoc. This stock is one of the best tactical designs I have found, because it is lightweight, sturdy, adjusts quickly to any of six positions, and locks into place with zero wobble.
Finally, a good trigger is indispensable for accurate shooting. My unit came with Wilson's TTU variant. This drop-in unit has a short, light take-up stage, crisp break, and minimal travel, which are exactly what's required to deliver rapid, accurate shots on target, because the shooter's finger moves minimally to fire and to reset the mechanism.
Using a Lyman electronic trigger-pull gauge, the total trigger-pull weight on my rifle was 4.5 pounds, with a 2.5-pound break. The trigger works in conjunction with the GUNFIGHTER grip, which places my finger on the trigger at the last digit, for better trigger control than the milspec design.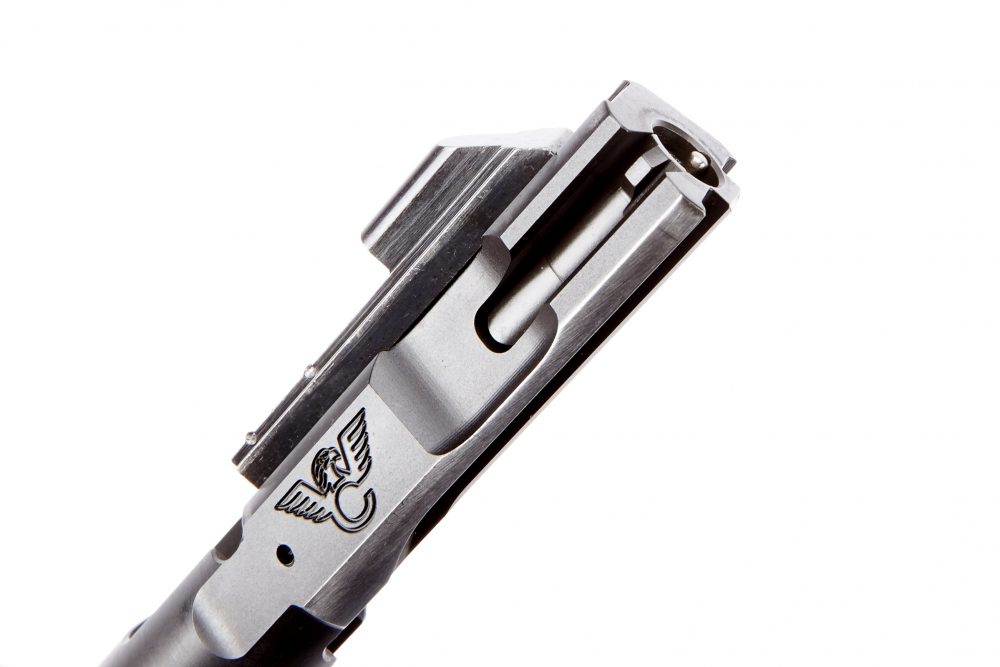 AR9G bolt uses a plunger-style ejector similar to AR-15.
---
RANGE TIME
I tested the AR9G for accuracy shooting with a Leupold scope off sandbags at 50 yards with three different loads, and then using an Aimpoint CompM3 for handling and CQB drills.
The AR9G was very accurate with both Black Hills 115-grain JHP and Atlanta Ammunition Elite 115-grain JHP, where the best five-shot groups were under two inches measured from the centers. There were no stoppages encountered in 200 rounds fired.
Though the most popular AR9 is the Glock variant, Bill Wilson notes that Glock magazines have considerable variability in dimensions, which can effect functioning. Bill recommends that users of original Glock mags install a Wolf extra power spring to keep the bolt catch working properly, even though this change may reduce the round count on G17 mags by one.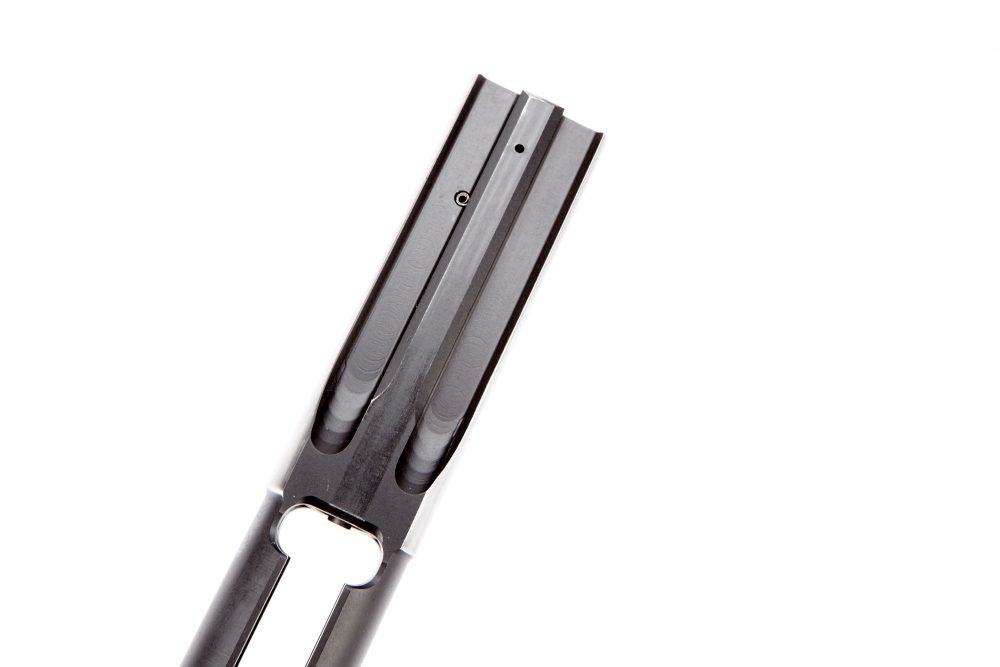 Bottom view of bolt shows firing pin and slot for hammer.
---
HANDLING, ERGONOMICS
The AR9G has quick, maneuverable handling characteristics, thanks in large part to the trim, lightweight, and ergonomic stocks and handguards.
The BCM GUNFIGHTER grip positions and its angle makes it far more comfortable to hold the rifle with the muzzle pointing down just in front of your feet than the milspec grip. This muzzle-down position is typically used when standing post and is certainly appreciated for duty. The GUNFIGHTER's grip angle works best for shooting off hand and kneeling, though it is not ideal for prone or bench-rest fire because of the angle it places the wrist.
The handguards also work very well because they are narrow enough to allow a shooter a solid grip even with a gloved hand, and are smooth and devoid of sharp edges. The Wilson TRIM handguard has a full-length Picatinny-style rail at 12 o'clock and multiple drilled and tapped holes on the other three sides for mounting accessory rails where you want them and not have to contend with sharp-edged full-length Picatinny rails where you intend to grasp the stock.
FINAL NOTES
Carbines that use pistol magazines are a growing segment of the market, but the Wilson rendition is clearly among the highest quality available and carries a lifetime warranty that lasts as long as the rifle, not the original purchaser.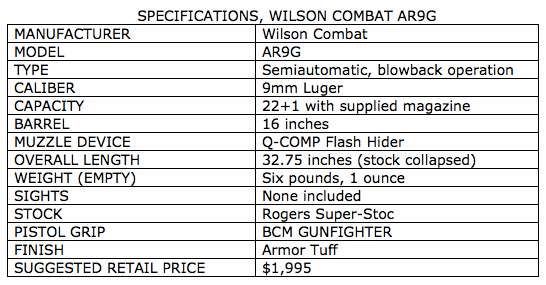 SOURCES
WILSON COMBAT
(800) 955-4856
www.wilsoncombat.com
AIMPOINT INC.
(703) 263-9795
www.aimpoint.com
ATLANTA ARMS
(770) 788-5200

https://atlantaarms.com
BLACK HILLS AMMUNITION
(605) 348-5150
www.black-hills.com
WINCHESTER AMMUNITION
(615) 258-3340
www.winchester.com