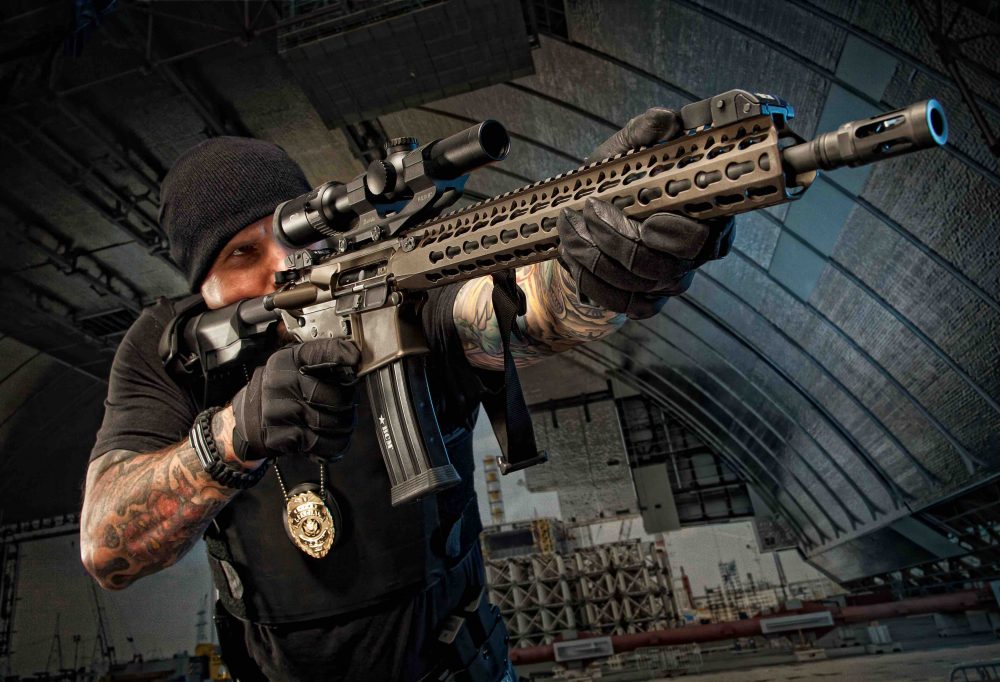 Manufacturers of America's Rifle—the AR-15—continue to proliferate, literally running the gamut from A to Z. Some of these rifles are quality through and through. Some would better be used as a boat anchor while fishing for lake trout. The majority probably fall somewhere in the middle.
One manufacturer that has made—and continues to make—top-shelf rifles is Bravo Company Mfg (BCM). I have never heard a single complaint from anyone who has bought a BCM rifle.
Okay, I take that back. At a basic carbine class (never can have too much of the basics), a fellow student remarked that his new BCM rifle kept having malfunctions with one magazine. I saw the problem right away. The feed lips on this aluminum magazine were spread so far apart I was surprised they would even insert in the mag well or retain a round, and the front welds were coming apart.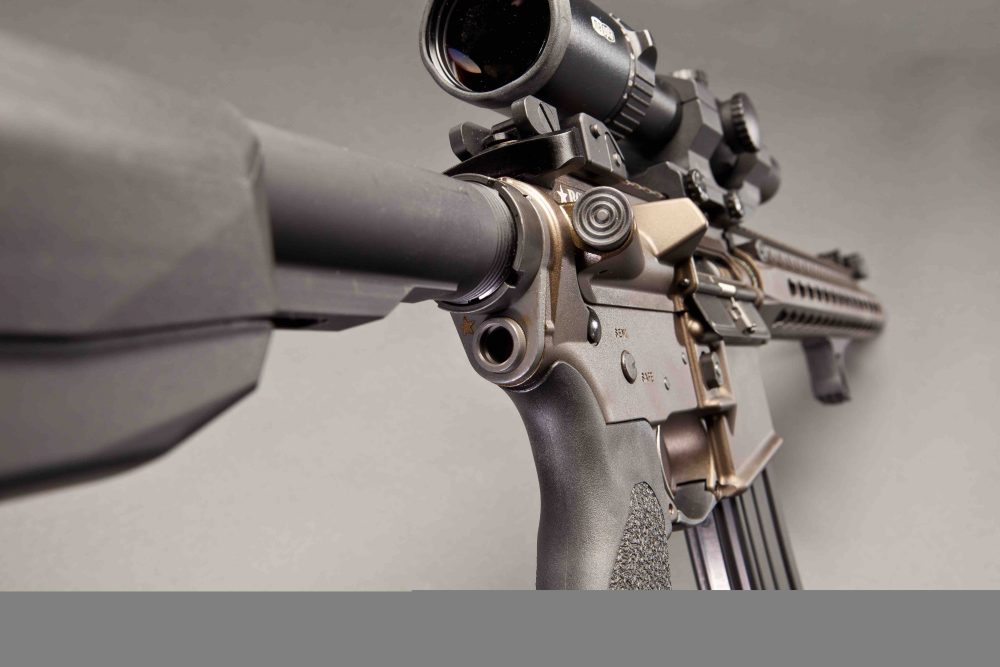 He said he was "saving my good mags for a rainy day." I have heard this expression many times over the years in regard to magazines. But I believe it's wise to try magazines before a storm comes, as I've seen new-in-the-wrapper mags fail. Regardless, I "fixed" his magazine by stomping on it, throwing it onto the berm where it became a target of opportunity, and replacing it with a PMAG. No more problems.
As an aside, folks, don't fall in love with your magazines. They are expendable items, and running a $2 mag in a $1,500 gun (or any gun, for that matter) is just plain dumb.
I have just finished evaluating a BCM carbine—the Recce-14 KMR-LW (Recce-14). Spoiler alert: the carbine is accurate and ran flawlessly.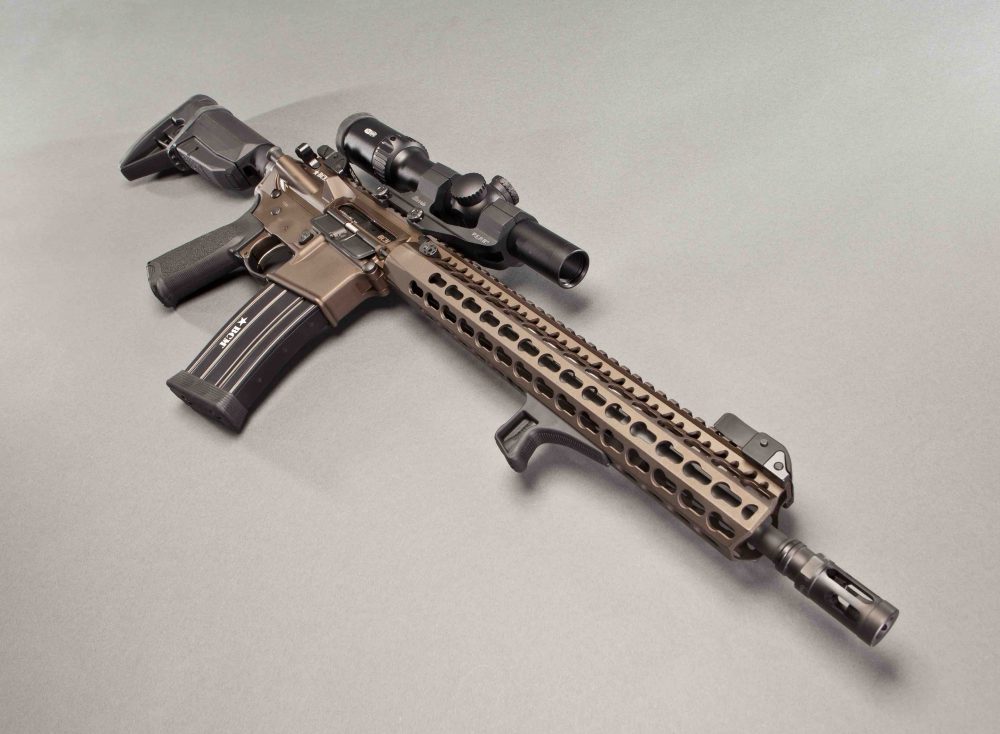 BCM RECCE-14 KMR-LW
Recce rifles were originally developed by U.S. Navy SEAL Team Armorers to provide SEALs with a lightweight modular carbine that had enhanced ballistic performance and utility over an issue M4.
Matching the size of an issue SOPMOD, Recce rifles use a mid-length gas system that runs more smoothly and allows more agile weapon control thanks to its extended handguard, which also increases sight radius for better accuracy if engaging with iron sights.
Overall length with stock collapsed is 31.5 inches, and 34.5 inches extended. Approximate weight is 6.3 pounds. The test carbine came with a Bronze Cerakote™ finish, though other colors are available.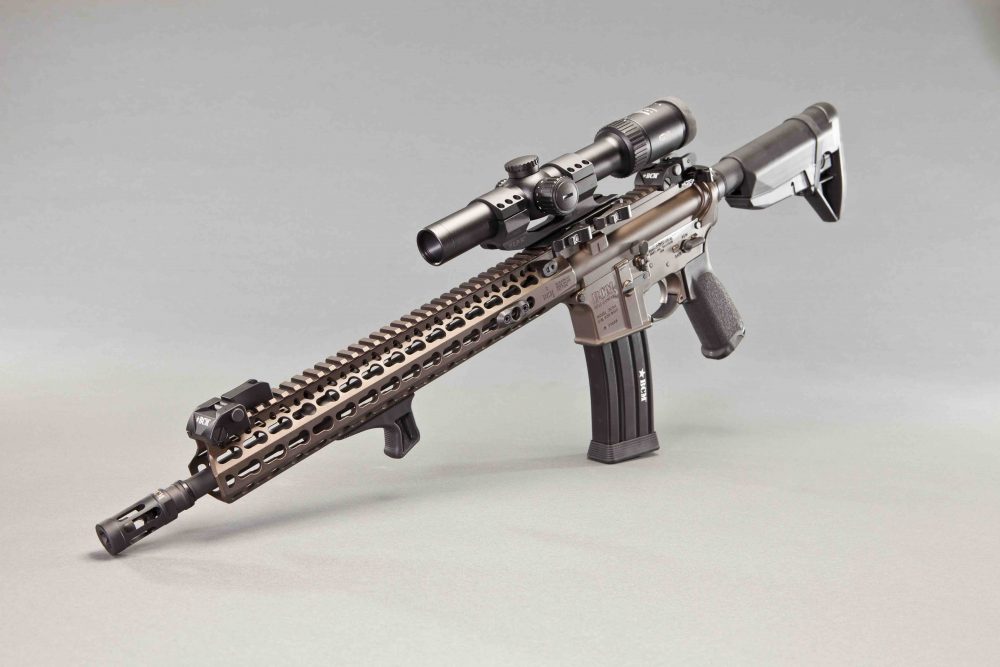 Upper Receiver
The upper receiver is machined from 7075-T6 forgings and hard-coat anodized to milspec. The barrel is 14.5 inches long with a BCMGUNFIGHTER™ Mod1 compensator permanently pinned to bring it to a legal 16-inch length. It is independently certified milspec 11595E Barrel Steel, with a manganese phosphate barrel finish on the entire barrel. The barrel has a 1:7 twist with an M4 feed ramp barrel extension and is free floated inside the KeyMod handguard. For the utmost reliability in chambering and extraction, chamber and bore are chrome lined, which also results in less fouling and corrosion.
All BCM barrels undergo an M197 HPT (High-Pressure Test), commonly referred to as a proof load, rating each barrel for 70,000 psi. This is followed by an MPI (Magnetic Particle Inspection) to detect any flaws in the barrel's surface, both circular and longitudinally.
A Picatinny rail runs the entire length of the upper receiver and handguard. The KeyMod handguard allows mounting accessories at three, six, and nine o'clock.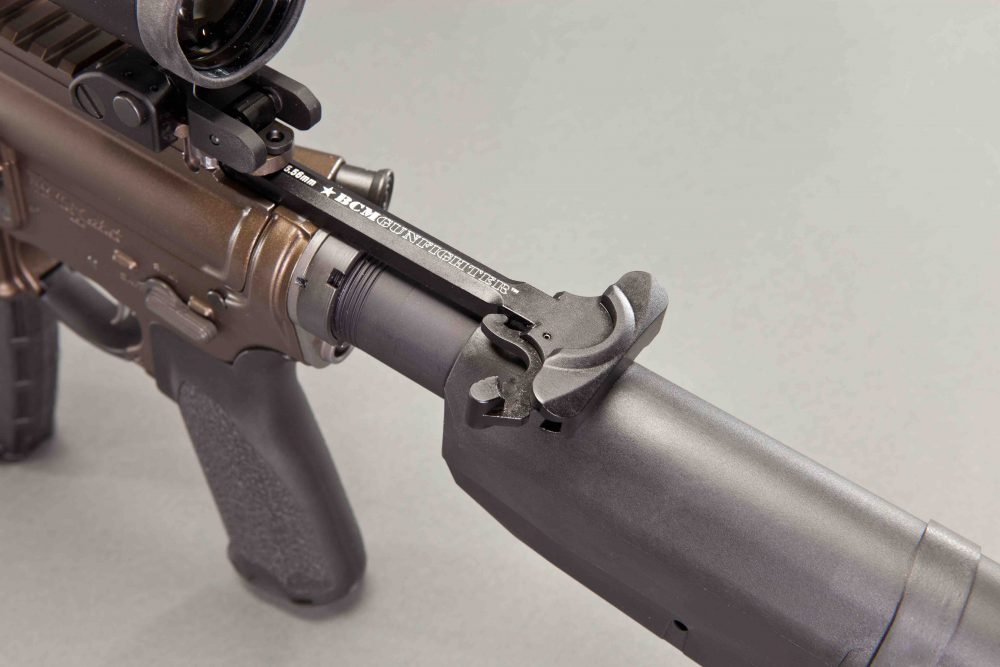 Some manufacturers cut corners on the bolt group. BCM is not one of them. The hardened bolt carrier is of the full-auto profile and is chrome lined. On top of it, the gas key is properly staked with milspec fasteners. The bolt itself is shot peened and machined from milspec Carpenter No. 158® steel and undergoes HPT/MPI testing.
The extractor is made from tool steel with a BCM extractor spring. I have removed many extractors. Usually it can be easily pinched back into the bolt and the retaining pin reinstalled. With the heavy-duty BCM extractor spring, it's very hard to accomplish without the use of a slave pin.
Front and rear fold-down BUIS sights made by Diamondhead USA for BCM are included. The rear sight has dual same-plane short- and long-range apertures and allows .5 MOA windage adjustments. The front sight's design incorporates the traditional M4-style upper housing on a Diamondhead premium sight base.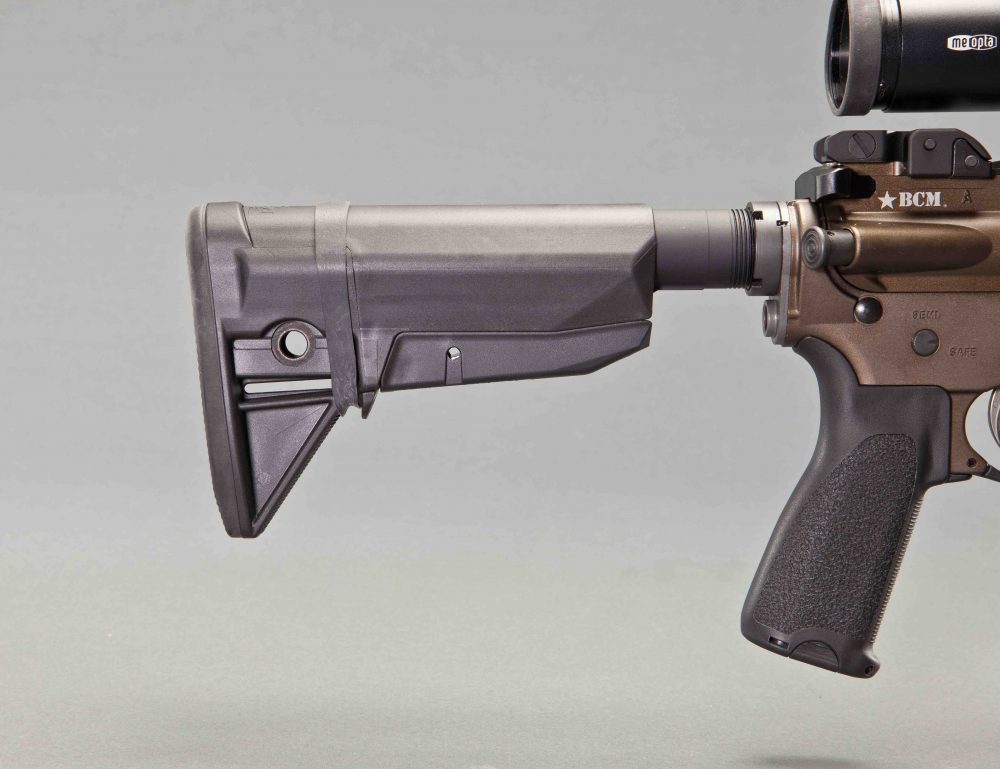 Lower Receiver
Like the upper, the lower receiver is machined from 7075-T6 aluminum forgings and milspec hard-coat anodized. Attached to the lower is a BCM milspec 7075-T6 receiver extension (buffer tube) with a UGI "H" buffer. An M4 lock nut is properly staked in place, securing the receiver extension. Fire controls are marked "Safe" and "Semi" on both sides of the receiver.
BCM upgrades included with the Recce-14 KMR-LW consist of:
BCMGUNFIGHTER Mod 4 (medium) Charging Handle
BCMGUNFIGHTER Mod 1 Compensator
BCMGUNFIGHTER Mod 3 Pistol Grip
BCMGUNFIGHTER QD End Plate
BCMGUNFIGHTER Mod 0 Buttstock
BCMGUNFIGHTER Trigger Guard
BCMGUNFIGHTER PNT™ Trigger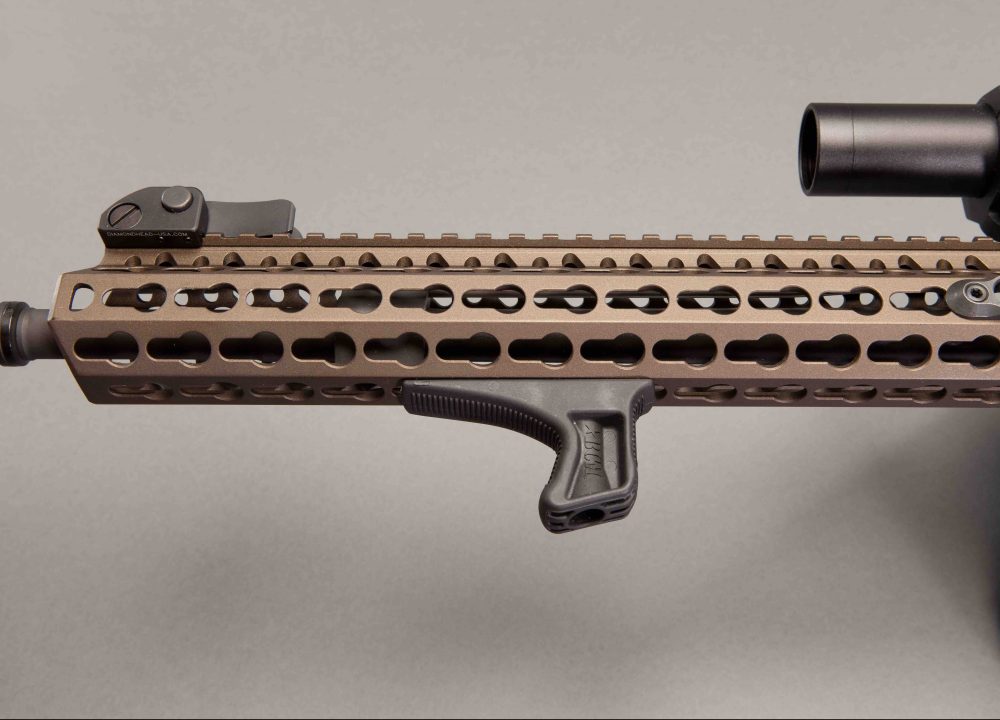 The BCMGUNFIGHTER Charging Handle has become the standard in the industry. It allows easy one-handed manipulation and is not prone to breakage as are many of the extended latch charging handles.
The BCMGUNFIGHTER Mod 1 Compensator does a great job of keeping the muzzle level, and is not as loud as many comps, making it more user friendly on a firing line.
All pistol grips are not created equal, and the BCMGUNFIGHTER Pistol Grips are excellent examples. The grips have a reduced angle for improved ergonomics and trigger control. They have a hinged trap door offering storage inside the grip with a water-resistant rubber gasket. An extended forward tang covers the annoying gap between the trigger guard and pistol grip and has a high-rise beavertail back strap that positions the hand high on the grip. The Mod 3 included with this carbine is about .25 inch wider than other BCMGUNFIGHTER grips.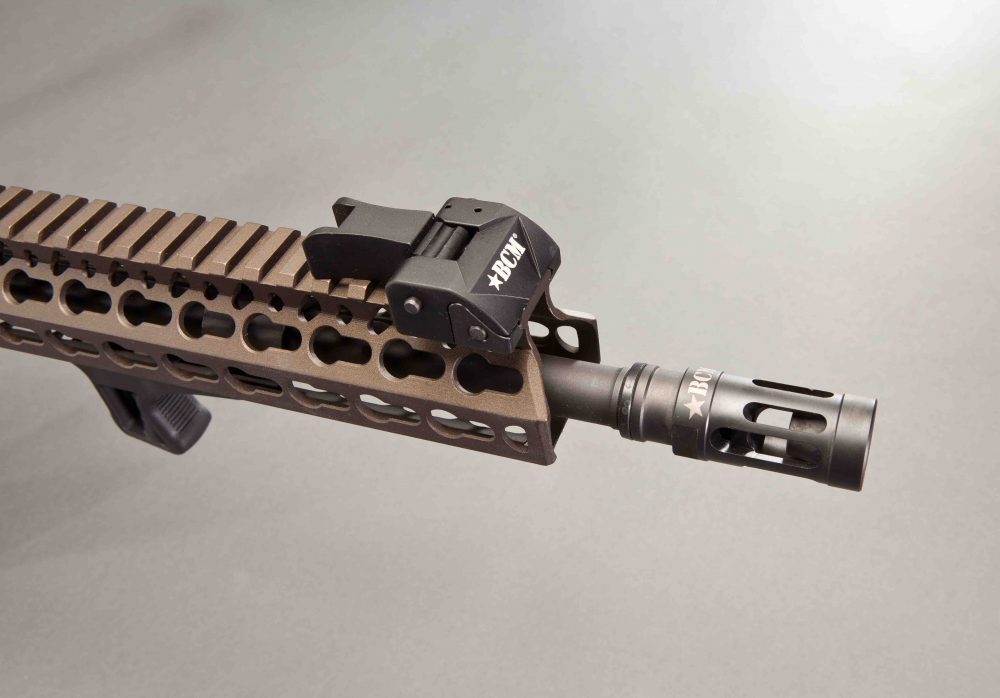 The BCMGUNFIGHTER QD End Plate allows attaching a sling to the rear of the receiver. In my opinion it's better than attaching it farther to the rear.
I have added BCMGUNFIGHTER Buttstocks to several of my carbines that have a milspec receiver extension (buffer tube). The six-position stocks are rattle free and do not have any unnecessary protuberances to catch on gear. Stud-type QD sling attachment points are at the rear on both sides of the stock.
The BCMGUNFIGHTER Trigger Guard, like the Pistol Grip, covers the gap between the trigger guard and the pistol grip, and is enlarged to allow the use of gloves.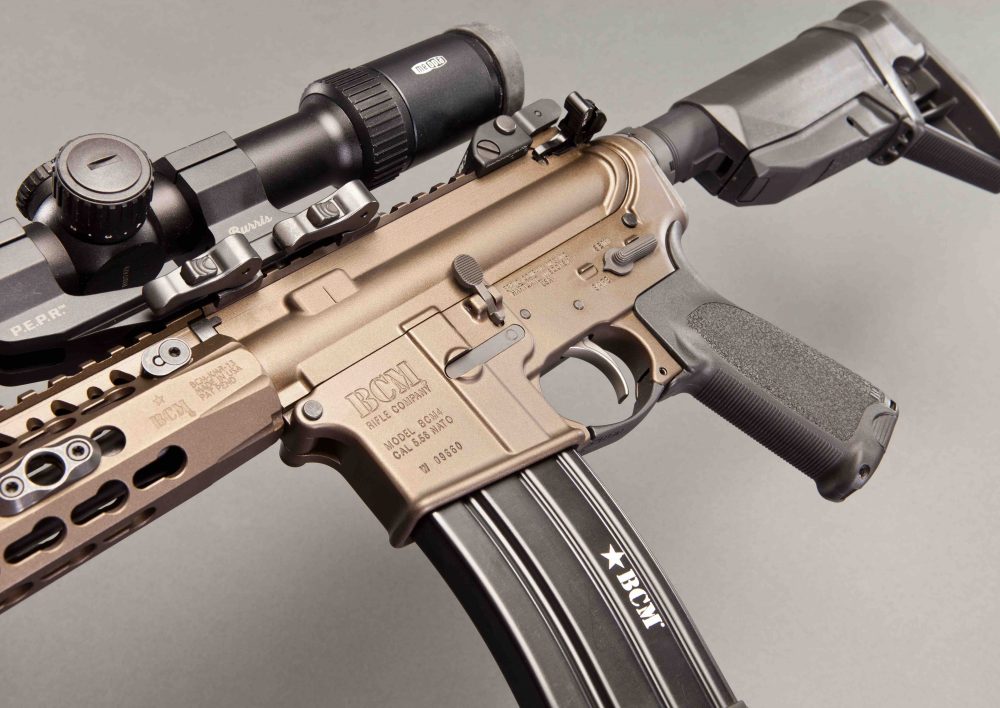 The BCMGUNFIGHTER PNT Trigger is 100% compatible with milspec lower receivers and built to surpass milspec standards. Each PNT Trigger and Hammer are heat treated in a three-step process and hardened for optimal grain structure alignment, surpassing commercial equivalents in both durability and performance.
To create perfect alignment and smooth trigger pull, the BCM PNT Trigger and Hammer are honed smooth. The impact-resistant trigger and hammer pins are centerless ground to a fine finish to very tight tolerances. The trigger on the test carbine was smooth, breaking consistently at 5.9 pounds.
The test carbine also came with a BCMGUNFIGHTER KAG (Kinesthetic Angled Grip) and BCMGUNFIGHTER™ KMSM (KeyMod Quick Detachable Sling Mount). The KAG is a collaboration between BCM and Travis Haley of Haley Strategic Partners. Designed to complement the "C" clamp grip, the KAG uses a forward rake for positive retention and joint relief to the wrist, elbow, and shoulder, permitting smooth weapon manipulation without substantial increase to the girth of the weapon system.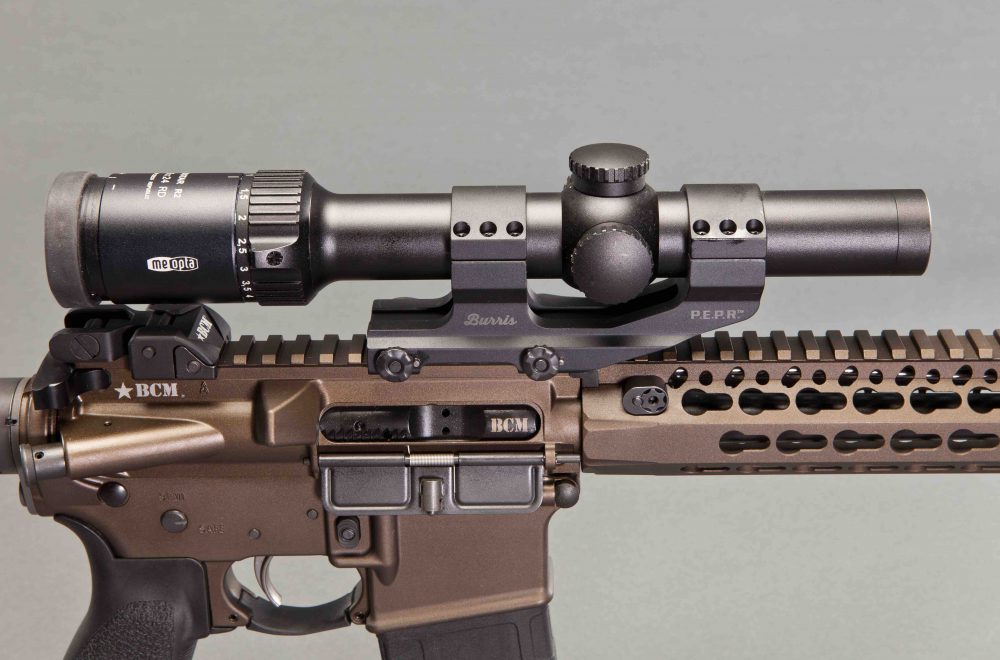 MEOPTA R2
For an optic, I chose the new Meopta MeoStar R2 1-6×24 RD, the first in their new R2 line. The one-piece aircraft-grade aluminum 30mm main tube is ELOX hard anodized for a durable, scratch-resistant, non-reflective matte black finish.
The reticle in the R2 has heavy posts at three, six, and nine o'clock, ending in a fine precision-etched crosshair. The R2 also has a red dot at the center of the crosshairs, with eight levels of intensity. The red dot is turned off between each level, saving power on the CR2354 battery.
Offering a true 1X with a wide field of view and using the red dot with both eyes open, the Meopta R2 is suitable for close-quarter situations and precise long shots using the crosshair and 6X power. Windage and elevation adjustments are in ½ MOA increments, with positive clicks that can be heard and felt.
I mounted the Meopta R2 in a Burris AR-P.E.P.R. quick-detach mount. The P.E.P.R. combines rings and the mounting base in one sturdy unit, and offers great eye relief for a full field of view through the scope.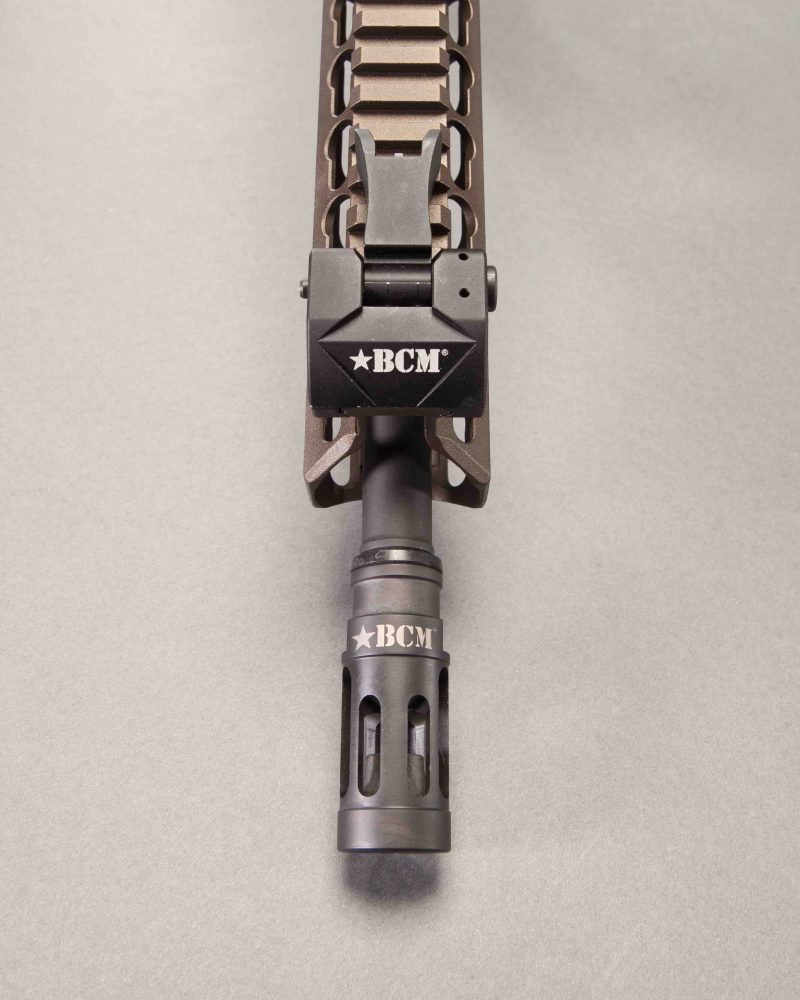 RANGE EVALUATION
The Recce-14 comes with one BCM magazine. To see how it would work with other magazines, I assembled an assortment from C Products Defense, Fusil, Bravo Company (D&H Industries), Lancer, Gen 2 and 3 Magpul PMAGs and the PMAG® D-60 drum magazine, TangoDown, SureFire (60 round), and reconditioned USGI (new springs, anti-tilt followers).
Since all brands of ammunition are not available in all areas, I tested 23 commercial loads and one handload. To establish a baseline on velocities, I began by firing ten-round strings using my PACT Inc Professional chronograph. In order to give each load a fair shake, I allowed the barrel to cool and ran an Otis bore snake through it just enough to remove any fouling from the velocity trials before I started shooting for accuracy.
After a quick zero, I fired two, five-round groups from each load to obtain an average for accuracy. Distance was 50 yards, prone using the magazine as a monopod, with two mph wind from six o'clock under an unbelievably blue sky. Talk about a perfect day to be on the range.
All loads shot right at one inch, give or take a decimal point or two, with the Recce-14 seeming to have a preference for heavier loads. The one exception was the Black Hills offering using the Barnes 50-grain TSX bullet. Screaming out of the muzzle at 3,231.1 feet-per-second, it printed two five-round groups that could be covered by a dime and give a couple cents change. I'm sure heavier bullets would buck a crosswind better, but on this day, it was the clear winner in both velocity and accuracy.
I finished up with some moving and shooting drills from 35 to five yards, ending with a five- to eight-round NSR, left and right lateral movement, and engaging multiple targets.
Between the mid-length barrel and the BCMGUNFIGHTER Mod 1 Compensator, the carbine simply did not seem to rise off target, and switching from one target to another was child's play. By the end of the evaluation, the Recce-14 had digested just under 600 rounds without a single hiccup.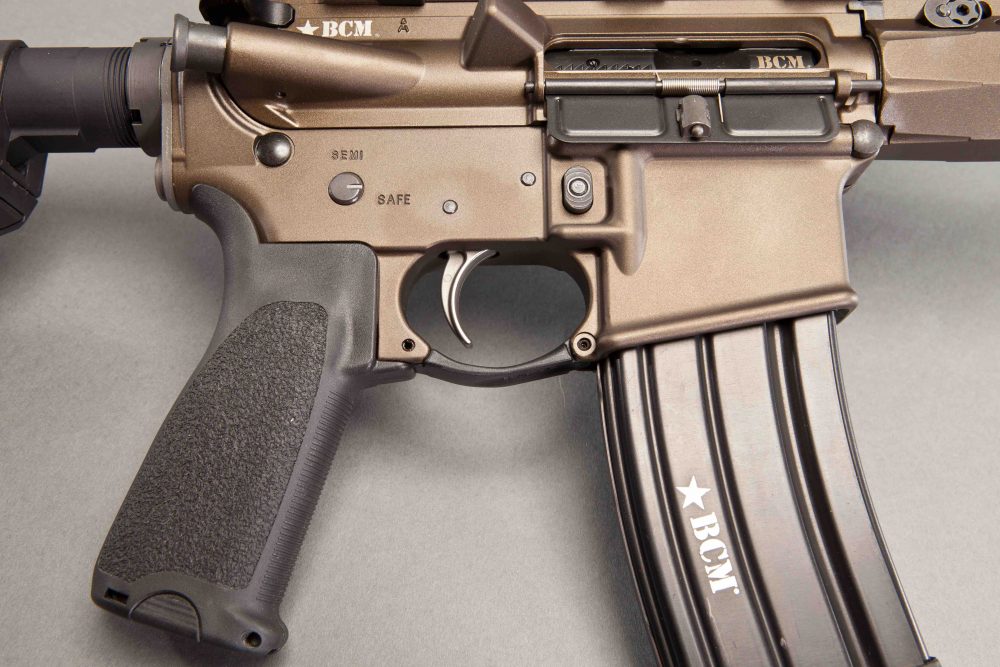 SUMMARY
I can't count the number of times I've heard something to the effect of, "My brother [uncle, cousin, beer-drinking buddy] put a rifle together on his kitchen table and it's just as good as those expensive ARs." Or "Wally World has a black rifle that only costs $400 out the door and it will do anything a rifle costing a lot more will do."
To the former I say, "No, it's not." To the latter I say, "No, it won't."
Not everyone needs a true Tier One carbine. But if you have the need, the "also rans" just won't do.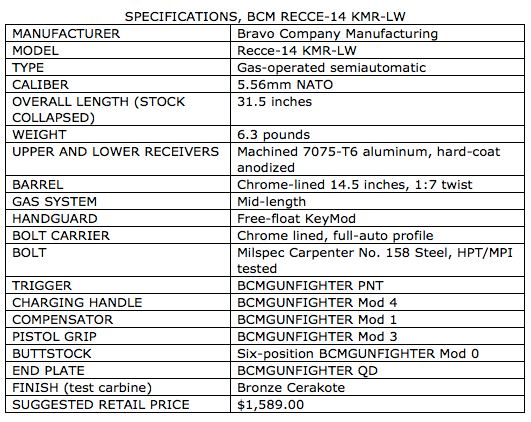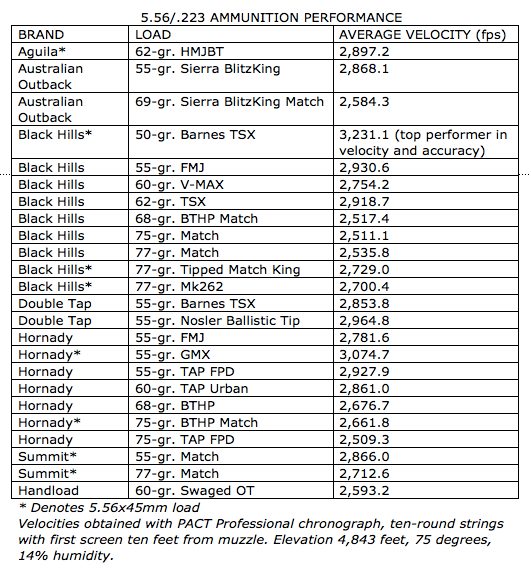 SOURCES
BRAVO COMPANY MFG
(877) 272-8626
www.bravocompanymfg.com
AGUILA AMMUNITION
(888) 452-4019
www.aguilaammo.com
AUSTRALIAN OUTBACK AMMO
www.outbackammo.com.au
BLACK HILLS AMMUNITION
(605) 348-5150
www.black-hills.com
BURRIS COMPANY
(970) 356-1670
www.burrisoptics.com
C PRODUCTS DEFENSE
(941) 727-0009
www.cpdmags.com
DOUBLE TAP AMMUNITION
(866) 357-10MM
www.doubletapammo.com
FUSIL-USA, LLC
(847) 437-0100
www.fusil-usa.com
HORNADY MFG. CO.
(800) 338-3220
www.hornady.com
LANCER SYSTEMS
(610) 973-2600
www.lancer-systems.com
MAGPUL INDUSTRIES CORP.
(877) 462-4785
www.magpul.com
MEOPTA
(800) 828-8928
www.meoptausa.com
OTIS TECHNOLOGY
(315) 348-4300
www.otisgun.com
PACT INC.
(800) 722 8462
www.pact.com
SUMMIT AMMUNITION
(877) 726-4345
www.summitammunition.com
SUREFIRE, LLC
(800) 828-8809
www.surefire.com
TANGODOWN INC.
(520) 888-3376
www.tangodown.com