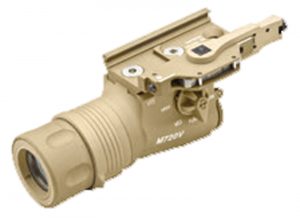 The adaptability and versatility of the AR platform are two of its key strengths and have allowed it to become the longestserving service rifle in U.S. history. The M4A1 Carbine of today is quite different "under the hood" than its predecessors.
While the AR is an effective weapon platform out of the box, upgrades can easily be made to improve operational effectiveness by improving target recognition, acquisition and hit quality during all lighting conditions and optimizing performance without compromising reliability.
Reliability tops everything in a personal defense rifle. There are no second chances in a gunfight. You generally get what you pay for, so don't cheap out when it comes to your weapon and magazines. Three basic upgrades shouldn't be considered accessories. They are a sling, white light and optics. These are mandatory on any rifle that may be employed for personal defense.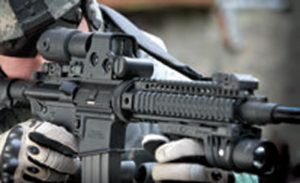 SLING
The primary reason for a sling is to carry the weapon, freeing both hands for other tasks. There are three main types of sling, differentiated by the number of attachment points: one, two and three point. There are also variations on these types. One sling rarely serves all purposes.
Single-point slings offer unrivaled speed and freedom of weapon movement. They are a great choice for CQB and vehicular operations. Their advantages are also their disadvantage: While fast and maneuverable, they offer less control when you transition to other functions.
Two-point slings are the most common type of sling. They offer greater weapon control. They can be used to stabilize the weapon while shooting and offer more control over your weapon if you transition to other functions. The downside to traditional two-points is that they are slower to deploy in weapon transitions.
Three-point slings, while great for weapon retention, are cumbersome and easy to snag. They are not the best choice over body armor or bulky clothing. Although once popular, they have fallen out of favor.
My recommendation is either the Blue Force Gear Vickers Combat Applications Sling (VCAS) or Viking Tactics (VTAC) Sling. Both are of two-point design but have a quick adjustment feature that aids in shoulder transitions, securing the rifle during handgun transitions or vigorous movement. They combine the speed of a single-point with the control of a two-point. The VCAS and VTAC were designed by former 1st SFOD-D operators.
WEAPONLIGHT
Statistically, most shootings take place in low- or reduced-light conditions. It is essential to effectively identify, evaluate and engage threats. A powerful white light is necessary.
How much light is enough? Although having more light is generally better, the desired output is dependent on a number of factors, such as the search/ engagement parameters, search environment and distances, reflectivity of surrounding objects, and whether or not magnifying optics will be employed.
Although lumen numbers are often employed as a selling point, the beam configuration is also critical. You want a general-purpose beam with a bright central hotspot for adequate reach and sufficient spill for peripheral vision.
When choosing a light for your AR, you have two basic options, a tactical flashlight with a weapon mount or a dedicated weaponlight. SureFire originated the modern weapon-mounted light and tactical flashlight.
Today, there is a wide array of weapon- mounted lights, tactical flashlights, and flashlight mounts from which to choose.
OPTICS
A Close Combat Optic (CCO) is a nonmagnifying red dot or holographic optical sight. It provides speed of acquisition, virtually unlimited sight relief, and ease of use, which are essential in a close-combat environment.
Although there are other excellent CCOs, you won't go wrong with an Aimpoint, which can't be beat for battery life, or an L-3 EOTech, which can't be beat for speed of target acquisition.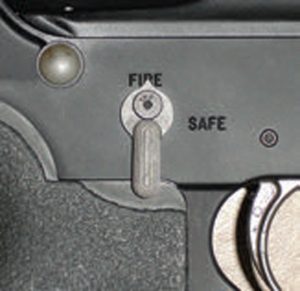 Both companies offer optional magnifiers with flip-to-side mounts that are designed for use with their sights, allowing you to quickly switch from a CCO to a magnified optic to more effectively engage targets at mid-range or longer distances.
BUIS
Optics can become damaged. Batteries can fail. If and when this happens, you must have the capability to immediately transition to irons. Back Up Iron Sights (BUIS) are a must.
There are two BUIS options when employing a magnifier: either a folding or offset fixed BUIS. Examples of the former include the SureFire Dueck Defense Rapid Transition Sights (RTS) and the LMT Quick Fire Sight System (QFSS). Offset sights offer greater speed. Folding sights offer greater versatility.
In my opinion, fixed rear BUIS are the way to go if you won't be employing a magnifier. A fixed rear BUIS allows you to instantly transition from optics to irons without having to flip up the rear sight. Examples include the Lewis Machine & Tool Company (LMT®) Tactical Rear Sight, chosen by the U.S. Navy for the Mk18 CQBR, and the Troy Fixed Battle Sight.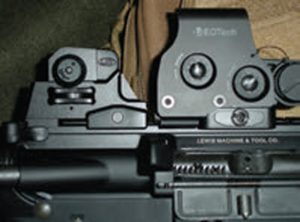 AMBIDEXTROUS CONTROLS
Bilateral weapons manipulation is a necessary skill set. Nevertheless, the need for adding ambidextrous controls is a hotly debated subject. The two main arguments against ambidextrous controls are: 1) the standard controls work fine, and 2) muscle memory should be developed on manipulation of standard controls.
While there may be some merit to these arguments, my own feeling is that anything that improves performance and doesn't adversely affect functioning is a good thing. Although not essential, ambidextrous controls make life easier and do enhance performance. Ambidextrous controls are becoming standard, so arguments against them are increasingly moot.
Ambidextrous safety selectors admittedly are a matter of personal preference. Some find that an offside lever gets in the way. I don't. I feel that an ambidextrous safety selector is a valuable addition for any shooter, whether left- or right-handed. The U.S. Army has come to this conclusion and is installing ambidextrous fire controls on all its new and upgraded M4 Carbines.
Most ambidextrous safety selectors are of symmetrical design and feature a two-piece safety selector, with one of the levers integrally machined as part of the selector body/tube for added reliability. I prefer this design and went with the excellent LMT Ambidextrous Safety Selector.
Three-piece designs are also available. They allow both levers to be interchanged. Battle Arms Development, HERA Arms, Knight's Armament and Troy Industries are among the companies offering bilateral lever options. As of this writing, Leitner-Wise also has one in the works.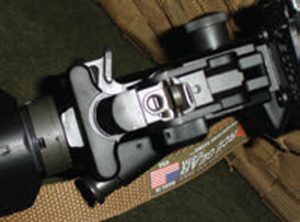 Another option for lefties is a reversible safety that can be installed in either right- or left-hand configuration, such as the Badger Ordnance AR-15 Universal Safety or Colt SP63000 selector.
An ambidextrous magazine release is another worthwhile accessory. It allows the magazine to be released from either side, which increases reloading speed and provides the shooter with a tactical advantage. I prefer the Norgon Ambi- Catch™. It's the only aftermarket design that doesn't cam off of the receiver.
In my opinion, aftermarket ambidextrous bolt releases are a liability on a personal defense rifle. They are too easy to inadvertently activate during magazine drops and can interfere with left-side operation of an ambidextrous magazine release. They are also often unreliable.
CHARGING HANDLE
During bladed hand manipulations, the force is directed on the roll pin of the standard charging handle. This is the weakest part of the standard charging handle system.
Charging handles such as the Bravo Company Mfg BCMGUNFIGHTER™ Charging Handle, LMT Tactical Charging Handle, Rainier Arms Raptor® by AXTS Weapon Systems, Parabellum Armament URL and ADF, Leitner-Wise Defense M3 Extreme Duty, and the Precision Reflex, Inc (PRI) M84 Gas Buster® Charging Handle with Combat Latch are designed to take the force off the roll pin. These designs incorporate a backstop that limits the travel of the latch and an extended latch length to facilitate manipulation.
The BCMGUNFIGHTER MOD 4, Rainier Arms Raptor, and Parabellum URL and ADF are specifically designed for ambidextrous operation. The PRI Gas Buster is designed to redirect gases, inhibiting gases, oil and particles from striking the shooter's face, which can be an issue when employing sound suppressors. Since the gases are ported to the right, the Gas Buster is less effective for left shoulder use.
Not all aftermarket charging handles work with piston systems or .22 rimfire conversion kits. Damage to the charging handle may result. Check with the manufacturer regarding compatibility.
Longer extended latches do have a greater tendency to snag, as do bilateral (ambidextrous) latches. My personal preference is a unilateral medium-length latch such as found on the LMT Tactical Latch and BCMGUNFIGHTER MOD 4 – Medium Latch Charging Handle.
There has been considerable debate on the merits of a flash hider (flash suppressor) versus a muzzle compensator (muzzle brake) on the AR platform. A muzzle brake is designed to hasten target reacquisition by redirecting gases. Downsides to be considered include increased muzzle blast, flash and dust signature.
Hybrid compensators, often referred to as tactical compensators, are designed both to serve as compensators and mitigate flash and blast. They do so to varying degrees. Battle Comp Enterprises BattleComp™ Tactical Compensator is one of the better tactical compensators. Developed for CQB and not competition, it's designed to provide the benefits of a muzzle brake without the associated blast and flash.
The A2 flash hider is the current military standard. It differs from the A1 flash hider that it replaced primarily in that it has a closed bottom to eliminate dust signature when firing from prone. It's compact, inexpensive and does a more than adequate job at flash suppression.
The Advanced Armament Corporation (AAC) BLACKOUT®, Smith Enterprise Vortex®, SureFire SF3P-556 (3-prong), Wilson Combat Accu-Tac™, and Yankee Hill Machine Company Phantom™ flash hiders are among the most effective flash hiders.
Of course, a sound suppressor provides the most effective flash suppression.
VERTICAL FOREGRIP
Perhaps no accessory is more misunderstood than the Vertical Foregrip (VFG), which actually provides a number of benefits. It acts as a hand index point and aids in recoil management, provides support and stabilization on barricades and cover, and aids in weapon retention in CQB. It also keeps the support hand away from the hot handguards and barrel during sustained fire. There are many VFGs from which to choose, and personal preference will play a big part in your selection.
RAIL-BASED HANDGUARD
A rail-based tactical handguard is necessary as an attachment point used to accommodate accessories such as lights, lasers and vertical foregrips. If your AR didn't come with a rail (most do these days), there are several excellent bolt-on rail systems.
Although standard rails are more than acceptable on a personal defense rifle, a free-float rail will provide improved accuracy, since the barrel is now independent of the handguard.
Although modular free-float rails are currently the hot ticket, many prefer the simplicity of a standard quad-rail handguard. Make certain the rails are true MIL-STD-1913 (STANAG 2324).
Although most rails are being machined to Picatinny standards, I have encountered a number of out-of-spec rails. Stick with reputable manufacturers.
OTHER ACCESSORIES
This article has touched on only a few modifications that can be made to optimize your AR. The number of accessories available for the AR platform today is mind-boggling.
A visible laser can enhance targeting and serve as an additional back-up to optics. A vast array of stocks, grips, enhanced trigger guards, sling mounts, and rail covers can further enhance the ergonomics.
The choices are yours, but shop wisely.