Illinois-based Lewis Machine & Tool Company (LMT®) was founded in 1980 by Karl Lewis as a manufacturer of firearm components for the U.S. government. In 1986, LMT began manufacturing complete rifles. A Tier One manufacturer, LMT does a considerable amount of OEM work for high-end AR companies. LMT is also the current supplier of the M203 40mm grenade launcher to the U.S. military.
What really sets LMT apart from other high-end ARs on the market is its patent- pending Monolithic Rail Platform® (MRP®). Truly revolutionary, the MRP one-piece free-floating M1913 (Picatinny) quadrant rail system eliminates 13 parts from traditional designs. Precision machined from a solid aluminum forging, the MRP completely replaces the upper receiver with a monolithic platform.
Although the MRP isn't the only monolithic upper assembly on the market, it is the only system that allows you to change barrels, calibers, and even switch from direct impingement (DI) to piston operation (or vice versa) in minutes while in the field, by simply removing two bolts from the receiver using the included torque wrench/driver.
The MRP is available in both rifle (MRP) and carbine (CQB) configurations. A variety of barrel types and lengths are available. The MRP can accommodate 14.5-, 16- and 18-inch barrels. The CQB can accommodate 10.5-, 14.5-, 16- and 18-inch barrels.
AVAILABLE VERSIONS
In addition to 5.56x45mm, available calibers currently include .204 Ruger, 6.8mm SPC, and 300 Whisper/AAC Blackout. LMT also has 5.45x39mm and 7.62x39mm in prototype stage as of this writing. Piston Conversion kits are available in 5.56x45mm (with 12- and 16-inch barrels) and 6.8 SPC (with 16- inch barrel).
LMT also makes a 7.62x51mm NATO (.308 Winchester) version of the MRP— the LM308MWS® Modular Weapon System®. Available in DI only, a variant of the commercial LM308MWS has been adopted by the U.K. MoD as the L219A1 7.62×51 rifle, nicknamed "Sharpshooter." The first new infantry combat rifle to be issued in the U.K. in over 20 years, it beat out the FNH SCAR- 17 (Mk 17 Mod 0), HK 417, Sabre Defence XR-10, Knight's Armament M110 SASS/SR-25, and Oberland Arms QA-10 DMR in head-to-head competition.
Additional barrels for the LM308MWS are available in .243 Winchester, .260 Remington, 6.5 Creedmoor, 7mm-08 Remington and .338 Federal.
For 2012, LMT has come out with its new LM8 platform in two rifle systems, the LM8MRP® and LM8MWS®. The LM8 platform utilizes removable rail segments for a smaller, lighter system. The rail segments are available in four sizes to meet any mission.
State compliant versions are available directly from LMT. For example, the California-compliant versions come with a "Bullet Button" and 10-round magazine.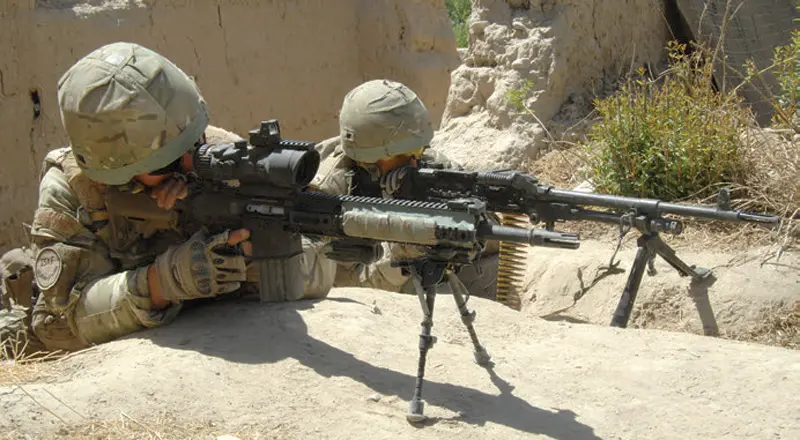 STRINGENT MANUFACTURING CONTROLS
All LMT firearms are manufactured to milspec standards. All barrels and bolts are high-pressure (HP) tested and magnetic particle inspected (MPI). The carrier gas key and castle nut are properly staked.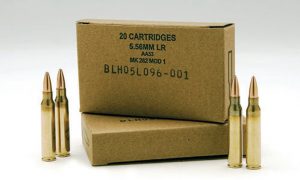 All LMT uppers and lowers are machined from 7075-T6 hardened aircraftgrade aluminum forgings and anodized in a milspec Type III Class 2 hard coat finish. All steel parts are manganese phosphate finished (Parkerized).
The Defender 2000 semi-auto lower features an NSWC Crane Milspec LMT SOPMOD Gen 2 buttstock on a sixposition milspec extension tube, semiauto bolt carrier group, standard trigger group, ERGO® grip and ERGO Gapper™. The trigger pull is electronically tested and recorded. An LMT Enhanced Bolt Carrier Group and two-stage trigger are available as options.
The CQB MRP upper features "T" marked rails to mark accessory locations, so you know exactly where to reinstall accessories after removal, which is especially important with optics and lasers. The CQB MRP comes with three LMT rail covers.
The LMT Tactical Rear Sight and Tactical Front Sight are standard. The front sight is adjustable for windage, elevation and peep adjustments. The rear sight is post adjustable for elevation. Front and rear sights are detachable without tools. LMT tactical sights permit instant transition from optics to irons, which isn't possible with folding BUIS.
The LMT Tactical Rear Sight was selected by Crane for the CQBR/Mk 18 Mod 0 carbine fielded by Naval Special Warfare. It's a superb sight and provides a lower 1/3 co-witness with my L-3 EOTech EXPS3-0 HWS (USSOCOM standardized, Type Classified SU-231/PEQ).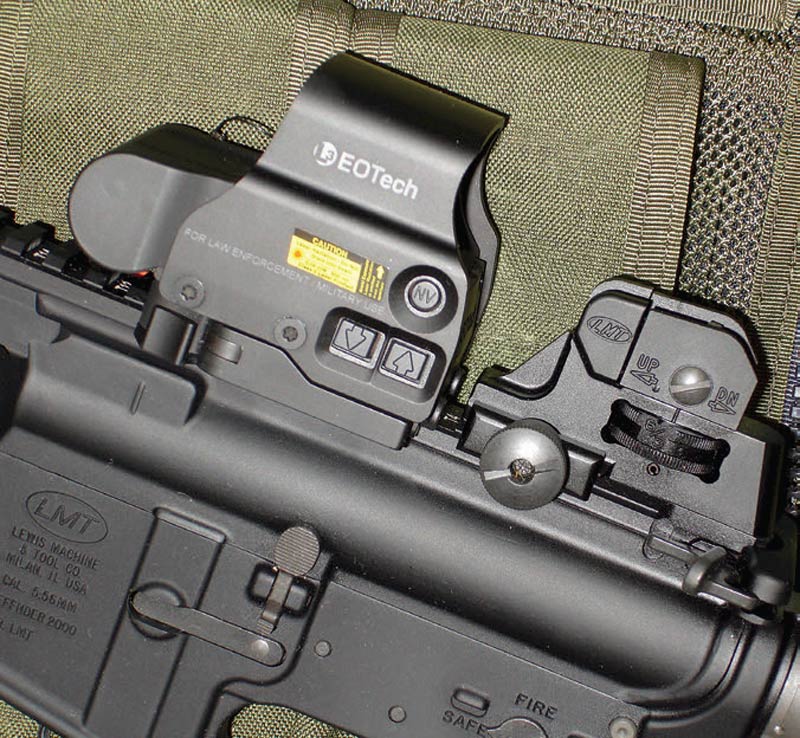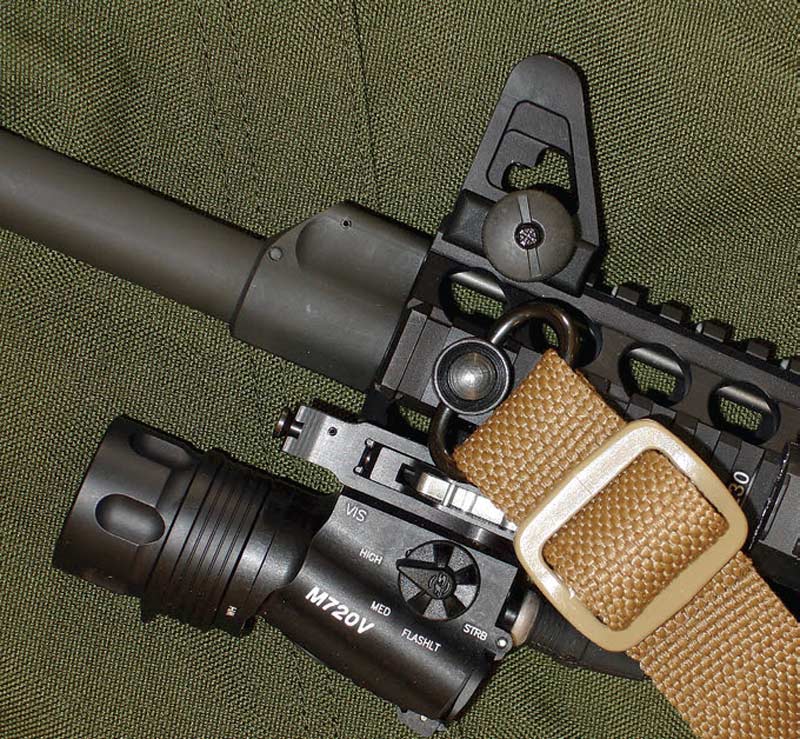 FEATURES
The CQB MRP comes with LMT's new Tactical Charging Handle. It features a newly designed tactical latch for easier manipulation of the charging handle. The latch is large enough for ease of use, but not so large as to become a snagging hazard.
While featuring the same forged aluminum construction as the original design, the new design transfers all forces applied to the latch to the body of the handle and off the roll pin—a source of weakness in standard AR charging handles.
There are five QD sling attachment points on the upper receiver. The SOPMOD stock has two additional QD sling attachment points, as well as two sling attachment slots. Two heavy-duty pushbutton QD sling swivels are included with the CQB MRP, as well as a black nylon two-point sling.
Although the included sling is certainly more than adequate, I installed a Blue Force Gear® Vickers Combat Applications Sling™ (VCAS™). You won't find a better two-point tactical sling. The VCAS was recently adopted by the Marine Corps as the sling of choice for the M4/M16. The VCAS was developed with retired longtime SFOD-D operator and firearms expert Larry Vickers. The patent-pending VCAS Quick Adjuster™ allows you to instantly transition from a slung rifle to combat ready and to instantly perform shoulder transitions.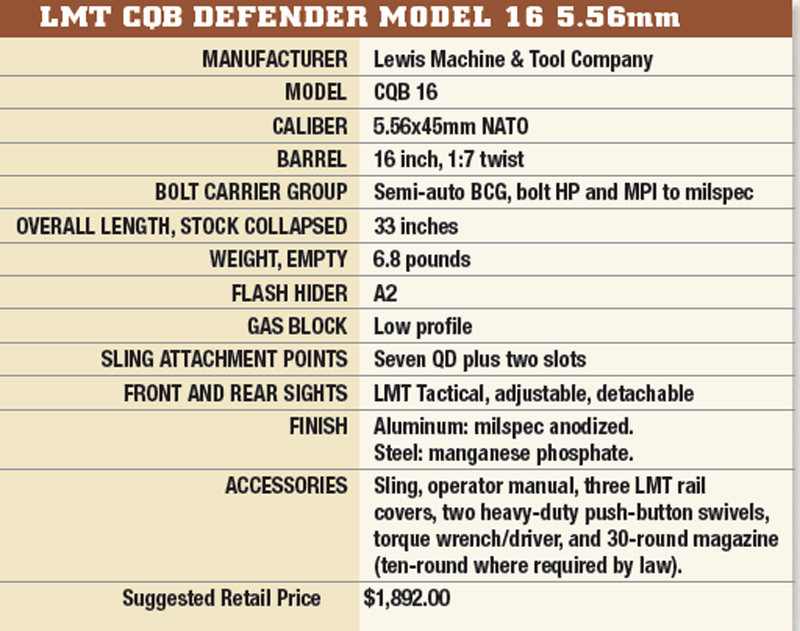 TWO SYSTEMS
Although the LMT piston system is one of the best AR piston systems available, I went with the direct impingement system. I am not going to get into the DI vs. piston debate, other than to say that when it comes to Eugene Stoner's design, I prefer to stick with DI. If you prefer a piston, you have that option with the CQB MRP.
Of proprietary design, the standard LMT MRP 5.56mm barrel is manufactured from cold hammer forged machine- gun-grade chrome-moly vanadium steel. The barrel has a 1:7 right-hand twist with six lands and grooves. The barrel and receiver have M4 feed ramps.
LMT barrels are cryogenically treated to increase accuracy and barrel life. The bore and chamber on the standard barrels are chrome plated. Before LMT accepts a barrel, it must fire a 1.5-inch mean spread with lead-core bullets (not M855).
The barrel on the DI systems has a low-profile gas block and straight gas tube. The straight tube resists bending and provides better alignment with the carrier key. An angled gas port reduces barrel erosion for increased barrel life.
The 16-inch barrel has a mid-length gas system. Shorter LMT barrels utilize a carbine-length gas system. Sixteeninch barrels with a carbine-length gas system have a longer dwell time and are thus generally over-gassed, resulting in a sharper recoil impulse and increased wear on the parts over time.
The CQB MRP comes with a standard military A2 flash hider. Although the A2 flash hider offers adequate performance, there are better options. I plan on replacing it with a SureFire® FH556- 215A Flash Hider/Suppressor Adapter. Of open prong design, the FH556-215A virtually eliminates the weapon's flash signature and integrates with SureFire's excellent fast-attach sound suppressors. The FH556-215A and the SureFire FA556-212-DE sound suppressor have been adopted by USSOCOM for use on the M4/CQBR.
The CQB MRP 16 weighs in at 6.8 pounds unloaded. Overall length is 33 inches with the SOPMOD stock collapsed and 36 inches with the stock fully extended.
QUALITY CONTROL
The LMT product line was primarily developed for the government and professional end users. As such, quality control standards and procedures are more stringent than at a commercial manufacturer. This shows in their products.
The workmanship on the CQB MRP 16 I received is flawless. Fit and finish are perfect. There are no visible machining marks. Simply put, it exudes quality.
I consider a sling, optics and weapon light to be essential on any carbine. I also like to have a vertical foregrip (VFG). In addition to the VCAS sling, I am running a SureFire M720V RAID™ WeaponLight and Troy Industries Modular Combat Grip (MCG) on the CQB MRP.
Since I am covering the SureFire M720V RAID and Troy MCG in separate S.W.A.T. articles, I won't go into them here, other than to say that I am very impressed with both. The M720V RAID has been adopted by USSOCOM.
SERT CASE
The CQB MRP doesn't come with a case. I prefer a soft case when I'm not flying. The best case I've found is the SERT TCC Tactical Carbine/Rifle Case. Its design, materials, hardware and workmanship are unbeatable. The SERT TCC has been adopted by FBI HRT and the 4th Marine Recon Battalion, and is available in 30-, 36-, 42-, and 46-inch lengths. I went with the 36-inch for the CQB MRP.
Features of the SERT TCC include heavy-duty 1,000D Cordura® nylon construction, ½-inch closed cell foam on each wall with plastic inserts to prevent printing and protect the weapon, heavy-duty DURAFLEX®, PALS webbing on the inside of the main compartment, tough sewn-in webbing for reinforcement, lockable YKK® zippers, external D-rings, removable non-slip padded adjustable shoulder strap, and Velcro® loop patch on the front pocket. The case comes with a MOLLE triple magazine pouch that can hold six 30-round AR mags.
BLACK HILLS AMMO
Black Hills Ammunition provided 500 rounds of 5.56mm 77-grain Open- Tipped Match (OTM) for my evaluation. It's the commercial version of the 5.56mm Mk 262 Mod 1 ammunition that Black Hills provides to the U.S. military. It features milspec brass, sealed milspec primers, temperature-stable military propellant, and is loaded to U.S. 5.56mm pressure limits.
Originally developed for the Special Purpose Rifle (SPR), Black Hills Mk 262 Mod 1 ammunition has earned a well-deserved reputation for excellent accuracy and superior terminal performance, making it the preferred round of many SOF operators, although hardtarget penetration is slightly decreased compared to M855. Black Hills is the sole source provider of Mk 262 Mod 1 ammunition to the military.
PERFORMANCE
How does the CQB MRP perform? Mine has been stellar. Although 500 rounds aren't a lot, there were no malfunctions. The weapon was lubed but not cleaned during my evaluation. Five-shot groups averaged 1.27 MOA with the Black Hills 77-grain OTM, fired from a rest. This is very good accuracy from a chromelined barrel. LMT's stainless steel match barrels are reportedly capable of sub- MOA accuracy.
The LMT CQB 16 takes Eugene Stoner's design to a new level. Call it revolutionary or evolutionary—both are apt. What you get is an AR that provides you with unrivaled versatility and flexibility.
The LMT CQB 16 has a suggested retail price of $1,892, and $1,922 for the California legal version.