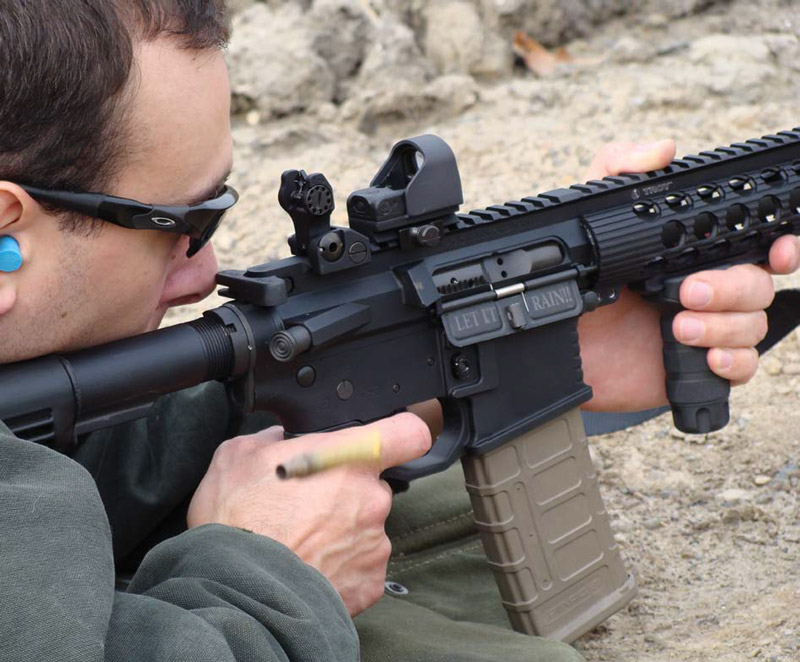 While in Kentucky working at the Knob Creek Machine Gun Shoot, I ran into Evan Rosenthal of Troy Industries. I told him about a lightweight AR I was working on, and he showed me some new products from Troy that were perfect for the build. Just about an hour later, I was approached by Charlie Spires of Black Rain Ordnance, new manufacturers of AR receivers that are radically different from what you're used to seeing.
Just like that, the build began to take shape.
In the past, "lightweight AR" meant a stripped-down carbine with iron sights and zero accessories. Thankfully, American manufacturers have been pushing the envelope, creating better products and making them smaller and lighter. I wanted to prove that you could build a lightweight AR without sacrificing red dots, free-float Picatinny-railed forearms, forward pistol grips, and high quality components while keeping the weight under seven pounds. For reference, an off-the-shelf AR with a 16-inch M4 profile barrel, six-position M4 stock, folding rear BUIS, fixed A2 front sight and no other "accessories" was weighed at six pounds, seven ounces.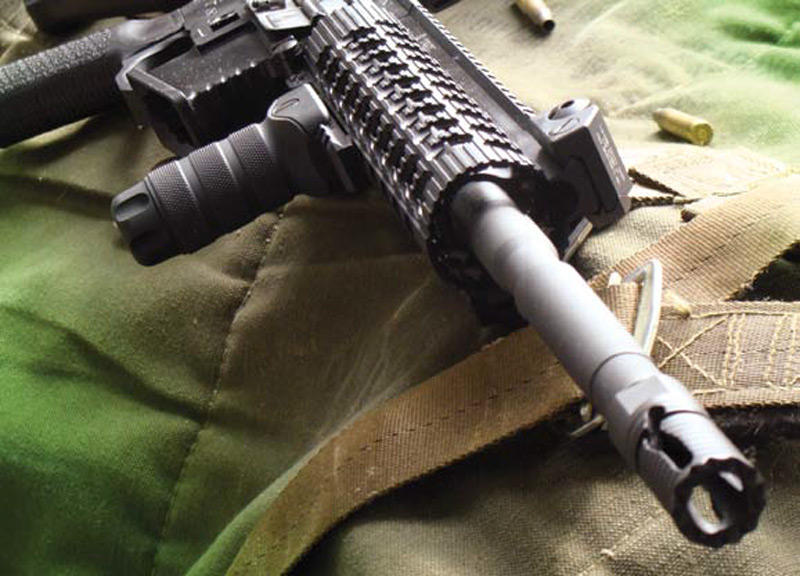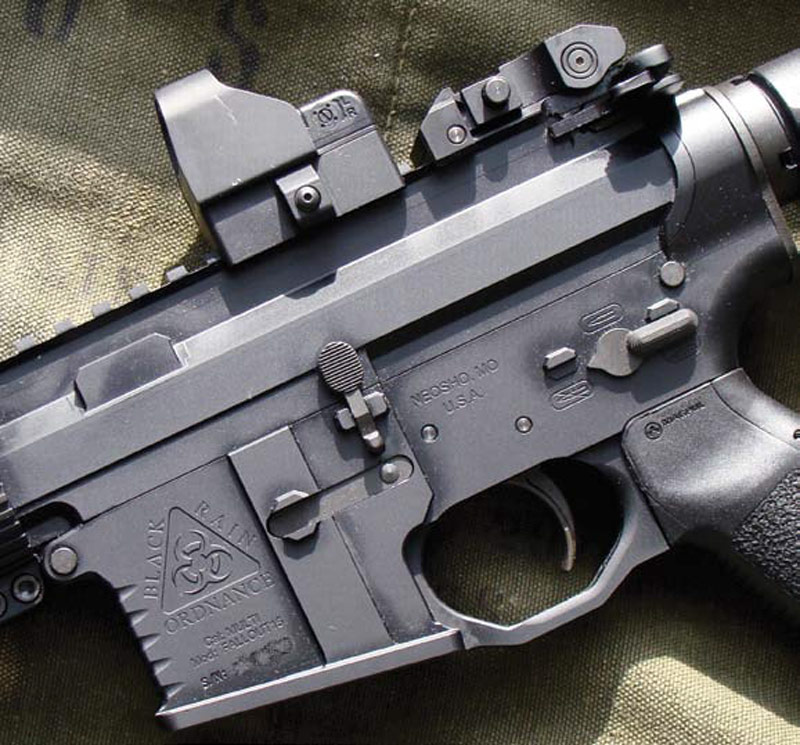 TROY INDUSTRIES
One key component in this build was Troy's new TRX Extreme BattleRail, a lightweight aluminum free-float tube with bolt-on panels that allow you to fit as few or as many accessories as you want. Looking at my own ARs with traditional four-rail forearms, even the ones laden with the most accessories still use only about 10% of the total rail space available. This means 90% of the aluminum used to make those four-rail forearms is unnecessary weight. The design of the TRX Extreme BattleRail is better than traditional four-rail forearms. Its construction is light yet sturdy, and it has a unique look that has drawn a lot of attention and compliments.
Installation of Troy's TRX Extreme BattleRail couldn't be simpler. After affixing the proprietary barrel nut, you slip the BattleRail over it at a slight over-clocked angle, then turn it back to 12 o'clock. All that's left is to tighten the two bolts at the bottom of the rail.
On carbine-length gas systems, the seven-inch BattleRail covers about half of a low-profile gas block. The nine-inch BattleRail covers about an inch past the gas block. Obviously the seven-inch rail is a bit lighter, but the nine-inch offers more protection of the gas block. I had the opportunity to try both, and couldn't really tell the difference in weight or balance, so I ended up going with the added protection of the nine-inch rail.
I like vertical foregrips. They can add weight, but they also provide a better grip that allows me to shoot the AR faster and more accurately. Troy's Modular Combat Grip is only 3 ¼ inches long in its shortest configuration, but has the perfect amount of checkering to provide exceptional grip. It's very lightweight yet built to stand up to serious abuse, and has enough room inside its storage compartment to stow a tiny bottle of CLP and a spare firing pin retaining pin (aka cotter pin).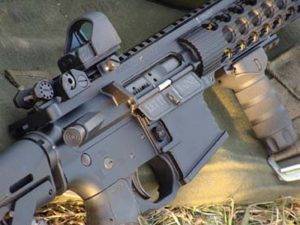 BLACK RAIN ORDNANCE
Black Rain Ordnance (BRO) is a relative newcomer to the AR world, and their products are anything but traditional. BRO targets customers who want their next AR to look and feel like a customized product that will stand out from the crowd.
For starters, their receivers are 100% CNC machined from 7075-T6 billet. The interior of the receiver is all milspec and built to accept standard AR components.
Changes in the exterior of the upper are purely cosmetic, with lines and edges that are much sharper than a standard AR. There is also a lot of extra engraving, including a small company logo on top of the receiver just aft of the Picatinny rail. The logo sits between the words "BLACK RAIN" etched on the charging handle, and when you charge the weapon, the words "MADE IN THE USA" stare back at you, etched on the spine of the charging handle itself. The right side of the receiver has the company name etched once again just above the ejection port, and when the dust cover opens, it reveals the words "LET IT RAIN!!" The upper has M4 feed ramp cuts, and the Picatinny rail is t-number marked.
The lower has just as many stylized changes, but a few functional ones as well. H&K-style selector pictographs grace both sides of the lower, and the exterior face of the magwell is grooved for shooters who prefer to use it as a forward grip. The magwell opening is generously beveled. The trigger guard is a part of the lower and machined extra wide with a large opening like a winter trigger guard, but there is no gap between the trigger guard and pistol grip.
There is also an added screw in the bottom of the lower near the pistol grip screw that goes into the receiver. When tightened, this screw creates tension against the takedown lug on the upper receiver, eliminating the wobble that most ARs have between the upper and lower receivers. This wobble does not affect accuracy or function, but if you bought a brand new car, wouldn't you want it to be wobble-free? That's how some folks feel about their guns, and BRO is targeting that market.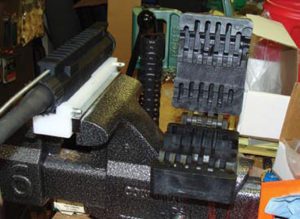 Reaction to BRO's receivers has been mixed. Some will enjoy the style and attitude, and some won't. What is clear is that BRO is making receivers their way, with no apologies, and I respect that. Without those who push the limits, we'll never have progress. BRO receivers have no discernible weight difference over traditional receivers, and a standard parts kit used in this build functioned normally.
Overall, fit and finish of the receivers are exceptional, and the edgy looks draw praise from many. I would prefer that some of the sharp lines were more rounded, even at the expense of some of the extra etching, but I really enjoy the fact that this rifle stands out when lying with a stack of traditional ARs.
But the different exterior did cause a relatively minor issue during the build.
Traditional clamshell upper receiver blocks will not close around the different shape of the BRO receivers. Luckily, I received some help from Kurt Reifert at Centennial Company in Marine City, Michigan. I brought the upper components to his gun shop and assembled the entire upper using his white Delrin upper receiver block, which fits inside the receiver and pins to the takedown and swivel pin holes.
If you don't have a friend who can lend you one of these receiver blocks, they're available from Midway USA for around $50.
LIGHTWEIGHT BARRELS?
Maybe you've looked at the accompanying photos and wondered why I didn't go with a pencil (thin profile) barrel. I actually prefer pencil barrels because not only are they lighter but— at least for me—they enhance the handling of an AR by shifting the center of balance to the rear. Unfortunately, at the time of this build, barrels are in short supply, particularly pencil barrels with the specifications I required.
To say I settled for the Daniel Defense M4 profile barrel would be unfair. It has a 1:7 twist, hard chrome lining, 5.56mm chamber, and M4 feed ramps. I would have preferred a pencil barrel, but not at the expense of any of these specifications. At the muzzle sits Troy's Medieval Flash Suppressor, which adds to the rifle's aggressive appearance. The DD barrel shoots like any military-grade barrel, printing three-inch groups at 100 yards using M193 ammo (55-gr. FMJ).
If you purchase a barrel that does not have M4 feed ramps in the extension, you must be careful what type of receiver you use. The BRO upper has M4 cuts, meaning it mates with the M4 feed ramps on the DD barrel. However, you cannot use an upper receiver with M4 cuts if your barrel does not have M4 feed ramps in the extension. A simple way to avoid this problem is to simply insist that your receivers and barrels are the "M4 feed ramp" type. Most manufacturers are moving in this direction anyhow.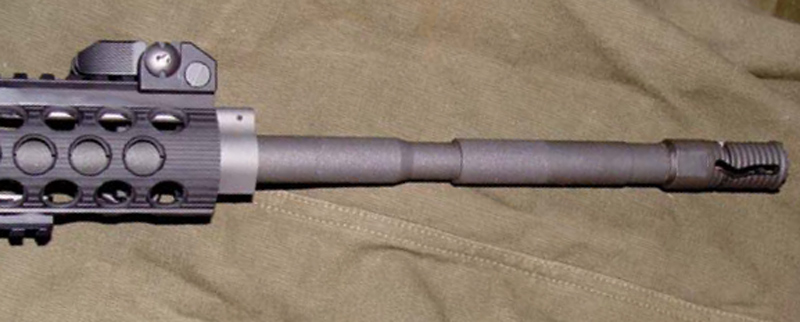 SIGHT OPTIONS
Troy Industries makes a couple of great sets of backup iron sights (BUIS). On another AR, I have what I call their HK-style sights: circular aperture in the rear with a circular shroud surrounding the front sight. These work great when properly installed, because the shroud is centered within the rear aperture, helping you guide the front sight post to dead center within the rear aperture with precision and speed.
The sights on this new lightweight utilize Troy's M4 front sight with a new diamond-shaped aperture in the rear. Like the HK sight, the rear aperture helps the shooter find dead center, especially with M4-type sights. Both sets of sights are available from Troy Industries with tritium inserts for low-light use.
Just because we're going light doesn't mean we have to ditch optics. This rifle has Insight Technology's MRDS (Mini Red Dot Sight). The sight itself, including battery, is only .85 ounces! With the Picatinny rail mount and protective shielding, the whole system weighs about two ounces. The MRDS's shield protects the top and sides of the sight, much like the shield on the EOTech. It also boasts an auto adjusting red dot that knows when your environment gets brighter or darker and adjusts accordingly.
The MRDS is NVD compatible, with an operating temperature range of minus 40 to 120 degrees Fahrenheit, and is waterproof to 66 feet for two hours. It also has a battery life of one year on continuous operation, and a lifetime warranty. Customers can choose between a 3.5 MOA or 7 MOA red dot, the latter used in this build. The MRDS is small in size but big in features, and it functioned flawlessly every step of the way.
CONCLUSIONS
The finished product weighs in at six pounds, 15 ounces, unloaded. Perhaps more important, this AR handles incredibly well, because the weight savings come largely from Troy's TRX Extreme BattleRail forearm, meaning the overall center of balance has shifted to the rear.
Performance during drills and shooting stages was excellent and, true to Troy's reputation, the components used in this build stood up to serious abuse, including some nasty Michigan sleet and snow. Other than a bad magazine, there have been no malfunctions after approximately 500 rounds, proving that BRO's receivers might look different, but they perform with standard AR reliability.
Troy's TRX Extreme BattleRail and Medieval Flash Suppressor have aggressive looks that draw great praise and complement BRO's renegade style. Together, they make this lightweight AR look like a different kind of carbine all together.
Behold the proof: not only can you build a lightweight AR and keep the bells and whistles, but you can do it while standing out from the crowd as well.