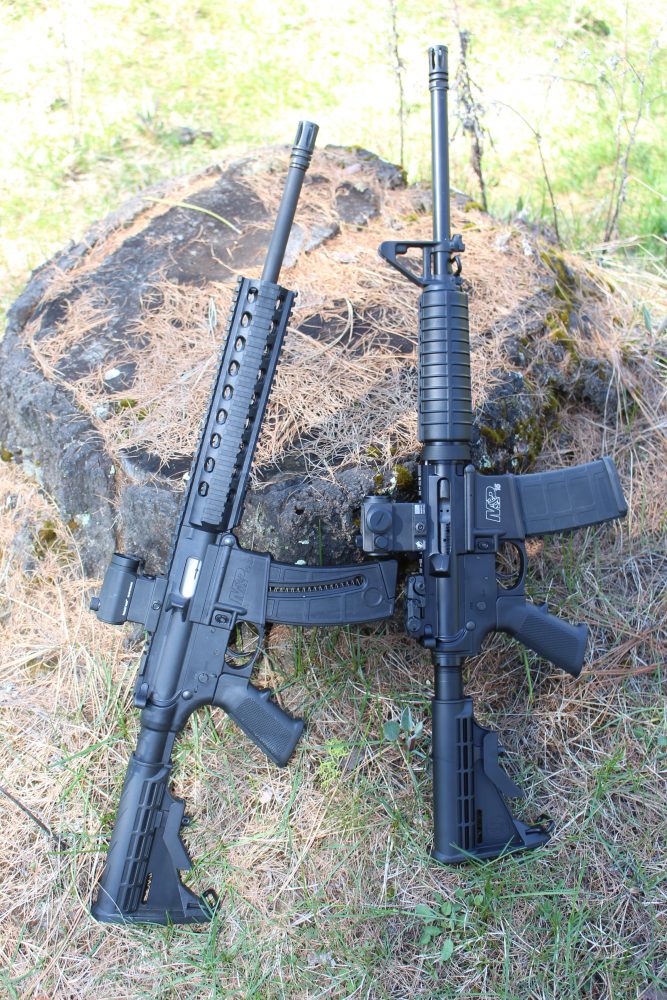 Like most S.W.A.T. writers, I read the letters to the editor every issue. I like to see what the readers think and what they want. One thing I often see is a request for information on cheaper gear.
I heard President Obama talk about "the recovery" and how we got out of the worst recession since the 1930s. It might look that way from Air Force One, but not where I live. I talk to a lot of people who want firearms and training but just can't afford them.
I keep the classes I teach affordable and most are two days, but for an officer or citizen to drive across the state, pay tuition, gas, lodging, meals, and buy ammo…he'll spend close to $1,000. That's a major chunk out of a month's pay. Buying a decent gun is about the same proposition.
I've been a huge fan of S&W revolvers for years, and own quite a few. The first auto pistol I owned with the S&W logo was a Model 39, also the first auto issued to a State Police force, the Illinois State Police. It was a nice gun, shot and ran well, and really fit my hand. I'm still not sure why I traded it off.
My first issue auto-pistol was a Smith Model 4006, which was accurate and reliable but co-designed by Band Aid. That thing had more sharp edges than a box of razor blades, and hands were cut every time we reviewed malfunction clearances.
S&W M&P .22 LR AR
A few years ago I was working in Las Vegas. A local store got in a number of S&W M&P .22 rifles, a lightweight, working .22 LR AR carbine. I got a hell of a deal on the gun, several magazines, and a bunch of that long-forgotten affordable .22 ammo. I'd paid attention to Pat Rogers when he said you should handle your rifle every day, so when I moved home, I started shooting it often.
The .22 is a cheap way to practice everything from shooting to manipulations, and is accurate and reliable. I recently added a Primary Arms MD-SP red-dot optic, which replicates the Aimpoint Micro I use on my defensive carbines. I get the same feel and reps at a fraction of the cost. MSRP for the AR .22 is $499 and the Primary Arms optic is about $90, so $600 for a good trainer and plinker.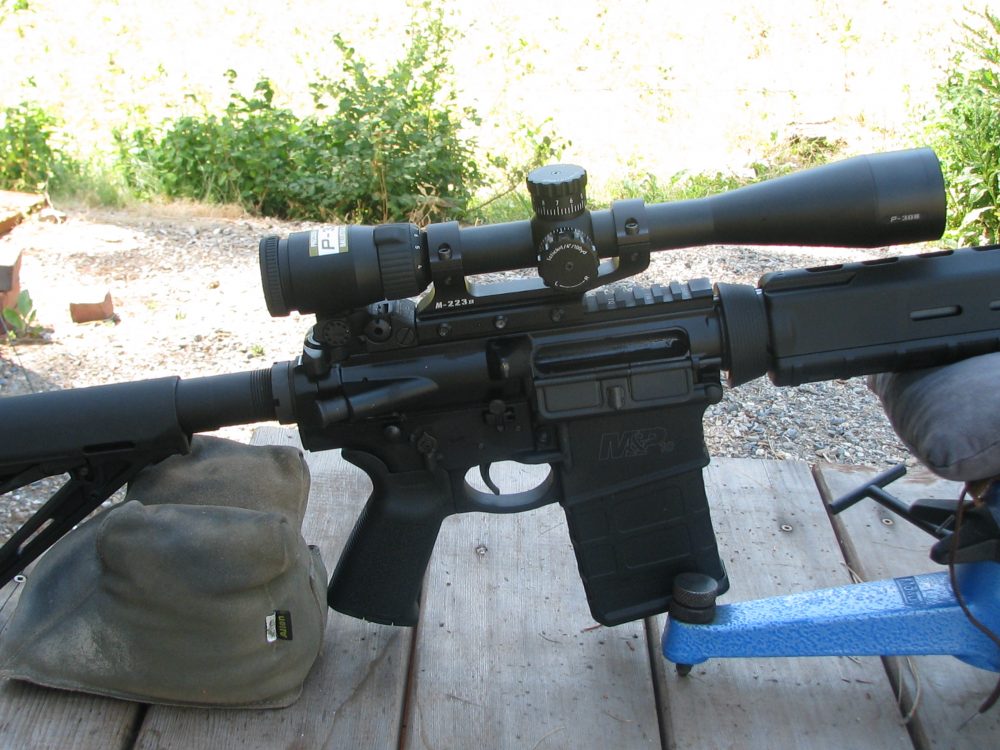 M&P 10 .308 was reliable and acceptably accurate.
---
S&W M&P 10 AR .308
I recently tested an S&W M&P 10 AR .308, a basic, usable package with Magpul furniture and one Magpul magazine. It weighs just over seven pounds empty, handles very well, and balances nicely. I'd gotten an email from Nikon regarding their new P-308 4-12X40 variable scope with bullet drop compensator (BDC) reticle, calibrated for 168-grain Match ammunition. I received a T&E sample, which came with mount and rings. I mounted and zeroed this setup on the M&P. Cost: $1,600 for the rifle and $250 for the scope and mount.
I fired 40 rounds each of Winchester, Sellier & Bellot, and Serbian surplus ball. The Winchester and S&B shot just under two MOA, and the gun functioned perfectly. The Serbian ammo was lousy, grouping at nearly three inches. The trigger was a standard two-stage USGI trigger, but I wanted to keep the rifle basic, so I shot it as it came.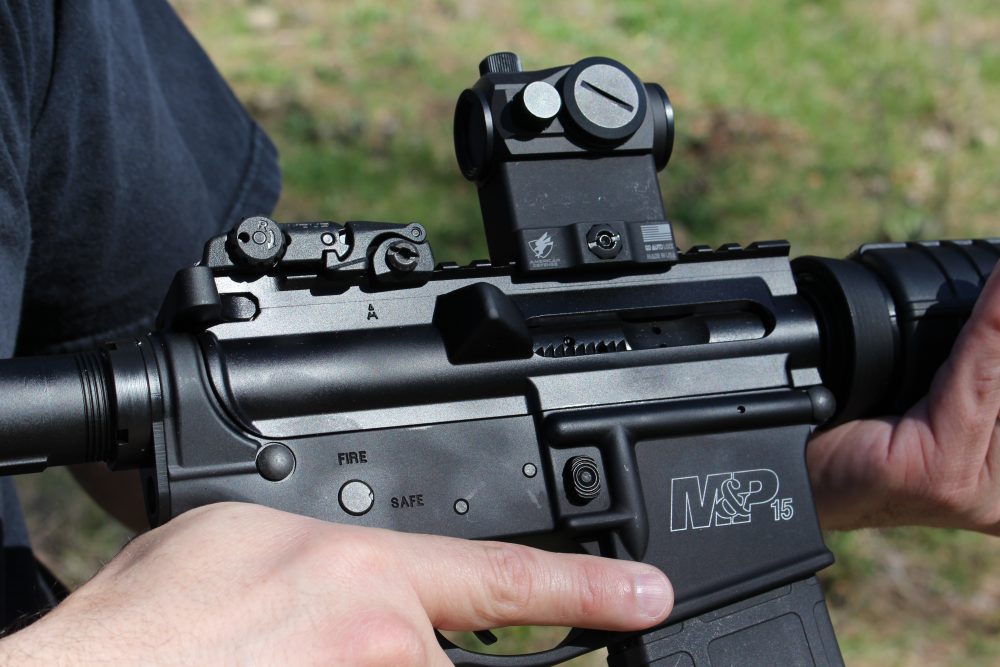 M&P 15 Sport drops the forward assist and dust cover.
---
I fine-tuned the zero at 100 yards using Black Hills 168-grain Match. I shot from a bench, with the forend and butt properly supported. The weather was perfect, 72 degrees and no wind. I had a flyer on the first group of three, but the second group was a hair over one inch—not bad for a basic production gun. I threw some targets and stands on the ATV, took my rangefinder, and set targets at 300, 400, and 500 yards. Using the BDC stadia, I got center hits on each target, with the 500-yard target showing an eight-inch, three-round group. Accuracy fanatics might not be happy with that, but those are fight-stopping or animal-dropping hits. I figure it was me, not the gun.
So for about $1,850 retail you can get a rifle and scope that will hit either man or beast as far as your ability will allow.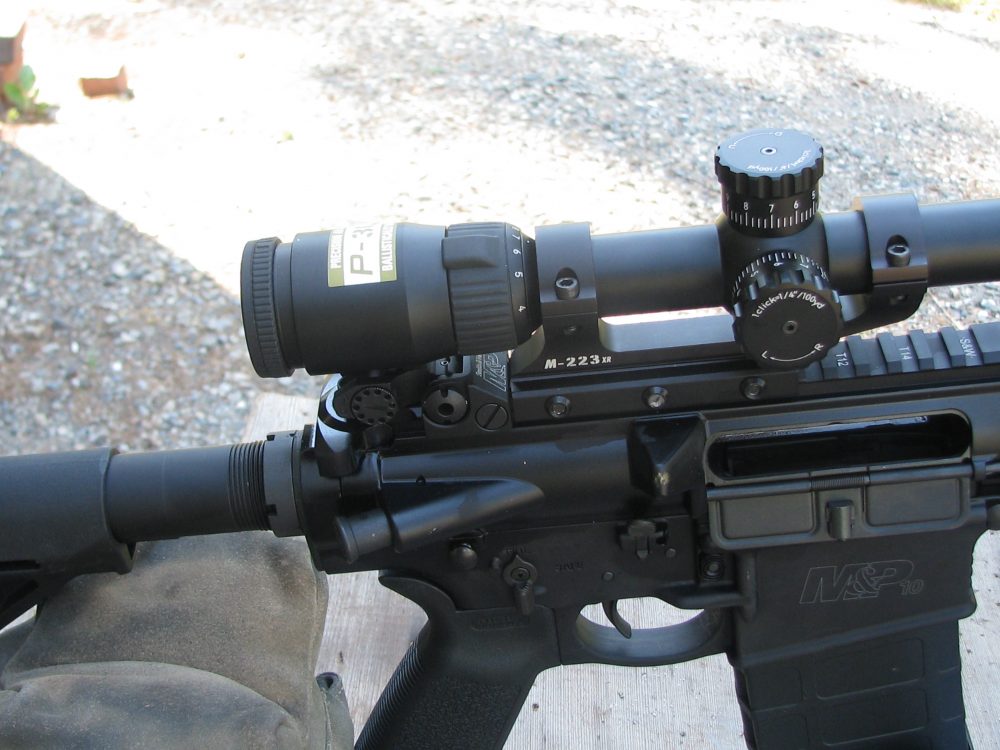 Nikon P-308 had positive adjustment target turrets, making dialing DOPE easy.
---
S&W M&P 15 SPORT
The last leg of affordable S&Ws is the S&W M&P 15. I asked for the most basic model, no bells and whistles, and got the M&P Sport model: MSRP is $739. It's a basic, standard M4 variant, with a Magpul BUIS, six-position stock, standard front sight and gas block, and plastic forend. What was eliminated to hit that price?
One missing item is the forward assist—thank God! I've never seen a problem get better by pounding on a forward assist, so S&W dumped it. The stock trigger was unusually clean and broke at five pounds, and the dust cover was eliminated.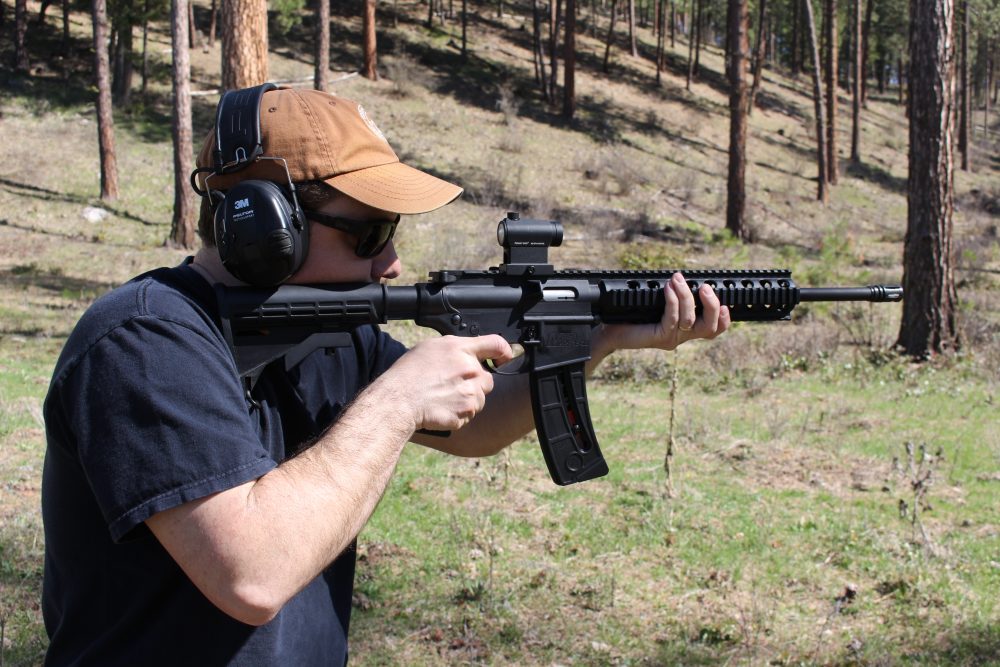 M&P 22 and M&P 15 function identically.
---
My first requirement in any defensive weapon is reliability. I cleaned the shipping gunk out of the carbine, lubed it well, and started shooting. I shot everything I had on hand—MHS reloads, my own reloads, Winchester, Remington, and Federal ball, commercial JSP, and some Black Hills Match, 280 rounds in all—and had no malfunctions, using both Colt and Magpul magazines. That works for me.
I don't sweat sub-MOA accuracy out of defensive .223 carbines, but I mounted a Leupold 1.5X5 in LaRue QD mounts. From a sandbagged bench rest at 50 yards, my best three-round group, with Black Hills Match, was about 5/8 inch, so slightly over one MOA. The ball, regardless of brand, all shot about one inch at 50 yards, so this carbine is a two MOA gun. With the average male 16 inches from belt to throat and about 14 inches wide, this gun will do.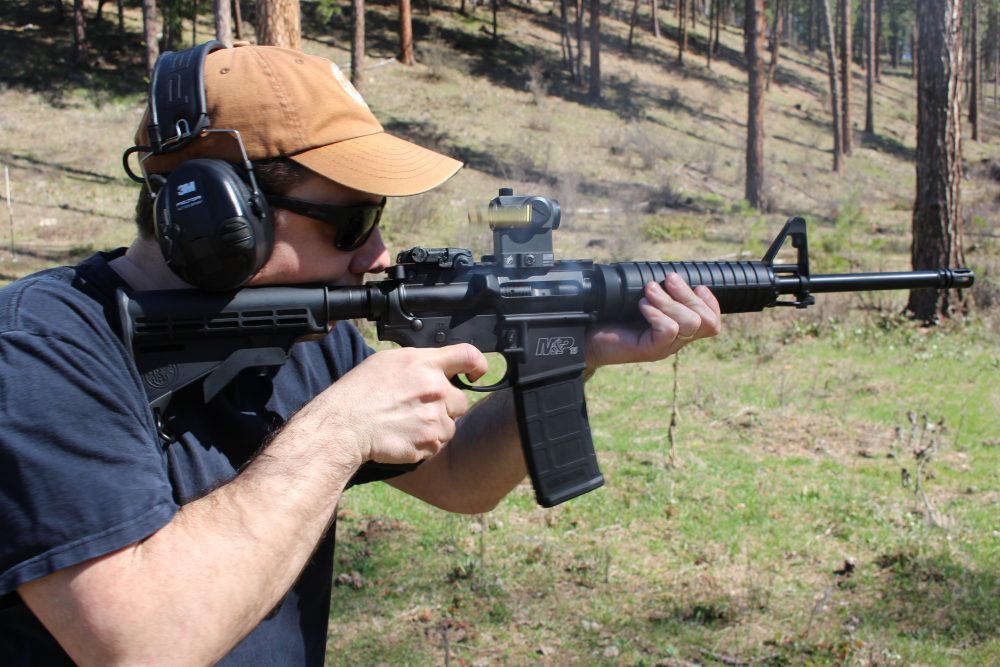 M&P 22 and M&P 15 function identically.
---
JONES ARMS HYPERION
I recently taught a class on the left coast and met a new gun builder, Eric Jones of Jones Arms. He introduced me to his entry-level carbine: black Cerakote finish, billet upper and lower, no forward assist, Melonite treated, match-grade barrel, and Melonite treated BCG. Melonite is reputed to be better than chrome for corrosion resistance. The six-position buttstock and pistol grip have better ergonomics than standard, plastic forend, standard front sight, and aluminum BUIS. Everything in the gun is milspec or better.
I used the same protocol as outlined above, with the following results: 280 rounds fired, no malfunctions. The carbine didn't like heavier bullets, shooting better groups with 55-grain ball. Most of the three-round groups were right at one-half inch at 50 yards, but one group of Winchester ball was slightly under, about 3/8 inch, so with a tailored load you should get consistent sub-MOA accuracy.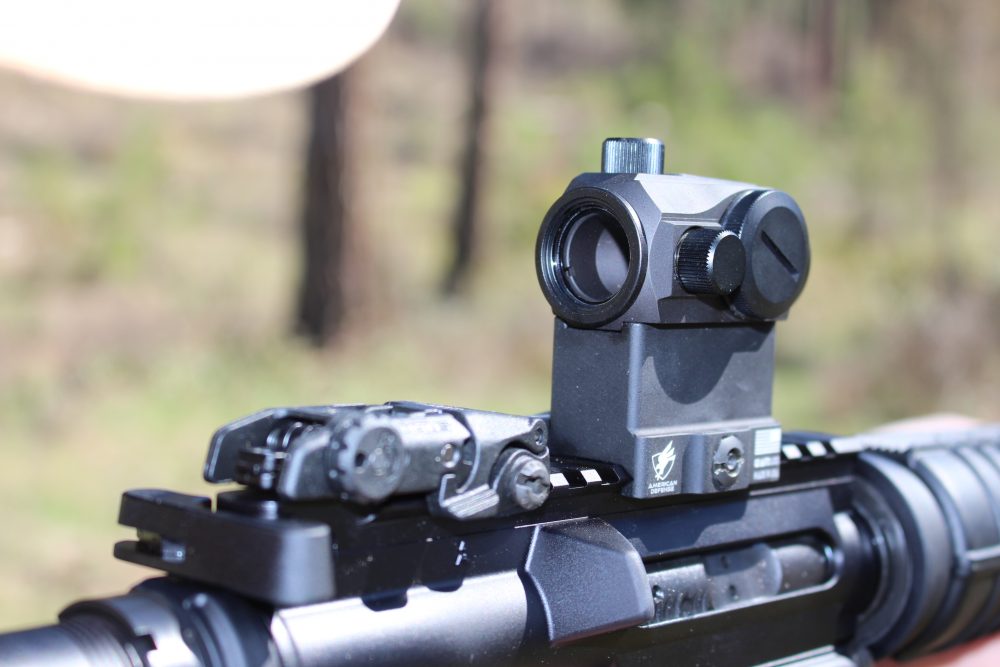 Both Primary Arms optics replicate more expensive models, for training and defense.
---
The tested model was called the Hyperion and has an MSRP of $895. It seems like a very good deal for what you get.
I mounted the Primary Arms MD-ADS, Advanced Micro Dot, the newest offering from the company. This red dot optic offers 50,000 hours of use on one battery, adjusts POA/POI easily, and retails for $189.99.
Primary Arms honestly states that this optic is not intended for sustained combat operations but for home defense, law enforcement, and training. Even so, it works well and is an affordable alternative to more expensive optics. So a basic carbine with a decent red dot is only about $1,000 and will do all that most people need it to do.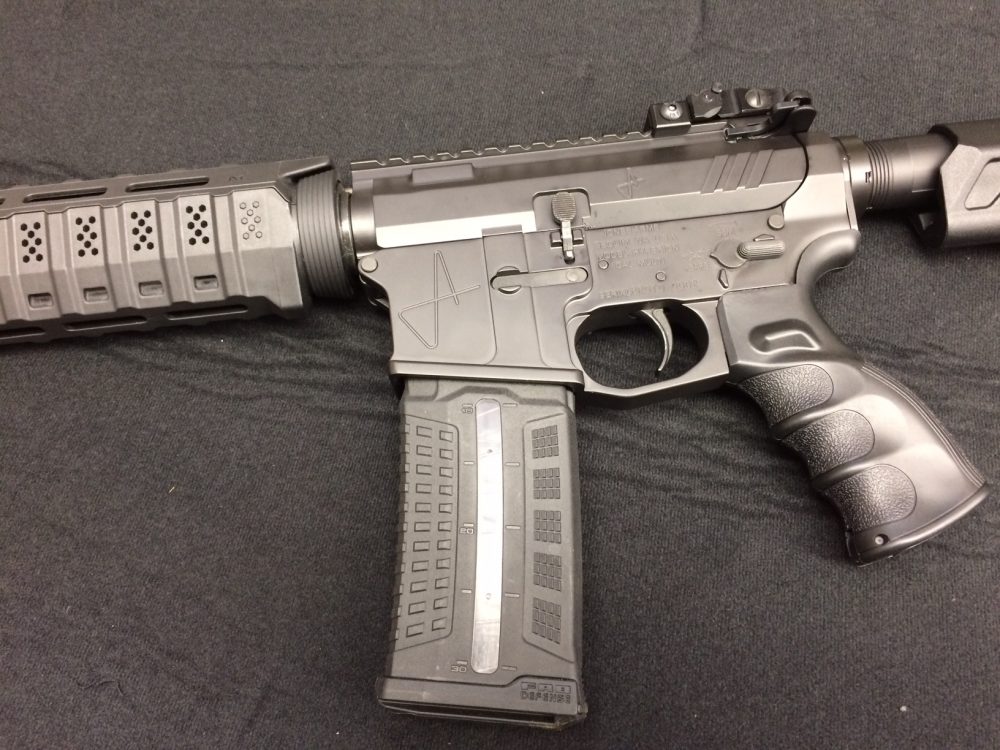 Jones Arms Hyperion—high quality, reasonable cost.
---
THE BOTTOM LINE
We all want A): the best there is for personal defense, but we all have to consider B): the best we can afford today.
We can scrimp and save for five years, by which time it may be too late, or we can buy a reasonable alternative now and save for the "Pulse Plasma Rifle in the 40-watt range" sometime in the future.
I suggest you buy alternative B now, buy all the mags and ammo you can find, get some good training, and save alternative A) for after you win the lottery.
SOURCES
SMITH & WESSON
(800) 331-0852
www.smith-wesson.com
BLACK HILLS AMMUNITION
(605) 348-5150
www.black-hills.com
JONES ARMS
(360) 681-0511
www.jonesarms.com
PRIMARY ARMS
(713) 344-9600
www.primaryarms.com
WINCHESTER AMMUNITION
(615) 258-3340
www.winchester.com