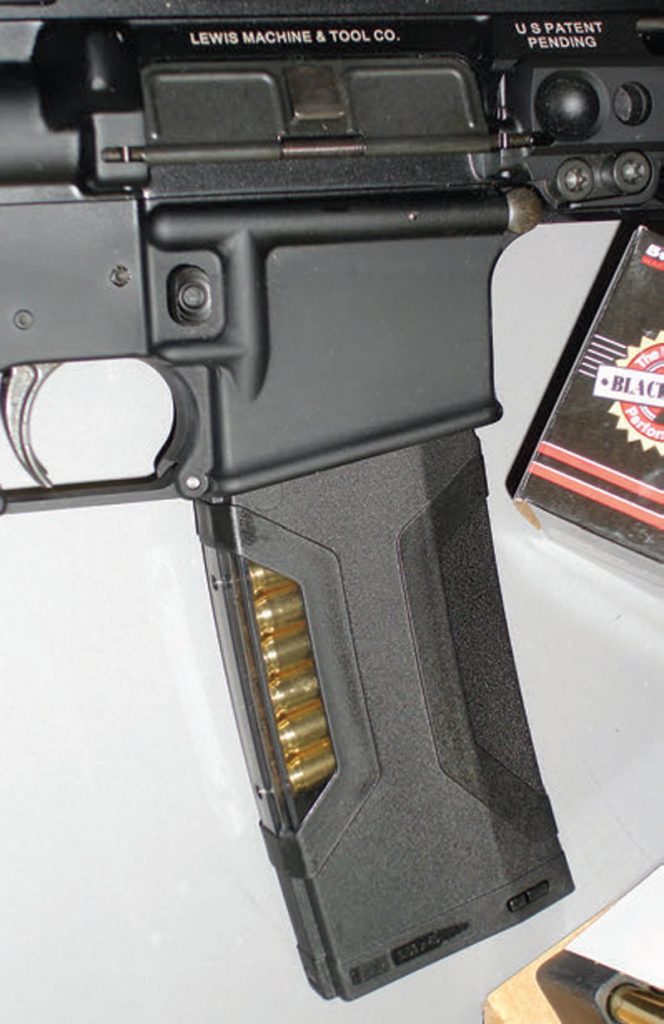 LAN World, Inc. of Salt Lake City, Utah recently began importing and distributing the new STANAG-compliant polymer 30-round 5.56x45mm NATO (.223 Remington) HERA H3MAG™ magazines for AR- 15/M16 platform weapons.
The magazines are manufactured by HERA Arms (Highgrade European Research for Small Arms), GmbH, which was established in 2006 in Nuremburg, Germany. The company was initially focused on high-grade weapon accessories for the sport shooter market. It now includes the military and law enforcement markets and complete weapon systems.
SPECS
Currently available only in black, the HERA H3MAG comes in two versions: the H3T magazine with transparent rear round-count window, and the H3 magazine without window. The window on the H3T magazine is positioned along the rear spine, allowing the operator to easily see the approximate number of rounds remaining in the magazine.
Transparent magazines and magazine windows have long been popular in Europe and are growing in popularity in the U.S. While a nice feature, significant tactical advantage is debatable. SOP with any magazine-fed weapon is to reload with a fully loaded magazine any time there is a lull or break in contact.
The patent-pending H3MAG has a fiberglass-reinforced polyamide body. Polyamide (nylon) is resistant to UV, chemicals and temperature extremes, and was chosen for components of the Hubble Space Telescope for these reasons.
The round-count window on the H3T version is made of a transparent and 5% tinted polycarbonate, and over-molded to further increase the strength and stability of the mag.
The H3MAG has an anti-tilt follower and heavy-duty spring, the latter made out of a special spring steel and precoated for rust protection. According to HERA Arms, the spring steel alloy was selected for its consistency and long life.
The inside of the magazine is made of a glass-polished mold to provide a smooth travel for the follower. The magazine features an easily removable floorplate for cleaning and maintenance.
LAN World provided H3 and H3T mags for evaluation. The magazines were evaluated for basic fit and finish, operational smoothness, lock into place, drop free, security, features, durability, functioning, and maintenance.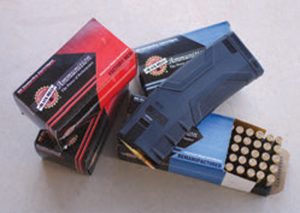 WEAPON AND AMMO FOR TESTING
Black Hills Ammunition provided 100 rounds of factory new 5.56mm 69-grain OTM and 100 rounds of remanufactured .223 Remington 60-grain Hornady® V-MAX™ ammunition for the testing.
Black Hills Remanufactured Ammunition is a great way to save money if you shoot a lot. It employs once-fired Lake City brass and is manufactured to the same high standards as all Black Hills Ammunition.
An LMT® CQB MRP® Defender Model 16 was employed as the weapon platform for testing. The weapon has proven exceptionally reliable. The LMT Defender lower is milspec.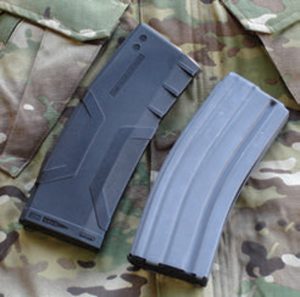 EVALUATION
The HERA H3MAGs get high marks for basic fit and finish and operational smoothness. The H3MAG has been engineered to allow it to be locked into place on a closed bolt with 30 rounds. Like many magazines, it does need to be firmly seated or "smacked" to guarantee lock-up on a closed bolt. The magazines are designed to drop free from all milspec mag wells, which they did during testing, both fully loaded and unloaded. The spine of the H3MAG has a stop to prevent over-insertion.
The H3MAGs have an angular appearance and textured finish, which not only looks good, but also provides secure purchase during magazine changes and removal from magazine pouches. There is a small recessed area on the side of the body for marking magazine ID.
Magazines should always be marked with your initials or unit number and individual magazine identification. This way you can identify your own magazines and also not mistakenly end up with a magazine that was damaged or discarded. Polymer magazines can be marked with a permanent marker or paint, or by scratching the ID into them.
The configuration of the H3MAGs is also designed to permit operation with a diverse range of non-Colt®- specification platforms, such as the original HK® 416, MR556 and M27 IAR.
Polymer magazines typically have slightly thicker or larger dimensions than aluminum magazines. They can be a tight fit in many magazine pouches. Although the H3MAG is roughly ½ inch longer than a 30-round USGI aluminum magazine, the differences in width and thickness are minimal.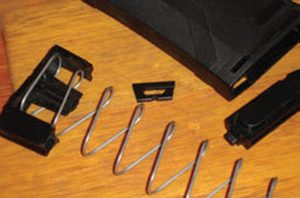 As mentioned earlier, H3MAGs have an anti-tilt follower. The design of the follower allows dirt and debris to pass through the magazine for added reliability in adverse conditions. During testing, I buried loaded magazines in the Arizona desert. After I shook them off, they functioned without issue.
H3MAGs also get high marks for ease of disassembly and reassembly. To remove the floorplate, simply push out a rectangular polymer cross pin at the base of the magazine.
DURABILITY TESTS
The feed lips on the two magazines that were initially provided for evaluation cracked early on during my testing, when they were dropped while fully loaded and landed on the feed lips. LAN World immediately sent out four additional magazines for testing.
Cracked feed lips are possible on any fully loaded polymer magazine if it's dropped onto a hard surface from weapon height while fully loaded and lands on the feed lips. Bent feed lips are possible on aluminum magazines under similar circumstances. Google® "magazine drop test" and see for yourself.
Don't worry about environmental heat and cold. Polyamides have excellent thermal stability. Polyamide can withstand temperatures far more extreme than you or I can.
Loaded H3MAGs were kept in my vehicle for two weeks during testing. Temperatures can reach over 150° F in a locked vehicle here in Arizona during the summer. Not good for the ammunition, but there were no issues with the magazines.
I also placed loaded magazines in my freezer to simulate winter conditions. Again, no issues and no surprise, since polyamide has an extremely low brittleness temperature.
To sum it up, the H3MAGs functioned flawlessly during my limited testing. They haven't been around long enough to develop a long-term track record, but I have no reason to question them at this time. Suggested retail price for the HERA H3T (with window) is $24.95 and $18.95 for the HERA H3 (without window).