Throughout history, the Corvid family of birds, which includes ravens and crows, has been the subject of many legends—probably more than any other species of birds. In Norse mythology, Odin kept two ravens, Huginn and Muninn, who would fly out daily and bring him information from the world of mortal men. Many Native American tribes perceived the raven as a trickster, much like a coyote. In other legends, the raven is a shape-shifter.
Recently I had the opportunity to evaluate what may be a legend in the making—the Corvid 30 from LRK Mechanical.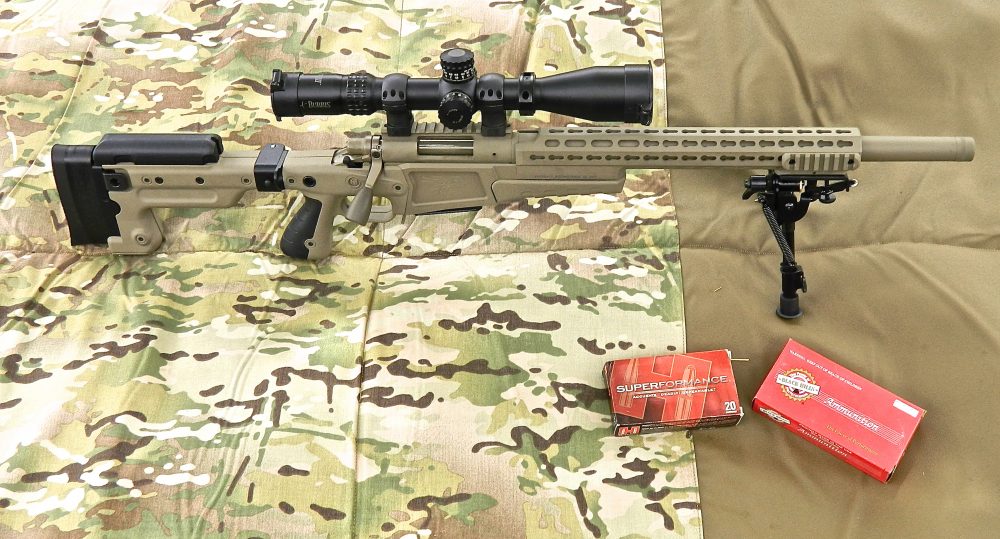 Right side of Corvid 30 as tested on Triad Tactical Padded Shooting Mat with Burris XTR II scope, Tac Shield bipod, and Hornady and Black Hills ammunition.
---
CORVID SERIES RIFLES
LRK Mechanical's Corvid rifles begin life with Remington 700 series receivers. Then the receiver and bolt are trued and blueprinted. A premium barrel—with LRK's proprietary minimum headspace chamber—is chosen and chambered according to what caliber the customer wants, and installed on the receiver. The barreled action is mounted in the stock/chassis system chosen by the customer, and the trigger tuned to the customer's specifications.
Corvid series rifles are available in.308, .300 WM, and .338 Lapua Magnum. Other calibers are available upon request. The test rifle, a Corvid 30 chambered in .308, is LRK's "full boat" model. It features a 20-inch Krieger stainless steel barrel that has the standard 5/8×24 threads for attaching a muzzle device or suppressor. A steel knurled cap to protect the threads is included. A 20 MOA Picatinny rail sits atop the receiver.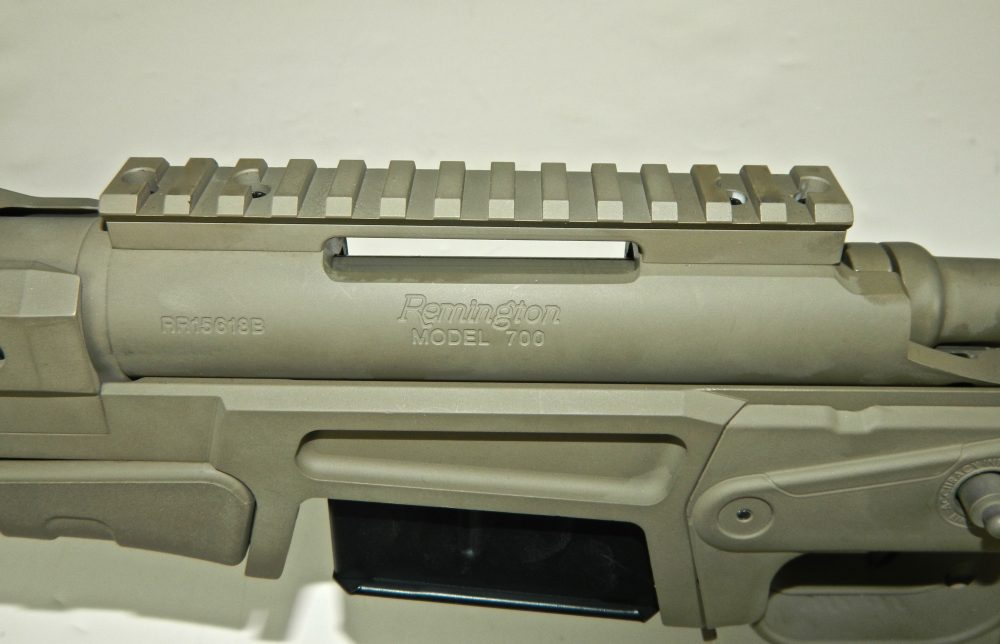 Corvid starts out as a Remington 700. A 20-MOA Picatinny rail sits atop the receiver.
---
The rifle uses an Accuracy International single-stack five-round magazine. It feeds rounds directly into the chamber, so there is less chance of a bullet tip being nicked than with a staggered stack magazine. The teardrop-shaped bolt handle is smooth and of ample size. The bottom of the handle is engraved with the Corvid logo.
A barreled action is fitted in an Accuracy International AX AICS chassis with folding stock that is adjustable for length of pull and height at the cheek piece. The toe of the stock protrudes downward and is large enough for the weak hand to hold onto. The stock folds to the left, where a socket on the stock matches to a stud on the receiver portion of the chassis. When deployed, the stock is rock solid, with no play in any direction.
The barrel is covered with a KeyMod handguard from the end of the receiver to 4.75 inches from the muzzle. Three, three-inch Picatinny rail sections sit at three, six and nine o'clock at the muzzle end of the handguard. The rail section at six o'clock has a stud for attaching a bipod.
Finish on the test rifle was Flat Dark Earth Cerakote™. Overall length with all adjustment spacers in place was 39 inches, and weight approximately 12 pounds.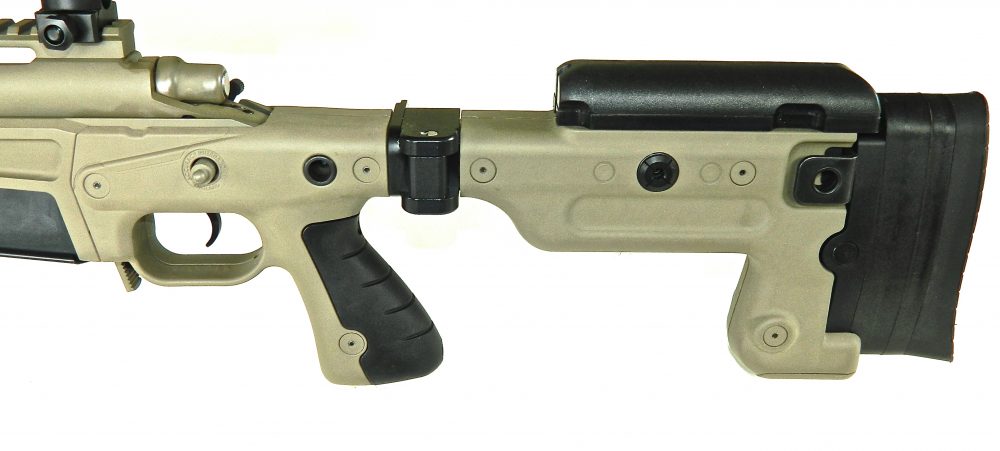 Accuracy International AX AICS chassis with stock extended. Visible above the trigger is the stud that secures the stock when folded.
---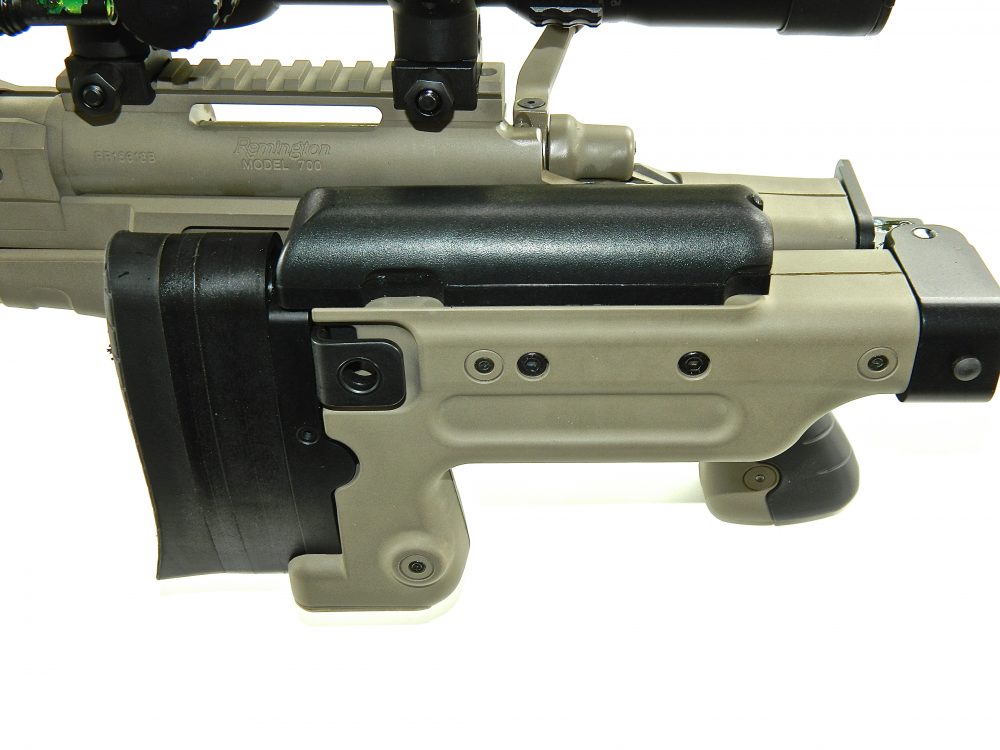 AI stock folded.
---
BURRIS XTR II
For the optic, I chose the Burris XTR II 4-20X50 with G2B mil-dot reticle. Click values were in 1/10 mils. Using a Wheeler "Fat Wrench" torque wrench, the bases were attached to the rail with 40 inch-pounds of torque.
The XTR II is a front focal plane reticle design, and trajectory compensation is always correct and proportional for the selected power setting. This high-performance optic offers Hi-Lume® multi-coated lenses, which optimize target resolution, contrast, and low-light performance.
The side-mounted parallax adjustment can be set from 50 yards to infinity. The XTR II has an illuminated reticle with 11 brightness settings. Weighing 30.90 ounces, this is a heavy-duty scope.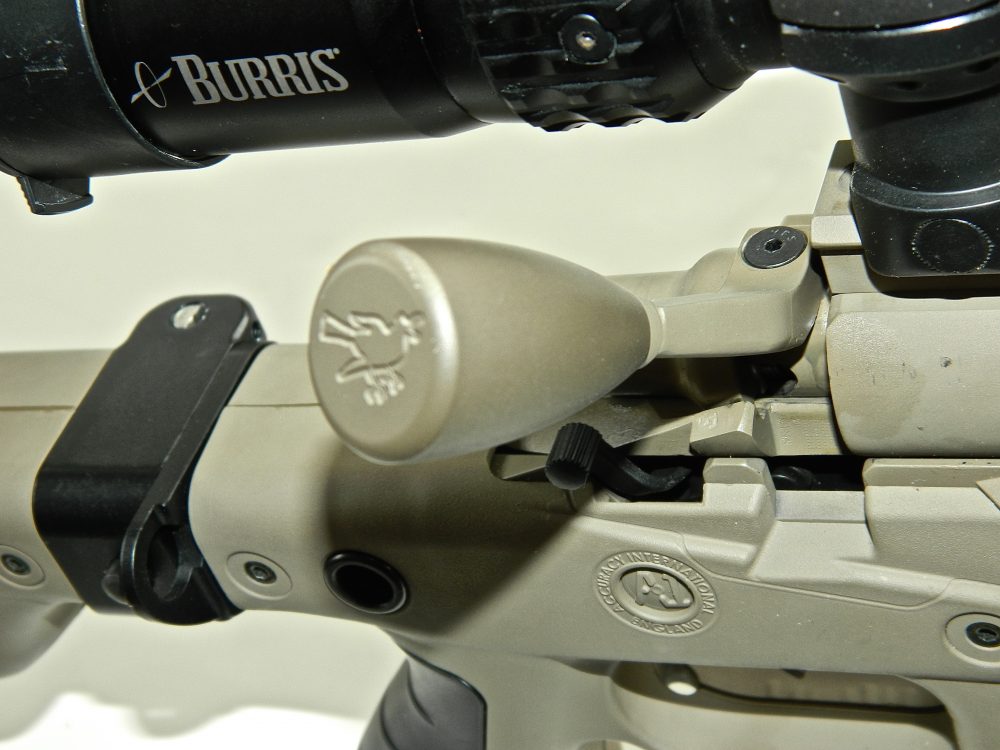 LRK Mechanical's Corvid logo on bottom of large teardrop-shaped bolt handle.
---
BUILDING THE HOUSE
"Build your house" is a term I picked up at FTW Ranch in southwest Texas. It means to establish a solid firing position using bone support, muscular relaxation, and establishing a natural point of aim. I used several products to create a stable platform and minimize movement of the rifle while firing.
The first was a Tac Shield bipod. This particular model allowed the rifle to be pivoted or canted to compensate for uneven terrain. The legs on the bipod can be adjusted from six to nine inches in length.
The next two products were from Triad Tactical. The Triad Padded Shooting Mat is long enough to keep the shooter's body out of contact with the ground and wide enough—via a 19-inch section of durable non-slip material—that your elbows don't hang off. With two layers of Cordura (top/bottom) and 1/8-inch foam padding center, the Triad Padded Shooting Mat offers protection and portability.
The Tapered Rear Bag (aka Wedgie) applies a little geometry to an age-old tool. By moving the Wedgie front to rear under your rifle's buttstock, you can quickly change gross elevation, and a little squeezing makes fine adjustments.
Loaded, with scope and bipod attached, the Corvid 30 tips the scales at a tad over 15 pounds, or roughly the weight of two M4 carbines. With that said, the bipod and Tapered Rear Bag are valuable tools that let me use bone support—not muscles—to steady the rifle.

Burris XTR II proved an excellent optic to mate with Corvid 30 rifle.
---
RANGE TIME
Given the minimum headspace in the rifle's chamber, I chose two match-quality loads with proven track records: Hornady 168-grain Super Performance SST and Black Hills Ammunition 175-grain boat-tail hollow-point.
Using the correct data for each load—bullet weight, velocity, and ballistic coefficient—I input that, along with information for the scope, into the iStrelok ballistic calculator on my iPad and used a Kestrel 4000 to determine other factors such as wind, elevation, and temperature. iStrelok is probably the most useful (and most used) app I have ever downloaded. I have even built a data card for my Ruger 10/22 using it.
The rifle has a very, very good trigger for a precision gun. I would estimate it at about two pounds. I began by establishing zero on my home range at 100 yards. I fired a five-round group and, holding on the bullseye, used the mil-dot reticle to make corrections from where the group impacted, so adjustments were quick and easy.
The next five-round group was slightly high and right, and measured right at ¼ inch (.25 MOA), with four of the five going into one hole and a "flyer" opening the group to just under 3/8 inch (.37 MOA). One click left and two clicks down had the Corvid shooting exactly to point of aim.
While the Corvid showed a lot of potential, a 100-yard shot does not always tell the whole story. I met with Gary Smith, a Gunsite rifle instructor, at the Woodfill range on the 300-yard line. A quick check with the Kestrel 4000 and iStrelok ballistic calculator revealed that an increase of about 1.3 mils in elevation would be needed to hit to point of aim at 300.
Behind the rifle, Gary prepared to fire a five-round group. With the cold, clean bore, Gary called the first shot about an inch high. When we went downrange, we found the other four shots had gone into a tight cluster and measured right at an inch. That works out to approximately .35 MOA—if anything, slightly better than the 100-yard group!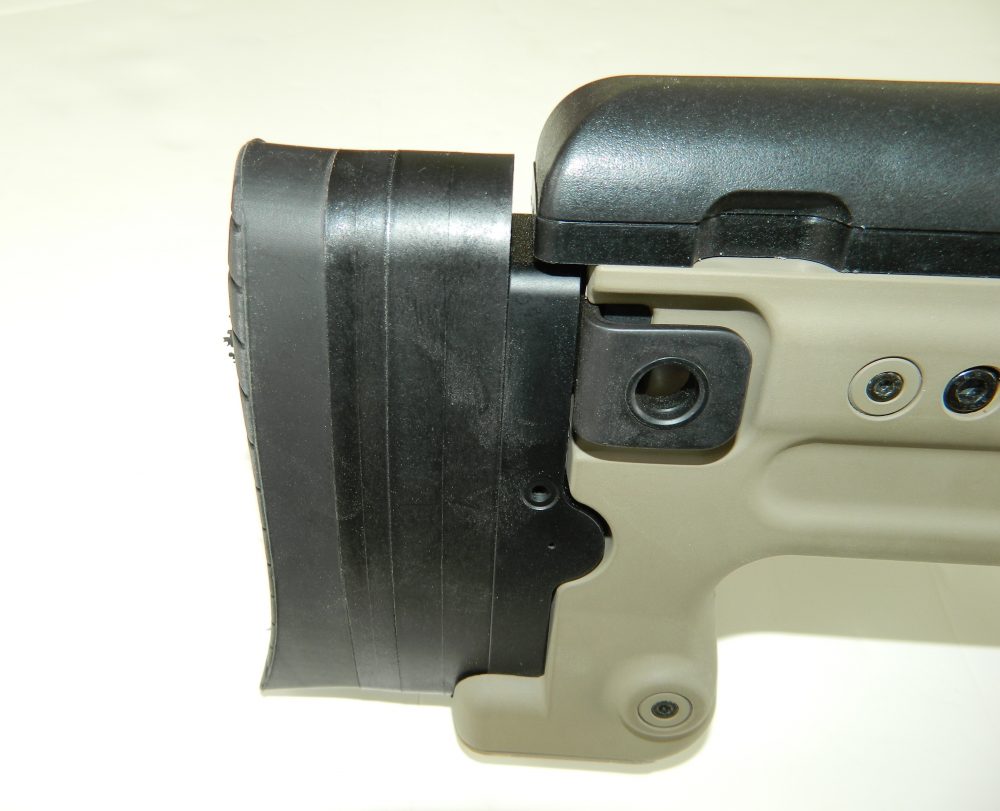 Stock's length of pull is adjustable by inserting or removing spacers.
---
CONCLUSIONS
While I did not get the opportunity to evaluate the Corvid at what can truly be called long distance, based on the shooting we did at 300 yards, I would be willing to bet a paycheck it will not exceed .5 MOA if the rifleman does his part and quality ammunition is used.
Hits at 600 to 800 yards should be very doable, and anything less is gravy. Suggested retail price of the Corvid 30 is $5,500. But LRK can also build an accurate rifle that fits most budgets.
LRK Mechanical, LLC is a true custom rifle shop and can apply Cerakote and gunsmithing for NFA firearms. They can configure a rifle to your individual needs. Most caliber, stock and barrel configurations can be accommodated. If you are in the market for a precision rifle built to your specifications, give LRK Mechanical a hard look.
And if you see a couple of ravens hanging around listening to what's going on, tell them to say hello to Odin for me.
SOURCES
LRK MECHANICAL, LLC
(928) 776-6483
www.lrkmechanical.com
BLACK HILLS AMMUNITION
(605) 348-5150
www.black-hills.com
BURRIS COMPANY
(970) 356-1670
www.burrisoptics.com
GUNSITE
(928) 636-4565
www.gunsite.com
HORNADY MFG. CO.
(800) 338-3220
www.hornady.com
MILITARY PRODUCTS INC.
(910) 687-4695
www.tacshield.com
TRIAD TACTICAL
(913) 669-8553
www.triadtactical.com
WHEELER ENGINEERING
(573) 445-9200
www.btibrands.com