Red Dot Sights (RDS) have been around for a long time, and large numbers have been used—and proven—in combat around the world. And while a segment of the population has a malady known as batteryphobia, smart people understand that the RDS is a force multiplier.
Of those RDS that are durable, reliable and proven, the Aimpoint T1 is the smallest (2.4 inches long) and lightest (3 ounces without mount, and an additional 2.75 ounces with the LaRue Tactical 660 high mount) and has been around since January 2007. It has a battery life of 50,000 hours—roughly five years.
The T1 has 13 settings for reticle brightness. Settings 0 to 6 are night vision settings, meaning you cannot see the dot with your naked eye. You need to be looking through a night vision device to see it. Settings 7 to 12 are visible settings, and if left at setting 8, the T1 will achieve the maximum battery life of 50,000 hours. I can say from personal experience that if the reticle is left on setting 12, it will eat a battery in about 30 days.
The original T1 has morphed into other models and modifications. The most important for some is changing the reticle size from 4 MOA (actually approximately 3.6 MOA) to 2 MOA.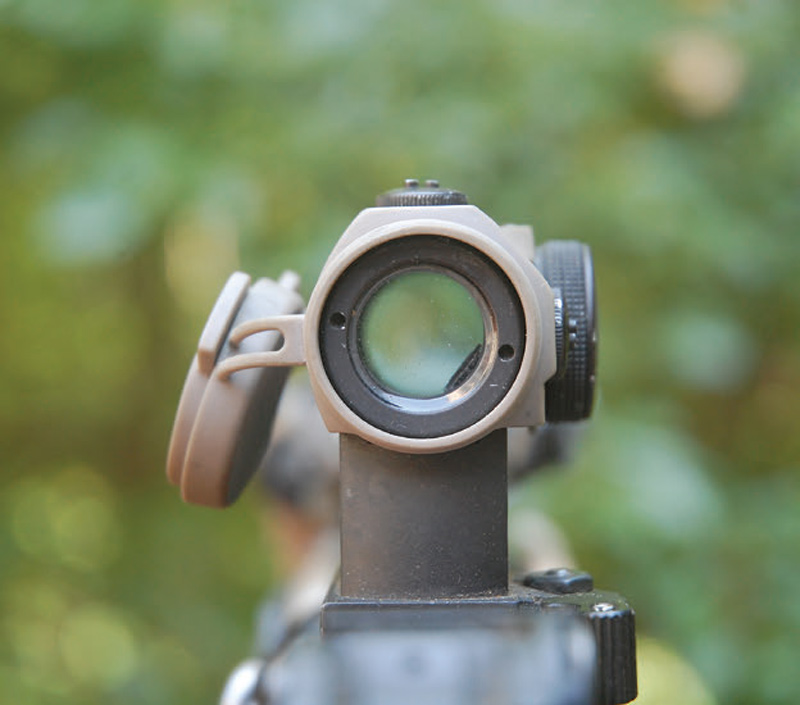 Other models include the H1, a less expensive version with a different lens coating, lesser water resistance, and no night vision settings. The R1 is a silver finished model that never found a niche and was discontinued in 2010.
FRAGILITY
At the beginning, there were some complaints about the sight from the user community. The first was the perceived fragility of such a small unit. That was soon given short shrift as the T1's durability is equal to or surpasses that of any other RDS, and in a lighter package.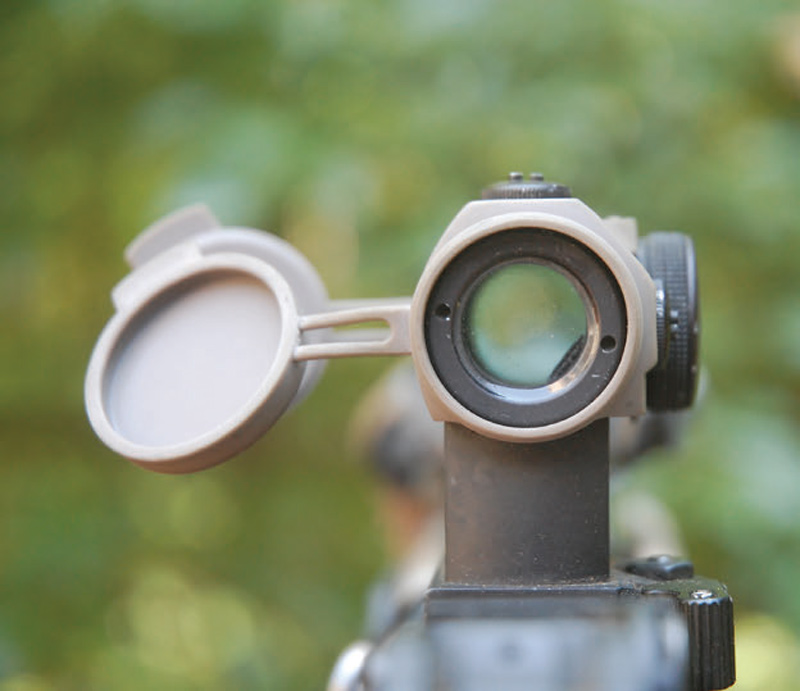 Another was reticle size. Some felt that the 4 MOA reticle was "too large" for precise shooting, and requested a 2 MOA reticle. This was introduced into the Special Operations community in 2009, and released to the public in January 2012. There is no doubt that this is important if using a flip-up magnifier, but for most shooters it's a non-issue. For what it's worth, I have 25 T1s in the armory, and all are 4 MOA.
LENS COVER
Another criticism was the bikini lens cover. This has always been a funny issue, going back to the Comp M2/3 and Comp M4.
The Comp M2 had flip-up lens covers that were sourced from another maker whose covers were commonly seen on hunting telescopes. They were relatively fragile and broke easily. After multiple complaints, Aimpoint replaced them with a sturdier unit, but the complaints continued. Eventually the flip-up covers were replaced with a user-specified rubber bikini cover on the new M68 Close Combat Optic—the M4.
The T1 also came with a similar (but smaller) bikini cover, primarily because its small size precluded the mounting of a flip-up cover.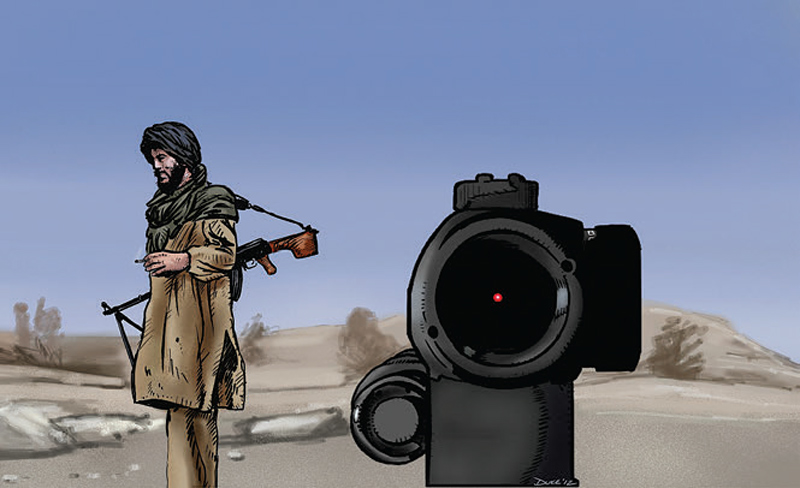 Realistically, a cover provides lens protection, but also requires additional movement to expose the glass and get the sight into operation. Not surprisingly, the bikini cover received a lot of criticism as well—which just goes to show that no one is ever satisfied with anything. The result was that a lot of bikini covers went south, either from loss or dissatisfaction.
From my standpoint, lens covers are most useful for storage, but in storage there is also almost no need for them. However, the objective lens can be damaged when moving through heavily vegetated terrain, sand storms, and so forth.
Something is nice about an objective lens cover (the one in the front) is that it can be kept closed to prevent sunlight from reflecting off the lens. This is not an issue for Close Quarter Battle, but it can be for other applications in the field.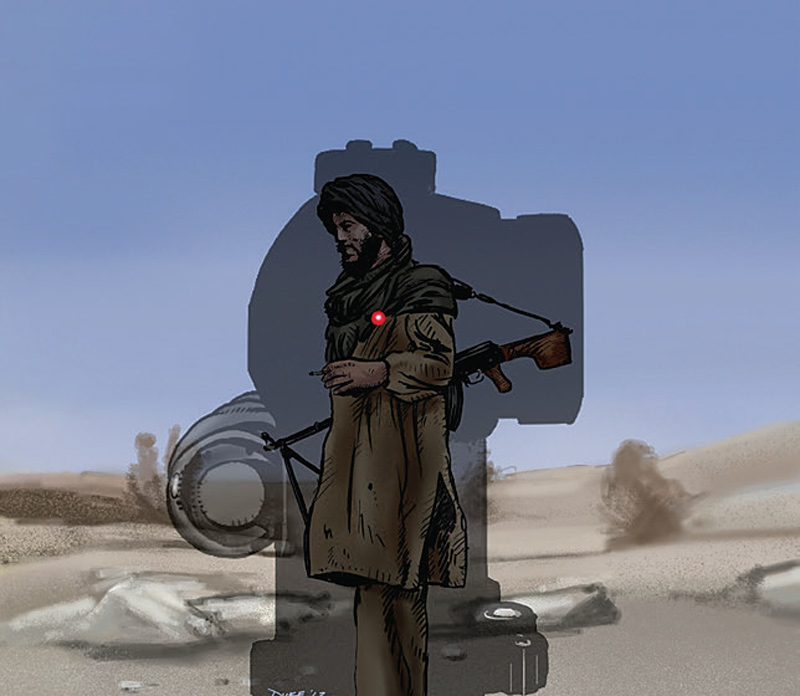 For the M2, M3 and M4 Aimpoints, an Anti-Reflection Device (commonly called a Kill Flash) is available, but there are none currently available for the T1, and a fair number of users are less than happy with the Kill Flash, as it can occlude what you can see.
You can, however, cover the objective lens, as long as you have binocular vision and can still engage targets (and do not have an astigmatism). Your dominant eye will see the dot. Your nondominant eye will see the target. Your brain will put them together. Place dot on threat, press trigger straight to the rear. Repeat as necessary.
Aimpoint had a rubber cover for the Comp M series of lights, in both Black and Flat Dark Earth. These covers did not include integral lens covers as those models had flip-up units, but it did provide some degree of protection to the optic body as well as camouflage the optic, for those not permitted to use paint. (Aimpoint, please make these sights anodized in Flat Dark Earth.)
IO COVER
Enter Joe Chen. Joe was a student at an EAG Tactical Carbine class in 2009, and the weather in that class could be described as biblical. Joe's T1 was fairly well covered in water. And while it didn't damage the optic, it made seeing through it somewhat difficult.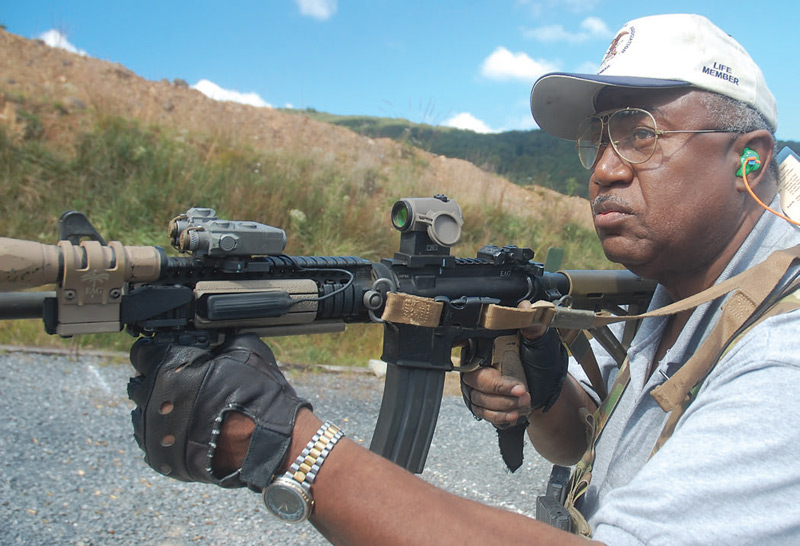 You cannot choose the weather you fight in, and any weather departing from the norm will cause problems of one type or another. Based on this experience, Joe decided to bring a product to the market that would rectify this. He started on the long and tortuous road to bring the IO Cover to fruition.
The IO is a slip-over cover with a set of attached press-fit lens covers. The lens covers hinge on the left and will remain somewhat alongside the optic. If time permits, they will nest inside each other.
The IO Cover is made of Urethane Rubber, which is resistant to a variety of issues, including cuts and tears, chemicals, heat, and cold. It will initially be available in two colors—Black and Flat Dark Earth (FDE)—but additional colors may be forthcoming.
Realistically, FDE is the universal color, and useful across the broad spectrum. It is a color that is seen in almost every clime, with the exception of heavy jungle. It would probably be the most common color, and acceptable to all save cops, who generally do not have painted guns.
At EAG Tactical, we have been running two different prototypes of the IO Cover for three months, with one on my work gun and the other on student guns.
The caps are meant to be opened in a hurry and left to lie loosely against the side of the T1. If time permits, they can be pressed against each other and would nest more securely against the optic.
I was initially concerned that the first scenario—flipping them off without nesting—might present an issue with them flopping around and interfering with sighting through the optic.
My fears were groundless, and there was no problem.
The IO currently exists in prototype form, with production scheduled by the time you read this article.
While Joe Chen will handle the manufacturing end, Jeff Cahill will take care of sales and distribution at TangoDown. This is a wise move, as TangoDown is an established company with a wide distribution network.
This is an item that has been a long time coming, and I wish Aimpoint had considered this when they introduced the T1 five years ago. I'll be placing these units on all of my company guns that sport a T1 Micro.