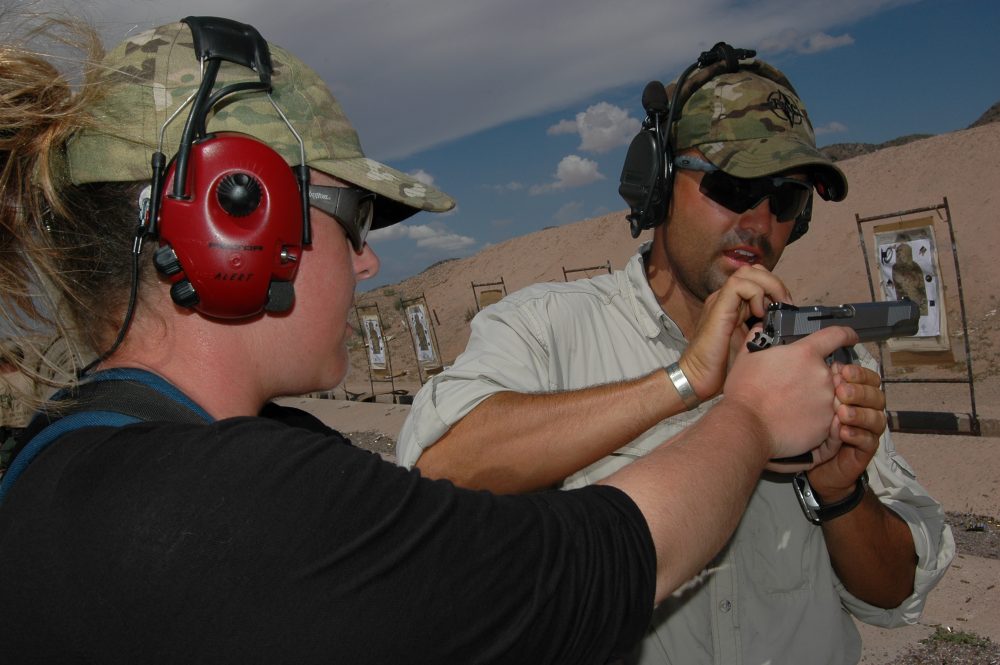 Josh K. changes author's grip slightly. It made a significant improvement in her shooting.
---
Many women say they will never own a gun or have one in their homes. I've heard a lot of reasons why, but the most commonly cited reason is that they are afraid of guns—mostly because they don't know how to operate them.
Yes, guns can be a little scary initially, but once you've had proper training and know how to handle a gun it's a very useful skill to have—plus it can be a lot of fun.
I've also heard some women say they have no reason to learn how to use a firearm, because their fathers, brothers, husbands, boyfriends, etc. have guns and can protect them.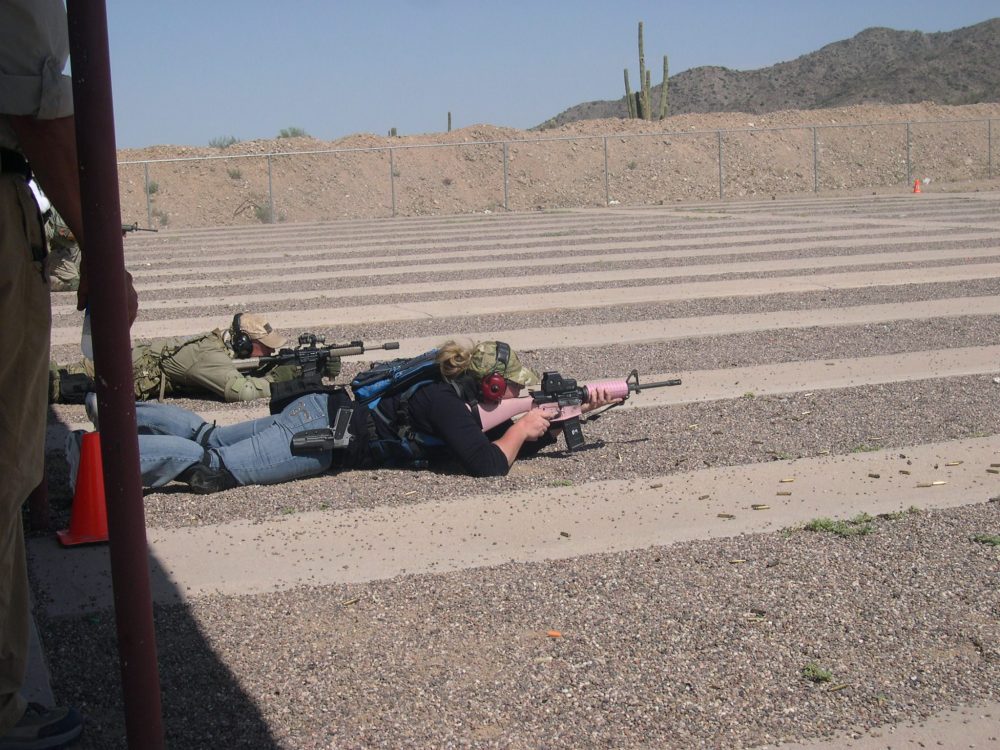 Confirming zeroes on Day 1.
---
Really? Are they with you 24/7, 365 days a year? Don't they have a job? Don't they have any activities outside the home? I believe that all women should have the skills to use a firearm and the knowledge of when deadly force can be used, because you never know when a crisis might arise.
Recently, my Mom and Pop gave me a Cavalry Arms AR-15 for my birthday. I asked my dad, Denny Hansen, to teach me to shoot it. He gave me some basic knowledge, but thought he would either be too hard or too easy on me, and said he would prefer that I attend an EAG Tactical (Pat Rogers) carbine course with him for actual training. Pops enrolled us in an EAG Tactical Operators Course in Casa Grande, Arizona, and with his help I set about acquiring everything I would need for the course.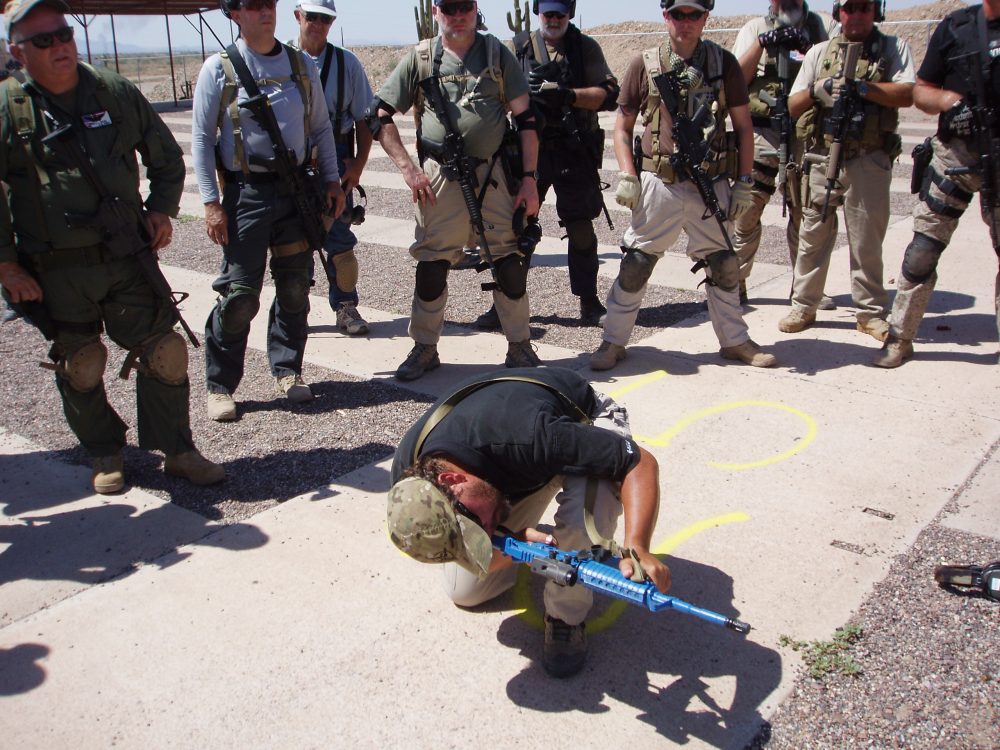 Mike Hueser, EAG Tactical, demonstrates rolling out to the right from kneeling.
---
While I have taken part in several courses over the years, this would be my first formal class away from our home range. Knowing that the class would have cops, military personnel and other experienced shooters in it, to say I was nervous would be a huge understatement.
I'm going to explain a little about what I learned in the class and how many of the skills learned can be used not only by people who carry a gun for a living, but also by a woman in her home.
The first day of class Pat introduced himself, his assistant instructors Mike Hueser and Josh K., and the students gave a little background on themselves. Pat gave us insight into what we would be learning in the course and general safety procedures. The EAG staff talked to us about the gear we needed, manipulation of the carbine, loading, unloading and making ready. Mike Hueser gave a short presentation on the importance of hydration and eating during training. This would be especially important during this class, as the temperature in the Arizona desert was rapidly approaching the 100-degree mark at eight in the morning.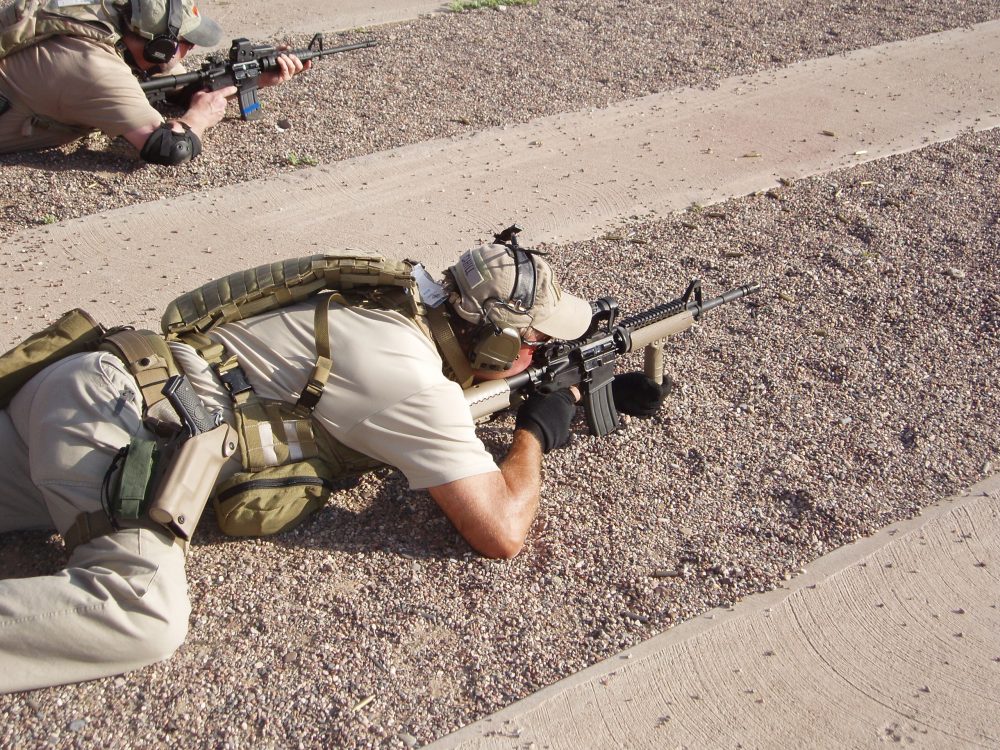 Jeff Cahill, president of TangoDown, fires from prone during a drill. It's always good to see industry insiders who train and thus know what works and what doesn't.
---
We went to the 50-yard line and were split off into two relays. After we split off, the first relay confirmed their zeroes at 50 yards from the prone position, and then the second relay did the same. We took a short break and Pat talked about maintenance of the carbine and the importance of keeping the gun well lubricated.
Back on the range we started shooting different drills of controlled pairs, hammers (two fast shots with only one sight picture) and non-standard responses (NSRs—more than three rounds, up to as many as are needed to solve the problem). For the purpose of this class, whenever an NSR was called for, we fired seven rounds. We also practiced shooting from kneeling positions such as braced kneeling, speed kneeling and double kneeling—also called "Monica"—and squatting.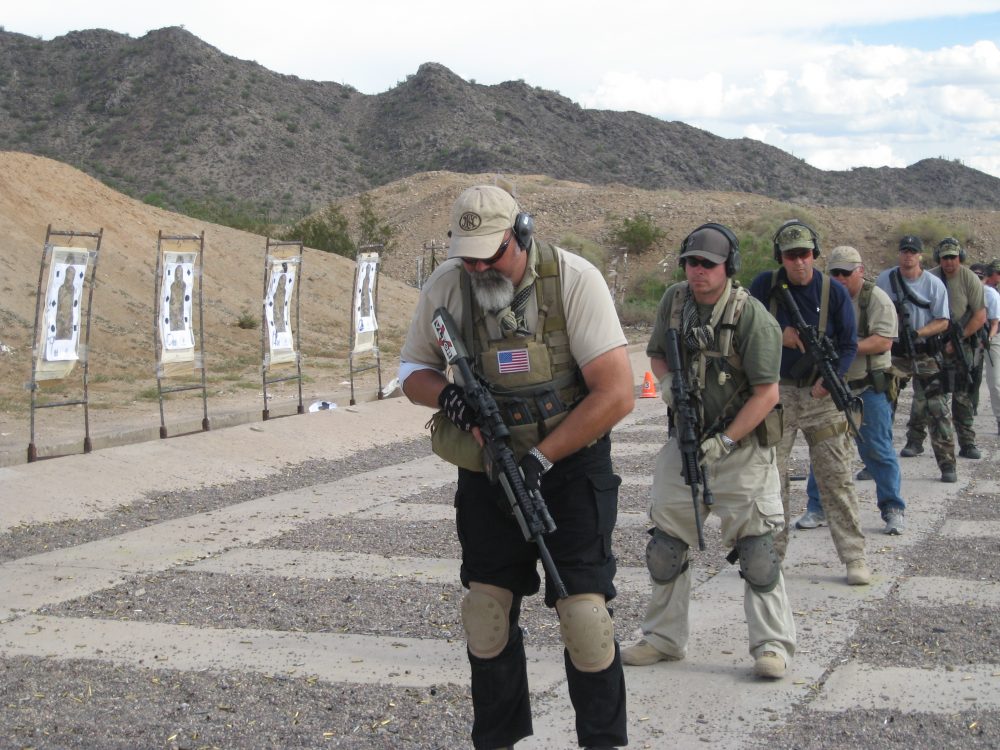 Relay 1 prepares to fire "Wave of Death." Photo: Chris Lapre
---
We did a lot of shooting from the three- to the five-yard line, and this showed us how important offset (where a bullet will impact the target due to the height difference between the sights and the barrel) is at close range. We fired all the way back to the 50-yard line to learn where to aim at different ranges because of the offset.
We practiced transitioning from standing, to kneeling, to prone from the 50 and so on. We learned the indoor ready position at the end of the first day, which is how to keep the carbine close to the body with the stock close to the shoulder while (guess where?) indoors.
Day 2 was hotter than Day 1, so it was stressed to keep eating, stay hydrated and take breaks if anyone felt they needed to. The temperature had reached 140 degrees on the ground by mid-afternoon. The staff's concern for the students' welfare was obvious and appreciated.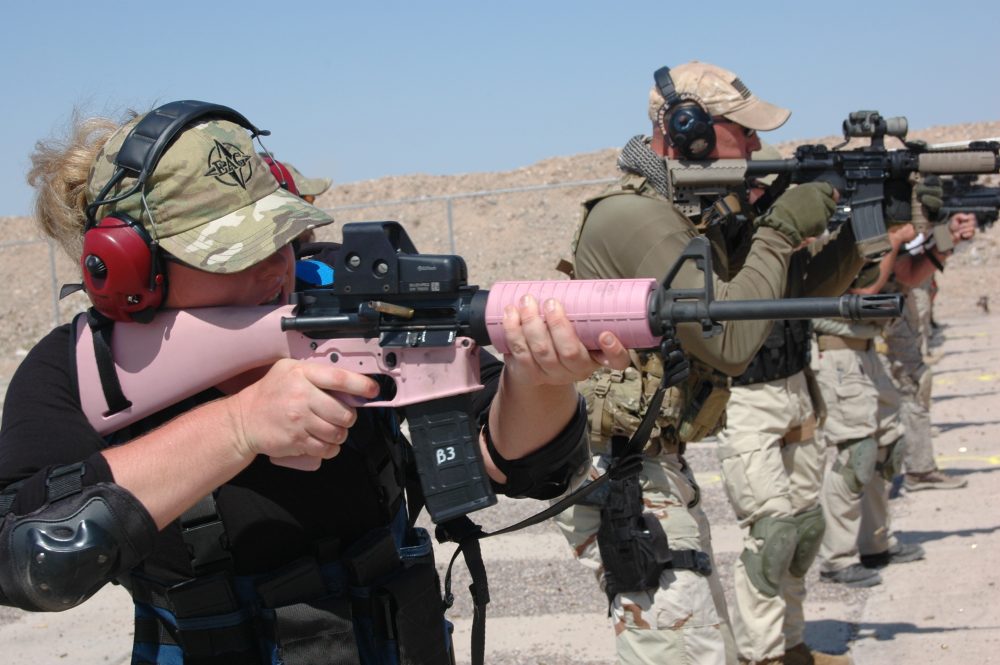 Non-standard response (NSR) requires shooter to hit target with three or more rapid shots. In this class, an NSR was seven rounds.
---
Just like Day 1, we started out with zeroes at the 50-yard line. It didn't take long, as everyone was basically still good from the day before. On this day we also performed a drill with speed reloads that had some people rethinking where to keep extra magazines.
Starting from standing, we fired two rounds and performed a speed load, then went to kneeling and fired two rounds with another speed reload, and then to prone and did a speed load after two rounds with every magazine left on our body.
We also learned how to handle different kinds malfunctions, and how to transition from the carbine to the handgun if we were 25 yards or closer to the target.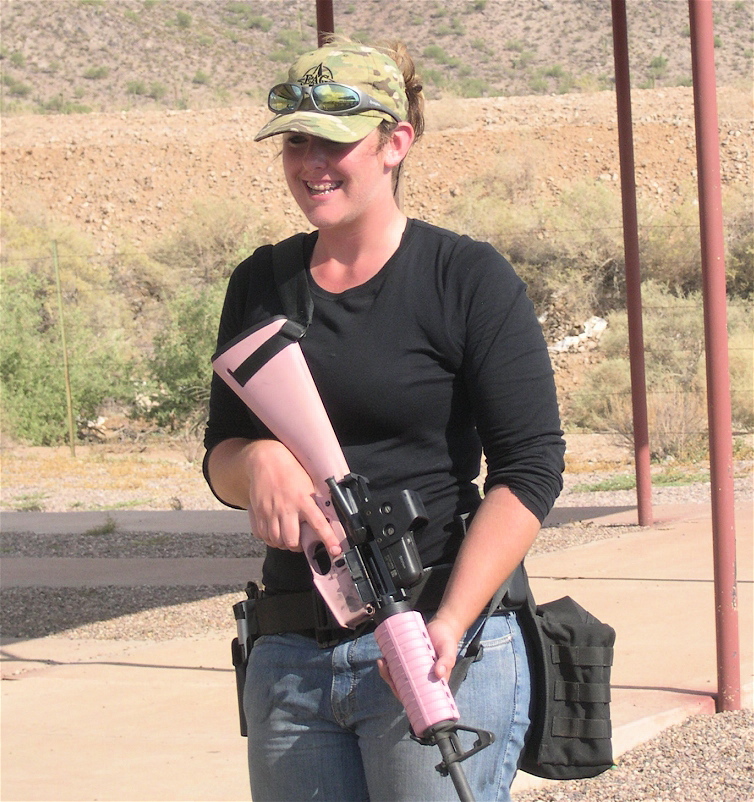 We did a lot of shooting on the move and multiple target engagement sequences, such as "Box Drills" (hammer to one target, another hammer to a second target, and then a head shot on each target) and "Roadhouse Rules" (one center hit on one target, a hammer on a second target, and then a second shot on the first target). Dynamic turns were introduced and while turning we shot a drill Pat calls the "Wave of Death"—think of the "wave" at a football game, but instead of people throwing their arms up in the air, it's a relay of shooters firing NSRs. That was fun!
The day ended with shooting strong-hand only. I did better at this than anything! Holding the carbine tightly into the shoulder was very important in this drill, to have better support of the rifle and also to help reduce strain on the wrist.
We got a little break from the heat on Day 3 ("only" about 105 degrees) with cloud cover from a thunderstorm that was moving through the area.
Once again we started with confirming zeroes from 50 yards, and then began practicing for the last big drill we would do for this class—the MEU (SOC) course. This course measured our performance through the class and put everything we learned into practice. The course involved shooting from different positions from the 50 up to the three-yard line, reloads, shooting on the move and shooting on multiple targets. We did a practice round of the MEU (SOC) first and mind you, I beat my dad in this one! He pretended to be a little upset that he was outshot by not only "just a girl," but his own daughter! (Love ya, Pops!) On the final run of the MEU (SOC) for score, though I tried my best, he did better than me. The MEU (SOC), in my opinion, is a very good course, as it makes a shooter use many techniques in a single drill.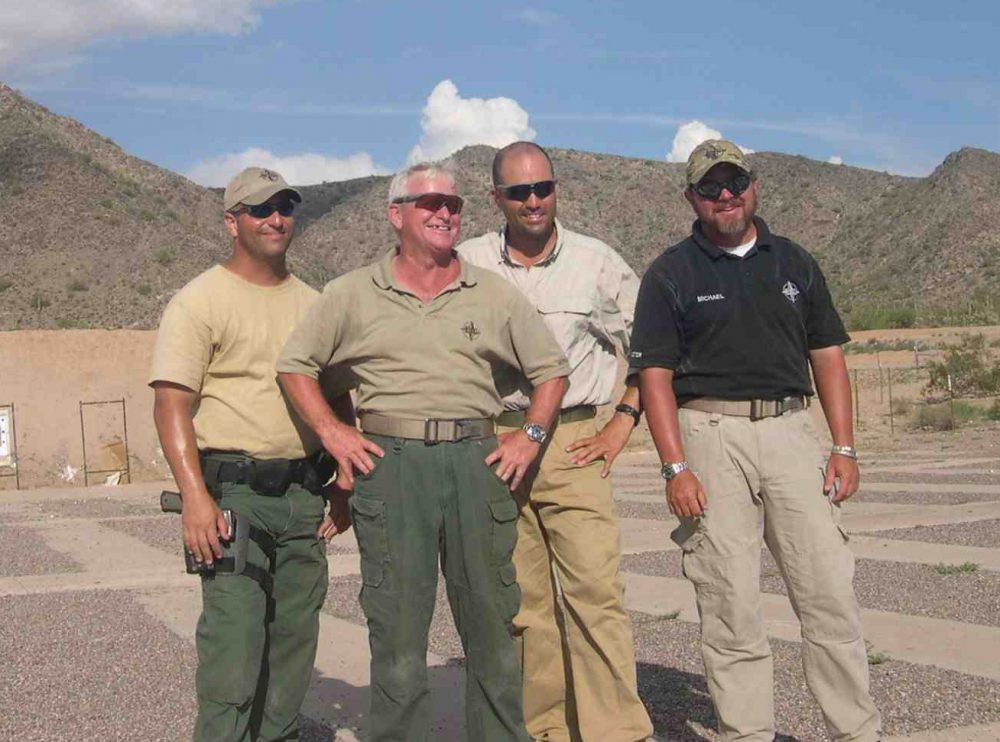 EAG crew, left to right: course host Chris Lapre, Pat Rogers, Josh K. and Mike Hueser.
---
At the beginning of this article I said I wanted to show how the skills learned in the class can not only be used by cops and soldiers, but more to the point, female private citizens. Here is my take on some techniques that may be very useful to ladies:
Mental Conditioning: I like going to the range and shooting. Now I feel like I'm a lot closer to not only being able to shoot but also, as Pat puts it, "to fight with a gun." The old saying, "When there is a will, there is a way" does not really apply to shooting in self-defense, because without the will (mental conditioning), the way (the carbine) does you little good.
Offset: Unless you marry a prince and live in a huge palace (yeah, that's going to happen), a bullet fired from a carbine will hit low at normal room distances. If your child or husband has been taken hostage in a home invasion, if you shoot and don't remember the offset factor, you may kill a loved one instead of the invader. I wouldn't want to carry that baggage around for the rest of my life.
Indoor ready: While I know it's best to stay put and wait for help, it may not always be possible. If I ever have to move through my house with a carbine, now I know how to do it safely and effectively.
Shooting With One Hand: For cops and soldiers, this is probably a technique to use if wounded in one arm. In the event of a home invasion, this may be a very important technique for a woman, as you can shoot at an attacker with just your strong arm while holding your child back with the other to keep them out of harm's way.
Box Drills and Roadhouse Rules: As Pops is fond of saying, "Anything worth shooting once is worth shooting twice." These drills are very good if facing more than one attacker.
Monica Position (double kneeling): There is an intruder in your home, you have the 911 operator on the line and have taken cover behind a heavy dresser in your bedroom. In the "Monica," you can get your torso very low or fairly high to fire if necessary. It is also easy to "roll out" to take a shot, and you can get out of the position and move if need be with no problem.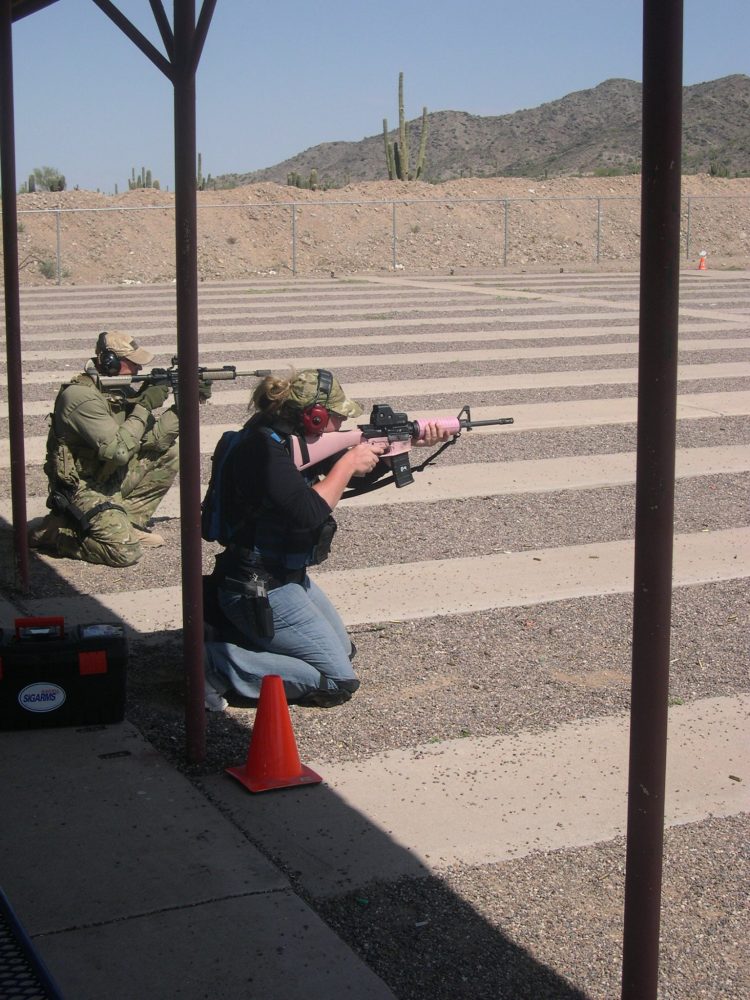 If you have never taken a class with Pat Rogers, you're missing out. Pat, Josh and Mike were terrific instructors and very patient. Mike was constantly on the watch for potential heat casualties, and Josh did a great job of keeping students' carbines up and running—including replacing an extractor and extractor spring that had gone bad in my carbine. A tremendous side benefit was meeting and talking with a great bunch of people. I would recommend this course to any man or woman.
In the EAG Tactical Operators Course, I definitely learned some very important skills and techniques, found out what I'm good at and what I need to practice more. I also realized that this class is the tip of the iceberg as far as my training is concerned. I can hardly wait for the next course…
WHAT THE AUTHOR USED:
The carbine I used was my "tactical pink" Cavalry Arms Cav-15 Scout ("Cavalry Arms Cav-15 Scout Carbine," September 2007 S.W.A.T.), equipped with an L-3 EOTech 553 sight and Viking Tactics VTAC-MK2 sling. During the class I saw the benefit of a vertical foregrip, and I have since retrofitted my carbine with a DoubleStar Corp. oval rail to which a Command Arms vertical foregrip and a SureFire Scout light are attached. Magpul Industries PMAG magazines were used exclusively and worked perfectly. Ammunition was Black Hills 68-grain Match.
For transition drills, the pistol I used was an S&W stainless steel 1911, fed with blue, eight-round ACT mags. Ammunition was Black Hills 230-grain full metal jacket loads.
Other gear included a Blade-Tech Drop & Offset holster that is well suited as a belt holster for women due to its offset. It was worn on an Eagle Industries Duty Belt with Secure Buckle. Extra pistol magazines were carried in a Blade-Tech injection-molded double magazine pouch. An Eagle Industries SAS Dump Pouch was also worn on the belt.
Although I honestly doubt I would use it outside of a training environment, I also wore an Eagle/SKD chest rig ("Lawful Carry: SKD Tactical Chest Rigs," August 2006, S.W.A.T.). This chest rig can hold up to eight carbine magazines—I carried four in it. While possibly not needed by most private citizens, the chest rig allowed me to stay on the firing line when some drills required multiple magazine changes. In the smaller pouches in front of the carbine magazine pouches, I carried one of the new SureFire G2-LED flashlights, a multi-tool and a small bottle of Weapon Shield from Steel Shield Technologies for lubricating my carbine. My hydration pack and knee and elbow pads were purchased at Big 5 Sporting Goods.
SOURCES:
EAG Tactical
Dept. S.W.A.T.
P.O. Box 3000
Chino Valley, AZ 86323
(928) 636-6686 (fax)
www.eagtactical.com
Black Hills Ammunition
Dept. S.W.A.T.
P.O. Box 3090
Rapid City, SD 57709-3090
(605) 348-5150
www.black-hills.com
Blade-Tech Industries
Dept. S.W.A.T.
2506 104th Street Court South
Building H
Lakewood, WA 98499
(877) 331-5793
www.blade-tech.com
Cavalry Arms Corp.
Dept. S.W.A.T.
723 W. Commerce, Suite A
Gilbert, AZ 85233
(480) 833-9685
www.cavalryarms.com
Command Arms Accessories
Dept. S.W.A.T.
76 Vincent Circle
Ivyland, PA 18974
(267) 803-1517
www.commandarms.com
DoubleStar Corp.
Dept. S.W.A.T.
P.O. Box 461
Winchester, KY 40392
(859) 745-1757
www.star15.com
Eagle Industries Unlimited, Inc.
Dept. S.W.A.T.
1000 Biltmore Drive
Fenton, MO 63026
(636) 343-7547
www.eagleindustries.com
L-3 EOTech, Inc.
Dept. S.W.A.T.
1201 E. Elsworth Rd.
Ann Arbor, MI 48108
(734) 741-8868
www.L-3Com.com/Eotech
Magpul Industries Corp.
Dept. S.W.A.T.
400 Young Court
Erie, CO 80516-8440
(877) 462-4785
www.magpul.com
SKD Tactical, Inc.
Dept. S.W.A.T.
P.O. Box 245
Highland Falls, NY 10928
(845) 897-2889
www.skdtac.com
Smith & Wesson
Dept. S.W.A.T.
2100 Roosevelt Avenue
Springfield, MA 01104
(800) 331-0852
www.smith-wesson.com
SureFire, LLC
Dept. S.W.A.T.
18300 Mount Baldy Circle
Fountain Valley, CA 92708
(800) 828-8809
www.surefire.com
Viking Tactics, Inc.
Dept. S.W.A.T.
3725 Heatherbrooke Drive
Fayetteville, NC 28306
(910) 987-5983
www.vikingtactics.com
Steel Shield Technologies
Dept. S.W.A.T.
3351 Industrial Blvd.
Bethel Park, PA 15102-2543
(800) 390-1535
www.steelshieldtech.com