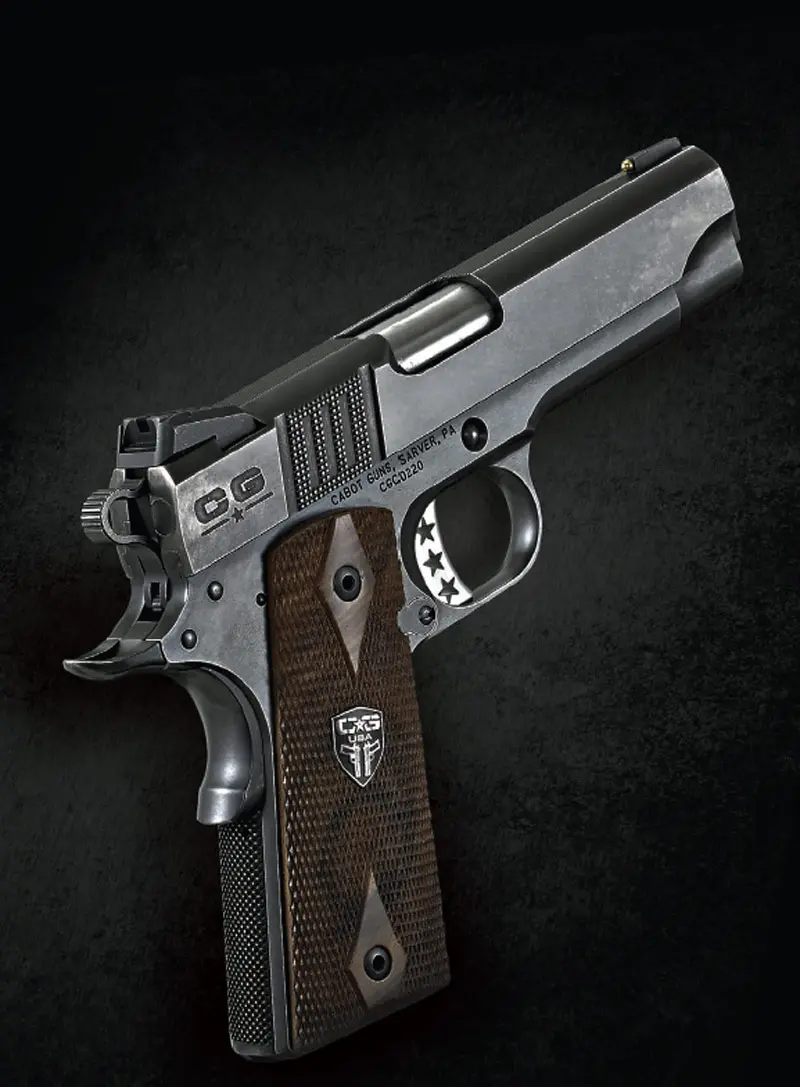 In the vast realm of 1911-style pistol production, Cabot is not a household name among average shooters. Nor would Joe Plinker ever conceive of draining his bank account to acquire a contemporary handgun that exceeds the cost of some exotic automobiles.
But those in the know and who are well heeled, or a highly ranked corporate-sponsored competitive shooter who is worthy of the very best competitive tool, or has been consistently defeated by a Cabot-armed competitor are quite familiar with the name.
Cabot is associated with the highest quality materials and workmanship, and Cabot's unique innovations have been incorporated into the finest 21st century examples of John Browning's masterpiece.
Cabot's founder and President Rob Bianchin stated that from the outset, his Pennsylvania-ensconced factory has been dedicated to producing the "finest 1911 in the custom pistol genre, and without a doubt I believe we have accomplished that goal."
ASTEROID PISTOLS
Constructed of structurally superior in-house blocks (billets) of steel, Cabot offers 14 different aerospace-quality 1911s, some with increasingly astronomical prices, including a pair forged from an earth-impacting asteroid.
Although Cabot's more exotic and pricier pieces may end up in display cases as presentation guns, all of them will function as personal defense sidearms. But realizing some shooters will seek out and pay for a one-of-a-kind fighting pistol, Cabot offers its 416 stainless billet steel Vintage Classic Commander (VCC)—a new version of Cabot's S103 Commander "Full-Cycle Carry Pistol."
It is also available as a full-sized 1911 and as an inverted left-handed piece. At a tad under $4,000 and with several extra-cost options, it's one of an increasing number of highdollar fighting pistols being offered to today's discriminating public. This can be a risky venture for the manufacturer, because guns with Tiffany price tags are purchased with very high performance expectations.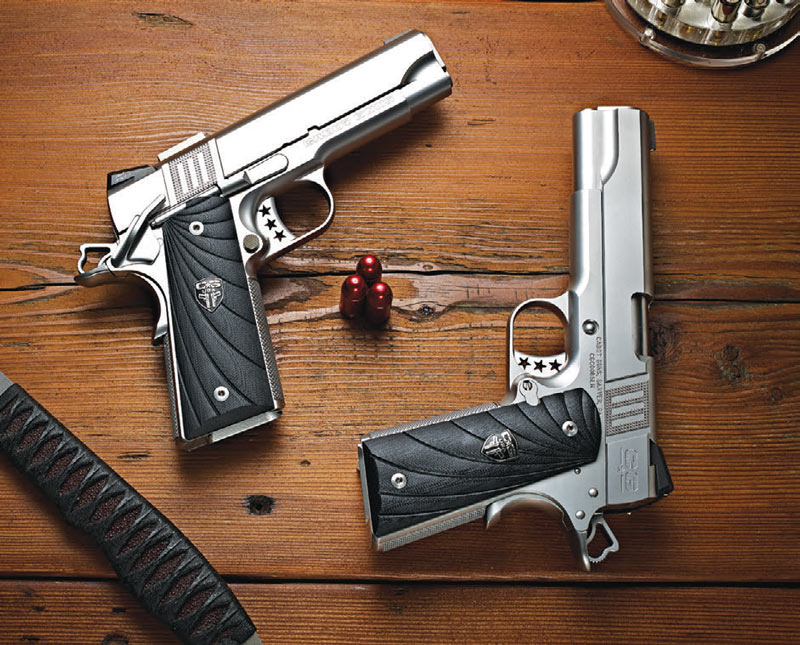 FAITHFUL REPRODUCTIONS
There are almost as many 1911 clones and imitations as there are stars in the sky. Everyone fields their version of the 100-plus-year-old handgun.
A number are "improved" and often are referred to as 1911-2000s. Cabot believes John Browning had it right the first time, so all their pistols are faithful clones of the original 1911. They have to their mind re-engineered "perfection" by combining traditional gunsmithing skills with aerospace technologies.
Adhering to Mr. Browning's specifications also makes a plethora of holsters already available. The only differences are 21st century steel concepts. Thirty-one of the stronger and improved internal and external components are made in-house from scratch billet steel.
Of course sights, trigger, grip and thumb safeties, magazines and finishes have been updated, but the internals have remained true to original ordnance blueprints.
FIBONACCI-INSPIRED STOCKS AND RHOMBUS CHECKERING
Cabot considers ergonomics, especially the grip, second to reliability. Their execution of the wood and steel that compose the stock is designed for the shooter's grip to be easily established and maintained and subconsciously repeatable.
Cabot has accomplished this with the VCC, where beauty and mechanical perfection have been combined in checkered Turkish Walnut stocks with inlaid Cabot medallion that are solidly anchored in place by Hex screws and a second set of rare American Holly white wood panels for whimsical cosmetic change if desired.
Options here include four different Fibonacci-inspired spiral-designed stock panels. The pattern occurs in nature, in everything from Nautilus shells to DNA strands, and was chosen for its beauty and function. The trigger guard is contoured and relieved, also with shooter access in mind. Furthermore, the guard is undercut to facilitate a higher grip.
Borrowing from automobile tire technology, this feature is augmented by precise diagonally cut Rhombus 24 LPI traction checkering on both the front and back straps, further enhancing one's hold on the firearm as it accelerates during rapid fire.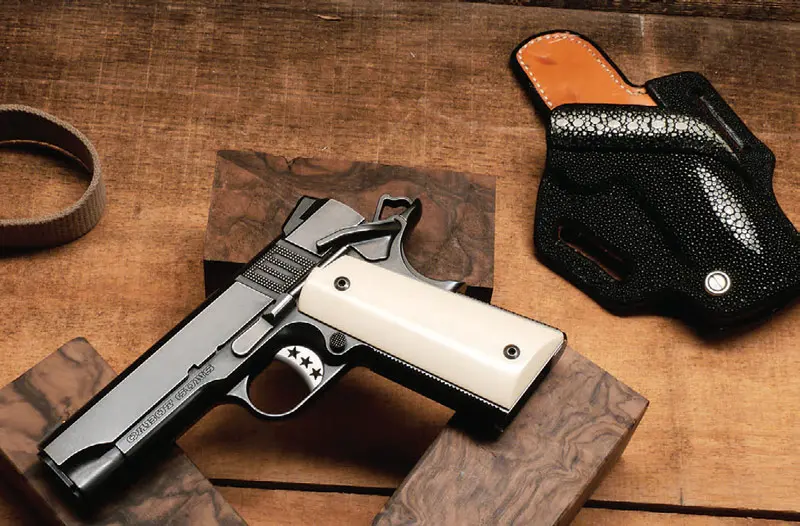 INTENTIONAL TRIGGER SLACK
Employing a Series 70 action, Cabot's EDM Wire-cut Tristar aluminum trigger is adjusted to 3.5 to 4.0 pounds of crisp pull. There is no overtravel adjustment. Trigger travel is by design per advice from a Cabot-sponsored competitive shooter who maintains that a shooter cannot shoot as accurately with a short, crisp trigger. There needs to be some pretravel before the break to assist in stabilizing a sight picture.
Affecting this trigger is more difficult to do than a crisp lever, but regardless, there should be no creep. Cabot EDC sinkers the trigger slot to maintain tolerance to control bow position. Cabot also makes the sear and hammer. Other triggers are available per customer request.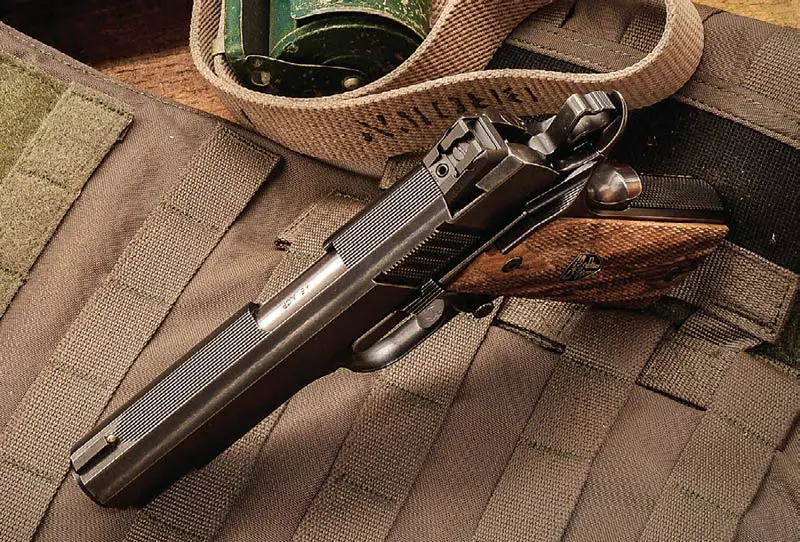 FULL CYCLE FUNCTIONING
The VCC departs company with the hoi polloi of compact 1911s by retaining the full-sized features of the service pistol in a smaller package. Thus, the VCC's rails are full 1911 length, which maintains standard cycle length and avoids having to adjust its cycle length to shorten rearward travel, which affects recoil timing and feeding.
Externally we see a smaller version of the service pistol, but internally the dimensions of a full-sized service pistol are preserved. The only differences are slide and barrel length. Ergo the Commander has the same internal functions, timing and cycling that retain the legendary reliability or fullcycle technology of America's iconic military sidearm.
Other factors such as rail smoothness, spring force and weight, initial ammo pressure, binding, impacts, and wedging influence reliable functioning and must be either balanced or eliminated to prevent the "uglies" from occurring and perfect the 1911's timing.
Attention to detail includes laser welding rather than swage pressing to install the plunger tube, which is considered a weak point in 1911 builds.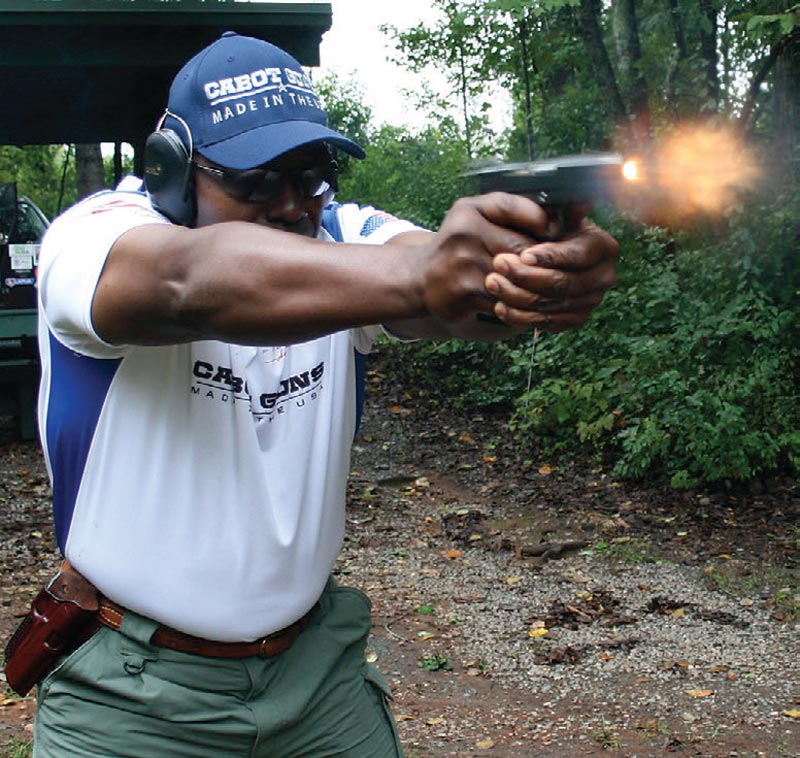 TRINITY STRIPS
Atop its slide, Cabot's reverse dovetail front sight, which bears the optional gold-dot bead, is introduced from the slide's muzzle end, eliminating line-disrupting slide-surface dovetails and any potential for sight drift or possible snag points.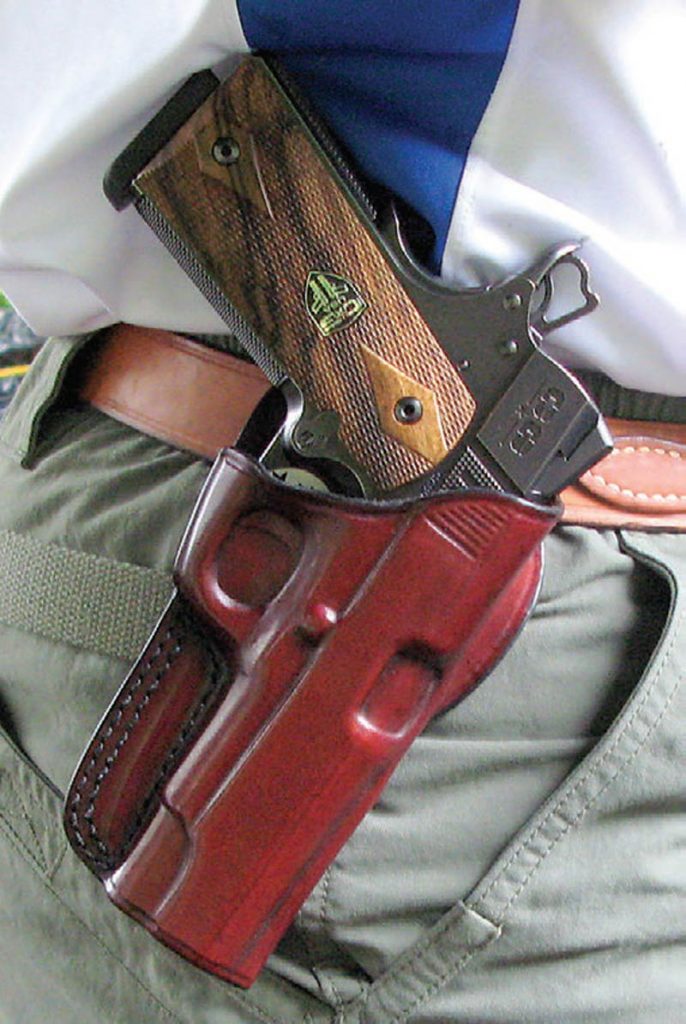 The Ed McGivern-style gold-dot bead and front blade host appear to emerge from the slide's dorsal surface, which allows its creators to run serrations along the entire dorsal length of the slide. These arrow-pattern serrations run from the optional Novak-style adjustable aperture to seamlessly mate with the pistol's forward index point. This pattern draws the gunner's eye to the front-sight gold-dot bead superimposed on the target while nixing vision-obstructing surface glare.
The slide's flats exhibit attractively milled and effective rear bilateral Trinity Strips grasping serrations that are embedded within checkering. This process takes almost two hours of machining time. These unique serrations have passed an informal Special Forces test, as detailed on Cabot's website.
The starboard-side Panzerstahl (Armor Steel) hand fit and tuned extractor is internal and complements the tanklike large shoe ejector, which will not come loose. Its ejection port has been flared and lowered for more efficient extraction and ejection.
Everything that reciprocates surface-on-surface is 416 stainless billet steel that is hand tuned and fitted. This includes manually marrying the slide to the frame. An untraditional hand-polished steel guide rod threads the 18-pound flat wire recoil spring. A skeletonized Commander-style hammer ignites festivities.
A modern raised beavertail grip safety spreads out felt recoil and eliminates hammer bite, a characteristic of the original design. A trimmed thumb safety of the gas-pedal persuasion is located on the port side, placed just in front of the sweeping beavertail grip safety.
One of the neatest developments by Cabot is a scratchproof slide lock/release. Many 1911s bear that vertical scratch caused by the slide stop being reinserted into the slide's disassembly notch. The magazine release is raised and checkered and the magazine well beveled for fast insertion of the eight-round stainless steel magazine.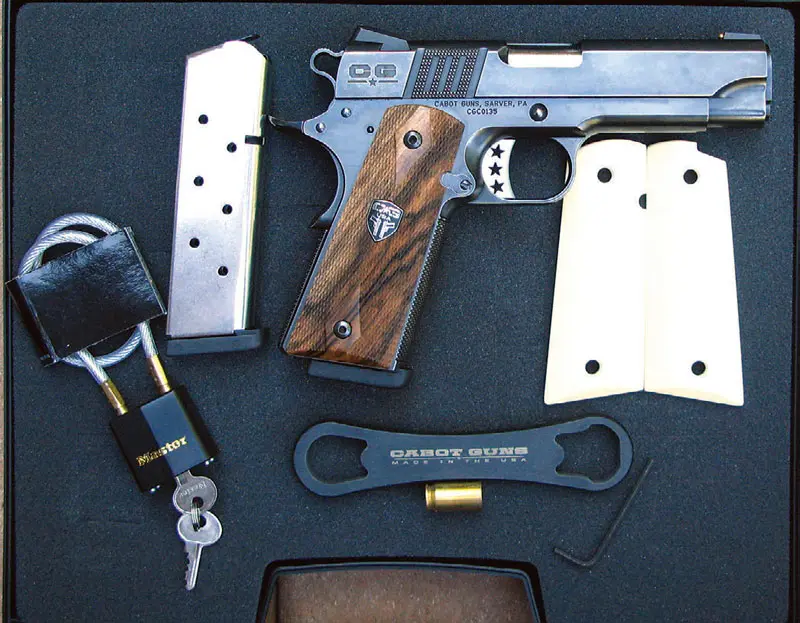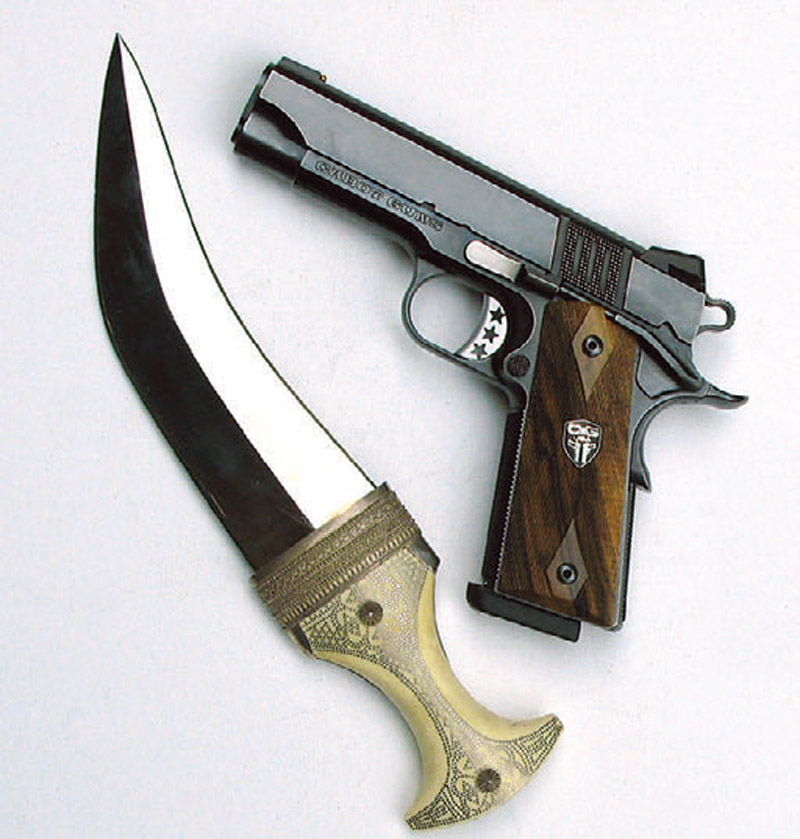 PROPRIETARY MATCH BARREL
Sharing space in the slide and frame is the 4.25-inch Match barrel, which was designed specifically for the VCC and S103 pistol. Manufactured to proprietary specifications and tolerances by an independent source, it is not a drop-in component, but is hand fitted. It is button rifled and uses a Browning swinging link and traditional polished feed ramp.
Cabot is not partial to the ramped barrel for the .45 ACP round. Certain finishing operations are done in-house and modifications to the dimensions of the upper locking lugs and barrel diameter at the barrel bushing are also carried out. The barrel's crown is cut and deeply recessed.
This old-world reliance on highly skilled and gifted craftsmen rather than solely on machines and robotics produces exquisite firearms that exude the highest quality and their own individualities. With the human element involved, no two Cabots are exactly the same.
The only exception is guaranteed consistent accuracy: 1.5-inch groups at 25 yards. To verify this promise, Cabot provides an old-world test target fired at 15 yards from a Ransom rest, showing a five-round group measuring 0.492 inch.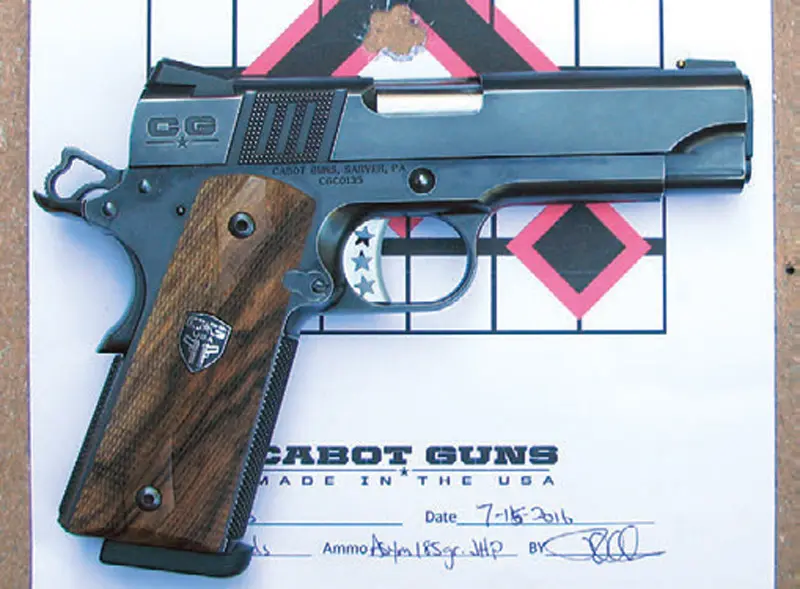 CABOT'S KIT
The VCC was shipped in a sturdy synthetic case instead of its actual wood presentation case. Rob advised that the case was being modified and was not available to ship. Upon opening the case, I found the pistol enclosed in a red velvet glove similar to what you may find clothing an expensive bottle of aged Scotch. Sharing the space was a Cabot cleaning cloth included to remove fingerprints and smudges from the pistol's jewel-like surface.
The pistol's second magazine, bushing wrench, and other goodies were hidden beneath the padded case's interior. As mentioned previously, the VCC is accompanied by a set of white "ivory" stocks made of American Holly that resembles Mammoth Ivory.
Its finish was not the expected jewel-like, highly polished and deep hot blue specimen, but vintage to reflect its period of production, with a nostalgic patina and worn look that naturally accrues over years of existence and use.
However, this is a proprietary thermochemical treatment that is on par with the hardest finishes ever tested by Cabot. It has exceptional wear characteristics. The VCC is "not intended to be a safe queen, but a working gun that will retail for under $4K."
MODEST LUBE
Ever since my association with USMC Weapons Training Battalion, I have run my 1911s wet with ample lubrication. I used Snail Snot, a witch's brew that the Marine armorers developed for the rifle and pistol teams.
In contrast, Cabot recommends a modest amount of lube, because one of the byproducts of building a high-tolerance gun is that it does not have to be dripping wet to function. The higher the component and overall tolerances, the better a mechanism operates for a longer period of time. The only gun oil Cabot uses is Archoil. Rob recommends that his pistols be broken in with at least 200 rounds and then cleaned. Post break-in, it is propellant dependent, but cleaning after every 800 to 1,000 rounds is advisable.
The VCC and other Cabots are available in southpaw configurations. The VCC can be acquired as a matched "mirror image" left/right pair in stainless steel or optional Black Nitride finishes, further augmenting its collector's or shooter's desirability.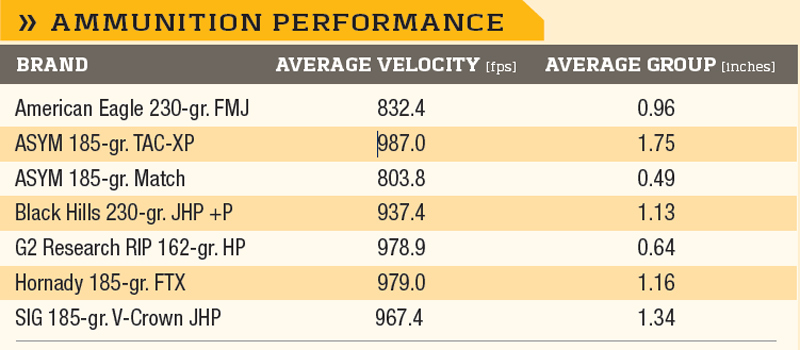 BREAK-IN PAINS
The Cabot Vintage Classic Commander is designed to handle full-power service ammunition. A fine handgun deserves to be fed excellent ordnance, and Cabot recommends ASYM Precision Ammunition.
Cabot's team shooter and Top Shot: All Stars' William Bethards conducted the accuracy evaluation from a handheld rest at 25 yards.
With factory settings, the Cabot shot high and to the right. Overall the groups were very good, but Bethards actually fired a tighter group standing one-handed at the same distance. ASYM's outstanding 185-grain JHP Match ammunition had an average five-round cluster of 0.49 inch at 803.8 feet-per-second (fps).
When we were still well within the break-in number of rounds, the Cabot experienced a few problems. With American Eagle 230-grain FMJ, there was one failure to chamber and the slide did not go into battery. A failure to eject was experienced with Hornady 185-grain FTX. William felt the Black Hills 230-grain JHP +P was "punishing to shoot." All spent cases were dented at the mouth, indicating that the brass was hitting the pistol's ejection port during ejection.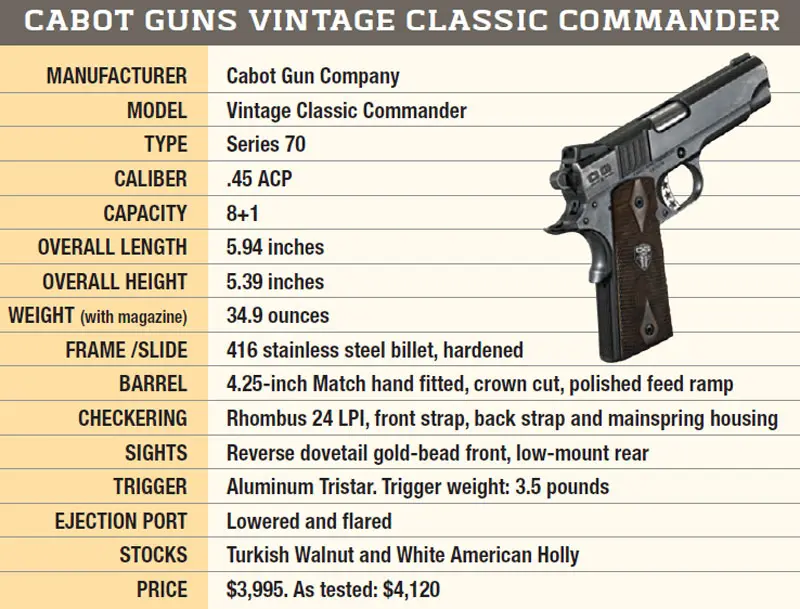 This can be caused by a combination of extractor, ejector, recoil spring, or lack of flaring and lowering the ejection port. But ejection was consistently robust, with cases flying high and yards away from the right shoulder. No stoppages occurred during rapid-fire strings.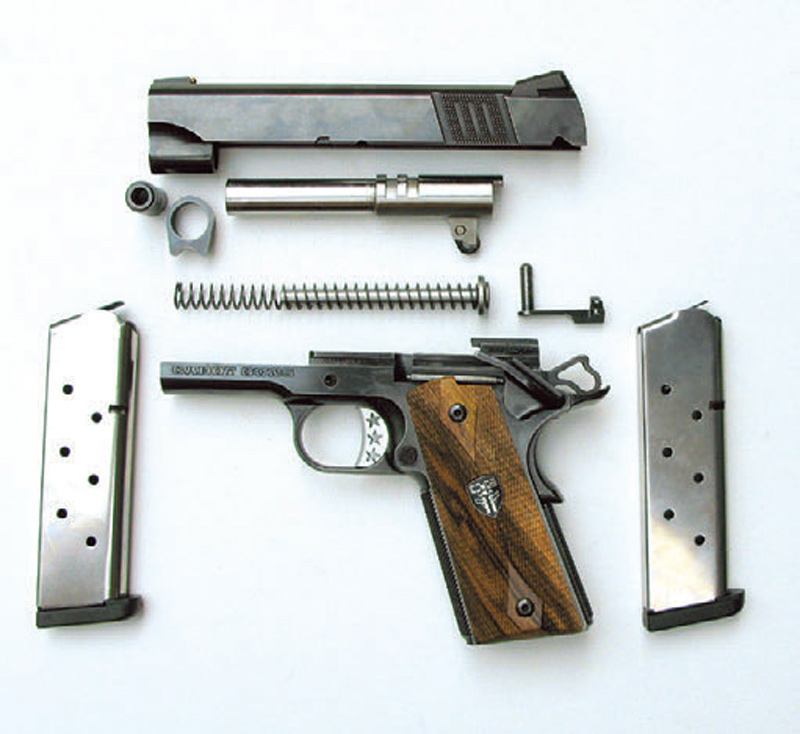 SHOOTING IMPRESSIONS
Also present was another evaluator who is a firearms instructor for a federal agency. He called the VCC's trigger awesome and loved the checkering on both the wood stocks and front and back straps. Recoil was typical 1911 but tolerable. Sights were quick to acquire. The gold bead and wider rear sight aperture were perfect. It is also the right size for a carry piece.
Bethards described its trigger as "phenomenal" and the gun "feels great in the hand." He approved of its skeletonized hammer, which results in faster ignition. The beavertail grip safety was "well integrated" into the pistol's frame and worked smoothly. When he used the gold bead, the pistol grouped high, so he used the front sight's horizontal edges to lower the impact. Bethards predicted the VCC would hold its accuracy well after thousands of rounds were expended through it.
CONCLUSIONS
For the well-to-do and discerning self-defense oriented shooter who wants to command his immediate environment with an absolutely reliable, powerful, and accurate piece that is also pleasing to the critical eye, the incredible Cabot Vintage Classic Commander represents the epitome of that quest.
After researching, handling, and shooting the VCC and realizing what has gone into developing this outstanding firearm, I have acquired a certain reverence for the piece.
Cabot is not locked into America's caliber, and because of growing demand will be offering a 9x19mm version in the future.