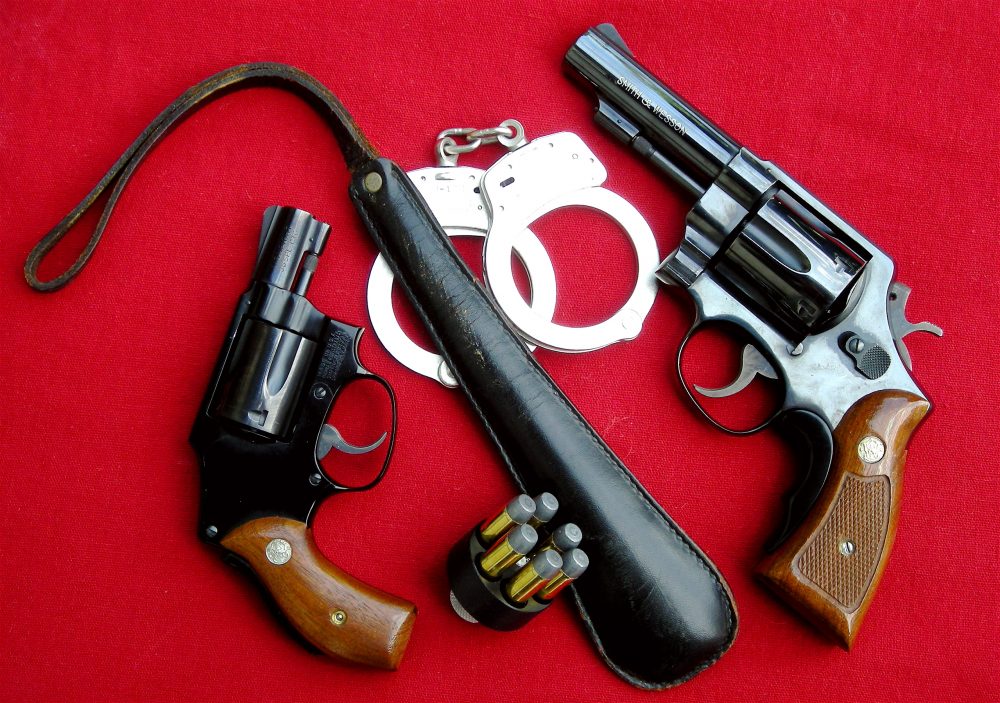 One of Thompson's original Model 58 revolvers along with other weapons used at the time. Lengthy leather-covered device was known as a "tactile community policing aid."
---
Smith & Wesson has been reintroducing older model revolvers as part of their Classic series. And it's been interesting for me to follow which ones have been included. In a lot of cases, I still had my original revolver from back in the day, so didn't see any need to purchase a brand new one.
I did purchase a four-inch Model 22, since I had never had one in that length and thought a four-inch fixed-sight .45 ACP revolver would be interesting. I really became enthusiastic about the Classic series, however, when the Model 58 was included.
In its time, the Model 58 was maligned by quite a few, but not by a group of us who carried the ".41 Magnum M&P," as the 58 was sometimes known.
I never set out to own a .41 Magnum or a Model 58. I was working my way through college as a deputy sheriff in the mid-1960s, a time when Smith & Wesson N-frame revolvers were very hard to find. I had already read Elmer Keith's Sixguns a couple of times and really wanted a four-inch .44 Special—none around. I would probably have settled for a Model 27 or Model 28 .357 Magnum—none around.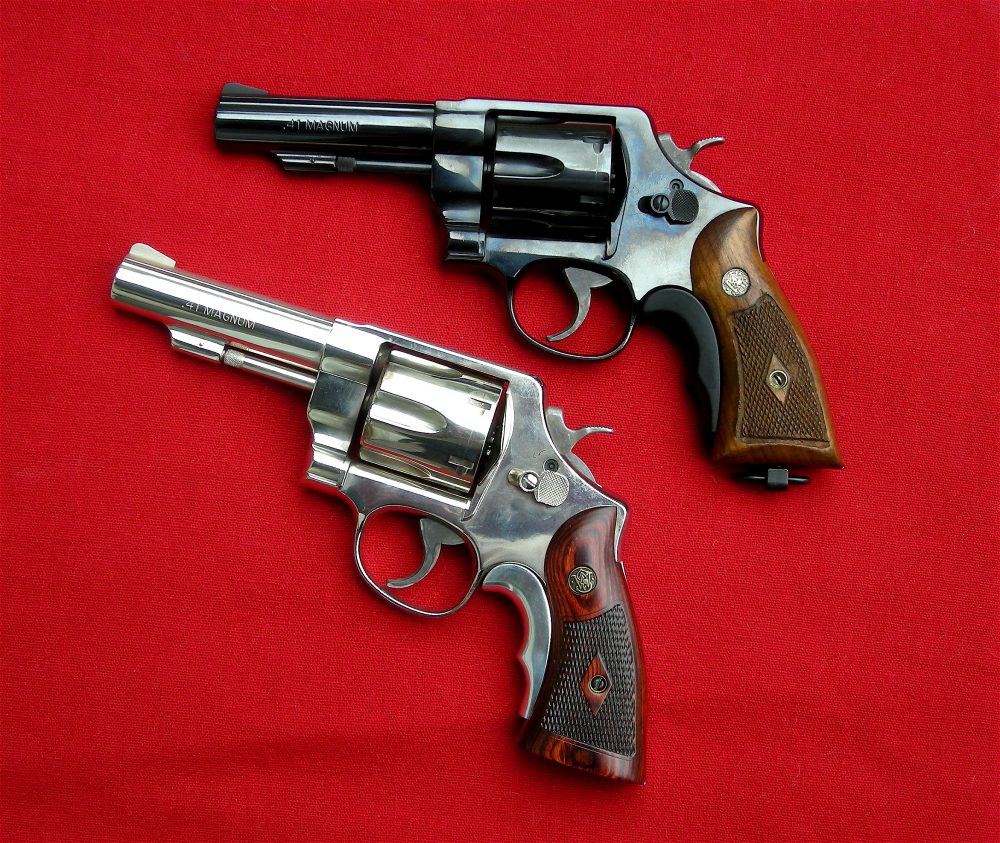 Two new Smith & Wesson Model 58 Classics. Thompson replaced blued revolver's grips with older Magna grips. Same Magna grips on nickeled 58 Classic are now available on blued one. Blued 58 Classic has lanyard ring.
---
I kept carrying my five-inch Colt Official Police revolver and checking the two local gunshops every week or so. One day, as soon as I came in to one of the shops, the owner motioned me over and said, "I have something I took in trade a couple of days ago and put aside in case you want it." From under the counter he pulled out an oversized S&W M&P that had ".41 Magnum" on the barrel.
The Model 58 had been introduced in 1964. I had seen photos of it and probably read an article or two about it. I knew Elmer Keith, Bill Jordan and some others had pushed for a "police" Magnum revolver between the .357 and .44 Magnums, and that the .41 Magnum was the result. The Model 58 didn't look as sleek as other S&W Magnums—no shrouded ejector rod. It looked like a large Model 10, a fact that a few police officers who were limited to .38 Special by their departments took advantage of, since the 58 looked like a 10 in a duty rig.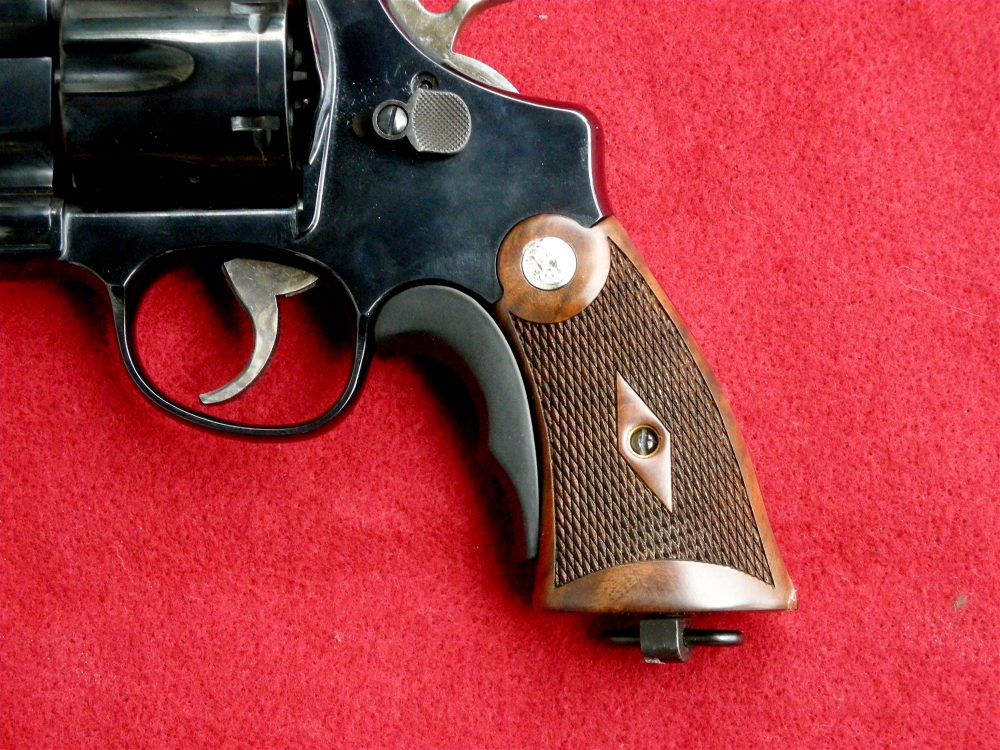 Grips that came on Thompson's blued 58 Classic made it virtually unshootable.
---
I concluded that the Model 58 was likely to be the only S&W Magnum I was going to see for awhile, so I expressed interest. In those days, dealers sold even used Smith & Wesson Magnums for retail or more. The Model 58 was priced at $90 with half a box of the 210-gr. lead medium-velocity .41 Magnum loads. With a 10% police discount, I got it for $81. That was probably around retail at the time. I put $20 down and picked it up when I had the rest a few weeks later.
I shot all the ammunition except for 12 rounds, to make sure it worked and to determine where it shot with the fixed sights, then borrowed a used holster for a four-inch S&W N-frame. I didn't start carrying it on duty until I was home in St. Louis for a weekend and could purchase a black holster that would work on my duty rig.
In those days, a "duty rig" was a lot different than it is today. I had been carrying my Official Police holster and a combo handcuff case with six .38 loops on my belt. That was it. My nightstick and flashlight were stuck between the backrest and seat next to me, my slapper was in my back pocket, and my knife was in a front pocket. When I carried my backup S&W J-frame, it was in the left jacket pocket in the winter and left trousers pocket the rest of the year.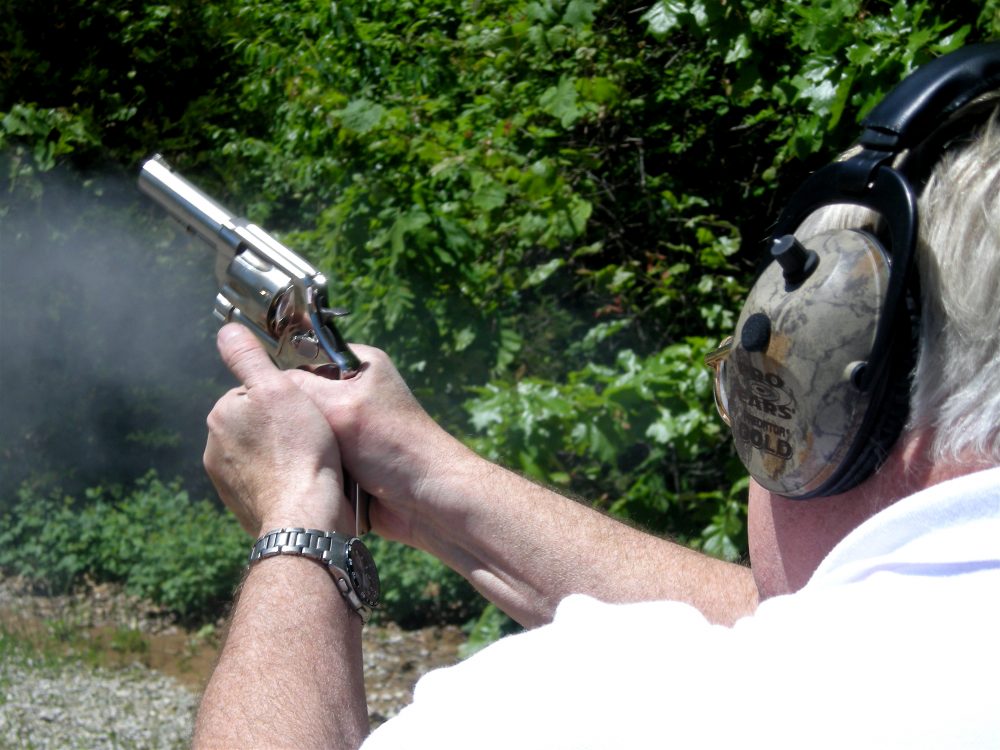 Recoil with CorBon 250-gr. SWC loads is definitely noticeable.
---
While in St. Louis, I also purchased a box of high-velocity 210-gr. JHP .41 Magnum loads. I managed to fit six of those into the loops on my handcuff case/ammo carrier but continued to carry the 210-gr. medium-velocity loads in the gun, since I could shoot them faster double-action. Just as a comment on police "training" back then, on my agency I was often the only one shooting double-action at the range.
I became very fond of the Model 58 and used it the rest of the time I was with the sheriff's department. The couple of times I had to point it at anyone, they seemed impressed with the big semiwadcutters visible in the chambers. I used to work a second job for a local finance company and would earn $10 for going along when they had to repossess a vehicle. On one occasion, I got to see how fast an irate repossessee could simultaneously raise his hands and drop a tire iron! I got $20 for that outing.
I became so fond of the Model 58 that, when I left the States to attend graduate school in London and later work on protective teams in Europe and elsewhere, it was one of four handguns I did not sell. Just as a point of interest, the other three were a Chief's Special, a Browning Hi-Power and a Colt Woodsman. When I was back in the U.S., I continued to shoot my Model 58, though I bought quite a few other N-frame magnums over the years.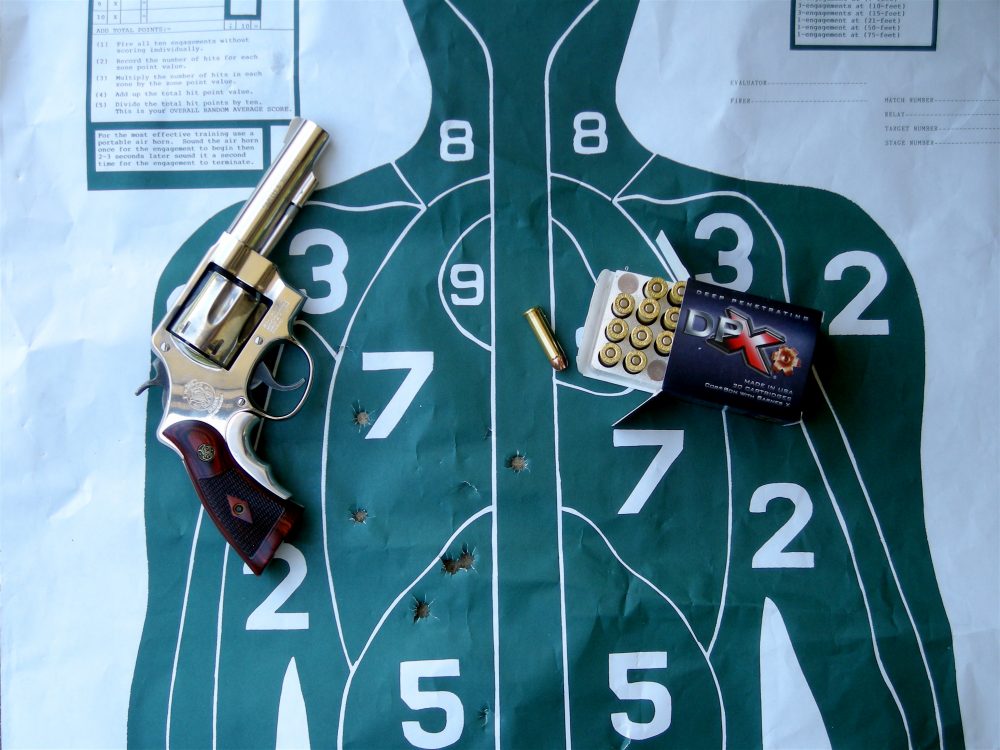 Six-shot, double-action group at 15 yards with nickel 58 Classic and CorBon 180-gr. DPX loads. This load proved the best for double-action shooting.
---
Almost since its introduction, there have been those who have claimed the .41 Magnum does not need to exist and could be discontinued. Fortunately, those of use who like the facts that it shoots flatter and has less recoil than the .44 Mag are abundant enough that the round has not disappeared. Periodically, in fact, I would worry about the popularity of the .41 Magnum round and lay in a few more boxes. I also kept my reloading dies and when I had emptied a couple hundred cases would load them up.
The Model 58 was discontinued in 1977 and for awhile I saw them at gun shows at quite reasonable prices. I picked up a spare blued one and a nickeled one and then another spare blued one. I would probably have kept buying them, but prices started to rise and Model 58s became scarcer. Within the last ten years or so, there seemed to arise a cult of those who wished they had a Model 58 and would pay a lot to get one. That no doubt helped influence Smith & Wesson to bring the 58 back. I'm certainly glad they did. I immediately ordered both blued and nickeled versions.
When my new Model 58s came in, I got out one of my originals to compare. For the most part they are alike, but there are a few notable differences. You will immediately notice the keyhole above the cylinder release, which is present on new S&W revolvers. Also the original Model 58 had recessed chambers (as did all S&W Magnum revolvers at the time).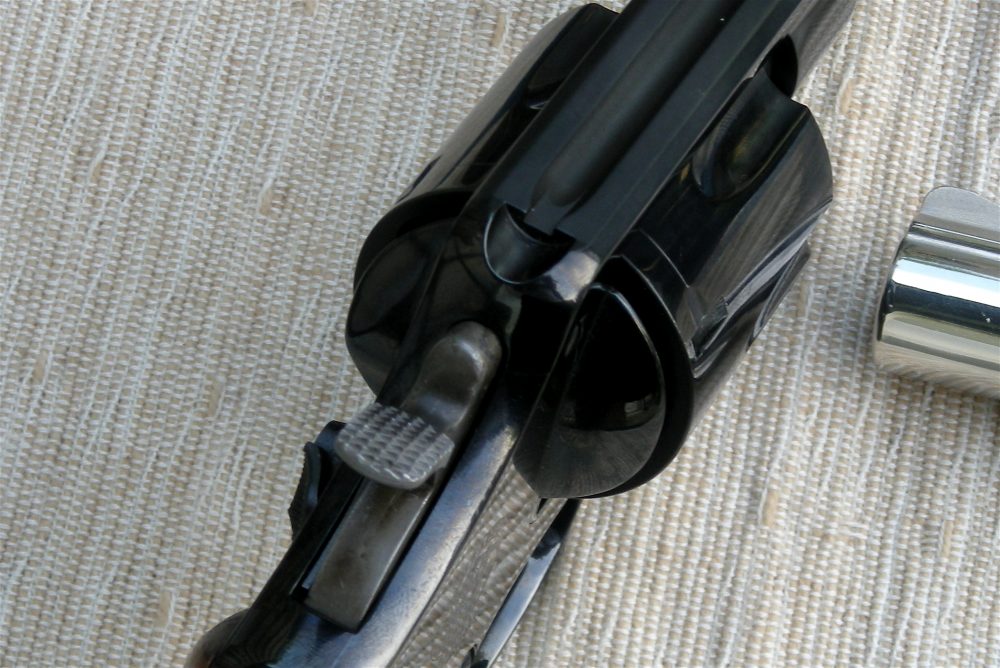 Model 58's fixed sights are rudimentary but suffice to 25 yards.
---
The grips are different, too. Original Model 58s normally came with S&W N-frame Magna grips. The new ones have different grips for the blued and nickeled guns. The blued Classic 58 has small, insert grips similar to those used on early N-frame .44 Special hand ejectors, though they were around still for the prewar .357 Magnums as one of the options. The nickel Classic 58 has Magna grips. I will say more about the grips later.
Specs on the new 58s are pretty much the same as the original ones: 9.25 inches overall, four-inch barrel, 41 ounces in weight, fixed square-notch rear and ramp front sights.
In anticipation of getting the Model 58s, I had acquired two Tyler Manufacturing Company T-Grips, since I have always left the Magna grips on my 58s and just used the T-Grip adaptors. The grips on the nickel revolver felt good with the T-Grip, but the small grips on the blued revolver did not.
In my original Model 58 revolvers and my Smith & Wesson Model 657 Mountain Gun, I've tried a lot of different loads, so I had a good idea what to shoot in the Model 58s. For my first range session, I took along CorBon 170-gr. JHP, 250-gr. SWC, Winchester Silvertip 175-gr., and 210-gr. SWC reloads. I had not shot the 250-gr. CorBons before, but with that heavy bullet and a muzzle velocity of 1,325 fps, I expected them to be a handful—literally!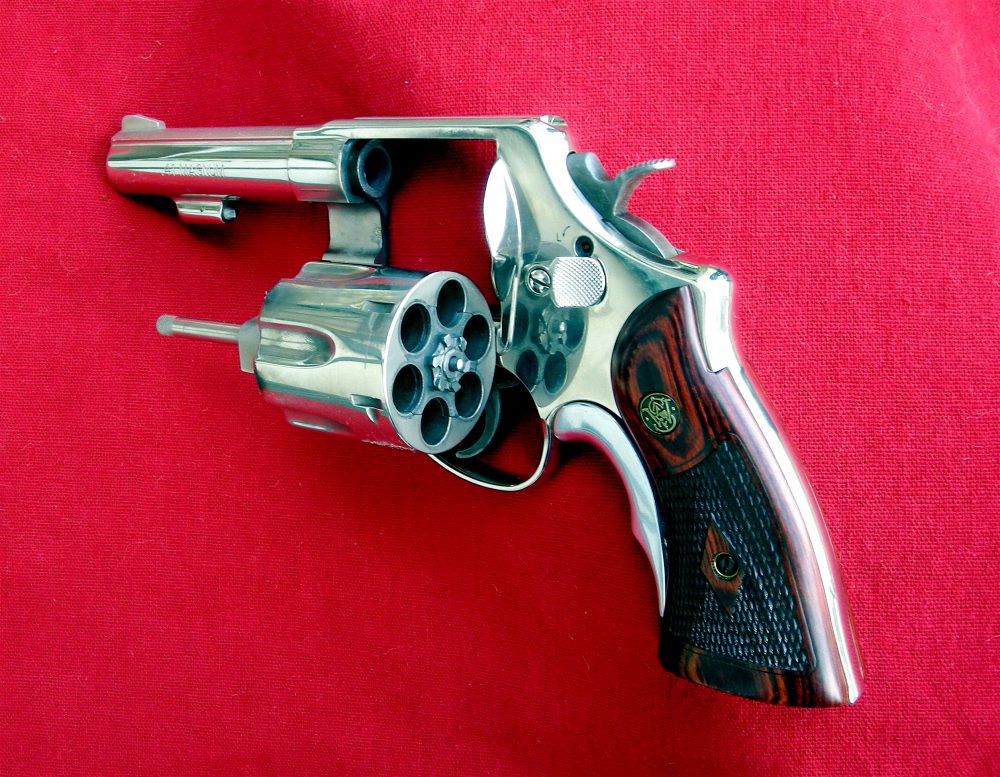 Chambers on 58 Classic are not recessed for the case heads as on original 58s.
---
I took only the blued Model 58 shooting the first day. I started off with the 210-gr. reloads and fired 50 rounds at plates and on paper: 24 rounds double-action, 26 rounds single-action. Groups weren't bad, but it was obvious the revolver was shooting two to three inches left at 25 yards. I was feeling brave, so I decided to shoot some of the 250-gr. CorBon loads. The tiny grips, even with the T-Grip in place, had not been comfortable even with the 210-gr. handloads.
With the 250-gr. CorBon loads, the grips were like operating an electric knife while holding the blade. After one round, the web of my hand was torn. After six rounds, I was dripping blood prior to shooting and spraying it on myself during recoil. I shoot big-bore revolvers quite a bit and am not particularly recoil sensitive, but the grips on the new blued 58 did me in.
I returned to the range a few days later, after putting a standard set of N-frame magna grips I had around the house on the blued 58. Note that the blued version of the new 58 has a lanyard ring which, left in place, precludes many oversized grips. I like the lanyard ring because it makes me feel sort of outdoorsy.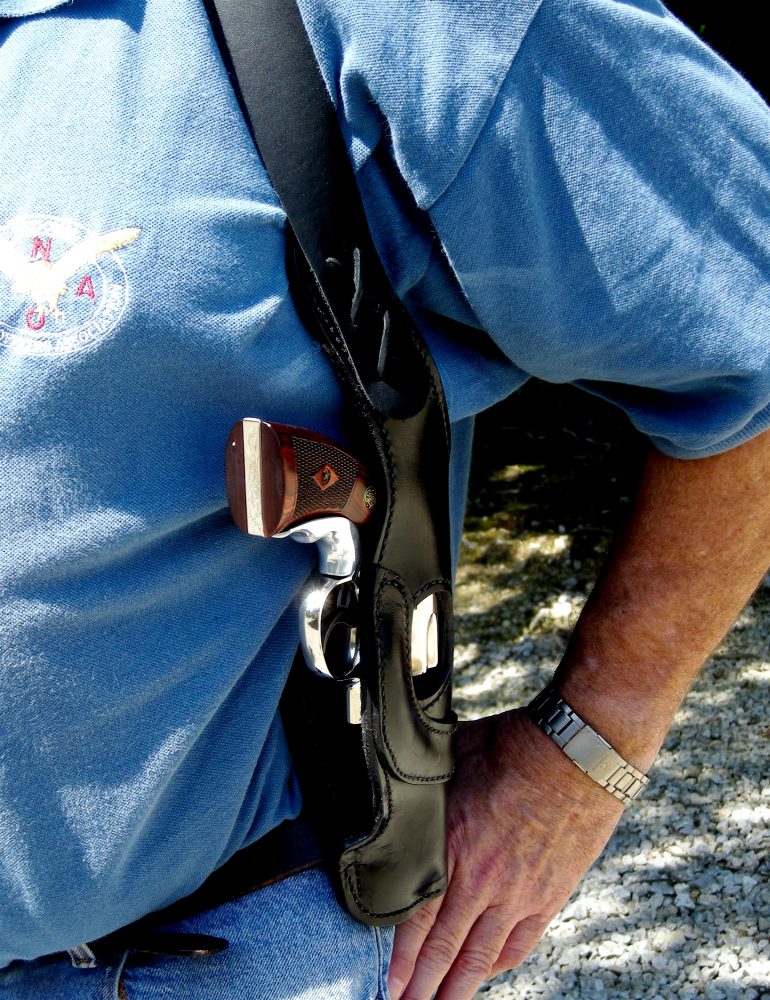 On the second day, I also took along the nickeled gun. I shot about 100 rounds through the pair that day, including six rounds each of the 250-gr. CorBon loads through each revolver. Recoil was still definitely noticeable with that load, but it was not masochistic. On "Anatomy Man" targets, I fired both guns fast double-action at 15 yards and was grouping acceptably center of mass but left. I used CorBon 170-gr. and CorBon 180-gr. DPX for those groups. My best 25-yard groups were around six inches. My eyes aren't what they were as a 22-year-old deputy, when I could see my 58's fixed sights a lot better. That's my excuse. I'm sure there are some readers who will shoot better with the new Model 58, but for most I would speculate accuracy will prove good or very good rather than outstanding.
I do plan to carry one of the new Model 58s occasionally loaded with CorBon 180-gr. DPX. As I've shot the nickel one lately and held slightly to the right, my double-action groups have tightened at 10 and 15 yards, so I feel confident with it.
My friend Jerry Ardolino of Lawman Leather Goods has just reintroduced his Dirty Harry shoulder holster. Jerry and I have been friends since back in the day, and I actually carried my Model 58 in one of his rigs. I ordered a new Dirty Harry for a four-inch N-frame for my new Model 58. As Yogi Berra would say, it was "déjà vu all over again." I was doing presentations from the Dirty Harry and engaging plates. It made me feel 30 or 40 years younger. In fact, it MADE MY DAY!
I'm glad the Model 58 is back. I think Smith & Wesson deserves kudos for bringing back this workhorse .41 Magnum. It's nice to see a Smith & Wesson nickel revolver again, too. I was just on the Smith & Wesson website and, by the photo they have posted, it looks as if they are now putting the same magna grips on the blued 58 Classic that are on the nickel one. That's a good thing.
SOURCES:
Smith & Wesson
Dept. S.W.A.T.
2100 Roosevelt Avenue
Springfield, MA 01104
(800) 331-0852
www.smith-wesson.com
CorBon
Dept. S.W.A.T.
1311 Industry Road
Sturgis, SD 57785
(800) 626-7266
www.corbon.com
Lawman Leather Goods
Dept. S.W.A.T.
P.O. Box 30115
Las Vegas, NV 89173
(877) 44 LAWMAN
www.lawmanleathergoods.com
Winchester Ammunition
Dept. S.W.A.T.
427 N. Shamrock St.
East Alton, IL 62024-1174
(618) 258-3609
www.winchester.com
Tyler Manufacturing Company
Dept. S.W.A.T.
P.O. Box 94845
Oklahoma City, OK 73143
(800) 654-8415
www.t-grips.com