The TOPS Knives Covert Anti-Terrorism (C.A.T.) series includes some of the earliest models TOPS ever produced. Military and law enforcement personnel all over the world carry them.
Like all TOPS Knives, the C.A.T. is a straightforward, no-frills blade intended for hard use. At the 2015 S.H.O.T. Show, TOPS Knives debuted their new C.A.T. S-series. Developed as a low-profile, easily concealed knife that can be deployed quickly when needed, the design allows for good penetration as well as slashing cuts.
C.A.T. fits the hand well and is equally at home in an EDC kit or backpack.
---
The blade is made from 1095 high carbon steel. A plain carbon steel, 1095 does not have excellent edge retention and also has fairly low resistance to corrosion. But it is very easy to sharpen and achieve an exceptionally sharp edge—an important consideration in the field.
Overall length is 7¼ inches with a 3¼-inch blade. At its thickest point, the blade is 5/32-inch thick. Weight is 7.5 ounces. The C.A.T. is available with either a Hunter or Tanto point. Like many other TOPS Knives, the blade has an integral oxygen wrench as well as a hole for a lanyard. The lanyard hole is beveled, so any abrasion to the lanyard will be kept to an absolute minimum.
Jimping on the top of the blade just forward of the scales (handles) allows the user to choke up for fine, precise cuts.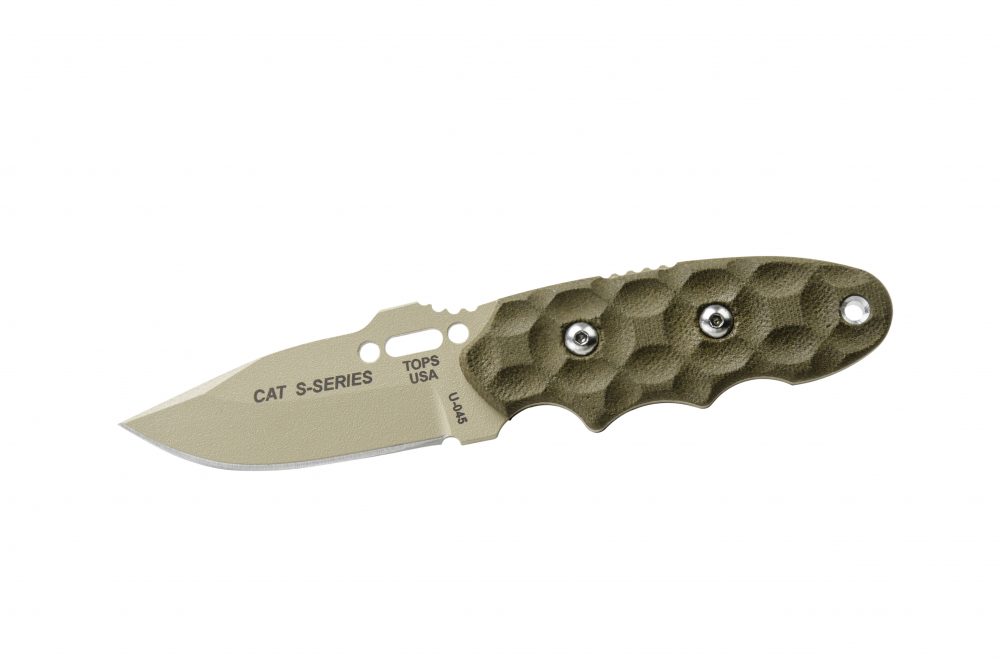 TOPS Knives C.A.T. S-Series with Coyote Tan powder-coat finish.
---
The model reviewed here is the TOPS Coyote Tan powder-coated version with Hunter point, green canvas Micarta scales, and Coyote Tan Kydex® sheath.
The scales on the knife are TOPS' new Rocky Mountain Bull's-eye design. Made from canvas Micarta, the handle tread can best be described as numerous oval-shaped divots that run in opposite directions—your hand will not slip off these handles. Scales attach to the full tang with 3/32-inch Allen-head screws that have thread lock applied to them—something you don't notice until the handles come loose in the middle of nowhere and you don't have an Allen wrench with you. That won't happen with this knife.
The Coyote Tan Kydex sheath is brand new to the TOPS line. It is molded to the exact lines of the C.A.T. and held in place via friction fit. When the knife is placed in the sheath, it locks in place with an audible click.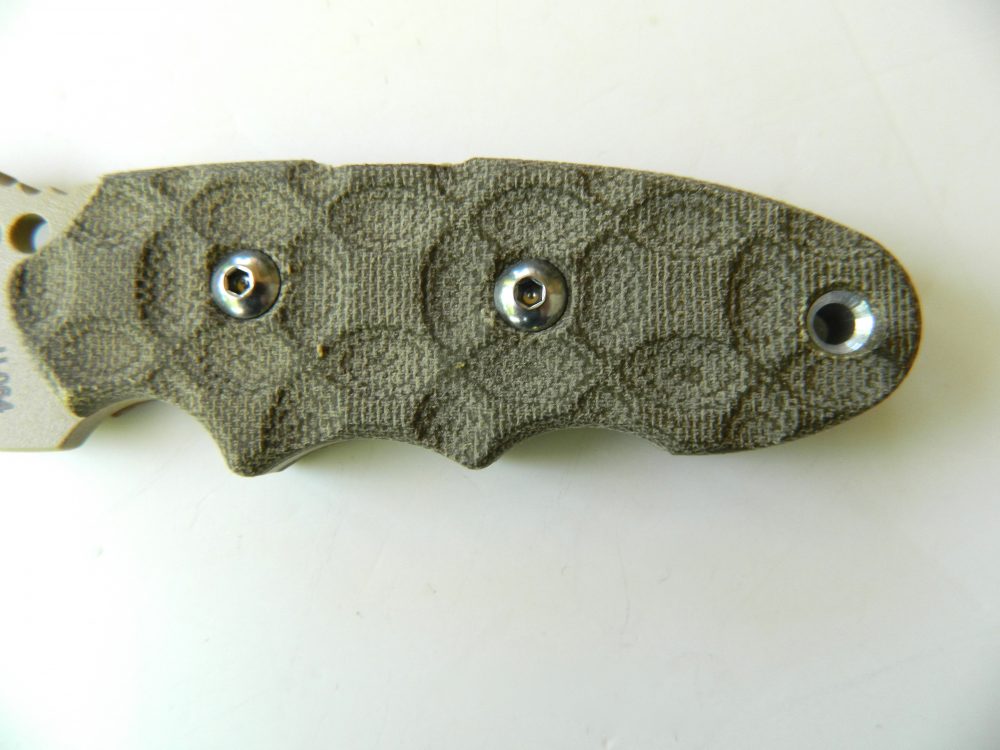 Rocky Mountain Bull's-eye scales ensure a good grip.
---
I like the innovative spring metal clip on the back of the sheath. It can be rotated to permit a variety of carry positions. Rotating the sheath requires a deliberate motion—it will stay in position until the user decides to move it. It did not become loose throughout the course of this evaluation.
The clip will almost—but not quite—fit into loops on MOLLE gear, but three holes in the sheath will let you strap it to a vest or pack with paracord.
I spent three weeks with the C.A.T. as my constant companion and used it for anything that required a knife. I cut rope and leather, opened boxes, and cut targets out of cardboard, a material that will quickly dull almost all knives. When necessary, the C.A.T. was easy to resharpen with my Spyderco Triangle Sharpmaker.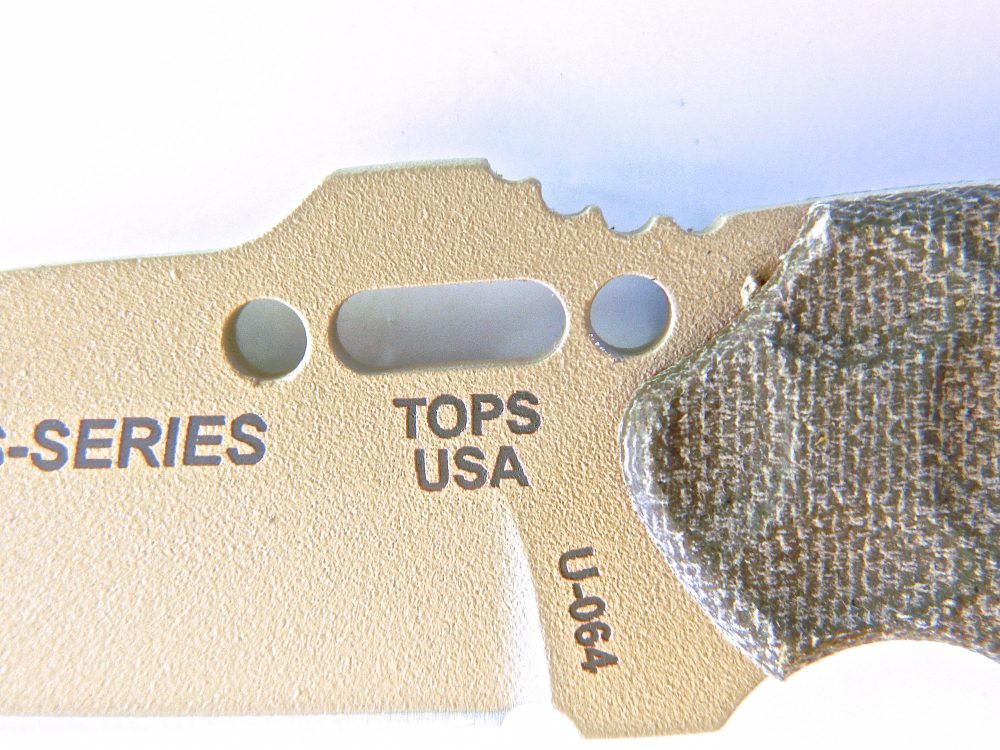 Blade has integral oxygen wrench. Jimping on top of blade allows user to choke up for fine, precise cuts.
---
Here in Arizona, humidity is not a huge concern except during the summer monsoon season, and the powder-coat finish all but negated the low corrosion resistance of the 1095 steel. To be on the safe side, I did coat the unfinished edge with Weapon Shield CLP.
In summary, this is a relatively small but strong and highly versatile knife. While the original purpose of the C.A.T. was specifically tactical, it will be equally at home with hunters, backpackers, and campers. Considering the genesis of this design, it is also an excellent choice for inclusion with an armed citizen's EDC equipment.
Suggested retail price is $120.
SOURCES:
TOPS KNIVES
(208) 542-0113
www.topsknives.com
SPYDERCO
(800) 525-7770
www.spyderco.com