I don't know about you, but for me there's just something about a former service weapon. That it protected and served gives nobility to such a piece, every bit of wear on the finish humbly calling out as time spent honorably. Whether it ever was drawn in desperation or anger is immaterial—it served.
Whether it is gently retired to a second life of shooting pleasure or called out of reserve to guard a home, the weapon's former life gives it an aura that a pristine vanilla counterpart can't possess.
Luckily the market has always made these handguns available, usually at a discount that suggests no premium for its history when it is surplussed out for a newer model.
Typically, police trades have either been local affairs, where a large shop gets a bunch in from the local PD, or a wholesaler bids on a lot from the new supplying pistol manufacturer, which has taken the former guns and accessories in trade. These are in turn marked up through the distribution channels to arrive at the consumer end with a modest discount.
This has recently changed to the shooter's benefit.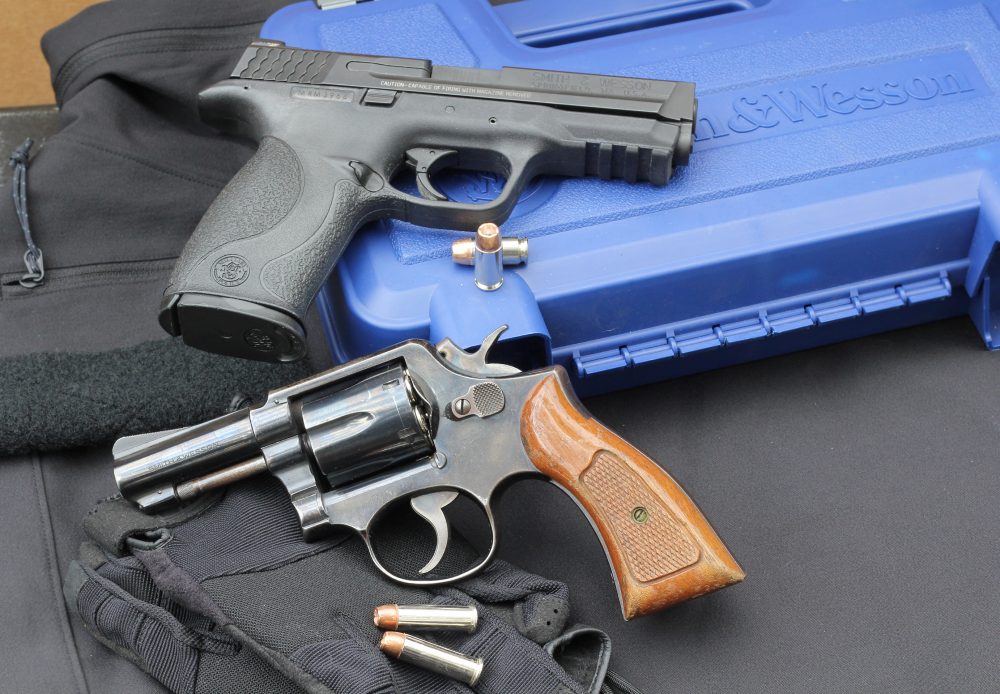 Police trade-ins like these offer shooters a quality proven sidearm for a hefty discount. Character is thrown in at no charge.
---
BUD'S GUN SHOP
Bud's Gun Shop is the nearly ubiquitous online retailer. In 2005, Bud's was a typical local gun store in a small shop with four employees. It has since exploded into a major online operation, with 160 employees in a 180,000+ square foot facility. Bud's took the higher volume/lower margin model of large gun show retailers and was among the first to apply it in the e-commerce world. Bud's has had breakout growth through the last decade, with sales almost doubling each year and since stabilizing as a major force in the industry.
The store averages up to 1,000 sales and deliveries per day. Buyers simply have the gun shipped to and transferred via a local dealer, with fees in most regions ranging from $20 to $50 for the service.
Bud's has maintained stocks of police trade-ins for some time, bidding on lots from manufacturers as departments trade up for new sidearms or patrol rifles. They recently signed a deal with Smith & Wesson to have exclusive rights to any of the trades that S&W brings in.
Bud's turns these around via their website to the shooting public, offering near-wholesale pricing along with regular availability. At the time of this writing, the website has 19 model options in three calibers.
As departments migrate from .40 S&W to 9mm, most of the pistols featured are .40 service pistols, with the Glock 22/23 and M&P 40/.40C most common. Some pistols are engraved with the source department's name or logo, but most are stock with the exception of night sights. Those used to agonizing over the smallest variations in a pile of trade-ins at the local store have to accept fairly broad categorization.
Pricing tends to gravitate to the lowest common condition, so a number of shooters I've spoken to have gotten a bonus when a pistol shows up in excellent condition. Bud's occasionally separates lots of unissued models for a small premium. Many models ship free.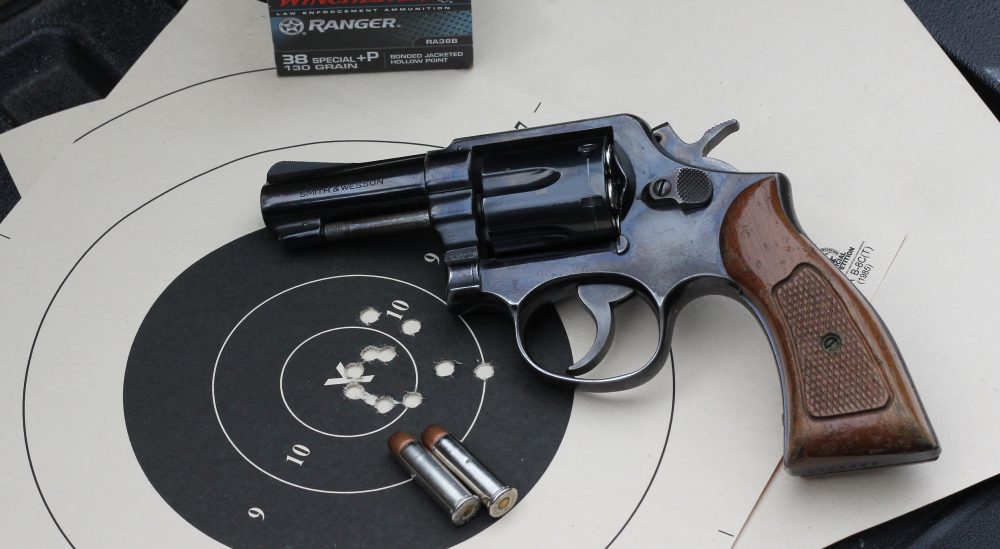 Model 10 was bragging-rights accurate with Winchester Ranger JHPs, as this 1.7-inch group from 25 yards shows.
---
MAINTAINED VS USED
One of the real advantages of a police trade-in is that it has been fired lightly over a period of time. Any reliability issues have likely surfaced and been corrected by an armorer who is trained and experienced with working on that platform. Any true lemons are usually sent back to the factory for repair or replacement.
Contrast this with the normal secondhand market. The random used specimen at the gun store counter may in fact be a great bargain that a fickle owner traded on the latest cover-gun from the magazines. It may never have been fired enough to prove its reliability. Or it may be a lemon that the owner didn't want to pay shipping to return to the maker for repair.
Ask any group of serious shooters where the lemons go, and some variation of gun show or store counter trade is what usually comes up. This is not to say that every police trade handgun is a sure-fire winner, but the odds are definitely tilted toward it functioning reliably.
Additionally, many manufacturers treat law enforcement models or production differently than the mass market. Some simply apply better quality control and/or assurance, while others may hold LE production to a higher standard of materials and assembly.
There are no givens or absolutes here, but I have never heard an industry professional mention LE production being made to a lesser standard, so there is at least a solid chance that the product is a cut above.
Mileage is the second area that is an advantage. The average police service pistol gets shot much less than one might imagine. Every department is different, but very few are in any danger of wearing a pistol out. In many, the round count on the guns is less than what an enthusiast might shoot through a similar model in a year.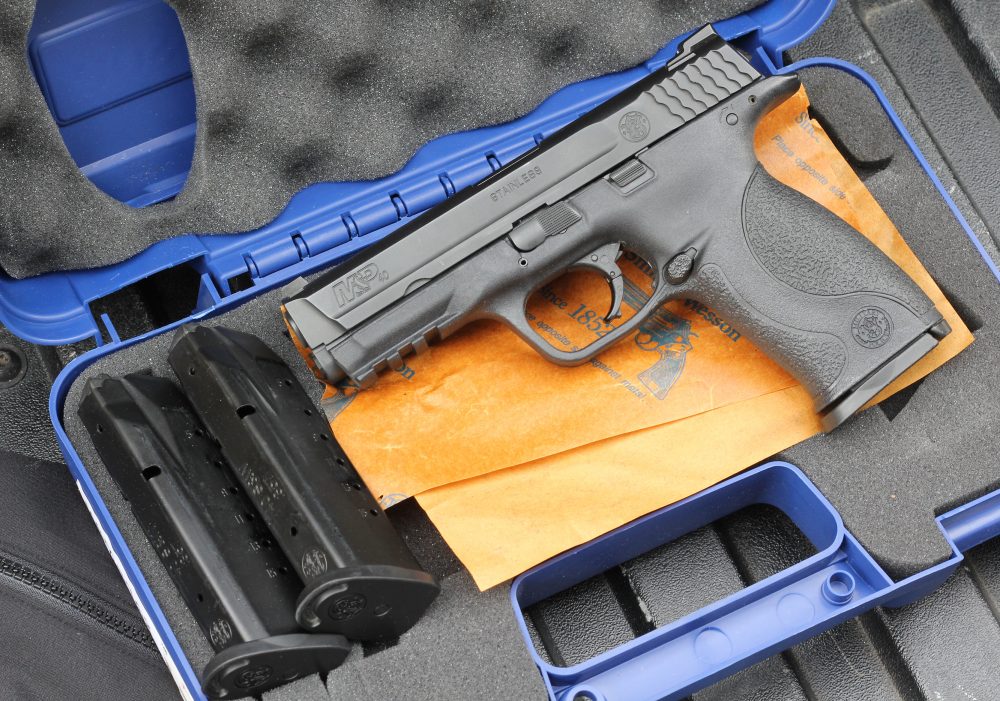 Law enforcement migration to 9mm has created large stocks of available .40 S&W pistols. Bud's Gun Shop flagship trade-in is S&W M&P 40 furnished with tritium night sights and three magazines delivered for $349.
---
OLD SCHOOL
The first police trade-in I obtained was a PTI revolver that was one of a lot of 10,000+ Smith & Wesson K-Frame Model 10s that Bud's got in from Australia. It is a pinned-barrel three-inch .38 Special. The three-inch barrel is not rare but is certainly uncommon, with most domestic K-Frames running four inches, or two for the shorter barrels.
The finish showed holster wear from a right-handed shooter, the inboard side looking pretty good with about 85% blueing in place, and the outboard side having maybe 70%.
The stocks were magna-style service panels that did not appear to be original Smith & Wesson. They had the dings and dents that speak to carry over time and were more filling in the hand than some of the OEM panels of that era are.
The single-action trigger pull was quite good at just over four pounds, and the double-action ran low double digits with just the slightest hitch in its giddy-up keeping it from being exceptional. The simple fixed sights gave a very solid sight picture.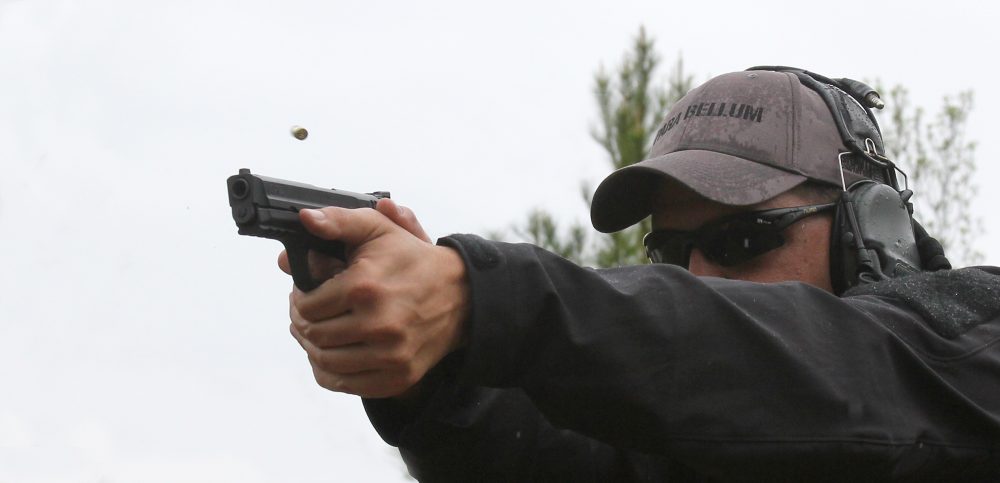 Full-size M&P handles .40 S&W recoil well and is ready to continue serving.
---
I shot the Model 10 with Winchester Ranger 130-grain +P bonded JHPs, which clustered an impressive 1.3-inch group standing from a barricade at 25 yards. This wasn't a fluke, as the next group was a 1.7-inch knot. This is one of a small number of more modern loads available for the ol' .38, with Winchester's tests showing it penetrating 11+ inches with good expansion from an even shorter barrel across the FBI protocols.
Average velocity from the three-inch Smith was 934 feet-per-second (fps). The Ranger load is fairly mild for the level of performance it gives, feeling only slightly more "zippy" than the Winchester 130-grain FMJ training loads.
Shooting the Tuf/Ruf timed drill at 25 yards (TRAINING WITH A CLASSIC: B8 Target Drills, July 2015 S.W.A.T.), the K-Frame put nine of ten in the black for a very respectable 93 points for the timed and rapid (20 and 10 second) strings of five shots each.
I next shot a drill at ten yards on the B8 target center. Two strings of five shots from the ready in five seconds, a challenging pace at that distance when shooting for the approximate three-inch ten ring. The Aussie .38 smoked the drill, stacking the Winchester bullets in the X ring with a heartbeat to spare each time.
The Model 10—the original Military & Police—was "the" police gun for many decades and is still a serviceable choice. Even at +P loads, a K-Frame is very hard to wear out, and this one locked up plenty tight and had no shake. It has generations of life left in it, and the trigger has only smoothed out with all of my shooting and dry fire. That it shoots as well as it does earns it a secure spot in the safe.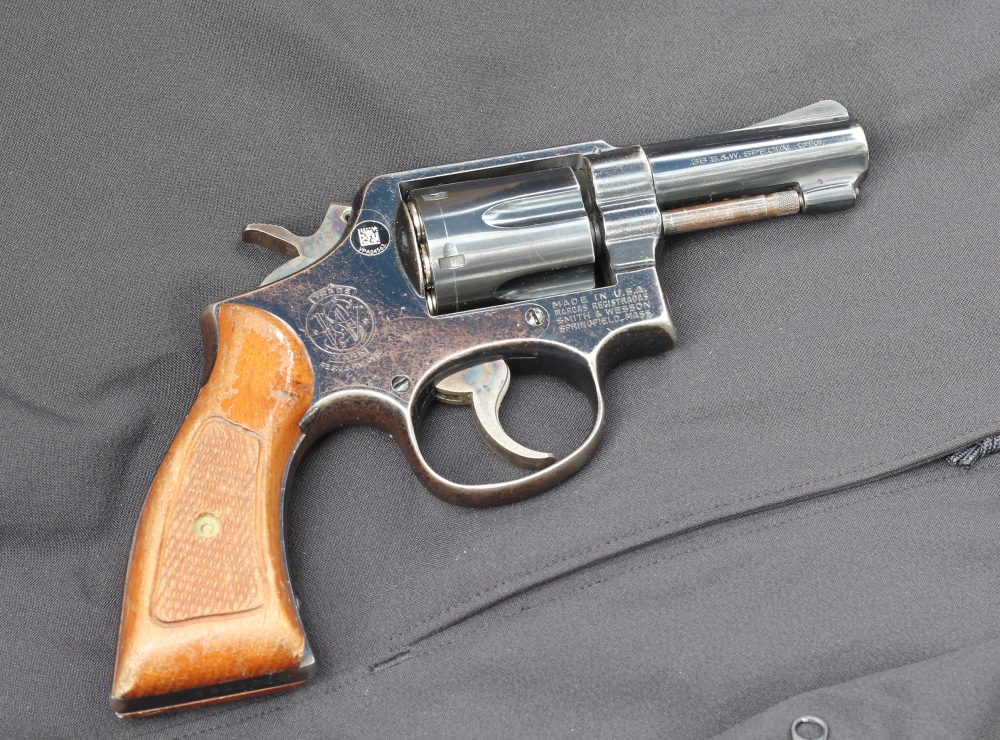 This particular trade-in was a less common three-inch Model 10 on the K-Frame.
---
NEW SCHOOL
The second police trade-in was a Smith & Wesson M&P 40. Introduced nearly ten years ago, the M&P is one of the best choices in a .40-caliber service pistol, built from the design stage forward around the high-pressure cartridge.
The .40 S&W has been the quintessential American law enforcement caliber for the last 20 years, but that is gradually changing. Departments are increasingly taking advantage of advances in bullet design, which have closed the performance gap for 9mm, swapping to the smaller caliber as budgets allow.
Issues with the .40 have been ammo cost—which is significantly higher than 9mm—recoil sensitivity, and wear on pistols not optimized for the .40. I'm not aware of any organizations that have been unhappy with the .40's performance on the street, which has been solid with most modern loads.
This shift has created a windfall in trade-in forties. As of this writing, Bud's was offering the full-size .40 with night sights and three magazines for $349—delivered. Needless to say, they have sold a boatload and are unafraid of running out any time soon. I'm always keen to a deal, and this is a serious amount of gun for an almost too-good-to-be-true price. Even factoring in a transfer fee, the deal remains a head turner.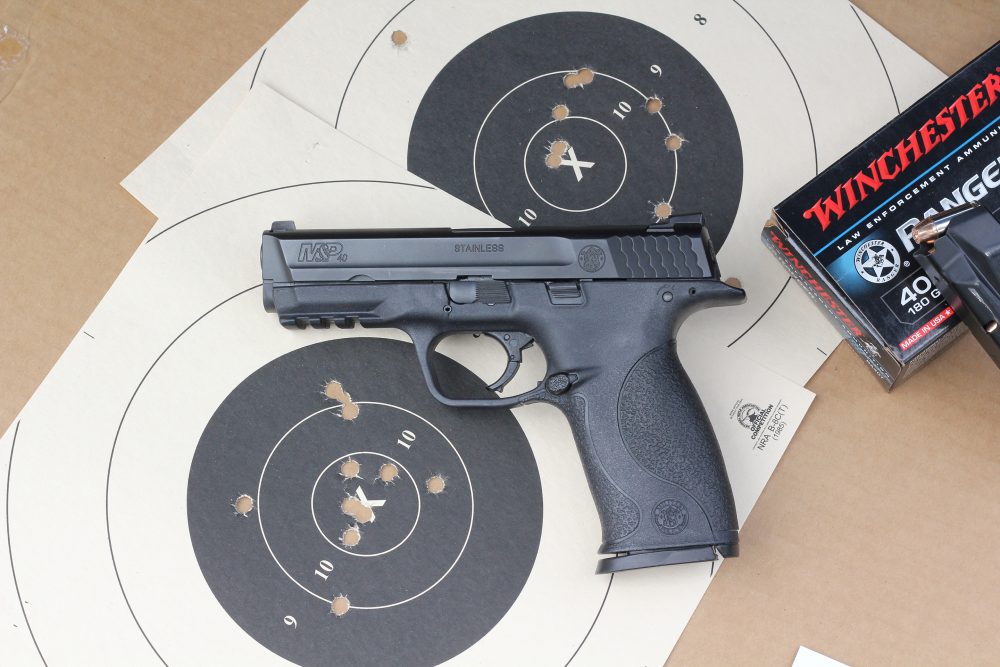 M&P with ten-yard five-shot strings (left) and Ten-Shot Assault target.
---
This particular M&P showed very little wear, as in it was probably test fired and put away. Factory tritium sights were sharp and bright. Trigger break was on the better end of the spectrum for M&Ps, breaking crisp with a positive reset at about 5.5 pounds. The pistol came in the factory box but was missing the removable grip inserts other than the medium size it was wearing. No drama, as the inserts cost about $2.09 if a shooter wants the other sizes.
The .40 was pure M&P, with no surprises. Firing Winchester Ranger 180-grain JHPs, the S&W put five in 2.7 inches right to the sights from a 25-yard barricade. The load averaged 1,014 fps from the full-size barrel. Shooting the same 10-yard drill, I ran the M&P a little too fast at 4.04 and 4.24 seconds for the five-shot strings. This yielded a 98 with two shots that didn't quite catch the 10 ring with Winchester's new 180-grain 3-Gun loads.
Swapping over to the Ten-Shot Assault (TEN-SHOT ASSAULT: Budget Shooting Performance Test, January 2014 S.W.A.T.), I pickled one shot out of the black at the 25 and again at the 15-yard line, with the balance tens across the yard lines for 96 in 16 seconds—a solid performance. I rounded out the shooting with a variety of drills on steel. Both guns shot very well throughout testing and functioned as designed without issue.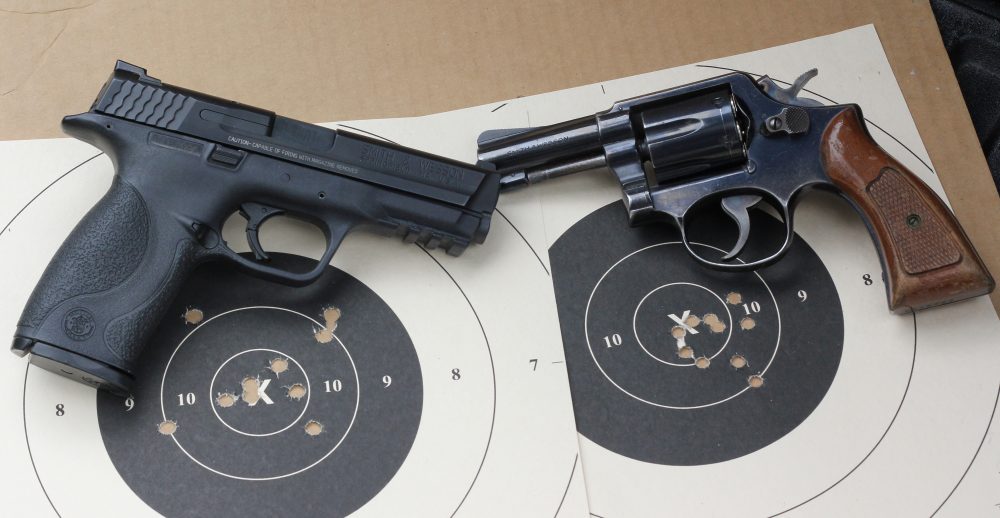 Both guns were accurate, with the Model 10 turning in exceptional groups.
---
WRAP-UP
I've since hung a SureFire X300 on the Smith and put it into home guard duties. The K-Frame is getting a good bit of use as a shooter, since I tend to grab a double-action revolver when I want to shoot for fun. It could just as easily end up stuffed with a cylinder of the Rangers in a ready location.
In a crowded market, there are many options vying for the shooter's dollar. The police trade-in has always been a good source of quality iron for less than retail price.
I have to own and ride the river with a handgun quite a while before it has any character that sets it apart for me. It becomes a function of time and effort spent with the piece in training or in application of its role.
However, the surplus lawman's sidearm arrives with a dignity all its own and character to spare, each scuff silent testimony to service. The ease of online shopping and regular availability of a variety of service models are real bonuses and temptation to collect a few.
SOURCES
BUD'S GUN SHOP
(859) 368-0371
www.budsgunshop.com
WINCHESTER AMMUNITION
(615) 258-3340
www.winchester.com