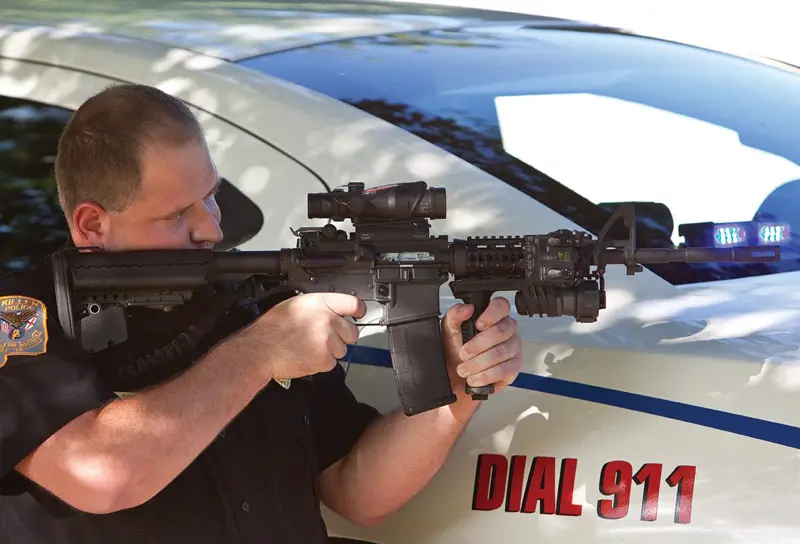 They are light, handy, compact and offer a much greater level of performance than any pistol-caliber carbine. Because of this, many law enforcement agencies are changing over from pistol-caliber submachine guns for SWAT use to M4A1-type carbines. For patrol, a semiautomatic version of the M4A1 is an ideal choice.
One of the greatest strengths of the M4A1-type carbine is its modular capability. Although the AR carbine wasn't originally intended to be a modular weapon, it became so in the early 1990s when the Special Operations Command (USSOCOM) developed the SOPMOD (Special Operations Peculiar Modification).
In the department where I serve as a reserve officer, for example, every fulltime officer is issued a semiautomatic M4A1-type carbine for patrol carry. Several full-time and reserve officers I know have purchased carbines of their own for personal and duty use. Many officers have taken advantage of the carbine's modular nature to customize their issue carbines to suit their personal tastes, providing the inspiration for this article.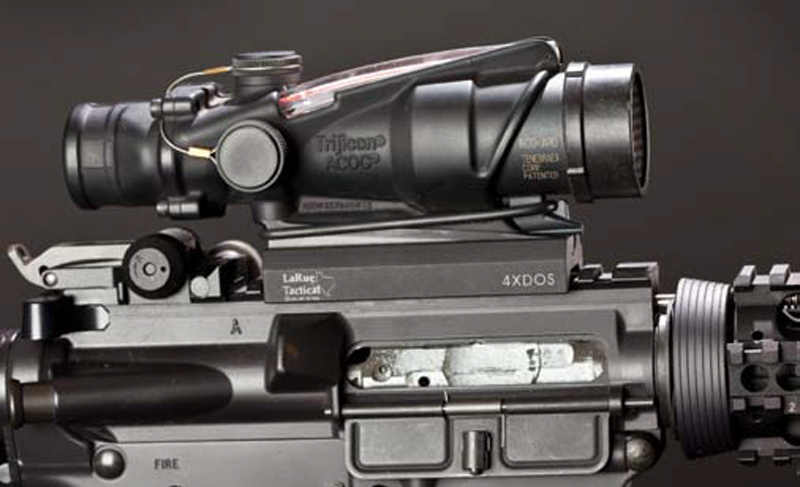 CARBINE BUILDING ON A BUDGET
Cops are probably the most underpaid people on the planet, so very few can afford to buy a ready-made custom M4A1-type carbine, which can cost over $2,000. But because of the simplicity of the M4A1 design and ready availability of parts, a custom carbine can be built one step at a time on a budget. Every feature shown herein can be purchased and installed as a "stand alone," usually using common tools and without the help of a gunsmith.
The heart of any custom firearm such as this one is the gun itself. I recommend a quality carbine from a reputable manufacturer for the simple reason that these carbines are made to military specification and will accept milspec parts, while commercial carbines from some manufacturers may not. The test carbine from Bushmaster meets this requirement.
The Bushmaster carbine replicates the M4A1 with the exception that the muzzle brake is permanently attached to the 14.5-inch barrel to provide a full 16 inches to meet federal law and a 1:9 twist to accommodate both light and heavy bullets. (The military twist rate is 1:7 inches, which will not stabilize shorter, lighter-weight bullets like the M193 55-grain.)
With the basic project carbine in hand, I set out to design and assemble a tactical carbine for use on patrol. Bear in mind that the configuration of this carbine isn't the only one possible; it is simply the one that I prefer.
The quantity and quality of custom parts for M4A1-type carbines is phenomenal and, while some aftermarket component makers are well established in terms of quality, the average new purchaser of an M4A1 to customize may not be aware of what is available, nor which manufacturers offer quality products.
For that reason and to keep things simple, I decided to order all components except the gas system conversion from Brownell's. If what you want isn't in the Brownell's AR Catalog, it probably isn't needed. Furthermore, Brownell's tests every product they sell, and each must meet Brownell's standards for quality and reliability.

GAS PISTON/OPERATING ROD SYSTEM
One item that I decided on very early was a gas piston/operating rod system to replace the original direct impingement system. A gas piston and operating rod system would reduce maintenance and enhance reliability.
There are a number of complete M16- type rifles and carbines currently available with gas piston and operating rod systems, but all are available only as complete rifles or upper receiver conversions, with the exception of the Ares Defense GXR-35 "Black Lightning." The Black Lightning is a conversion piston and operating rod system that replaces the AR's direct impingement system. The GXR-35 is available only for carbines with the short-length handguard and consists of a piston and operating rod, replacement bolt carrier and handguards. But the handguards were the conventional type, and the Black Lightning gas piston wouldn't fit under my carbine's standard rail handguard.
Ares informed me that SureFire's M73 M4 forend with MIL-STD-1913 rails at top, bottom and sides would fit with minor modification, so a call to SureFire resulted in the carbine that appears in this write-up.
I believe that the M16's direct impingement gas system is fundamentally flawed, as proven in the early days of the rifle when lack of maintenance resulted in soldiers and Marines being killed when their weapons malfunctioned. The Army and Marine Corps rectified the problem by instituting a comprehensive and intense maintenance program that has endured to this day, but M16s and M4s are continuing to malfunction in Afghanistan and Iraq due to fine dust being attracted to the receiver by the lubrication required by the direct impingement system's carbon fouling. The fact is that any AR with the original direct impingement gas system requires intensive maintenance, which a piston and operating rod eliminate.
The GXR-35 conversion process is relatively simple, but unless the carbine user has some basic AR gunsmithing skills and a few specialized AR tools, I recommend that a qualified gunsmith knowledgeable in ARs do the conversion.
The Black Lightning transformed our test carbine. After extensive time on the range, the receiver and bolt carrier remained clean enough that maintenance wasn't really necessary. What little fouling there was could be wiped off with a dry shop towel. There was no burned-on carbon as there would have been with a standard AR gas system. Heat around the receiver ring was almost nonexistent, unlike standard ARs, which heat up in a hurry under rapid extended fire.
The SureFire M73 provided us with the platform on the test Bushmaster that I needed to mount accessories, which most operational tactical teams, both military and law enforcement, also do.
The M73 is adaptable to any M4- type carbine with the "short" carbine handguard and simply replaces the stock forend. The M73 is machined from forged milspec aluminum and directly replaces the standard system as a "drop on." The MIL-STD-1913 rails are numbered so that accessories can be removed and replaced in exactly the same location every time. The M73 also provides a rock-solid mount that not only is extremely precise with repeatable zero, but one that is designed for optimum heat dissipation—a must with select-fire carbines.
OPTICS
The military is gradually eliminating traditional iron sights in favor of optics whose technology has brought them to the point where they are virtually as reliable and rugged as iron sights, although every rifle or carbine with optics should have backup iron sights, just in case. Although there are other optics in the military supply system, the Marines chose the Trijicon ACOG (Advanced Combat Optical Gunsight) TA31RCO 4X32 optic.
This optic utilizes the Bindon "both eyes open" aiming concept, which provides quick target acquisition at CQB distances while enhancing target identification and hit probability out to 800 meters via the built-in bullet drop compensator, which clearly shows holds for 400, 600 and 800 meters. Horizontal lines facilitate wind estimation.
The reticle is illuminated via a combination of fiber optic and tritium, allowing the aiming point to be constantly illuminated without batteries. The tritium illuminates the chevron aiming point in complete darkness, while the fiber optic regulates reticle brightness in daylight depending on ambient light conditions. The TA31RCO was designed to U.S. Marine Corps requirements. My TA31RCO came with a Trijicon TA57 KillFlash antireflection device manufactured by Tenebraex Corporation. This device prevents glint from revealing the presence of a Marine whose rifle is equipped with the Trijicon ACOG.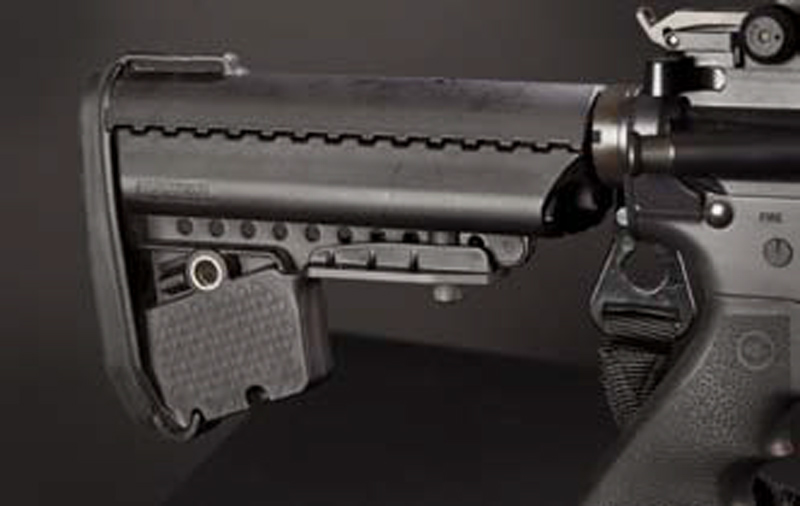 OTHER ADD-ONS
Having equipped the carbine with optics, I set out to add a few of the latest items that I know of or have observed in photos from Afghanistan and Iraq. The first of these is the Optical System Technologies AN/PVS-22 Universal Night Sight (UNS). The AN/PVS-22 is in such high demand from the military that the company is having difficulty keeping up with orders. The Gen III+ AN/PVS-22 is the state of the art in image intensification (I²) technology.
I have used night vision optics of all generations, beginning with Gen I back in my days in Vietnam, up to the AN/ PVS-14 and AN/PVS-17. Although a bit larger and heavier than the AN/PVS- 14, the PVS-22 makes up for its slightly larger size by mounting ahead of the day optic rather than behind like the PVS-14, and by the improved image quality. As if this weren't enough, the PVS-22 retains boresight throughout its focus range, has no beam splitters to go out of alignment and has no parallax issues, even if mounted slightly off-axis in relation to the day optic.
Another key feature of the carbine is Vltor's patented Modular Firearm Buttstock, or Modstock. The Modstock is available in black, flat dark earth and OD green. There are two configurations for collapsible stocks—standard and "clubfoot." Two lengths are also available— collapsible-stock carbine and full-length rifle. The full-length stock also comes in two versions, A1 and A2, the difference being that the latter stock is slightly longer than the A1.
The Vltor Modstock has many features that are unavailable anywhere else. Although there are other manufacturers of carbine stocks with waterproof compartments for storing batteries and other small items, other stocks must be removed to access the storage compartments. Vltor's waterproof compartments can be accessed with the stock on the carbine or rifle. If the user doesn't want the compartments, simply installing the cheek-weld adapter can retain standard stock configuration.
I like the compartment adapters so much, though, that I can't imagine why one wouldn't want them. The compartment adapters provide a flat surface for the best cheek weld I have ever experienced on an AR rifle or carbine of any type. Vltor's Modstock, whether in carbine or rifle version, is absolutely superior to any other I have tested because it is more comfortable, thus enhancing accuracy, while raising the shooter's line of sight to an ideal level for either open sights or optics. I believe that Vltor's Modstock is a must have for any AR-type rifle or M4-type carbine.
I added a Laser Devices Dual Beam Aiming Laser Advanced-A2 (DBALA2), designated by the Army as the Multi-Functioning Aiming Laser System (MFAL) (NSN: 5855-01-535-6166).
Whatever it is called, this device is the military's most recent laser aiming and illuminating device. The DBAL-A2 provides an IR pointer, IR illuminator and red visible laser pointer (green is also available) and probably will eventually replace the larger and less capable AN/ PEQ-2.
Modes are selected using a rotary switch to select between the visible laser and the various IR modes, including IR pointer only, IR illuminator only or both. A low-power engagement mode reduces the IR output for indoor use and CQB. Optical glass generators project different illumination patterns that include circle, square, triangle, plus sign or "T" for target designation and pointing. The DBAL-A2 is provided with optional mounts for MIL-STD-1913 rails, either a thumbscrew or ARMS throw lever mount. The DBAL-A2 is constructed of 6061-T6 aircraft aluminum and weighs only eight ounces. Power is from a single AA battery.
I also installed a SureFire M900 Vertical Foregrip Weaponlight with optional infrared (IR) filter. This versatile foregrip/high-intensity light has ambidextrous momentary activation pads for the main battle light, a constant on switch and a momentary push switch for the two integral low-output LEDs that are used for stealth navigation. This light emits 125 lumens of high-intensity focused light for an hour and attaches to the bottom MIL-STD-1913 rail via a LaRue Tactical QD throw lever.
The SureFire IR filter is placed over the M900 lamp lens, enabling the carbine user to clear using IR light that is invisible to the human eye. Of course, IR can be detected by other night vision optics, but the IR SureFire coupled with the AN/PVS-22 is about as good as it gets.
STREET READY
So there you have it—a personally designed custom M4-type carbine for duty or other tactical use. The carbine is capable of 24/7 operations with white and IR light and state of the art night vision. Be advised that the accessories I added to give the 24/7 capabilities I wanted aren't the only ones available, but they are all made to meet military requirements, which means that they are arguably the best available.
Whatever the intended use, the basic AR lends itself to being customized to specific roles and missions. As discussed herein, any agency or individual that uses either carbines or full-size ARs can construct their own personalized version by obtaining the components and accessories just as I did and thus can give their ARs 21st century tactical capabilities.