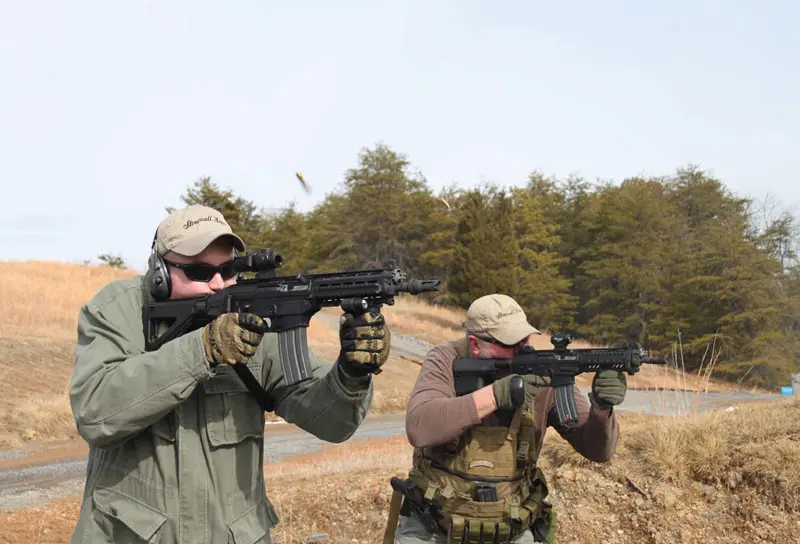 The hope was to get a civilian version of the legendary Swiss Army SIG 550 series of rifles.
But SIG designers chose a compromise in the form of the SIG 556. The SIG 556 trigger housing was altered from the 550 series to accept AR-15 magazines, and the forend furniture was of a different pattern than the SIG 550. Overall, this was a sage decision considering the proliferation of AR-15 magazines in the U.S. The proven two-position gas adjustable gas-piston operating rod system found on the 550 series was kept in the 556's design, hence the SIG 556's operating method is closer to the Kalashnikov's, and its bolt carrier resembles the AK's.
I have seen references to the SIG 556's operating rod system being described as the Porsche of AK designs due to the tighter tolerances and better workmanship found in SIG Sauer weapons as compared to other manufacturers using the AK as a basis of design. The gas-piston operating system keeps the action cleaner, cooler, and overall more reliable, not to mention better suited for barrels shorter than 14.5 inches. These are all positive attributes in my book.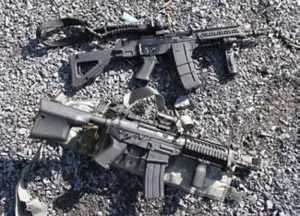 SIG P556 PISTOL
The introduction of the SIG Sauer P556 Pistol was just the 556 variant many were waiting for, with the hope it could be converted into what the BATF labels a Short Barreled Rifle (SBR). From the first time I spotted the SIG P556 Pistol, I knew my interest would be in turning it into an SIG SBR.
SIG Sauer chose to use aircraft-grade aluminum alloy forgings for the redesigned trigger housing. This saves a pound of weight in the 556 series compared to the 550 series. But weighing in at 6.5 pounds, the SIG P556 Pistol is still no lightweight. It has a ten-inch, cold-hammer- forged barrel with a 1:7 twist.
The gas piston incorporated into the P556 is shorter in length than the standard 556 rifle variant. Think of the standard AK-length piston compared to what is found in an AK Krinkov variant. Another pound of weight is shaved from the P556 due to this shorter gas piston and resultant shorter forearm furniture compared to a standard SIG 556 rifle. For many, this translates into a handier rifle that is not so front heavy.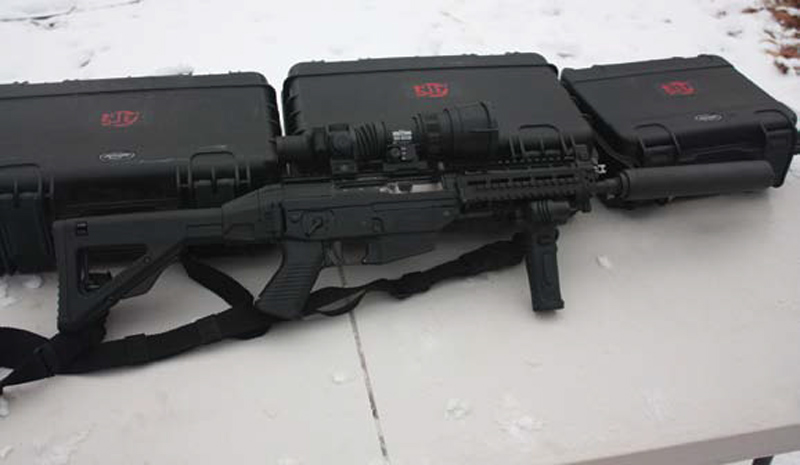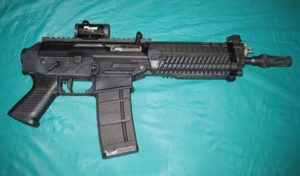 The flash suppressor uses a standard 1/2×28 thread pattern. I replaced the unit that comes with the P556 with a Yankee Hill Machine (YHM) Phantom Flash Hider that also serves as a quick-detach mount for the very flexible YHM Phantom Suppressor.
The SIG P556 Pistol comes with a Picatinny rail above the receiver. Front and rear sights that flip up when needed are provided as standard equipment on the P556 Pistol. These sights are very basic in nature and should only be considered as back up. It is definitely SIG's intent for the user to install some sort of optic on the SIG P556 Pistol. In fact, the P556 arrives with a SIG Sauer Mini Red Dot sight that mounts on the Picatinny rail.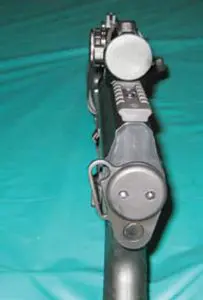 SIG Sauer also equips the P556 Pistol with a smooth, light two-stage trigger and ambidextrous safety. The P556's upper hinges open with bolt group and gas piston removed per provided directions, and trigger group exposed in the lower. The barrel/chamber are easily accessed for cleaning, as are the bolt group and piston operating rod. Overall, cleaning of the SIG P556 doesn't take much time, with the bolt group needing little more than a wipe off and re-lubrication. The Nitron finish on the upper and hard coat anodized aluminum lower keep exterior concerns to a minimum.
FROM PISTOL TO SBR
The SIG P556 Pistol has a threaded "plug" installed on the rear of the receiver. Upon removing this plug, I discovered that an AR-15 receiver extension (buffer tube) could be mounted into the rear of the receiver. I filled out the necessary BATF forms and fingerprint cards, acquired the proper local LE signatures, and sent the packet to the BATF for approval. After the tax stamp was returned, permitting me to turn the SIG P556 into a 556 SBR, I had the designated SBR serial number engraved on the receiver.
I initially chose to utilize a Lewis Machine & Tool (LM&T) SOPMOD collapsible buttstock for my P556 SBR project. The SOPMOD is held in high regard for its solid construction, stable cheek weld, two watertight compartments under the cheek piece, and positive/secure adjustability.
Many will find the P556's ability to accommodate a side folding stock added incentive to use it as the starting point to create an SBR. One interesting side note with the SIG 556 is that the "upper" bears the serial number of the weapon as compared to the lower of the AR-15. This allowed me to access a SIG factory lower with folding stock to supplement the LM&T SOPMOD. Both were part of this evaluation.
SIG Sauer is now using a folding stock reminiscent of the design found on the classic SIG 550 instead of other types that accompanied early 556 variants. The folding telescoping stock is very sturdy and does not exhibit any side-to-side or upand- down wiggle. The SIG Sauer stock has multiple lengths of pull adjustments, so a user can find what best suits individual needs, especially if wearing body armor.
TWIN 556 SBRs
I am not the only one attracted to the SIG 556 SBR via the P556 Pistol. Marc Richman, a good friend and fellow customer of Stonewall Arms, went down the same path. Stonewall Arms is a Class III dealer located in Winchester, Virginia, and has been in business for several years handling Class III items for individuals, law enforcement, and commercial customers. Access to two of the same weapon type but each outfitted differently in terms of accessories—stocks, optics, forends, etc.—offered a unique opportunity to evaluate the SIG 556 SBR more thoroughly.
It was convenient to handle one of the 556 SBR twins and immediately turn to the other for comparison. Marc went a different route than I did with his SIG 556 SBR, utilizing a Samson STAR rail and quick-flip Samson open sights with H&K-style front post. A Troy Industries Battle Ax CQB stock was mounted, foregoing a folding design.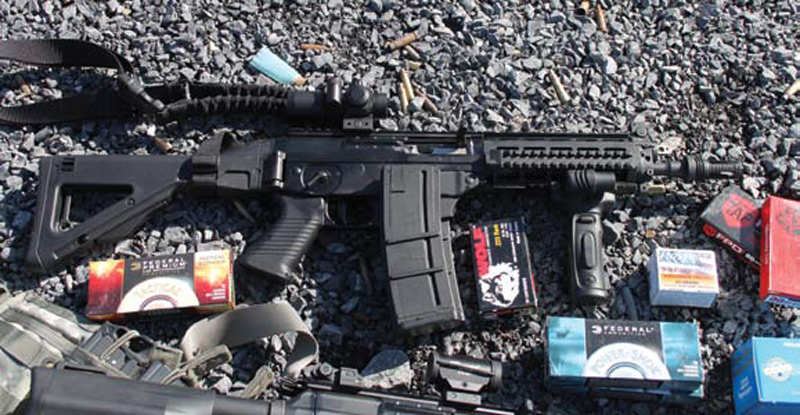 AMMUNITION
Ammunition tested with the twin SIG 556 SBRs was a combination of Black Hills Ammunition 55-gr. FMJ loads, Hornady 60-gr. TAP loads, Wolf Ammunition Military Classic 55-gr. FMJ, Century International Arms distributed HOT SHOT 62-gr. FMJ, and Federal Premium Law Enforcement 55-gr. Triple Shok and 62-gr. Bonded SP loads.
The overall accuracy of the 556 SBR was surprisingly good at 100 yards, considering the non-magnified Leupold Prismatic optic installed for initial accuracy testing, with some groups measuring two inches. This accuracy level justifies considering mounting a magnified optic such as the Trijicon ACOG or Leupold's adjustable-power Mark 4 CQ/T, depending on intended mission.
One of the first things I did was chronograph the ten-inch SIG 556 SBRs compared to 16-inch barreled AR-15s. Approximately 200 to 250 feet-per-second were lost between the different loads used. Based on these accuracy levels and ballistics offered by the loads tested even with a ten-inch barrel, the 556 SBR is a legitimate 250- to 300-yard rifle. The .223/5.56mm round's flat trajectory aids in making center-mass hits out to 300 yards.
OPTICS
My choice of an everyday optic for use with the SIG 556 SBR would be a nonmagnified type sight. Two of the best available are Trijicon's RX30 Reflex Sight and Leupold's 1x14mm Prismatic Sight. Neither are prisoners of battery power. Each is rugged, featuring wide fields of view and the ability to use them with both eyes open for maximum capability at short range, while retaining the ability to accurately fire at more distant targets.
The RX30 Reflex Sight with A.R.M.S. (RX30-23) levers allows for quick mounting and dismounting, while still retaining zero. The beauty of the Trijicon Reflex is that it does not require batteries to generate the aiming dot. The RX30 Reflex features dual illumination of fluorescent fiber optics and tritium lamp. The Reflex weighs less than 13 ounces and is made from aluminum with hardcoat anodizing—in other words, it's designed for hard use by troops in the field. Its 6.5 MOA dot aided in acquiring a fast aiming point at CQB ranges and still proved more than capable of hammering steel man targets out to 150 yards.
My prior experiences with Leupold's Mark 4 CQ/T scope provided a sense of familiarity with their rugged Prismatic 1x14mm scope. The Prismatic weighs 12 ounces and measures 4.5 inches long. The 30mm tube offers 70 MOA of windage and elevation in ½ MOA click adjustments. The Circle Plex reticle is etched into the 1x14mm Prismatic's glass, meaning that batteries are not needed. The Prismatic does have a removable Illumination Module, with nine power settings for dealing with all lighting conditions, but again, even if the battery fails, the etched Circle Plex reticle is always present in the Prismatic sight.
The Leupold Prismatic reticle was easier for me to adapt to based on my own prior experience and training. Individuals will have to decide what sight works best for them, but the Leupold and Trijicon products are good places to start.
ON THE RANGE
Range evaluations of the 556 SBR consisted of an initial reliability test of dumping several magazines in quick succession. After this, the 556 SBR was run through various CQB drills.
I am fortunate to have access to Echo Valley Training Center (EVTC), a private range that hosts LE competitions and training courses. I often use courses of fire initially set up for these events to evaluate a rifle I'm testing. In addition to individual training bays, EVTC features multi-stepped target berms that are strewn with reactive steel targets, fluid-drained automobiles, and moving targets at ranges from 150 to 350 yards.
Magazine changes, shooting from the non-dominant shoulder, and unconventional positions around barricades helped to evaluate the twin SIG 556 SBRs. Strings of fire ranged from 15 to 80 rounds, while target distances measured from a few feet out to a couple hundred yards.
Magazine change drills turned out to be a combination of AR and AK manipulation techniques. The SIG 556 series does have a bolt hold-open feature after the last round is fired. So it was possible to slam a fresh magazine home and hit the bolt hold-open lever with my left hand to chamber a round.
For occasions when a magazine is changed without the bolt being held open, or training doctrine dictates running the bolt every time, the user has to resort to a few different methods, à la the AK. Reach over or under the rifle with your left hand and work the bolt, tilt the rifle over with the right hand on the pistol grip and work the action with your left hand, or switch the rifle over to your left hand and work the bolt with your right hand. None of these techniques were particularly hard to master, but are different than what dyed-in-thewool AR operators will be accustomed to.
The SIG 556 SBR's stout and squat profile aided in fast transitions between multiple targets. With stock and optics installed, the SIG 556 SBR weighs in at over eight pounds. Although not light, the 556 SBR's weight is a good compromise between dampening recoil and reducing muzzle climb during rapid strings of fire, yet still allowing for quick target acquisition.
My evaluation of the twin SIG 556 SBRs spanned several months and numerous range visits. I sent over 1,000 rounds downrange without any reliability issues. I credit a quality firearm, ammunition and magazines with this performance.
The short-barreled SIG 556 SBR hangs well from a Blackhawk one-point sling. I used Brownells AR-15 magazines to supplement the single 30-round magazine that ships with the SIG P556. It's hard to beat the SIG 556 SBR's combination of AR-15 control functions, AK reliability, and SIG manufacturing quality and accuracy—especially when put together in a compact SBR package.
This combination is hard to argue against in terms of utility for a peace officer or security-conscious citizen.