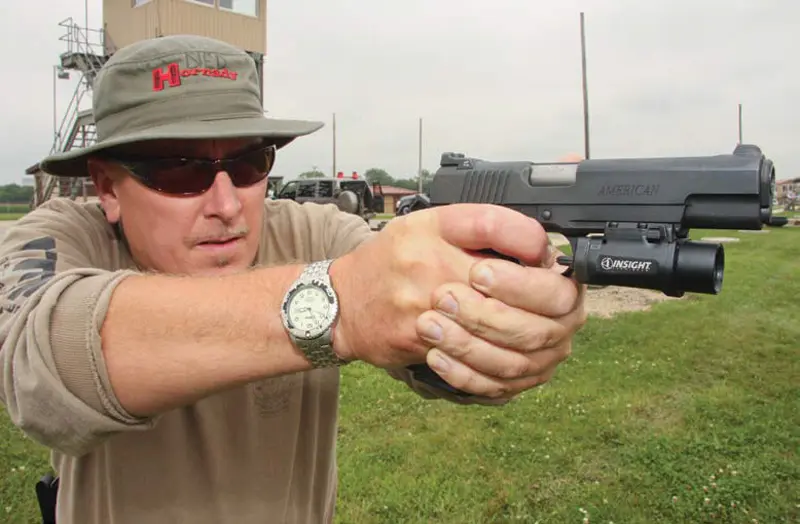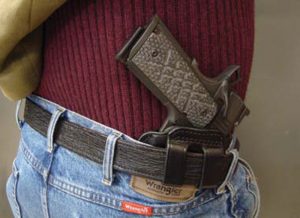 On the scene for almost seven years, GI entered the market with something that was truly new and different in a 1911: the .50 GI cartridge and a highly refined semi-custom 1911 to fire it. Although the .50-caliber Model 1 has previously been covered in the pages of S.W.A.T. Magazine, Guncrafter Industries can hardly be discussed without at least a brief review of their very first product.
GI MODELS 1 AND 2
The .50-caliber GI Model 1 and lightrailed Model 2 are standard 1911 size in terms of outside dimensions. You don't see them everywhere because there are a lot of 1911s that cost less. The .50 GI cartridge is loaded by GI with a 300-grain bullet at 725 feet per second (fps) and a 275-grain bullet at 875 fps. Last year they added two more loads, both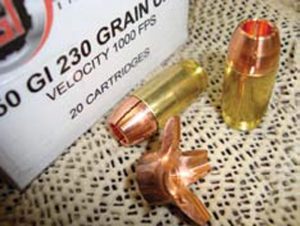 featuring a turned copper, slotted hollow point bullet. One weighs 185 grains and makes 1,200 fps. The other, a 230-grainer, does 1,000 fps.
GI also offers a conversion kit for 10mm and .45 ACP Glocks, enabling them to fire the .50 GI cartridge.
FULL DISCLOSURE
I freely admit to being a personal friend of Alex Zimmermann, the Danishborn principal of GI. I met Alex and his friend Jess when they came to the U.S. in 1991 for a three-month tour. They bought a clunker and drove from coast to coast participating in shooting matches, visiting historical sites, touring any firearms and ammo plants that would have them, camping, making friends and generally enjoying a sample of the American Dream.
We shot the Second Chance bowling pin match together that year and it was obvious the guys were shooters—and they still are. Alex has won the IDPA Nationals Stock Service Revolver division seven times, and Jess's most recent of many shooting accomplishments was to place second at the 2009 Bianchi Cup in Production Class.
Alex dumped an engineering career in Denmark to come to the States and work for Wilson Combat. There he filled several roles, including design and development of new products, refining existing ones, and ensuring that anything outsourced was made to a high standard.
So, full disclosure out of the way, I can tell you that from the start I determined I would compensate for Alex being a friend by treating the test American like a rented mule.
In 2007, GI was awarded a contract to build 40 .45-caliber 1911s for a state police SWAT team. This was a bidding process initiated and overseen by operators, not bean counters. The 40 pistols were to have numerous special features, clearly defined in the bid specs, and would be required to pass an unambiguous testing procedure. The team knew exactly what they wanted in a 1911. The American bears many of the features that were specified by this agency, plus a few more.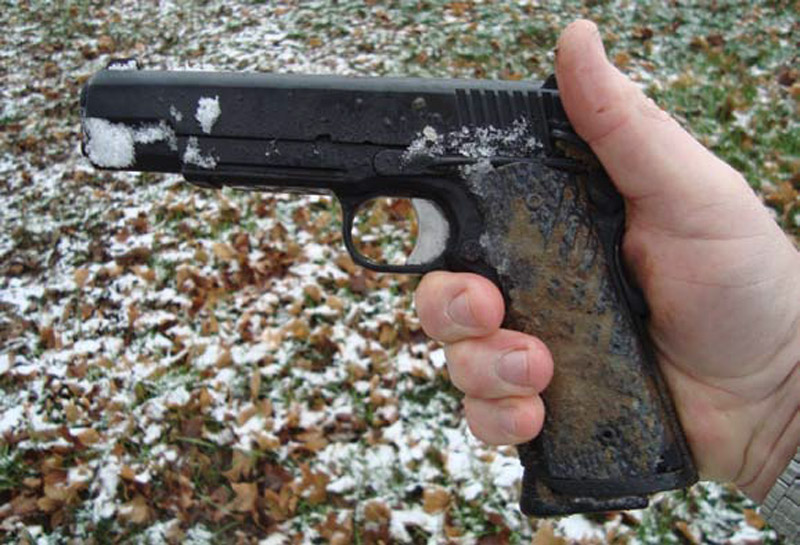 FEATURES
The American has an unusual checkering pitch of 15 lines per inch (LPI) on the frontstrap and mainspring housing. While 20 LPI has been the standard for years, these days custom pistols and many factory guns come with 20, 25 or 30 LPI. This is the first use of 15 LPI, or for that matter anything coarser than 20, that I have seen.
It makes a ton of sense. It gives plenty of traction, gloves or no gloves, but more importantly it is much more resistant to getting clogged by whatever one might encounter while handling or fighting with a gun, such as mud, snow, or blood. I proved this to my satisfaction with these substances (olive oil standing in for blood). 15 LPI works well.
The finish is Melonite, a salt bath nitriding process similar to the Tennifer that is found on Glock pistols. Not a bakeon or coating, the treatment is absorbed into the metal's surface and offers corrosion protection, reduced wear of moving parts, and added lubricity, giving a dark satin black finish.
The mainspring housing has an integral magazine well, beveled and matched to the pistol frame's magazine chute. It adds considerably to the size of the opening, making for smoother and faster reloads. The ears of this magazine well add about ¼ inch to the bottom of the pistol. This is not a big deal in most applications, especially since, given its SWAT beginnings, the American seems intended more as a duty pistol than a concealed carry piece.
This magwell unit also has a 3/16- inch diagonal hole passing through it at the very bottom, providing an attachment point for a lanyard. I've yet to see a licensed citizen use a lanyard, but for SWAT operators and soldiers, it rates somewhere between "totally legit" and "must have."
SIGHTS
Front and rear sights are Heinies. The rear is the latest model, with a vertical abutment in front for one-handed slide racking. Some may roll their eyes at this, but on a real-deal duty gun, it certainly does no harm to have a feature on the top of the slide that the operator can catch on something to retract the slide.
This is especially important to the SWAT shield man. With his support hand, he is holding a ballistic shield, which may very well be the only cover for him and anyone behind him. In his strong hand is his only weapon—the handgun. It will be extended forward of the shield, canted inward to some degree so the sights are visible through the shield's bullet-resistant port. In a situation where there is urgency and movement, conditions are perfect for the slide to bump the shield when the pistol is fired, causing a malfunction. I submit that if this happens, it is unwise to set the shield down, with lead flying around, to remedy said malfunction. It's better to be able to rack the slide by hooking the front of the rear sight on the edge of the shield and pushing vigorously.
Both sights are dovetailed in and each has a single glowing tritium insert, enabling the user to align the sights even in low light. Both are serrated on the rear surface to present a glare-resistant surface to the shooter's eye. For the same reason, the top of the slide is flat with several serrations running its length.
ARGUING POINT
The contract called for something guaranteed to start a discussion, maybe even an argument, among any group of 1911 mavens: a full-length guide rod for the recoil spring. If you have never seen or been part of this "big controversy," just get on any Internet forum having to do with 1911s and ask if you should have one—"light fuse, get away" as it says on a string of firecrackers—but realistically there's no issue. Have one or don't or switch around every week; it probably won't change your life. On the American, Alex elected to go with the standard recoil spring plug and guide—the way they were when the Army said, "We'll take it" in 1911.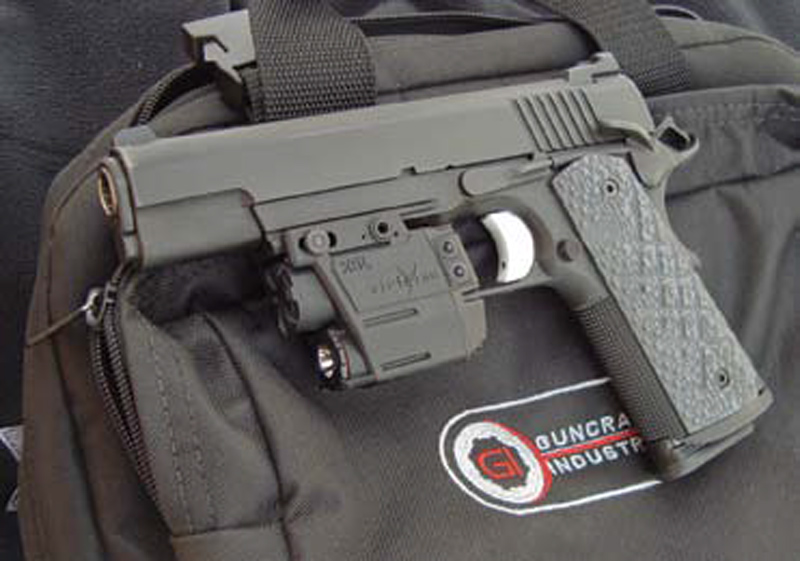 Other components are, as worded in the contract, "best quality." In Alex's time at Wilson Combat, thousands of pistols passed through his hands, sent in with every kind of malady, malfunction, breakage, and weird combo of inappropriate, ill-fitted parts and accessories.
Later, as GI was getting established, Alex was hired as a consultant by two major names in the 1911 business on two major design additions to the 1911: the light rail and external extractor. The external extractor versus the original design, like the full-length guide rod, can be and has been debated ad nauseum. Of the many companies that incorporated it, many got it wrong (not the ones that hired Alex).
From this unique wealth of experience, the American's fire control components, safeties and all other parts not made by GI were selected by Alex based on quality and durability.
The thumb safety is ambidextrous and its detents in the on and off positions are distinct and positive.
GRIPS AND GRIP SAFETY
The beavertail grip safety, whose job is to block the trigger's movement when the pistol is not being held, is tuned so that it is not necessary to depress it 100% to enable firing. This addresses what for some shooters is a big problem: with a fast and imperfect grasp on the pistol, the grip safety may not be depressed all the way, leaving the trigger still blocked, resulting in a round not fired. The GI's perfect timing of the grip safety is a custom touch, a bit of 1911 esoterica that is appreciated by the experienced 1911 user.
The grips are noteworthy. Made of tough G10 laminated synthetic, they are grey and black in a Damascus-like pattern. They have a unique wedge shape: narrow side-to-side in front, wider in back. Most noticeably, and following the theme found elsewhere on the pistol, the grips have a radically coarse checkering pattern, further augmented by deep crossed grooves.
As with the frame's checkering, it is difficult to pack this pattern with enough of anything to make the pistol slippery. It's not for nothing that GI nicknamed these grips "The Shredders." For hands accustomed to hard work and/or lots of shooting, they afford the ultimate in traction. Softer hands may take awhile to get used to them.
The American comes with two eightround magazines that feature a follower with a patented improvement on the old Devel (Chip McCormick)-style follower: a front skirt keeps it from tipping. They are top-quality magazines, not just somebody else's rebranded with the GI logo.
DEPARTMENT OF ACCURACY AND RELIABILITY
I tested the American with high-end duty/defensive ammo (to confirm feeding reliability with hollow points) and less expensive training ammo. Some guns will group much better with some loads than with others; the American was pretty consistent with all ammo tested, but some of the best 28-yard groups (off sandbags) were with Winchester Ranger 230-grain SXT hollow points (eight into 2.95"), Sampson 230 ball (eight into 2.7"), and Federal 230 HST hollow points (eight into 1 3/4").
I tracked the number of each type of round fired through the pistol. The total number of factory rounds fired was 1,210, and another 150 or so handloads were also fired. Even with some of the handloads being on the wimpy side, and only one cleaning at about 450 rounds, there wasn't a single failure, malfunction or breakage of any kind.
Guncrafter Industries, with Alex at the helm and Jess at the head of the gunsmithing team, has proven to be an innovative and quality-oriented enterprise. I fully expect a steady stream of interesting and useful products from GI in the years to come.
There are still 1911s out there for under $600. Those will do fine for a lot of people. For some, they won't. Some $600 1911s will work great, and others might not. If you are ready to spend the extra money for a higher-end 1911 ($2,695 MSRP in the American's case), the Guncrafter American should be among the candidates.