The MVF-515 is the newest rifle laser sight from Crimson Trace. The modular MVF-515 is designed to serve as a multi-purpose tactical platform as Crimson Trace develops new modules and capabilities. The MVF-515 will be replacing the Crimson Trace VF-302 and LG-525.
The Crimson Trace MVF-515 Modular Vertical Foregrip Light and Laser combines a powerful dual-intensity tactical LED light, aiming laser and vertical foregrip into a singular modular package.
Available with either a red or green laser, the MVF-515 fits Picatinny (MIL-STD-1913) or similar rails. An infrared (IR) laser is available to qualified agencies. The MVF-515 Green was received for evaluation.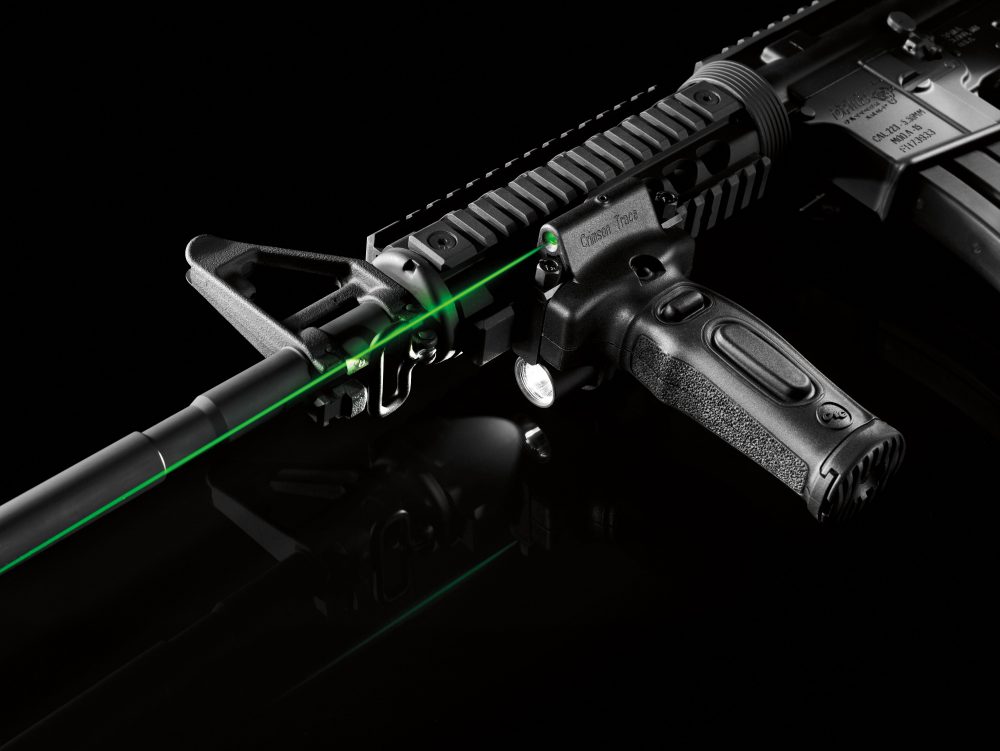 MVF-515 Green is newest rifle laser sight from Crimson Trace. It combines a tactical LED light, green aiming laser and vertical foregrip.
---
Textured, reinforced nylon grip panels with over-molded activation pads are featured on the MVF-515. The grip panels have aggressive texturing that provides a secure, no-slip gripping surface. The grip panels on the MVF-515 are mounted to a full-length 6061-T6 aircraft aluminum, hard-anodized tang, and secured with a pin-locked, channel-fitted butt cap. The tang has a custom two-screw Picatinny rail mount with Parkerized steel recoil lugs and hardware. Weight is 10.2 ounces.
The MVF-515 is equipped with ambidextrous dual-side activation switches for both light and laser. Operators can select the light and laser separately or both simultaneously. Each panel also has a master on/off switch that serves to program the mode of operation. The switches are instinctive to operate but designed to avoid the possibility of inadvertent activation.
Features include momentary, strobe and constant-on programmability for both the light and laser components. The light and laser can be programmed independently of one another.

MVF-515 is designed to fit Picatinny and similar rails.
---
The MVF-515 is equipped with a replaceable 150/200-lumen LED light module. Rotating the light bezel selects the output. The MVF-515 provided for evaluation has an excellent tactical beam, a brilliant white beam with a bright central hotspot and broad spill—ideal for CQB.
The MVF-515 is commercially available with either a 633nm (nanometer) red or a 520-540nm green laser. Beam intensity is 5mw peak, the maximum allowed for a class 3R laser. Dot size is approximately .5 inches at 50 feet. The laser is adjustable for both windage and elevation by turning the elevation and windage screws with a .050″ hex wrench. Two wrenches are included with the MVF-515.
Green lasers appear brighter to the human eye because the peak sensitivity of the human eye is to green. We can see green at longer ranges and under a wider variety of lighting conditions than we can see red. Under bright lighting conditions, our eyes are roughly four times more sensitive to green than to red. When our eyes are dark adapted, our sensitivity to red degrades. Bright light or dim light, the advantage clearly goes to green.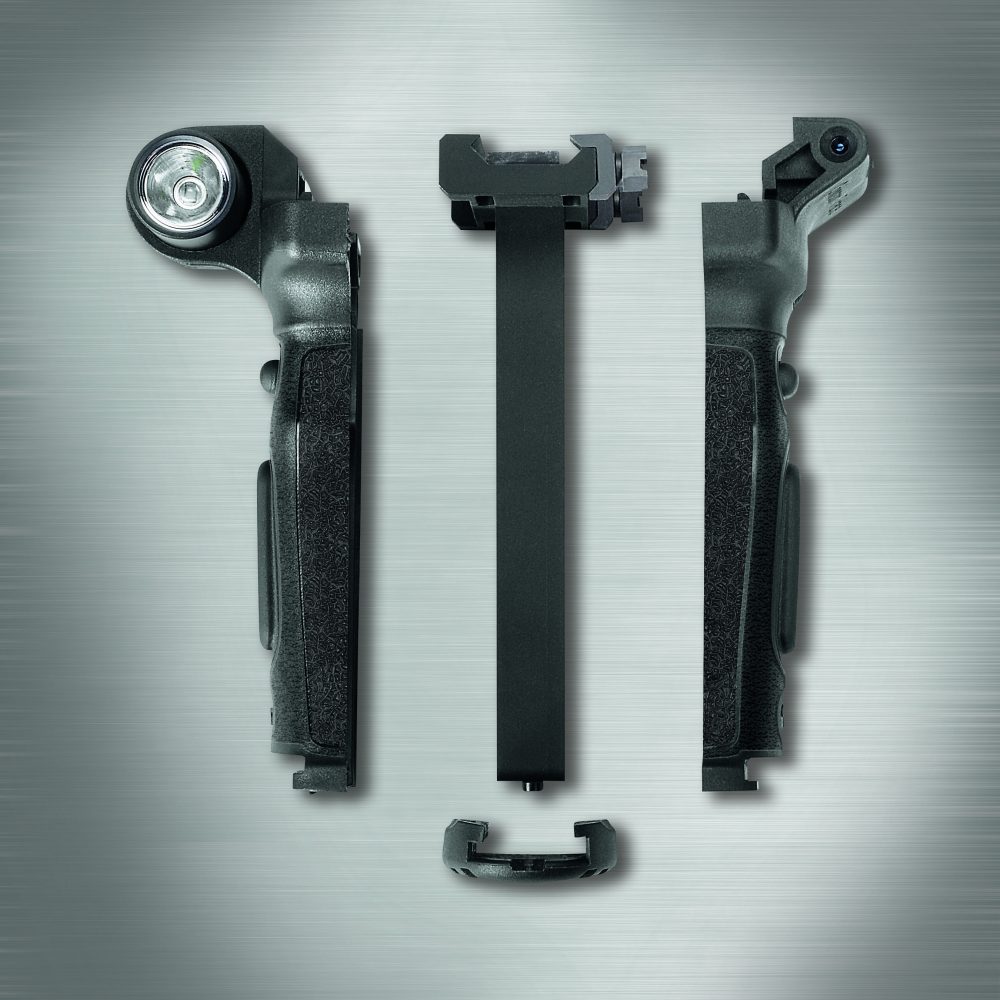 MVF-515 features modular design, which will serve as a multi-purpose platform as Crimson Trace develops new modules and capabilities.
---
If green is so good, then why are most laser beams red? Red and IR beams are produced by laser diodes, which have been in development since the 1960s. They employ a technology known as multiple quantum well (MQW) laser diodes. MQW diodes are not currently capable of producing green.
So where do we get green lasers? Green lasers employ what is known as a Diode-Pumped Solid State Frequency Doubled (DPSSFD) Laser. In order to get a green laser beam, an 808nm IR laser diode is coupled with a Neodynium-doped yttrium vanadate crystal to produce IR in a 1.06-micron wavelength. A special frequency doubling crystal (e.g., KTP) turns the 1.06-micron light into green light. Any residual IR light that may still be emitted must be filtered out.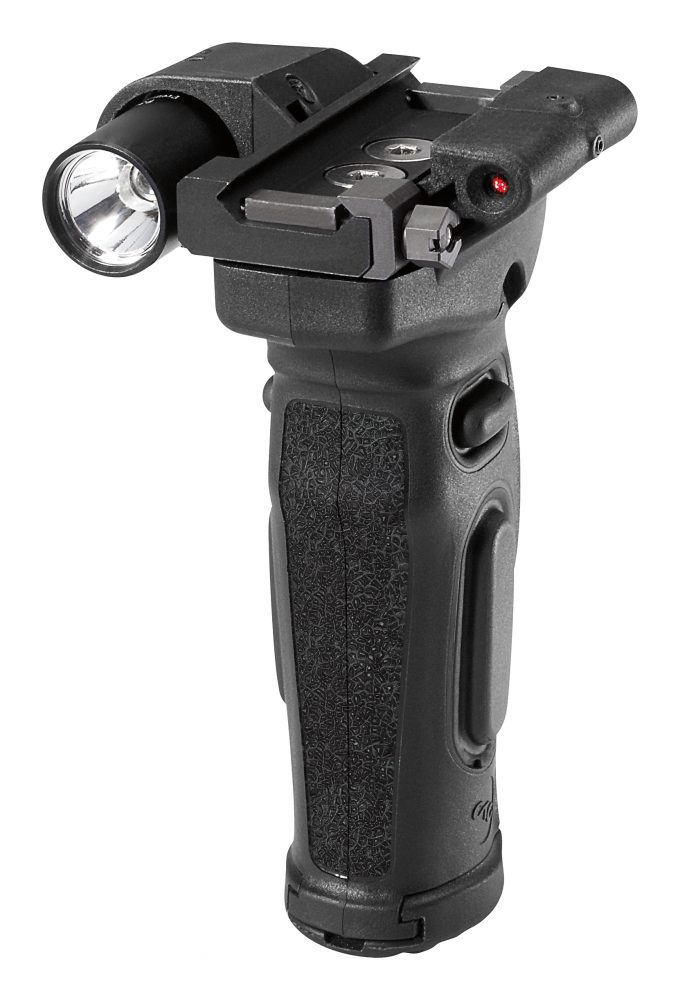 There are other issues that need to be considered. A laser weapon-sighting device must be robust enough to withstand the forces of recoil. The conversion process of a DPSSFD is very sensitive to the alignment of the crystals and lens. Heat and high power draw are other issues.
Prior to coming out with the MVF-515 Green, the Crimson Trace engineering team solved these issues. This was achieved by utilizing the latest technologies in the MVF-515. Crimson Trace was also able to devise a way for the laser to operate in temperatures that other green lasers cannot compete with. The Crimson Trace green laser was tested from 16F to over 120F, a range previously unobtainable in consumer-grade green lasers.
Power for the MVF-515 is provided by two CR123 lithium batteries (included). No tools are required to replace the batteries, and the MVF-515 does not have to be removed from the weapon. The batteries provide over four hours of light illumination and a minimum of six hours of laser activation on the MVF-515 Green. The batteries provide over four hours of light illumination and a minimum of 48 hours of laser activation on the MVF-515 Red.
Workmanship on the MVF-515 Green provided for evaluation was excellent, as was the performance. I especially like the modular design, because it ensures the MVF-515 will easily be able to be upgraded as technology changes.
The MVF-515 comes with a 30-day risk-free guarantee. Suggested retail price for the MVF-515 Red is $479.00, and $649.00 for the MVF-515 Green. Shipping is included if purchased directly from Crimson Trace. Both models come with a complete three-year warranty.
SOURCE:
Crimson Trace Corporation
Dept. S.W.A.T.
9780 SW Freeman Drive
Wilsonville, OR 97070
(800) 442-2406
www.crimsontrace.com