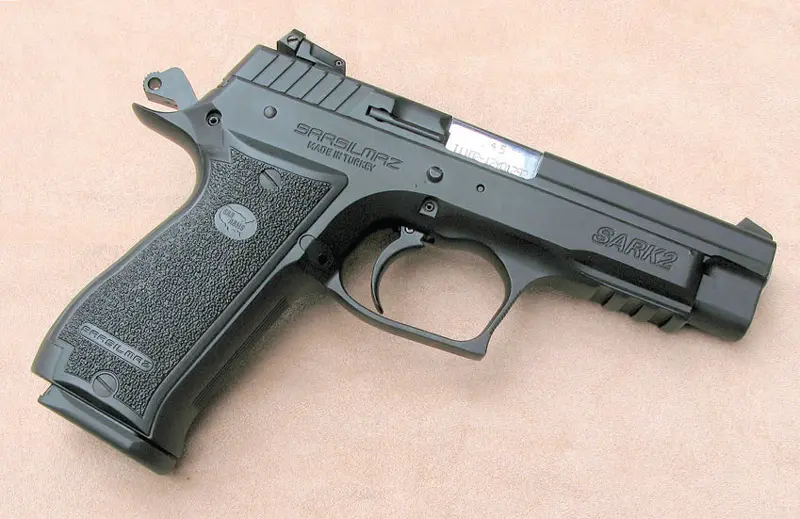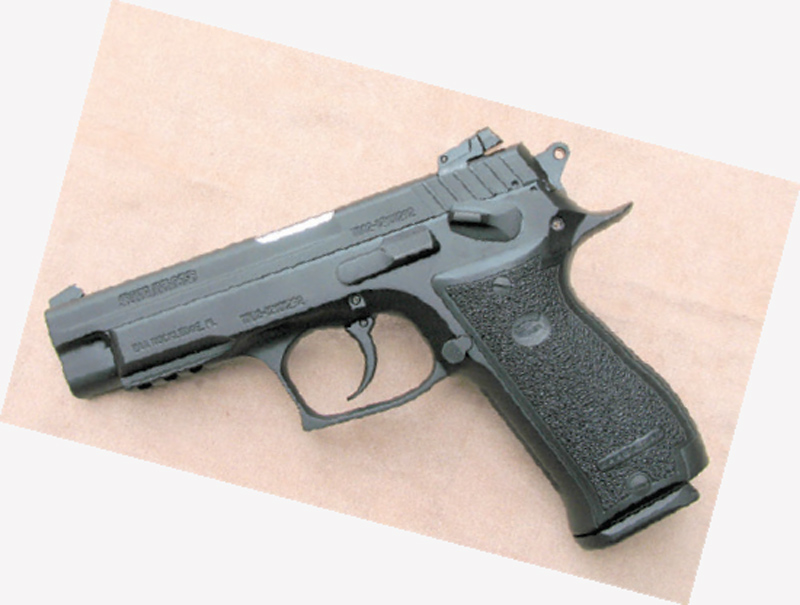 I had the good fortune to travel to the geographical bridge between East and West—the ancient but timeless city of Istanbul. The historical struggles between opposing religions and countries are evident in many places, and the business of developing the most advanced weapons of various historical periods can be readily seen in the city's grand museums.
Turkey has a tradition of arms and armament that certainly tormented Crusaders but remained unappreciated by the West until recently. Initially, Turkish shotguns led the way abroad with quality fowling pieces at low price points, and recently imported handguns are beginning to gain more U.S. market share.
SARSILMAZ QUALITY
Frankly, many early Turkish designs were a little weird looking and, although they featured solid steel construction, some resembled Saturday Night Specials. However, this initial impression was erased when I traveled with Mark Westrom, president of ArmaLite, to the Sarsilmaz factory in Duzce, Turkey.
I was quite pleased when I examined a number of high-quality all-steel pistols that reflected the beautifully executed iconic profiles and handling characteristics of the Swiss SIG P210 and highly desirable Czech CZ 75 pistols. This faithful emulation took the form of Sarsilmaz's 9x19mm "K" or "Kilinc" (sword/cutlass) model. When I was introduced to the pistol, it had been thoroughly vetted through years of service in the Turkish military.
The 132-year-old company has modern facilities and the most contemporaneous gun-making and quality-control machinery available in the Middle East. Sarsilmaz has successfully merged old-world craftsmanship with modern production. Living in a nearby village, the workers become part of the factory's family and are cared for as such.
SKUNK WORKS
Like many businesses involved in military and sporting small-arms development, Sarsilmaz has its "skunk works," where engineers dream up new designs and firearms concepts.
While touring the facility, we spent time in a restricted engineering area. Sarsilmaz's first SHOT Show as an exhibitor was coming up, and on the table before us were several advanced prototype pistols in calibers other than the popular 9x19mm. These contemporary and advanced-looking handguns possessed Western looks and feel and featured hooked trigger guards, forward serrations, Novak-style sights and light/laser rails.
But one was noticeably larger than the others and pleasingly chambered in our all-American caliber, which is no stranger to the Turks. Turkish soldiers in Korea and other Cold War punch-ups relied on U.S. weaponry. Many loved the Thompson submachine gun in .45 ACP. As a result, they developed affection for the caliber and the weapons that digest it.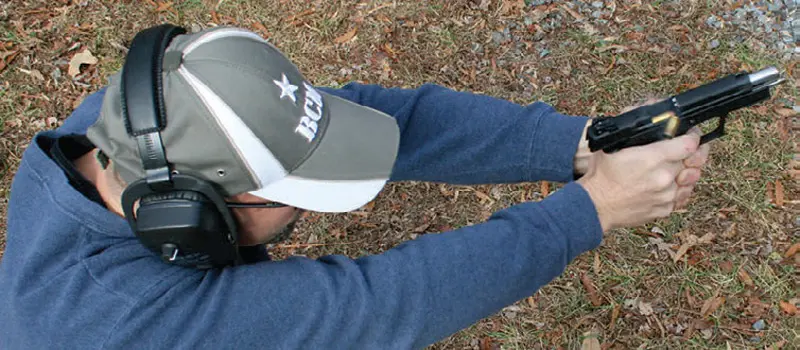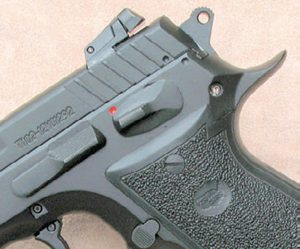 IMPOSING PISTOL
This rather imposing but nicely sculptured all-steel handgun was the prototype of what is now known as the SAR K2 .45 ACP pistol. Those familiar with ArmaLite's 9x19mm AR 24 import will recognize that the K2 retains the 24's lines but in a larger package.
For enthusiasts who love all-steel firearms and will ignore its 40-ounce empty weight with magazine, this may be the perfect double/single, cocked and locked, high-capacity pistol. The piece is handsome and Sarsilmaz claims it will endure at least 25,000 rounds and years of hard service use without breaking the bank.
In regard to weight, obviously it's all relative. One of my Colt 1911s with magazine eclipses the K2 by four ounces. Fully loaded with 15 rounds of 230-grain ammunition, the K2's go-to-war weight jumps to 50.2 ounces.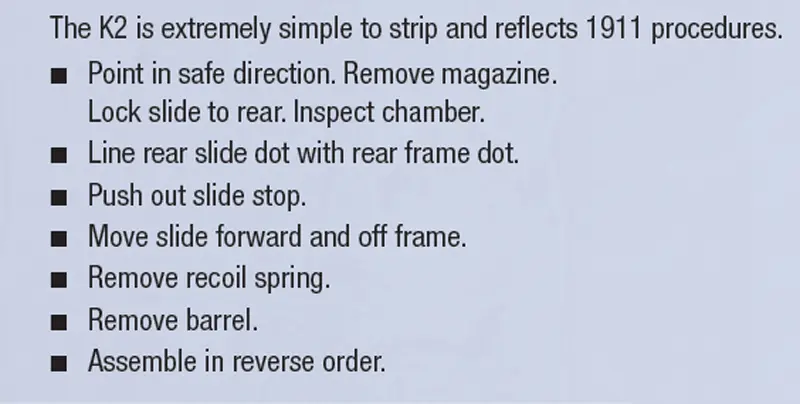 INCOMPLETE KIT
The pistol is ensconced in the standard padded plastic case and augmented with a manual, rear sight adjustment and screw tightening tools, cleaning rod, barrel swab, trigger blocking security lock, and padlock. In my opinion, the K2 is incomplete because it comes with only one, albeit very well made, 14-round magazine with base pad.
All pistols should be accompanied by at least one spare magazine to be combat ready. Charge for the additional stick, but don't force customers to go to the trouble of ordering one to complete the package. Additional magazines are $44.00.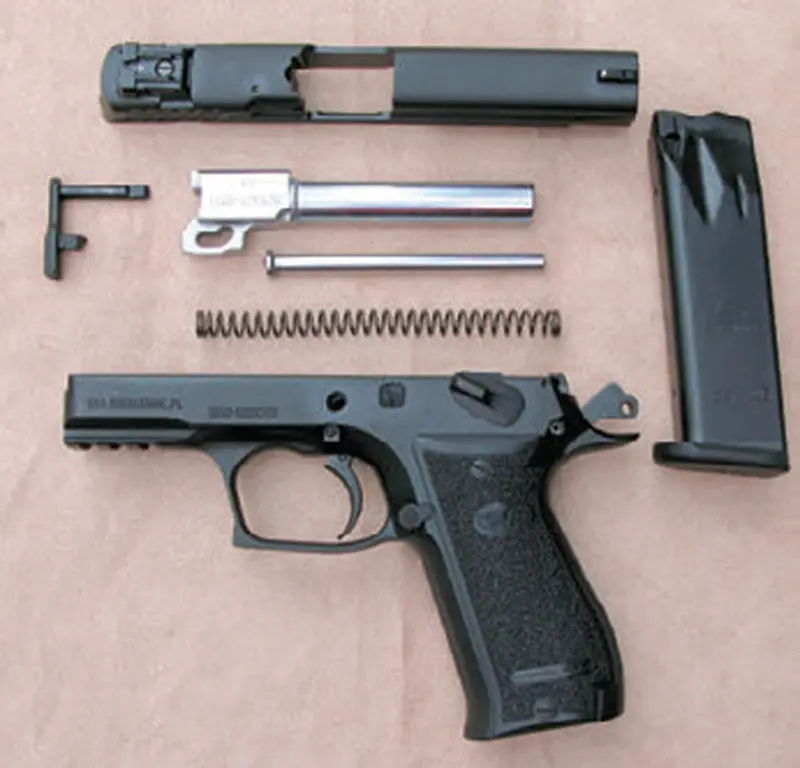 OPTIONAL CONDITIONS OF CARRY
There are two practical ways to carry this pistol. With a round chambered and hammer down, the K2 is in double-action (DA) mode. In this configuration, the safety can be applied and it will block the trigger and slide, or it can be left disengaged, and the relatively heavy and long (0.749-inch) trigger stroke will act as partial barrier to unintentional discharge.
The pistol also features half cock or a hammer intercept position. In DA mode, some novices will move the hammer to half cock in an effort to reduce trigger travel. The gun can be carried safely in that position, but you risk damage to the hammer and sear engagement if the hammer is struck.
Estimated DA trigger stroke weight is about ten pounds, so for me the DA mode of discharging the weapon is my second choice. In general, I will habitually travel with it in Condition One—a round in the chamber, cocked and locked, with safety engaged and in single-action (SA) mode. This condition also shortens trigger travel (0.353-inch) and reduces trigger weight by half.
EUROPEAN AMERICAN ARMORY
The K2 is available through European American Armory (EAA). Boss Paul Richter advised that 9mm, .40 S&W, and 10mm versions with corresponding increases in magazine capacities will be arriving at EAA's Rockledge, Florida facility in the future.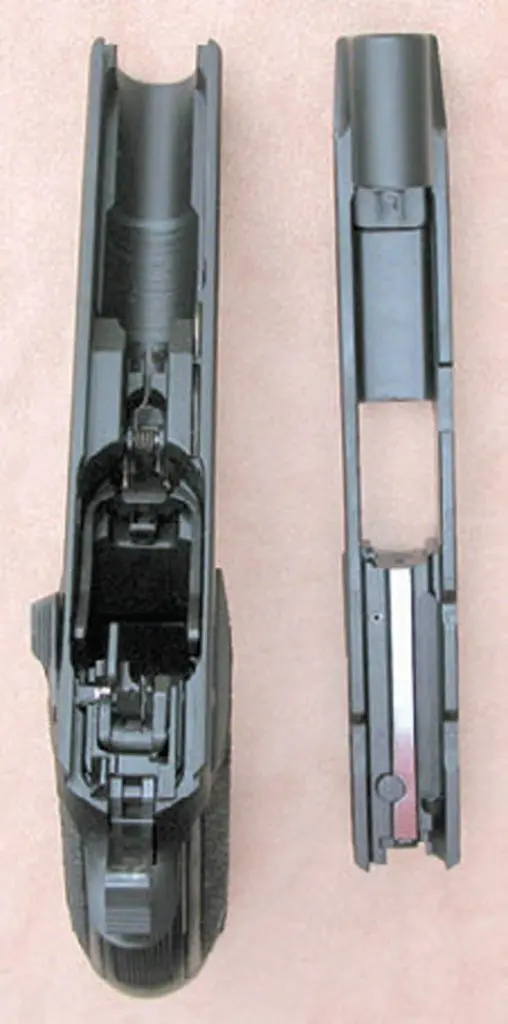 AMMUNITION RESTRICTIONS
As mentioned, this is a rugged and robust-looking piece, but its manual's cover warns the shooter not to use +P or highvelocity, high-pressure ammunition (factory or handloaded) in the K2.
Unfortunately, this limits one's choices in modern high-performance defensive ammunition, but by ignoring this warning, the K2's warranty could be voided. Fortunately, the big bullet does not have to rely on high velocity or exotic bullet design to be effective.
K2 PROFILE
Starting at the bushingless muzzle, the K2's cavernous, highly polished, 4.614- inch, fully supported, one-piece linkless forged barrel is accompanied by a solid steel one-ounce guide rod. The slide is crowned with a white dot partridge steel sight that is linearly dovetailed and screwed into the slide.
Like the CZ 75, the K2's slide rests on internal receiver rails. As a result, the slide has a narrower profile, but most importantly is fully supported fore and aft and its barrel sits lower in the frame. This helps to reduce muzzle rise. Fit is snug and I could not detect any vertical or horizontal play. Both external and internal finish is flawless.
A slightly relieved and spacious ejection port is where primary barrel lockup occurs and again, it exhibited zero movement. At the semi-enclosed breech face, a dorsally located, visualonly loaded chamber indicator peeks through the barrel's chamber. A large external extractor with substantial claw precedes aft gripping serrations.
SIGHTS
A very prominent fully adjustable dual white dot sight completes its topside features. But the aft sight looks out of place, disrupts the lines of the pistol, and is vulnerable to damage.
On a combat piece, I prefer low-profile fixed sights, and a K2 so equipped is depicted in the manual. However, there is no reference to the adjustable sight within the instructional booklet. The firing pin is retained by a 1911-style cover plate and can be removed in a similar manner.
Ignition is actuated by a spur hammer, and the hand is protected from hammer bite by a graceful beavertail that flows into the receiver's curved and serrated back strap. There is no decocking device, and the hammer has to be carefully lowered manually.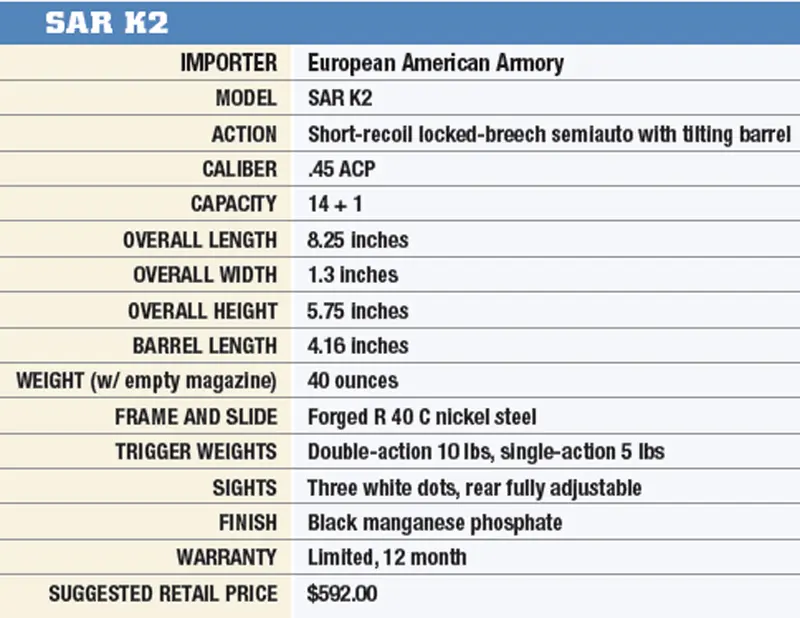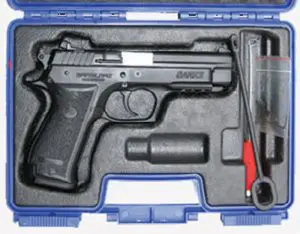 GRIP CONSIDERATIONS
Grip panels are pebble-grained plastic that are anchored by slotted screws. The magazine well opens wide to accept the staggered box magazine, but is not relieved to increase the diameter of its orifice to further facilitate speed reloading.
On its left side, the large magazine release is far enough away that I have to flip the pistol toward me to hit it. While empty magazines drop free, they are not ejected and, if the K2 is held at a horizontal angle during reloading, magazines may have to be flicked out with additional wrist movement.
Vertical serrations are also present on the front strap, and its base is slightly flared to provide a rest for the pinky. Grip ergonomics are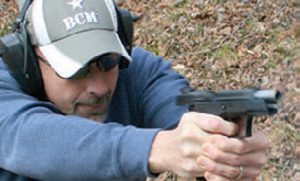 excellent and perfect for large hands. When seated properly in my hand, my index finger's first pad falls naturally onto the face of the DA trigger without the rest of my digit putting lateral pressure on the frame.
If your mitts are somewhat dainty, you will have to carry the K2 in SA mode to properly reach the trigger. The curved trigger embraces the finger and has no sharp edges. During sustained firing, it will not beat your finger up and it positions it high enough so it does not drag on the inside of the trigger guard.
For the minority of shooters who use the trigger guard as part of their grip, the trigger guard is hooked and its forward edge is horizontally serrated. The guard is huge to accommodate gloved hands.

The port-side thumb safety operates like a 1911's lever and is large enough to find and hit when presenting from the leather. It's sufficiently sized so the shooter can ride it while gripping the weapon. When disengaged, a red dot means, "Go."
The slide stop is oversized, but not grossly so, and can be accessed by the dominant hand's thumb in the same manner as the magazine release is acquired. In keeping with its tactical potential, the forward dust cover sports the almost obligatory Picatinny rail for light and laser accessories.
Other than the reported finish choices, there are no other options offered by EAA.
K2 PERFORMANCE
We have all heard the tired cliché that a gun is "combat accurate," but its definition is elusive and can change as the distance from the target changes. A good rule of thumb might be "capable of head shots from a rest at 25 yards." Out of the box, the K2 was impacting low and left, and when I attempted to adjust the rear sight for windage with the provided hydra- headed tool, it would not budge. I actually bent the tool in the process.
With a little more leverage, a conventional screwdriver managed to force a bit more movement. Nevertheless, by employing some "Kentucky Windage," I produced a 25-yard, 15-round, fistsized primary group from a two-handed standing offhand position, while transitioning from DA to SA for each pair of shots. The K2 is definitely mechanically combat accurate and, in the right hands with some tuning, might win an action pistol match or two.
At the same distance but from the bench, accuracy results were somewhat better. Recoil was 1911-like, but the larger rounded grip spreads that force out in the hand.
Accuracy accolades of 2.07 inch went to Winchester 230-grain jacketed hollow point (JHP), which is the current FBI HRT 1911 load.
The speed demon for these standard- pressure munitions was International's 155-grain fragmenting hollow point (HP) at a high individual velocity of 1,085 feet-per-second (fps). The lightweight bullet was the most pleasant to shoot. Federal's vaunted 230-grain Hydra- Shok also behaved well in the K2.
I don't know what propels Remington's 185-grain JHP, but my experience with this round has always been that it has tremendous muzzle blast and bark, and this batch was no exception. It's not only a good defensive load, but it will also intimidate everyone in the neighborhood and light up the area with substantial muzzle flash. I like it.
During field testing, my federal agent partner was able to get off some remarkably fast double taps in SA mode. But care must be exercised when attempting a pair or more of fast-tempo shots while the K2 is in DA, because the initial long and heavy stroke can convince the subconscious to apply the same amount of force to the succeeding lighter and shorter SA triggers, often resulting in low oblique hits.
If this pistol is selected as a primary defensive weapon, its owner should train with it exclusively, because the two triggers will take some time and effort to master.
CONCLUSIONS
The K2 is a rugged military-grade pistol that has a pleasing profile with excellent ergonomics and projects a long service life. It is reliable and possesses inherent combat accuracy.
It is a good sidearm that EAA can easily make better by replacing the adjustable rear sight with a fixed one, reducing its DA trigger weight, and smoothing out both actions. EAA should also provide a second magazine.
The K2 is reasonably priced and will probably sell for less than its suggested retail price at your local gun store.