Detachable optics and mounts were a European approach for many years. That is still true in the game fields, but in the tactical world a rush of new ideas and products have come to light in the last few years, some better than others.
The best option I have seen to date is from a company called Global Defense Initiatives (GDI), which has been around since 2002, but since it has specialized in servicing military accounts, very little about it has been released to the public.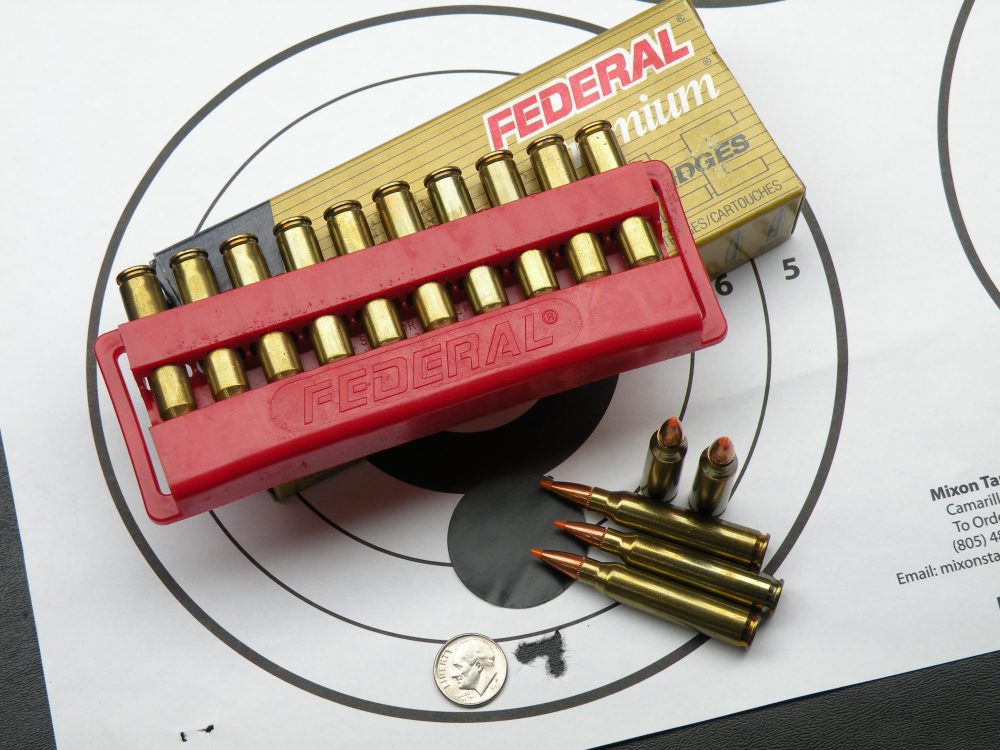 Hantke removed and replaced GDI mounts with Millett scope between each shot. There was literally no change in point of impact.
---
CEO Marco Gonzalez and all core personnel for GDI have backgrounds in the Naval Special Warfare/Special Operations theaters. These are folks who have been there, done that, and understand what is required to successfully complete a mission.
Today's focus on the need for rugged and reliable quick-detachable mounts has occurred because the operators themselves have expressed the desire for equipment that allows the most versatility possible from their single weapon platform. These are people who must function under all conditions with whatever they can carry, as re-supply or maintenance during the operation is not often part of the game plan.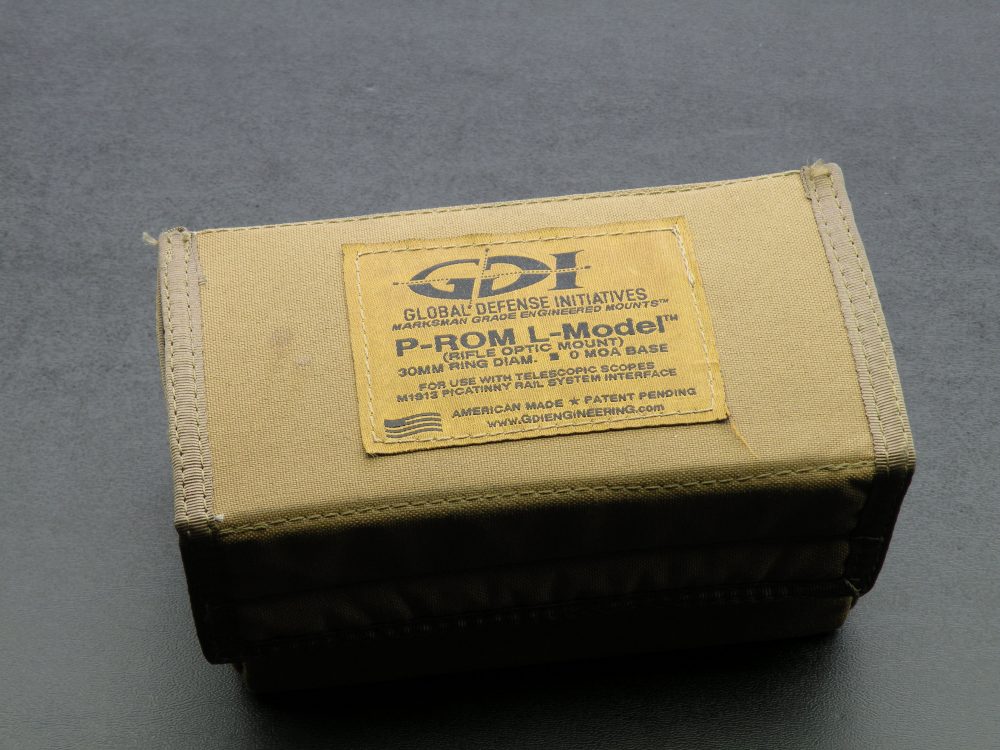 GDI mounts come packaged in tough ballistic nylon case with full-width Velcro closure on top flap. These make great little kit boxes for storing or carrying extra gear.
---
GDI MOUNTS
Today's operator commonly needs to exchange standard telescopic scopes, Aimpoint/ACOG, and night vision sights on the same firearm to best perform in the environment of the moment. GDI provides this selection, having products for Trijicon Combat Optics, Trijicon RMR Red Dot Sights, all models of Aimpoints, and standard telescopic scopes. These mounts are available in different heights, tube sizes, and elevation offset cants for extreme long-range shooting. They are secured to the MIL-STD-1913 (Picatinny) Rail by an auto-locking swing lever, and can be adjusted to compensate for worn or out-of-spec rails.
The mounts are precision machined to provide a non-abrading lock down, and finally, there is a lug on the underside of the mount to allow consistent indexing of the fit and to prevent any front to rear shift in the position due to heavy recoil or heavy use and/or abuse the mount and sight might be subjected to.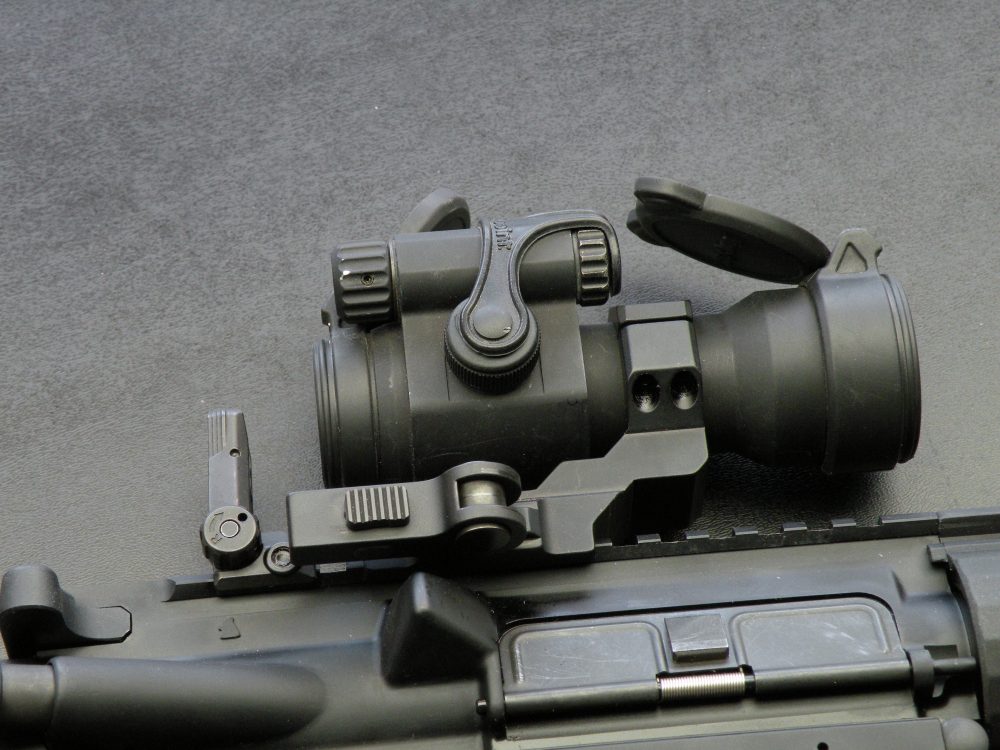 GDI CMC5-OSM mount with Aimpoint CompM2 aboard author's Battle Born AR.
---
They are quite easy to use, as all one has to do is to place the mount on the rail in the pre-determined slot for proper eye relief, snug it forward against the "recoil lug," and snap the lever shut. Removing the mount is just as easy. Slide the locking tab to the rear as you swing the lever out and lift it off. Either operation can be performed in the blink of an eye.
A quick inspection of these Made in the U.S.A. products shows that they are built to withstand any imaginable conditions, so the only question is how they perform when it comes down to a return to zero.
Marco Gonzalez tells me they can verify a return to zero of .01 MOA with laboratory instruments, but I can guarantee you that is better than you or I can shoot! What does that mean in the real world? Well, I didn't don my white lab coat, but I did take two different set ups to the range and ran them through their paces at Mike Raahauge's Shooting Enterprises.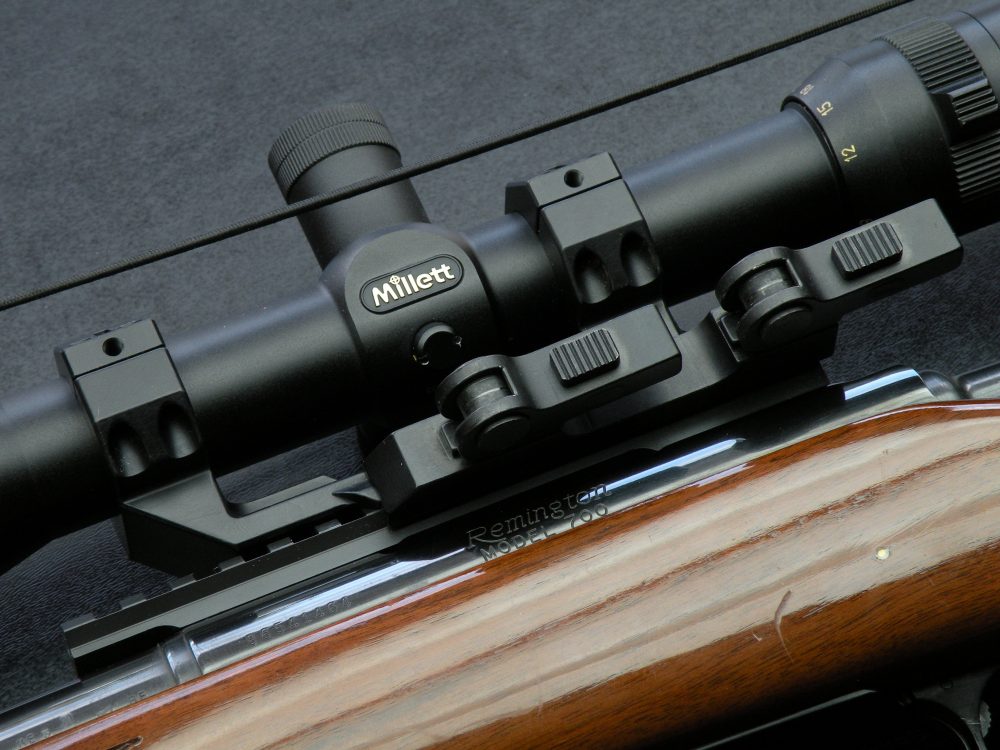 Millett 6-25X in GDI P-ROM L-Model on author's Remington 700.
---
ON THE RANGE
The first mount tried was a CMC5-OSM (Optical Sight Mount) with an Aimpoint CompM2 aboard. I snapped this one on to a new Battle Born AR-15 I've been testing and that has turned out to be one of the most accurate out-of-the-box ARs I've ever fired.
It took less than the ten-round magazine I was using to get the Battle Born AR-15 zeroed on paper at 50 yards, and then I pulled the sight, replaced it, and checked it again on paper. No noticeable change in the zero was seen, and I went through this procedure several more times, firing five rounds each time before pulling and reinstalling the GDI-mounted Aimpoint, with no shift in zero observed.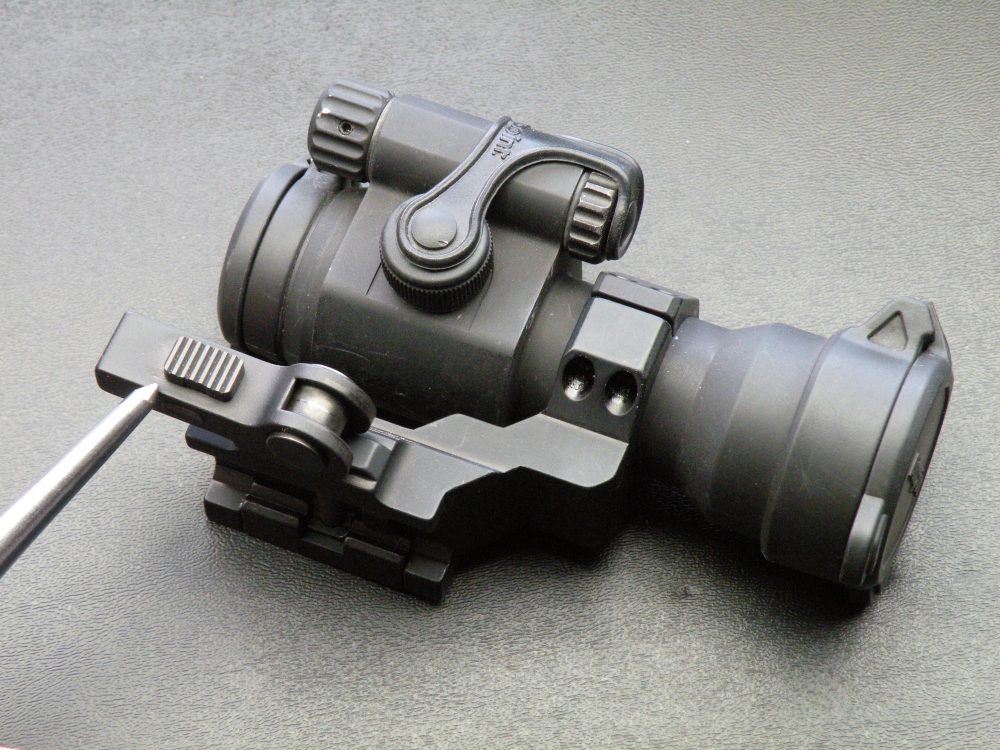 Pointer indicates release tab for automatic lock featured on GDI mounts.
---
This CMC5-OSM unit is specifically engineered to co-index with standard height back-up iron sights (BUIS), and it does so perfectly with the folding Magpul sights on the Battle Born AR-15.
Then it was time for more practical testing, and a little fun, so I grabbed several loaded 30-round magazines and amused myself by shooting clay pigeon fragments on the backstop at ranges from 65 to 70 yards. Lots of quick offhand double-taps showed that the height of the Aimpoint in the GDI mount was just right for fast work, and of course eye relief is selectable with the positioning chosen.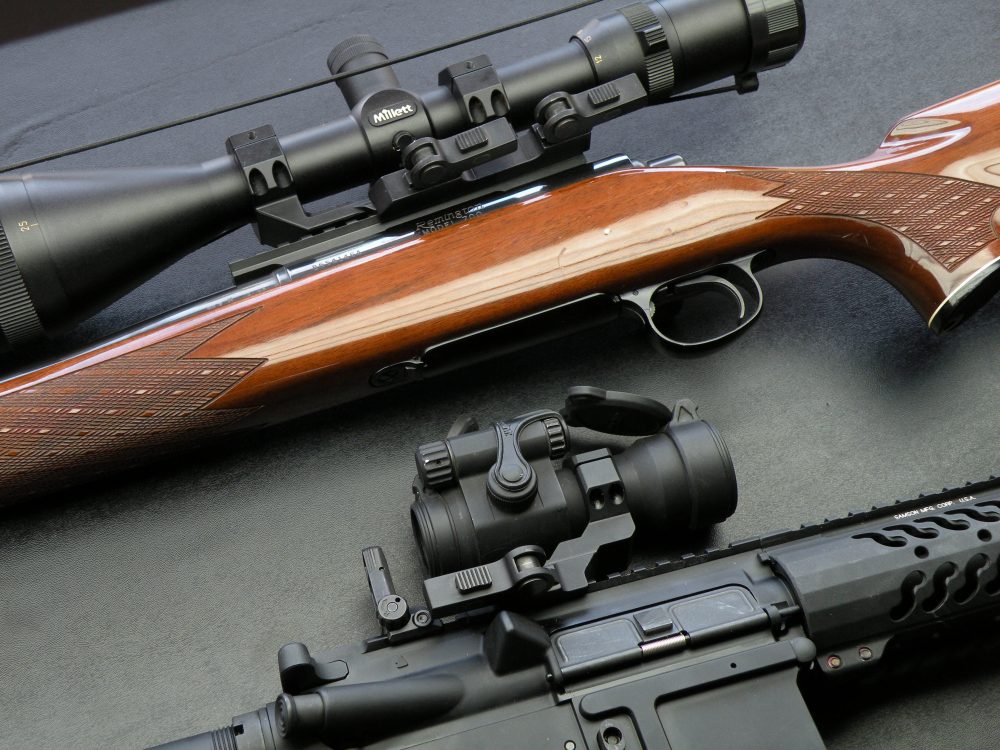 Both rifles with optics used in GDI mounts.
---
Next I went to work with what is probably my most accurate bolt-action, a heavy-barreled Remington Model 700 in .223. Collectors and connoisseurs will wince at this, but the rifle came from the factory as a .222 Remington, and I had Dave Lauck at DL Sports rechamber it for me.
I list it as a .223 because Dave and I agree that Federal Premium with the 55-grain Nosler Ballistic Tip bullet and Black Hills 52-grain moly-coated match hollow points are two of the most accurate factory loads available, and Dave has custom reamers specifically cut for them.
I wouldn't even attempt to load a milspec 5.56mm round in this rifle, let alone fire it, as it has a pretty tight chamber and that kind of stress is no good for the gun. Dave also re-bedded the action and free-floated the heavy barrel, along with cutting a new muzzle crown on the end of the tube. Finally, he smoothed the action and tuned the trigger to a crisp four pounds or so—excellent for accuracy but still safe in the field.
The Remington wore a GDI P-ROM L-Model (Rifle Optic Mount) base holding a Millett 6-25X scope with a huge 56mm adjustable objective lens, 30mm tube, and mil-dot reticle. That's a lot of glass, but you can't hit what you can't see, and this rifle is accurate enough to wear this scope. A Harris bipod completed the package, and I moved over to the new 100-yard rifle range, broke out the Federal Premium 55-grain Ballistic Tip ammo, and had at it. I left the zero a few clicks low from my black targeting spots to be seen more easily on the plain background, and was rewarded with a bunch of tiny little groups that made my day.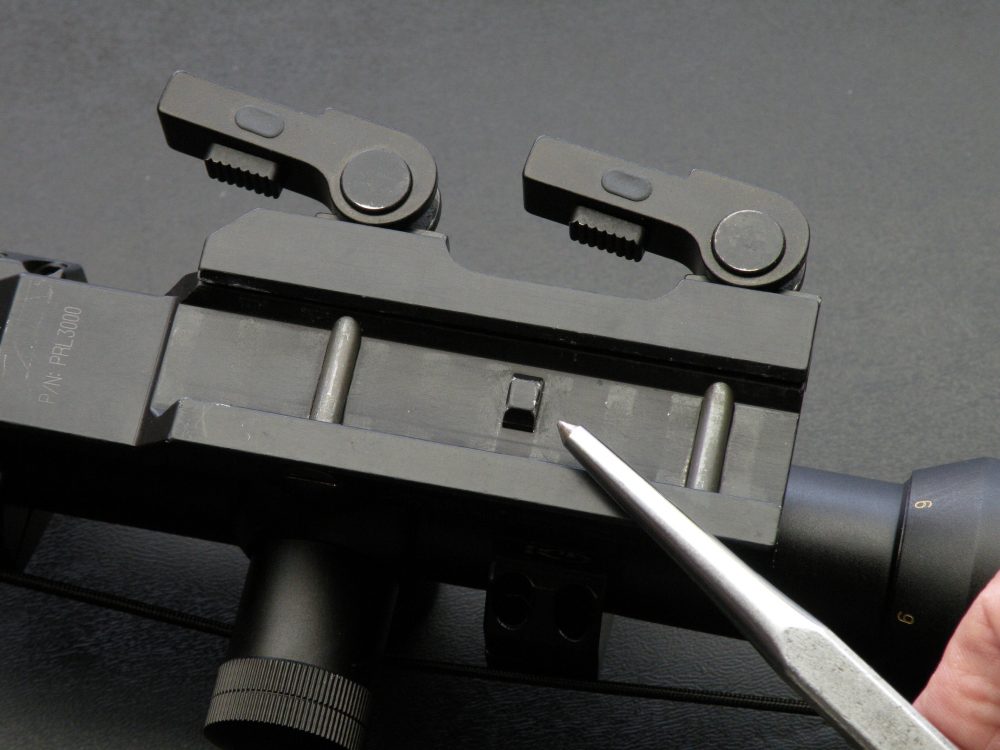 GDI mounts have a "recoil lug" on the underside to prevent any shift due to heavy recoil or use/abuse.
---
The weather was perfect—good sun but not too hot, and the wind didn't kick up until just as I was finishing. And while the big Millett scope definitely helped, I managed not to get twitchy on the trigger after removing and replacing the scope in between each shot. There was magic in the air that morning, and I got all there was to get out of the rifle, the GDI mount, and myself.
In closing, I am very pleased to see that what sounded like some big claims for the GDI bases proved to be true. Everyone wants to get what they pay for, and when the chips are down and it's time to do some serious work, there's no room for half-stepping. These products from Global Defense Initiatives represent good value for the dollar spent, and you can rely on them to do the job when things get tough.
SOURCES
Global Defense Initiatives
(951) 303-0443
www.gdiengineering.com
Battle Born Guns
(775) 826-2626
www.battlebornusa.com
Black Hills Ammunition
(605) 348-5150
www.black-hills.com
DL Sports
(928) 636-1726
www.dlsports.com
Federal Premium Ammunition
(800) 379-1732
www.federalpremium.com
Magpul Industries Corp.
(877) 462-4785
www.magpul.com
Mike Raahauge's Shooting Enterprises
(951) 735-7981
www.raahauges.com