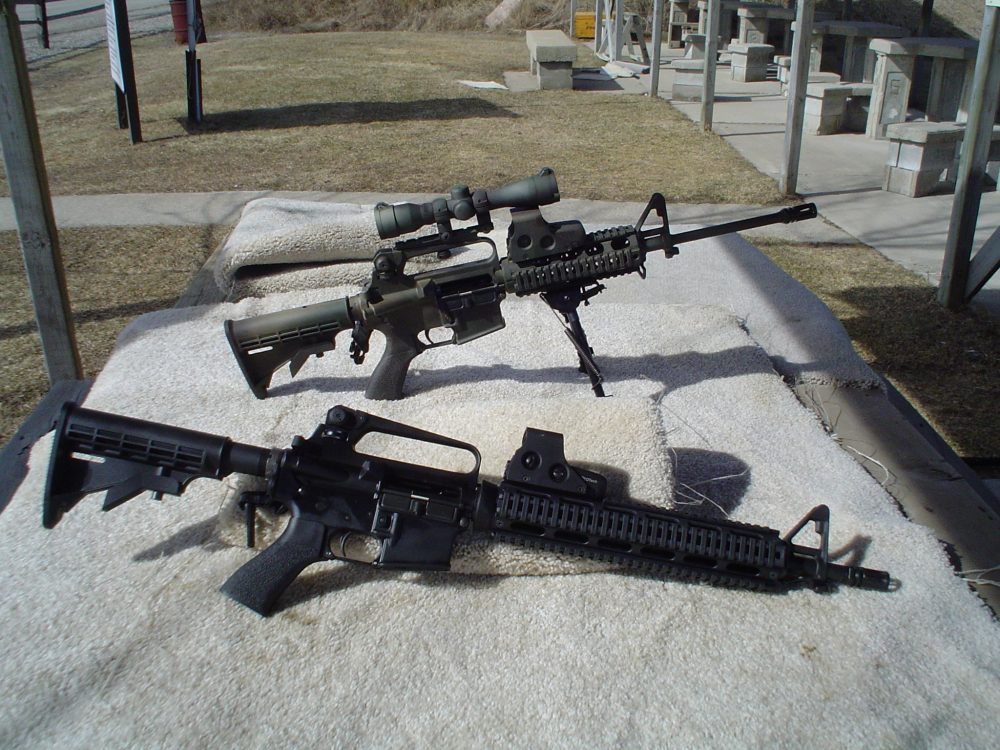 The authors Model 1 kits. On top is a lightweight-barrel CAR on a Rock River Arms lower. The lower rifle is a heavy-barrel Dissipator on a Stag Arms lower.
---
It's no secret that the AR is the most customizable rifle on the planet. You can look at the rifle rack at any range and see twenty ARs each of which is different in its own way. Until now, you've bought your ARs complete (or maybe this is your first AR) and tailored them to your liking. Take it from someone that has a closet full of plastic furniture and unused triggers, there is a much better way.
A couple years ago, I was introduced to the future of AR procurement. I was talking to a friend about how I was having a hard time finding exactly what I wanted and was mulling over the possibility of getting a stock AR and paying a gunsmith to make the modifications that were beyond my abilities. My friend enthusiastically told me about "kit building."
Basically, you select what you want in a brand new rifle, order it from the factory, and they ship you the AR complete, minus a stripped lower. Since it's the lower that requires the NICS (National Instant Criminal Background Check System) check when you purchase it, the kit can be shipped to you direct without any hassle—and without an FFL. You are then required to purchase a stripped lower and assemble it with the parts from your kit. Sound difficult? Trust me, it's not! And there are some serious upsides to buying your AR this way.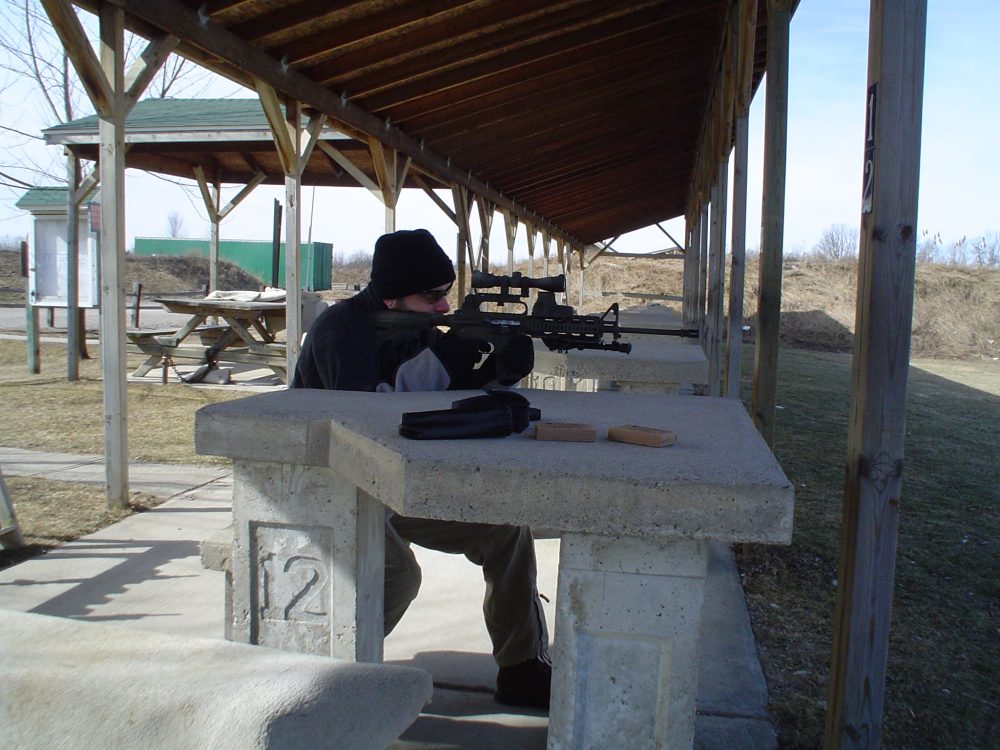 Author takes aim with his CAR. Note the chrome bolt carrier.
---
Building an AR from a kit gives you tremendous flexibility, freeing you from the stock ARs you see at gun shows and gun stores. You literally have so many options that it can become a little overwhelming. This article will clear up some things and get you on your way to building your own AR.
Building an AR can also make it more affordable to get the right rifle for your needs. First, because you can have it your way, you don't have to spend money shipping your rifle to a gunsmith for upgrades. Second, because you will be buying your rifle in two parts—the kit and the stripped lower—you can buy one component today and bide your time until you can afford the second component later on. By making things more affordable, you won't be tempted to scale back on your AR—which you should never do anyway. Getting exactly what you need should be the goal for anyone looking to purchase a serious fighting tool.
Before you lay down some hard-earned cash for your first kit, there are some things I'd like to share to help make your purchase more rewarding.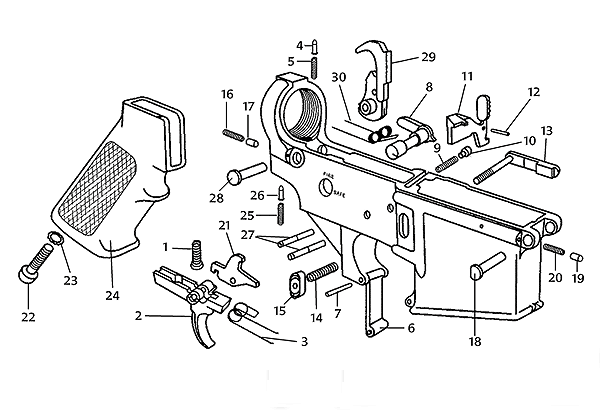 All thirty components come with a kit. The stripped lower can be bought locally through an FFL holder. Courtesy of Model 1.
---
DO'S
Do research. It doesn't take long to make sure the kit you're about to buy is of good repute and quality. If you don't have any friends, there are usually several Internet reviews and many customers will provide feedback on Internet forums. While the Internet is full of all sorts of misleading information, the dead giveaway is in sheer volume of positive or negative feedback. In other words, if nearly everyone says it's good, it probably is, and vice versa.
Do chrome. Most people will tell you that chrome adversely affects accuracy, or that it improves reliability. The good news is that both of those opinions are wrong. What chrome does is protect key components from corrosion—protection you want. Also, chromed components are much easier to clean. You want a chrome-lined bore, a chrome-lined chamber and a chrome bolt carrier group.
Do buy a forged receiver. This goes for the upper and lower. Aluminum receivers are either forged or cast. There are ways to differentiate between the two, but the best way is to simply call the manufacturer and ask. If they say cast, then you don't want it.
Do ask about a spare parts kit. If you don't already have one, it might save you some time and money to order one now. You won't need to replace anything for a long while, but it's better to have and not need, than need and not have.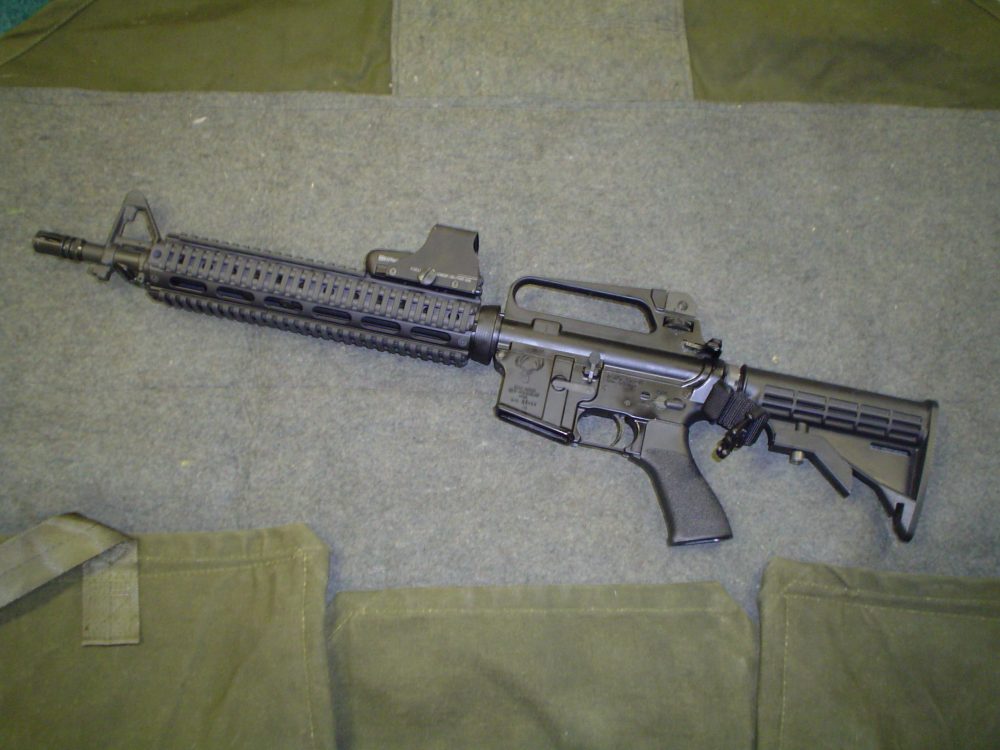 The author's Dissipator. Note the longer sight radius—identical to a standard AR-15 sight radius but with a shorter barrel.
---
DON'TS
Don't forget the chrome! (Trust me, it's worth repeating)
Don't confuse chrome-moly barrels with chrome-lined bores. All barrels are made from a chrome-moly alloy, but not all barrels have chrome-lined bores.
Don't compromise! That is what kit building is all about. You get exactly what you need—no more, no less.
KIT BUILDING
Like everything in life, there are a number of ways to go about building your AR from a kit. Here's my kit building process for you to use or modify as you desire.
Your first step is to select a suitable company to do business with. Nothing is more important than quality when it comes to building a fighting tool. The good news is there are several excellent companies to choose from. I prefer Model 1 Sales, in Whitewright, Texas. They have a good reputation with military and law enforcement agencies, and I have had nothing but good luck with them. Upon visiting their website you will immediately get the feel for how user friendly they make the selection process. If you go with another company, make sure you're buying a kit and not just an upper; but don't worry, if you mistakenly buy only an upper, you can still buy the rest of the components you need to complete your rifle just as easily online or from a local vendor.
To make the right selections, you must know what this fighting tool is to accomplish. My personal favorite is the dissipator kit because it easily fills so many roles. The dissipator is basically your standard, heavy barrel AR-15, cut down to sixteen inches. This makes it just as short and handy as a Compact AR (CAR), but it still has the superior iron sight radius and longer hand guards like a full-sized AR-15. I would also select some form of an adjustable butt stock, because length of pull changes when you change your gear and/or clothing for different situations and climates.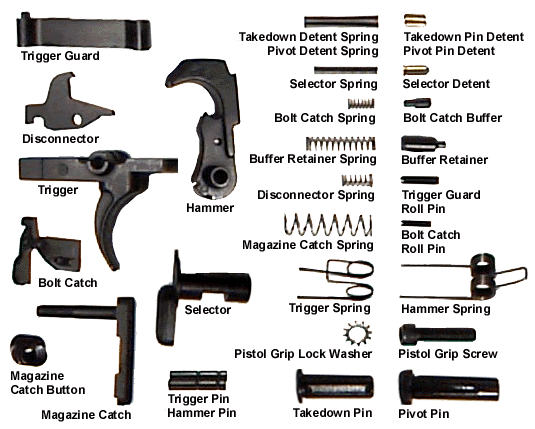 A list of all the lower receiver components. You will assemble all of these parts into the stripped lower receiver. These parts are included in the kit. If you can be trusted with a loaded weapon, you can assemble an AR lower. Courtesy of www.ar15.com.
---
I know the current fashion calls for a flattop receiver with Back-Up Iron Sights (BUIS), but I'm a believer in the A2 iron sights, and that a red dot should back up your irons, not the other way around. By co-witnessing the irons with an EOTech, I ensure that I always have the same sight
picture. If my EOTech goes Tango Uniform, I don't have to flip up anything.
The expiration of the Assault Weapons Ban (AWB) has made rifle building easy and safe. In the past, you could still legally buy kits or upper receivers with banned components if you planned on assembling them to lowers that were made before the AWB was enacted. This was where the term "pre-ban" was coined, because you legally had to ensure your "pre-ban" upper was assembled to a "pre-ban" lower. Even if someone accidentally assembled their upper with any "pre-ban" components to a lower made after the AWB was enacted, they were committing a felony.
Luckily, the AWB was proven to be an abysmal failure and never actually did anything to reduce crime (no surprise to us). Subsequently, it was allowed to sunset, and now kit building is free of hassle and worry from accidentally buying illegal components that were harmless in the first place. Basically, whatever a reputable company is selling you—whether it's a brake, butt stock, or pistol grip, it is legal. The responsibility falls on the seller to make sure the components are legal, not the buyer—and that's the way it should be.
Whatever you select, when your kit arrives, the fun truly begins. You should have a complete upper, a butt stock, and all the components that go into your stripped lower. This latter group of components will include all the parts of your trigger group, safety selector switch, magazine catch, bolt release, takedown pins, etc.—everything but the lower itself. Selecting the lower is easy, simply contact the vendors nearest you and ask them if they sell AR lowers, and what kind. Again, you want a forged lower receiver from a quality manufacturer. I prefer Stag Arms, but again, there are many excellent ones to choose from. Once you find a local supplier with a receiver you like, you simply fill out the usual NICS information, just as if you were buying an entire rifle.
Assembly of the lower receiver is a key step, but not overly difficult. I had no idea what I was doing when I assembled my first lower, and despite lower and, despite it taking some time, it was very easy. Believe me; if I can do it, you can too. If you need help, there are detailed instructions provided by a number of websites, my favorite being www.ar15.com. The exact URL linking you to the lower assembly instructions is www.ar15.com/content/guides/assembly/lower. Check out the instructions and put your mind at ease before you make any purchases.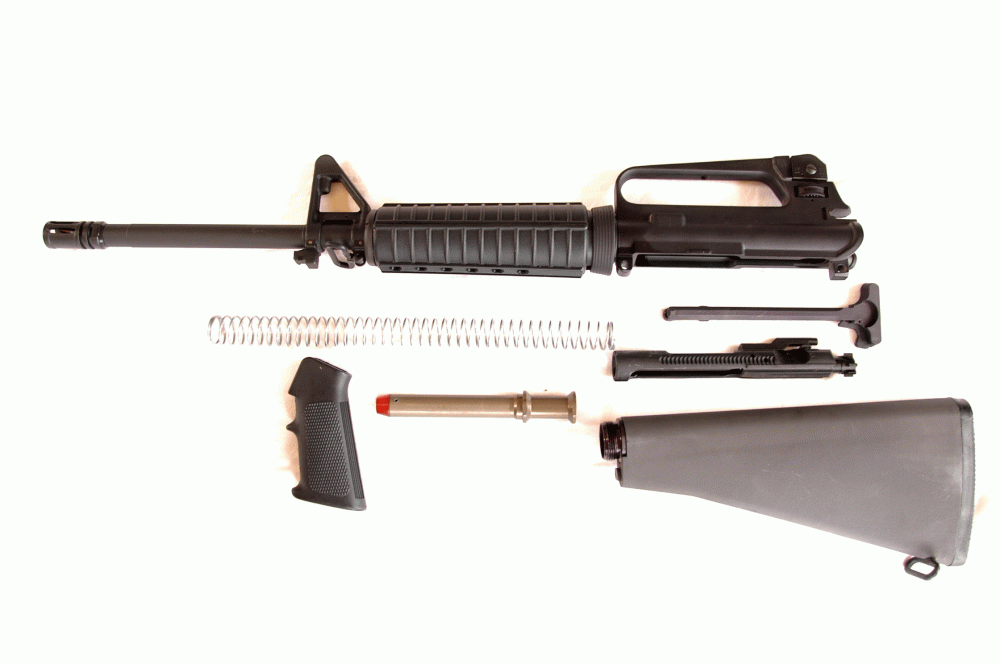 A typical kit. This heavy-barrel CAR kit comes with everything you see here plus the parts for the lower receiver—in short, an entire AR minus the stripped lower. Courtesy of Model 1.
---
Once you've assembled your lower, you will have a better understanding of the key components of your rifle, how they operate and how to troubleshoot problems. To me, there is nothing more important than having intimate knowledge of the tools you may have to depend on to save your life. This is perhaps the best reason to build your AR.
In support of this article, I went to my local rifle range with two rifles built from Model 1 kits: a heavy-barrel Dissipator built on a Stag Arms lower, and a lightweight-barrel CAR built on a Rock River lower. Each has a Yankee Hill Machine aluminum four-rail handguard, fixed iron sights, and a co-witnessed EOTech (all purchased from Model 1).
I warmed up by shooting with the EOTech red dot switched on, getting an average of 1.5 MOA groups from both rifles. This is very acceptable for any AR considering I was shooting without magnification. Then I turned the EOTechs off, and shot some more with each rifle. The Dissipator opened up to 2 MOA and the CAR opened up to 3 MOA. This is a testament to having the longer sight radius on your AR. The shorter CAR sights are great for close-in work but hamper long-range accuracy. All shooting was done with Lake City 55-grain FMJ ammunition which, when I can find it, has been my favorite AR cartridge for some time.
Now you can begin your own journey to building an AR to your specifications. Selecting a kit from a quality manufacturer is the easiest way to maximize your options, and finding a stripped lower is easy. You could get a great deal at the next gun show, but once you build one to your own specifications, you won't look at another rifle the same way. It reminds me of the ancient samurai, who mastered all the weapons of their time, but took special pride in their custom made swords. It was a sin to wield another samurai's sword, as their souls and swords were as one. While I don't believe my soul is in my rifle, the extra work put forth to bring it to life does make it a little more special than a stock purchase. And if you see me at the range, I might even let you run a few rounds through it.
[Editor's Note: Specialized tools can make building or repairing an AR much easier. The best source for such tools that the S.W.A.T. staff have found is Brownells®. Additionally, taking an armorers course, such as those offered by the DELETE Defensive Edge (www.defensive-edge.net)can by be very beneficial.]
SOURCES:
Brownells, Inc.
Dept. S.W.A.T.
200 South Front Street
Montezuma, IA 50171
(641) 623-5401
www.brownells.com
Defensive Edge Training & Consulting, Inc.
Dept. S.W.A.T.
P.O. Box 682
Anoka, MN 55303
(763) 712-0123
www.defensive-edge.net
Model 1 Sales
Dept. S.W.A.T.
P.O. Box 569
Whitewright, TX 75491
(903) 546-2087
www.model1sales.com
Stag Arms
Dept. S.W.A.T.
515 John Downey Dr.
New Britain, CT 06051
(860) 229 9994
www.stagarms.com