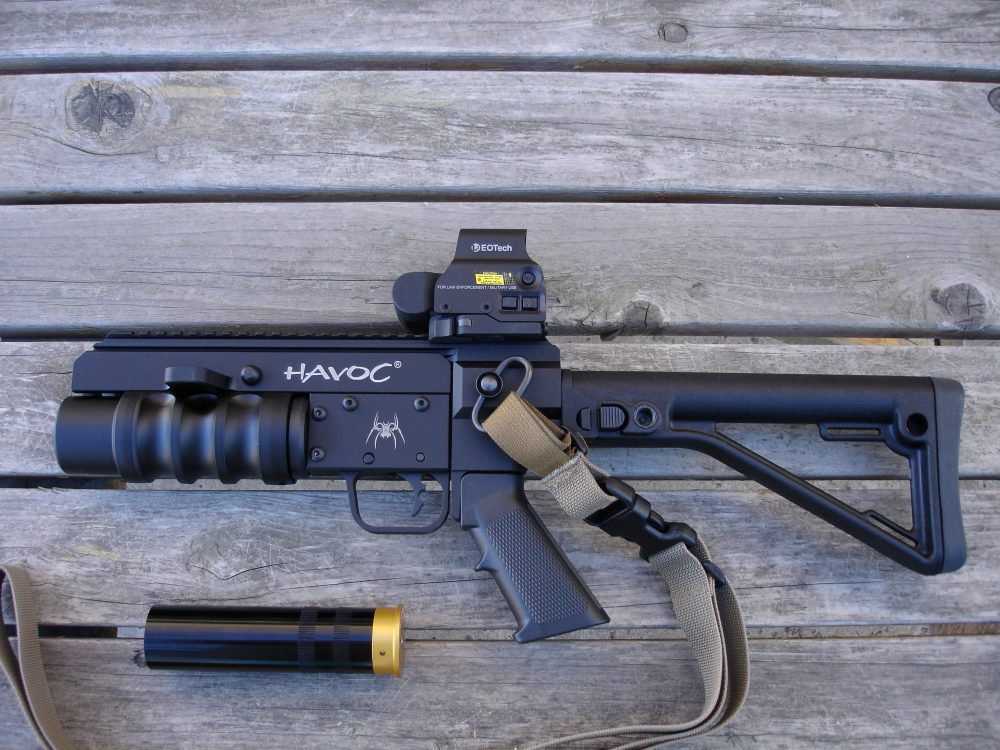 Spike's Tactical 9″ Side-Loading Havoc Launcher and Kaos Side-Folding Stock System equipped with L-3 EOTech EXPS3, Specter Gear MOUT sling, and CAA PBSS sling swivel, along with Pace XD 37mm round.
---
The 37mm smoothbore launcher is a multi-use platform with both civilian and law enforcement applications, and in fact is one of the most prevalent launchers in operation with law enforcement worldwide. Capable of accepting a wide array of chemical, impact and smoke/signal munitions, it remains an effective tactical tool.
Although it supports all standard 37mm (rimmed) munitions up to 5 ¾ inches, Spike's Tactical Havoc 37mm smoothbore launcher is designed to be used with USCG-approved flares, smoke or gas rounds. It's sold as a signaling device. No FFL is required.
ATFSPEAK
The ATF has held that devices designed for expelling tear gas or pyrotechnic signals aren't weapons and are exempt from the destructive device (DD) definition as defined in the Gun Control Act (GCA), 18 U.S.C. Chapter 44, and the National Firearms Act (NFA), 26 U.S.C. Chapter 53.
ATF has also held (ATF Ruling 95-3) that 37mm gas/flare guns possessed with "anti-personnel" ammunition are destructive devices as that term is used in 18 U.S.C. section 921(a)(4) and 26 U.S.C. section 5845(f)(2). Anti-personnel ammunition includes cartridges containing wood pellets, rubber pellets or balls, or bean bags. ATF takes this very seriously.
Before you make or buy any anti-personnel rounds for your launcher, you must register it as a DD. This applies to law enforcement and corrections use also. Flares, smoke and gas are permissible with an unregistered launcher, but of course, check your local laws. Spike's Tactical includes a printed insert covering federal regulations with every Havoc launcher.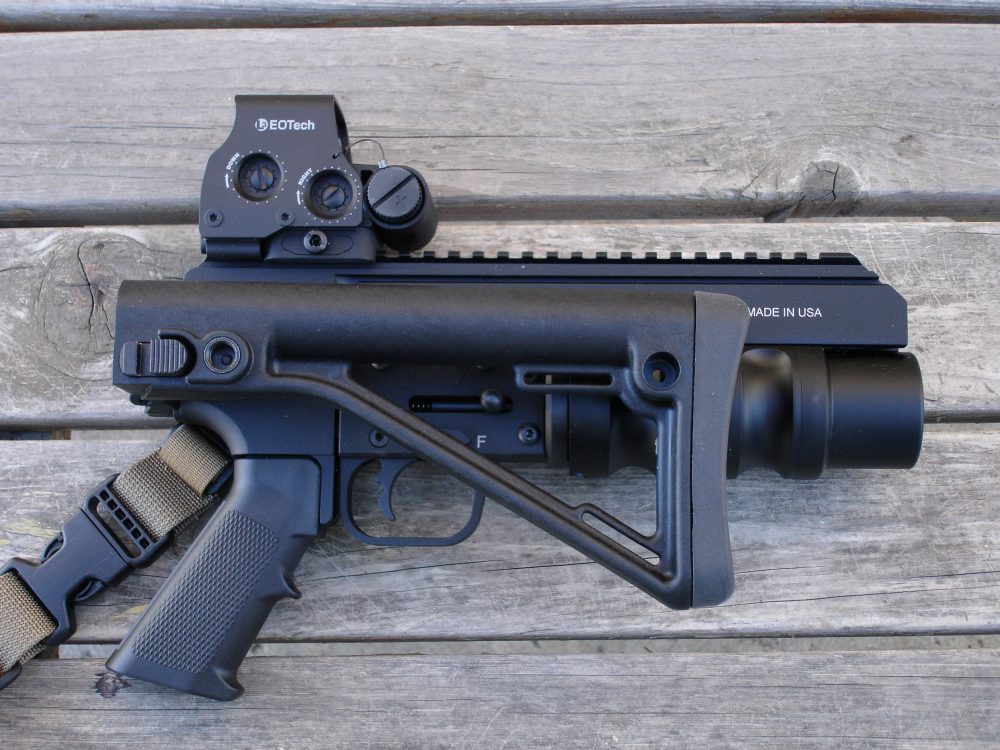 ST 9″ Havoc and Kaos Side-Folding Stock make an exceptionally compact standalone launcher system.
---
SPIKE'S HAVOC
Spike's Tactical 9" Side-Loading Havoc is an exceptionally compact single-shot 37mm launcher. It's designed to be attached to a MIL-STD-1913 (Picatinny) rail, either as an under-barrel launcher or as a standalone system in conjunction with Spike's Tactical Kaos Stock System. It's short enough to fit on a seven-inch carbine rail.
Taking the Havoc out of its box, I was immediately impressed with the high quality of its construction and workmanship. Materials, fit and finish on the Havoc are absolutely top notch. The Spike's Tactical name has become synonymous with quality.
The Havoc features a one-piece launcher tube and handgrip. Designed for heavy-duty use, it features a straightforward rugged design. It's CNC machined from solid billet 6061 T6 and 7075 T6 aircraft-grade aluminum. It has a durable MIL-SPEC-A-8625F Type III hard-coat anodized matte-black finish. Additional components are made from 1018 cold-rolled steel and plated with a milspec black oxide finish.
To install the Havoc, simply slide the launcher onto the bottom rail of a Picatinny handguard or Kaos Stock System and tighten two set screws. The Havoc mount is rock solid.
KAOS STOCK SYSTEMS
Two Kaos Stock Systems are available for the 9″ Havoc. You have the choice of either a standard collapsible M4 stock or an AGP Arms AR Side-Folding Stock. The M4 stock model uses a standard milspec buffer tube and will accept most aftermarket AR stocks.
Both systems come with a standard A2 pistol grip, but you can install any AR pistol grip you choose. The Kaos has multiple sling attachment points, including a QD sling swivel socket on the left side of the frame.
I was provided with the Kaos Side-Folding Stock System. Coupled with the 9" Havoc, it makes an exceptionally compact, easy-to-handle standalone launcher system. The Havoc can be operated with the stock closed.
The AGP folding stock is made of ultra-strong glass-filled nylon with a ½-inch rubber butt pad. The mount is CNC machined from billet aluminum and has a milspec Type III hard-coat anodized matte-black finish. The stock is attached to the mount with three Grade 8 hex screws. It has an easy-to-use push-button lock mechanism with solid lock-up. The AGP stock is ½ pound lighter than an M4 stock.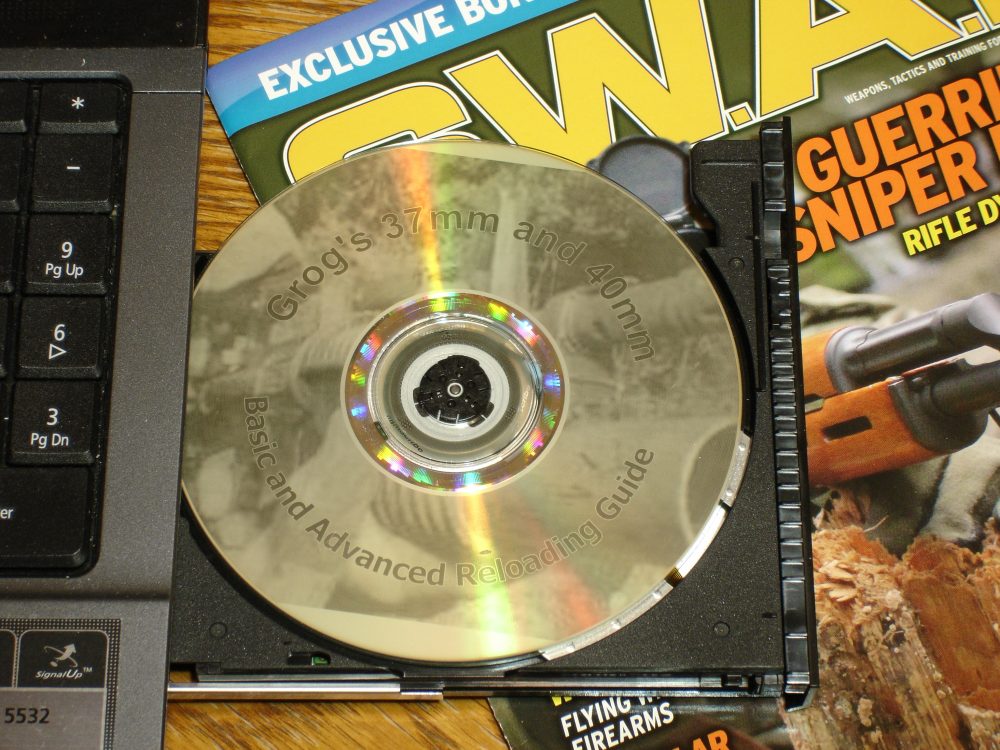 Grog's 37mm and 40mm Basic and Advanced Reloading Guide and Informational CD provide everything you need to know to load your own 37mm ammo and much more. They include info that registered launcher users and law enforcement agencies can use to reload their own less lethal ammo, to cut down on training costs.
---
SIGHTS
The Kaos Stock Systems have a full-length Picatinny rail for the mounting of iron sights or optics. The rail is 11 inches long and has 22 slots. It doesn't come with sights. You can put on whatever you want. I utilized an L-3 EOTech EXPS3 Holographic Weapon Sight (HWS) for my evaluation. As with all EOTech sights, the EXPS3 is a superb optic.
Lewis Machine and Tool (LMT) makes rail-mount 40mm sights that will work for some 37mm munitions, such as long-range chemical munitions (CS, smoke, etc.). For baton and impact rounds in a registered launcher, a red dot sight like the EOTech or even a day visible laser is preferred. With point munitions, you won't be engaging targets past 25 meters, so trajectory doesn't play as great a role as when popping CS out to 200+ meters.
Whatever sights or optics you choose, range/trajectory determinations will need to be made for the specific 37mm munitions you wish to employ. The launcher should be sighted in for the particular load being used.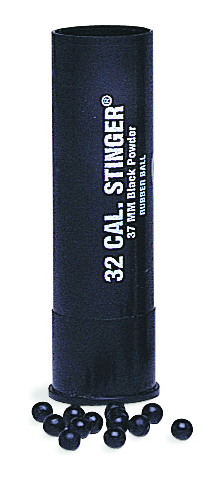 SLING
As is so often said, a sling is to a shoulder weapon as a holster is to a handgun—that is to say, essential. A single-point sling is the optimal sling for the Havoc/Kaos standalone launcher system. I installed a Specter Gear MOUT Gen II sling and Command Arms Accessories (CAA) PBSS Quick Release Sling Swivel.
The MOUT sling is an excellent single-point sling. Designed for CQB, it allows for easy weapon transition. It features a side-release buckle assembly that enhances versatility and safety.
The male portion of the side-release buckle on the MOUT stays attached to the weapon and the female portion attached to the sling. Optional spare male connectors allow one sling to be employed on multiple weapons.
A sling is only as good as its attachment point. The PBSS is a heavy-duty, all-steel MIL-STD sling swivel. It has a 1 5/8″ loop to fit virtually any sling. The loop is heavier gauge than standard sling swivels. The PBSS also has a larger push-button for easier operation with gloved hands.
OPERATION
The 9" Havoc is a side-swivel loading design with a cylindrical push-button breach lock. According to Spike's Tactical, its proprietary lock design is three times stronger than existing lever lock systems.
To load the 9″ Havoc, press the breech lock button, open the launcher, slide the tube forward, and then swivel the tube breach out to the left. The side-swivel loading breach of the 9" Havoc allows quicker loading/reloading.
I am right handed and like the tube swinging to the left side. Lefties might prefer the rear-loading design of the 12" Havoc. The M320 grenade launcher, which is replacing the U.S. Army's M203, also opens to the left side.
The M320 is double action. The M203 and Havoc are single-action. Unlike the M203, the Havoc doesn't cock on cycling the breech. You manually cock the Havoc by retracting the cocking handle on the right side of the launcher.
The Havoc is equipped with a rotary safety that's located just above the trigger guard, below the cocking handle. The Havoc has a crisp breaking trigger. Pull weight is approximately three pounds.
The Havoc doesn't have an extractor. There isn't any need for one. Simply elevate the muzzle, open the breech, and the casing drops free. If you do have to grasp a round for any reason, there's a thumb cutout on the underside of the breach.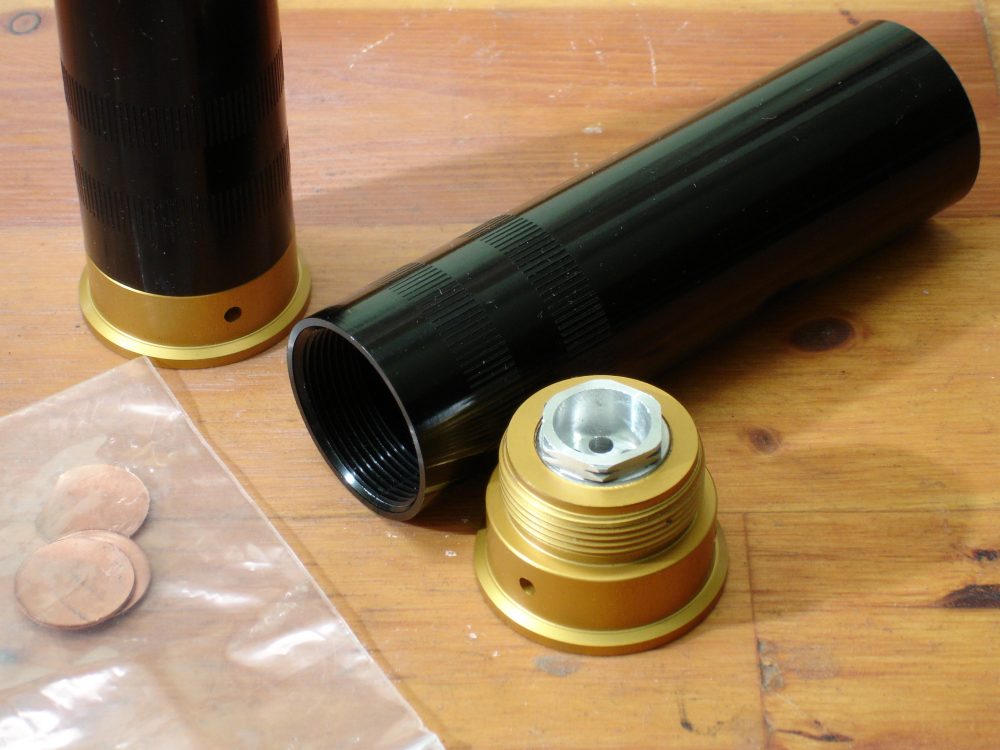 Pace XD High Performance smokeless casings feature screw-apart design and utilize High-Low System. Author considers them unbeatable for reloading.
---
AMMO
Commercial 37mm ammo isn't inexpensive. Spike's Tactical makes adapters for the Havoc that allow you to shoot less expensive 26.5mm and 12-gauge flares. The adapters are CNC machined out of 6061 T6 aluminum and hard anodized. Per ATF regulations, the 12-gauge flare adapter is designed to fire only flares.
Ammunition To Go is a good source for 26.5mm flares. It has some of the best prices I've seen on Czech military surplus 26.5mm flare, smoke and illumination rounds. Virtually any marine supply store stocks 12-gauge flares.
Loading your own 37mm ammo will save you a lot of money, but you do need to know what you're doing. Stay safe. Stay legal.
I highly recommend that you purchase Grog's 37mm and 40mm Basic and Advanced Reloading Guide and Informational CD by ordnance expert and retired Pennsylvania State Police Trooper George Confer (aka "Grog") of 3LC Productions. Although both guides can be purchased separately, I recommend that you purchase both.
Grog's guides contain a wealth of information. They're a must for every launcher owner. George also offers projectile molds, 40mm snap caps and museum-quality replica 40mm munitions. And he hosts Grog's 26.5mm 37mm and 40mm Discussion Forum, which has many experts in the field as members.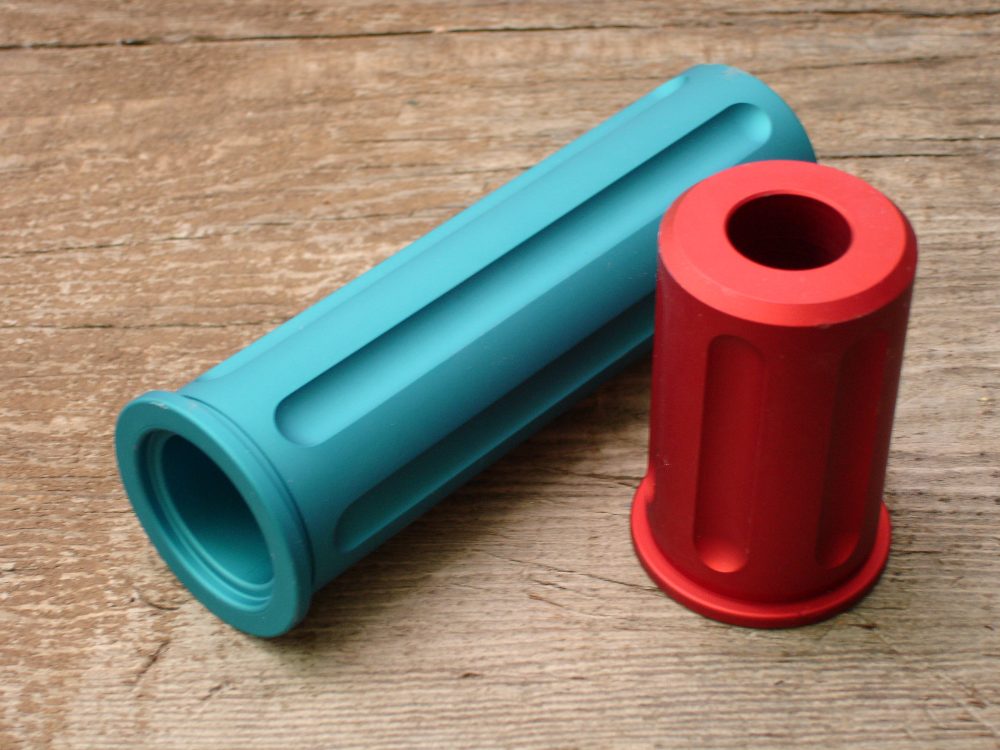 26.5mm and 12-gauge flare adapters are available from Spike's Tactical. They increase the versatility of the Havoc and will quickly pay for themselves.
---
PACE LAUNCHER CASINGS
I also highly recommend the 37mm screw-apart smokeless powder casings designed by Scot Pace at Pace Launcher Casings LLC. You won't find better casings anywhere. They're unbeatable for reloading.
Pace casings are CNC machined from 6061 T651 aluminum and hard anodized. They feature a removable base for versatility and ease of reloading. The 37mm bases are available in two editions: the 9mm edition (uses 9mm blanks) and the XD High Performance edition.
The XD High Performance system provides unmatched performance. It utilizes standard large pistol primers and employs the High-Low System. The high-pressure chamber is machined into the base housing. The base has a stainless steel primer pocket and removable vent plug to load smokeless powder, and a vent plug wad.
Designed with the reloader in mind, the XD system will provide a lifetime of use. Several law enforcement agencies are currently employing the XD system to cut down on training costs. The XD system is available in 37mm and 40mm, with 37mm Rimless (Sage and ARWEN) in the works.
Pace casings are available exclusively online—see the sources for this article. In addition to casings, Pace offers a full range of reloading accessories, including burst disks, pushers, wads, and projectiles.
Many 37mm munitions employ black powder as the propellant. As we all know, black powder is corrosive. It contains sulfur, which combines with moisture in the air to form sulfuric acid. Launchers should be thoroughly cleaned after every shooting session.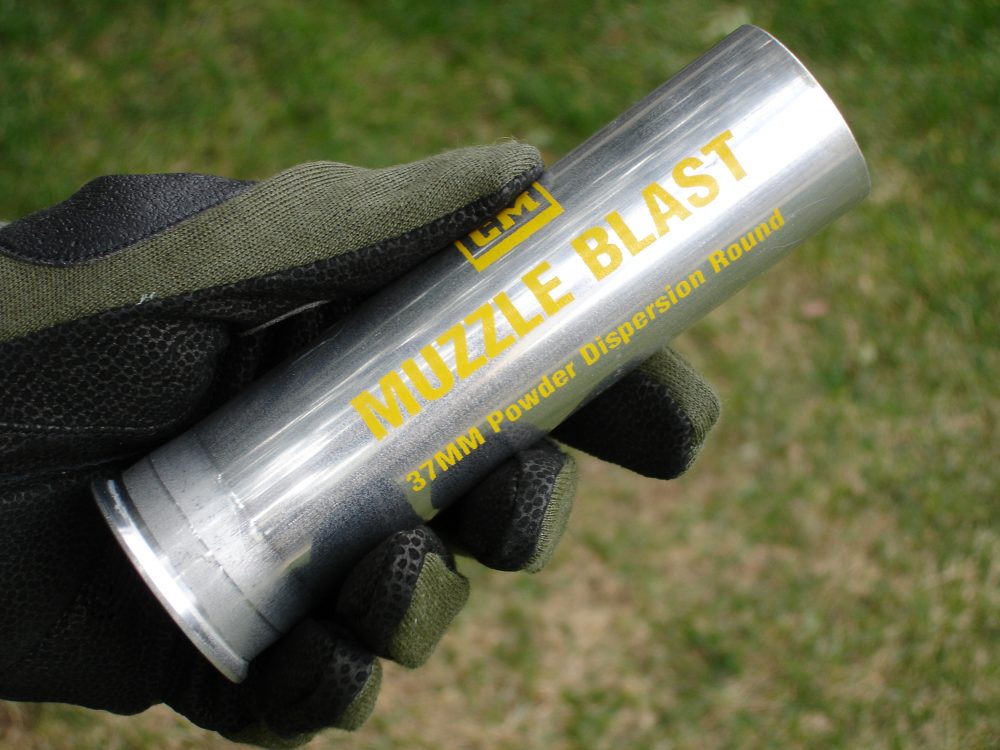 Havoc supports all standard 37mm munitions up to 5 3/4″, including this Defense Technology 37mm Practice Muzzle Blast Round.
---
TESTING
The Havoc functioned flawlessly in my testing, which was conducted in accordance with all applicable laws. Assorted permissible 37mm munitions were employed, including Defense Technology® and Pace XD casings. Although I didn't test any 37/40mm (stepped rim) munitions, they will work in any launcher that accepts standard 37mm rounds.
If you're looking for a rugged, reliable and versatile ultra-compact 37mm launcher, look no further than the Spike's Tactical 9" Side-Loading Havoc. The Havoc and Kaos Side-Folding Stock System are an ideal combination. Spike's Tactical products come with a lifetime warranty.
SOURCES:
Spike's Tactical LLC
Dept. S.W.A.T.
2593 Clark Street #103
Apopka, FL 32703
(407) 928-2666
www.spikestactical.com
Ammunition To Go
Dept. S.W.A.T.
6360 FM 50
Brenham, TX 77833
(979) 277-9676
www.ammunitiontogo.com
Command Arms Accessories
Dept. S.W.A.T.
911 William Leigh Drive
Tullytown, PA 19007
(866) 611-9576
www.commandarms.com
Defense Technology
Dept. S.W.A.T.
1855 South Loop
Casper, WY 82601
(877) 248-3835
www.defense-technology.com
L-3 EOTech
Dept. S.W.A.T.
1201 East Ellsworth
Ann Arbor, MI 48108
(734) 741-8868
www.eotech-inc.com
Lewis Machine & Tool Company
Dept. S.W.A.T.
1305 11th Street West
Milan, IL 61624
(309) 787-7151
www.lewismachine.net
Pace Launcher Casings LLC
Dept. S.W.A.T.
3816 West Sligh Avenue
Tampa, FL 33641
www.reloadableshells.com
Specter Gear
Dept. S.W.A.T.
1107 East Douglas Avenue
Visalia, CA 93292
(559) 635-1172
www.spectergear.com
3LC Productions
Dept. S.W.A.T.
212 Kelly Road
Canton, PA 17724
www.freewebs.com/grog/products.htm