The gun industry, especially the "tactical" side of the house, is full of circular and never-ending arguments. Since I've been in the firearms world for over 30 years, I can attest that the range of contention is astounding. Experts argue everything from the value of the .25 Auto for backup to the application of the .50 BMG for "urban deployment."
If the experts spent as much time honing their "expertise" as arguing, we'd all be better off. But that's not going to happen, because it's a new world. When experts really were experts—and few and far between—it was manageable. Decades of marketing and social media fantasy have made that nearly impossible. Society's five-second attention span makes it difficult to learn from history. Myth, legend and hyperbole are the norms.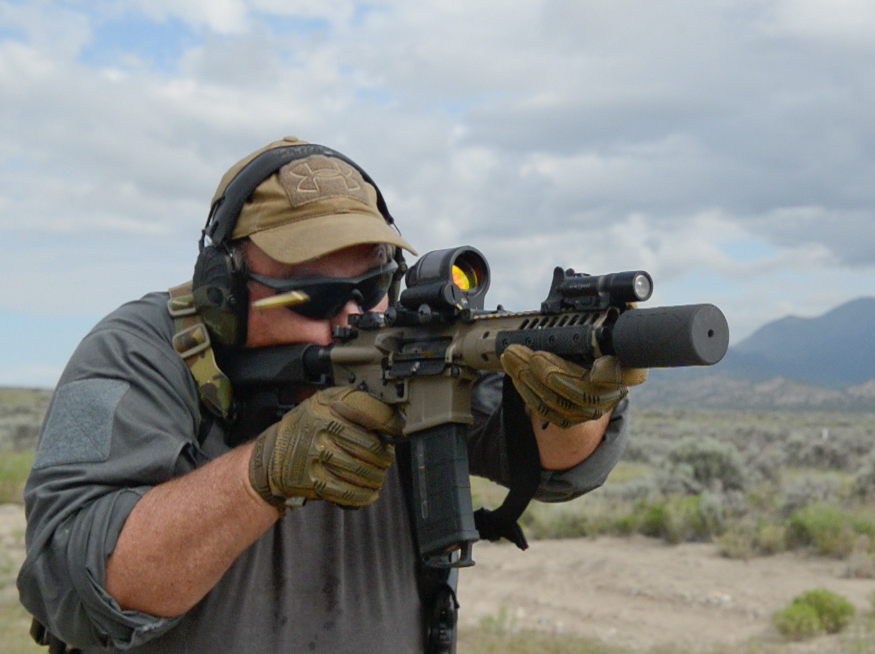 LWRC PSD is compact, rugged, ambidextrous, and perfectly suited to any urban police operational environment. Even 40-grain frangible ammunition functioned without issue in this short and handy 5.56mm rifle.
---
Questions asked and answered in the real world pop up every day with the same old arguments. No single arena better exemplifies this phenomenon than the entry, or close quarters, rifle discussion. Caliber, barrel length, system of operation, you name it and there's an expert to tell you what is best.
Truth is, simple physics apply here, and based on your real area of operation, typical deployment distance, and actual application, shorter is actually better—often much better. Recent testing of an LWRC IC-PSD 5.56mm carbine with PDW upper only confirmed my conclusions from 20 years ago. Working in close quarters, in and around vehicles, with a range inside 200 yards, they rock!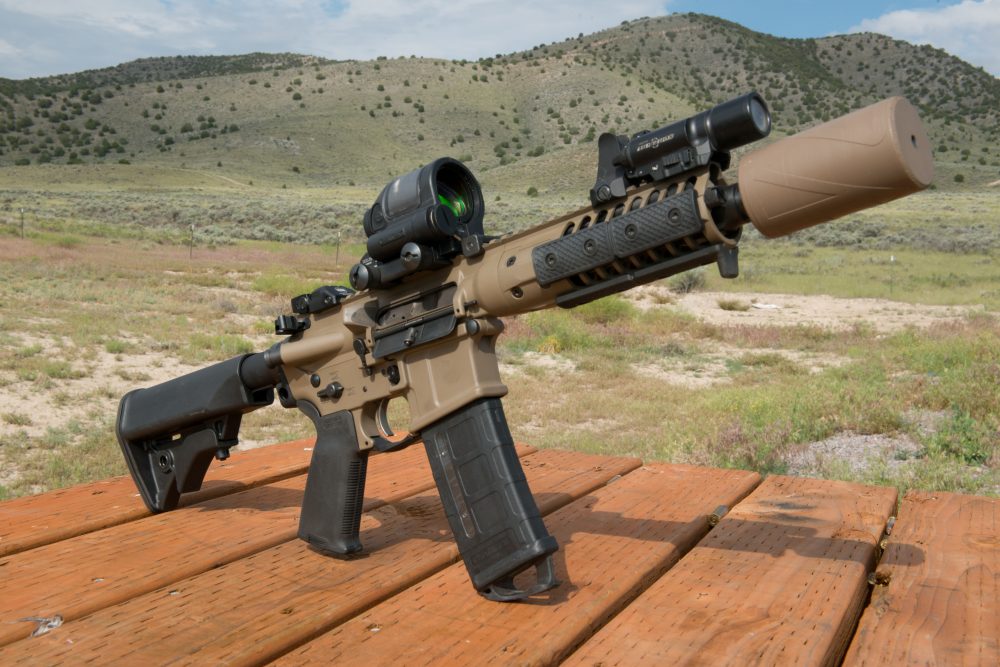 Compact, light, and reliable, PSD is well suited to duty use.
---
SHORT-BARRELED CARBINES
Over 15 years ago, I deployed my first sub-ten-inch rifle on an entry team. An HK53, chambered in 5.56mm using an 8.5-inch barrel, it was a paradigm shift during real operations. My world was mostly across the room, the yard, or maybe the street, making it plenty powerful. What it does at "300" was meaningless to me, since that was never going to happen.
No tack driver, it met any reasonable battle accuracy standard of the day. It was great moving around a house because it was so handy. In tubes (buses, trains, planes), it was a dream. Working in and out of a car, there was nothing better.
Its only drawback was that it was loud—really loud—but suppressors were rare in those days, so that was true of everything. Those times have changed, as suppressors are now built much better, and short ARs—especially piston guns—are making them more viable than ever before.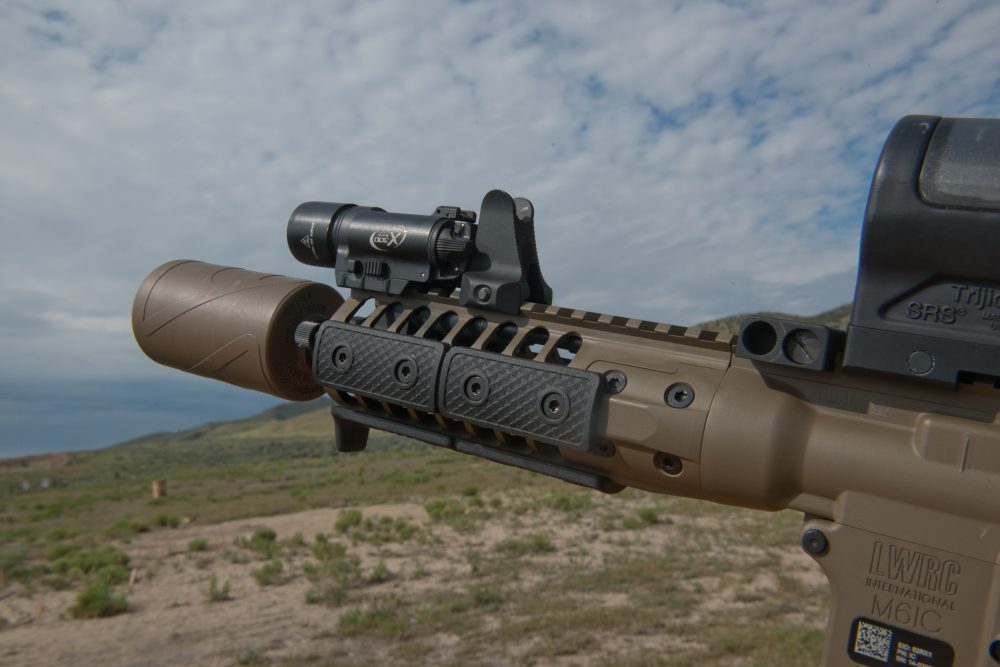 Carbine's handguard is smooth. Rails can be added to suit the mission.
---
LWRC INTERNATIONAL IC-PSD
LWRC has been building some of the best piston-driven ARs for years. They remain the first choice of many whose life depends on their rifle. One of the pioneers of the gas tappet system, LWRC guns are rugged, reliable, and built to last. Their IC–PSD is one of three 8.5-inch barreled rifles they offer chambered in 5.56mm. While the super-short stocked PDW gets much of the attention, the PSD with its short but standard stock is far more practical for entry, self-defense, or patrol operations.
Starting with the Monoforge™ upper receiver, it uses an LWRC Modular seven-inch smooth handguard. Rail sections can be added to accommodate lights or other accessories. It houses an 8.5-inch NiCorr-treated 1:7 twist barrel capped with an LWRC High Efficiency Flash Hider. Skirmish flip-up sights sit at the end of the rail, and the ambidextrous charging handle operates the nickel boron-coated bolt carrier group. The one-piece carrier is one of the strongest on the market. LWRC's forged lower receivers are completely ambidextrous too, including the bolt, magazine release, and safety.
Magpul's MOE+ rubber-coated pistol grip is used, along with a crisp milspec trigger. LWRC's compact stock and Ambi Rear Receiver Sling mount were installed. My test rifle was finished in Flat Dark Earth Cerakote™ and is shipped with one 30-round PMAG.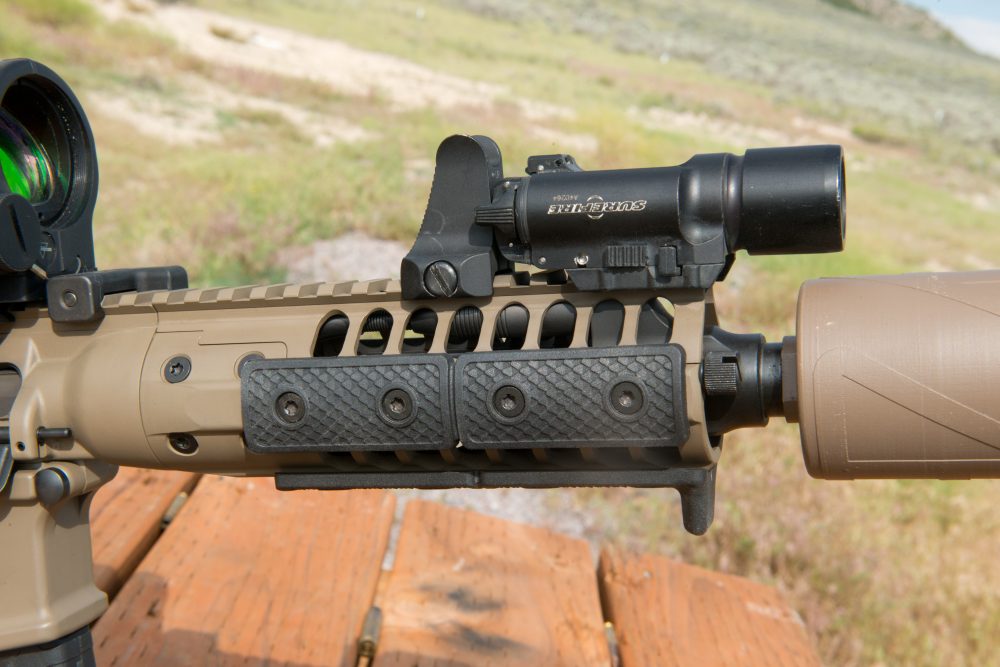 Plastic covers keep you in control and cool during rapid fire
---
TESTING
This rifle was going to see close-quarters testing, to include some time in an MH-6 "little bird" helicopter, so it was set up for entry work. The flip-up front sight was replaced with a Daniel Defense rail-mounted fixed front sight. If your red dot sight (RDS) fails during CQB operations, there's no time to stop and flip up your sight. This fixed sight lets you drive on without interruption.
In front of the sight sits a SureFire X200 light. It allows for completely ambidextrous operation, with no switches to fail, come loose, or get entangled in gear. It also keeps the carbine well balanced and light.
A Trijicon SRS using an adjustable 1.75 MOA dot was attached. It has the least obstructed field of view of any combat-ready RDS. It is fast, with very little tunnel effect, making it great with gas masks or in full kit.
Sling duties were carried out by a Blue Force Gear M249 padded two-point sling. Adding a VTAC QD attachment lets me carry in two-point, then move it to the QD adapter on the lower receiver extension for single-point operation. As I've used this on several operational carbines over the years, it is my preferred method by far. Simple, quiet, and capable of comfortable carry for hours, it has proven very efficient.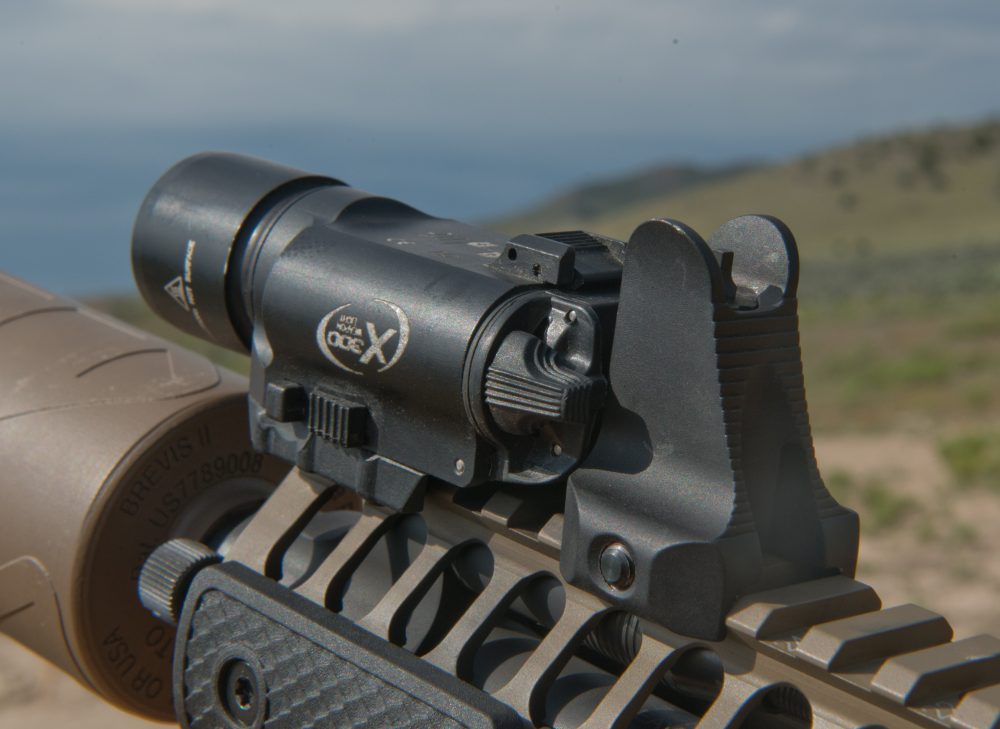 Mounting a light at 1200 keeps things light, well balanced and allows operation from either side.
---
Three issues have plagued these short rifles over the years, and still do to some extent. Reliability is often spotty, although piston systems have mostly dealt with that. They are loud, with a distracting if not damaging muzzle blast and flash. Lastly, ballistics in the 5.56mm can be compromised in barrels this short. Ammunition manufacturers have dealt with the ballistics issue to a great extent, and the best solution to noise and concussion is a suppressor.
Two Delta P Design Brevis II suppressors were used during testing. The Ultra is a Titanium version that weighs only 7.5 ounces and measures 3.7 inches long and two inches in diameter. Its compact size and weight make it feel more like a flash hider than a suppressor. A standard Brevis II, built from Inconel and weighing 11.5 ounces, was also tested. An H3 buffer was installed, along with a Sprinco Blue extra power buffer spring.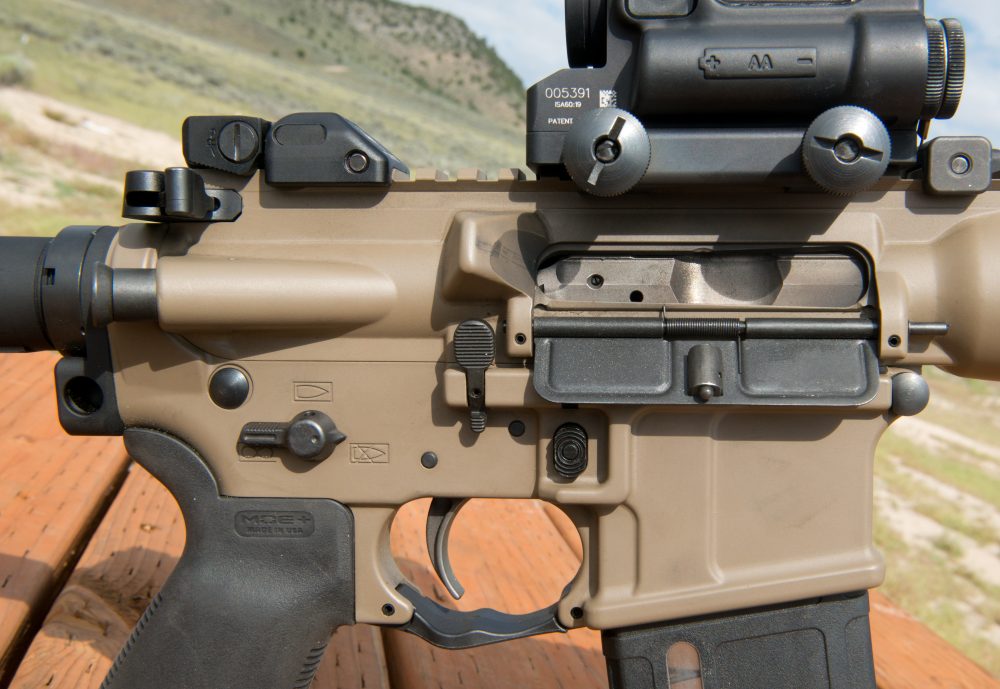 IC-PSD can be operated from either side. Right-side bolt release makes reloads fast and easy from either side.
---
RANGE TESTING
Rifles this short were never designed to be precision instruments, and shooting tiny little groups is mostly meaningless to begin with. Still, this carbine was incredibly accurate. Testing numerous short-barreled ARs these days, I have found the quality ones are all accurate. Barrel length just does not matter at 100 yards if the gun is built well, and the LWRC is incredibly well built.
Keeping it real, shooting from a barricade at 50 yards, it put ten rounds into roughly 1.5 inches using Barnes VOR-TX 70-grain TSX—my preferred self-defense round. According to several members of military special missions units, the Barnes 70-grain TSX is fast becoming their bullet of choice. Loaded to their specifications, it has been acquitting itself well operationally. Barnes is now offering a similar load in their VOR-TX line available to private citizen buyers.
Velocity out of the PSD with this round was 2,400 feet-per-second (fps), plenty for 200 meters and in, and incredibly effective at any practical police or self-defense range. Moving back to 100 yards, from a bench, I had basically the same results with the Barnes 69-grain Precision Match.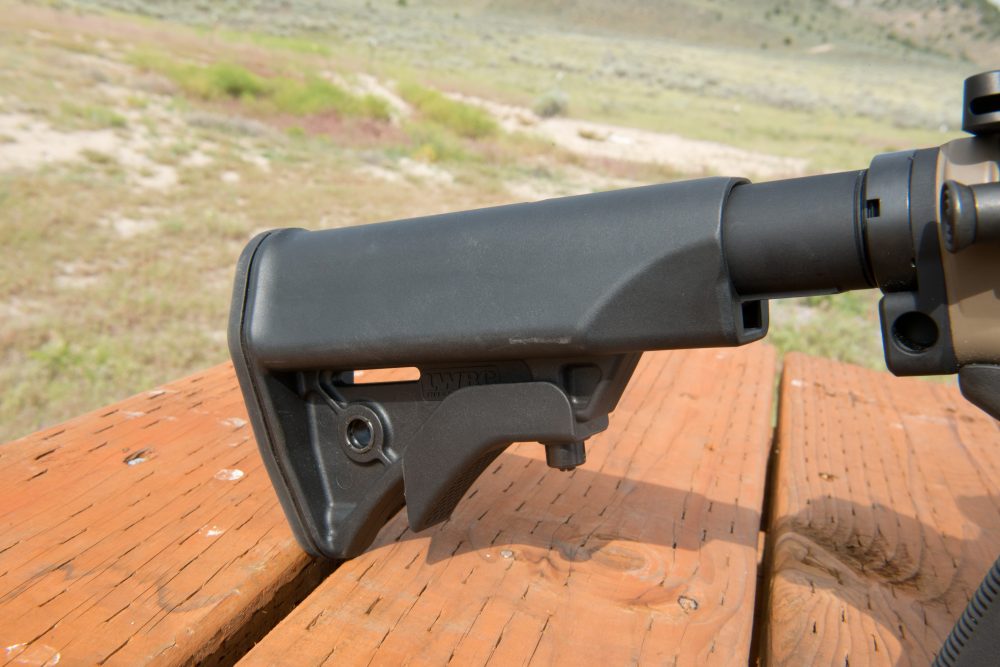 Compact stock permits ease of deployment using plate carrier or tactical vest.
---
But the real test came at an Aegis Academy Heliborne Assault school. Range rules required frangible, something many guns just don't run, let alone shoot well. Shooting from prone using a box for a rest, it consistently grouped 40-grain frangible into less than 1.75 inches at 50 yards using an RDS. Reliability with the heavier buffer and spring was flawless—not something you generally see with these short guns. Excess gas was so minimal as to be almost unnoticeable.
Testing with several loads on my home range, it never suffered a malfunction of any kind. Brass ejection was very consistent at three o'clock, making a tidy little pile of brass. Fast, slow, it didn't matter—it just kept running and kicking out the brass. Most impressive was its ability to run the range and frangible loads at the Aegis Academy training.
This little PDW fed it like nobody's business, with zero malfunctions. In fact, the only failure during hundreds of rounds and several days was an occasional failure to seat the magazine (operator head-space timing). This setup was as reliable as an AR gets, no matter how it's built or how long the barrel is.
Both suppressors were what I would call battle quiet on the border of ear safe on a rifle this short. Few suppressors are truly quiet on 8.5-inch barrels, and most won't even run. Either way, they are worlds apart from a flash hider.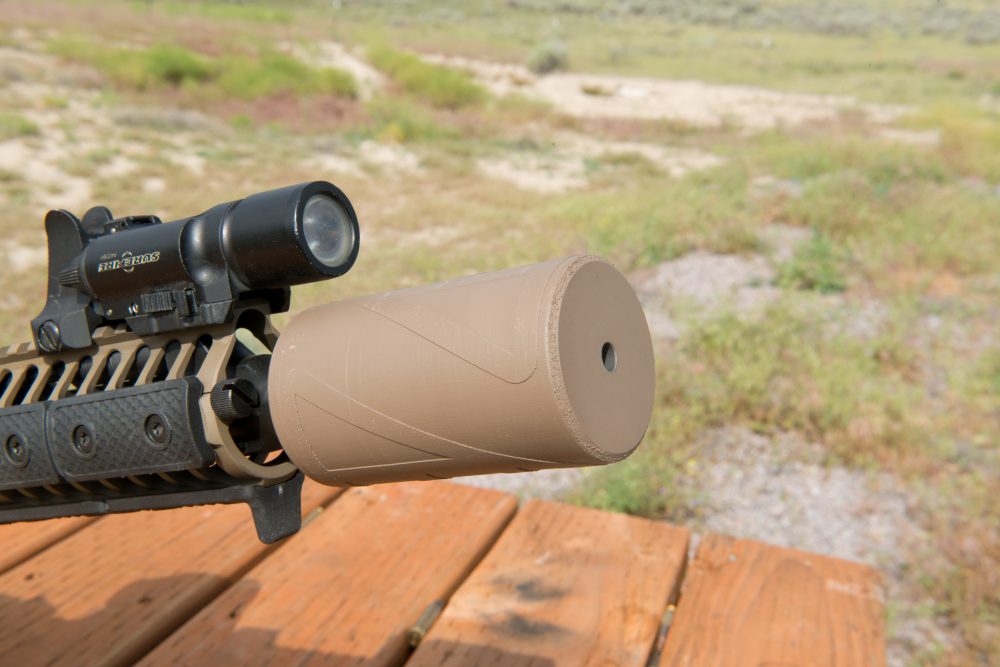 Brevis II adds only 3.7 inches to the overall length, about the same as 1½ flash hiders, keeping things compact.
---
Given a real fight, even without auditory exclusion, you would not be hampered, nor would you remove your partner from the fight. Flash was minimal to non-existent and muzzle blast was barely noticeable. Using a barrel this short, it was about as good as it gets, and the Brevis II keeps it short. Roughly the length of a flash hider and a half, you keep the benefits of the short barrel along with your hearing.
Running this rifle in full kit, in and around barricades, the shoot house, and from the truck was a dream. It was easy to get in and out of the truck, even in full kit. Moving around the shoot house, it was fast to target. Square range drills were fast and less fatiguing. While using a gas mask, I had no problem using the RDS.
Moving back and forth between sides, the ambi-controls make things easy. It also facilitates loads or manipulation from odd positions where you don't want to rotate the rifle. You can run it pretty much from either side wherever you end up.
Where it really shone was running it out of the helicopter. Rolling out, the muzzle was not interfered with. It was well balanced leaning out the door, with no front-loaded barrel weight. Running it side by side with a 13-inch carbine and standard suppressor, the difference was huge.
Reloads in this environment are different, and this little gun makes it easy to lean back, keep the muzzle in a safe direction, and safely take care of business, even packed into the back of a small helicopter.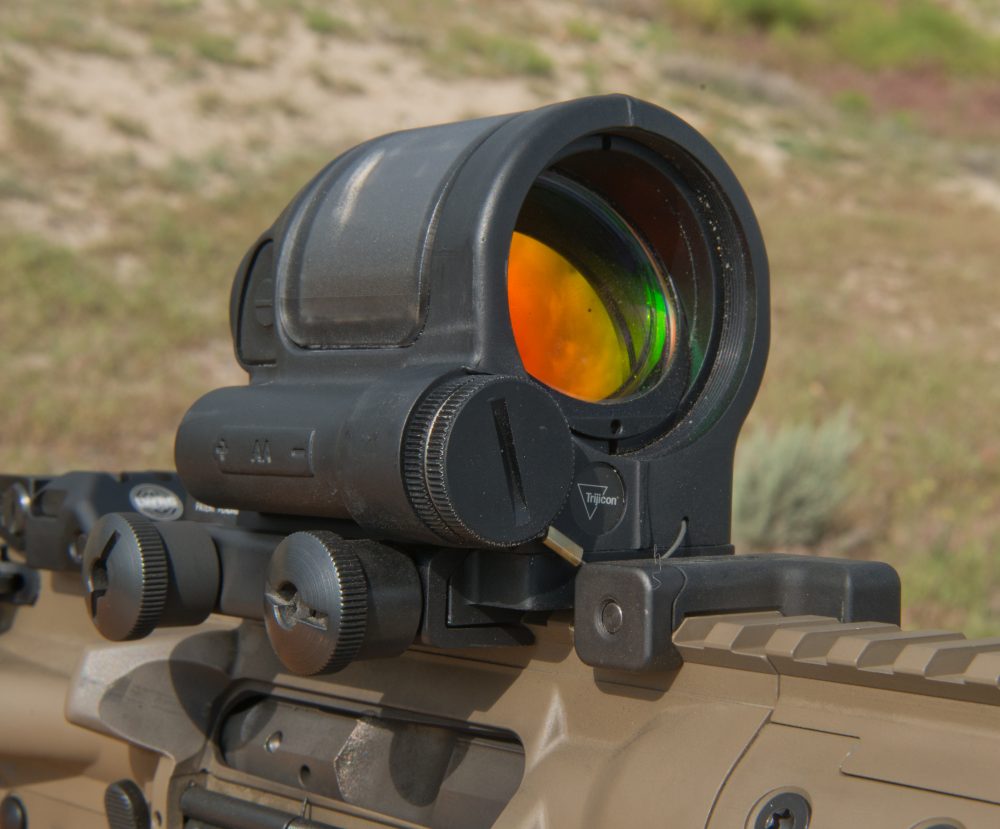 Using either Alkaline or Lithium AA battery allows Trijicon SRS to be used almost anywhere in the world.
---
FINAL THOUGHTS
Using this rifle has affirmed my affinity for suppressed short barrels (when they work), for just about anything related to entry or home defense. This is one of only two similar rifles I've tested in years that really worked. Both are piston driven, though of different designs.
Since the SBR is not possible for many, LWRC makes a pistol in the same basic configuration. A suppressor is not optional for me, but it may be for others. Either way, this setup works, and will definitely stick around for a long time.
Dave Bahde is a retired police lieutenant with over 20 years police experience and over ten years SWAT experience as a police sniper, team leader, and commander. Attending hundreds of hours of firearms and tactical training from world-renowned instructors keeps him current.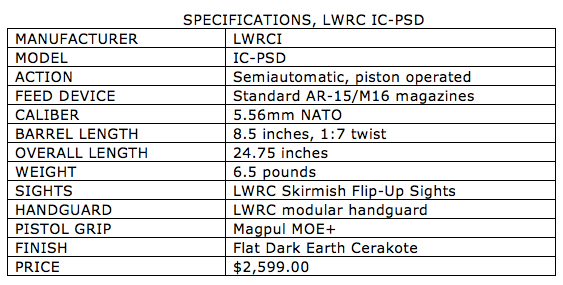 SOURCES
LWRC INTERNATIONAL, LLC
(410) 901-1348
www.lwrci.com
AEGIS ACADEMY
(800) 852-2692
www.aegisacademy.com
BARNES BULLETS
(800) 574-9200
www.barnesbullets.com
DELTA P DESIGN
(503) 487-0007
www.deltapdesign.com
TRIJICON
(703) 445-1600
www.trijicon.com