Light has been a requirement for human existence for thousands of years. Ancient cultures all had some sort of crude light, from fires and torches to small lamps with a wick and oil. I was once in a traditional house of an old Y'upik Eskimo who had a small dish of seal oil with a piece of cloth for a wick. In addition to the ability to see, even a candle flame seems to give comfort against the things that hunt in the night.
Man was made in the image and likeness of God, but God must have been working day shift when he got to man's eyes. Either that or he was becoming an admin type and forgot what the working troop needed. Compared to most other mammals, the human eye sucks. Cats see six times better than we do in the dark.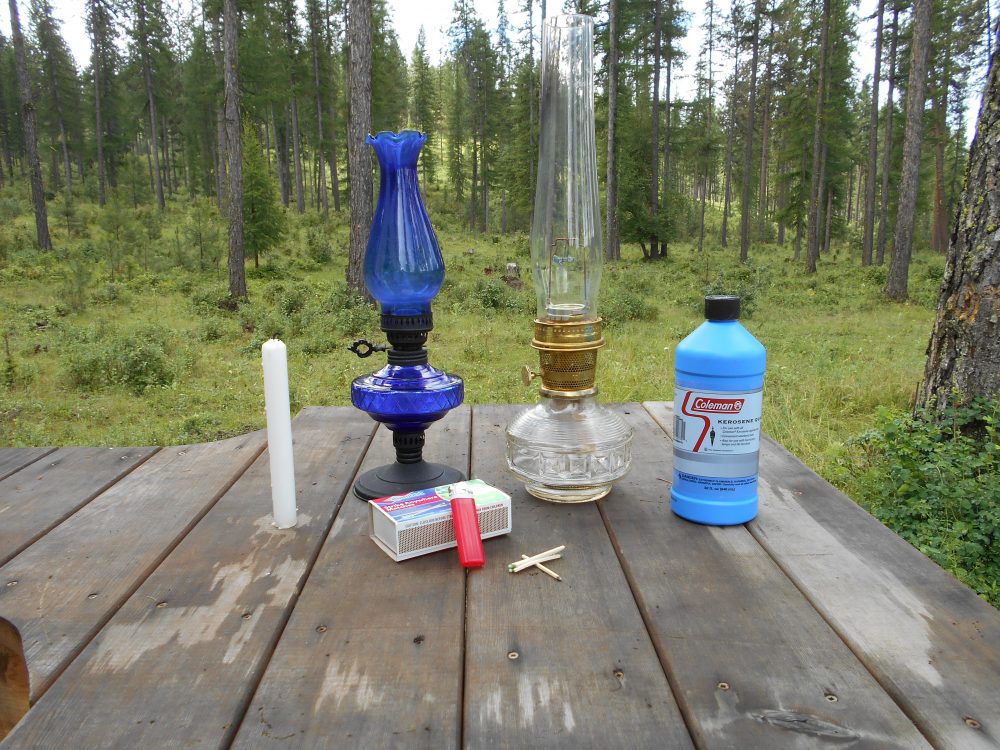 Low tech—a candle, old-fashioned kerosene lamp, Aladdin lamp, and quart of kerosene. Don't forget matches and lighters.
---
A few years ago, I went through the five-day SureFire Institute Low-Light instructor class held at Gunsite. In addition to building great lights, SureFire has done lots of research on how eyes work. We can all use blue lights and walk around with one eye closed to preserve our night vision, but here are the numbers.
When we go from light to dark, 20/800—blind as a bat. After 12 minutes in the dark, we're at 20/300, still blind. After 30 minutes, 20/180. Even with the addition of bright white light, the best we see is 20/70!
In most states, glasses are required at 20/40 or 20/50, so we should all be wearing specs when we drive at night. The end result is that we all need light. If (when) the power goes out, we should have several options to navigate the darkness, and we should include both high and low tech.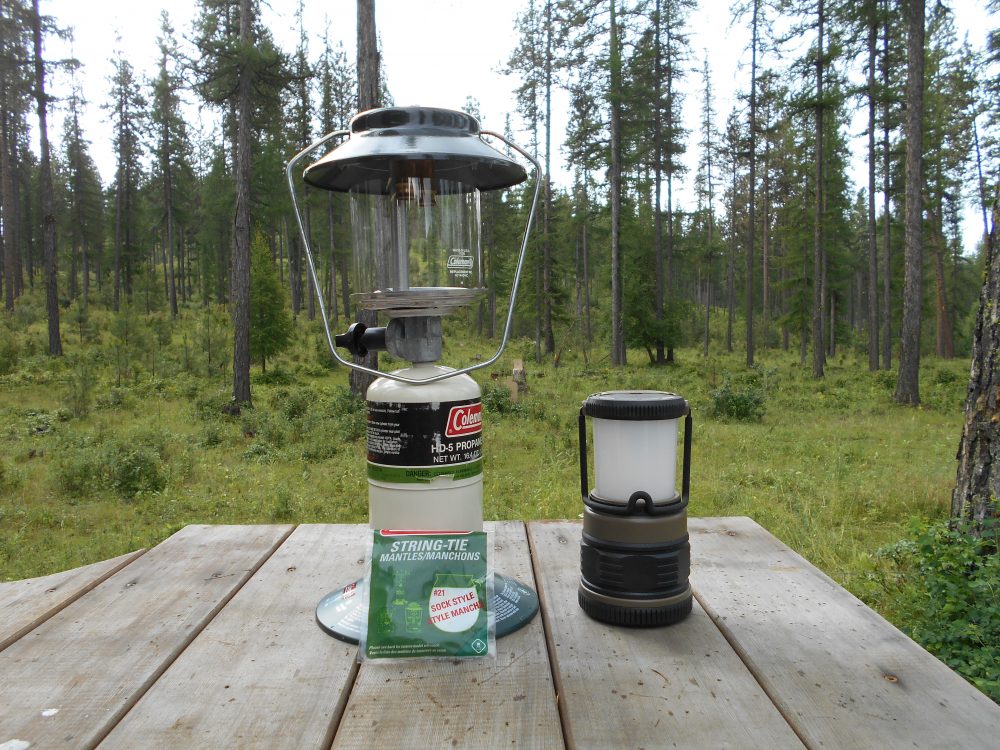 Coleman propane lantern, mantles, and Streamlight Siege battery lantern.
---
CANDLES
Candles are about as low tech as you can get—just a piece of string surrounded by wax. They can be bought in dozens of configurations, from short fat ones to tall skinny ones, short to long burning, and with scent so you won't notice the lack of a shower.
They are available from dozens of sources online and virtually any hardware or box store in the country. They have two drawbacks: the open flame can be a fire hazard, and they don't put out enough light to even read by. Regardless, every prep plan should include a couple dozen candles.
LANTERNS
I have several old-fashioned kerosene lamps left over from my tipi-dwelling days. They burn kerosene, which is a very stable, long-lasting fuel—a five-gallon can will last for years. You want to burn clear kerosene, not the red-dyed stuff, since the dye can clog the wick.
They use a wide, heavy wick that's controlled by a dial, which exposes more or less wick, allowing a slightly brighter flame. Kerosene has a strong odor and smokes up the glass chimney if the flame isn't burning correctly. A downside is that, like candles, they don't put out much light. These lanterns can be found at any antique store for $40 to $50, and wicks are sold in most back-to-earth publications.
Another option is made by Aladdin. It uses kerosene but has a generator system that puts out about 60 watts. It's fairly expensive, starting at about $150 and going up, but puts out good light.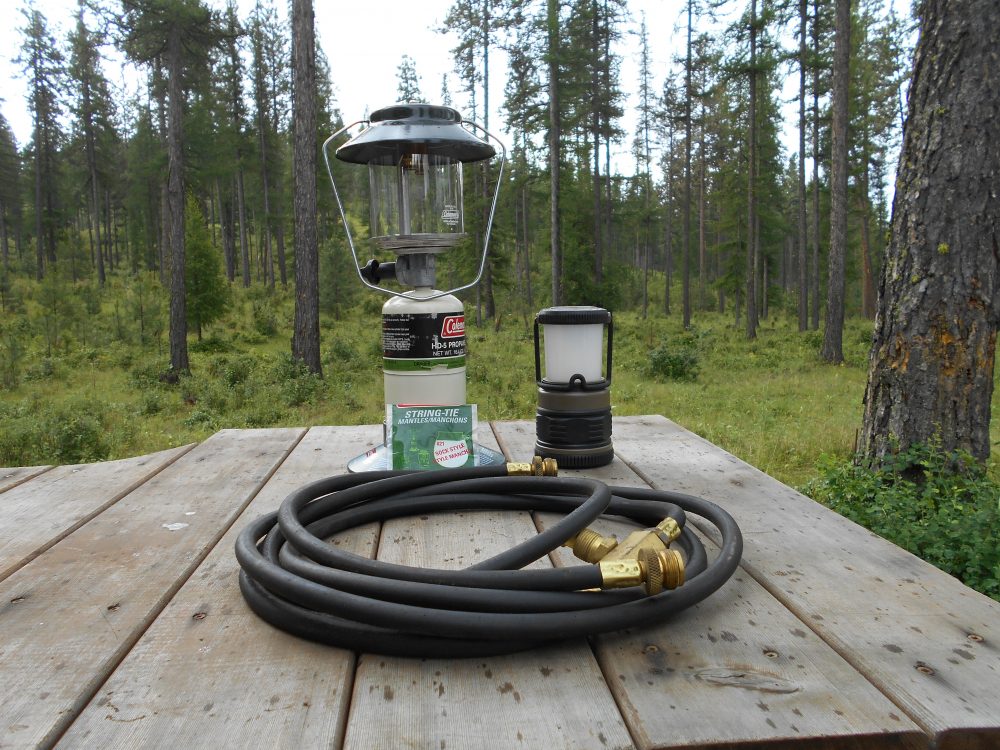 Hose and coupler allow Coleman propane lantern to connect to larger tanks.
---
Gas lanterns come in two varieties, liquid and propane. I've used a Coleman gas lantern, which burns lantern gas, for decades—a newer model, the multi-fuel, burns regular gas or lantern fuel.
The mantle, a small silk bag that hangs in the middle, takes a little work to replace—after it is mounted inside the lantern, it's burned to ash. Once burned, the mantle is fragile. The only real drawback is filling the tank with gas. Do it outside—I've never been able to fill one without it running over.
Propane lanterns are easier to use. A small canister screws into the base, the gas is turned on, and a match is held below the mantle—poof, light. These canisters are reasonably priced and available at any sporting goods store. An optional hose and coupler allows you to hook a five-gallon tank to the light. This will let it burn for weeks. I keep two gas and two propane lanterns, along with several bags of mantles, in my prep gear.
Battery-powered lanterns are available from lots of sources. I found a new lantern made by Streamlight called the Siege, which the company provided for this article. I spent two nights in March camping in 20-degree weather to test some gear—this lantern is outstanding.
The Siege runs on three "D" cells: alkaline, lithium or rechargeable batteries. It offers three white-light modes (low, medium, high) and two red-light modes (high and SOS flashing). The light floats, gives bright, 360-degree light, and it can hang from the top or bottom by using a D ring. MSRP is $61. I liked it well enough that I bought four.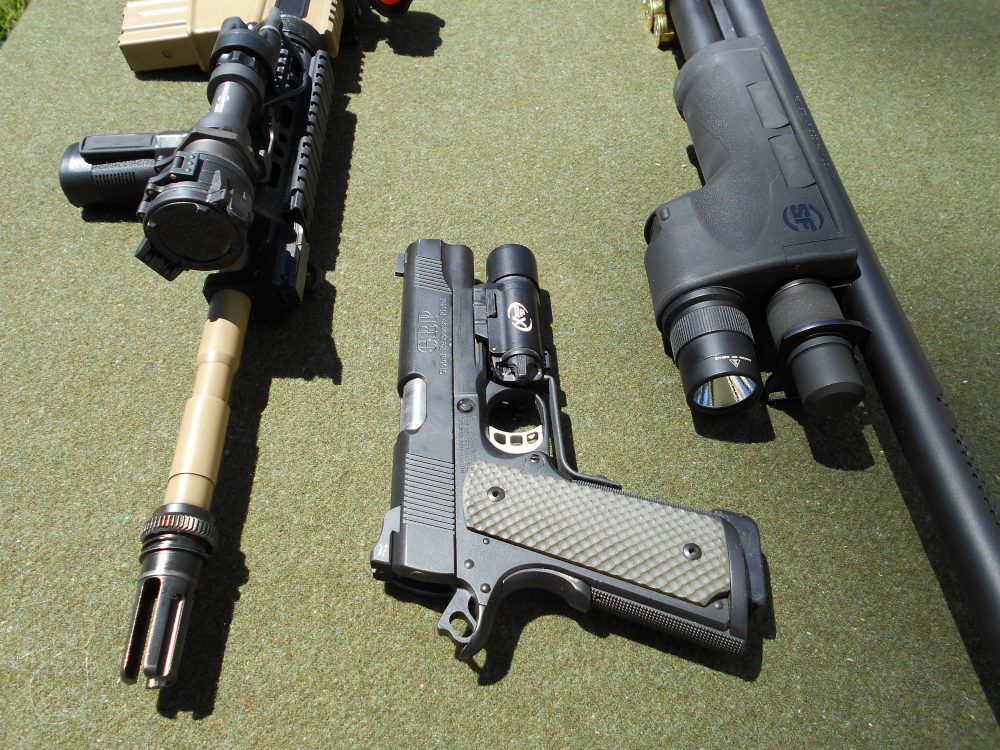 When weapon-mounted lights are needed, author trusts SureFire.
---
FLASHLIGHTS
Flashlights have improved, well, light years since I was a young trooper. We used five or six "D" cell lights that provided feeble illumination but were great impact weapons. There's more than one way to make a bad guy see the light.
The good news is that today, you can buy handheld lights that rival landing lights on a 747 or give just enough light to read a map. And they're inexpensive enough that they're almost throwaway items.
For the purposes of this article, I'll divide flashlights into practical and tactical. Practical means a flashlight that uses common batteries, may be made of plastic or aluminum, and casts enough light to see where you're going or what you're doing.
Tactical means a higher-power light, more lumens, and possibly several different functions (low, high, strobe) with the press of a single switch. Most are machined of aluminum and come in non-reflective colors. Arbitrary definitions, but you get the drift.
Tactical Lights
Tactical high-intensity lights were pioneered by SureFire and Streamlight (the Stinger is outstanding). I carry a SureFire M3 and an Aviator in my range bag, and habitually carry two lights on my person. My carry-on bag has a Columbia River Knife & Tool light that is powerful and compact and won't get taken away by the TSA like my SureFire Defender. Since most S.W.A.T. readers are familiar with SureFire and Streamlight, I'll mention a few other sources for high-output flashlights.
I've been torturing a couple of lights from Powertac, the E5 and the E3. They are well made, very bright, compact, and offer several intensities. They're inexpensive too. The lights caught my eye when I saw one in the bottom of an aquarium, still running. Like most consumer goods sold in the U.S. today, Powertac lights are made in China. They come in a power range from 90 to 2,100 lumens, with lots of models in the 200 to 600 lumen range.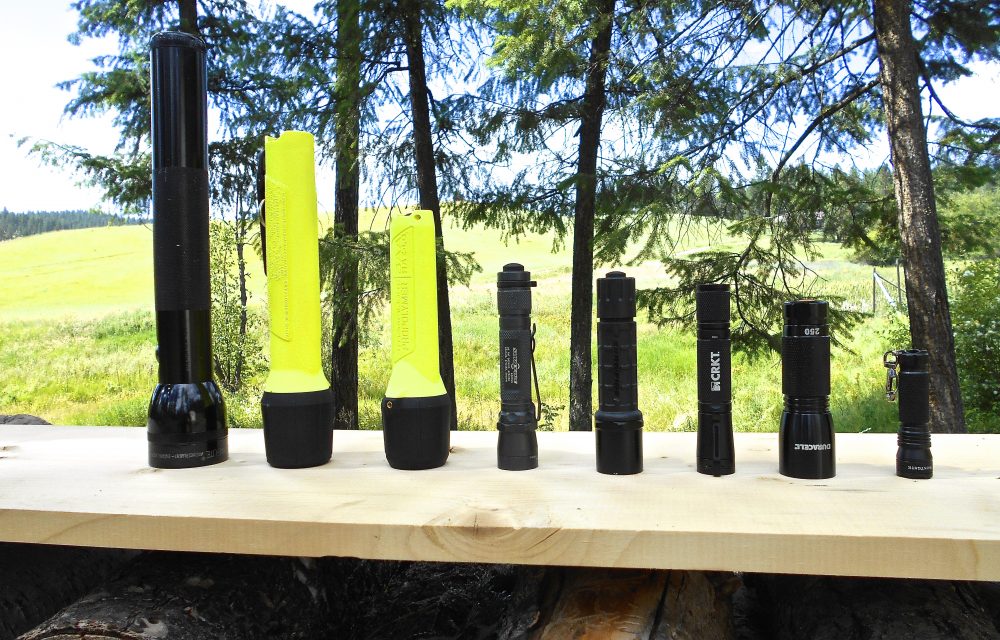 Practical lights from Maglite, Streamlight, SureFire, CRKT, Duracell, and SOG.
---
SOG Knives have been making very good lights for several years. I've been using a Dark Energy 120 (120 lumens, max run time 5.7 hours). This model runs on a single AA battery, which makes keeping it fed easier. The Dark Energy 750 (750 lumens, max run time 32 hours) is larger, has a nice striking bezel on front and rear, and uses one rechargeable 18650 battery. Like SOG knives, they are rugged, fit my hand well, and can be used as a Kubotan or yawara. They cost $58 and $174 respectively.
Leupold has come out with a line of very good lights, in keeping with the quality of their scopes. They are well made of machined aluminum and have all the features a shootist needs. The luminosity is very good. The largest one is about six inches long and puts out 500 lumens.
Nightstick Lights from Bayco Products are newer kids on the block. They make a large number of lights, from small to large, in all colors and in any power range imaginable. I tested two for this article.
The TAC460-XL is a rechargeable 525-lumen light. It's 6.5 inches long, weighs 6.3 ounces, and is well made of machined aluminum. The light is waterproof, has a tailcap switch and momentary or constant-on positions. I tried it out the front door one night and could see the antlers on a small buck 125 yards out. That's outstanding output and clarity, and a bargain at a suggested retail price of $74.95. The mounting kit (mentioned below) allows this light to be weapon-mounted.
Practical Lights
Practical lights come in lots of flavors. I was walking through Costco last week and saw a three pack of lights from Duracell. The three 250-lumen lights came with AAA batteries for each light, all packed in a blister pack. The price was $15.95. For that, you could buy a couple of sets and stash them away, and at $5 each, they're practically disposable. Costco also has large packages of D, C, AA, AAA, and nine-volt batteries for very reasonable prices.
Streamlight has released a couple of great lights for anyone who works in dust- or vapor-filled environments: the Haz-Lo. During some demolitions training I received years ago, one technique was to set off a small charge in a room to fill the air with dust and particles; a second, delayed charge ignited the particles, amplifying the power exponentially.
If you work around barns, fuel, grain elevators, etc, these lights are mandatory, as they won't emit any sparks when they're turned on. For those of you who lose stuff, like me, they are fluorescent green, so you can find them.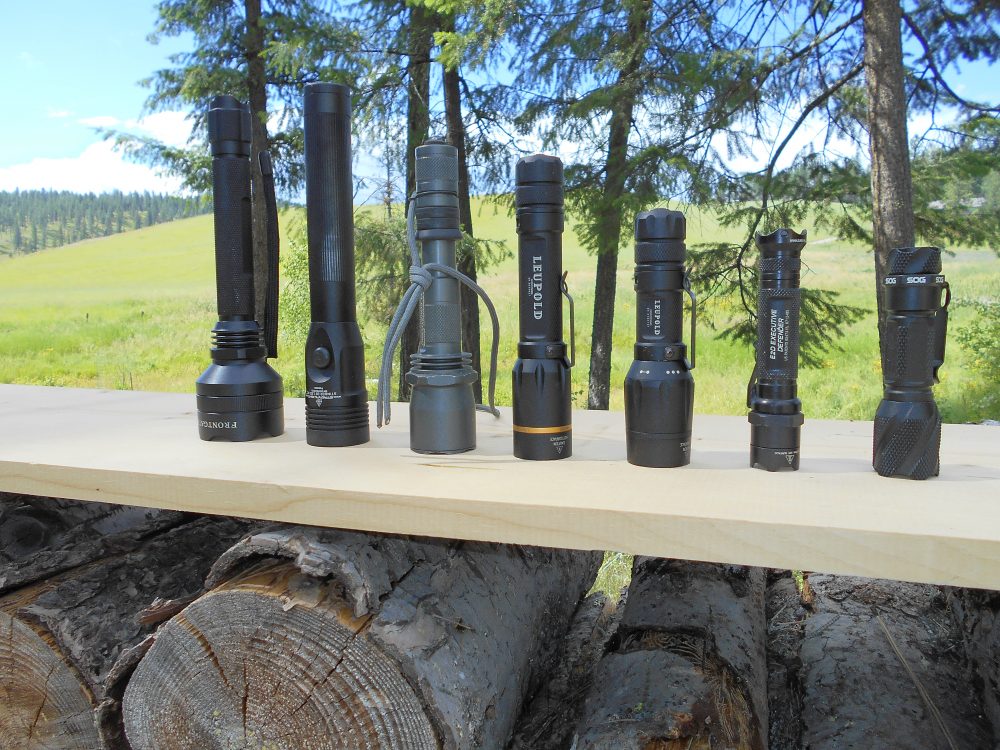 Tactical lights from Frontgate, Streamlight, SureFire, Leupold, and SOG.
---
WEAPON-MOUNTED LIGHTS
The one problem with weaponlights is that everything in front of you gets muzzled. I rarely use lights on guns, except for my defensive 870s, as I've never found a good way to run a pump gun and hold a light. I also have a 1911 with a light on the nightstand. But I live in a remote area and my few friends don't drop by unannounced, so if something goes bump in the night, it's either one of my cats or a goblin—either one will get covered.
I looked at both cheaper and more expensive lights for weapon mounting, since budget is a consideration for all of us.
The Nightstick TAC 300B-K01 weaponlight is the polymer long gun kit. It's a 180-lumen light that comes in a kit with all you need, including a tailcap with pressure switch. It can also be easily dismounted and used with a side switch button. The light is clear and bright, and the rail mount very solid. The light is good for inside or close range, but faded a little on identifying the above-mentioned buck. However, at an MSRP of $44.95, it's a bargain!
The Powertac E5 model has a conventional weapon-mounting kit, complete with pressure switch. The light seems well made and puts out 650 lumens. But I haven't beaten it up much yet, so I can't talk about ruggedness or run time.
One thing about old guys: we hesitate to change from something that works, even if it's new and shiny. SureFire pioneered much of the light technology we enjoy today, and most of the weapon-mounted stuff.
SureFire is more expensive than the others tested, but I've used their lights a lot, and they work. If I'm looking for my car keys, any light will do. If I'm fixin' to deliver deadly force, only the best I can afford will do. I use SureFire lights any time I want a light on a gun. If we ever get to an Omega Man lifestyle, I have SureFire lights I can put on my handguns and carbines.
There's a Scottish and Irish word, sassenach, that means both "stranger" and "enemy." I'll still be remote and everyone may be an enemy, so they all may get guns pointed at them.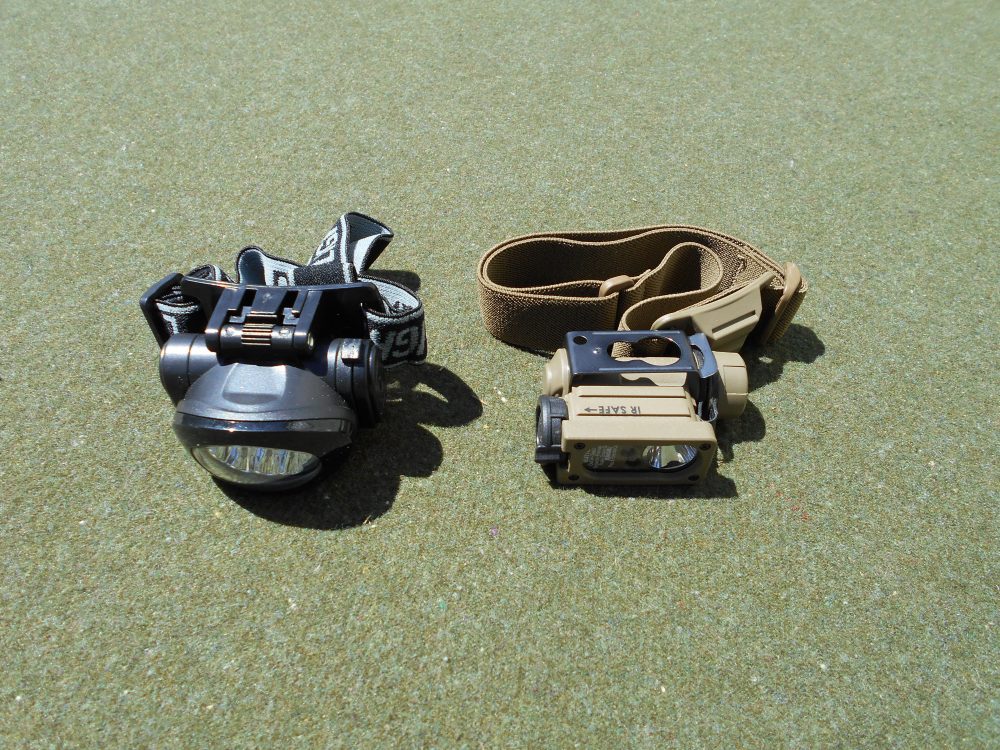 Headlamps can be simple, like those from Costco (left), or sophisticated, like the Streamlight Sidewinder.
---
HEADLAMPS
I first used a headlamp years ago on a climb in the Olympic Mountains. We started out at 0-dark-30 and the lamp kept me from falling on my face. On my Idaho elk hunts, it's much easier to saddle a horse when you have two hands to do it.
Streamlight makes a great head/helmet-mounted light called the Sidewinder. It functions in white, red, blue, and IR modes. It can be rotated up, down or front and runs on AA alkaline, lithium or on 123s. This can make your logistics easier. If you have NVGs or wear a brain-bucket, this light would be great for maps or minor jobs. At $131, it's expensive, but very useful.
The only headlamp I've used much I bought at Costco. A three pack costs $19.95, runs on AAA batteries, puts out sufficient light, and is tough enough that I haven't broken it. At that price, you can buy six lights and have all you'll ever need.
BATTERIES
I reached out to Batteries Plus Bulbs to get the dope on batteries. I've used their retail stores, located by the bright orange and green signs, all over the country. I can get AAs and Ds anywhere, but 123, 2032 and 1/3N batteries are not available at WallyWorld. I'd read enough conflicting material on the Infernalnet that I didn't know what I needed. Batteries Plus offers all sorts of batteries, bulbs, lights—pretty much anything you need, and they were really helpful. I'll condense what they told me.
Don't store batteries in the freezer—store food—store batteries at room temperature. Alkaline batteries, regardless of brand, have a shelf life of five or more years, so buy lots. Duracell Quantum and Rayovac High Energy store seven and ten years, respectively, and have a longer run time.
For long-term storage, Energizer lithium AAA, AA, D, and 123 batteries have a 15-year shelf life and longer run time, but cost quite a bit more. Rechargeables are not the best choice because they lose 20% per year more power in storage, so may only run at about 50% charge, leading to short run time.
Small solar panels charge too slowly for use in most emergencies. Use quality alkaline or lithium non-rechargeable batteries.
SUMMARY
My preparedness plan calls for me to start high-tech and go downward. I'll use my generator as needed to run the well, lights, radio and freezers. I'll use the battery-powered Siege lanterns until I run out of batteries (a couple of years). If I run out or they fail, I have gas and propane lanterns, followed by kerosene lamps. I figure I'll eat the cat by candlelight.
SOURCES
BATTERIES PLUS BULBS
(800) 677-8278
www.batteriesplusbulbs.com
BAYCO PRODUCTS
www.baycoproducts.com
COLEMAN
(800) 835-3278
www.coleman.com
COSTCO
(800) 220-6000
www.costco.com
COLUMBIA RIVER KNIFE & TOOL
(800) 891-3100
www.crkt.com
LEUPOLD & STEVENS, INC.
(503) 526-1400
www.leupold.com
POWERTAC
(919) 239-4470
www.powertac.com
SOG SPECIALTY KNIVES & TOOLS, INC.
(888) 405-6433
www.sogknives.com
STREAMLIGHT, INC.
(800) 523-7488
www.streamlight.com
SUREFIRE, LLC
(800) 828-8809
www.surefire.com