TIM Leatherman may have remembered his Grandma playing, "Here is the church, here is the steeple; look inside and see all the people" when he invented a new genre of folding multiple- use pliers. Their life-saving potential was enhanced by their folding compactness, because this handful of tools was with you when needed. Leatherman's logical, practical butterfly folding design filled a vacuum in the tool market and rocketed his new company to success. It also launched an industry and has provided a living for more Chinese knockoff and offshore offal merchants than have importers of overpriced athletic shoes.
MULTI-TOOLS
The concept of many handy tools in one hand, starting with usable pliers, was addressed by the World War II OSS multitool and even earlier pocket-knife designs. The OSS escape tool was arranged like miniature water-pump pliers, one handle of which held a blade and other quintessential army knife items.
As any new industry succeeds, it encourages competitive innovation. Git 'er done Americans have always been predisposed toward tools, and no sooner had Leatherman's folding design energized the market than quality non-folding multi-tools were offered. Al Mar made a take-off of the OSS tool as the 4X4, and Spencer Frazer introduced the SOG ToolClip. Both had topquality pliers with other implements in the handle.
All the multi-tools we deal with here incorporate pliers. Those who pretend they know tell us that man's marginally superior intellect developed because he had an opposable thumb, i.e. could perform a pincer function. I find it just as likely that because man had a marginally superior intellect, he developed an opposable thumb. But the point is the same: the raison d'etre of hand tools is to enhance the hand's ability. Since everybody agrees there is a correlation between intelligence and pincer functions, it follows that you're obviously smarter if your contingency tool incorporates strong, dependable pliers. From the crowd, we picked a dozen worthy designs that we can recommend.
All such tools may be designed as pincers, but not all will do in a pinch. They can fold like Leatherman, exit the front like Gerber, always be deployed like the Zilla, or even have locking jaws like the Crunch and Grappler. Demanding tool buyers have enviable choices among many quality makers. Choose the best quality you can of the design that will satisfy your anticipated needs and work style. We've limited this review to models currently marketed, looking for function and dependability, not how intriguing it is to our gadgeteer's compulsion.
In a situation where support of a hard-use tool may affect your safe return, the reason to consider only top quality is obvious. We own and have used several hundred multi-tools, including uncounted import variations and imitations.
To loan out, use around the shop, or over water (and thus subject to loss), Tier Two tools may suffice. Many are useful and some represent good value. But any that ride your belt into a survival scenario really should be the best you can afford. Here are our dirty dozen.
LEATHERMAN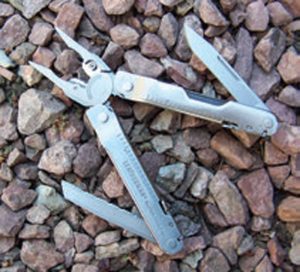 Supertool 3OO
Any Leatherman suits its intended purpose, and one eminently appropriate for hard-use survival—and one of my favorite go-to tools—was the heavy-duty Supertool. It went out of production, but is now back as the Supertool 300.
The 300 features Leatherman's strongest pliers, sloped-top handles to access confined spaces, and now rolled handles for a comfortable give-it-your-best grip. It boasts 19 locking tools and blades, including needle-nose pliers, regular pliers, 154CM replaceable wire/hard-wire cutters, stranded-wire cutters, electrical crimper, clip-point blade, serrated blade, file, and saw. Plus large/medium/ small flat screwdrivers (slightly hollow-ground, which I prefer) and Phillips, thread-loop awl, English/metric ruler bottle opener, wire stripper, and lanyard. The construction is stainless steel.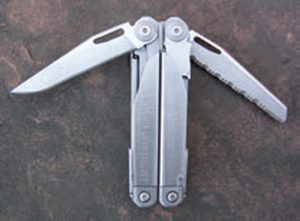 Leatherman took a tool I found no fault with and reproduced it in an advanced evolution. Points such as userreplaceable cutters, positive and handy locks, and rolled edges make it a hard-use everyday tool, and I like it.
Surge
The Surge shares DNA with the Supertool 300 but in a different esthetic and design. Whereas the Supertool 300 may be overbuilt for ordinary purposes and might win a "beauty of functional design" award, the Surge provides slightly different functions, and a few more of them, in an aesthetically pleasing envelope. It's heavier (11.8 vs 10.1 ounces) because it contains more tools, but doesn't have the steroid- enhanced jaws nor replaceable cutter of the Supertool. The Surge offers a blade exchanger, double-ended bits, and four outside-opening blades (knives,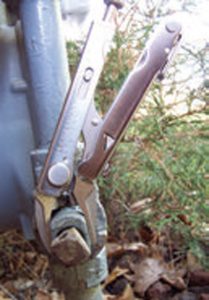 saw, scissors or options like file, diamond file, etc). Depending on how you set it up, the Surge can carry: needle-nose pliers, regular pliers, wire cutter, hard-wire cutter, stranded wire cutter, electrical crimper, clip-point blade, serrated blade, scissors, blade exchanger, diamond file blade, wood file blade, saw blade, large and small bit drivers, 5/15" flat screwdriver, awl with sewing loop, English/metric ruler, bottle/can opener, wire stripper, lanyard loop, and even eyeglass-sized fine screwdrivers tucked down in where they won't get lost.
Crunch
If you're working with a contingency tool, it's almost a given you could use an extra hand, and that's just what this lock-on-the-work-piece tool gives you. It's fun to unfold a new multi-tool and see what's inside, and the Crunch may startle you, because neatly folded in its four-inch case are quickly adjustable locking pliers that'll grab a one-inch pipe! It features: locking pliers, regular pliers, wire cutters, hard-wire cutters, serrated blade, file, large/medium/small flat plus Phillips screwdrivers, ruler, bottle opener, wire stripper, and pin vise—plus hex-bit driver and lanyard ring. All stainless, all working tools.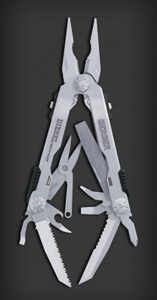 GERBER
Diesel Multi-Plier
The earliest iterations of Multi-Pliers may have been criticized (points quickly fixed) for pinching handles or a slippery polish, but I have never seen any Multi-Plier break or even deform, except for individual tools that were being unmercifully abused in an act of desperation. The idea behind the Diesel was to make a strong tool even stronger: The case has been beefed up, as have individual implements. Gerber's advertising touts it as "big, tough, capable, versatile," and this is not hyperbole. Keeping popular locking tools and flick-of-the-wrist deployment while significantly upgrading strength pretty much fits our definition of a survival multi-tool.
A typical Diesel has needle-nose pliers, wire cutter, partially serrated knife, cross-point screwdriver, small/medium/large flatblade screwdrivers (precisely ground after finishing), can opener, bottle opener, file, excellent double-cut saw, and scissors. The Diesel is available in different finishes and iterations such as black and EOD model with crimper.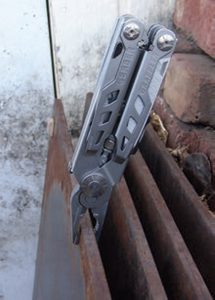 Grappler Multi-Plier
Gerber has more different models in their stable than any manufacturer, both domestic and import, both butterfly type and their trademark out-the-front Multi-Plier style. The Grappler is of particular interest as it features 12 tools, starting with Gerber's one-handed out-the-front pliers deployment—in this case with an adjustment to lock it on the work-piece. We like that you can grab it, deploy it, and adjust the bite/locking tension all with one hand. Besides pliers, the Grappler features a wire-cutter, nail puller, light pry bar, ruler, file, wire stripper, Phillips and flat screwdrivers, and partly serrated blade.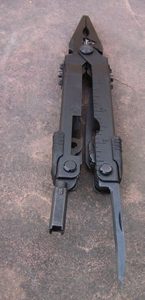 All stainless, strongly built like all American-made Gerbers, the Grappler is a clever piece of outside-the-box engineering. We couldn't break it or get it to work its grip loose. In my hand at least, it opens even more easily than regular Multi-Pliers.
Multi-Plier 6OOST
Gerber has more than 50 multi-tools, and their all-stainless Multi-Plier line is good to go to war—and does every day as U.S. Army issue. The 600 series alone has six variants.
We tested the black Multi-Plier 600ST (Sight Tool), which has worthwhile evolutionary upgrades from in-the-field experience: carbide wire-cutter jaws (userrotate to three fresh positions or replace), an AR front-sight adjustment tool, and a precise AR carbon scraper—features that GIs asked for and use.
SOG
I like SOG products because they are designed to be used and are built for hard service, the operative phrase for this review. S.W.A.T. Editor Denny Hansen once forgot his fence tool when riding fence, so used his SOG multi-tool to "fix more fence that day than most folks will in 10 years," and neither was the worse for wear. Denny's lives in a homemade pouch on his belt next to a 1911 magazine and SureFire light.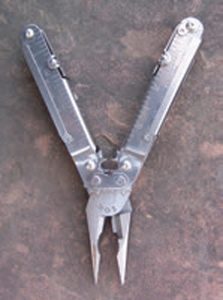 The first SOG tool I saw was the ToolClip, a blunt compact pliers with tools and blades built into one handle and perfectly proportioned to be used. Its owner was a hamhanded form setter who used the tool every day to cut iron wire around abrasive concrete in confined spaces. His ToolClip fit where he needed it, and the cutter stood up. The ToolClip of 20 years ago is gone, but Spencer Frazer's outside-the-box engineering and orientation toward demanding end users live on. He credits his customer base with the intelligence to disassemble tools for maintenance or repair, and his designs facilitate this.
PowerLock
The PowerLock is boss of SOG's "power" tools, built for maximum service. Implements are readily removed for repair, service or rearranging, and SOG has a video to help. A pivoting cover makes hard, longterm, or repetitive gripping comfortable, and smooth flick-of-the-wrist opening gets the pliers working while the other hand is holding the workpiece. Individual tools lock open, the Phillips driver in two positions. The PowerLock is all stainless and carries a lifetime warranty.
One of my favorites for constant carry, the PowerLock includes pliers/grippers, wire cutter, cap crimper, foldable 1/4″ socket drive, spring-loaded scissors, partially serrated knife, Phillips screwdriver, small/medium/large screwdrivers, threesided file, bottle/can opener, double-tooth saw, lanyard ring, awl, and ruler. It's a hefty 4.7 inches folded. This is the optimum selection of tools you'll use, all tool quality.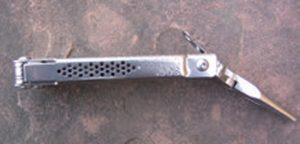 Paratool S31N
The Paratool is not the absolute strongest SOG tool, but it's certainly no weak sister and is one of their longest-running products because it is uniquely capable: it folds differently, and the head is usable at angles of 140 to 180 degrees. When getting at the work is half the job, this angle-operating head may get you there. Handles are smooth outside.
The Paratool is all stainless, 4.3 inches folded, has pliers/gripper, wire cutter, serrated blade, straight blade, three-sided file, large screwdriver, Phillips screwdriver, awl, can opener/small screwdriver, bottle opener/medium screwdriver, ruler, and lanyard ring.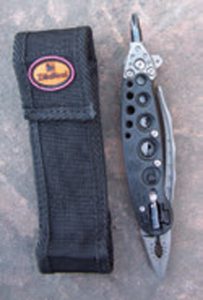 COLUMBIA RIVER KNIFE AND TOOL
Zilla Tool
Although not the smallest at 6.5 inches closed, our hands-on testers agreed the Zilla Tool is handy to deploy and ergonomic to use, with its navette shape, spring-loaded pliers and centered rigid driver socket. It features the most-used tools: spring-loaded semi-needle-nose pliers, wire cutter, liner-locking three-inch serrated spear-point blade, and flat and Phillips drivers (readily swapped for other hex-drive bits). Cleverly built and handy, the Zilla incorporates beadblasted stainless construction and glass-filled nylon scales. The magnetic bit retainer works, although I prefer a spring-detent as it is more secure. It has a pocket clip and nylon pouch. The Zilla is of American design and good quality off-shore production. Also offered is the slightly smaller Zilla Tool Jr. and pocketable multi-tools of different designs.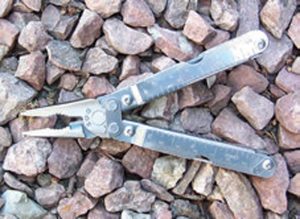 Pocket PowerPlier Deluxe
Another outside-the-box innovation was Spencer's application of a gear-drive mechanism to realize mechanical advantage at the pliers head. This gives double the gripping force on the jaws and conversely half the pressure requirement to move the handle. This lets the handle sections move as effortlessly as the handles of a butterfly knife, so the tool opens smoothly and deploys with a one-handed flip. The original PowerPlier is out of production (no, mine is not for sale) and has been superseded by the Pocket PowerPlier Deluxe. The new iteration is a tad smaller, a tad lighter and designed for easier carry and to be more user friendly. The original was an easy tool to carry, use, and like, but the new PPP is certifiably neat gear. It's all stainless and only 4 inches long folded.
It carries pliers/grippers, wire cutter, partially serrated knife, Phillips screwdriver, 1/4″ socket driver, small/medium screwdriver, three-sided file, bottle/can opener, lanyard ring, and ruler.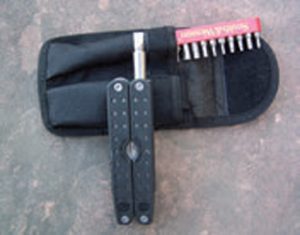 GRIZZLY
Model H72O1 Smith & Wesson Tool Chest III
Grizzly has built quite a following by importing better-quality Asian wood and metal-working tools at very competitive prices and backing them with enviable guarantees and service. They assemble the S&W Tool Chest III here, from U.S. and quality imported parts, and it is of better quality than its price would suggest. It comes with 11 hex-drive bits in a Cordura pouch, plus the usual folding suspects: needle-nose pliers, wire cutter, scissors, file, can opener/awl, clippoint blade, flat screwdriver/can opener, Phillips screwdriver, hex-bit holder/¼ socket.
It's a serviceable tool from an outfit that understands tools, but promotionally priced. If you're on a budget, having a tool you can afford beats not having the one you can't afford. It's one of the few economically priced tools we recommend.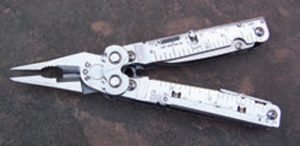 PowerAssist
One-handed opening is valuable when you only have one hand free for a given job, and SOG's compound-leverage gear drive helps apply serious pliers force when you can't squeeze with both hands. Now SOG's new PowerAssist takes one-handed up a notch with assisted blades that deploy from a closed tool when you just touch their thumb-stud. The assist device fully opens the blade so you can get to work. It's innovative, and thoughtfully designed as a helpful feature for the end user, not just a novel flight of merchandising fancy. The PowerAssist is all stainless.
Within its 4.6 inch carcass are pliers/grippers, wire cutter, V-cutter, serrated blade, straight blade, Phillips screwdriver, 1/4″ socket driver, small/medium/large screwdrivers, bottle/ can opener, three-sided file, lanyard ring, and ruler.
SUMMARY
If it seems that these evaluations are unusually positive, it's because we had the luxury of selecting subjects only from the genre's top tier.
We have used all the tools discussed here and can recommend them. Select the one that best meets your requirements and budget—and don't leave home without it.