I've been a fan of the Trijicon ACOG since I first tried one many years ago. I'm especially fond of the TA31RCO used by the USMC, to the extent that one is on the M4 I use most often.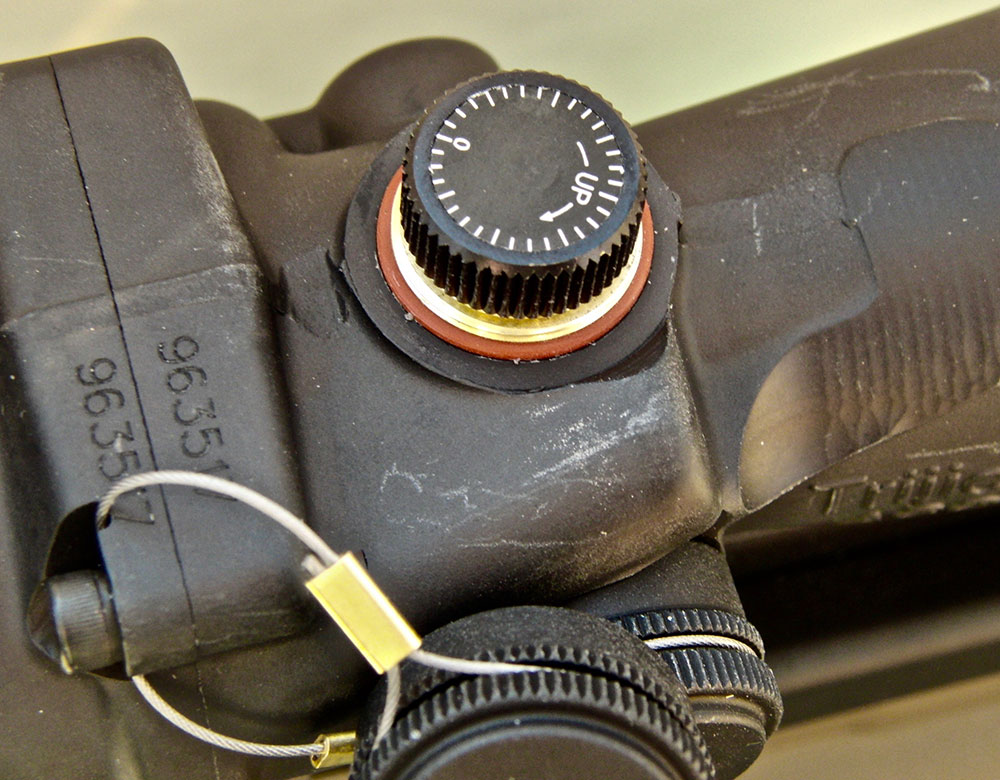 I have also used .308 ACOGs but have not had as much experience with them as the 5.56x45mm ones. However, while working on the book I just completed on the G3 rifle, I wanted to discuss currently available semi-auto versions of the G3/HK91.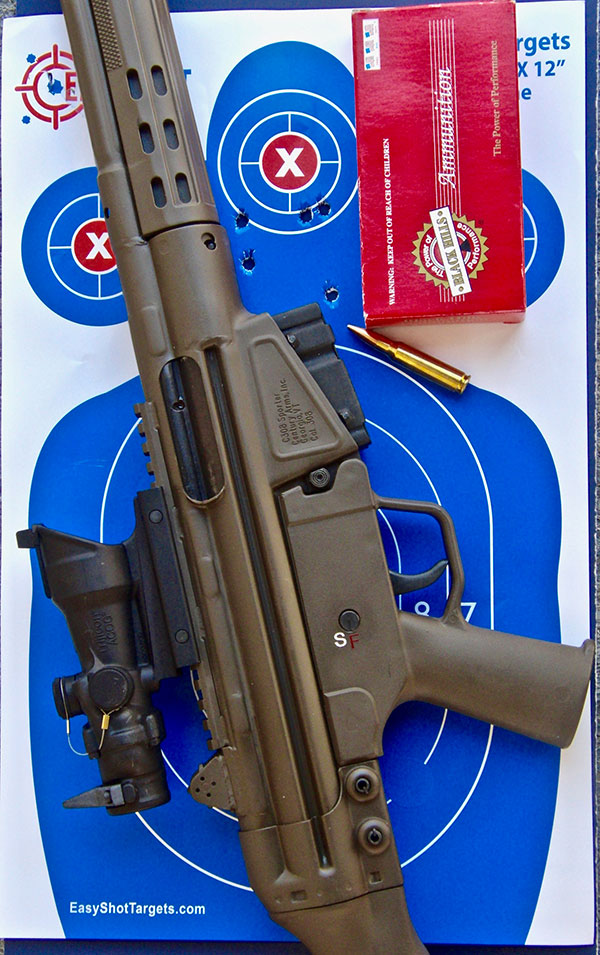 As a result, I have been shooting a Century International Arms C308. Since it has a top Picatinny rail, I decided this was a good chance to try a .308 ACOG designed for U.S. military users.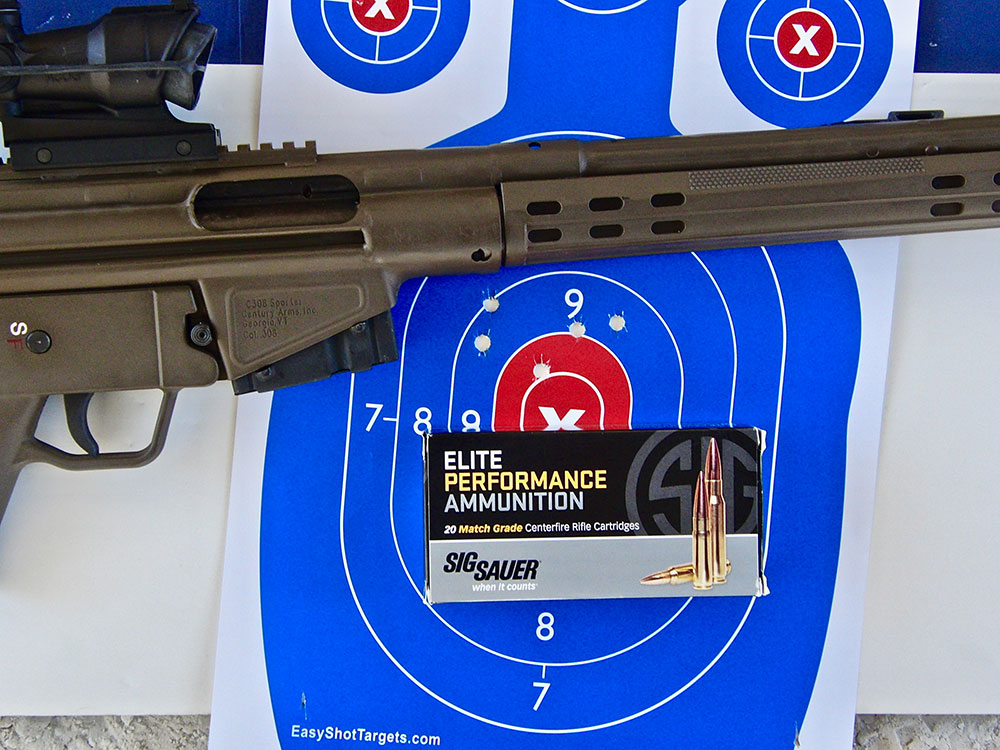 Before reviewing the C308, I want to address a point of which some readers may be aware. In the past, some semi-auto rifles based on G3 parts kits and U.S. receivers have had a bad reputation for reliability. I went into testing the C308 knowing that readers might have some suspicion about non-HK G3/HK91 semi-auto rifles.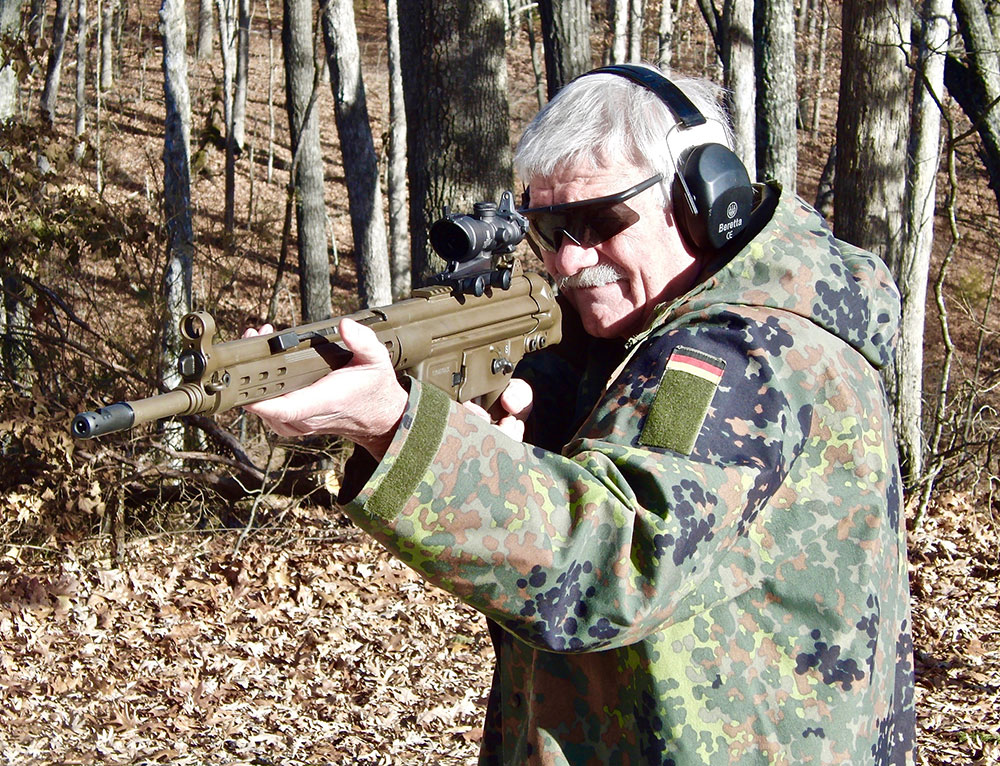 As a result, after completing my shooting tests of the C308, I've continued to shoot it. As of this writing, I have quite a few rounds through it and have not cleaned it. It has functioned quite reliably and proven accurate.
One point I'll make about G3-type semi-autos: When loading the first round from the magazine, first pulling the cocking handle into the hold-open notch before inserting the magazine, then slapping it to go forward usually eliminates problems with first rounds not fully feeding.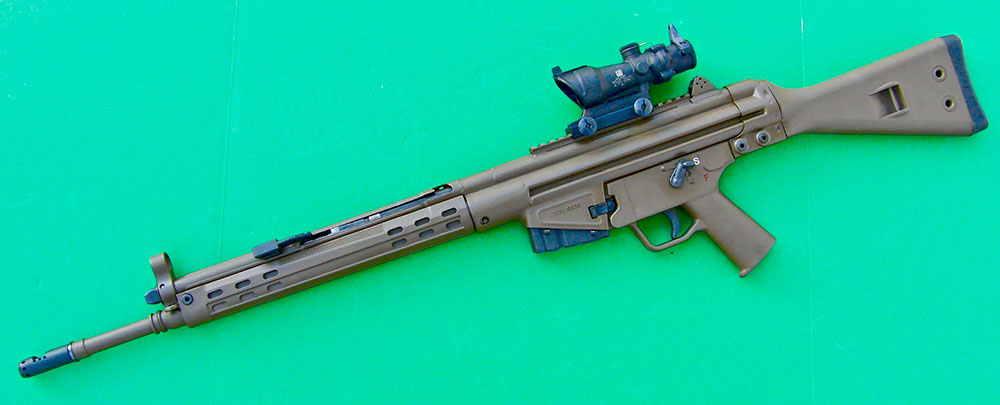 I have only used U.S. commercial .308 ammunition—Black Hills 168-grain Match and SIG Sauer 168-grain Match—when shooting for groups. Normally, I would shoot quite a bit of surplus 7.62x51mm ammo, but the surplus I have now is all Venezuelan Cavim, which uses a very gummy sealant that can get into the chamber flutes of G3-type rifles and be difficult to clean.
When I get some surplus 7.62x51mm NATO ammo without the potential to gum up the rifle, I will try it.
My point is that I am quite happy with the functioning of the C308. I am also happy with the accuracy. My 100-yard groups with various types of ammo have run in the two- to three-inch range. That's as good as I do with my pre-ban HK91 mounting a German military claw-mounted Hensoldt 4X.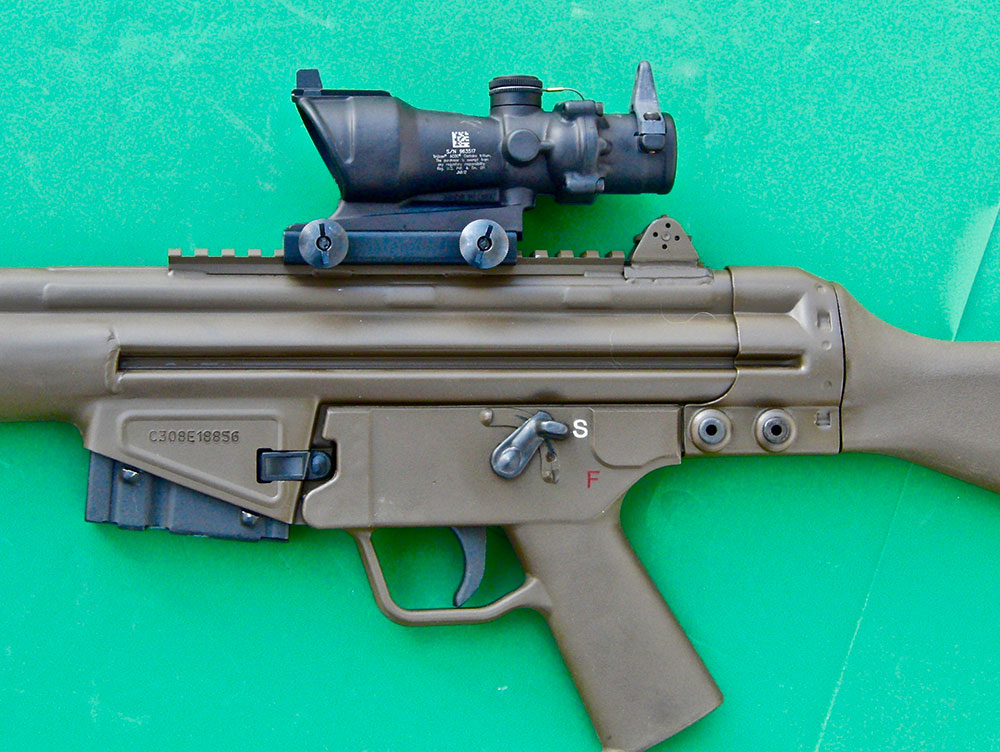 The Picatinny rail on the C308 allows me to use an array of optics. I thought about mounting a variable-power .308 scope of the type I usually use on sniping rifles to really test the C308's accuracy. I didn't, though, as I wanted to try it with the Trijicon TA01NSN-308.
I wanted a battle scope for a battle rifle. By the way, the C308 comes with flip-up rear sights rather than the rotary diopter used on the HK G3 or HK91. They are lower profile and work well as BUIS for an optical sight.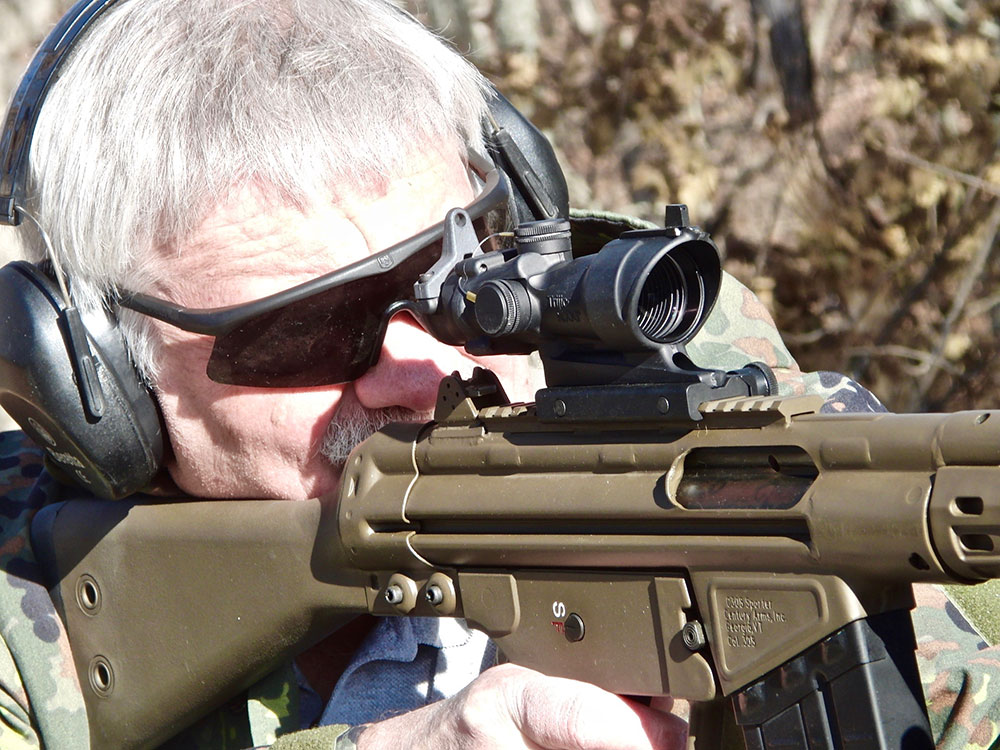 Among other features of the C308 I like are its use of a tropical handguard, which is much more comfortable for shooting. I also like the brown color of the C308—brown, not tan or FDE. I just find it a handsome color—which of course doesn't make it shoot better!
I've been so happy with the C308 that I stuck my long-serving HK91 in the safe and will continue shooting the C308 when I get the urge to feel the sensation of a delayed-blowback roller action.
TRIJICON TA01NSN-308
Designed for U.S. SOCOM, the TA01NSN-308 has a reticle that compensates for drop out to 800 meters. Unlike most ACOGs I use that have a fiber-optic tube, which increases the brightness of the chevron or other aiming point of the reticle in bright daylight, this tube is not present on the TA01NSN-308. Instead, the reticle appears black in normal daylight. In low light, Tritium illumination causes it to glow amber.
I like the fiber optic, as I have found that in bright sunlight it increases the brightness of the reticle, so I can pick it up quickly. Having said that, some military users of ACOG optical sights cover the fiber-optic tube with 100-mile-an-hour tape so it's not visible and/or doesn't increase reticle brightness.
As with some other military-contract ACOGs, the TA01NSN-308 incorporates backup iron sights atop the optic. I've tried them on silhouette targets at 25 yards and they work acceptably. Windage and elevation adjustments are easy, with the dials clearly marked.
As I normally use ACOGs with a chevron reticle for the primary aiming point, I found that the TA01NSN-308 crosshair took longer to acquire for closer range engagement. But given that this optic is intended for a 7.62x51mm rifle, the applicability of the crosshair at longer range is more relevant.
As with other ACOGs, stadia lines marked with numbers to designate the range allow the rifle to be used to 800 meters without making any adjustments. Because I am used to this system from other ACOGs, I found I could shoot it well on plates to 300 yards—the longest distance at which I shot.
Another real plus of the TA01NSN-308 is that it is only 5.8 inches in overall length and weighs 15 ounces. As the C308 is a relatively heavy rifle, that lighter optic helps keep it handy for offhand shooting.
To test the combo, I fired five-shot groups at 100 yards from a seated rest. Getting good five-shot groups is always more difficult than good three-shot groups, so I was pleased with the results. Using Black Hills 168-grain Match, I shot a 2.5-inch group, and a 2.75-inch group with SIG Sauer 168-grain Match.
I was happy with the performance of the C308 and the ACOG. The thicker lines at the sides and below the crosshair of the ACOG help lead the eye to the aiming point. Eye relief of 1.5 inches proved acceptable with the .308 loads I was shooting.
When I shot offhand at hanging plates, as previously mentioned, I found the tropical handguard very comfortable. Trigger pull was stiff with some creep, but I got used to it.
Ergonomics were standard for a G3-type rifle: Long thumbs are useful to work the selector without shifting the shooting grip. Rocking the magazine in or out requires some experience, and pulling back the cocking handle takes effort.
I find the ACOG/C308 a nice combo and plan to keep using them together for now. But if I'm going to shoot it a lot, I need to find some non-corrosive, non-gummy surplus ammo.
SOURCES
CENTURY INTERNATIONAL ARMS, INC.
(800) 527-1252
www.centuryarms.com
TRIJICON, INC.
(800) 338-0563
www.trijicon.com
BLACK HILLS AMMUNITION
(605) 348-5150
www.black-hills.com
SIG SAUER
(603) 610-3000
www.sigammo.com