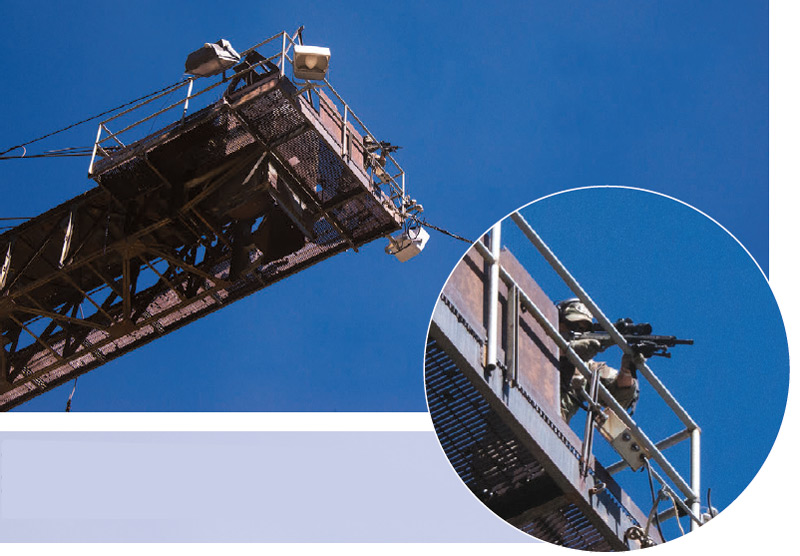 Coaxing me to a precision rifle/sniper/police sniper class is about as easy as getting me to the dentist.
After well over a dozen, I can say they are pretty much the same. Zero your rifle, shoot groups, gather dope, dress like a tree, and "stalk" a large steel target to pistol distances with a long-range precision rifle. Throw in hours of mind-numbing lectures on mils and MOA and you describe 95% of these courses. Fun the first few times, at this point they amount to torture for me.
Occasionally urban precision rifle classes are advertised. Too often they are filled with promises that don't materialize. Years ago I took one of my department snipers to an "Urban Police Sniper" school in California. Long trip, mostly at my expense. We were going to shoot from "deep angles" from "real buildings" in and around the LA area.
I called and was told we would set up bullet traps with the help of LAPD in actual buildings, and also work in the Urban facility at Camp Pendleton. Sounded fantastic! In reality, we never left the range, mostly lying in brass that had accumulated over decades. The final exercise was, you guessed it, a "stalk" through woods and trees. That range was closed for health reasons a few months later.
To this day, whenever I see an urban precision rifle class advertised, my skepticism is immediately triggered. Deliberate Dynamics Urban Precision Rifle was no exception when it came across one of my social media pages. But it did look interesting. Taught at a mostly abandoned mining town, it had movers that crossed between windows and shooting from an actual roof. I was intrigued enough to sign up.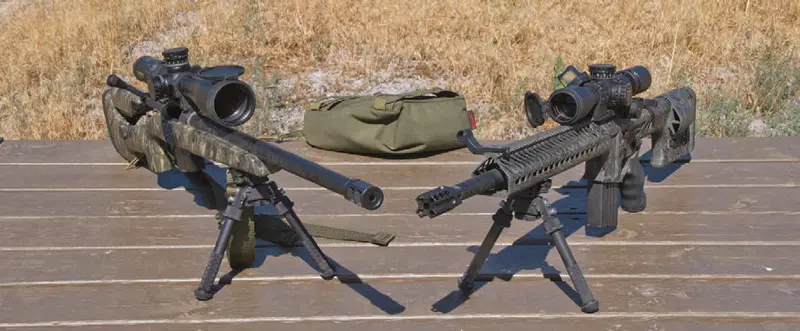 GUNS USED
I took two guns to the class, both chambered in 6.5 Creedmoor using Proof Research barrels, one semi-auto and the other a bolt rifle. My semi started as a Seekins Precision SP10. I added a Proof Research 20-inch 6.5 Creedmoor carbon-wrapped barrel using a JP Enterprises Low Mass BCG and Silent Captured spring. Safety and charging handle are AXTS, trigger is a Geissele Automatics Super Dynamic Enhanced. Scope is a Leupold Mark 6 with Horus TReMoR 3 reticle mounted in a Spuhr mount. Bipod was an Atlas, coated in Cerakote camo by my friend Ernie Bray from Red Creek Tactical.
The bolt gun is a Stiller Precision Tac-30 AW action with a Proof Research 24-inch 6.5 Creedmoor barrel, McMillan A3-5 stock, Seekins Precision bottom metal, and AW ten-round magazines. Trigger is a two-stage X-Treme Mod 22 Tactical. I topped it with a Kahles 624i 6-24X scope with an AMR reticle and used a LaRue Tactical bipod using tactical spokes. Hornady 140-grain ELD Match was used in both guns.
DELIBERATE DYNAMICS URBAN PRECISION RIFLE
Deliberate Dynamics is known for working outside the box. They do have some classes that are more the norm, but they push the envelope. Jim Stahle is a former Recon Marine with combat experience and years training professionals. All of his staff has similar experience. Marcus Blanchard, the only non-combat Marine (still a Marine, though) is a top 10 PRS (Precision Rifle Series) competitor.
The facility is a non-working mining town in Hiawatha, Utah, just outside Price. It was an incorporated city until 1992, so it's more abandoned than ghost. It's no amusement park for sure, but it is about as close as you get to urban training in real buildings with a 360-degree field of fire.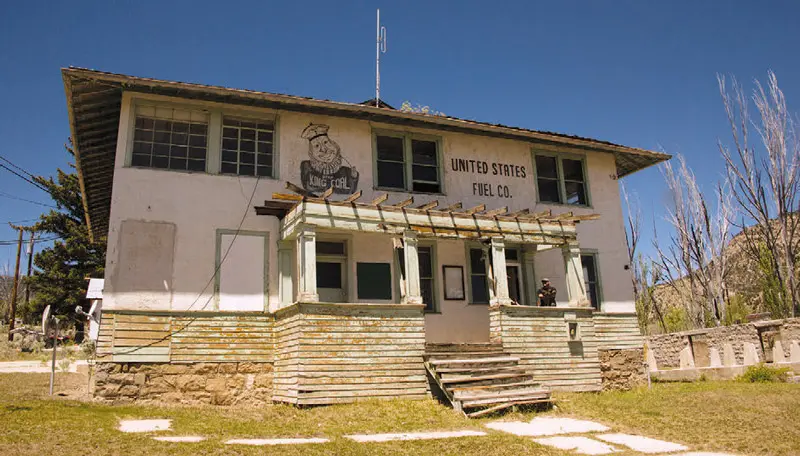 The class was a mix of retired and active law enforcement, military, and previous DDI students. Rifles were mostly bolt guns with a few semiautomatics. Classroom on TD1 lasted about an hour and dealt with safety and equipment checks.
The equipment requirement was a one-MOA rifle, and it really is a must. Some targets are full silhouettes but most are smaller. There's even a four-inch target at 430 yards. You can take all kinds of stuff, but you have to carry it around, so I suggest keeping it simple. My gear consisted of a pack, rear bag, sling, and ammo.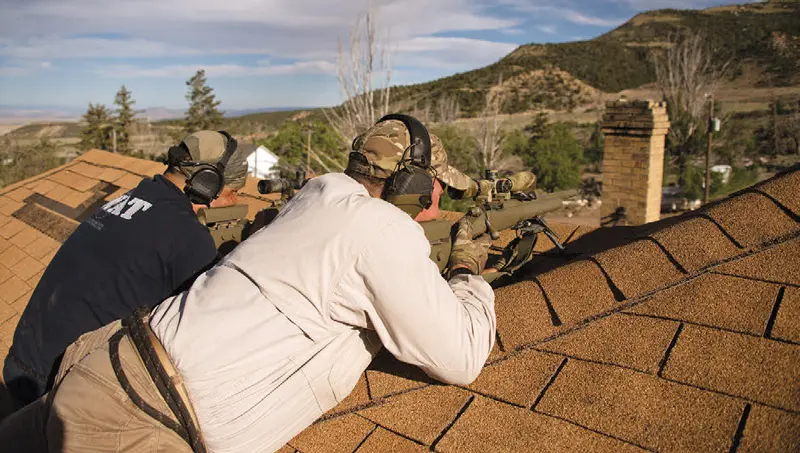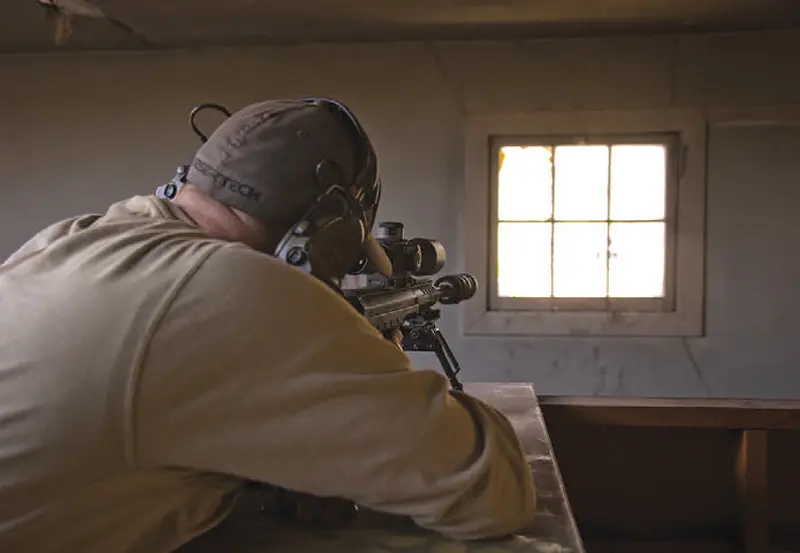 MOUNTAIN RANGE
Our Training Day 1 range sat at about 8,500 feet above sea level up a winding mountain road. A short flat range allowed for zeroing, but that was the last we saw of conventional shooting.
Zero confirmed, the "course" was pointed out and we confirmed range to each target and our holds to hit them. These targets, along with some others in the same proximity, were used. The focus was on shooting, not ranging or trickery. The largest target was an IPSC silhouette. Partial presentations covered by buildings, debris, or other obstructions were the norm. Nothing flat: everything was at an angle.
Once dialed in, Marcus Blanchard took over on the obstacles. Marcus is an accomplished PRS shooter and masterful at positional shooting. Obstacles consisted of a rooftop, tiered barricade using pipe, tripod with support, and positions from an abandoned conveyer tower. Marcus explained how to work each obstacle, then let us work them dry. Each barricade had two or three targets to engage at various distances. After dry runs, we worked each live fire.
I ran the bolt rifle on TD1. This let me practice positions using a pack and single bag. Marcus covered sling use developed during PRS shooting. It works. Misses were rare and the spikes on the LaRue modified bipod really helped, especially on the rooftop. Running through several times completed the day and prepped us for the next day. The Stiller was, well, stellar. My only change was to shorten the length of pull for future use.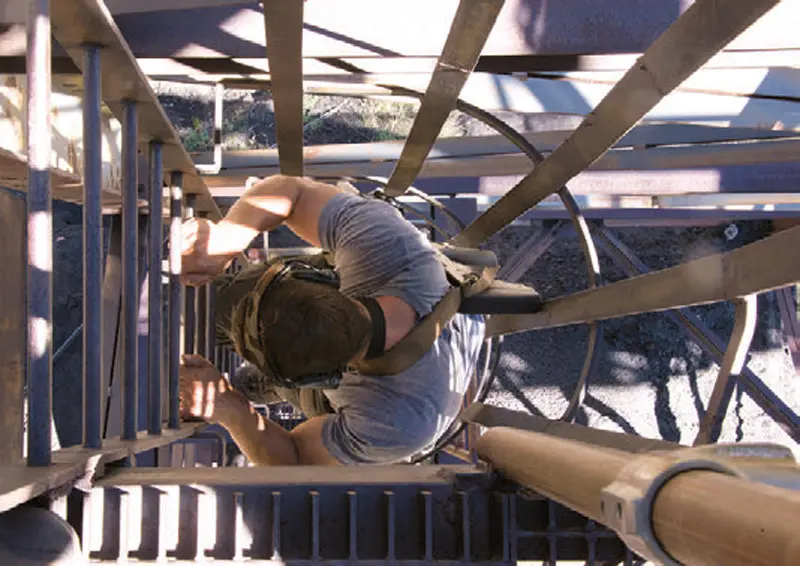 STRESS AND THE URBAN RANGE
Our warm up the morning of TD2 was the same course with time constraints. The Seekins was dragged out of the bag for this. Our first run was cold, with 90 seconds to get into position, shoot, then be ready to move. Cleaning the roof stage, there was some confusion on stage two, which resulted in timing out.
Tripod targets were another one, two, three affair. My last stage, the tower, took a bit to get into position with first-round hits on the first two targets. The last one took two. On my second run, my time was shaved a bit and one student commented, "You're smoking it." Not bad for an old guy. The Seekins was flawless and the Proof barrel a tack driver with the ELD Match.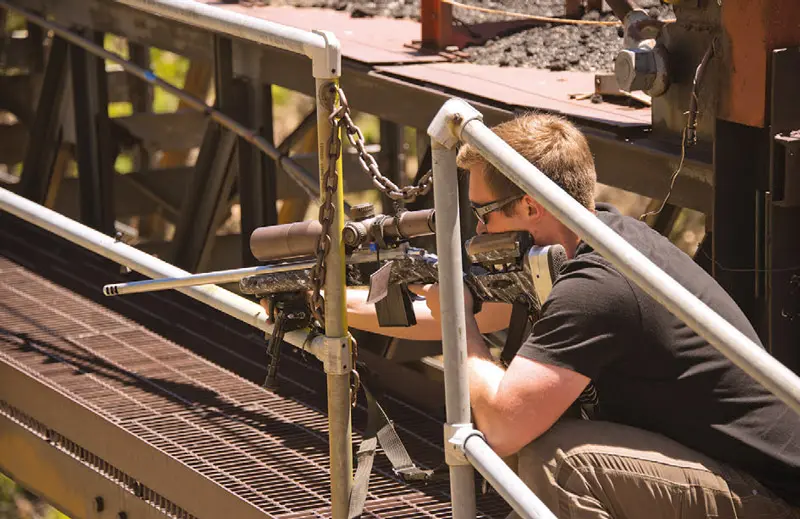 Moving to the "city," we shot from inside, through windows at targets as far as 200 yards away sitting in and around a house. A 200-yard mover trotted across several windows with very little time to engage. Stationary targets were pretty much no-brainers, but the movers were tough.
We fired from windowsills, from tables across the room through windows, kneeling and other positions. Time for moving between stations was limited, and my mostly first-round hits confirmed my affinity for the 6.5 Creedmoor. No time to set out the blanket, dial in wind, find it, get set, engage, then move on. Great training and the most fun I've had at a precision rifle school in years.
Working police and military moved to a class on urban hides. Everyone else moved to the roof. We got a lecture on building a hide then we built it, set up on a target from 50 to 200 yards, and engaged it. Other students and the instructors were watching for flash and trying to see the shooter from the target location. Two hides were set up and neither was easy, but it was very useful practice.
Shooting from a "roof" built on the ground is valuable, but nothing like the real world. Make no mistake, this is not ideal—at least it never was for me. Sitting on a roof in either 90+ or below zero temps is not smart. Still, it may be all you can do to get some high ground.
In this case, we tied on to a safety rope and walked out onto a three-story roof. We engaged a hostage target at roughly 100 yards, then other targets hidden in the trees. Getting solid while making sure not to drop our gear was much different than walking around on a "roof" on the ground. Realistic, practical, and a great time.
NIGHTTIME
There was no shooting in the dark, but we used several quality night-vision devices including thermal clip-ons inside the city. Rather than looking at glowing targets, we were allowed to observe actual human movement. We looked at a vehicle moving our way, people walking with weapons, and others moving inside buildings across the street.
It dispelled much of the comic-book mythology when it comes to night vision, including thermal. Identification is far more difficult in real life. It's great stuff and provides a huge advantage, but it does not see through walls or even closed windows. Once again, Deliberate Dynamics gave us more practical application and less sales pitch.
I've shot targets with night vision and had fun. It's generally at ranges never seen on duty or short of a zombie invasion. This was a welcome change and far more valuable.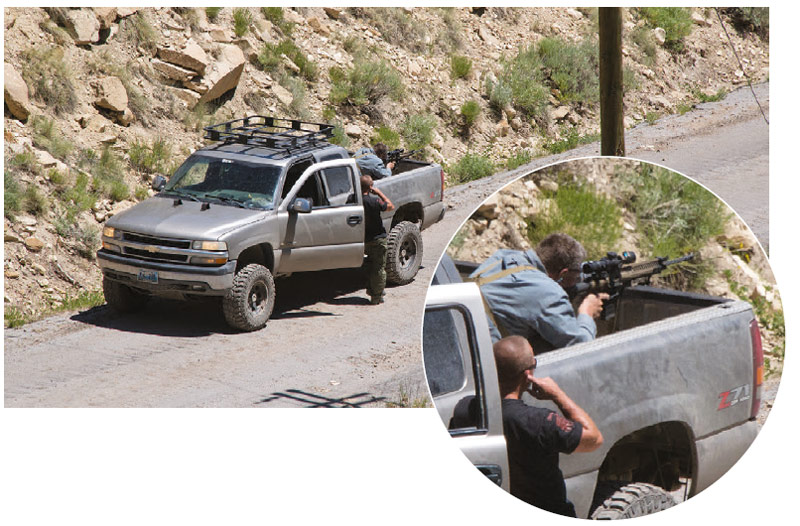 FINAL EXERCISE
Our final field exercise was unlike most precision rifle classes. We jumped in the truck with our rifles and headed into a tunnel shooting at what amounted to a three-inch target with an incredibly tight window from a tripod. It was a difficult shot from inside a dirty environment. Very nasty with a brake, even with hearing protection. Between the cloud of dust and concussion, it adds a whole new appreciation for suppression.
Moving forward, we shot from a ramp at another target at 150 yards or so from the offhand side, using a rail as a rest. The only way we could even see it was by hanging over the rail.
Getting back into the truck, we started up the road, where we engaged from the back of the truck at a small steel target at around 300 yards, then continued up to the last course— the tower.
Stepping on the tower, the first target was 80 yards through a very tight window. We moved to a ladder, climbing down first one story to engage targets, then down another story. We climbed back up the ladder to our previous spot, engaging different targets, and then climbed back to the top. Walking out to the end of the tower, we engaged a threeinch square target at 40 yards at about the same angle (40 degrees).
The last target sat at 550 yards, but at least we could shoot from prone, although the tower was swaying back and forth so even that was not easy. It ended a challenging and diverse course that most will never see, especially in the law enforcement world.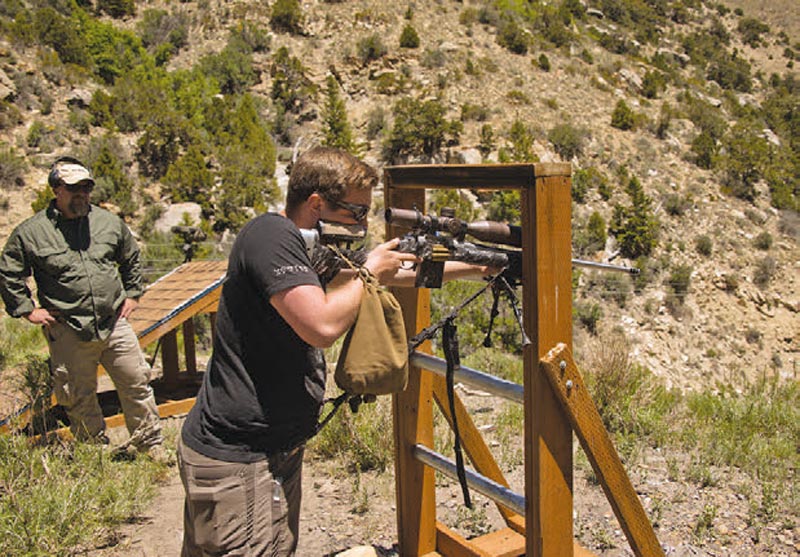 LAST THOUGHTS
If you're looking for conventional, this isn't it. Very practical, yes. Conventional, not so much. You don't need to be a gym specimen, but there is some physical exertion and it all takes place at significant elevation. Work at your own pace for sure, but this is not three days of prone shooting from a bag, so prepare accordingly.
Rifles rest and bang on rails and obstacles, so be sure your gear can hold up. Jim and his staff make every effort to be as safe as possible, but you are moving outside the box. You must be safe. Failure to do so means you observe unarmed or they hand you a blue gun, so watch your muzzle.
Shooting on a swaying tower is part of the equation, along with lying on a three-story roof. If you get queasy walking up stairs, this may not be the course for you. Nor is this some surgically pristine groomed range. It's dusty and dirty and you need to watch where you step. If you're afraid to dirty up your tacticool gear, think twice.
Given the opportunity, every police sniper on the unit I once commanded would have been through this class, maybe yearly. It has more in common with real life than ranging targets at 1,000 yards, dressing up like a tree, or crawling around on your gut. No math class needed and, while I moved more slowly than most, I rarely missed, and that was without ever touching a dial but using only the reticles in each scope.
Deliberate Dynamics lists this as a precision rifle class, but any patrol officer would benefit, and a 5.56mm rifle will do the trick just fine as long as it holds one MOA, uses a quality optic, and you can shoot. With range limited to 500 yards, even a decent 1-8X power scope will work. Ideal? Probably not, but excellent training either way. Nothing wrong with using what you deploy.
Unlike many courses of its type, the Deliberate Dynamics Urban Precision Rifle course lived up to its sales pitch—and this was the first time it was ever run. Subsequent classes will likely be even smoother. If you want to push your limits and work in a more realistic environment, this class is for you. Take the time to prepare your gear and yourself, then be ready to learn a ton and have the time of your life with a rifle!