IT is gratifying to witness a company and its products evolve over time. The Del-Ton Incorporated (DTI) Evolution AR is a great example of this. More than 12 years ago, www.delton. com was launched to offer AR parts from various manufacturers at reasonable prices delivered directly to consumers.
DTI still offers this website service, but also its own DTI-branded and made parts. DTI is also quickly making a name for itself as a respected builder of AR rifles. DTI models span the gamut of price and mission set-up. One of the distinguishing DTI practices is that every part listed on their site and used in their rifles is 100% made in the U.S.A.
The specific AR model evaluated for this article is the recently introduced DTI Evolution chambered in 5.56x45mm. It is one of the lighter ARs on the market, especially considering that it features a full-length rail, weighing in at just over seven pounds.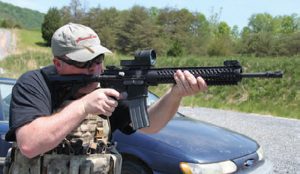 DTI EVOLUTION
A minimalist Samson rail design that measures slightly over 12 inches defines the DTI Evolution's aesthetics. The Samson rail system permits the barrel to be free floated.
Not all weapons need rails and an array of accessories to be viable. While reliability should never be compromised in terms of cost/performance ratios, other items considered a must for some may not be high priority for others. KISS (Keep it Simple Stupid) methodology can pay dividends in terms of budget and allowing for concentration on priorities such as training.
The Evolution is built upon Del-Ton's forged upper and lower receivers, with the upper featuring a full-length rail that transitions into the rail along the top of the Samson forend. DTI includes short sections of rail on the sides and bottom. These can be moved as desired to numerous positions around the handguard, completely removed, or more sections added, depending on the user's preferences.
SPECS
The Evolution's 16-inch, 1:9 twist chrome-lined slim barrel features M4- style feed ramps while still helping to save weight with its reduced profile. The Evolution's upper is equipped with a standard forward assist and case deflector as well as an ejection port dust cover. Samson flip-up BUIS are fitted to the rifle's top rail. A Magpul MOE pistol grip is used with the DTI Evolution, as is a Magpul CTR collapsible buttstock fitted over a milspec buffer tube. Overall length of the Evolution is 35.5 inches with stock extended and 32.5 inches collapsed.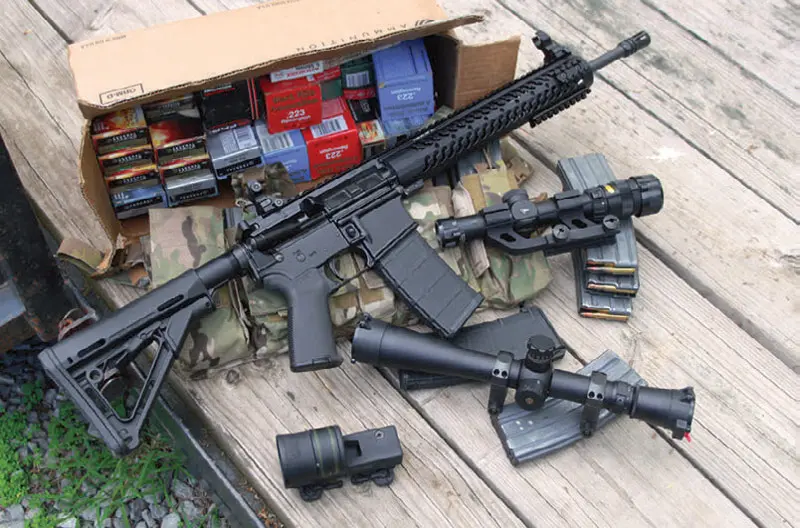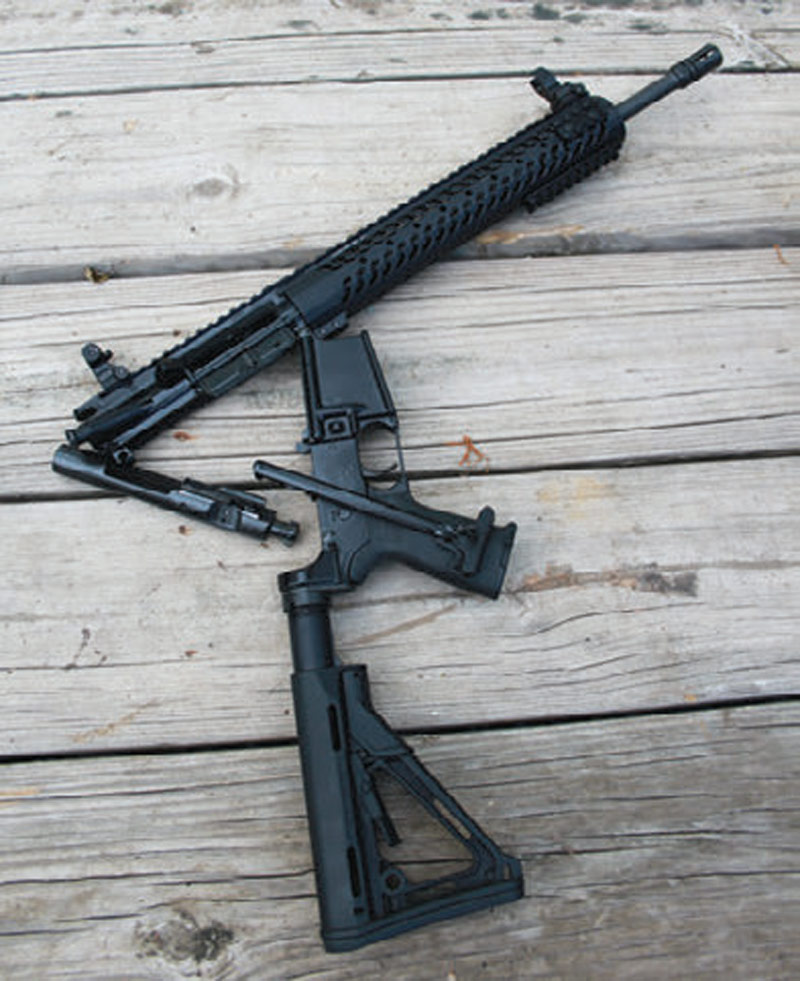 DTI's thought process for the Evolution was to create a lightweight, simple-to-operate AR similar to Eugene Stoner's original concept for the AR. This approach involves maximizing the AR's effectiveness and potential by simplifying it away from current trends of quad rail festooned with lights, lasers, designators, night vision optics, etc—not something most of us require in a fighting rifle.
But short sections of Picatinny rail mounted on the handguard give a nod to the fact that high-intensity flashlights have a place on a fighting rifle.
The rifle balances performance with handling. I urge doubters to attend a rifle course from any reputable trainer with a rifle weighing over nine pounds and with the handling characteristics of an anchor. A comparison of a rifle such as this to the DTI Evolution will leave no doubt as to which is more viable, especially during cover, movement, barricade, or unorthodox firing position drills.
TESTING: OPTICS
The DTI Evolution was tested primarily with a Trijicon RX30 Reflex mounted. The excellent Samson BUIS open sights were zeroed as well and co-witness with the Trijicon Reflex. Some trainers advocate keeping the BUIS deployed so they can be easily transitioned to in the unlikely event the forward-mounted Reflex goes down. In a fight, there will not be time or possibly rational thinking to flip up back-up sights.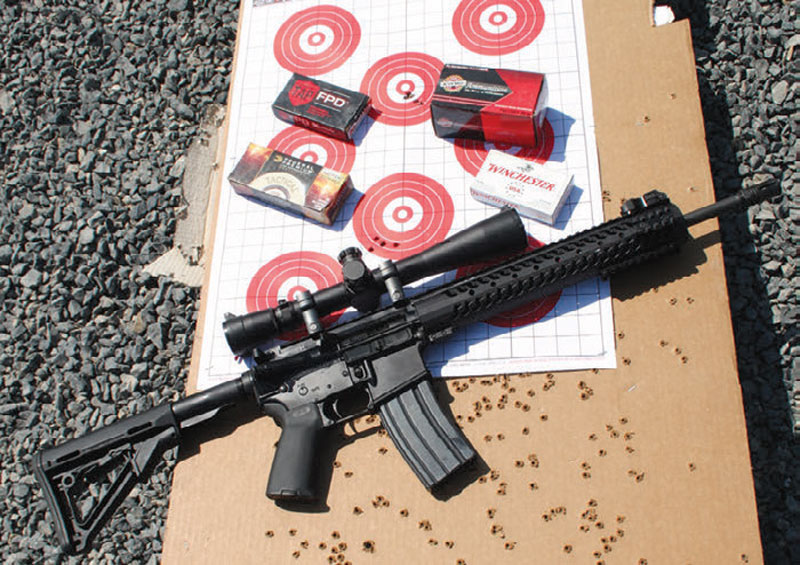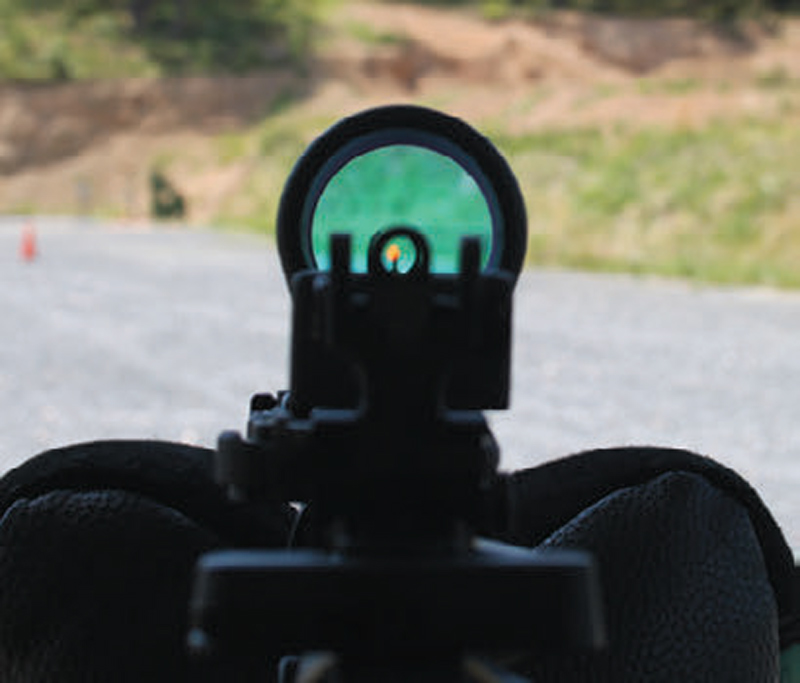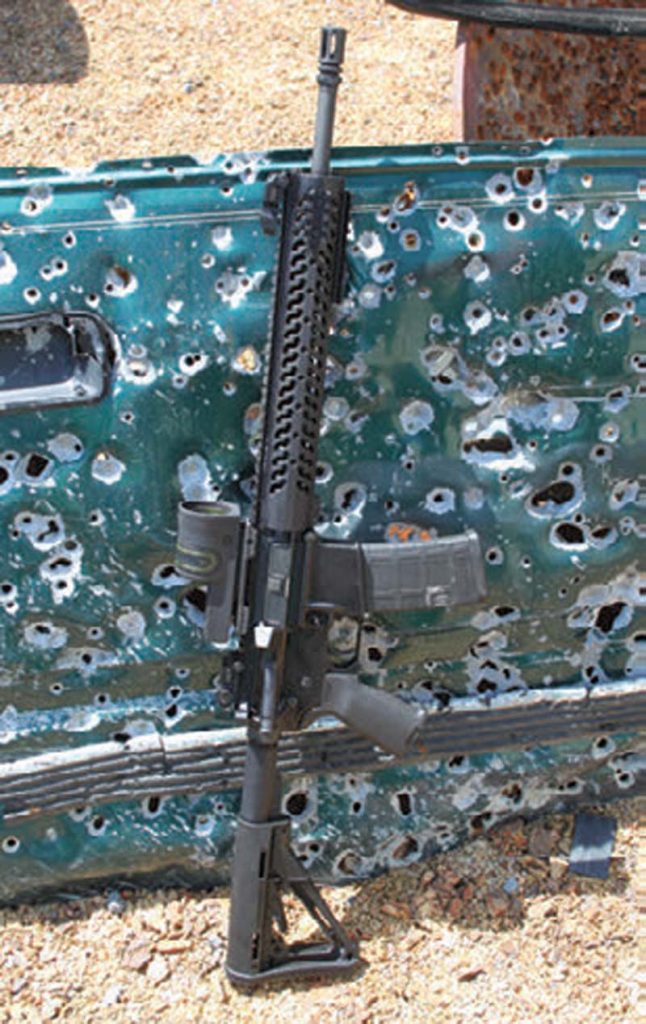 To verify the Evolution's innate accuracy, I mounted a Leupold Mk4 3.5- 10X scope. The DTI Evolution displayed a degree of accuracy comparable to any other AR tested to date. The optic left on the Evolution after accuracy testing was the Trijicon Reflex.
The Reflex red dot sight assisted in engaging targets at close distances, with the red dot easy to pick up rapidly. The Trijicon Reflex red dot sight offered the capability to engage multiple close-range targets in rapid sequence compared to open sights, while at the same time providing adequate accuracy out to a couple hundred yards on man-sized targets. As many shooters can attest, the single focus plane with the red dot is easier to shoot accurately than coordinating front and rear sights. The 5.56/.223 round's flat trajectory aids in making center-mass hits out to 300 yards without having to compensate excessively for bullet drop.
AMMUNITION
Ammunition tested with the Evolution was a combination of Black Hills Ammo loads, multiple Hornady TAP loads, Federal Tactical offerings, and Winchester 55-grain FMJ. The DTI rifle kept all loads tested at 1.5 inches at 100 yards, with the Black Hills 50-grain TSX and 68-grain Match producing near MOA groups out to 200 yards. This accuracy level justifies mounting a magnified optic such as the Trijicon ACOG or variable Accupoint 1-4X scope if a user desires. Accuracy test protocol consisted of three five-shot groups with each ammunition type. Group sizes were averaged. Velocity figures ranged from 2,700 to 3,000 feet-per-second (fps) over an RCBS chronograph.
HOME RANGE
The DTI Evolution was evaluated at Echo Valley Training Center (EVTC). The layout and availability of various steel targets and simulated barricades at EVTC are convenient for allowing fullspectrum firearm evaluations. The rifle was used not only within the 100-yard bays at EVTC firing from barricades and engaging multiple targets, but also at the prepared firing position line, with targets placed out to 300 yards. Numerous drills were run involving magazine changes and moving between barricades simulating cover.
CARRY GEAR
A High Speed Gear (HSG) patrol belt configured with their Taco magazine pouches was used. These pouches do not compromise retention for the sake of convenience. Steel silhouettes were situated randomly from 20 to 110 yards. The DTI Evolution made short work of striking various targets in quick fashion.
Supporting the HSG patrol belt was a Mayflower Research UW Chest Rig Gen IV, a low-profile mission-focused vest built to be ambidextrous and designed to carry four 5.56mm magazines and two pistol magazines, with two more general pouches for mission-specific needs. The H-style harness features loops to route antennas, comm wires, and hydration bladder tubing and is removable via four one-inch ITW-Nexus side-release buckles and designed to be mounted to the front of a Velocity System armor carrier. The body of the chest rig has a built-in map pocket with Velcro® closure.
The rifle was fired supported via bipod or pack and proved just as efficient against a fluid-drained automobile located at EVTC with steel popper targets located inside the cab. The Black Hills Ammunition 50-grain TSX bullet loading for the 5.56mm is a top consideration for this type of engagement. These rounds are more reliable performers for barrier penetration compared to Match or other high-accuracy bullet types.
DRILLS
One drill began by engaging targets at 35 and 115 yards with the DTI Evolution. Targets were engaged five times each starting from standing, moving to another location, five more rounds from kneeling, and finally moving yet again and transitioning to prone with five more rounds, reloading as necessary.
I asked a couple of training partners to handle the Del-Ton Evolution with this format. Each had brought different rifles to the range before being drafted to assist in the evaluation. Both came away complimentary of the Evolution's handling and combat accuracy, with tighter groups produced with the Evolution than their own rifles. I attribute this to the DTI Evolution's lighter weight, smooth recoil pulse, and quality of Del-Ton assembly.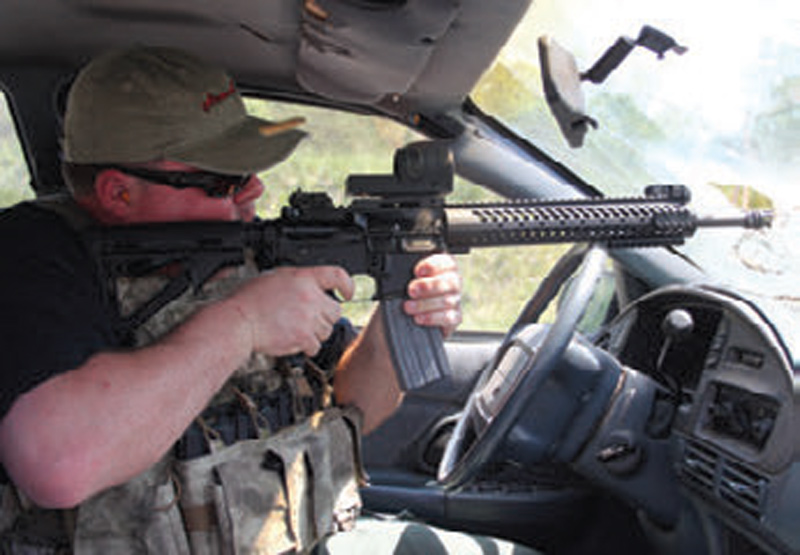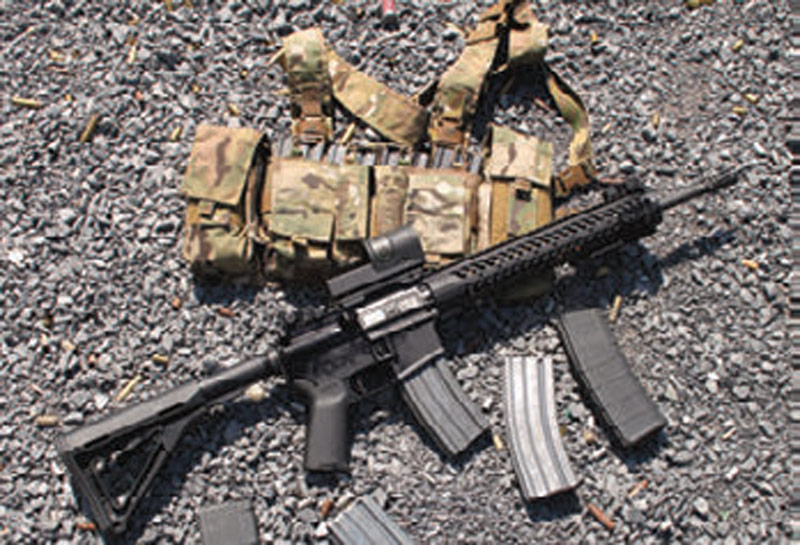 SAMSON FOREND
A couple of observations from the range involve the Samson forend. It gets hot, and users are advised to wear gloves if high volumes of fire are expected. This is not an extraordinary burden, as anyone contemplating using a detachable magazine-fed rifle should have gloves as standard equipment anyway.
The second point is the need to adapt a sling point to the forend rail, as none are provided out of the box. Other than these two minor points, we found nothing even remotely negative while handling the DTI Evolution.
AR IS KING
What comes to mind if someone mentions getting a rifle for defensive purposes? Most would probably first consider the AR rifle over any other. It is no secret that the AR is not only the best-selling civilian and law enforcement rifle in the U.S., but also gaining popularity around the world with the U.S. equipping and training so many armed entities.
ARs are much more reliable and rugged than many give them credit for. While the AK may be gaining ground in popularity in the U.S., the AR is still king in terms of numbers sold, backed up by a cottage industry of suppliers making accessories and refinements for it. The AR rivals the other American icon—the 1911—in terms of available aftermarket parts and accessories, not to mention the number of different manufacturers and versions available.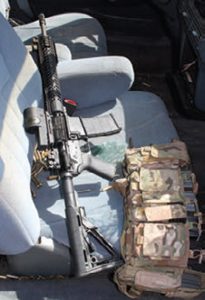 ARs can be had in everything from piston-driven varieties to multiple calibers, pistol configurations, flat-tops, and various barrel lengths. The inherent modularity of the AR, with its upper and lower receivers, is its greatest attribute for adapting to individual preference, whether for competition, target shooting, military, law enforcement, or personal defense.
Full disclosure: I have ARs with quad forends festooned with lights, lasers, vertical grips, and even night vision devices. These were set up for specific roles I had in mind, either real or imagined.
As I have continued down the path of learning and adapting for defensive purposes, it has become clear that not all these items are necessary and could even be detrimental to efficient use for most civilian and even law enforcement roles.
A lightweight, fast-handling rifle is a premium when having to react to a threat. The DTI Evolution represents such a rifle.