The rising tide of AK-47 popularity in the United States is hard to refute and not likely to wane any time soon.
Factors such as an effective cartridge available in bulk, combined with reasonably priced, utterly reliable rifles that have sturdy and economical high-capacity magazines are hard to argue with. The increasing number of performance-enhancing accessories that are becoming available has only heightened AK popularity.
This reappraisal of the AK platform is leading to interesting developments, leaving the once accepted AK credo of being a basic weapon worthy only of open sights in the dust. Custom AK gunsmiths such as Krebs Custom, Rifle Dynamics, and Red Jacket Firearms are leading the way in pushing AK capability boundaries.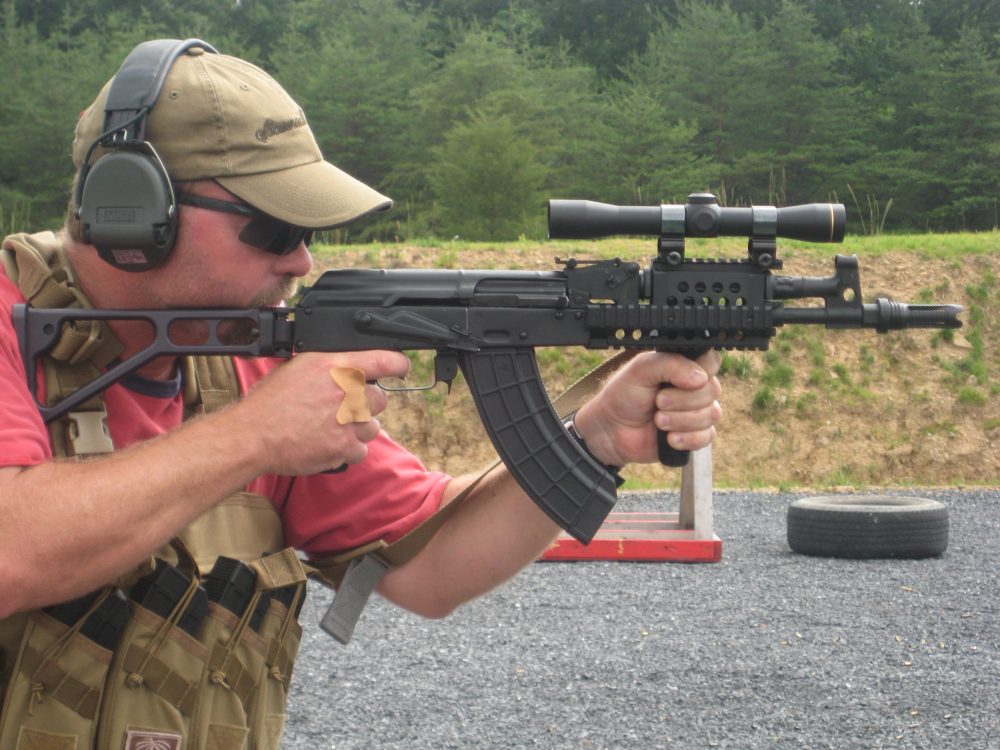 Firing AK Scout Rifle. Cheek weld was not an issue in relation to Leupold IER scope or when using See-Thru rings at close range.
---
One concept that has piqued my interest is the Kalashnikov AK Scout Rifle.
I initially noticed the Kalashnikov Scout Rifle concept at several training courses. The AK Scout is typified by a low-power Scout scope mounted on an AK top handguard. As with most good ideas, the AK Scout concept is simple and builds on previous ideas advocated with other firearm types, such as bolt- and lever-action rifles. With the ever-increasing popularity of AK rail systems, red dot optics are becoming the norm. AK shooters have discovered the advantages offered via red dots in terms of accuracy and speed when engaging targets. Why not take this a step further and use a Scout scope with minimal magnification and a cross hair that does not rely on batteries?
The 7.62x39mm cartridge is often compared to the venerable .30-30 in terms of ballistics and power. Most .30-30s have scopes mounted to take advantage of ballistics. With 7.62x39mm loads ranging from 122 gr. to 154 gr. and available in FMJ, HP and SP bullet types, performance is very similar to the .30-30. The knock against surplus 7.62x39mm ammunition has been the accuracy potential. Hornady's new 7.62x39mm 123-gr. VMax load quells this accuracy doubting and has lent further impetus to my thoughts of an AK Scout.
The AK Scout's domain is 50 yards to 300 yards. A red dot equipped AK will be faster from bad breath distance to 50 yards, but the AK Scout will be superior at longer distances. The AK Scout is best described as a compromise between a CQB AK and a longer-range rifle.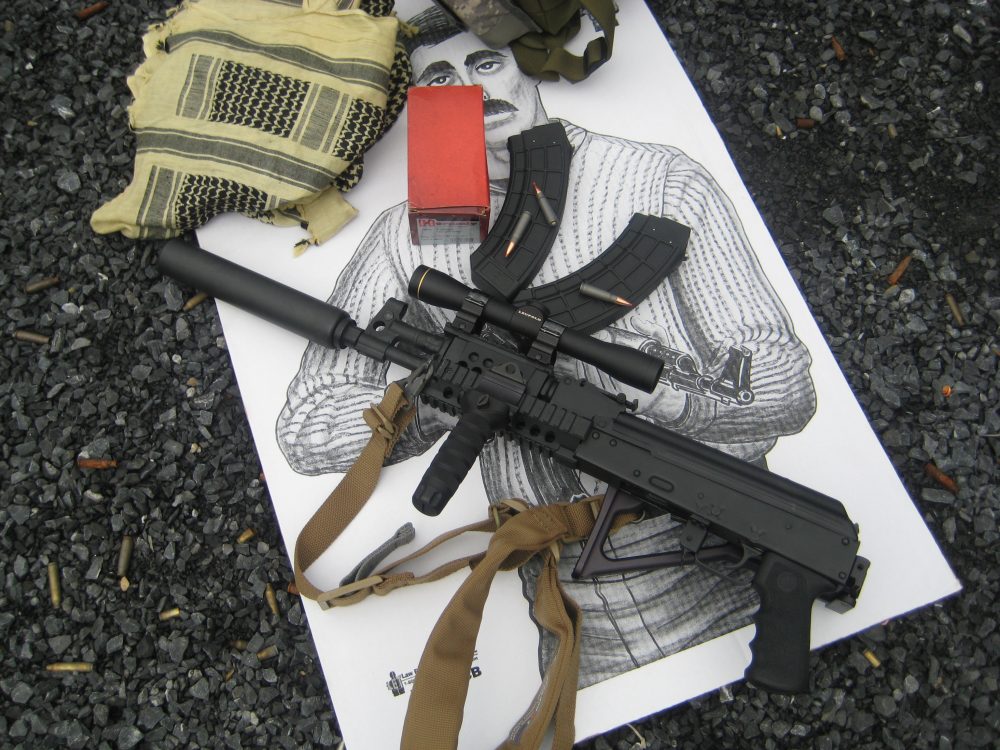 Draco SBR turned into AK Scout by adding Leupold FX-II 2.5X28mm IER Scout scope on Krebs Custom Quad Rail. US PALM AK30 magazines, Hornady 7.62x39mm 123-gr. VMax, and YHM Phantom suppressor complete the package.
---
I chose an AK SBR for my AK candidate to explore the Scout scope concept. The AK SBR started as a Romanian 7.62x39mm AK Draco pistol imported by Century International Arms. Experience with a 5.45x39mm Krinkov (THE KRINKOV: Little Bundle of Firepower, May 2009 S.W.A.T.) had led to an appreciation of what an SBR offers in terms of portability and handling. Almost immediately after the economical Draco AK pistol was uncovered, the quest to maximize it began, and I am further refining that with the AK Scout concept.
Krinkov-style rifles or kits are currently scarce, so the Draco SBR seemed a good alternative. I turned to Red Jacket Firearms, which has established itself as a major resource for U.S. AK devotees, for assistance with converting the Draco into an SBR. The AK Scout would not have been possible without the involvement of Red Jacket Firearms.
Turning the Draco AK pistol into an SBR transforms it into a more serious firearm. Yes, the 11-inch barrel sacrifices some performance versus 16-inch barrels, but this is the price with any SBR. The 7.62x39mm is less affected in this regard than 5.56mm or 7.62x51mm chamberings. Increased handling and portability more than compensate for any velocity lost.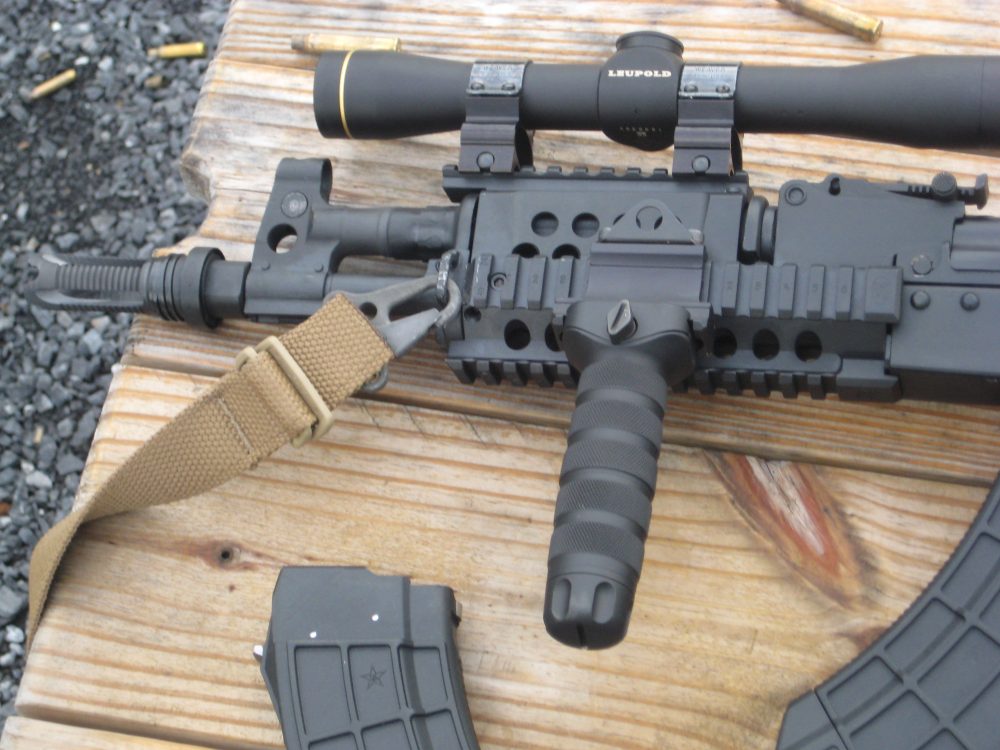 Krebs Custom offset mount for vertical foregrip aided in better weapon manipulation with AK Scout. Leupold FX-II Scout scope is secured to Krebs Custom Quad Rail with Weaver See-Thru Scope Rings, which are more accustomed to riding on rifles other than an AK.
---
Upon the Draco's return from Red Jacket, it measured 32.5 inches with folding stock deployed and 24 inches folded. It weighed slightly over eight pounds. These measurements included the Krebs Custom Quad Rail, offset Troy Industries vertical grip, and Yankee Hill Machine Phantom flash hider. I chose a Leupold FX-II 2.5X28mm IER scope for the AK Scout. This added only a little over 8.5 ounces to the total rifle package.
The goal in converting the Draco pistol into an SBR was to upgrade its performance. First and most important, this involved adding a stock. Second on the list, based on previous experiences with a 5.45x39mm AK SBR, was foregoing the standard wood forend by replacing it with a Krebs Custom Quad Rail.
And last, wanting to take advantage of the first two improvements, an optic was added to the Krebs Quad Rail—a vast improvement over the standard open sights. This only reinforced the correctness of the decision to add a stock to the Draco pistol to better take advantage of the 7.62x39mm's potential and AK handling characteristics. Initially, a red dot was used with the Draco SBR, but as I started pondering the AK Scout concept, I decided to add the Leupold FX-II 2.5X28mm IER Scout scope.
The Krebs Custom Quad Rail is perfect for adding a scope due to its rock-steady nature, which allows no shifting of zero once a scope is sighted in. Many will find the Krebs Custom Quad Rail an invitation to accessorize with lights, lasers, vertical grips, etc. Individuals will have to judge for themselves what is necessary without compromising handling.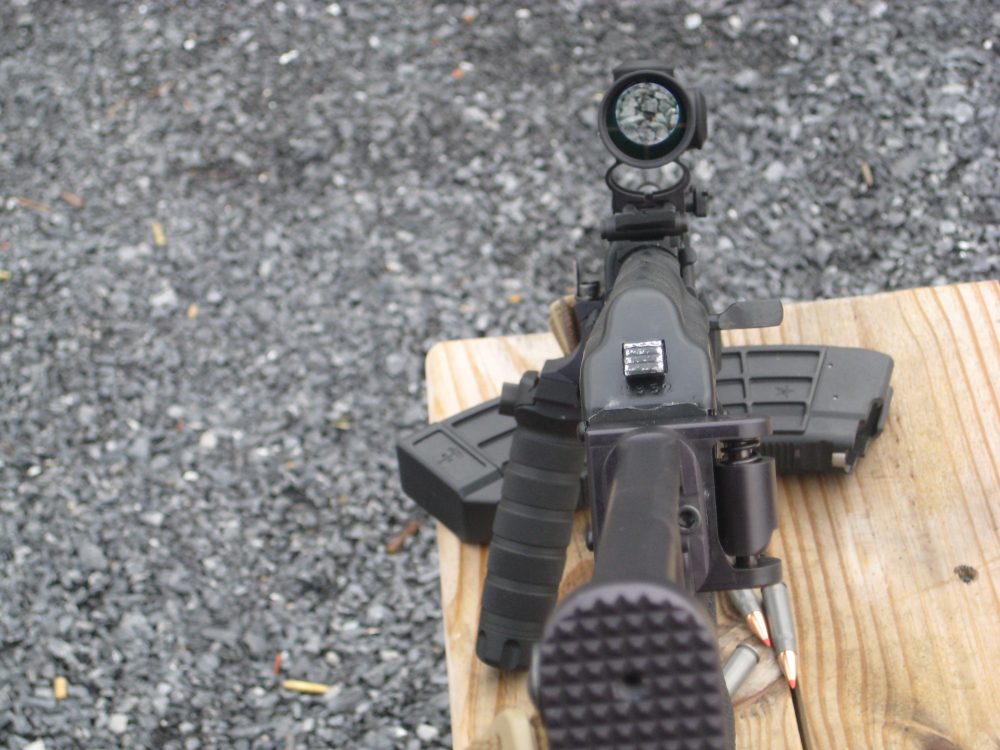 See-Thru Scope Rings allowed shooter to quickly react to targets at close range, eliminating chance that scope's field of view would be a handicap. Offset vertical grip will not hinder magazine changes.
---
A vertical foregrip was added to the Draco SBR via the Krebs Custom offset rail adaptor. The AK-47 magazine's curvature can interfere with a vertical forward grip during magazine changes, impacting reloading efficiency. The Krebs offset rail adaptor eliminates this likelihood and allows for a vertical grip to be positioned per individual shooter preference.
The vertical foregrip has fast become a standard accessory on any rifle or carbine equipped with a forward accessory rail. The increased leverage and control offered by the vertical foregrip aid in weapon manipulation and stability when firing. Lastly, a vertical foregrip helps to keep your hand away from a hot barrel.
The Leupold FX-II 2.5X28mm IER Scout scope offers the capability to engage multiple targets in rapid sequence more accurately and at greater distances as compared to open sights. As many "maturing" shooters can attest, the single focus plane with the reticle is easier to shoot accurately than coordinating front and rear sights. The Leupold scope gathers light in dim light, the crosshair is hard to beat for aiming point, and the magnification aids in accuracy and finding lanes of fire when firing in dense areas. The Leupold is far superior to any open sight and allows for reliable target recognition in low light compared to open or red-dot sights.
The Scout scope was mounted via Weaver See-Thru Scope Rings. This was done in an effort to maintain access to CQB sighting capability. The Bindon Aiming Concept of keeping both eyes open and having the reticle appear to float in front of the rifle works with the forward-mounted Scout scope.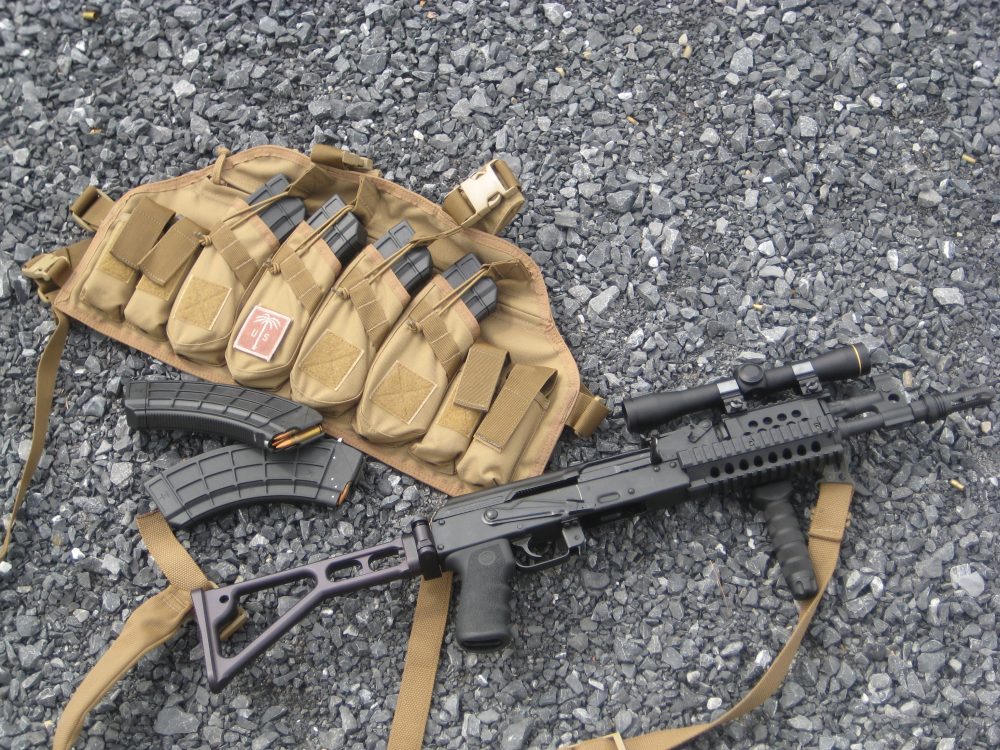 Examples of AK's rising potential in the U.S. are abundant and include Red Jacket Firearms modified Draco SBR, Krebs Custom Quad Rail, and AK-specific products from US PALM, such as their AK30 magazine and AK Attack Rack chest rig.
---
I did not want to negate the ability to engage close targets if the need arose. This was one of my main concerns with mounting the Scout scope on an AK. Steel Pepper Poppers were reliably hit when taking advantage of the See-Thru rings and indexing off the Draco rifle's front sight post.
An interesting side evaluation involved with testing the AK Scout was the use of the US PALM (SGC USA) AK30 magazine. The U.S.-made AK30 magazine is molded together so that disassembly is not possible or warranted. The AK30 magazine uses a low-friction, semi-floating slotted follower for reliability and ease of maintenance. A heat-treated, stress-relieved moly-coated chromium silicon spring has a life span of over 100,000 cycles. The magazine's feed lips and locking surfaces are reinforced with stainless steel and molded into the top of the magazine. Finally, aggressive texturing front and rear offers a positive tactile feel, while the waffle pattern on the sides aids in extraction from magazine pouches. The majority of the over 800 rounds fired with the AK Scout for this article passed through US PALM AK30 magazines with no issues to report.
The AK30 magazines were complemented by another US PALM product, the AK Attack Rack chest rig. The AK Attack Rack is a secure low-profile platform for four AK magazines and four pistol magazines. The AK Attack Rack chest rig can be worn over hard or soft body armor and is built to military specifications out of 500-denier Cordura nylon for durability and minimal weight.
From my prior experience with the Draco SBR, there were no issues with its reliability, so I focused range time on satisfying my concerns about the AK Scout performing at 25 yards and closer. Previous experience with bolt- and lever-action Scout scope-configured rifles offered a sense of what I could expect at 75 yards and out, though now I had the added benefit of a 30-round semiautomatic in the form of an AK with the ballistics of a .30-30.
I attended a Tactical Response Fighting Rifle course only a month before starting work on the AK Scout Rifle. I applied the dynamic drills from the Tactical Response course to my evaluation of the AK Scout Rifle. This consisted of numerous exercises, including cover drills firing from behind barricades at multiple targets placed 15 yards away. Other drills involved snap shooting, magazine changes with re-engagement of targets once completed, and firing from irregular positions such as supine and kneeling. The AK Scout performed better than expected.
I discovered that only at extremely close distances—seven yards and closer—was it necessary to resort to sighting under the scope through the rings. Center-mass hits were very possible in rapid fashion using this technique, even when on the move. This mollified my most immediate concern with the AK Scout.
Further range evaluation concentrated on zeroing in the Leupold scope for three inches high at 100 yards, creating a situation where the round was approximately 14 inches low at 300 yards. The Hornady 123-gr. VMax loads printed two-inch groups at 100 yards. Wolf Military Classic loads printed three-inch groups. This was better accuracy than what I could get with the same ammunition and the same rifle when using open sights or a red dot.
Is the AK Scout scope rifle the answer for everyone? Is it going to displace red-dot optics in the tactical realm? No, but it is a valid concept that should not be scoffed at until fully assessed for what it offers in terms of capabilities.
The AK Scout will probably have the most appeal to private citizens who want a rifle that can fulfill multi-purpose roles on a budget and be transported easily and supported logistically. In general terms, the AK Scout concept does increase the capability of the AK platform. However, individual preferences dictate comfort level when choosing a rifle. Some will appreciate and others discount what the AK Scout brings to the table.
SOURCES:
Century International Arms
Dept. S.W.A.T.
430 South Congress Ave., Suite 1
Delray Beach, FL 33445
(800) 527-1252
www.centuryarms.com
Hornady Mfg. Inc.
Dept. S.W.A.T.
3625 Old Potash Hwy
Grand Island, NE 68802
(800) 338-3220
www.hornady.com
Krebs Custom Inc.
Dept. S.W.A.T.
1000 Rand Road
Wauconda, IL 60084
www.krebscustom.com
(847) 487-7776
Leupold & Stevens Inc.
Dept. S.W.A.T.
14400 NW Greenbrier Pkwy
Beaverton, OR 97006
(800) LEUPOLD
www.leupold.com
Red Jacket Firearms
Dept. S.W.A.T.
9643 Mammoth Drive
Baton Rouge, LA 70714
www.redstick-firearms.com
(225) 448-3167
Tactical Response
Dept. S.W.A.T.
P.O. Box 385
Camden, TN 38320
(877) 753-8425
www.tacticalresponse.com
SGC USA
Dept. S.W.A.T.
14860 N. Northsight Blvd.
Scottsdale, AZ 85260
(480) 222-4369
www.SGCUSA.com
Wolf Ammunition
Dept. S.W.A.T.
PO Box 757
Placentia, CA 92871
(888) 757-9653
www.wolfammo.com
Yankee Hill Machine Co, Inc.
Dept. S.W.A.T.
20 Ladd Avenue, Suite 1
Florence, MA 01062
(877) 892-6533
www.yankeehillmachine.com