Smith & Wesson (S&W) has finally joined the growing field of increasingly popular full-power sub-sub-compact pistols specifically designed for concealed carry with its new M&P Shield in 9x19mm and .40 S&W calibers. (the 9mm version is reviewed here.) This downsizing is also testimony to the soundness of the M&P design and engineering. From the basic service pistol, we now have a plethora of versions and multiple calibers to suit anyone's potential self-defense or sporting requirements.
If you are familiar with the M&P series of polymer guns or more specifically the Sub Compact version, it's deja vu and you will feel right at home with this mini nine. However, there are some important differences between this piece and those that have preceded it. Reminiscent of the flat profiled Colt pocket pistols of the 1930s, the Shield is quite thin and will virtually disappear when concealed in an intelligently designed concealed carry rig.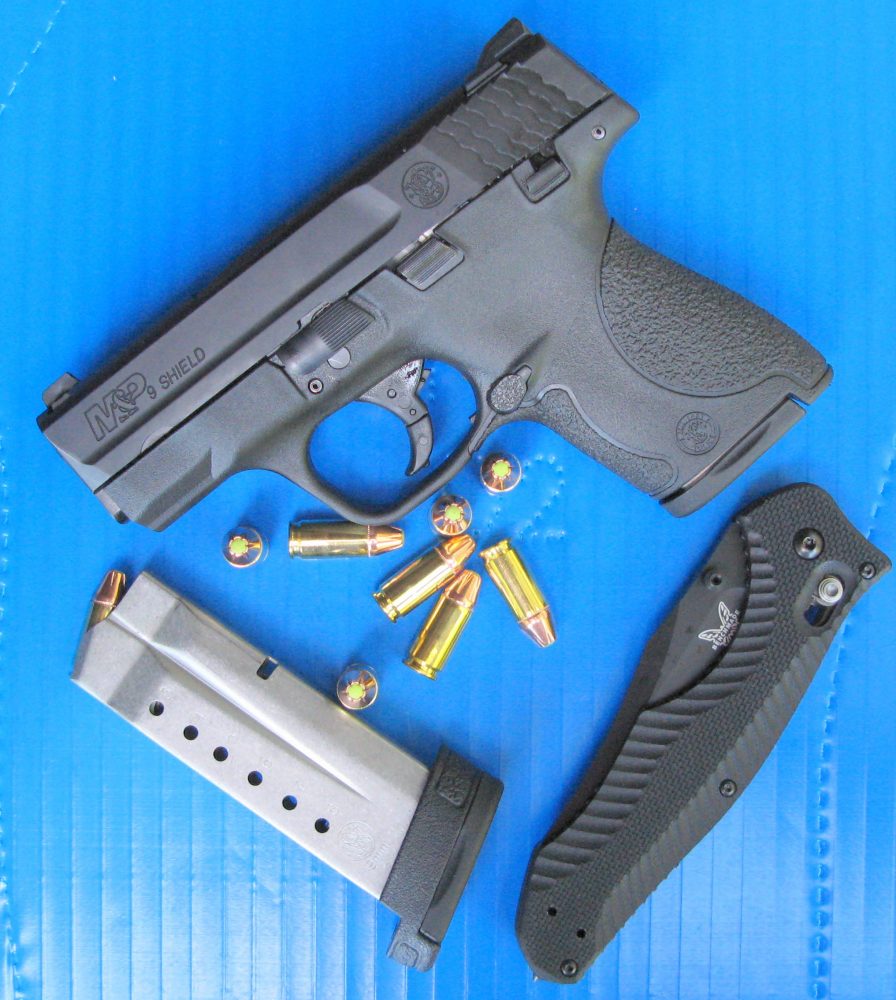 Smith & Wesson Shield with seven-round magazine inserted. Eight-round magazine shown with Hornady Z-Max ammo. Knife is Benchmade's Osborne Contego folder.
---
WHY GO SMALLER?
While on the subject of concealment, I have recently explored the world of ultra-small .380-caliber pocket pistols. I found them very handy and eminently portable, but uncomfortable to shoot even with standard loads. While +P ammunition improvements have elevated the caliber to low-end 9mm performance, I continue to harbor a nagging distrust for these weapons platforms when it comes to stopping a determined deadly force attack. As backup pieces they are superb, mainly for their concealment attributes, but they fall short as primary carry guns.
Why bother with so-called mouse guns when you can carry a full-power pistol rated for +P ammunition in a slightly larger profile that is more comfortable to shoot and will significantly extend your standoff or battle space?
The Shield falls into this latter category of personal defense weapons and combines the best attributes of both the bigger and smaller sidearms. When I compare the Shield to other mini nines, some of the latter look flimsy. In one case, I had to send the pistol back to the factory to replace a broken extractor after firing only a few hundred rounds. Regardless of its diminutive size, the Shield appears to be a robust gun and ready to sustain a lot of punishment—as well as dish it out.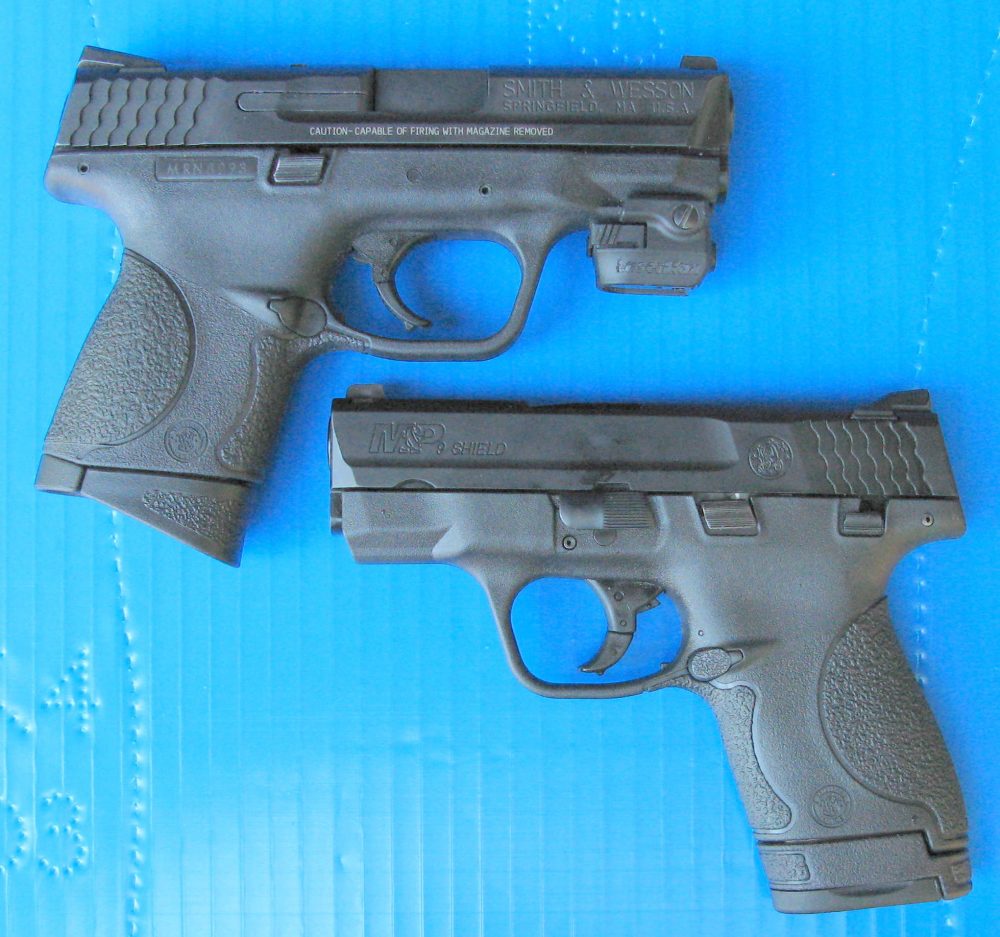 Profiles of Shield and its predecessor, M&P Sub Compact, with Lasermax laser are similar.
---
WHAT YOU GET, WHAT YOU GIVE UP
Unlike many of its competitors, Smith & Wesson has eschewed the lockable plastic case. The pistol arrives in its traditional blue and white cardboard container with seven- and eight-round stainless steel magazines with witness holes, a padded security padlock, manual, and sample fired cartridge case for those jurisdictions that require it.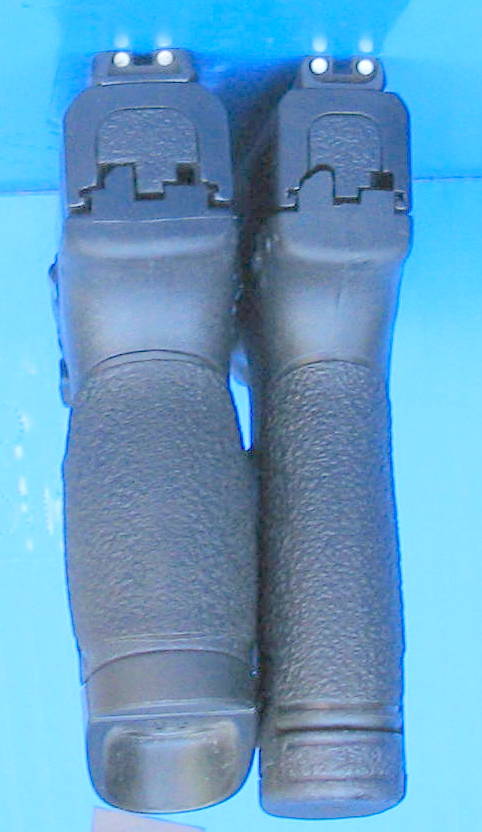 Compared to its closest predecessor, the M&P Sub Compact, the single-stack Shield surrenders four to five rounds but is .25-inch thinner and 2.7 ounces lighter. You also lose ambidextrous receiver controls but gain a thumb safety. Other safeties include a dorsally located loaded chamber aperture that is visual only, internal self-engaging firing-pin block, and articulated trigger-safety block. A slide stop is present, and the slide locks back after the last round is fired. It sacrifices half an inch in barrel length and sight radius is reduced by .45 inch, but it sells for hundreds of dollars less.
The Shield features an improved trigger with shorter and more positive reset. ATF and S&W classify the Shield as a double-action (DAO) piece. The action must be cycled to pre-set the striker in a 98% cocked position. The trigger must be pulled to complete the cocking phase and release the striker. It has no restrike capability. The ability to make a second attempt to get a hard primer to crush or a light-striking firing pin to overcome any temporary resistance and ignite a stubborn cartridge is debatable among gunmen. Many will just engage in immediate action rather than continue to pull the trigger.
Although it is available, my sample pistol did not have a magazine disconnect. The Shield does not have an under-barrel rail for lights/lasers. Instead, aftermarket laser manufacturers are rushing to market trigger-guard mounted lasers for this long-anticipated firearm.
The Shield does not have interchangeable backstraps or palm swells but has a medium-sized stippled fixed grip with an ideal 18-degree rake. But the pistol points high for me, and I must make a conscious effort to push the front sight blade down. Nevertheless, the three white dots are easy to identify under stress but refined enough for precision.
The rakish rear aperture is adjustable for lateral dispersion, and the front sight can be exchanged to solve elevation problems. While attractive, the sloped rear sight will not lend itself to one-handed belt-hooking actions for emergency functioning.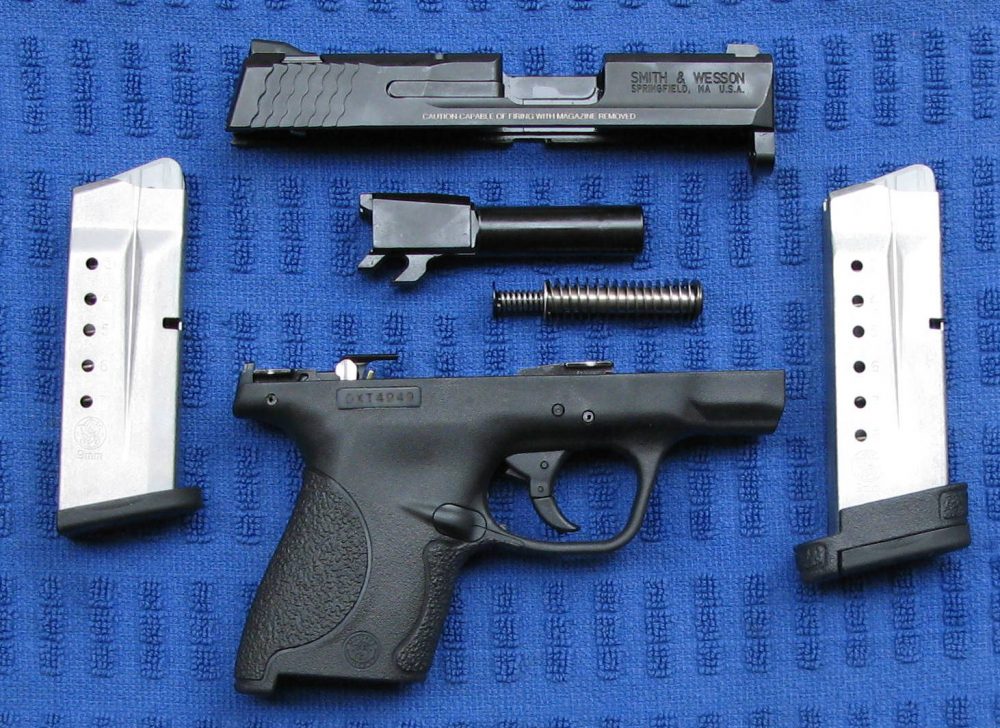 Shield fieldstripped, showing dual recoil spring and short and long magazines.
---
The magazine well is slightly relieved for fast inserts, but its extended backstrap is the best guide for a quick rocked-in magazine change. The oval magazine release gets the same no-slip stippling and is easy to trip, but flush enough to frustrate inadvertent reservoir release. Magazines freely pop clear when the button is purposely pressed.
The mags are not quite single column sources and look more like thin double stack tubes. Uniquely, S&W engineers wanted to avoid any chance of "rim lock," and this tapering design allowed for a slight increase in payload in a pistol with limited vertical space. The standard magazine holds seven rounds and the plus one extended magazine increases payload by one. While it adds a round to the defensive mix, it increases grip length by .69 inch. Gun grip is now more secure, but I wish S&W had given the shooter an extra double tap rather than a single to make the magazine a worthwhile addition to one's belt.
Fully loaded with 115-grain fodder, the Shield's go-to-war weight is approximately 24 to 25 ounces depending on the magazine used.
The frame's extended beavertail encourages a recoil-controlling high grip, as does its slightly undercut trigger guard. The trigger guard will allow tactical gloves to access the S&W trademark M&P 7.0-pound hinged trigger, and a small but useful overtravel trigger stop is molded into the lower rear portion of the guard. These little touches and attention to detail often separate good guns from great guns.
The Shield's port-side frame-mounted controls consist of a small but accessible thumb safety, slide stop and takedown lever. Many owners will ignore the manual safety, which blocks the trigger bar, and carry "hot" with it disengaged and rely solely on the hinged trigger safety. This practice will make it a simple point-and-shoot gun. However, the trigger stroke is relatively short and light for a DAO pistol and therefore easier to function. If a fanny pack or similar mode of carry is opted for, where the pistol could move around, an active thumb safety is a feature I would want to have.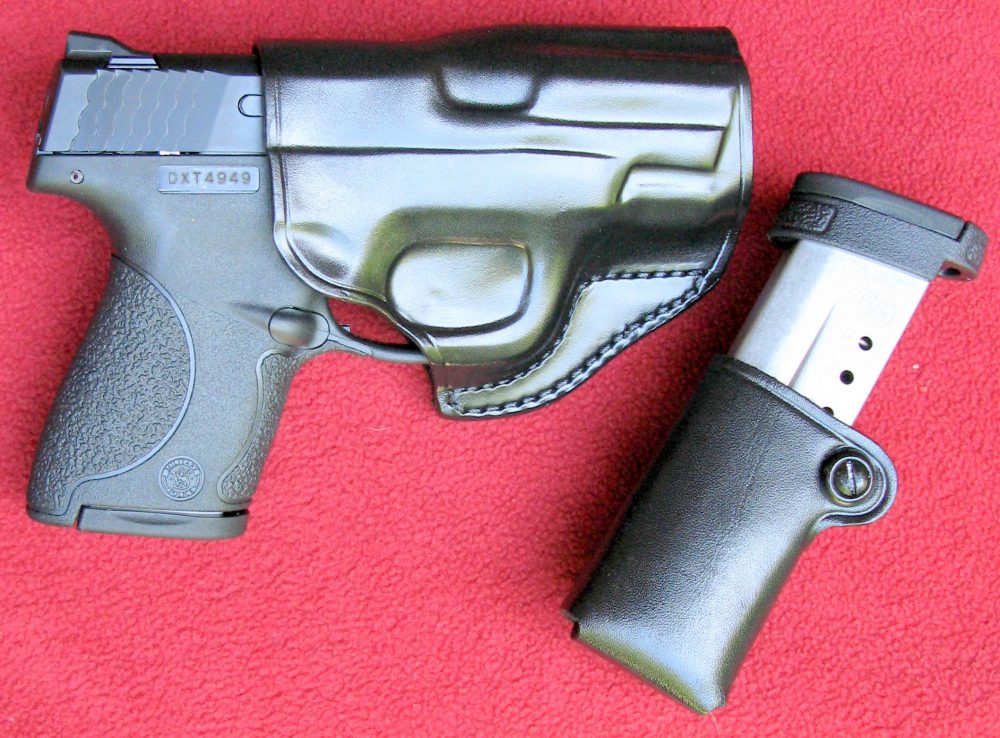 Galco Gunleather's nicely executed belt holster and single magazine pouch for the Shield.
---
CARRY SYSTEMS
The Shield was a much-publicized firearm, and a number of holster makers were brought in early so that carry systems would be available at the same time the pistol was released. They responded enthusiastically, and one in particular, Galco Gunleather, has produced an array of quality belt and waistband rigs for the baby M&P. The belt rig, with FBI rake rides behind the hip and the combination of light gun and body-hugging fit, almost creates the illusion of not being there. Friction fit is so snug that a break-in period is required. With these comfortable carry attributes, I can readily anticipate that the Shield will become a primary defensive piece for both plainclothes law enforcement personnel and civilian concealed-carry permit holders.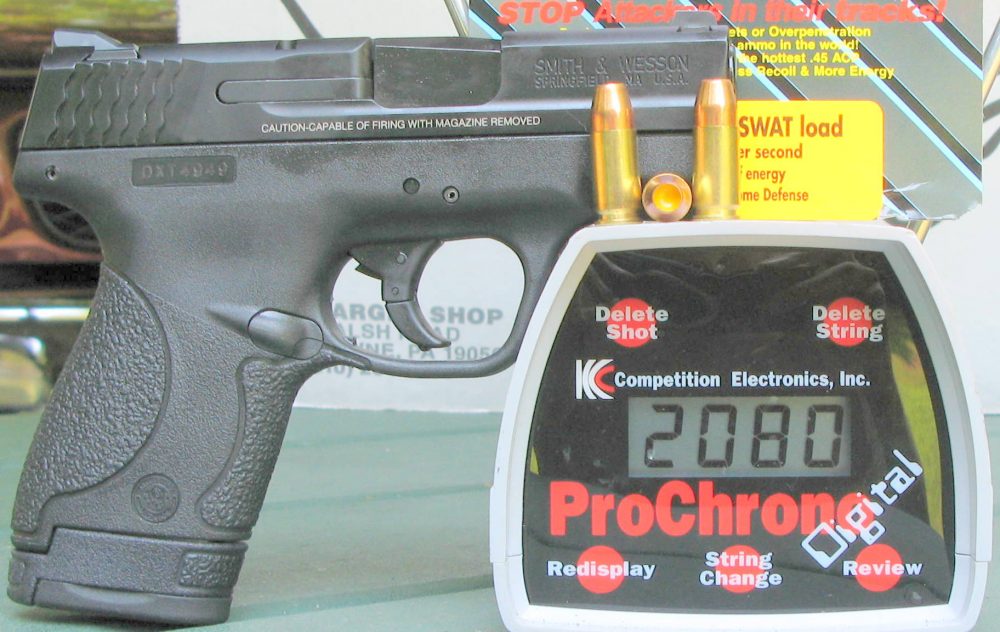 Impressive velocities were obtained from Shield's short barrel with ultra light bullets.
---
FIELD TRIALS
Testing and evaluation involved 16 different types of ammunition ranging in weight from 45 to 158 grains. The trigger displays some grittiness, has a bit of initial slack, but breaks suddenly after sear resistance is encountered. Reset is as advertised—short and audible and will facilitate rapid round delivery on target. The dual stainless steel recoil spring dampens recoil, but also cycles the slide quickly, making this a fast functioning piece.
I was fortunate to compare the Shield with Marine Major Terry Labar's M&P Sub Compact (SC). I sensed that his high-capacity pistol's trigger was smoother and lighter. LaBar, who is also a retired installation security boss for the FBI, is extremely gun savvy and informed me that he has put thousands of rounds through the SC and its trigger has consequently improved.
Although the Shield is an extremely flat and thin piece, it behaved quite well during rapid fire with purposely selected +P+ 115-grain loads. We engaged in one- and two-handed double taps, multiple rounds, failure drills and my four rounds in one second at five yards threat saturation shooting. Our hits were there, even though I have a tendency to milk guns with pivoting triggers.
I also tried point shooting body/head target engagement at 15 feet, and the pistol shot high for me. Therefore, employing its sights is a must for me, though this pistol will hit anything it's indexed to within its intended performance envelope. At 15 yards, "A" Zone accuracy is 100%, but it drops to 80% at 25 yards, where bullet dispersion becomes more of a factor.
LaBar's larger SC's palm-swelled grip not only feels better, but as expected, it does offer the shooter a tad more control. As with any lighter and smaller version of an established service pistol, there is no free lunch. Although felt recoil and muzzle rise between the two are very similar, you lose some of the inherent control attributes that full-sized handguns offer.
Galco also makes an IWB holster and pocket magazine pouch for the Shield.
---
ACCURACY
Barrel-to-slide mating is excellent and there is no movement when in battery. Lockup is at the breech and muzzle, where the barrel's diameter has been enlarged by .01". Because of its short sight radius, accuracy evaluations were fired at 15 yards. Its 1:10 twist barrel stabilized everything it was fed but was plagued by fliers that destroyed some promising groups.
The dovetailed sights were easy to read, but the pistol generally grouped high and left. I like a combat piece to shoot POA/POI (Point of Aim/Point of Impact) and feel that six o'clock holds are a result of traditional bullseye target shooters' influence on gun development. I think a fixed-sight handgun should be zeroed at its optimum range for its optimum bullet weight and then offer front or rear sight replacements to suit the individual shooter.
Best average groups of 1.18 inches were produced by Winchester SXT +P+ 127-grain, at an average velocity of 1,103 feet-per-second (fps). I had only one failure to fire, with Hornady 125-grain Steel Match. It was a light primer hit and went off on a second attempt. Post this incident, reliability was 100%.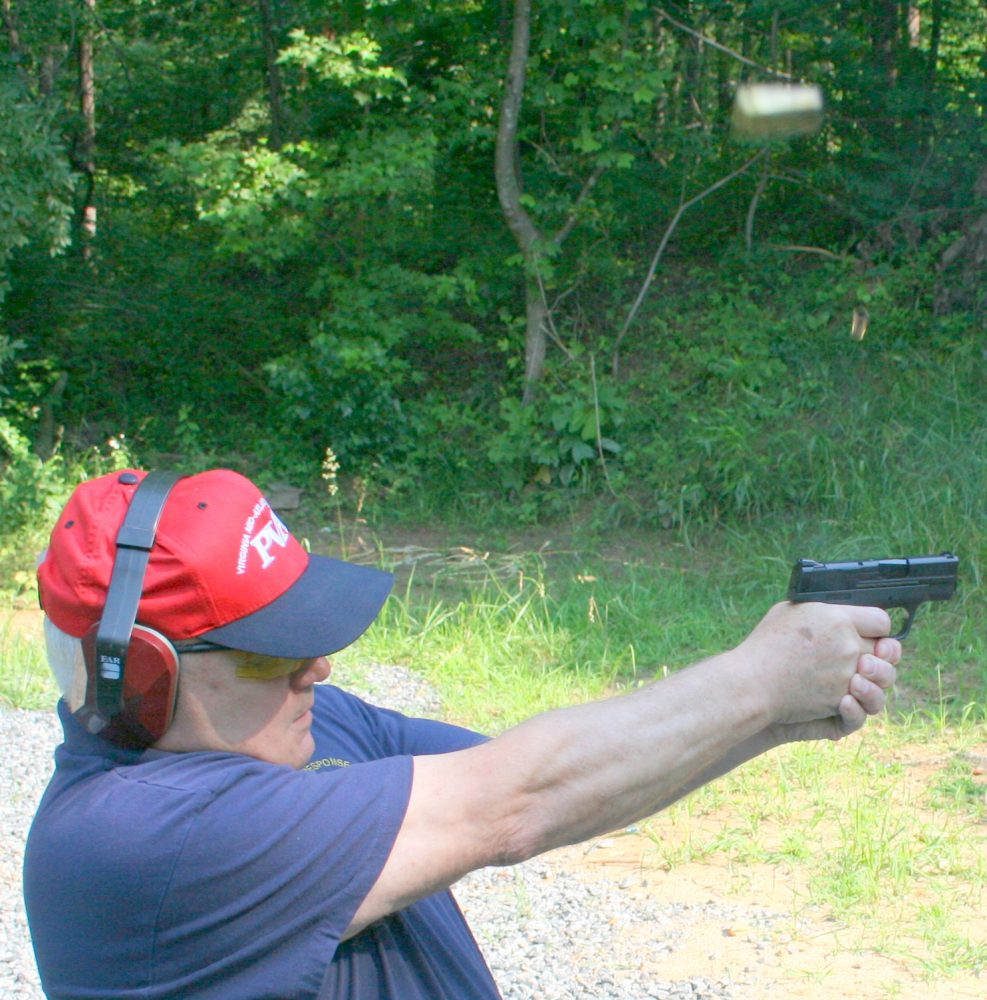 Major LaBar engages FBI target. Note apparent lack of recoil with two empties the air as he double taps the "threat."
---
IMPRESSIVE VELOCITIES
Short barrels incur losses in velocity that produce kinetic energy and bullet disruption. The 9mm Parabellum is usually most effective terminally when it runs fast. New propellants and more malleable bullets specifically designed for short barrels have reduced that deficit to a degree. Pint-sized nines can hit hard and penetrate sufficiently to be quite effective short-range defensive tools.
Considering its actual runway of only 2.15 inches before muzzle exit, the Shield produced some impressive numbers. Winchester +P+ 115-grain JHP at 1,216 fps recorded the highest conventional round velocity, while 45- grain MagSafe SWAT screamed through the sky screens at 2,071 fps. On another occasion, when temperatures reached 100+ degrees, this same round tore across the chronograph at 2,136 fps.
FIELD STRIPPING
Typical of the polymers, the Shield is simple to field strip. Point the pistol in a safe direction and unload. Lock the slide to the rear using the slide stop. Double check the chamber for ammunition. Use a small screwdriver to lower the yellow sear deactivation lever down into the magazine well. (This allows the slide to be removed without pulling the trigger.) Rotate the takedown lever 90 degrees clockwise. Pull back on the slide slightly and slide it off the frame. Remove the dual recoil spring. Lift the barrel up and out of the slide.
Assemble in reverse order.
CONCLUSIONS
One of the most important tactics in gunfighting is to seek cover. If a bullet stop is not at hand, try to at least acquire concealment to mask you from direct incoming.
More frequently than not, neither of these will exist, especially when assaults are spontaneous and at close quarters. It is then that your "shield" must be a wall of bullets fired from a reliable, combat accurate and easy to operate firearm loaded with an effective caliber.
It appears the S&W Shield will do that and then some.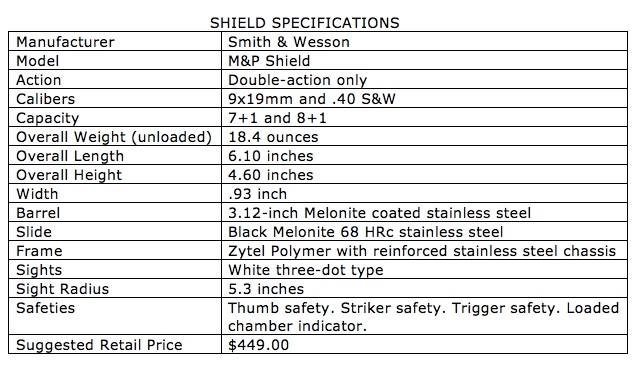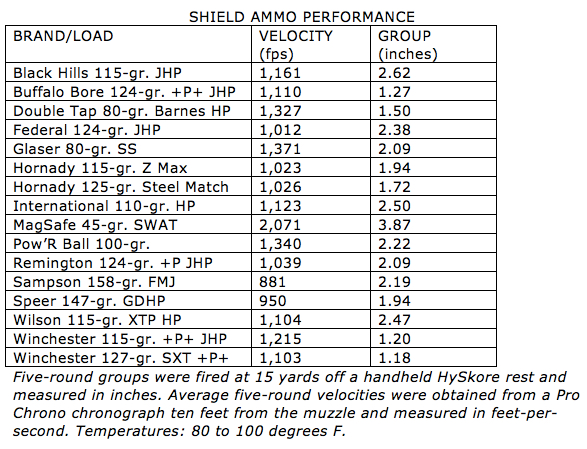 SOURCES:
Smith & Wesson
(800) 331-0852
www.smith-wesson.com
Galco Gunleather
(800) 874-2526
www.usgalco.com