There is no doubt that the AK-47 has become a mainstream firearm. As it continues to make inroads, we are seeing more and more innovative products. We also see products that are less than functional and some that are just plain junk. The biggest complaint from my students about AKs, as compared to the ubiquitous AR-15, is the lack of ergonomics and user friendliness. The two biggest sources of complaint are typically the charging handle and the sights. Some of my students have been using a couple of accessories that I think bring the AK up a notch.
Civilian contractor Scott Griffin uses AK Lightning Bolt to work the action of his muddy AK during training.
---
AK Lightning Bolt
I recommend this for right-handed AK owners. This is a really neat piece of equipment that is basically a replacement top cover and bolt carrier. It changes the charging handle to the opposite side of the gun. All you have to do to install it is a simple field strip and, upon reassembly, just use the new parts. How easy it that?
Why is changing the side relevant and why do I exclude the lefties? I am one of those weird guys who think left-handed bolt guns are better for righties. (I also think that girls' bikes are less painful to ride than boys' bikes.) The AK charging handle is great for lefties, but less than desirable for right-handers.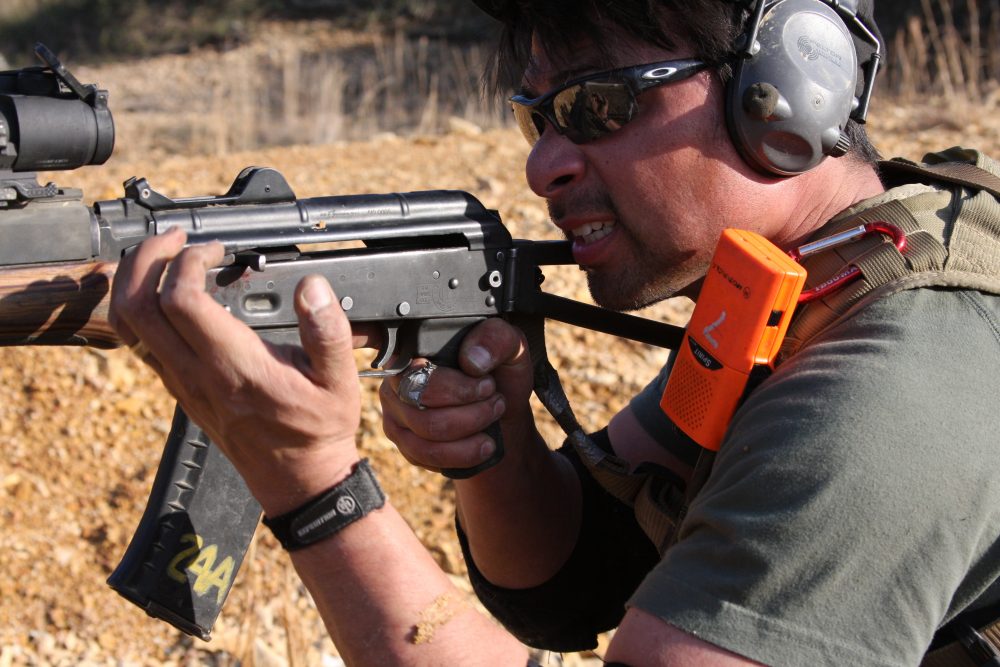 Anthony Navarro, inventor of AK Lightning Bolt, runs his Krinkov through its paces during training course.
---
The Lightning Bolt also allows the operator to maintain a proper firing grip during the reloading process without sacrificing ergonomics. You can reload the gun without turning it in an awkward position and you can keep your primary hand on the weapon. An added benefit, since the top cover has an opening on both sides, is that we have found the rifles, especially during full-auto, cool off faster.
The AK Lightning Bolt is tough as nails. I became convinced of this when a student accidentally drove the muzzle of his AK into the mud. Not knowing what had happened, or not caring, he fired a round and split the end of his barrel. The AK Lightning Bolt was unaffected, as was its ceramic coating, so the one-year warranty was not needed and it still looked like new—the rest of the AK not so much…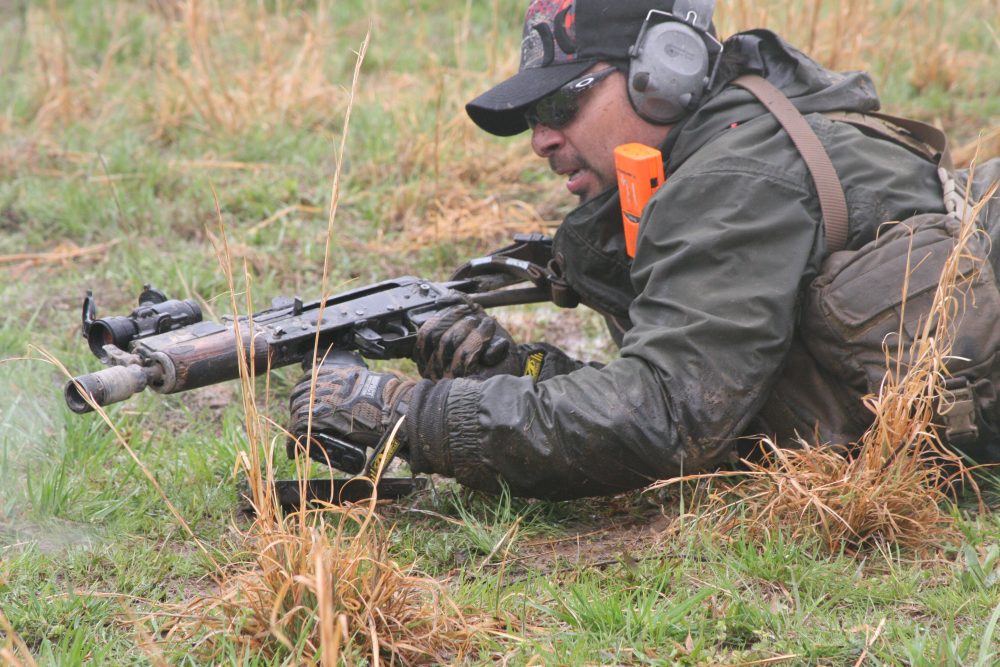 Turning the ejection port down during manipulations allows gravity to pull debris from the ejection port.
---
AK Big Dot
The other frequent complaint about the AK is the sights. The standard sights have a notch and post set-up much like a pistol and are tough to pick up under stress or in anything other than ideal lighting conditions. The AK "Big Dot" from XS Sight Systems is just what the doctor ordered! It is a modern adaptation of the dangerous game hunting "express sights" used in Africa. Anything that has been used for over a century to take down Cape Buffalo is good enough for taking down violent criminals!
XS Sights are simple to use, with a very shallow rear notch that makes the XS Big Dot stand out, as it should in a variety of lighting conditions. With traditional express sights, you would have a front sight made of ivory or sometimes gold. Luckily for us, XS uses modern materials that actually work better and last longer without yellowing. The front sight also has a tritium insert for low and no-light situations.
AK Lightning Bolt allows faster cooling due to slots on both sides of receiver.
---
XS Sights are faster and work much better than the factory sights for close range shooting and multiple targets. Some folks think because that Big Dot is up there, they won't be able to shoot at distance. Wrong! When you are up close, you use the Big Dot, but at farther distances, you use the top edge of the front sight just like you would for ordinary sights. You get faster speeds up close where it counts without sacrificing long-range accuracy.
Since I use XS Sights on my handguns, ARs and shotguns, now that I have them on my AK, all of my sight pictures are common with each other. Another positive aspect of Big Dots is that folks with imperfect vision can excel with them when they have trouble with standard sights.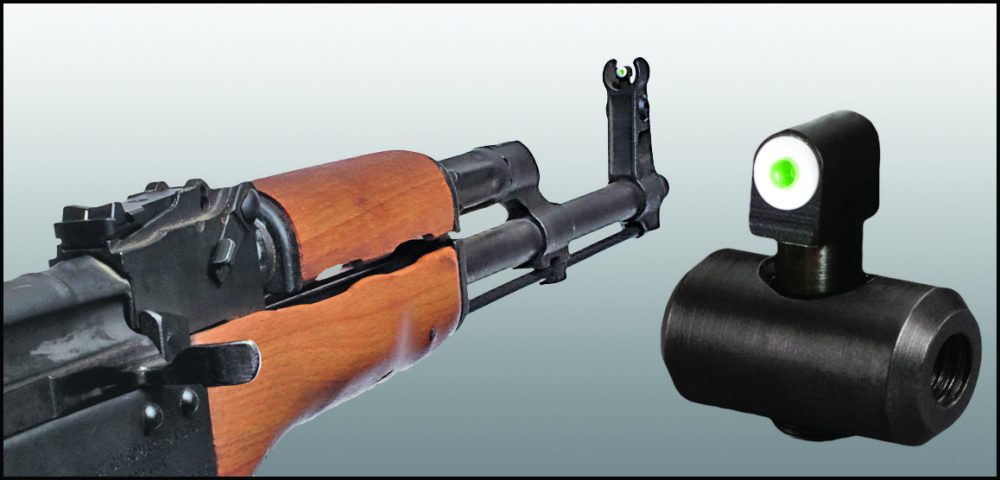 XS Sight Systems 24/7 Big Dot will instantly take your AK from 1947 to 2008!
---
Teamed up, the AK Lightning Bolt and the XS Big Dot turn a gun that is kind of clunky and user unfriendly into a modern warhorse that is fit and ready for duty.
[James Yeager is a police officer with narcotics and training duties at his department. He is also the lead instructor for Tactical Response. Course information and schedules are available at www.tacticalresponse.com]
SOURCE:
Colorado Shooting Sports L.L.C.
Dept. S.W.A.T.
1846 Frontier Road
Greeley, CO 80634
(970) 381-8188
www.coloradoshootingsports.com
XS Sight Systems Inc.
Dept. S.W.A.T.
2401 Ludelle
Fort Worth, TX 76105
(800) 734-7939
www.xssights.com