Since I get to test and handle a lot of guns, I'm asked for recommendations fairly often by local LEOs buying a personnel AR-15 carbine or by others interested in purchasing one. To tell the truth, I have some trouble sorting out all of the AR-15 type carbines available today myself. Still, I do have some basic advice I normally give. First, most AR-15s are assembled using the same basic parts, often from the same vendor. What differentiates them is the care with which they're assembled and the options available. As a result, I normally choose AR-15s to test that I feel have quite a bit to offer in quality control and options. That's why I decided to evaluate the DSA Spartan.
I understand that the Spartan came about to some extent because so many customers who were happy with their DSA FALs asked DSA to make an AR-15. I do know that DSA assembles their Spartans much as with the FALs—as factory "custom" guns. They have a basic design that the customer may have altered to fit his desires. DSA guns are normally built by one gunsmith start to finish, which in effect makes them virtually a custom carbine.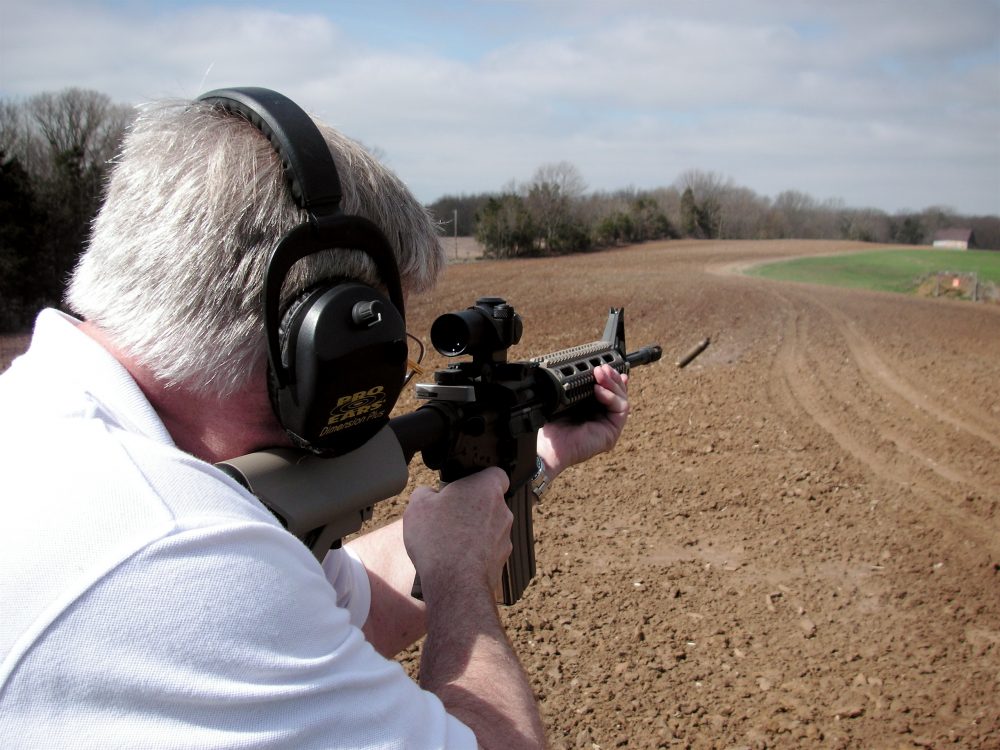 Thompson engaging plates at 100, 200 and 300 yards. Spartan/Leupold Prismatic combo is very fast; aided by McCormick trigger and LMT SOPMOD stock, fast follow-up shots were very easy.
---
I decided that if I was going to test a Spartan, I'd also test the DSA production "custom" carbine concept. I wanted the ZM-4 Spartan LEO with a few special touches. One of the first things one notices about the Spartan LEO is that the mid-length upper is used to gain sight radius and real estate on the handguards. The overall length remains the same as a standard carbine since the 1:9 twist, chrome moly barrel is still only 16 inches.
The basic ZM-4 Spartan LEO has the following standard features:
5.56mm NATO milspec forged 7075T6 lower receiver
Milspec forged flattop upper; mid-length gas system; forged front sight base with lug
16-inch fluted 1:9 twist chrome moly barrel with Yankee Hill Machine Phantom flash hider
Chip McCormick match trigger (5 lbs. pull)
Magpul Trigger Guard
Robar NP3 bolt, carrier and charging handle
Yankee Hill Machine two-piece rail system (it comes with milspec plastic handguards as well)
LMT SOPMOD collapsible stock
Hogue Pistol Grip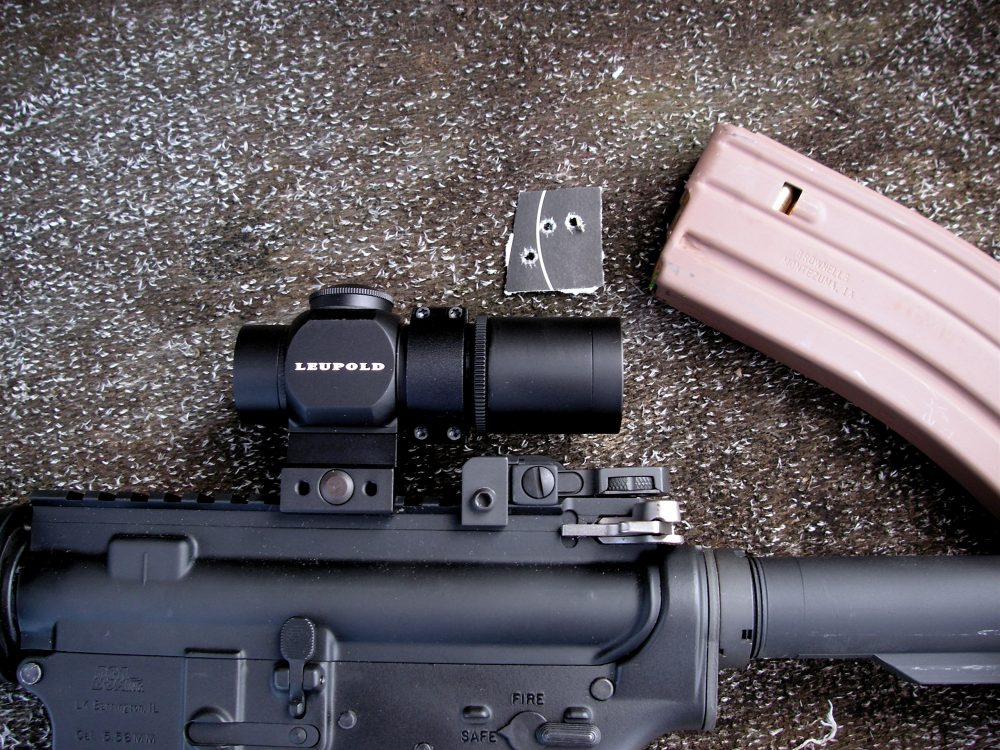 Indicative of Spartan's accuracy is ¾-inch 100-yard group. Note also how compact Leupold Prismatic is.
---
I chose a few special features for mine: the Magpul MIAD (MIssion ADaptable) pistol grip instead of the Hogue; a Duracoat finish with Flat Dark Earth handguards, stock and pistol grip; and a GG&G MAD (Multiple Aperture Device) back-up iron sight.
I could write many paragraphs on these options, but this is a relatively short column, so suffice it to say those are the standard features and options I found desirable. I've been using the carbine for a couple of months now and haven't changed my mind. I will note that if this were my only tactical carbine, I would have chosen black furniture instead of dark earth, but since I have other black ones, I indulged myself. More info on the items from different vendors can be found on their websites.
I was fortunate that around the time my DSA Spartan came in, I also received the new Leupold Prismatic Rifle Scope. Basically a CQC optic since it is only 1X, the Prismatic's reticle allows it to be used quite effectively to 200-300 yards. One big consideration for me is that my Spartan only weighs about 7.6 pounds and I wanted to keep weight down so it would remain as handy as possible. Since the Leupold Prismatic is only 4.5 inches in overall length and 12 ounces in weight, it seemed perfect.
The Prismatic has a 1X14mm illuminated reticle—a feature I like for low-light shooting. The "Circle Plex" reticle itself is quite well designed. It incorporates a center dot within a circle, but also crosshairs that converge on the dot. When not illuminated in good light, I find the reticle fast at close range since one scans until the target is in the circle then focuses in on the crosshairs and dot. At longer range, one takes the time to center. When the reticle is illuminated, the crosshairs/red dot draw the eye. I like this reticle much better than a standard red dot reticle since I find red dots very fast at CQC range, but I have trouble doing precise shooting with them at longer ranges. This is not the case with the Prismatic.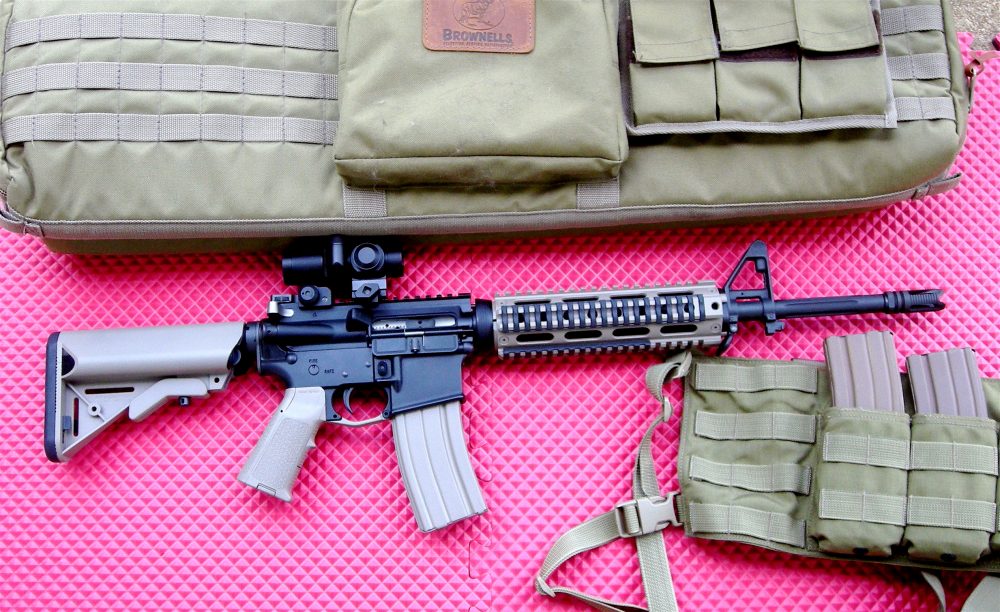 ZM-4 Spartan LEO and Leupold Prismatic shown with Brownells and Eagle Industries accessories.
---
As long as I had decided on the Flat Dark Earth finish, I decided to go with some accessories to match. Brownells offers a very useful carbine case in tan/dark earth, as well as magazines in dark earth. Everyone's dark earth is slightly different, so I didn't expect an exact match, but I thought the mags and case would be a nice complementary touch. In addition to a couple of Brownells 30-round mags, I also ordered a dark earth 20-round one, as I like those for use when zeroing a rifle or carbine off of a sandbag. I also thought the khaki version of Eagle's MOLLE LE Chest Rig—which holds three 30-round mags—would be a good addition.
There is little doubt that the DSA ZM-4 Spartan LEO with its dark earth furnishings is the handsomest AR-15 I own, but if it hadn't shot well, its looks wouldn't have mattered and I wouldn't be writing about it. Fortunately, it shot very well.
With ammo costs today, I don't normally fire quite as many rounds as I have in the past during reliability tests. Currently, I put three 30-round mags through on the first shooting session at plates during handling and reliability tests, and normally one 20- or 30-round mag during zeroing and accuracy testing. Usually, the accuracy test magazine gets topped up at least once during the process unless I get the carbine zeroed very quickly. As a result, I put about 125 rounds of Lake City overrun/surplus SS109 through the Spartan on my first shooting session. I've since put another 100-150 rounds through it. There have been no malfunctions and it has not been cleaned so far. As long as I'm shooting non-corrosive ammo, I like to see how dirty a new rifle or carbine can get before I start having malfunctions.
Accuracy was excellent, especially since I was using a 1X optic. At 100 yards I was getting groups around one MOA pretty consistently. My best was ¾-inch. At 200 yards, I had one three-shot group that just made two inches and a five-shot group of 2 1/4 inches. The McCormick Match Trigger was a real boon to accuracy. I did not shoot on paper at 300 yards. Obviously, though, the Spartan is accurate.
I like the Leupold Prismatic, too. I shot some plates at 25-50 yards using the center dot and found it very fast. When I used it on plates at 100, 200 and 300 yards, I also found that I could move among the plates at different distances quickly. I'll be honest, however, and state that most of the time, I wasn't really seeing the dot, but instead just mentally filling in the slight gap between crosshairs and dot and using the "crosshairs." Shooters with better vision than mine may be able to use the dot more precisely. I will say that the Circle Plex reticle is much sharper than most red dot reticles, especially when using the illuminated reticle in lower light.
I'm quite happy with the DSA ZM-4 Spartan LEO and the Leupold Prismatic. They make a great CQC to 200-yard combo. For longer range use, I'm sure the Spartan would perform just as well, but with my eyes, at least, I'd want an optic with additional magnification. The ZM-4 Spartan LEO will cost about twice what many other AR-15s will cost today, but one gets a lot of custom features and a lot of quality. I recommend both the Spartan LEO and the Leupold Prismatic.
SOURCES:
DSA, Inc.
Dept. S.W.A.T.
P.O. Box 370
Barrington, IL 60011
(847) 277-7258
www.dsarms.com
Leupold & Stevens, Inc.
Dept. S.W.A.T.
14400 Northwest Greenbrier Parkway
Beaverton, OR 97006
(503) 646-9171
www.leupold.com
Brownells, Inc.
Dept. S.W.A.T.
200 South Front Street
Montezuma, IA 50171
(800) 741-0015
www.brownells.com
Eagle Industries
Dept. S.W.A.T.
1000 Biltmore Drive
Fenton, MO 63026
(888) 343-7547
www.eagleindustries.com