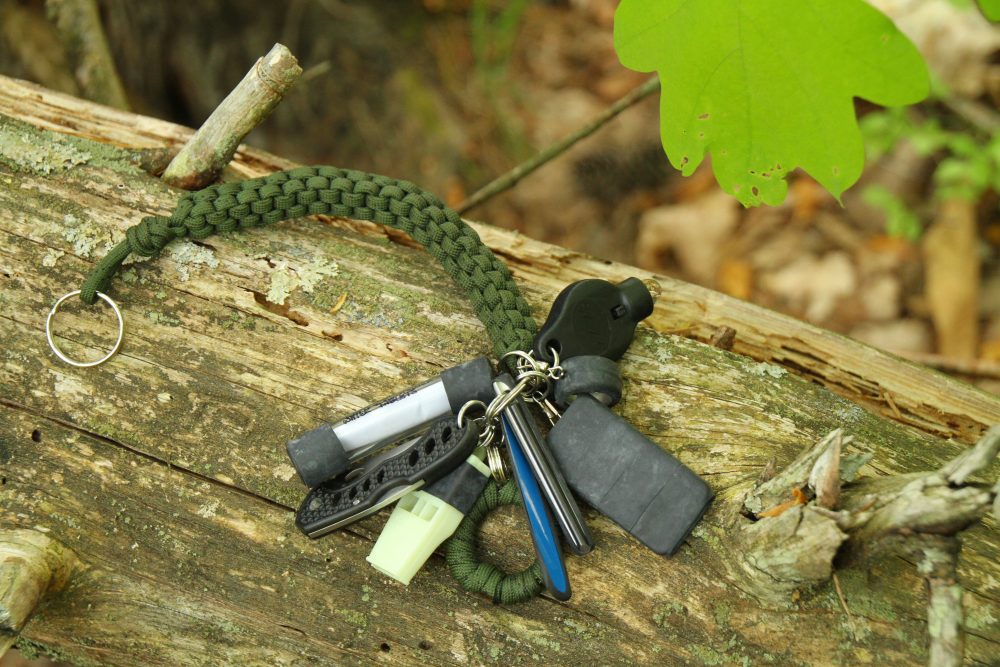 [video_vignette brand="pdn" id="182990″]
Complete Ranger Rick Paracord Survival Kit contains a compass, magnesium and flint fire starter, signal mirror, whistle, knife, LED flashlight, stainless steel wire saw and ten feet of braided 550 paracord.
---
When I look at new gear for evaluation, I always think of multi-use options. For those thinking "outside the box," there are many creative ways to use the Ranger Rick Paracord Survival Kit.
The Paracord Survival Kit comes with a compass, magnesium and flint fire starter, signal mirror, whistle, knife, LED flashlight, stainless steel wire saw, and ten feet of braided 550 paracord. It can be worn on your belt or attached to other outdoor gear.
During a five-day wilderness course in the woods of Alabama, I had the chance to use this kit in a variety of different conditions.
The question of what is most critical for survival in the wild—shelter, fire or water—is frequently debated among survival aficionados. My personal opinion is that fire is paramount for survival. Fire offers a means to purify water, so in a way, fire can also equal hydration.
Cold is something everyone will eventually succumb to if they do not have proper shelter and clothing. If there is not enough time or resources, or if the individual does not possess the skills to build a shelter, then fire can keep a person warm all night, and without that fire they might succumb to hypothermia, which can lead to death.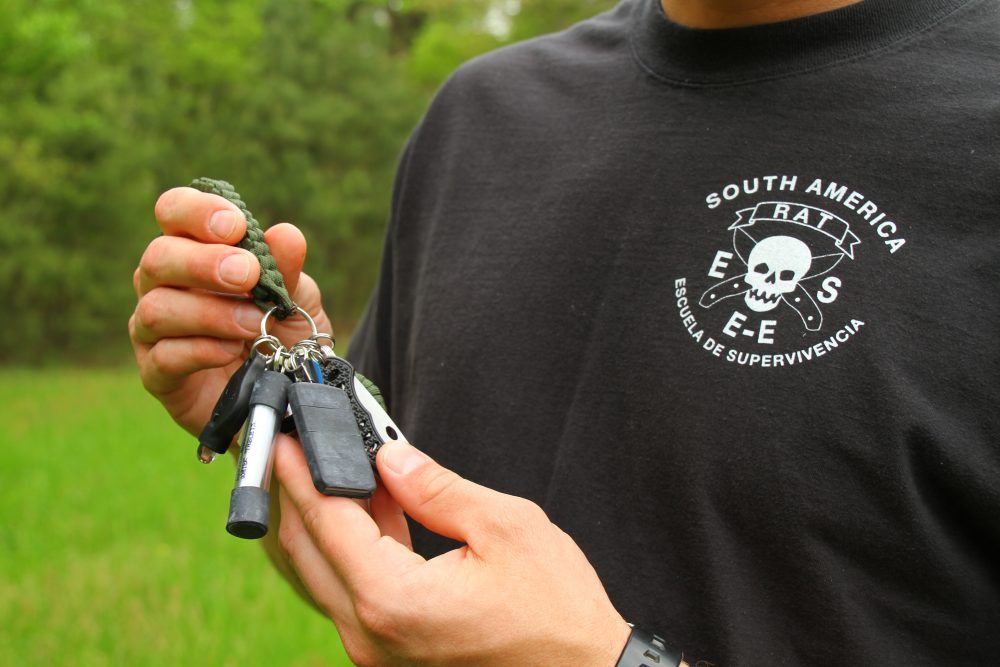 Ranger Rick Paracord Survival Kit is a handy small kit that can be attached in a multitude of positions. It's perfect for day hikers, backpackers, and survival enthusiasts.
---
The mental security that fire provides has been known ever since man could create fire. It is a great companion, especially if you are alone. It offers warmth and light and deters wild animals. It can be used to signal for help.
Instructor Patrick Rollins was the chief fire starter for this course, and I asked him to start a fire using the included magnesium/flint fire starter. In other words, I asked an expert to do it, so of course he was successful. However, the fire starter in this kit is a far cry from the ¼-inch thick army Swedish fire steels that are available.
This made me question the ability of this fire steel in the hands of a lesser trained (or less patient) person attempting to get a fire started. I have always felt that starting fires has a lot to do with being patient, from the time you decide to select materials until the time you catch that first spark.
The knife included in the Paracord Survival Kit is a small serrated lock-back marked Ridge Runner. It has a stainless steel blade and a very sharp point. To the knife enthusiasts (and knife snobs) attending the course, this seemed to be the cheapest quality knife in the camp. I knew it wasn't meant to be a does-it-all type of survival knife, so to be fair, I didn't try to evaluate it as one. Instead, I used it in conjunction with the task at hand, fire starting.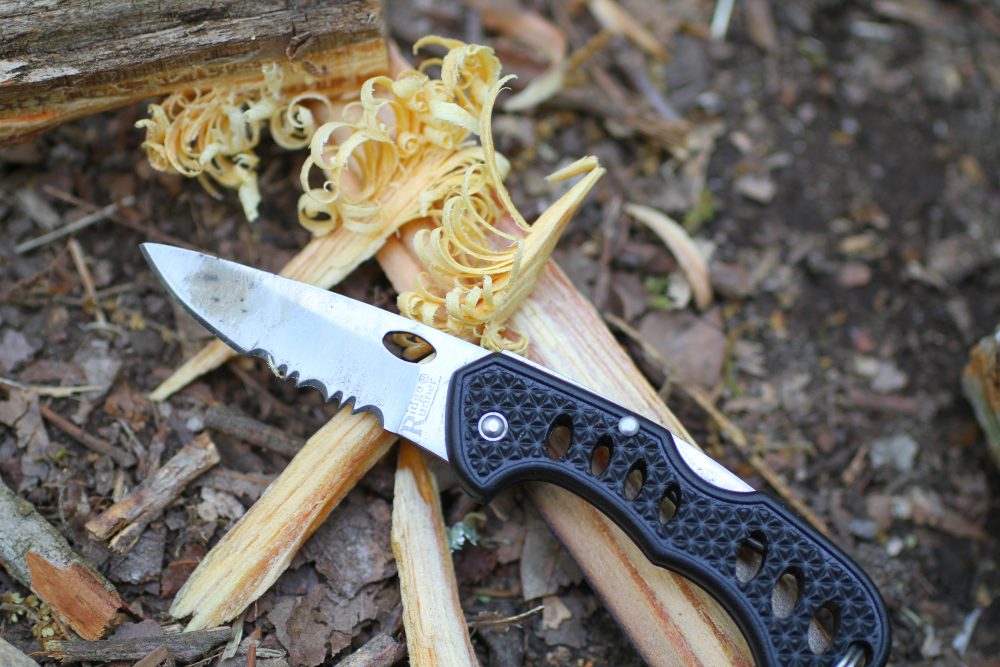 Supplied stainless steel pocketknife features serrated section suitable for cutting through rope and cord. Thin blade whittled wood to start a much-needed fire in the Alabama woods.
---
After locating some wood, I used this very small, made-in-China knife to make fuzz sticks. The thin blade is perfect for this and, even though it is 50% serrated, that didn't hinder its ability to slice into the wood. I really enjoyed the looks on the other participants' faces as they witnessed the small blade out-whittle some of their thicker and more expensive knives. This was a great lesson for us all. A small, sharp knife such as this can clean fish; cut clothing, plastic, and rope; and make fuzz sticks. Plus the sharp point can dig out splinters.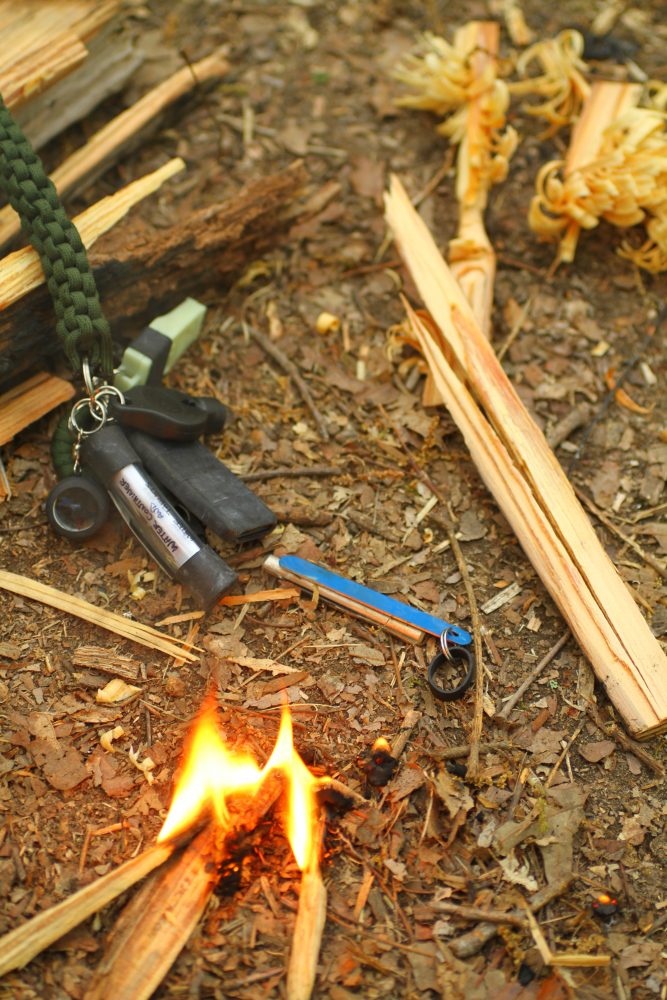 Almost all the items in the kit are covered by small Ranger Bands, which serve a few different purposes. The bands can silence the items if the need for stealth arises, whether in a war zone or while hunting. The bands can hold gear together. The black rubber is a great source for both fire accelerant and signaling. Due to the black smoke that rubber produces against snow or light-colored sand in the desert, it can easily be seen because of the strong contrast. In bear country, removing the Ranger Bands from the kit makes sense, so that the various items will make noise and hopefully let bears know there are humans in the area.
The compass is a small button type and gives general direction only. When I compared it to the compass in the RAT Fire Starter Kit, it did just fine (although it must be taken off the ring, as the light metal of the rest of the kit throws it off).
The wire saw was a little hard to assemble, and I almost gave up on it until I handed it over to another student to play with. Before I knew it, he was sawing a piece of dry wood about 1 ¼ inches thick. Unfortunately, there really isn't a way to reattach the saw to the kit after it has been used.
I used the LED light most often to go to and from the camp.
Recommendations: I would like to see the components attached via a small lightweight aluminum carabiner instead of the key ring. To really use the fire rod and striker, they must be removed. In cold weather, it is always a little more difficult to use your fingers, and the sting of the cold has a way of making hands fumble, thus opening the possibilities for dropping one of the items once it is detached from the ring.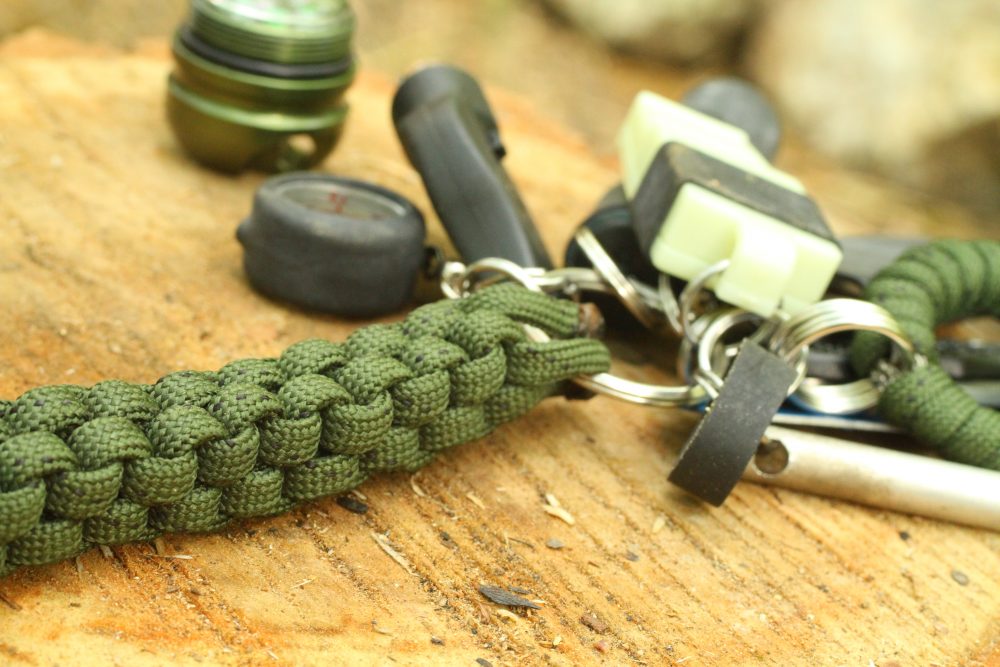 Kit comes with ten feet of 550 paracord. Author feels there should be a version offered using red or orange paracord that can easily be located in thick forest or if dropped in water.
---
I found myself using the light more often than the other items while setting up my hammock and walking through camp. Without detaching it from the rest of the kit, it can be cumbersome and inconvenient. Again, if the items were held together by a carabiner, it would be easier to remove an item and then set it back instead of stashing the small pieces in my overfilled pockets.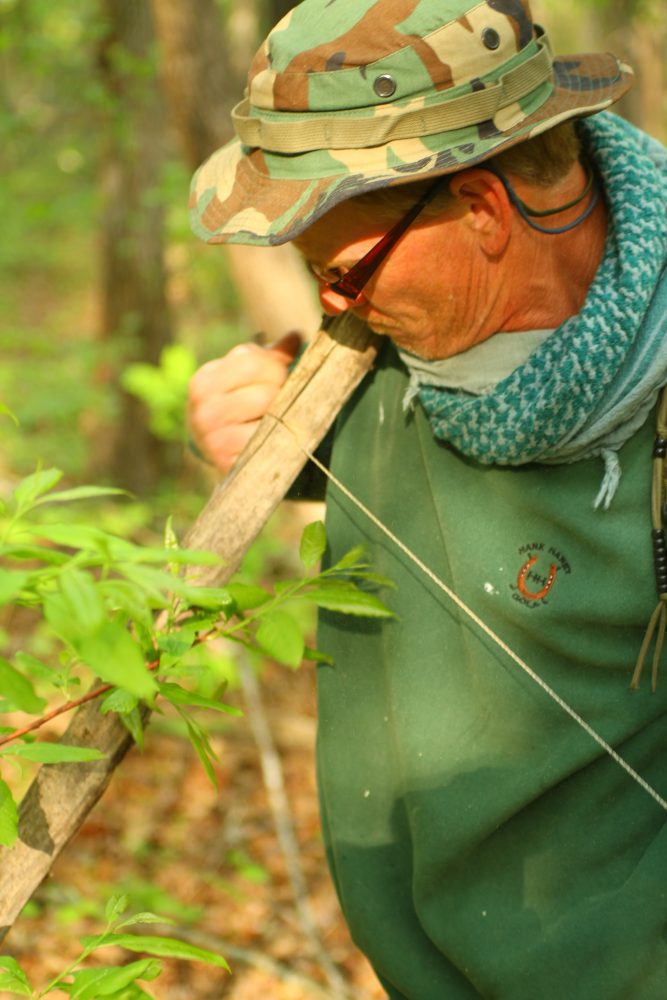 On another note, the OD Green color has become a mainstay for both military and recreational outdoor gear. I would like to see this kit also offered with red- or orange-colored paracord for ease of finding it if it's dropped on the ground. In OD Green, it's not hard to lose the kit in thick brush or a dimly lit forest. Red or orange would be useful for those of us not operating in hostile environments, where brightly colored gear may give away an operator's position.
All in all, the Ranger Rick Paracord Survival Kit is a good kit. All the components that my fellow students and I used during the week-long course worked. As with any kit, imagination and a little ingenuity will definitely stretch the boundaries of the kit's usefulness.
SOURCE:
Survival Outdoor Skills
www.survivaloutdoorskills.com