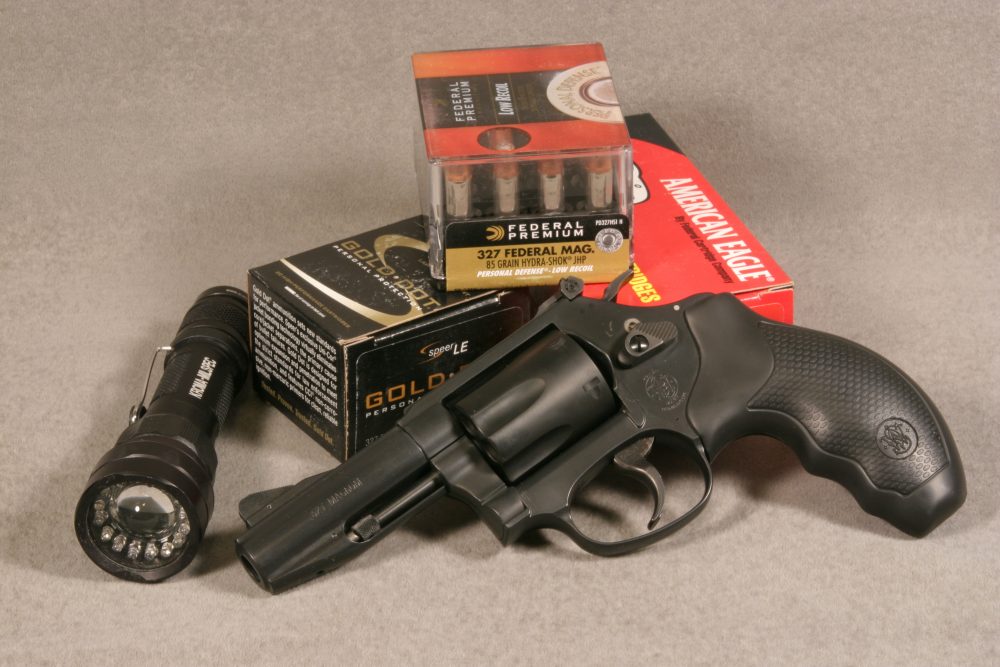 Stainless steel S&W Model 632 Carry Comp chambered in relatively new .327 Federal Magnum cartridge is a well-executed small carry gun built on the J-frame. The .327 cartridge has serious fight-stopping potential and the 632 is small enough for discreet carry.
---
Everyone I know who carries a gun for a living would like to carry one that will stop an attacker immediately, 100% of the time. But, until someone invents a disintegrator ray-gun or freeze-right-there-statue-maker-gun that's small enough to carry comfortably on a belt or in a purse, it isn't going to happen.
Truth be told, handguns are pretty poor fight stoppers. They just don't have enough power to always immediately stop felonious aggressive behavior. However, they are convenient to carry and that's why you don't see cops toting around slung rifles—at least not yet.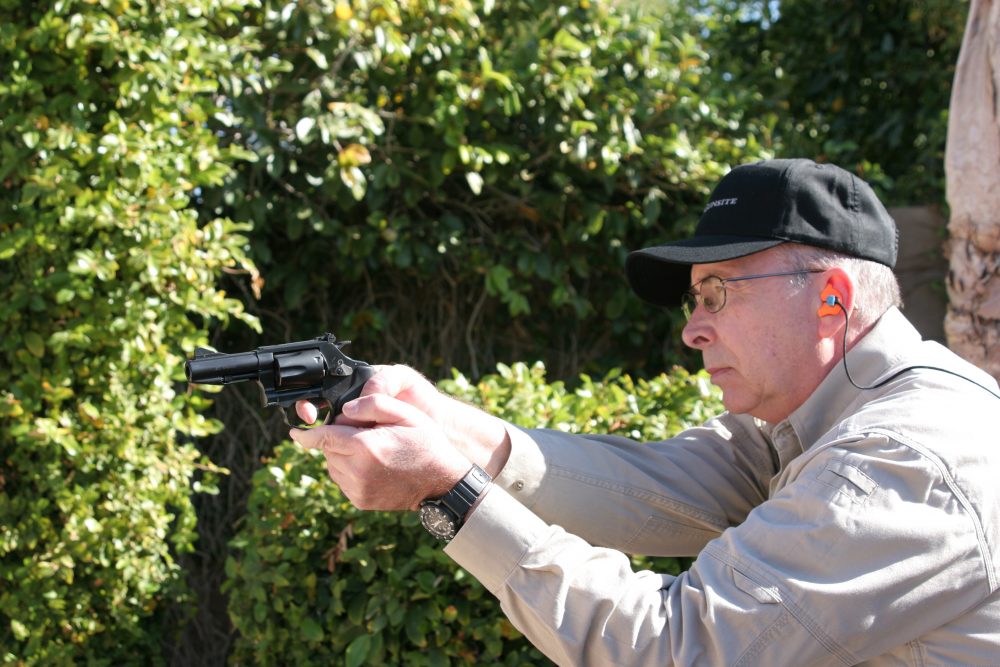 S&W Model 632 Carry Comp chambered in .327 Federal Magnum is a serious handgun despite the .32-caliber bullet. Recoil is definitely noticeable, and extended range sessions will get a shooter's attention.
---
Given that stark reality, most gun-carrying personal protection experts opt for the most powerful cartridge that they can shoot well. For many years the .357 Magnum was a popular choice. It is still widely held to be an excellent fight-stopping handgun round, but it's a bit too powerful for some people to shoot well, especially when chambered in a small, lightweight revolver like the Smith & Wesson J-frame.
It seems there are no perfect solutions. Another negative of J-frame .357 Magnum revolvers is that the cylinder holds only five rounds. Nevertheless, many strongly believe that the revolver is an excellent choice for a small self-defense gun and will choose one over a semiautomatic.
To help remedy the low-capacity problem, someone recognized that a smaller caliber round would allow one more chamber to be fitted into the J-frame cylinder. That's good, but a .32 makes a smaller hole in an aggressor and has less stopping power than a larger diameter bullet driven at about the same velocity.
The .32 H&R Magnum was an attempt to solve the power problem, but it fell short and never really caught on as a self-defense round.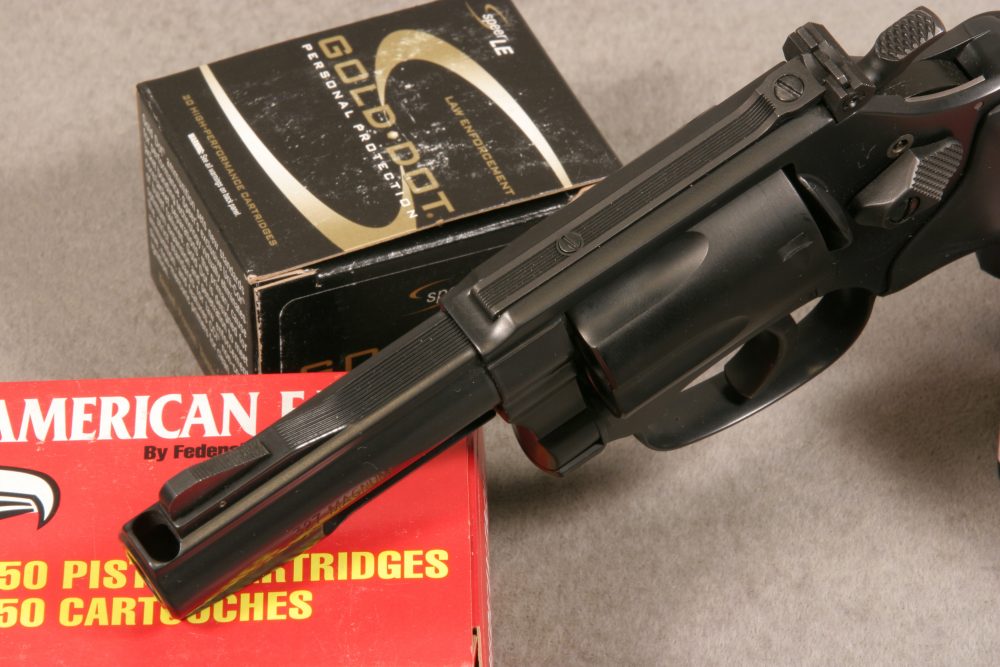 In order to help reduce felt recoil, S&W 632 has port cut into top of barrel just forward of front sight. Glare-reducing serrations run along top of gun from front sight all the way to fully adjustable rear sight. Hammer spur is aggressively checkered.
---
Then Federal recently came out with the .327 Federal Magnum round. Although it can't quite match the 1,400 feet-per-second (fps) and 544 foot-pounds (ft-lb) of the 158-grain .357 Magnum round, it comes close (at least on paper) at 1,300 fps and 432 ft-lb, and the Speer Gold Dot 115-gr. version cannot be called a mouse-gun cartridge.
Not many guns are chambered for the .327 Magnum, but the premier revolver manufacturer, Smith & Wesson, introduced its all-steel Model 632 Carry Comp for the little powerhouse at the 2009 SHOT Show. It's not the first .32-caliber revolver the company, which has been around since 1852, has manufactured, but it is certainly the most powerful.
The J-frame that the 632 Carry Comp is based on has been in the S&W lineup for many years. It has been chambered in everything from .22 Long Rifle to .357 Magnum and is a frequent choice as a backup gun by peace officers and private citizens.
In a small revolver, the .327 Magnum produces stout recoil, but that recoil is still about 20% less than that of a .357 Magnum round.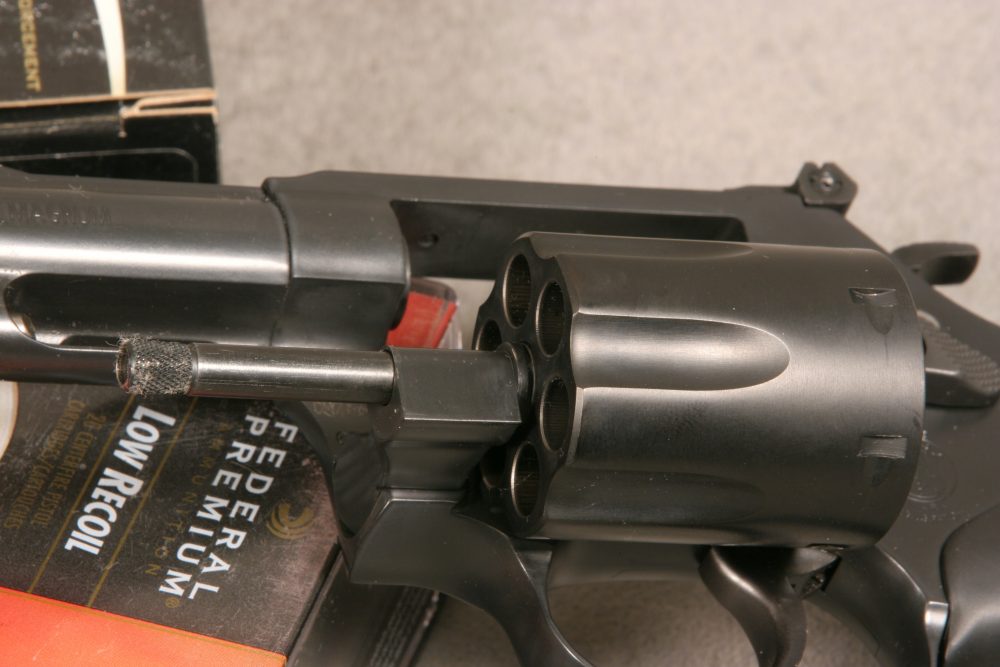 Thanks to three-inch barrel length, extractor rod is long enough to kick spent brass clear of the cylinder.
---
DETAILS
The Smith & Wesson Model 632 Carry Comp has an expansion chamber and a large Power Port just forward of the front sight. By directing combustion gasses upward, it does an excellent job of attenuating felt recoil, but the shooter needs to be aware of the potential for personal injury caused by the rapidly expanding high-velocity hot gasses that are spewed from the port. Touch off a round with the gun held near your body in a close encounter of the ugly kind with a felonious miscreant, and you could get burned or otherwise injured by your own weapon.
Although there are plenty of J-frames with two-inch barrels, this one has a three-inch tube and is likewise suitable for concealment. The full underlug protects the extractor rod and also adds weight up front to assist in reducing the effect of the .327's recoil. On the left side of the finely finished black barrel is stamped ".327 MAGNUM" and on the right appear the words "SMITH & WESSON."
The six-round fluted cylinder is manufactured from stainless steel and is nearly the same diameter as the .357 Magnum Model 340, which is built on the same frame.
Up front and just behind the Power Port is the pinned, black, serrated ramp front sight, and extending rearward from it along the top of the barrel are serrations that reduce glare. Those serrations continue along the top of the rear sight tang, which is fastened to the frame with a screw. The rear sight is a square notch in a black blade that is adjustable for windage and elevation.
The black finish on the stainless steel frame matches perfectly with the finish on the rest of the gun. Fit is excellent and as usual, the classy S&W logo is found on the left side just below the standard thumb piece.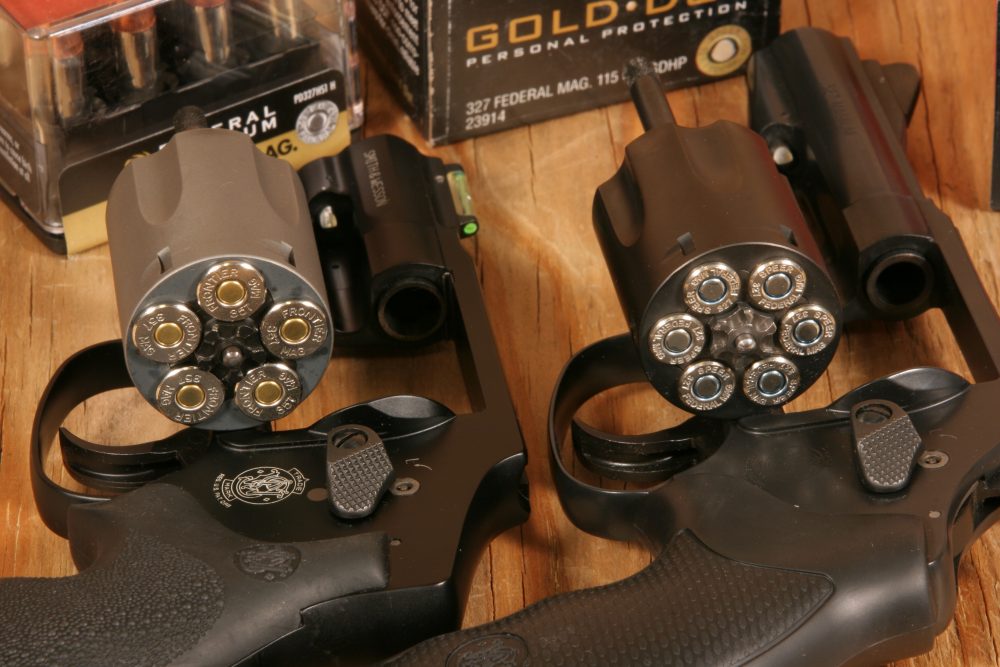 S&W 340PD on left is chambered in .357 Magnum. While it is a more powerful cartridge, cylinder holds only five rounds. S&W 632 Carry Comp on right is chambered in .327 Federal Magnum and holds six rounds in same diameter cylinder.
---
FUNCTION
If a speed reload is needed, slowing down to individually pick empty brass from cylinder chambers can be an anxiety-causing event. But thanks to the three-inch barrel, the extractor rod on the 632 is long enough to fully extract spent casings from the cylinder—something that is not possible with a two-inch barreled gun's extractor.
This J-frame has a fully exposed hammer that, due to the hammer block safety, cannot strike the S&W rebound-style firing pin unless the trigger is pulled. To the dismay of some, S&W has included the now typical internal lock mechanism that requires a key to activate. The lock is located just above the cylinder catch thumb piece on the left side of the frame and blocks hammer and trigger motion when the key is turned about 90 degrees.
The double-action trigger on the sample gun was actually quite nice. Resistance was consistent throughout the double-action stroke until the hammer fell at a pressure of 14 pounds. When the hammer was thumb-cocked, the single-action trigger broke cleanly at 3.5 ounces with no creep or take-up and almost imperceptible overtravel.
The trigger face on the 632 is wide and smooth, which enhances the ability of the shooter to make quick double-action shots with less tendency to pull the sights out of alignment because the trigger finger is able to glide smoothly over the trigger.
The two-piece, black synthetic stocks are secured with a Torx head screw and are longer than those typically found on a Snubby and provide a bit more purchase than do short stocks like those of an S&W Model 340. They are actually very comfortable and, even though they are a bit longer, they do not significantly interfere with the ability to conceal the gun. Light texturing and finger grooves on the front strap provide a slip-resistant gripping surface, and the nicely rounded back strap fits well in the palm of the hand. The stock material provides a small amount of cushioning to help reduce the effects of recoil.
The 632 is only 1.25 inches wide at the cylinder—that's actually .060 inch smaller than a 340PD in .357 Magnum. It's five inches high, 7.5 inches long and weighs 24.5 ounces empty, so it's well suited to carry. The gun comes in a standard Smith & Wesson blue plastic carrying case with a cable lock, instruction manual and internal lock key.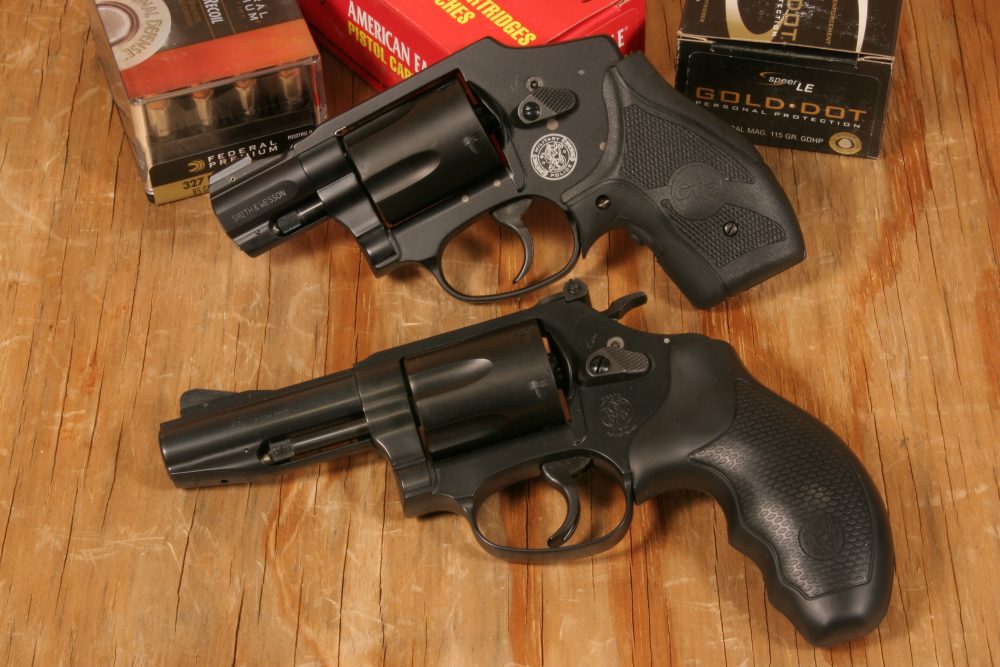 S&W 632's frame is same size as that of S&W M&P 340 above, but stocks and barrel are a bit longer. Crimson Trace Lasergrips on M&P 340 will fit Model 632 and offer effective way of reducing grip length while adding aiming device option.
---
TESTING
At the Scottsdale Gun Club's 25-yard indoor range, the little Model 632 performed well. Ammunition for .327 Magnum guns is not widely manufactured yet, so I was able to obtain only three different loads. However, I also obtained a small supply of Black Hills Ammunition 85-gr. jacketed hollow point and 90-gr. flat point lead .32 H&R Magnum ammunition, which produces only a fraction of the fairly substantial recoil generated by the much more powerful .327 Magnum loads. (Any .327 Mag revolver can also fire .32 H&R Mag and .32 S&W Long cartridges.) That reduced recoil of the .32 H&R Mag loads made shooting the 632 much more pleasant, especially during extended practice sessions.
As familiarization fire progressed and before testing for accuracy, I noticed that the rear sight retention screw came loose due to recoil. This is not entirely unusual for a Smith with an adjustable rear sight, so is something that a shooter needs to check periodically. A small drop of blue thread locking compound on the retention screw has always solved the problem for me, and it did so this time too. After allowing the proper curing time, accuracy testing was the next step.
Using a pistol rest placed 25 yards from the target, accuracy was acceptable, with groups running from about three to a little over four inches for five rounds.
During tactical drills firing off hand from several distances both rapid and slow fire, the gun was fairly easy to control. It seemed to point naturally, and the expansion chamber and Power Port helped keep recoil to a manageable level, thereby lessening the difficulty in keeping a cylinder full of the Speer 115-gr. projectiles within the ten ring at seven yards. It was even easier to do when firing the .32 H&R Magnum practice loads, which were also much less stressful on wrist joints.
Thanks to the full-length extractor rod, the nickel-plated empty brass of the Speer and Federal Hydra Shok rounds fell clear of the cylinder.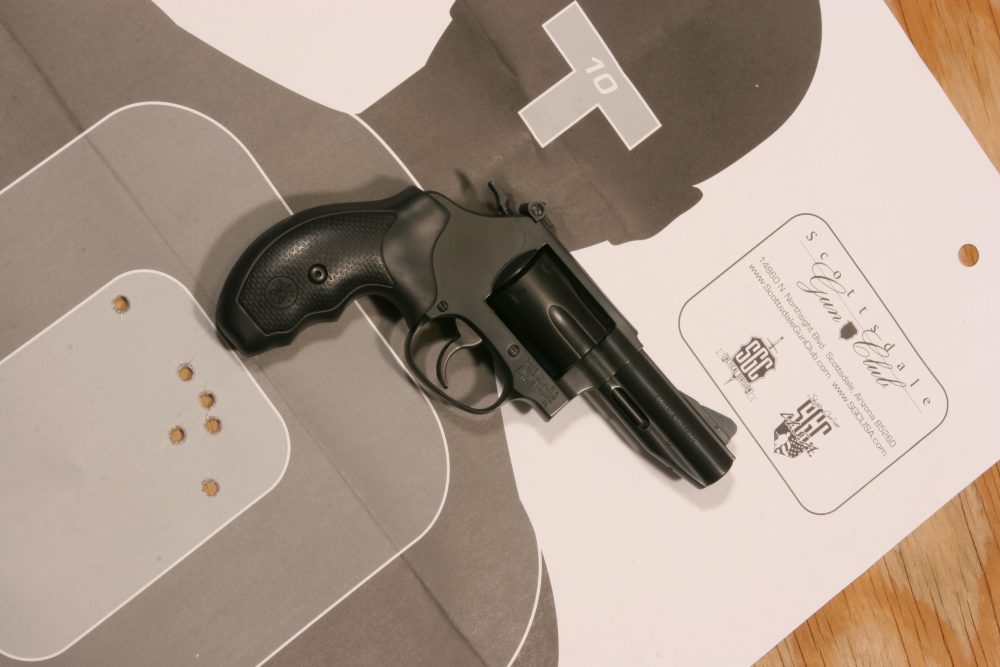 Cylinder full of Speer Gold Dot 115-gr. JHPs is easily kept within ten ring at seven yards, thanks in part to recoil-reducing effect of Power Port design.
---
The unplated brass of the American Eagle ammunition stuck inside the cylinder pretty tightly, because brass has a softer surface and the 45,000 psi chamber pressure hammered it snugly to the cylinder walls. Rapping the extractor rod on a solid surface broke it loose, though, and the brass then fell free. Because of this, I wouldn't use the American Eagle load for anything except practice.
I also noticed that the 100-gr. JSPs of the American Eagle loads tended to wobble a bit in flight, judging from the slightly out of round holes created in the paper targets at 25 yards. Perhaps it was the higher velocity of these projectiles that caused the instability, since they were clocked by my PACT Professional Chronograph at 1,400 fps as compared to 1,297 fps for the Speer loads and 1,333 fps for the Hydra Shoks. On the other hand, it could be the bullet weight or configuration. Who knows? Maybe a ballistician could tell us.
Will the .327 Federal Magnum cartridge catch on as a self-defense round? Only time will tell, but if it does, the J-frame Smith & Wesson 632 Carry Comp may very well lead the way.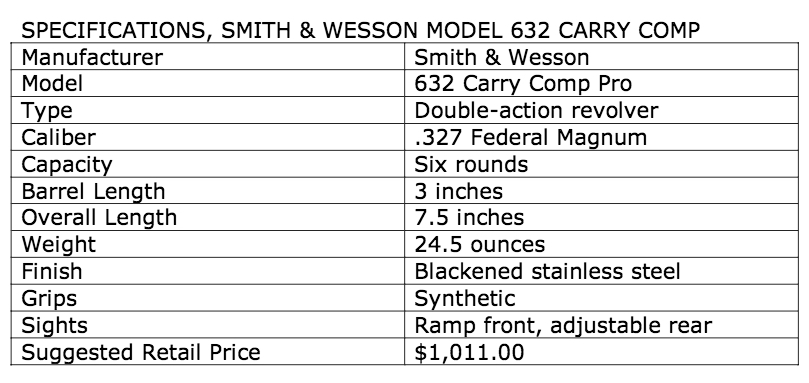 SOURCES:
Smith & Wesson
Dept. S.W.A.T.
2100 Roosevelt Avenue
Springfield, MA 01104
(800) 331-0852
www.smith-wesson.com
Black Hills Ammunition
Dept. S.W.A.T.
P.O. Box 3090
Rapid City, SD 57709-3090
(605) 348-5150
www.black-hills.com
Crimson Trace Corporation
Dept. S.W.A.T.
9780 SW Freeman Drive
Wilsonville, OR 97070
(800) 442-2406
www.crimsontrace.com
Federal Cartridge Company
Dept. S.W.A.T.
900 Ehlen Drive
Anoka, MN 55303-7503
(800) 322-2342
www.federalcartridge.com
Scottsdale Gun Club
Dept. S.W.A.T.
14860 N. Northsight Blvd.
Scottsdale, AZ 85260
(480) 222-4369
www.scottsdalegunclub.com