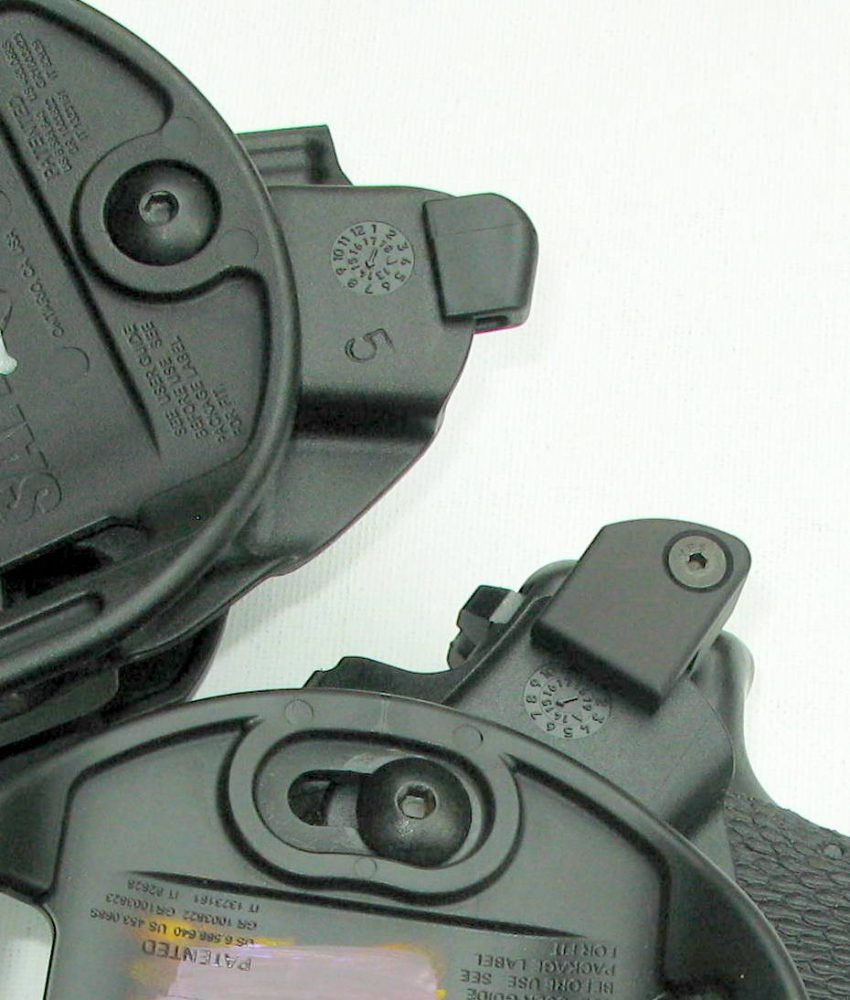 In spite of its liberal persuasion, lots of good things related to shooting happen in Oregon. A "why didn't I think of that" invention has been developed by Oregon Trail Defense, LLC (OTD) located in Baker City, Oregon. And here is a situation where bigger is better.
SAFARILAND ALS
The Safariland series of synthetic holsters, with its unequaled ALS (Advanced Locking System), and other Level I to Level III variants are probably the most prolific law-enforcement holsters in service in America.
Very secure but lightning fast with its intuitive release, the ALS is a winner and also the choice of FBI special agents and bureau HRT operators who carry their Glocks concealed or open in tactical rigs. The reassuring "click" of the ALS when pistols are reseated reminds me of the audible click of the Glock's trigger reset.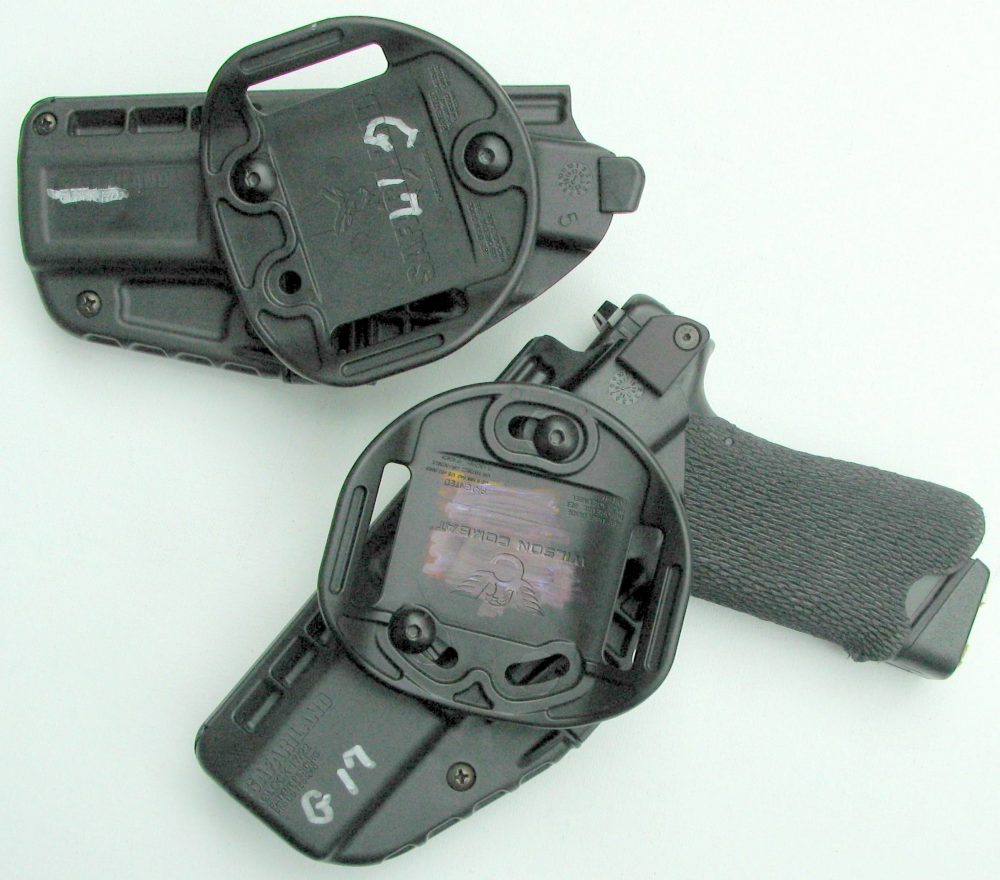 NUB MODIFICATION
Because humans default to gross motor movements during life-threatening stresses, enlarged and more prominent pistol controls can enhance a handgun's manual of operational arms.
Examples consist of extended slide lock/releases, flared magazine wells, and enlarged magazine releases. Joining that line of digital enhancements is Micah Huyett's NUB modification for Safariland ALS and Level III security holsters. The NUB is a small metal glove that fits over the ALS lever, making it a larger target and increasing its mechanical advantage, so operators will enjoy more efficient draws and faster presentations.
This enlarged and almost intuitive enhancement is especially appreciated by those who are subject to transitioning from long to short gun from a shoulder level or "surrender draw" position.
SIMPLE INSTALLATION
The NUB consists of two machined and anodized aluminum halves roughly aping the shape of the factory ALS. They are joined via a screw and provided Allen wrench. Just slip them over the existing ALS and tighten.
The curve should be facing to the rear of the holster. Putting it on backward will be quickly evident. It is best to start mating the two parts before you put it on the ALS. Once in place, tighten the screw and it's very secure. If you want it more permanently affixed, clear nail polish works yet still allows you to remove it, but Loctite (blue) eliminates loosening potential.
The NUB is currently limited to the ALS Hood and will not augment the ALS Guard or Safariland 1911 ALS or SLS scabbards. If you have an older ALS holster, check with Micah for fit. He advised that an SLS NUB will be available in the future.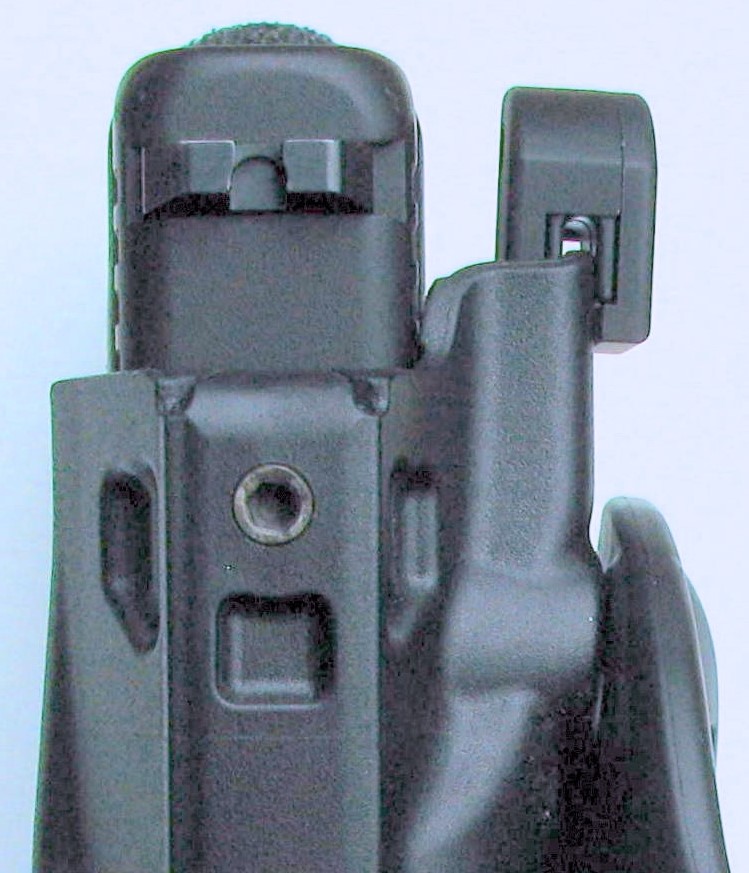 NEAR-ZERO TRANSITION TIME
Operating the NUB is no different than operating the ALS, so there was almost zero transition time involved. With the NUB on board, releasing the ALS felt faster and more positive. I would not be surprised if the NUB became a future feature of Safariland holsters, or at least an option.
As of this writing, the FBI and FBI SWAT/HRT are evaluating the NUB. The only other holster I have encountered that appears to feature an enlarged ALS concept is Hogue's Stage One security holster.
RETENTION SECURITY
As with any enlarged gun or holster control, opponent access is a concern. Pistol retention/security and access must be balanced. The NUB could be subject to Murphy's Law and tripped by a belt-mounted accessory or by a struggling adversary.
But unless the perp is familiar with the ALS, I feel the chances of accidentally hitting it and pressing it in the proper direction are remote. However, retention must be a constant concern with any level of security holster. Be fit and train, train, train.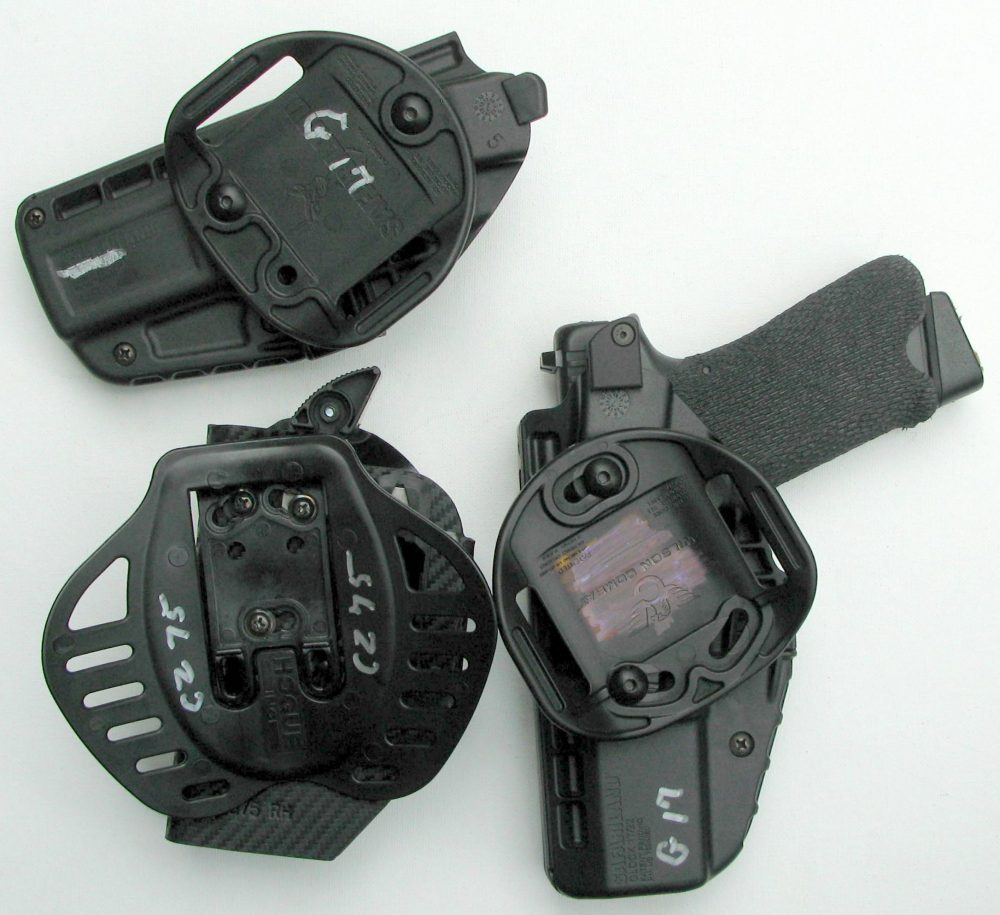 PROFESSIONAL PROS AND CONS
Former U.S. Air Marshal and now Deputy Sheriff Ken Trice, a dedicated gunfighter, loved the NUB and believed it increased his access to the ALS. He took a NUB back to his department for further T&E.
Conversely, Bill Rogers, designer of the ALS and myriad other Safariland holsters, is familiar with the NUB and feels it is "too easy to defeat by an adversary" and is a "solution to a nonexistent problem." Safariland believes there is "plenty of thumb engagement if you use the ALS only."
Retail price is $25.00. Cost-lowering polymer versions are under consideration. Oregon Trail Defense also offers grip-stippling tools to customize your polymer handgun.
SOURCES:
SAFARILAND GROUP
(800) 347-1200
www.safariland.com
OREGON TRAIL DEFENSE, LLC
(541) 419-7952
www.otdefense.com