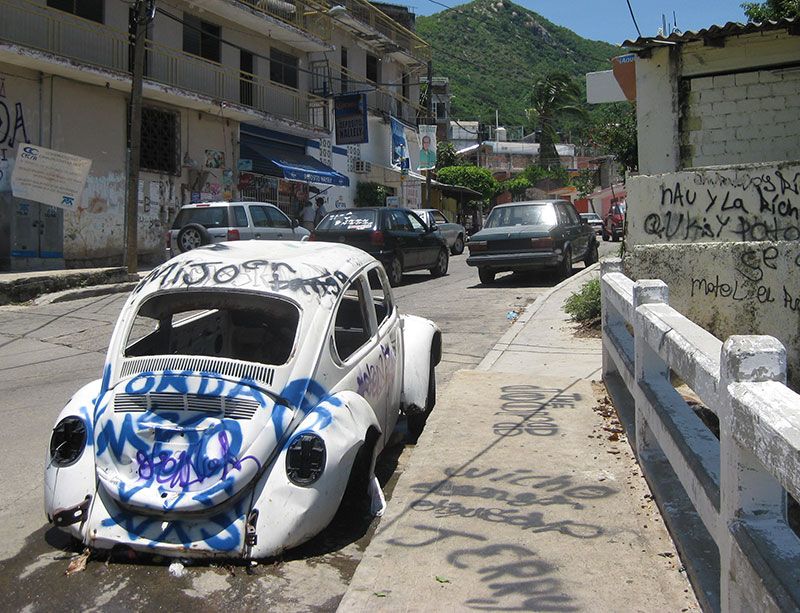 Fighting back against an attacker may be as simple as grabbing something close by and utilizing it—fast! Most big cities worldwide have crime. Situations with locals preying upon obvious tourists often end in some sort of physical conflict. This could be an encounter with a casual pickpocket or overaggressive local where you have to fight.
JAILHOUSE MIRROR
In the late 1980s, a pair of sunglasses were sold on TV that had built-in mirrors in the corners to help people see behind them. They weren't great quality, but they did serve a purpose for the paranoid and travelers alike. I dislike sitting in a crowded place like a restaurant, café, bar, or bus station abroad and having my back to the crowd.
Maybe it's because I grew up in the bad part of town, but I like to see possible dangers before they're on top of me. However, there is always the possibility that you can't choose your own seat and you end up with your back to the room.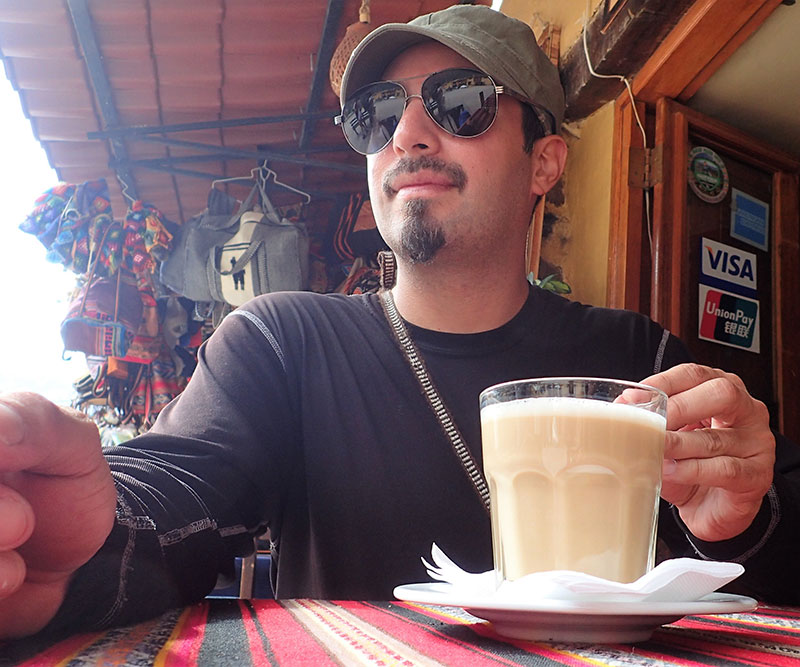 These days, everyone has a smartphone with a large screen. In the daylight, it gives off a mean reflection, much like a mirror. Indoor lighting allows a decent reflection and the screen can be used as a mirror. As subtle as can be, I just lift it as if I were looking at the phone and turn it until I see what's going on behind me.
For a clearer picture, turn the phone camera on in the reverse setting as if you were going to take a selfie, and you will see even more clearly what's going on behind you, but the people behind you will also see it more easily, so pick your battles. Another table tip is to prop the phone up so you can see that "trouble spot" in the room behind you.
The same goes for passing people in the street: Lift the phone up to see if the person or people have completely passed before letting your guard down. Any LCD screen from a phone, camera, or tablet will work as the proverbial urban jailhouse mirror.
HOT STUFF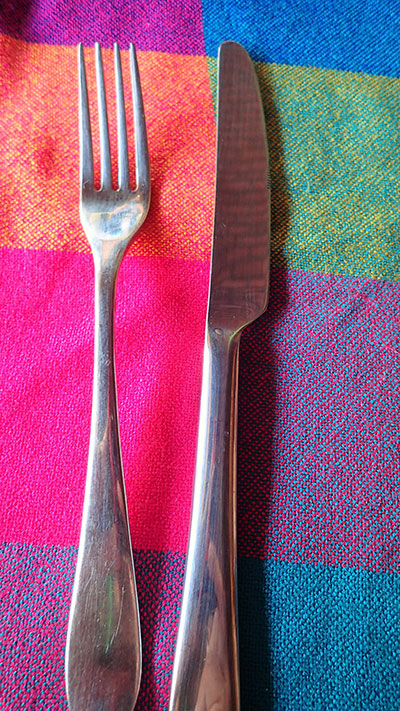 A face full of hot liquid like coffee or tea can help fend off would-be attackers in a café or restaurant without any real training or thought required. The hot sauce found on restaurant tables in many Latin American and Asian countries can be even more damaging. Naturally, the eyes should be the main target to aim for, so make it count the first time.
In a rough-looking place, or if you are "feeling the vibe," order hot water just in case you need it. Hot water will do the most damage to the eyes and buy you a few minutes for your next move, whether it is fight or flight. However, anywhere on the exposed face will cause first- or second-degree burns and is equally stunning to your foe.
MAGAZINE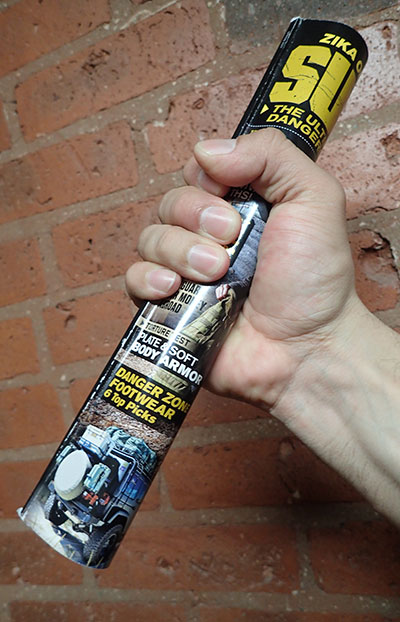 The average person walking down the street or sitting in a café carrying a magazine doesn't appear to be armed—but they are. The power harnessed from a tightly rolled-up magazine is comparable to a hammer. It can be rolled up and gripped in the middle, then used like a hammer fist, or you can strike up and backward over your shoulder if someone tries the old bear hug from behind.
If you are grabbed from behind, another option is to strike down low, behind you to the groin area or thigh, if you can make some wiggle room. The strikes are considered non-lethal, but delivering a blow to an attacker's forearm or bicep if they grab you will definitely get you released. Shoulder and chest strikes would be very painful, and a strike to the solar plexus could leave your attacker breathless. A face or head shot to the temple could be damaging and should be used only if needed.
CARABINER KEY FOB
An ex-military guy I met in Scandinavia shared with me a tip he uses for self-defense that is legal everywhere. As his weapon of choice, he carries a large carabiner with his keys, aluminum whistle, metal bottle opener, metal can opener, metal tweezers, and a few other items attached.
The carabiner is large enough to grip with at least two fingers while swinging to deliver a mean, lashing blow. Non-lethal, but it sure would draw blood fast. I imagine it being like getting hit with barbed wire and metal at the same time.
SALT AND PEPPER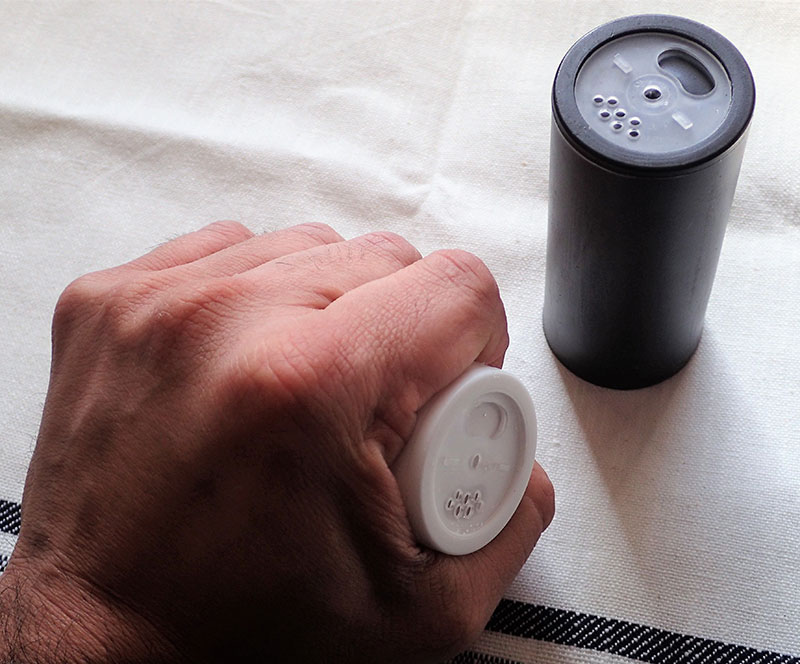 Reading the mood of a situation escalating at a restaurant or café is the prime opportunity to use what's around you. Salt and pepper shakers can be used in a few different ways to fight back. Most shakers are cylindrical and can easily be gripped in the hand, making them good for striking/hammer fisting. They can also strengthen your hand and prevent it from breaking when hitting bones in the face and head.
This is much like a roll of coins or a metal bar gripped in the fist for maximum impact when punching. In a street fight in East Los Angeles years ago, I used the same approach with a Wenger Swiss Army Knife gripped in my fist. Long story short, no damage to my hand at all, just a bit of a stinging sensation on the inside of the palm from the corkscrew.
Another way to utilize shakers is to calmly unscrew the top when you sense a situation getting hairy, and be ready to attack the eyes with either salt or pepper. Perhaps it is a dirty trick, but I wouldn't suffer any moral dilemmas over it, especially with multiple attackers.
Another way I can think of using salt and pepper shakers is for the smaller type, made of glass and usually with a metal lid. One or two shakers can be put in a cloth napkin and wound up like a bar of soap or keys and used as a striking weapon, much like the barracks scene in the movie Full Metal Jacket. Aim high for the eyes and swing for the fences.
PEN
I travel with a "Rite in the Rain" pen for its obvious uses and also for self-defense. It stays with me on the airplane in a neck pouch and rides with me until the end of the trip. This pen is very rigid and strong, with the top half made of light metal.
In an icepick grip, it can apply lethal force to the neck and head. Soft-tissue targets are naturally the most vulnerable. Both thrusting or icepick stabbing motions can be used to the hands, arms, and legs to keep attackers at bay, or the eyes or neck for serious situations that are a matter of life or death.
In brief, use every item at your disposal. Fight back and fight hard with casual everyday weapons, invisible to most thugs. Let's hope it never comes to that, but if it does, this should give you a good understanding of how to turn almost anything within reach into a potent self-defense weapon.